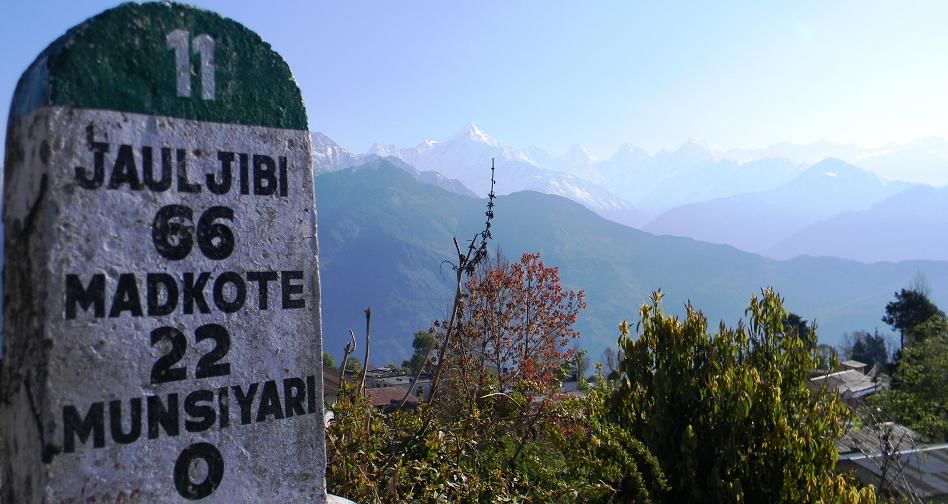 There was a lot going around in my personal as well as professional life and I must admit it was not very pleasant situation for anyone to be in. I realized that I needed to take a break from my regular life to go to a place where I could rediscover myself as well as find some inner peace.
As I sat down to zero down on various locations I had in mind I somehow thought Munsiari would be the ideal location and right now I must admit that I was not wrong in my choice.
Some random phone calls were made to my friends who would have time and resources to manage the trip as it was a last minute planning and somehow I got three of my friends to join me in this trip of mine. I arranged for a driver as well as I had heard that it has some really treacherous roads and cliifs so I did not have to drive the entire journey.
So on the decided day we took off to our predestined journey and I thought to myself that this would be the period where I would abstain from all sorts of alchohol and just would be in the solace of nature to admire the tranquality and serenity of my mind being away from the hustle and bustle of the society in other words would be living a monks life for the decided four days.
We left from Rudrapur at 10 in the morning and took the route of Haldwani, Bhowali, Almora and Birora. At around four one of my friend had an idea that if we continue going towards Munsiari there could be a risk as compared to town and cities and metros the hilly area gets shut at a very early time as there is hardly any population or market there . That idea sounded great to us least we are struck in that region with no one around and not knowing what to do and how to get the required help. Luckily my ancestral village was in the same route so we decided on having a night stay at my place.
At around Six in the evening we reached my ancestral village it is called by the name Garai and falls under Almora district. I just had been there once in my entire life and than too when I was a kid and than seeing my village from a grown up perspective was an entirely differently feeling to talk about. Most of the houses there had no person to live in. All families had migrated to cities to find a better living leaving there homes behind. Out of the fifteen houses I could see only three were still being used by our relatives who were doing good in the particular region where there were no roads and nerby shops were around three km downhill. It can be said the life here was much different from tier 5 cities as well and with different I don't suggest a better life not in terms of materialistic world, I imply but nevertheless the place was so very beautiful and I felt my love for nature has its root somewhere there.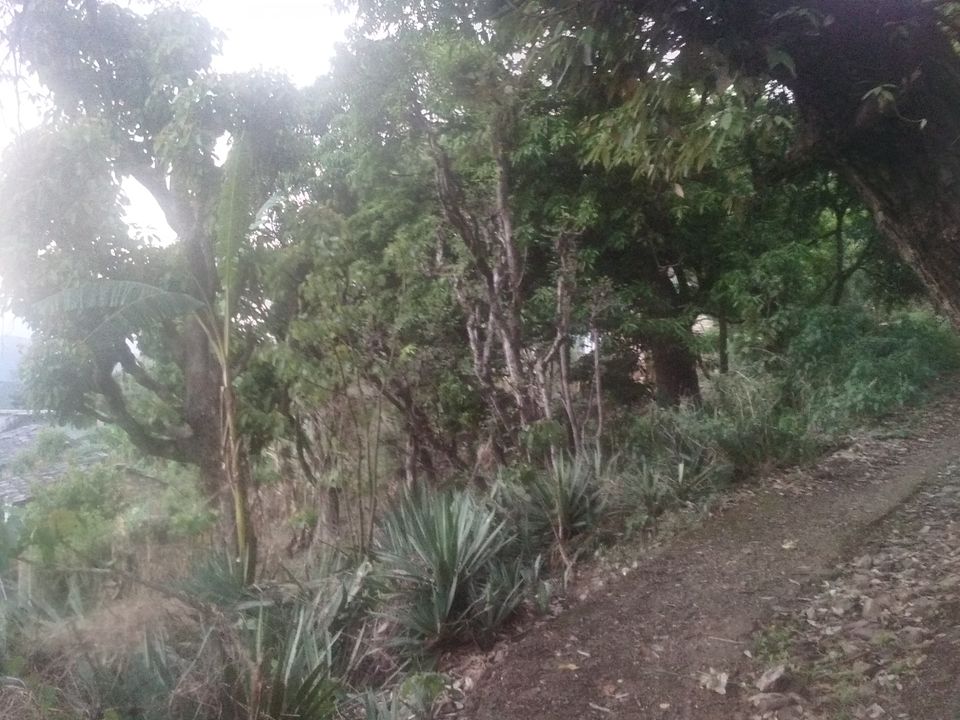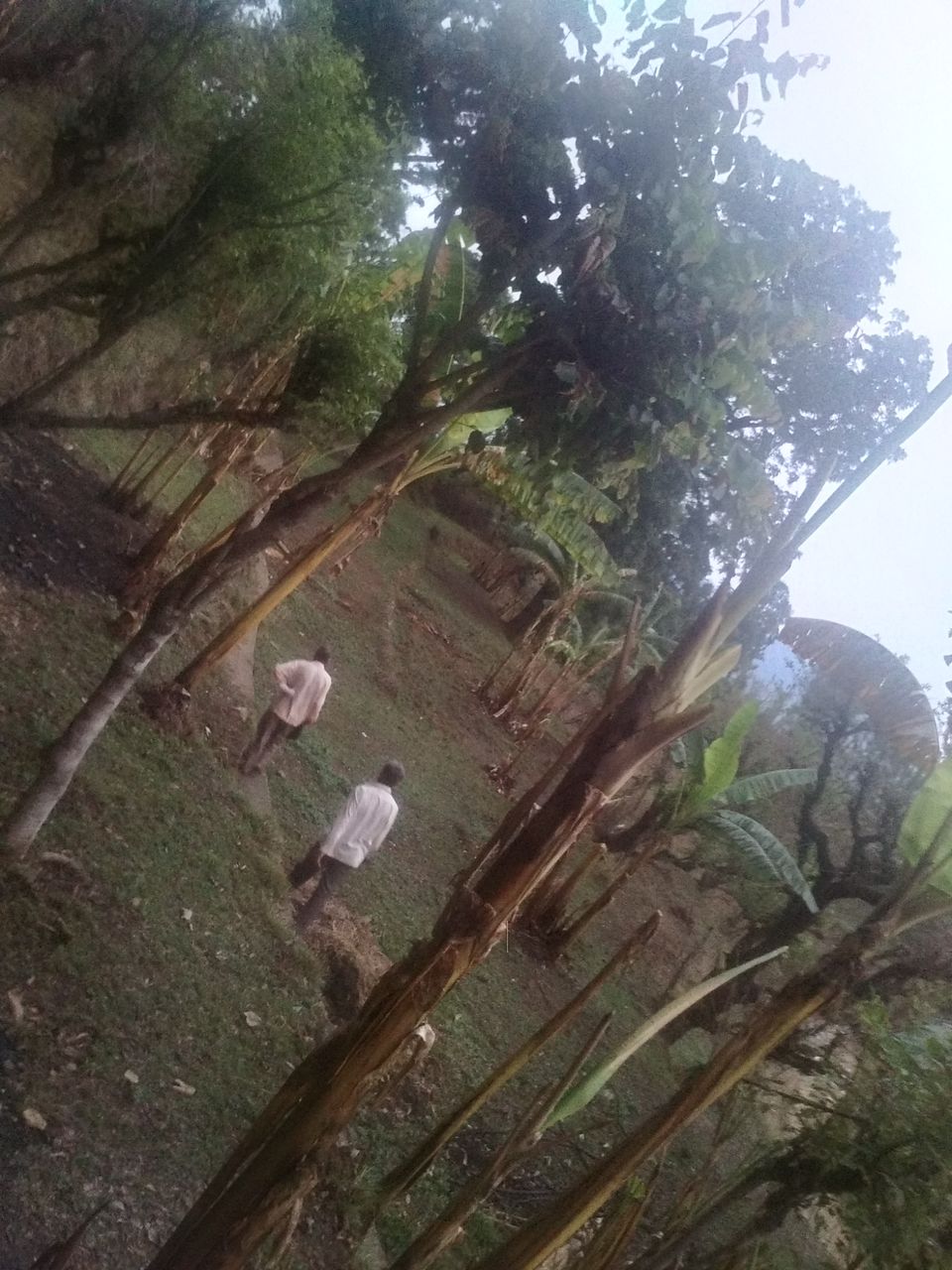 So after a good night sleep in my village we continued with our journey towards Munsiari taking the route of Berinaag, Chaukori, Thal, Phuli, Birthi . As we continued our driving we were expecting some snow covered mountains everywhere as we had heard about the beautiful village and we saw that approaching as well but as we went on nearer we came in for a rude shock as the snow we were expecting was nothing but just remains of white patches on the mountains and I must admit how crestfallen we felt when we assumed that it was that peroid of time when there would be no snow in that particular city as we had no awareness for the same. Neverthless we continued with our journey upwards thinking we might find some solace in that region particularily for what I had planned this getaway and hoping for the best.
As we went on we just saw something as one of our friend suggested that it has to be snow and not those white patches but we kept our excitement at bay so that not to get disappointed again and to our pleasant surprise it was exacatly the thing we had in mind. Oh holy that is real white pure thick snow and our excitement level went on to the extreme . We halted there for a time being and started dancing and playing around in that area for about thirty minutes and I must admit though at this point of time it appears frivolous but our joy could be just understood by the fact that when one expects something and is deprived of that and the next moment he comes to know he has has the same thing with him the sensation that is felt at that moment is the one we experienced there and it was like we had achieved everything.
Neverthless we continued with our journey towards our destination and within thirty minutes from where we had halted for feeling the snow we reached the particular town. Here I would like to brief you about a bit of this lovely place.
Munsiari (Devanagari: मुनस्यारी ) is the name of the sub-division headquarters, a conglomeration of revenue villages and it also refers to the entire region as Munsiari Tehsil and Sub Division in the Pithoragarh District in the hill-state of Uttarakhand, India.
It lies at the base of the great Himalayan mountain range, at an elevation of about 2,200 m (7,200 ft) and is a starting point of various treks into the interior of the range. Its name refers to a 'place with snow'. Situated on the banks of Goriganga river, it is a fast-growing tourist destination, and mountaineers, glacier enthusiasts, high altitude trekkers and nature lovers commonly use it as their hub or base camp. Munsiari also falls on the ancient salt route from Tibet and is at the entrance of the Johar Valley, which extends along the path of the Gori ganga river to its source at the Milam Glacier. It is inhabited mainly by people of a few different caste groups including the Shauka tribe, dalits or Scheduled Castes and people categorized in other general castes comprising Kshatriya's, Pandits with a few Muslim, Sikhs, Christians and Buddhists.
Munsiari bazaar is a conglomeration of revenue villages and is not categorized as a town. The bazaar area comprises the villages of Malla Ghorpatta and Bunga, while Naya Basti, Sarmoli, Nana Sem, Jainti, Papdi villages form the periphery of the area popularly called Munsiari. The main bazaar area faces east towards the himalayan Panchachuli ranges.
The upper part of Munsiari is called Malla Johar, which comprises of 14 trans-humant alpine villages, that are seasonally occupied during the months of May to early November.
After reaching this town we checked into the hotel and booked a single room for four for two nights and three days and it costed us somewhere around six thousand as we were a bit tired that particular day we thought of resting as we heard from the restaurant owner that after six there is nothing you can do there and mostly every sightseeing happens in the early morning and during the day.
I planned out the roadmap for the next two days and how we would go about it. Khaliya top was zeroed down for the very next day and after eating the delicious pahari chicken cooked by the hotel staff we took to bed to get up early in the morning to start our trek to Khaliya.
As the alarm rang at six and our eyes opened to the scenic beauty of the place with mountains covered with thick snow that particular moment was just mesmerizing and over the top for especially me who was lost in the hustle bustle of the city so as to forget his own identity to say the least I was overwhelmed with ecstasy .
All of us after doing our daily chores set out to the predestined trek. Khaliya is 12200 feet above from its base which is roughly around four kms. On our way up it was all dense thickly covered snow along with pine and deodar trees. After treeking for sometime we got discouraged to climb Khaliya Top as we were not use to walking on snow and also had not trekked for a while on these steep snow covered mountains but somehow we got determined that we would make it.
Believe me it was tough. After we started the climb which was tough we came across many tourists who had given up and were climbing down saying it was too tough. We persisted amid the forests, big trees, natural beauty and followed the formula of setting our own pace. I admit we too thought of giving up but something in us made us persist. It was really tough for all of us but we engaged in snow fights, climbing trees shooting videos whenever we thought it was difficult to climb further but when we reached the top it was real bliss. A really beautiful meadow and the feeling of being virtually on top of the world. A trek we will remember for entire lifetime as difficult but the beautiful in its self. The climb down was easier but tricky. A must visit for those who are tough but love nature's beauty.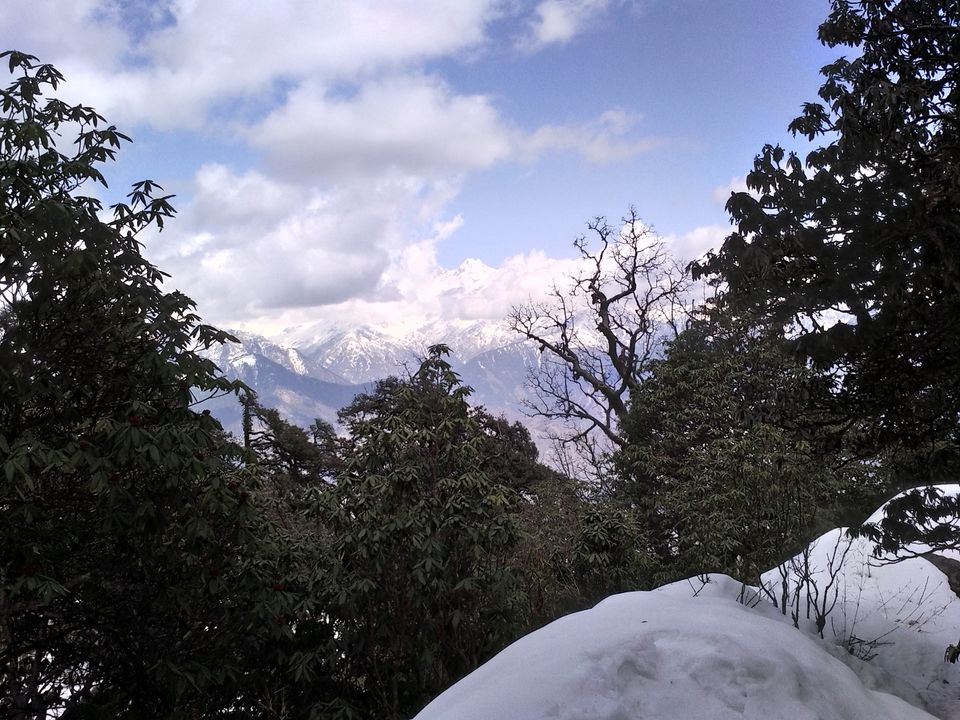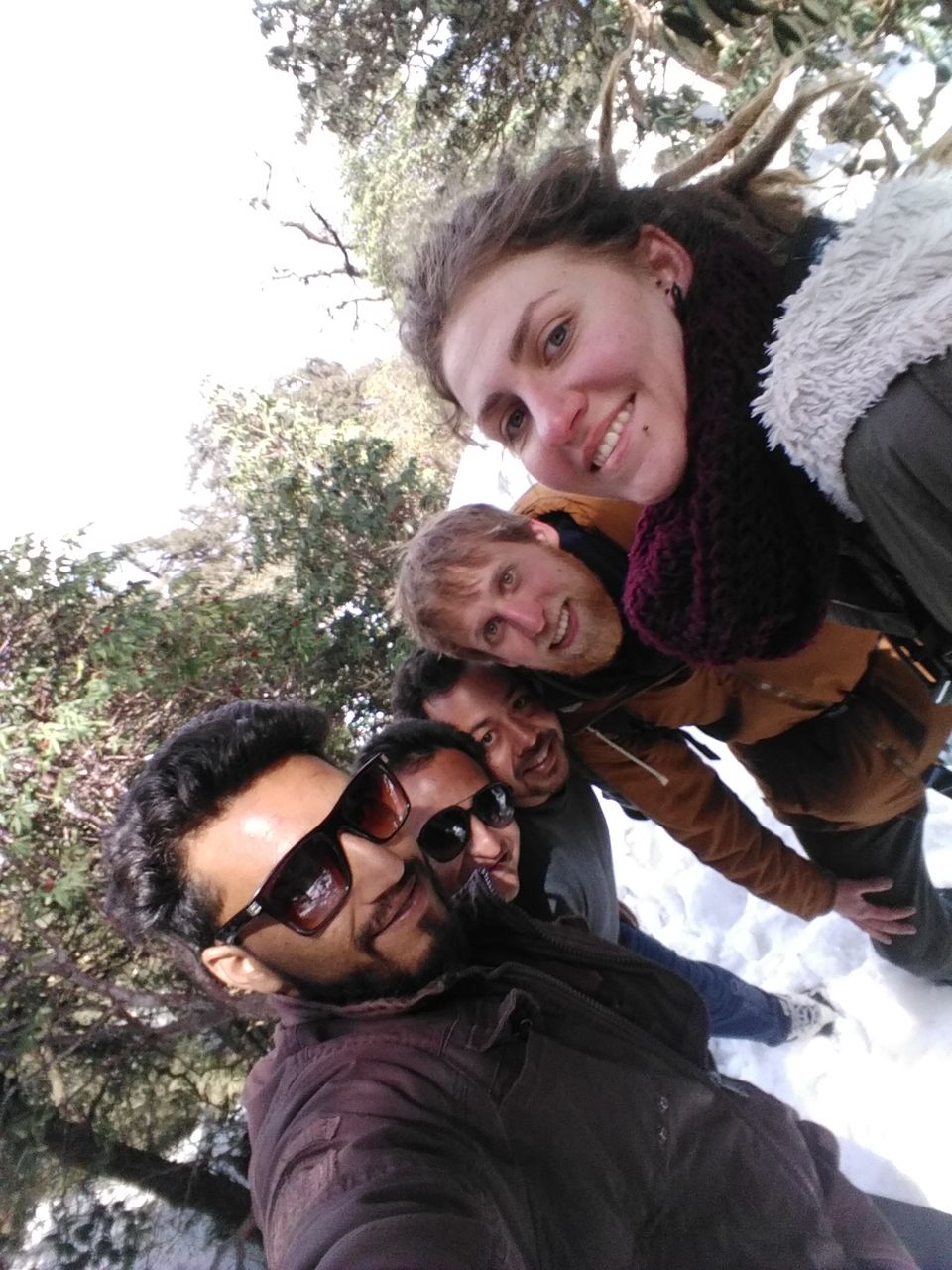 When we reached our hotel I was real tired and my legs were hurting as well so I decided on going in for a Massage which helped me in relaxation of my muscle tissues and made me fresh as well. The night went with we sitting with some locals who had made some home cooked mutton for us and discussing their lives , their culture and many more things along with learning some of their folk songs and singing the night away.
The next day we covered Mesar Kund, Thamri Kund, Betuli Dhar and Darkot Village which all places were quite serene and tranquil. After visiting all these places the night had dawned having our dinner we retired to bed as we had to cover around 300 kms the next day and that too hilly roads which was only possible by leaving early the next morning.
The next morning we decided to take the bageshwar, Kausani route so that we can get to see the mini switzerland as referred to by Gandhiji to our very own Kausani. We halted there to have food as well so the overall experience was quite good.
Finally after driving for around 10 hours we reached Kiccha the place I am residing at the present moment.
This particular journey made me so refreshed and the gloominess inside me just disappeared. I was full with zest and confidence. Though some feelings can not be written they are just felt when you are at that particular moment the same was my case when I took the decision to try going for this trip I was not so in that good frame of mind and coming back from this trip made me a different person altogether as I had connected with natural beauty of the universe that it has in offer in various shapes and sizes so wanting to be felt and loved.