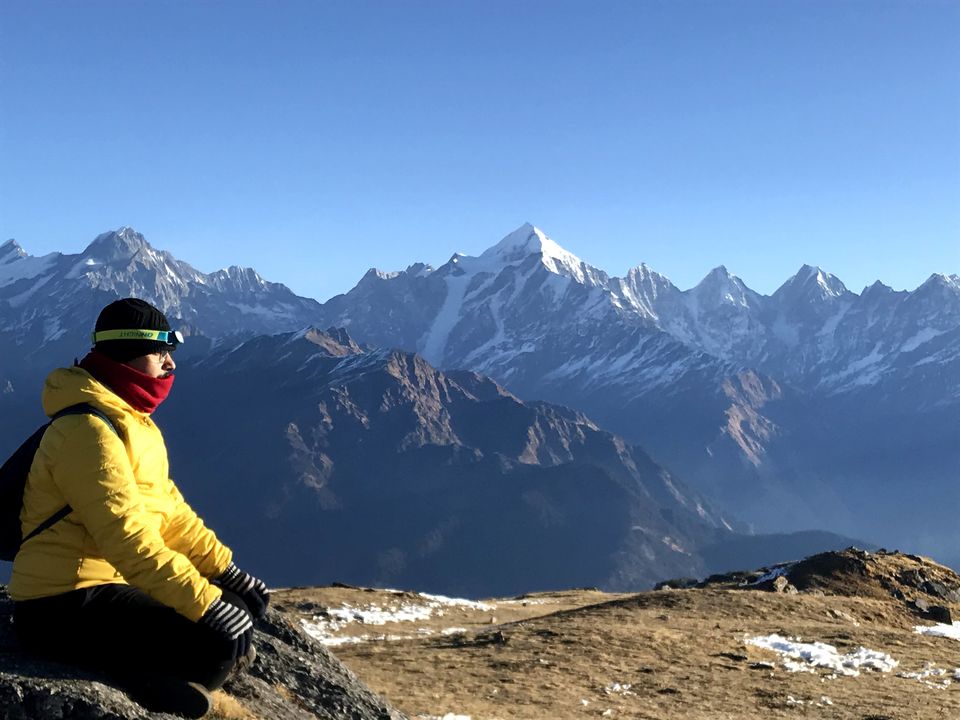 "Bhai kahin chalte hain, bahut time ho gaya hai!" said my friend Bhupender to me in the chilling winters of Delhi. We were indeed stuck in our houses for almost an year because of the pandemic and the cases were also minimum during this time, also inter-state movement was allowed with a negative RTPCR report. We scrolled through our bucket list and picked Munsyari for our new place of exploration. Me, Bhupender and Sunil decided to go to Munsyari during the Christmas of 2020, the year of pandemic.
I was curious to know more about Munsyari and started searching all about it on the internet. Munsyari is the gateway for many glacial treks like Milam glacier, Ralam glacier, Nanda Devi Base camp etc. It is located in the eastern most part of Uttarakhand and is close to the Indo-Nepal border. We did not had much time to go for any glacial trek, perhaps there was a small trek in Munsyari called "Khaliya Top" which is a beginner level trek and offers panormic view of Panchachuli Peaks, Nanda Devi and many other high altitude peaks of our country. It was finalized that we will go to Munsyari. Munsyari is almost 550km from Delhi said Bhupender who is the eye of our every trip, me being the tongue and Sunil being the free soul.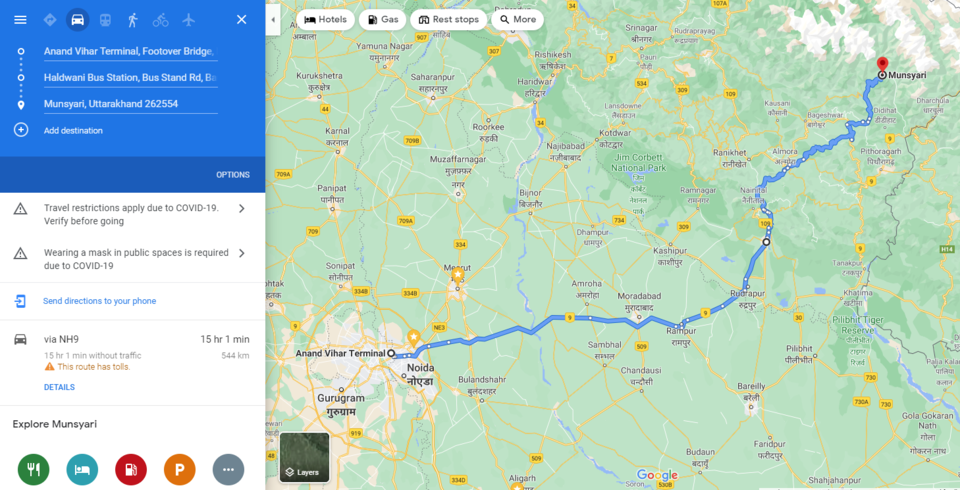 Continuous 15 hour road trip is doable but is definitely tiring. Before this we had done few treks in the Garhwal region and so we had the idea for Garhwal side but this was our first time to Kumaon. Though Bhupender is from Almora but still we could not take a halt at Almora. It was a state of confusion.
Eureka! I suddenly remembered about a pahadan friend of mine who is from Uttarakhand and have an amazing knowledge of that place. She have been to places far away where only freaks or core adventurers dare to go. I called her and told her about the situation. After thinking for a while she told me that we can halt at Chaukori. I researched more about Chaukori and it was indeed a great place. I requested her to plan and book the trip for us which she did. Our final itinerary after lots of permutations and combinations looked like this -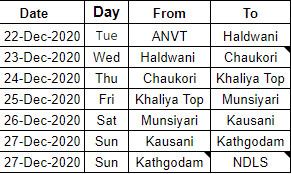 So now everything was booked, we had spoken to our cab driver too and he was going to pick us from Haldwani bus stop at about 5:30AM on 23rd December. We had booked our bus from UTC (Uttarakhand Transport) and the bus was scheduled to depart from Anand Vihar Bus terminal at 11 PM and was supposed to reach Haldwani at about 5 AM. We had chosen Roadways bus but you may go for luxury sleeper buses too till Haldwani.
We reached Haldwani at about 5AM and Santosh Da was already waiting for us in his Ertiga. He is an amazing person and would not let you get bored, he would crack jokes and would keep you involved in his conversations.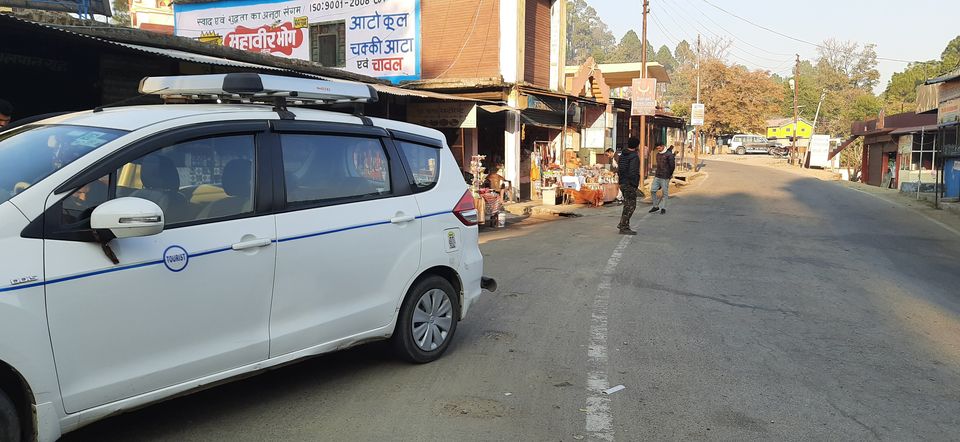 Santosh Da took the following route for Chaukori.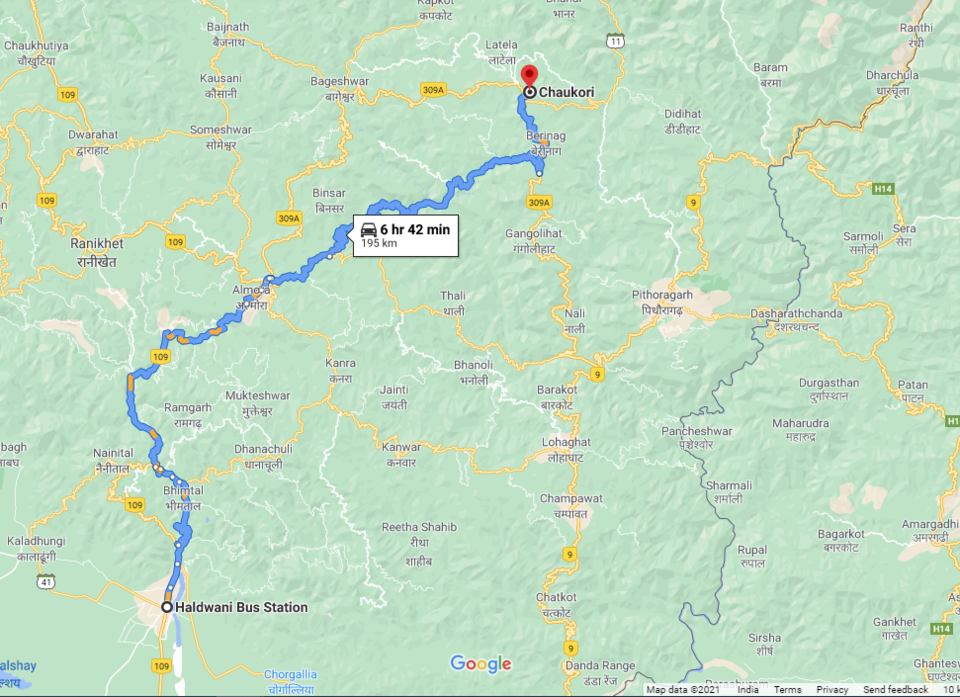 We started at 5:30 in the morning and reached there by 1:30 PM. 8 hour journey could be tiring but the majestic views, lush forests, cold breeze, amazing songs and a few wild animals never made us tired or bored. Indeed it was beautiful.
We took a halt at Sheraghat.
Sheraghat is located close to Berinag which is the diverging point for Patal Bhubaneshwar temple and Munsyari. Berinag is also a good option for halting other than Chaukori.
This place is 137km from Munsyari, it's like another 4-5 hours more.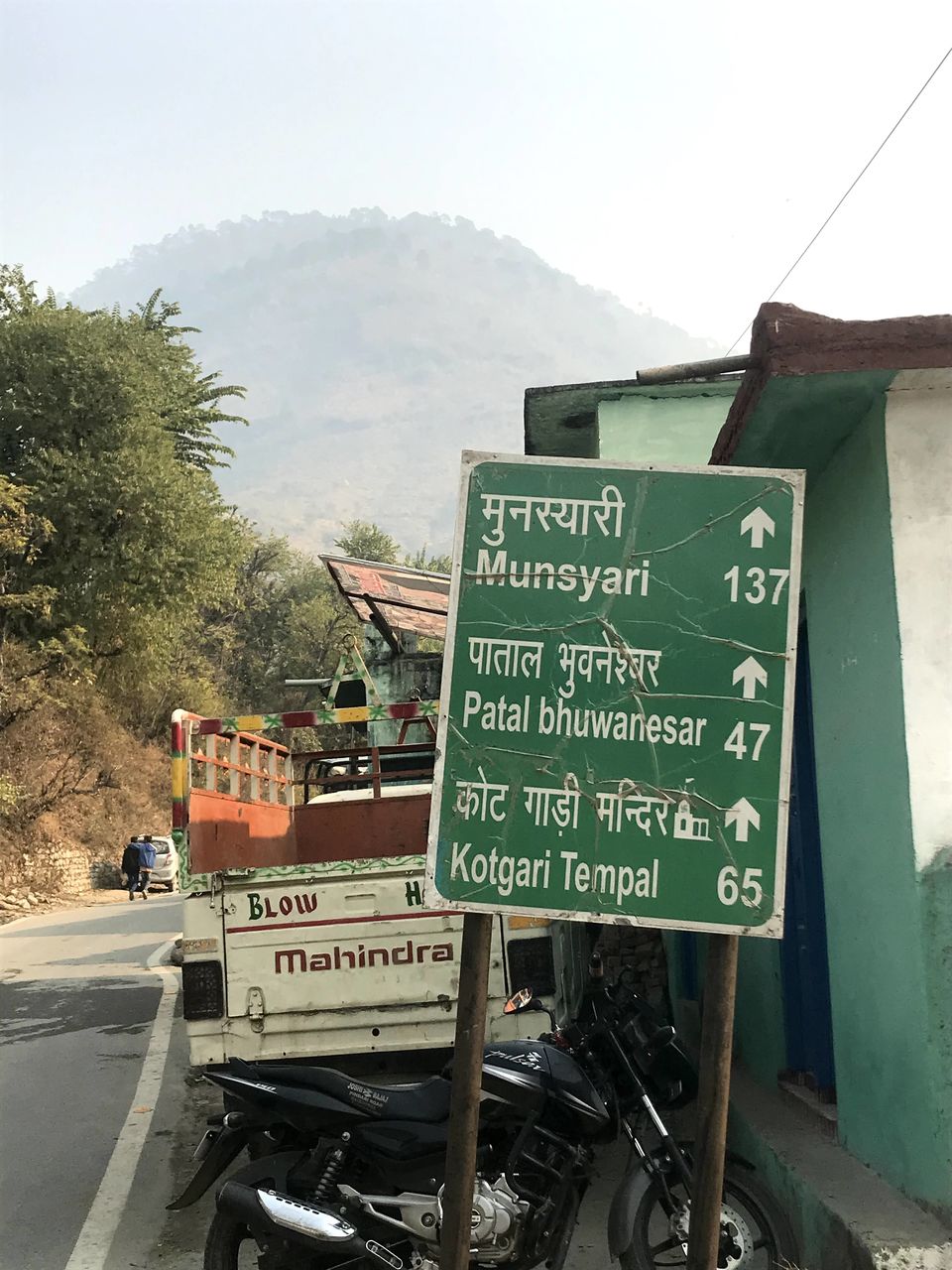 We had the best tea ever at Sheraghat, trust me it was the best tea we all ever had. Till date we miss that tea. If you are going to Munsyari then do stop at Sheraghat have a cup of tea and enjoy Saryu river. It was a small dhaba just before the bridge to Berinag.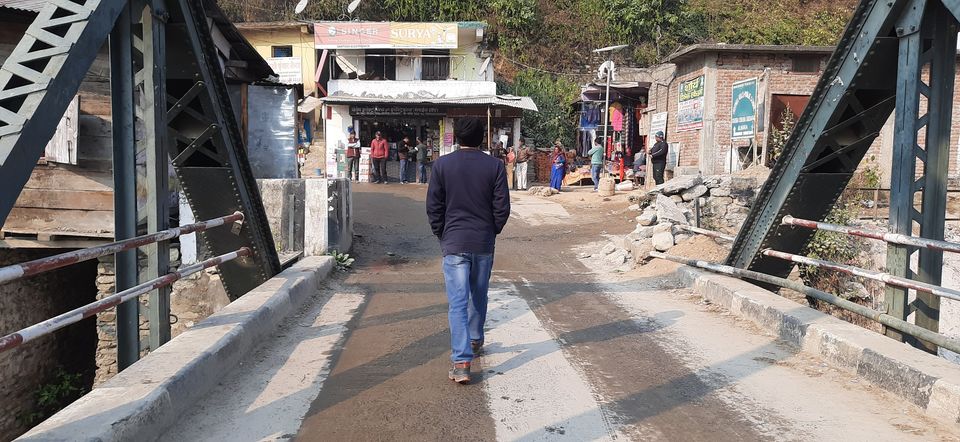 We reached Chaukori at around 1:30 PM, our cottage was booked at Hardik Resort.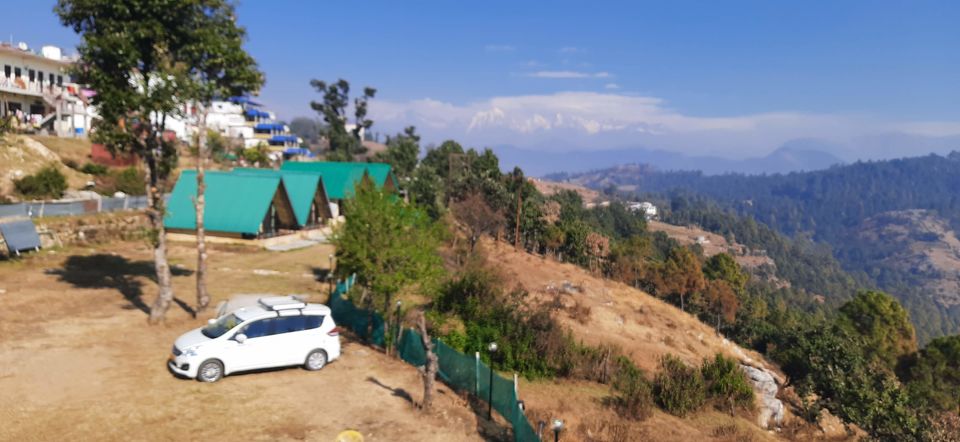 Chaukori is situated at an elevation of about 6600 ft. The place offers nothing much to visit but it offers you peace, you can relax here, watch the sunrise and sunset from your cottage, stroll around the village, talk to the locals and have a cricket match with the locals. Yes, you read it right, there are kids playing there and you can play with them but boy lemme warn you, they are really good.
Although we lost to them :P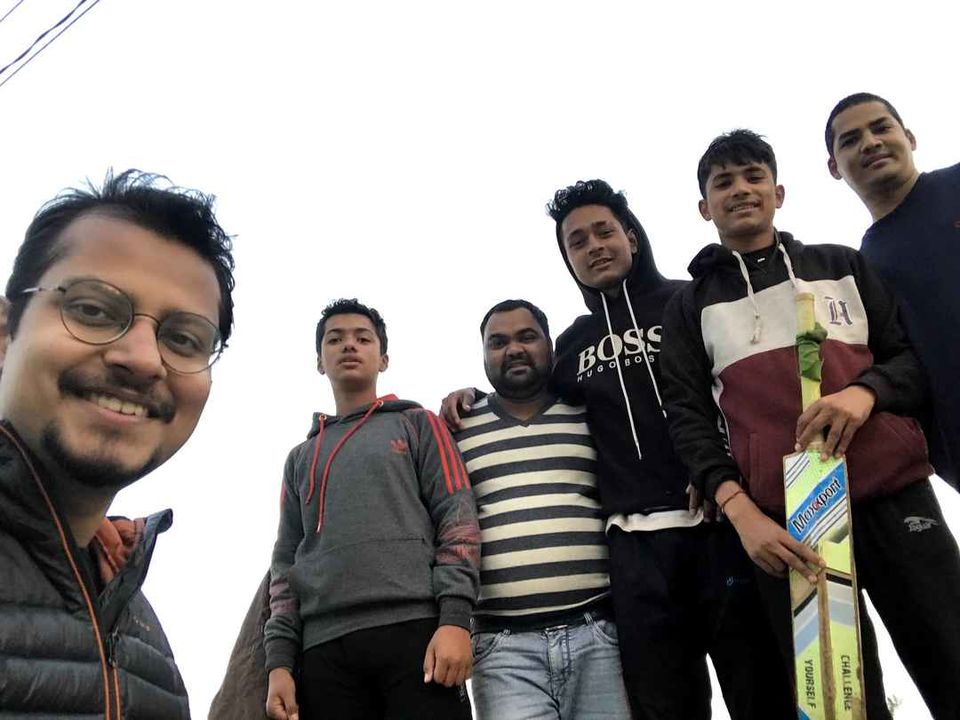 We asked the kids if there was any cafe or restaurant nearby and they told us about "Pahadan cafe" near our resort.
You know what, we had the best momos in our entire life there, till date we miss those momos. They were not like regular moms but were soft and delicious.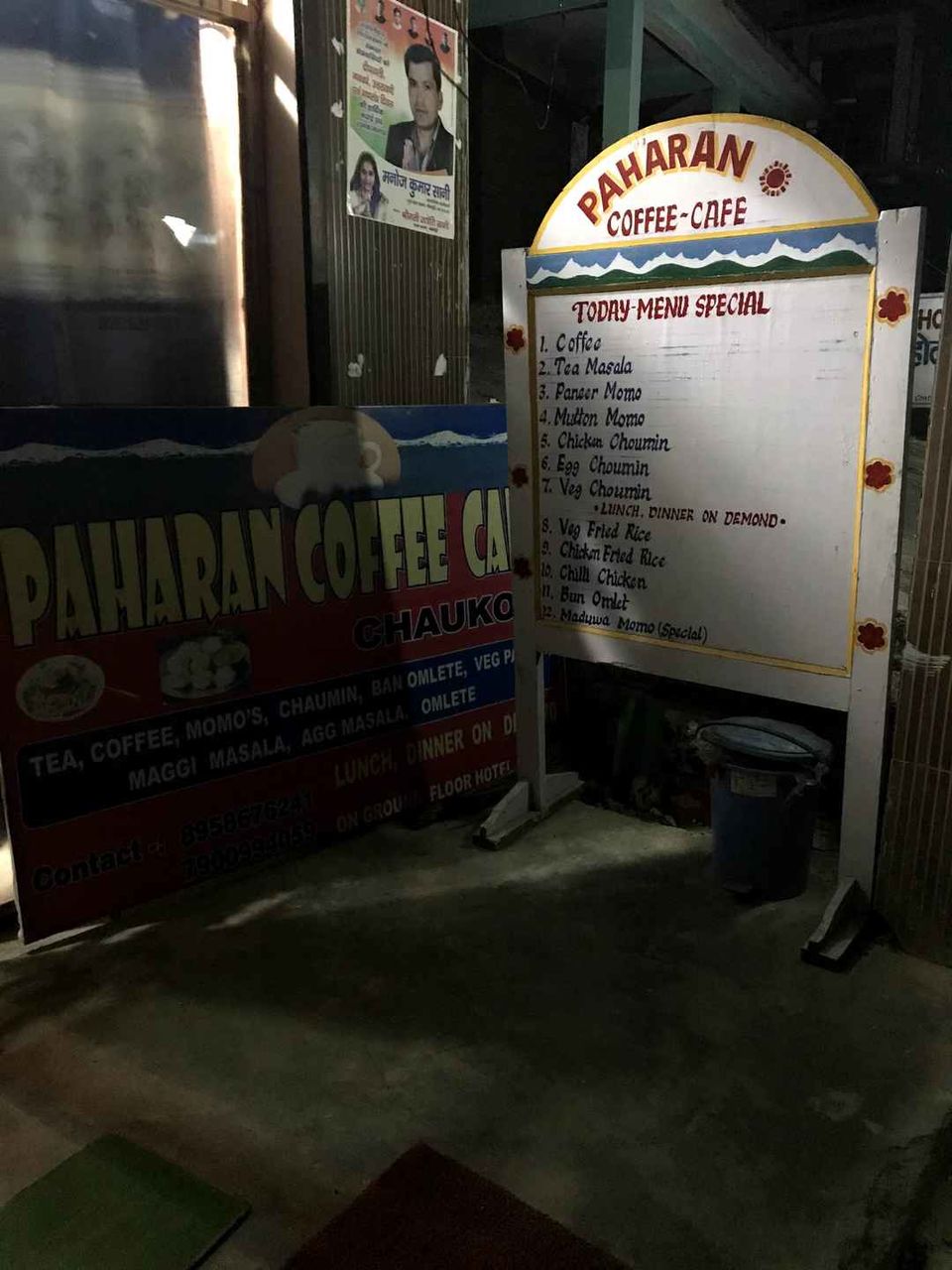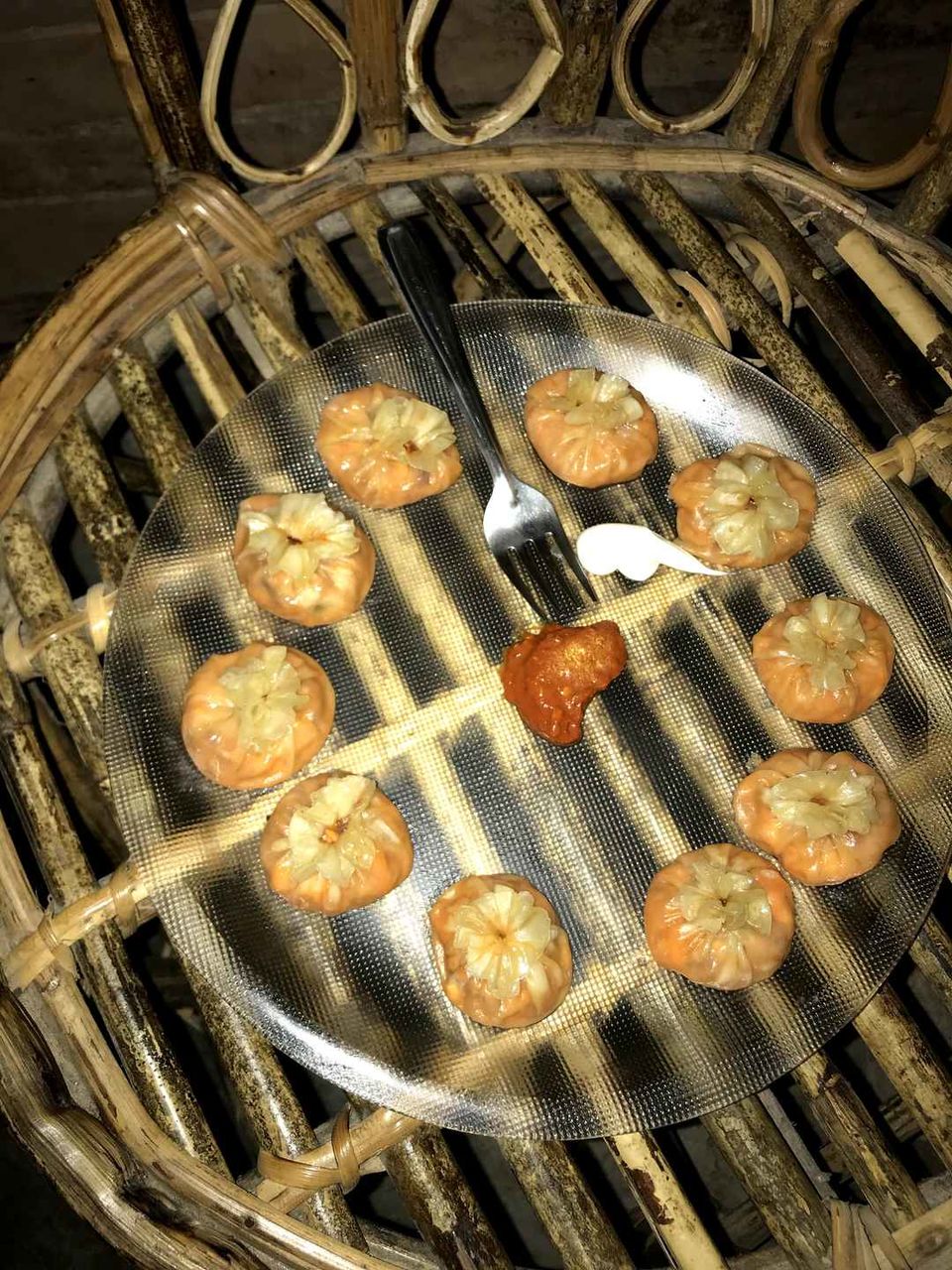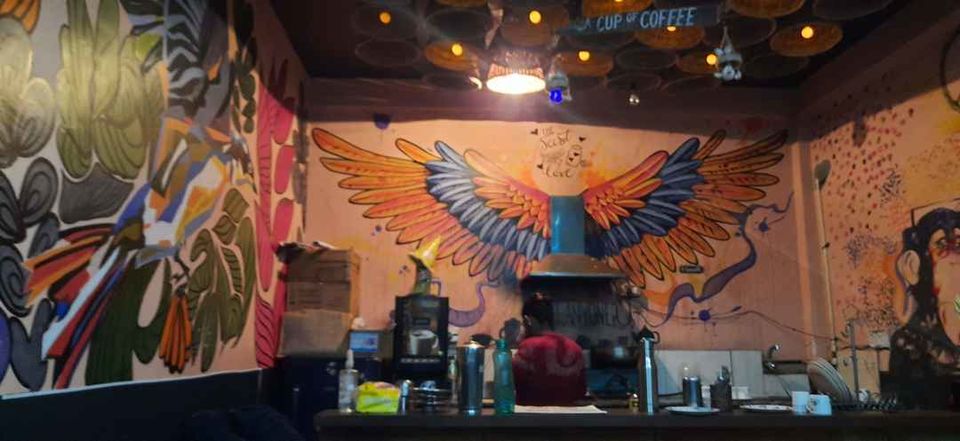 Next day we had to go to Khaliya Top for our trek.
After having the breakfast at Hardik Resort, we left for Khaliya top via Birthi Water falls.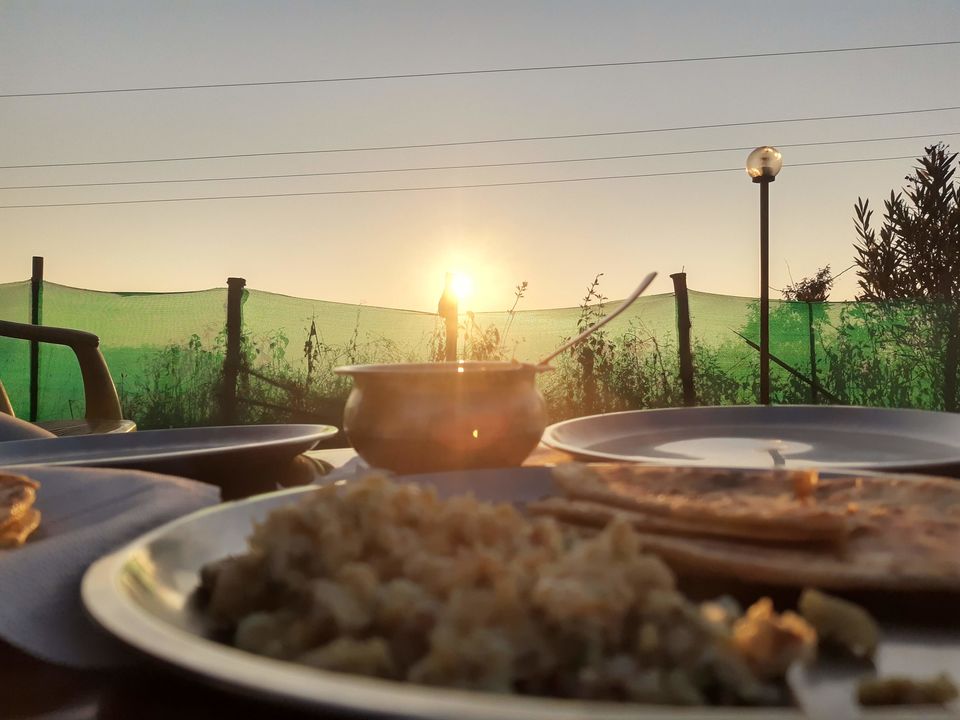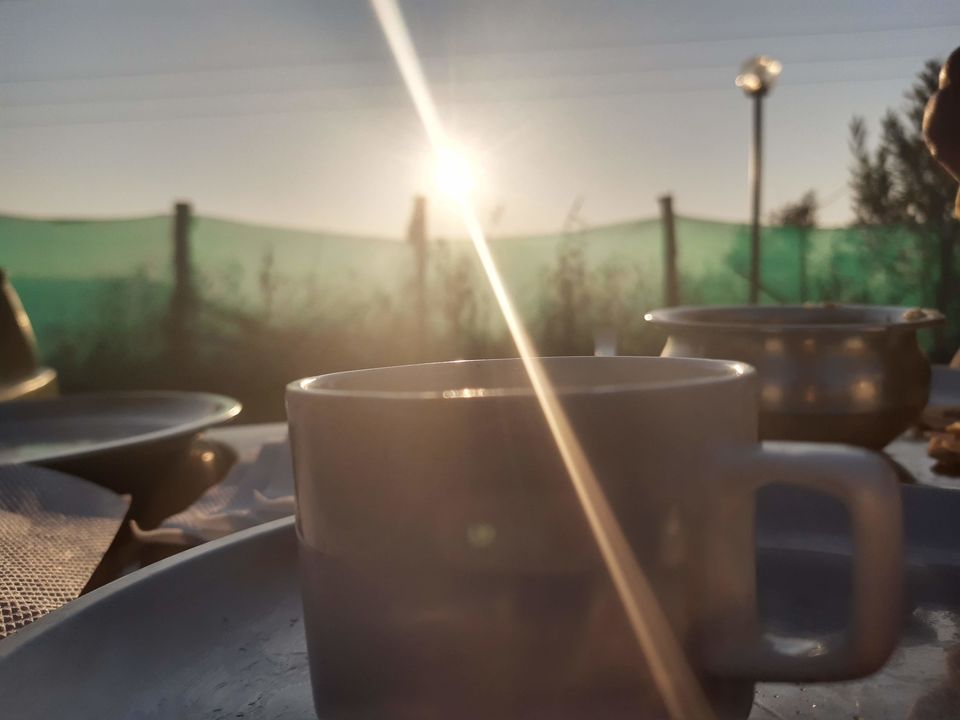 We left from Chaukori at about 8AM and reached Birthi Falls at around 11 AM.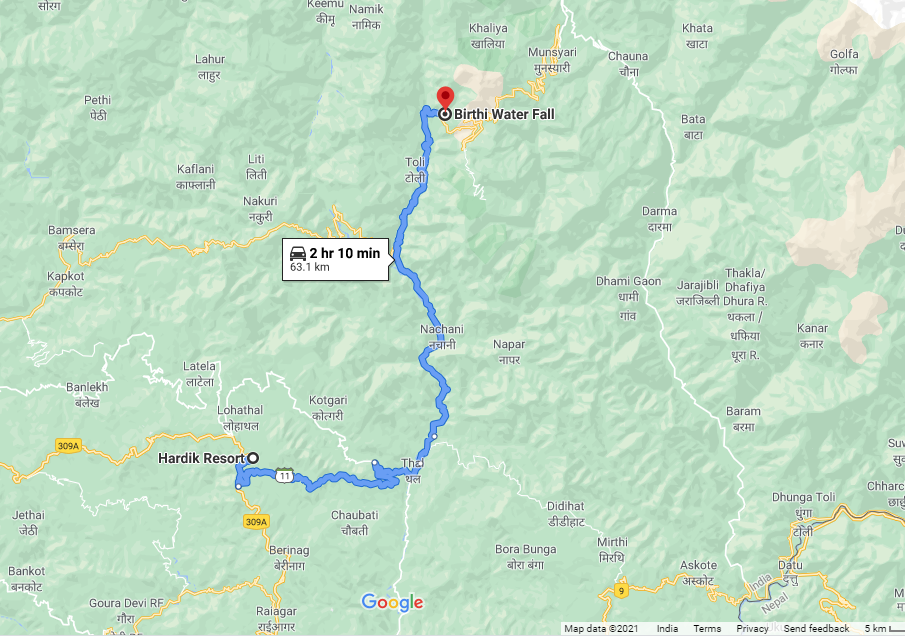 Birthi Falls is 65km ahead of Chaukori and around 20 km behind the starting point of Khaliya Top.
Places that are untouched or are not much commercialized offers you more than box full of memories. Munsyari being quite far is less explored and is therefore clean. The route to Munsyari will make you feel like some kind of fairy land. Lush forests, zigzag roads and aj main upar aasman neeche wali feeling.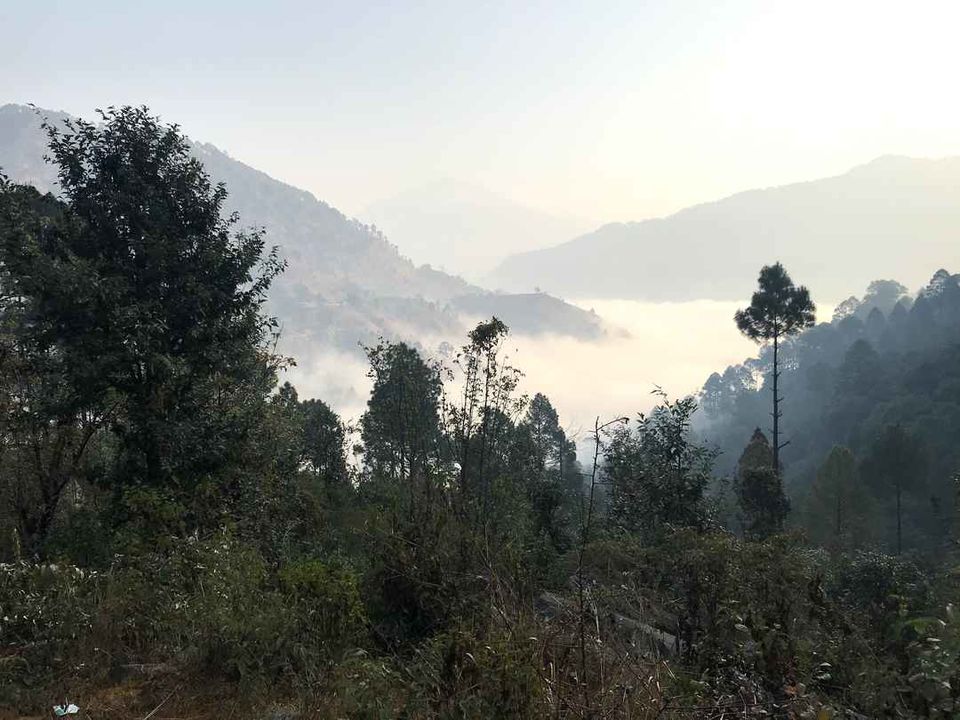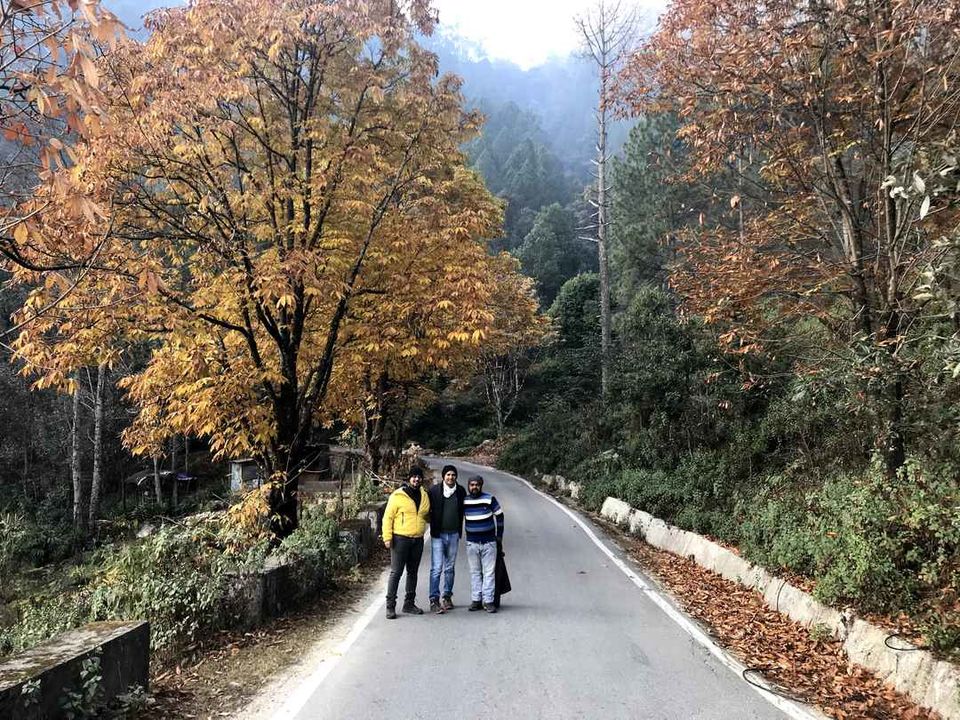 It is a majestic waterfall and one can spend an hour or so here. A short trek of about 1-1.2km leads you to the foot of Birthi waterfall.
Many adventure seekers take a hault here instead of Chaukori, you can pitch your own tent or can see if there is any homestay available because there are no hotels here. Many like us gets our refreshment here before further proceeding to Khaliya.
Birthi falls can be seen from 2-3 km (you can see it in this picture also while this place is 2km before Birthi).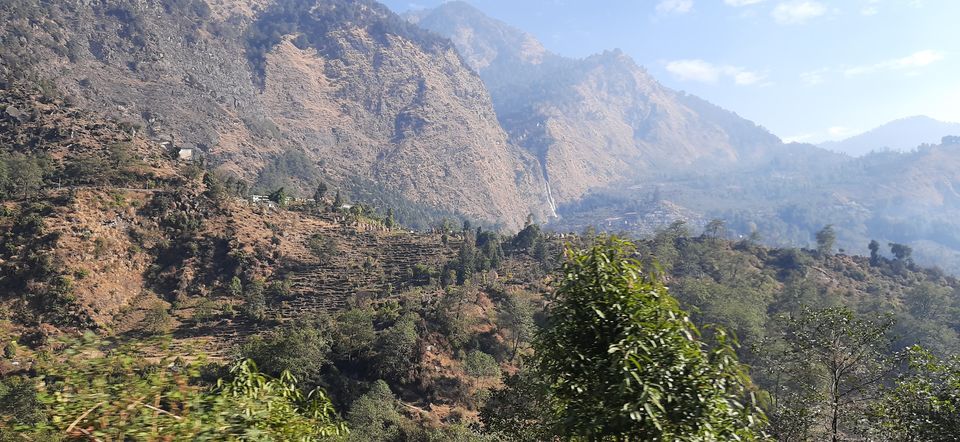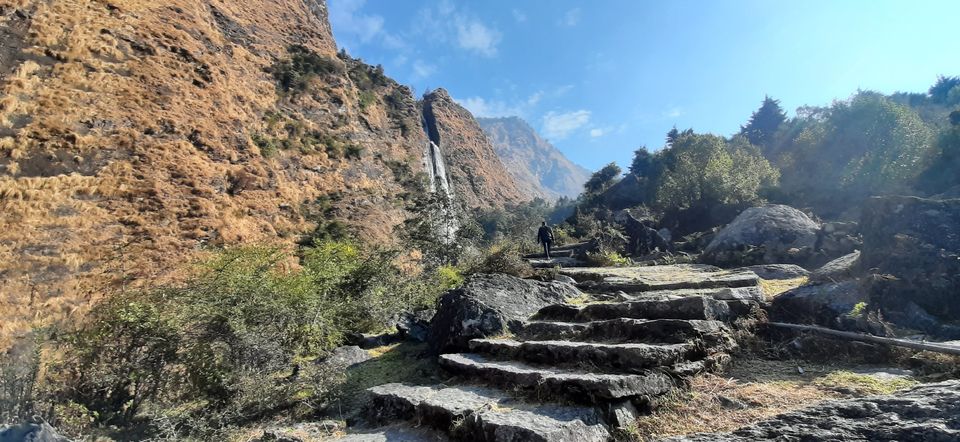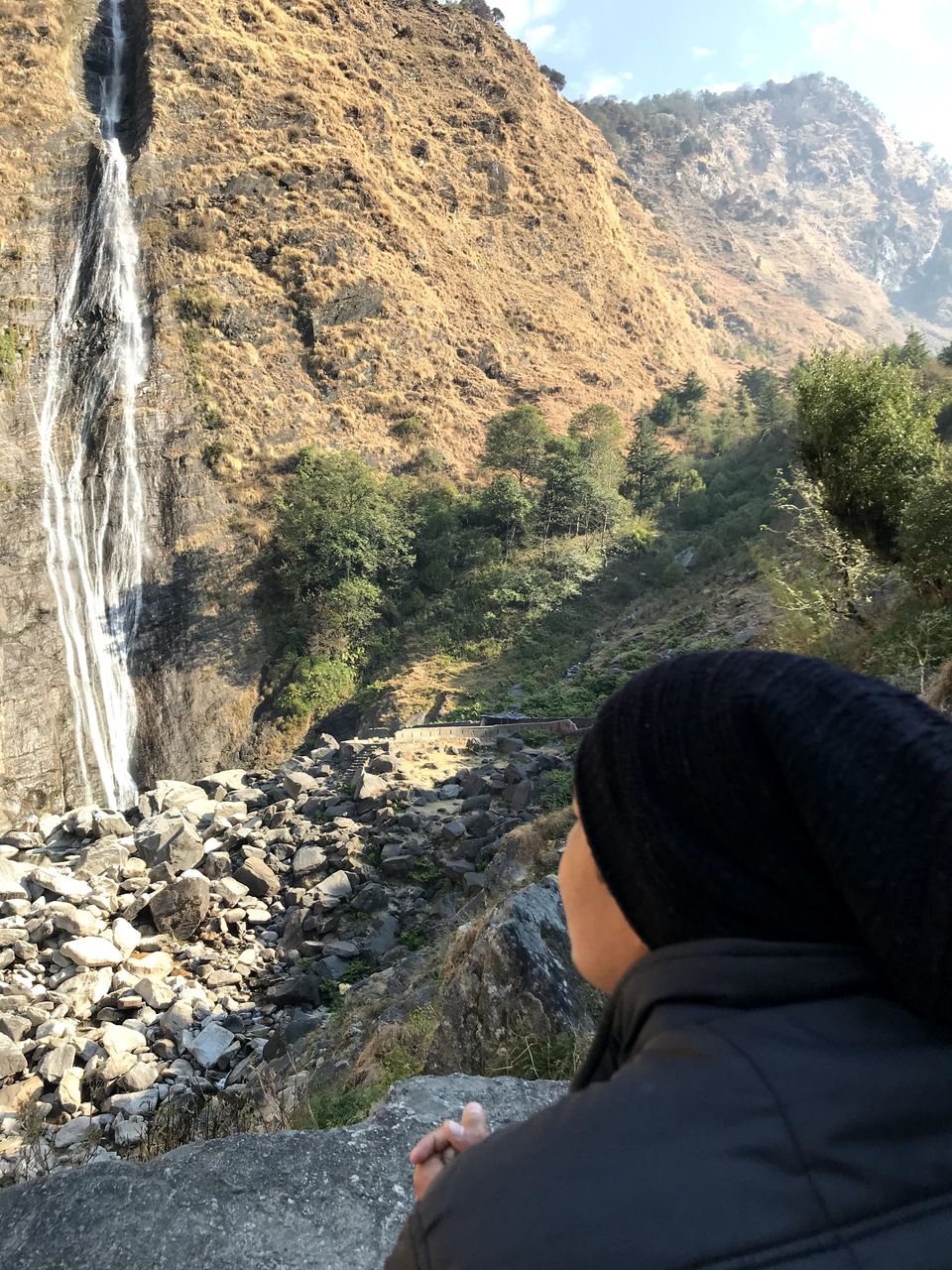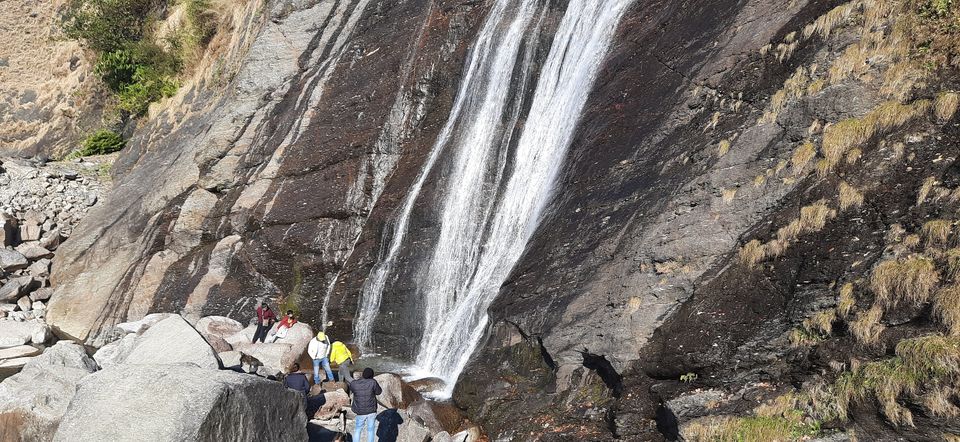 One more thing I would like to mention is that from here onward, the true breed of Bhotiya Dog starts.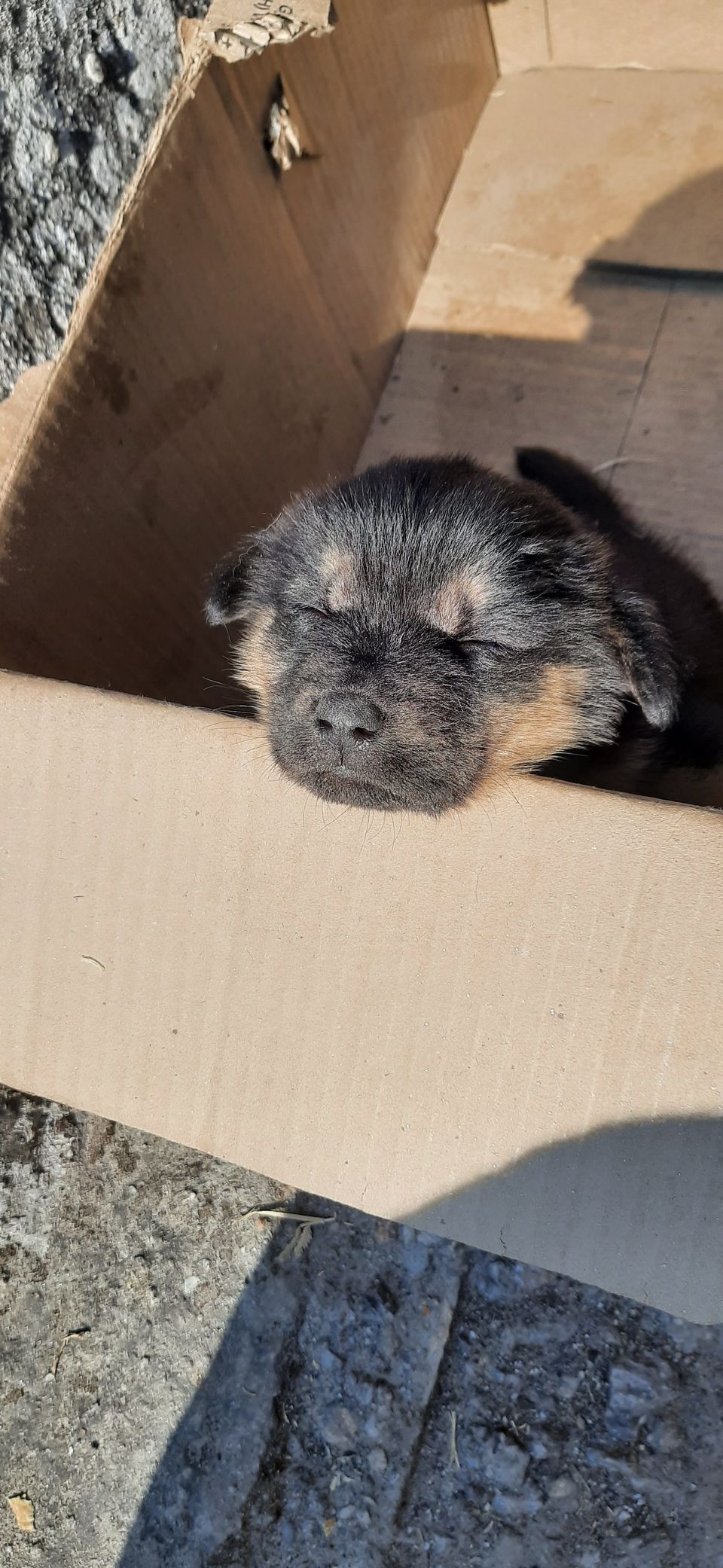 We left for Khaliya at about 12 Noon and reached there at about 1PM. The road to Munsyari is considered as one of the deadliest roads in India and we saw why it was so. A total zigzag road with hair pin bends accompanied by pillars of names of all the deaths that took place on that road. It might give a chill to the weak hearted fellas.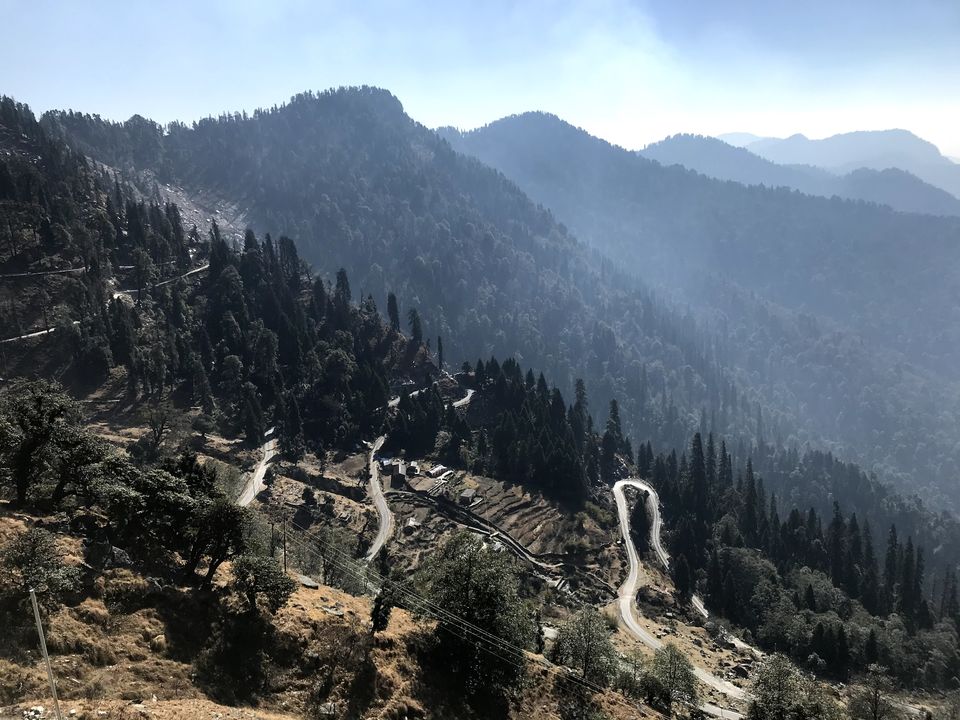 At many points you will feel like doing an off-road trip. Ertiga is a good car but I would suggest to go with something above 2000CC. A 4X4 jeep/SUV would be more comfortable. Ertiga being 1400CC was risky but Santosh Da was a professional.
We reached Khaliya at around 1 PM. An entry ticket of Rs. 30 was mandatory for every one entering the Khaliya area. It's a short 8Km trek but the altitude being more than 10,000ft. The trek is a composition of gradual and steep ascents. It passes through silent forests and you will be accompanied by Bhotia Dogs.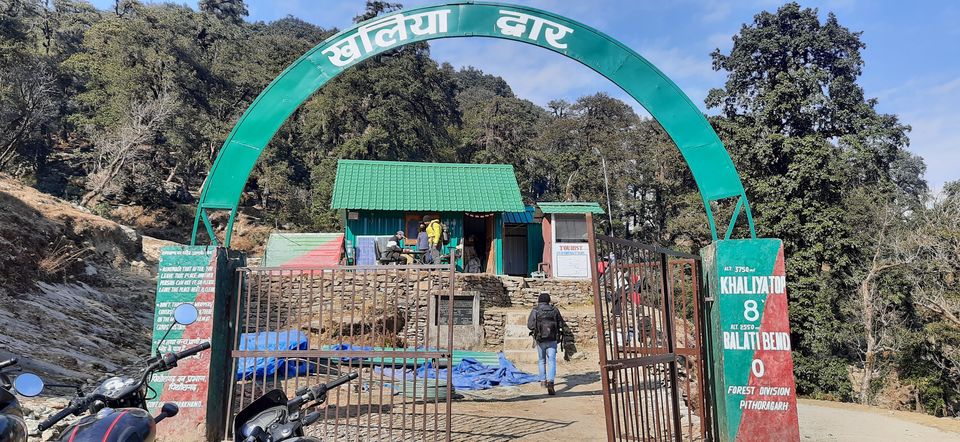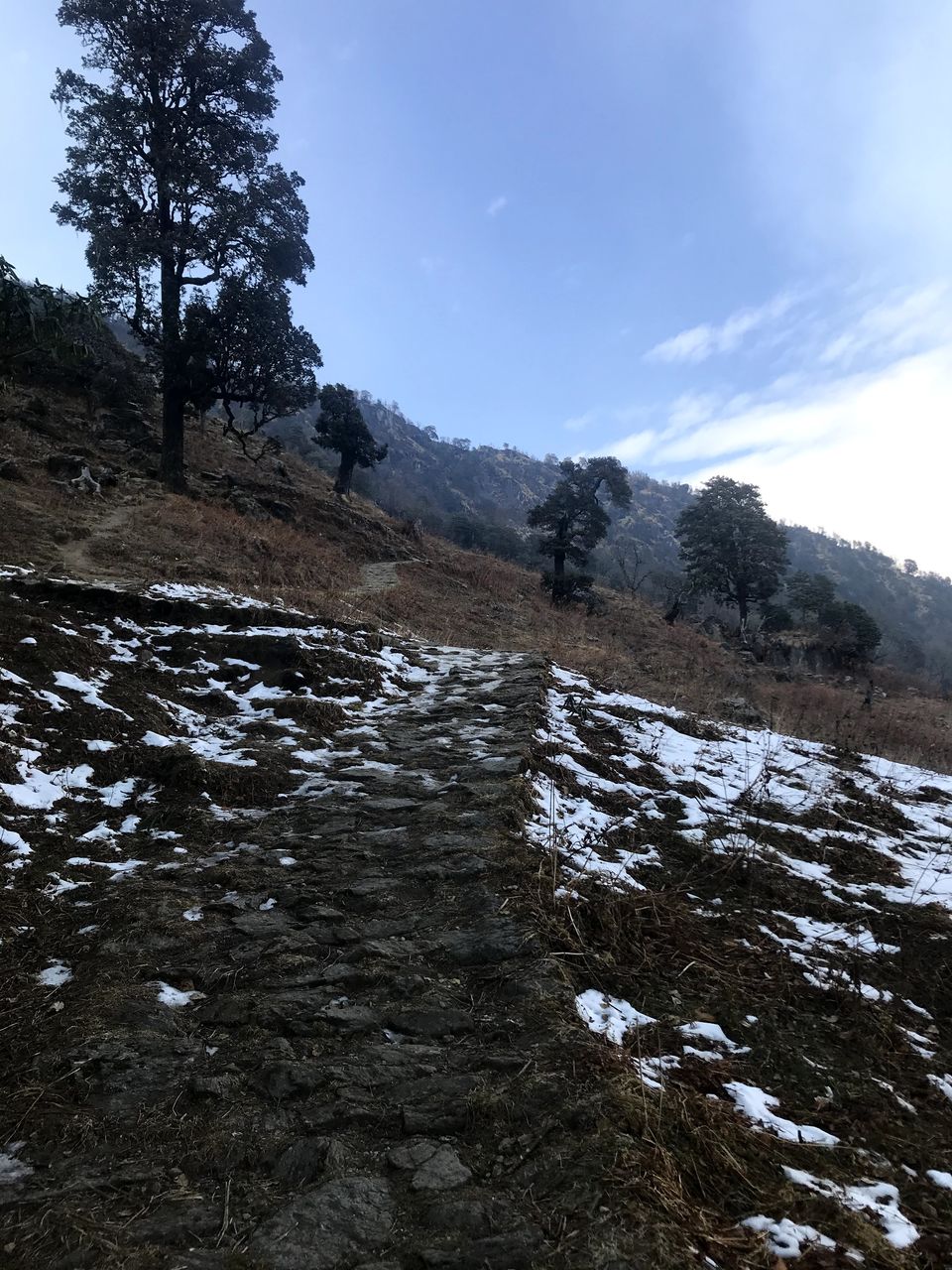 After about 5 km of ascent, there is a KMVN rest house and a small restaurant. KMVN rest houses are required to be booked in advance, few people pitched their tents but lemme tell you one thing, the temperature drops down to subzero range here in winter. So if you are pitching a tent then you should have proper sleeping bags and proper layers to protect you from cold.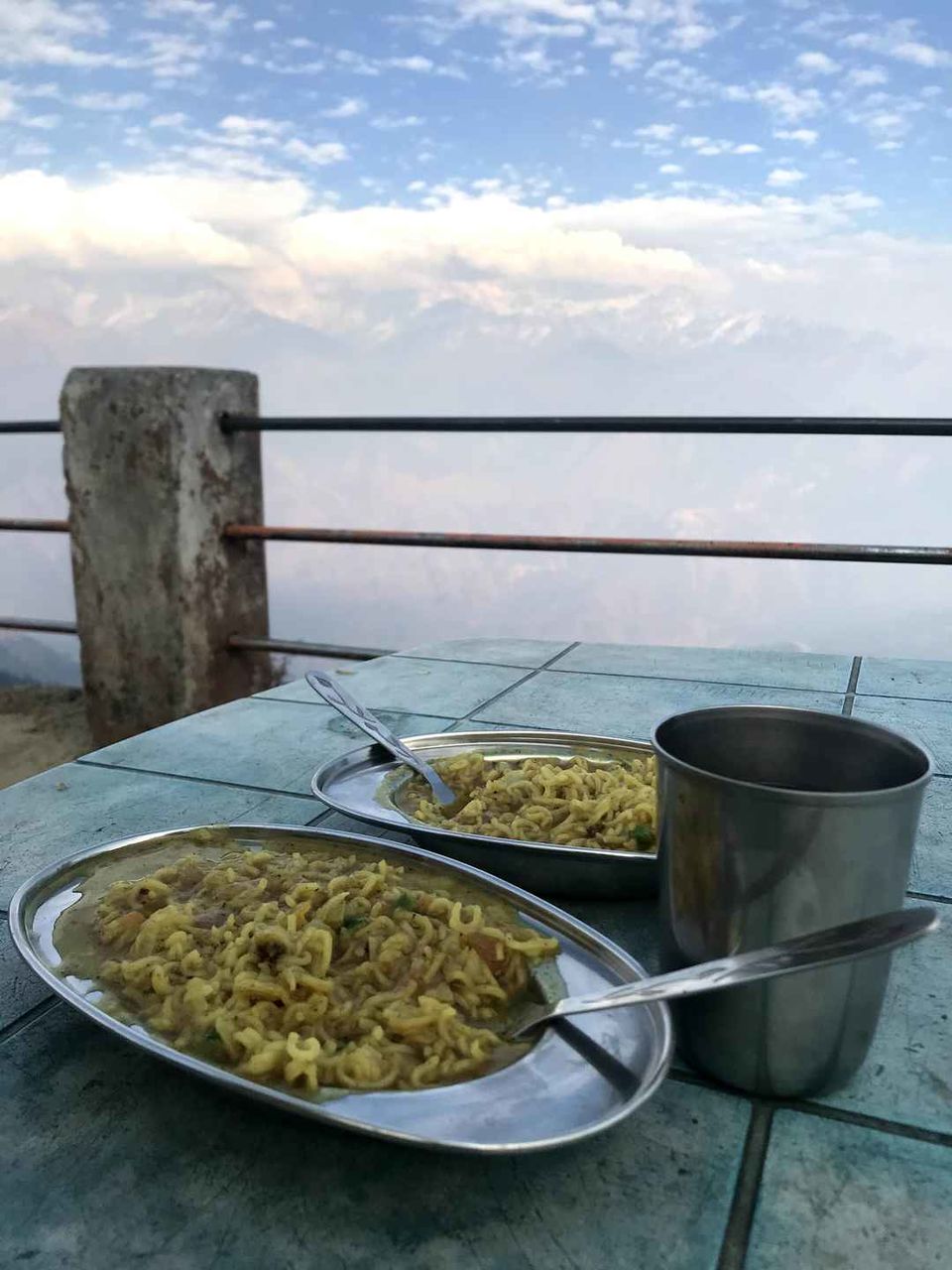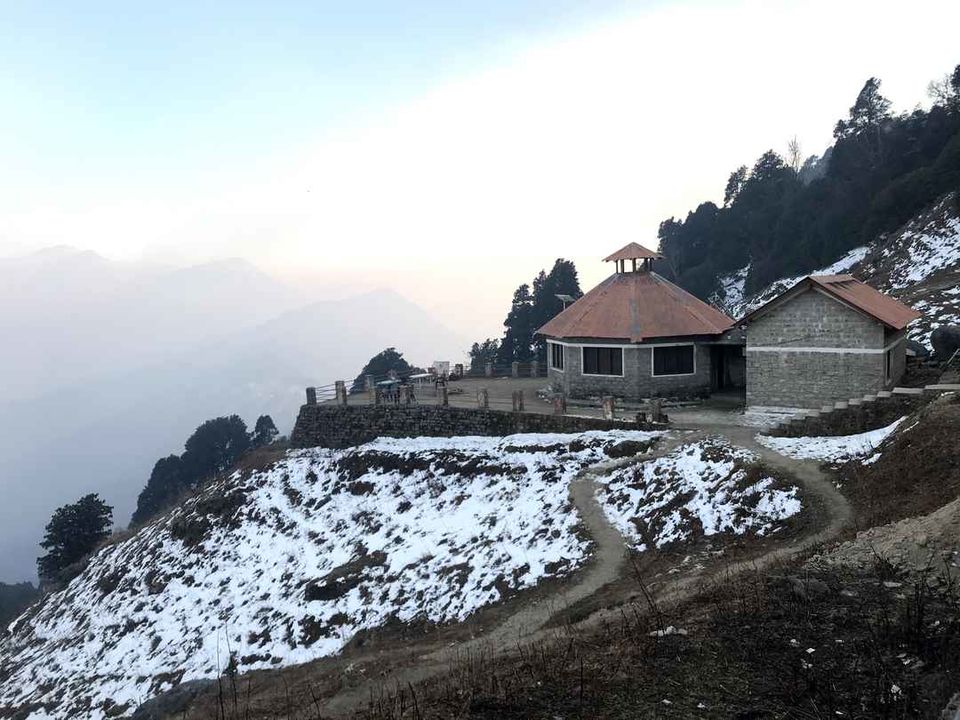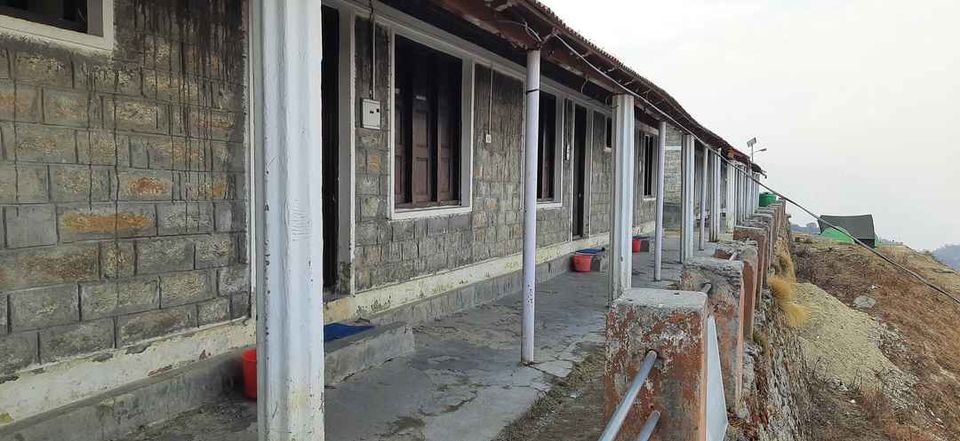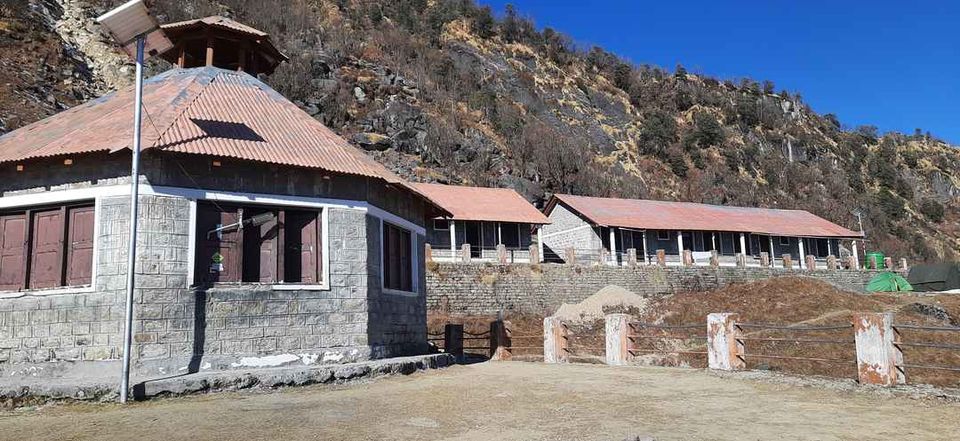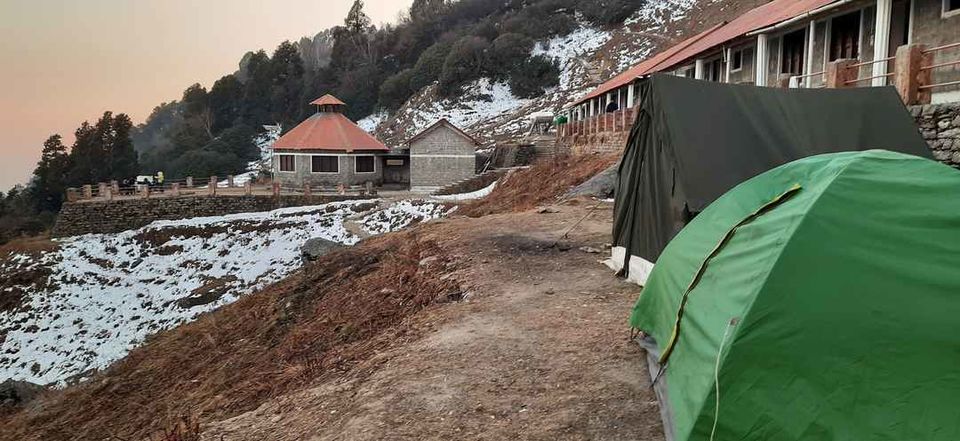 We reached here at about 4PM and my pahadan friend had already did a booking here so we got ourselves a room too.
Although there wasn't much snow when we came to Khaliya, only patches of snow were there but it was indeed too cold.
It was not just cold there, it was bone chilling bitterly cold. The temperature there was close to -5 degrees Centigrade. We had a layer of inner, t shirt, sweater and a down jacket over us but it was still quite cold. All the rooms were equipped with washrooms but they are locked in winter as the pipes are frozen. There is a common washroom outside but who would dare to go their in this much of cold. Well I did :P and it was like "meri rooh ka parinda fad fadaye", I could see my soul leaving my body :p
Next day, we woke up at 5AM, got freshen up, took a cup of sizzling hot black coffee and started our trek to Khaliya top under the stars.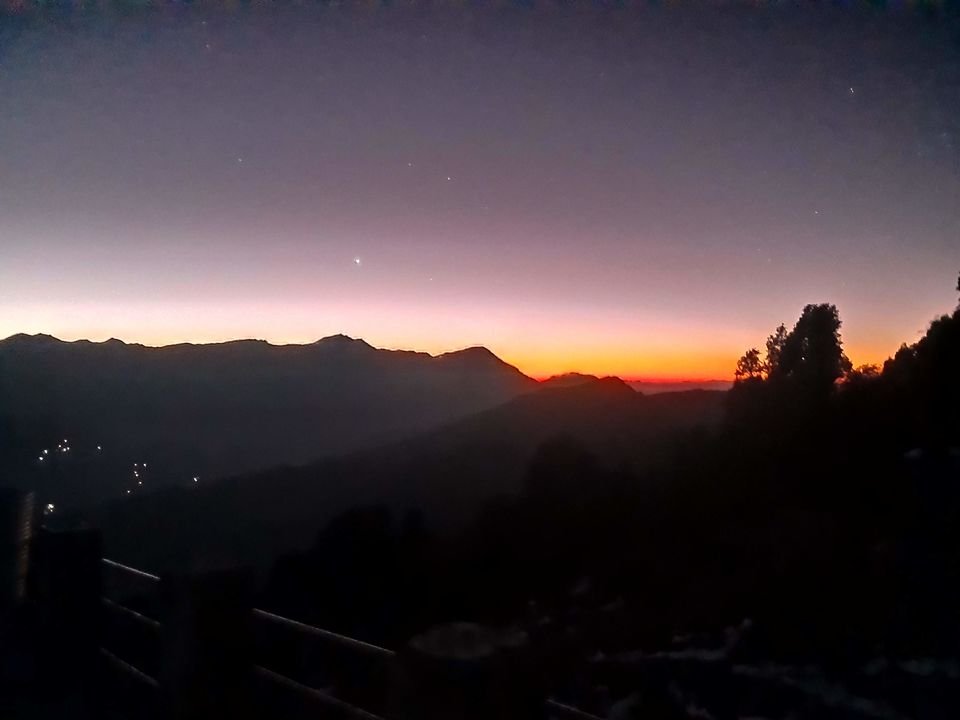 It was a steep ascent and most of the path had ice (not snow) on it making it difficult to move. We wanted to see the sunrise from the top which we did.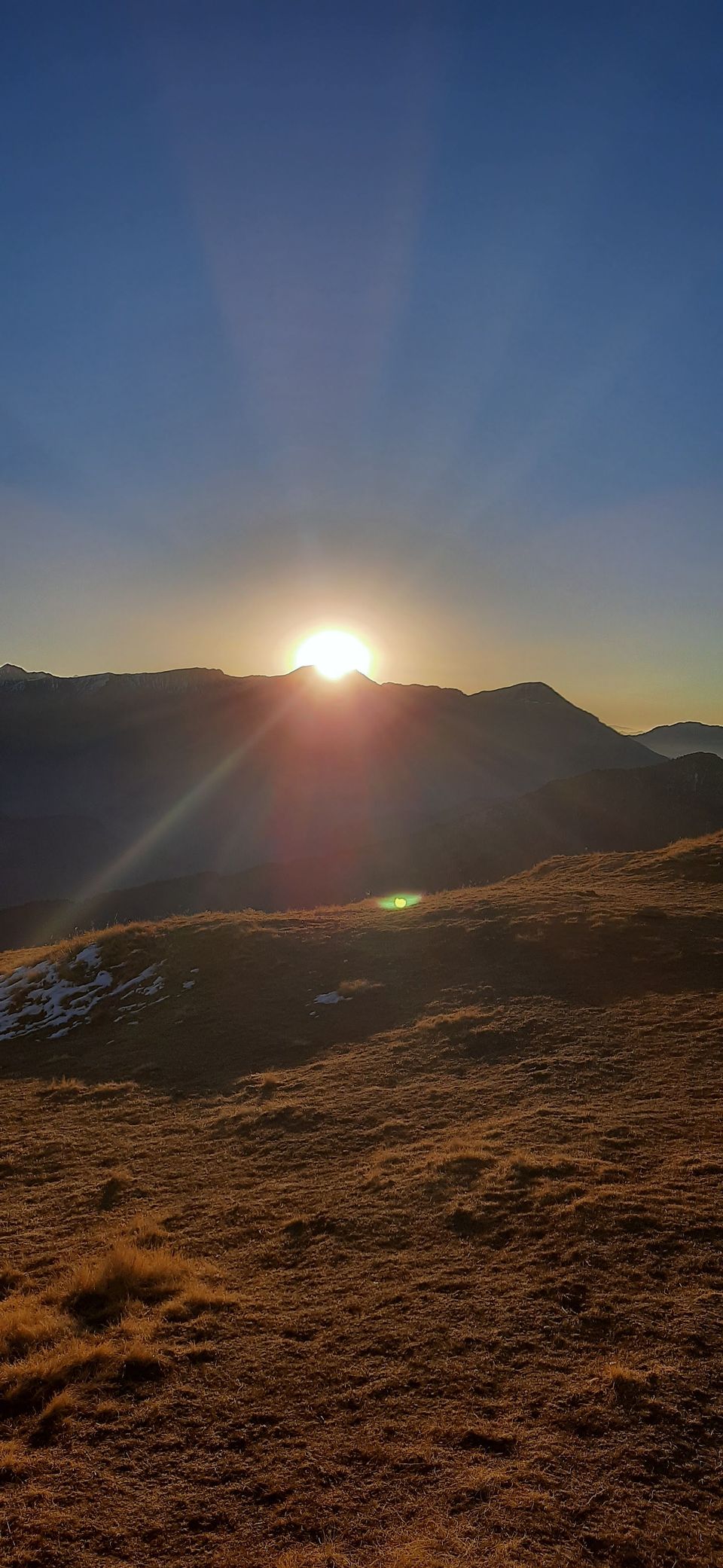 It felt like there is so much to see in this world but may be we won't be able to see enough. I remembered a famous quote saying "When I die and my atoms become free, I wish they wander the universe I never got to see". The feeling is hard to describe.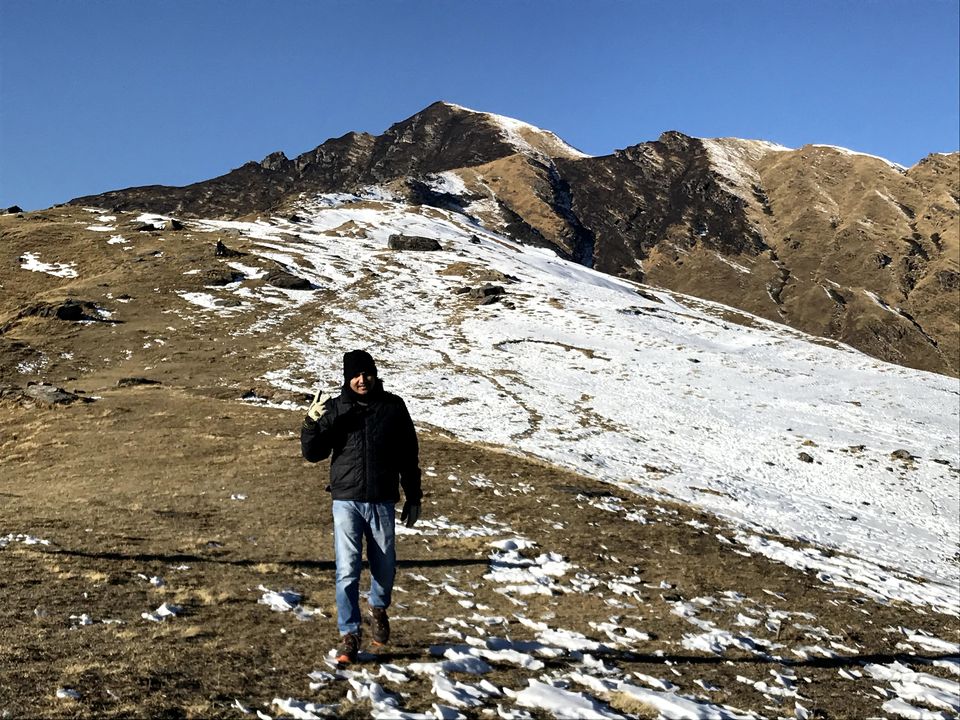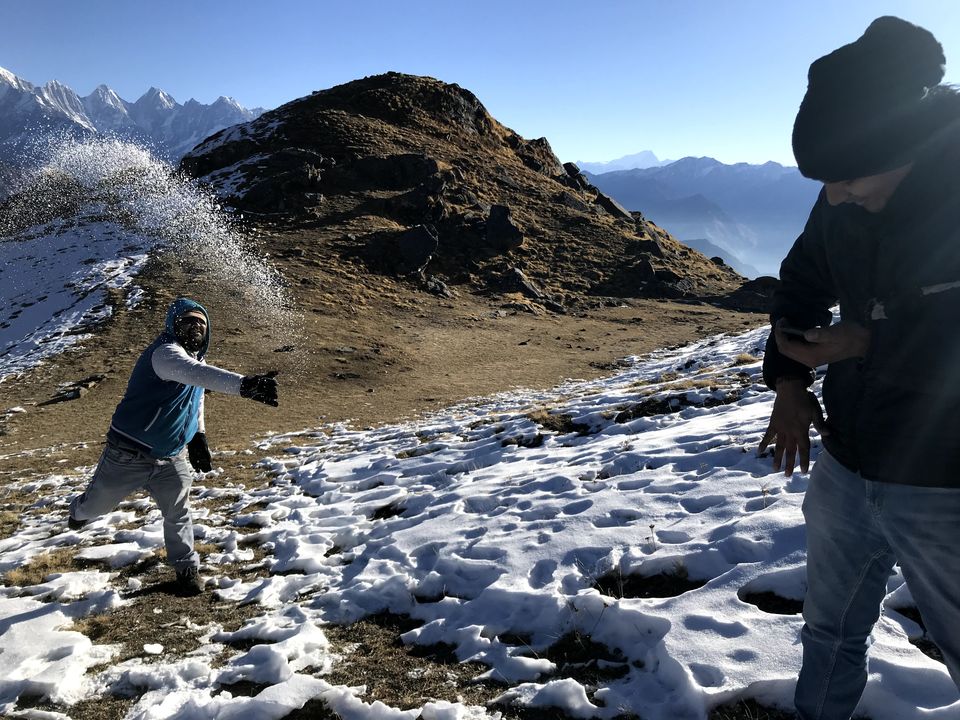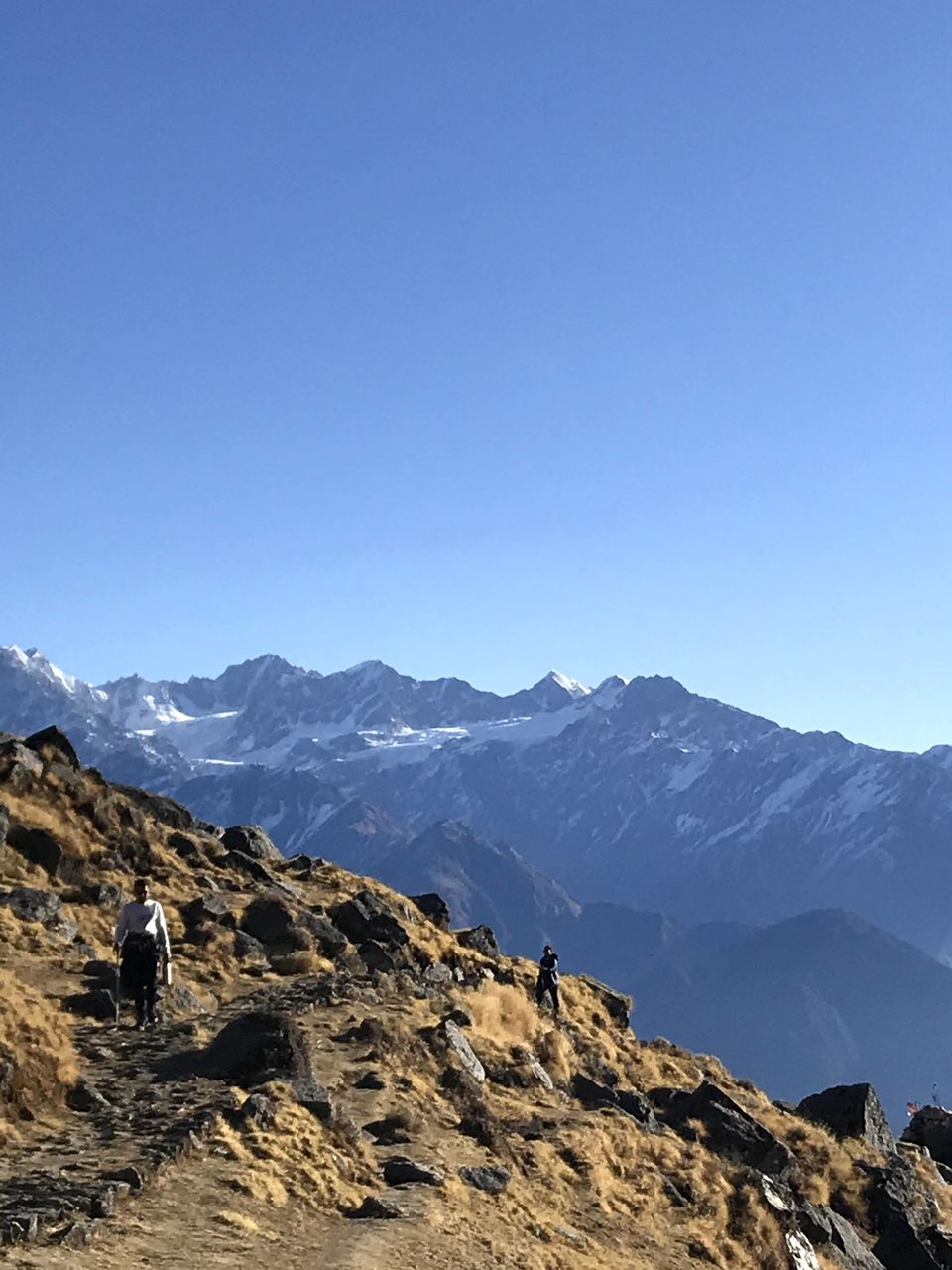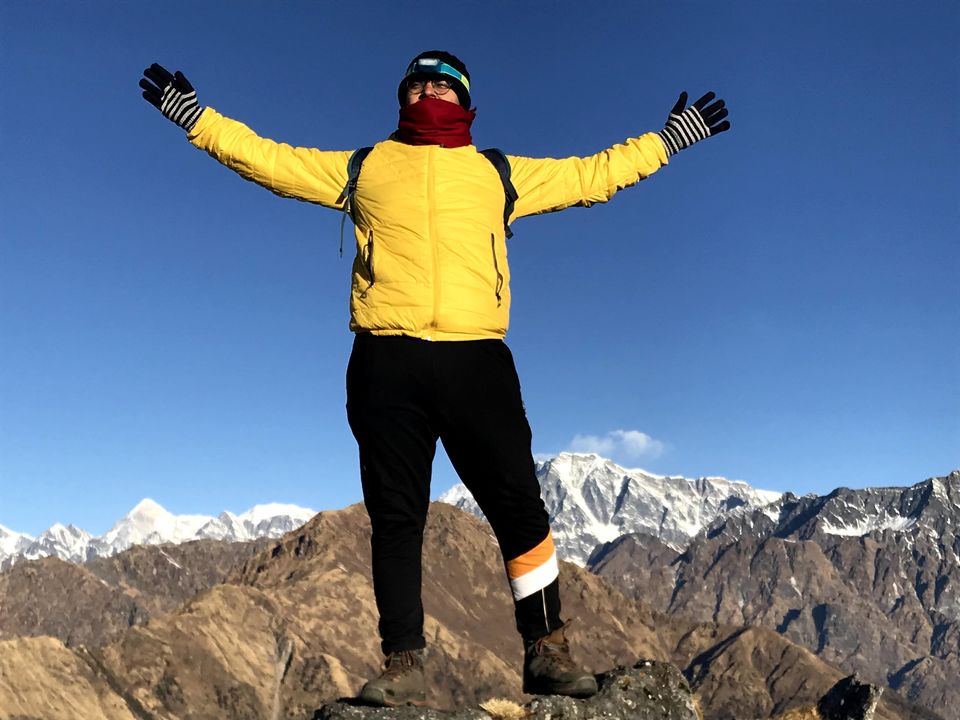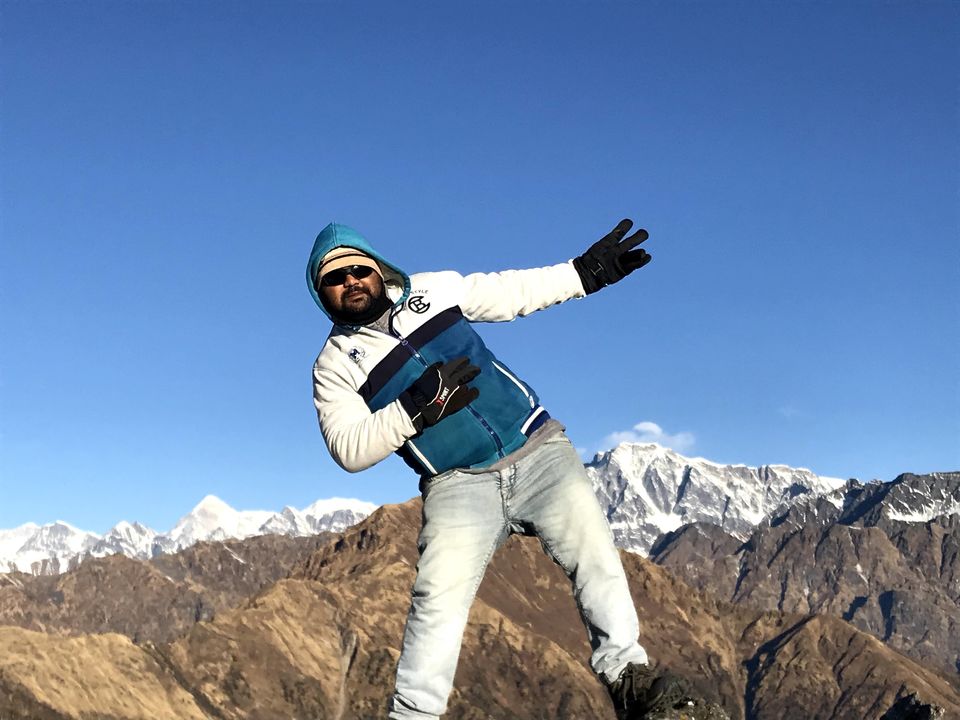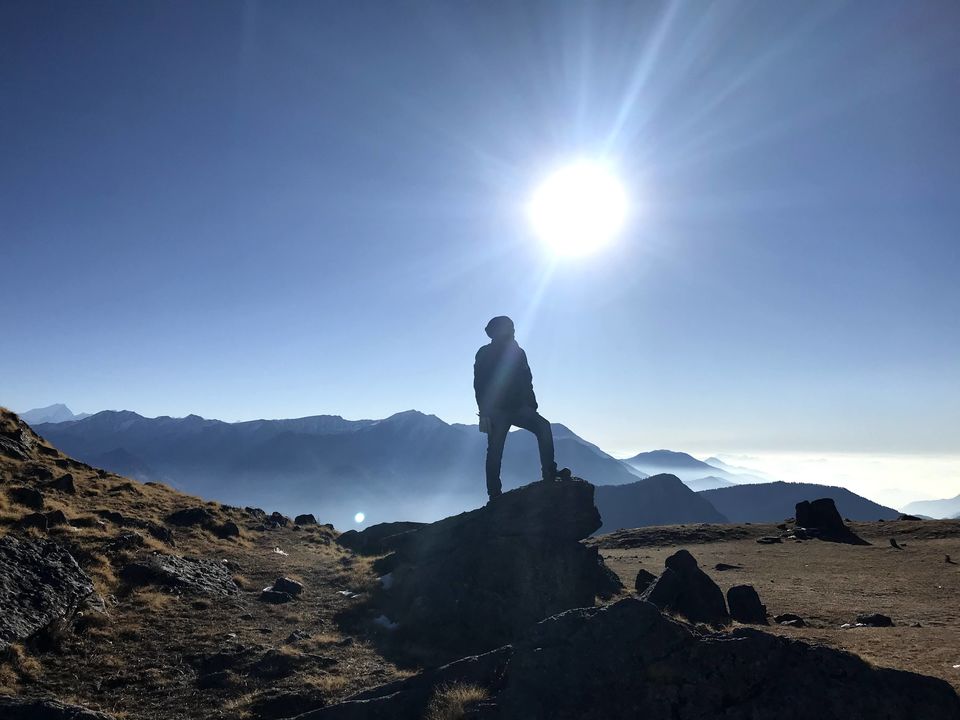 We could not do the summit as the route had more of ice on it than snow. Neither did we have technical equipments to traverse through ice. But, we were surrounded by the big peaks, Nanda Devi, Nanda Kot, Panchachuli all around us. We must have been lucky that day that the sky was clear and everything was visible, may be God wanted us to cherish those moments and the beauty around, indeed it was Jesus's Birthday. It was quite, calm, peaceful and I remembered Farhan Akhtar's poetry from ZNMD.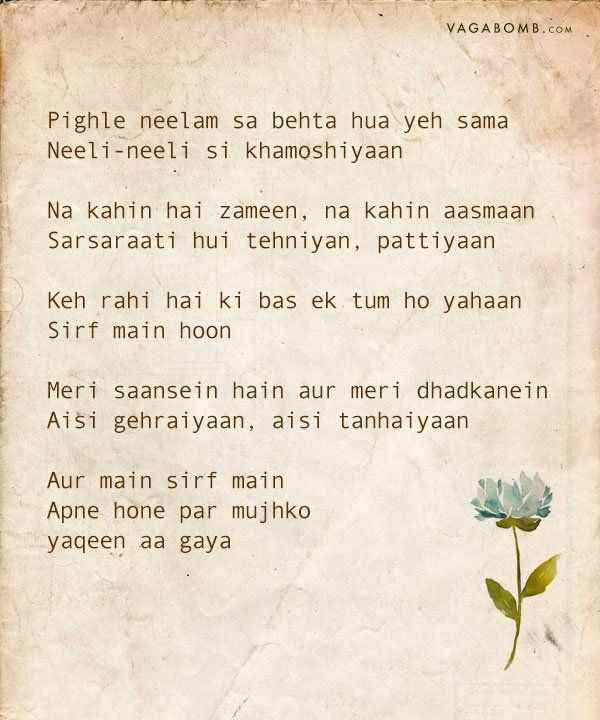 It was indeed the same, just felt the magic in the air.
Well after rebooting ourselves at the top, we were super charged and started going down. We had Maggi and Chaai at the restaurant after which we reached at the Khaliya entry point.
We reached the entry Point at about 12PM where Santosh Da was waiting for us. From there Munsyari is another 7km and will take like 15 minutes.
Another trek Thamri Kund is also situated nearby, it too is a short trek and offers camping beside a small pond. We did not go for Thamri Kund because of time constraint.
My Pahadan friend had already booked us a room at Hotel Milam Inn. It is situated at the entry point of Munsyari. Indeed a good hotel at such place offering majestic view of the Panchachuli Peaks from our room.

We cleaned ourselves, had lunch like a King and rested for a while before going to Nanda Devi temple.
We left for the beautiful Nanda Devi temple at about 3PM, offered our prayers and strolled a bit around. It is dedicated to Goddess Nanda or Parvati and is situated 3km ahead of Munsyari at an altitude of about 7500ft.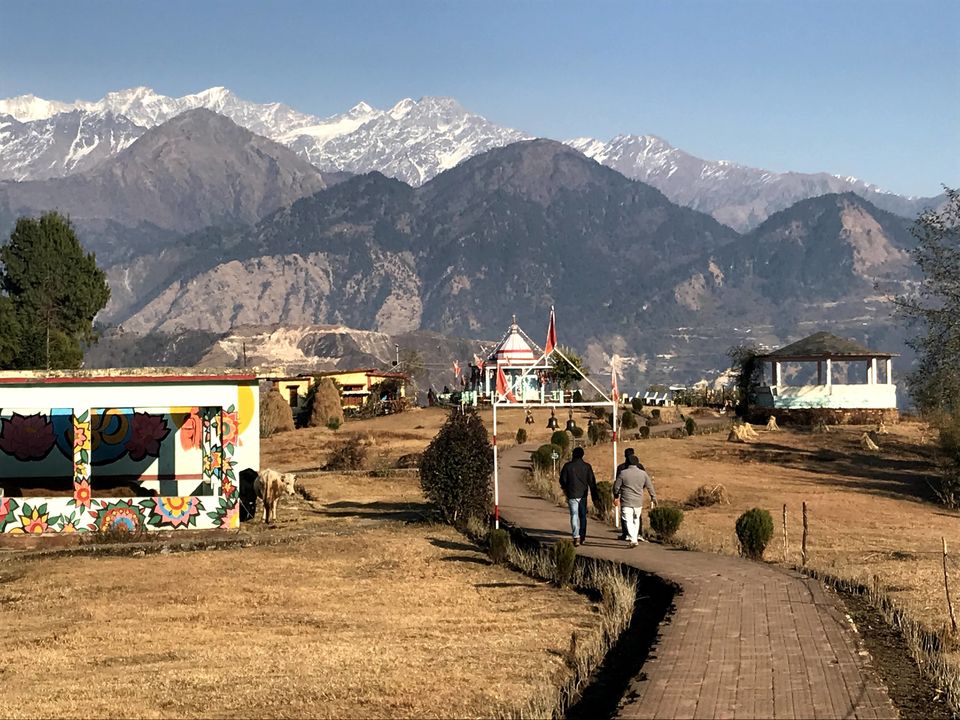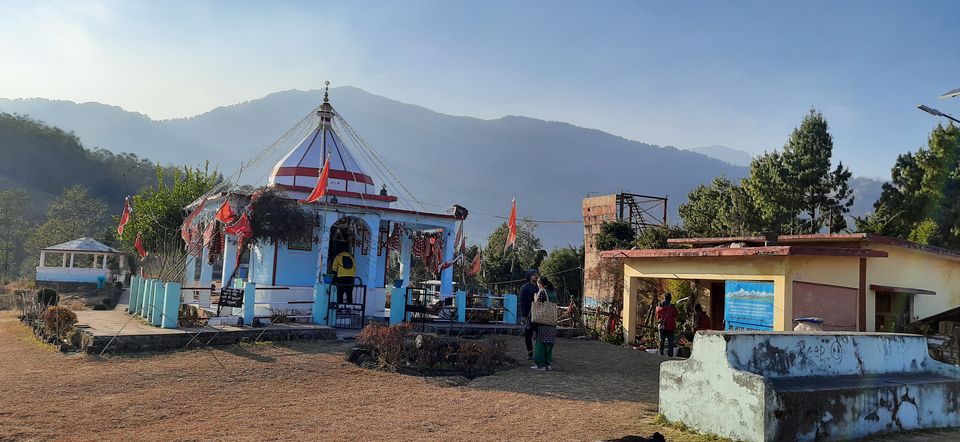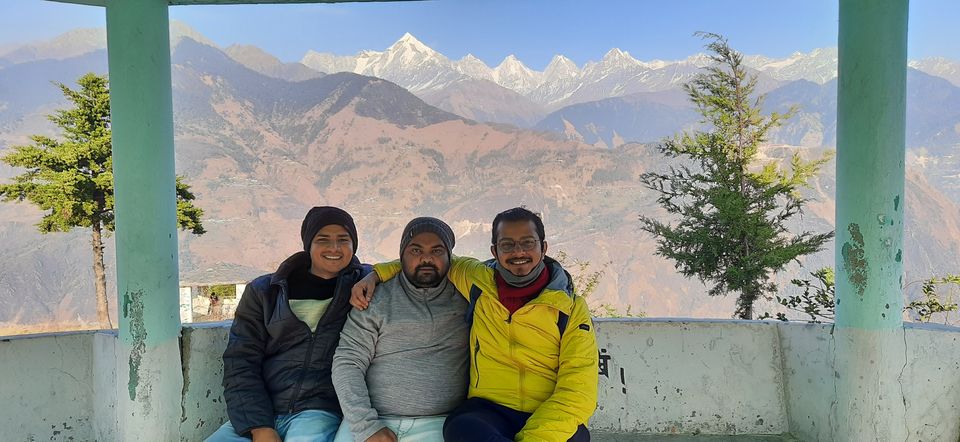 Munsyari is also famous for its newly inaugurated Tulip Garden. It was not fully functional when we visited the place but if you are visiting Munsyari now then it's a must visit.
Munsyari is also famous for its Rajma and people from various cities come here to buy Rajma. They have regular rajma, pink coloured rajma, white coloured rajma and a combination of pink and white coloured rajma, this rajma is soft and cooks quite fast. If you are visiting here then must buy Rajma from the Munsyari market. It's a small market comprising of all necessary items including a liquor store.
So like this our trip to Munsyari came to an end but only Munsyari was completed, we had to go to Delhi also. We had planned our trip in such a way that we will be covering many places in one go.
Next day we were supposed to reach Someshwar via Baageshwar, Baijnath temple and Kausani.
Bageshwar is about 126km from Munsyari and can be reached in like 5 hours.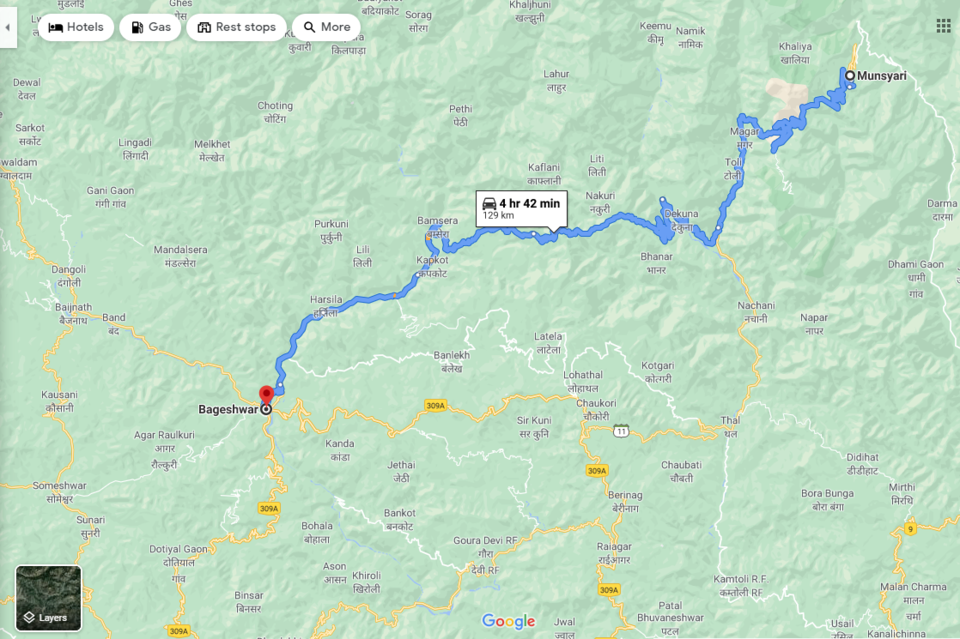 We started early in the morning. The route was majestic as usual and we never got bored.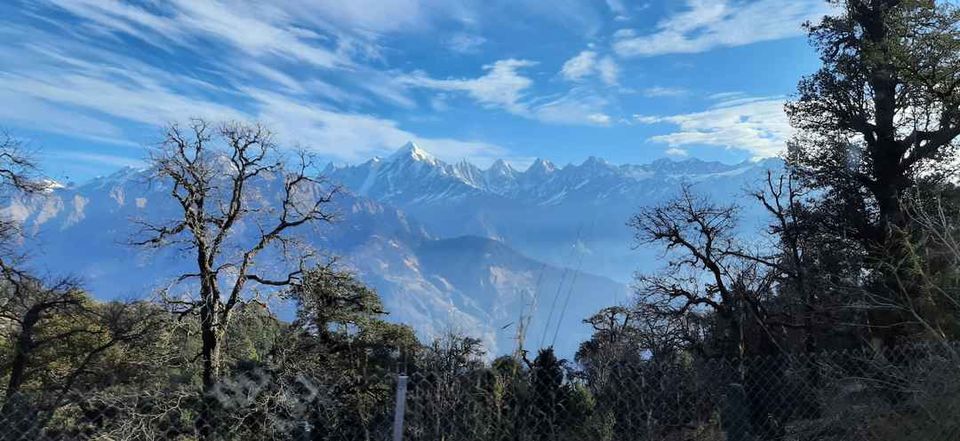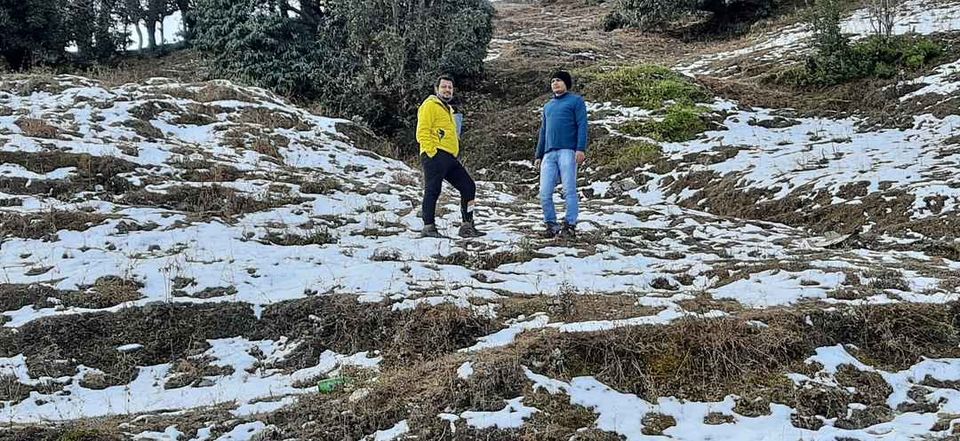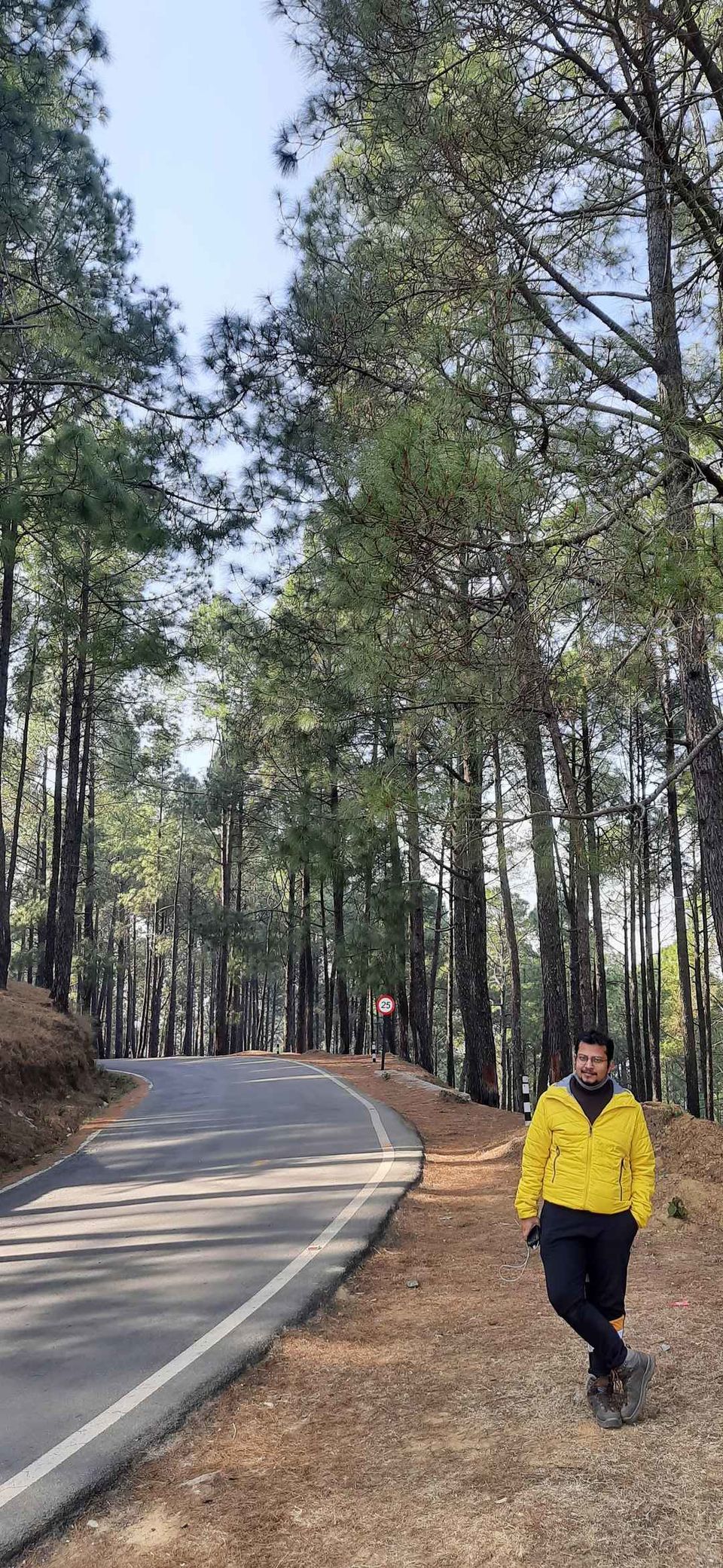 Located on the banks of Sarayu river was Bagnath, an old temple dedicated to Lord Shiva in his Tiger form and is an important one.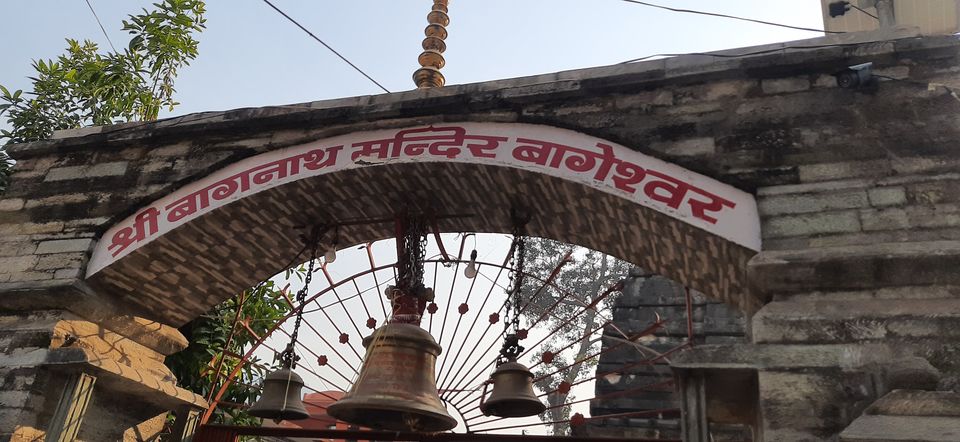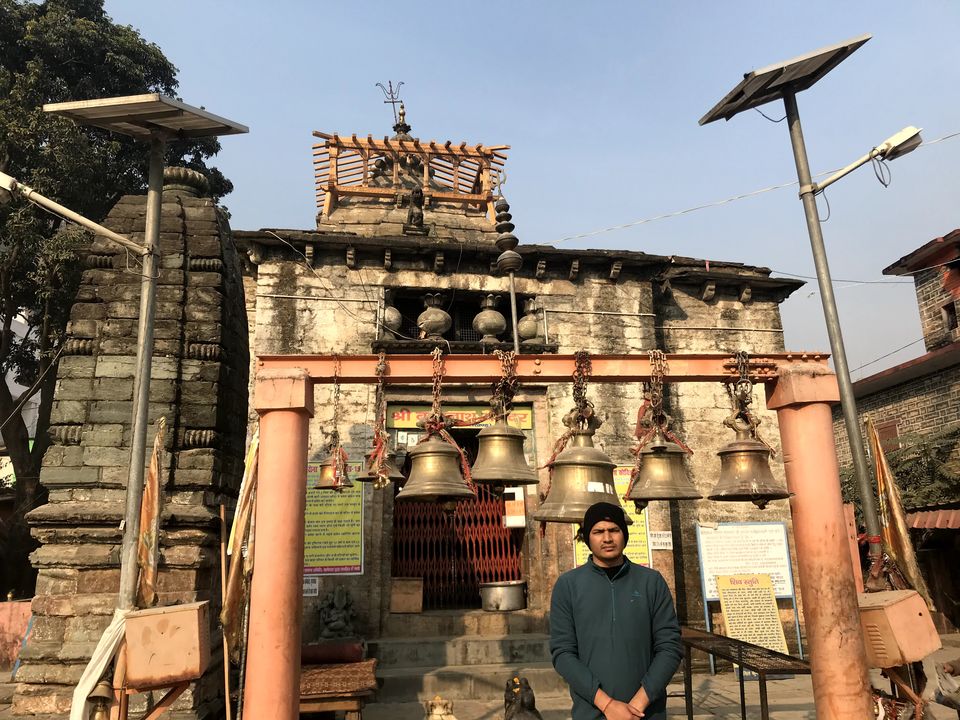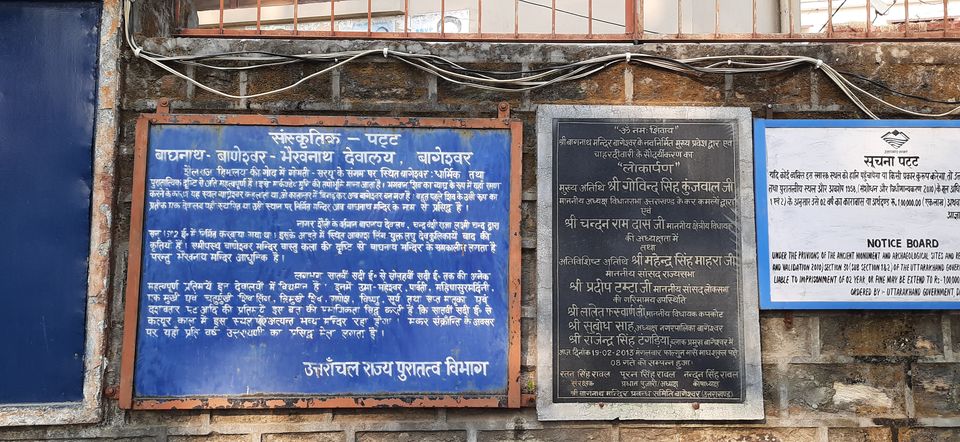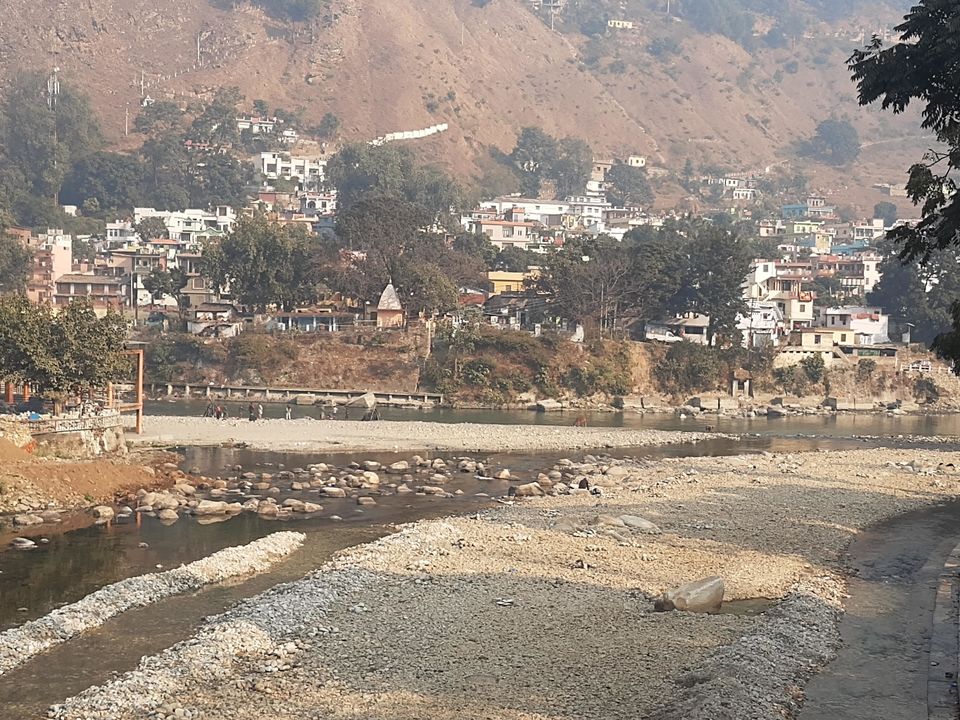 You can stroll around the market and can have lunch here. Do not stroll much around the river bank as it is used as a cremation ground.
Post this we started for Baijanath temple which is also an important Shiva temple in Uttarakhand. Baijanath temple is located 21 km ahead of Bageshwar.
Since we had to cover Baijanath also, it was 175km journey for us from Munsyari otherwise from Bageshwar you can straight forward go to Someshwar.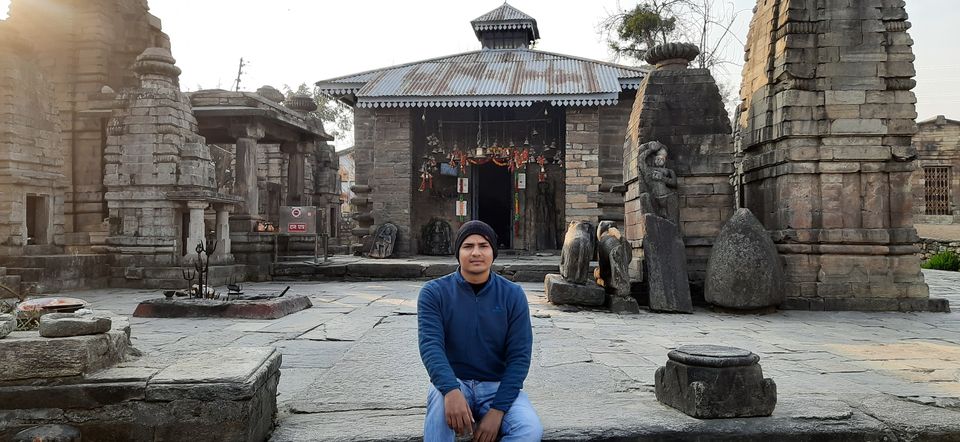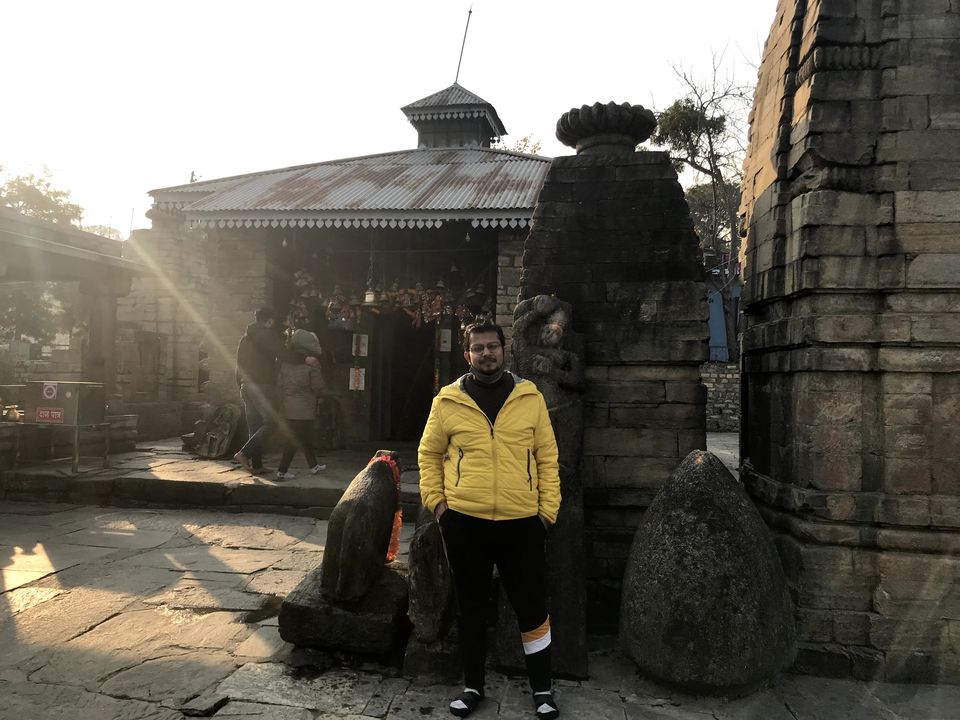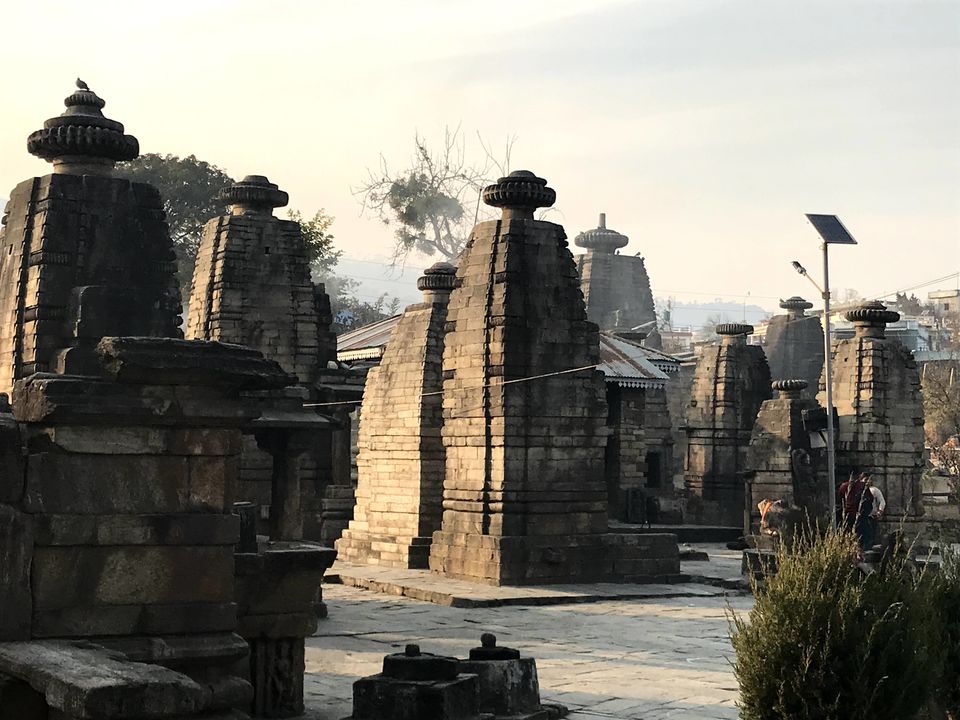 The temple comprises of various forms of architecture of different times.
Now that we had completed the temples, it was finally time to go to hotel. It was almost 5PM and Kausani was not far from Baijanath. We were excited that finally our trip has ended and we can call off the day.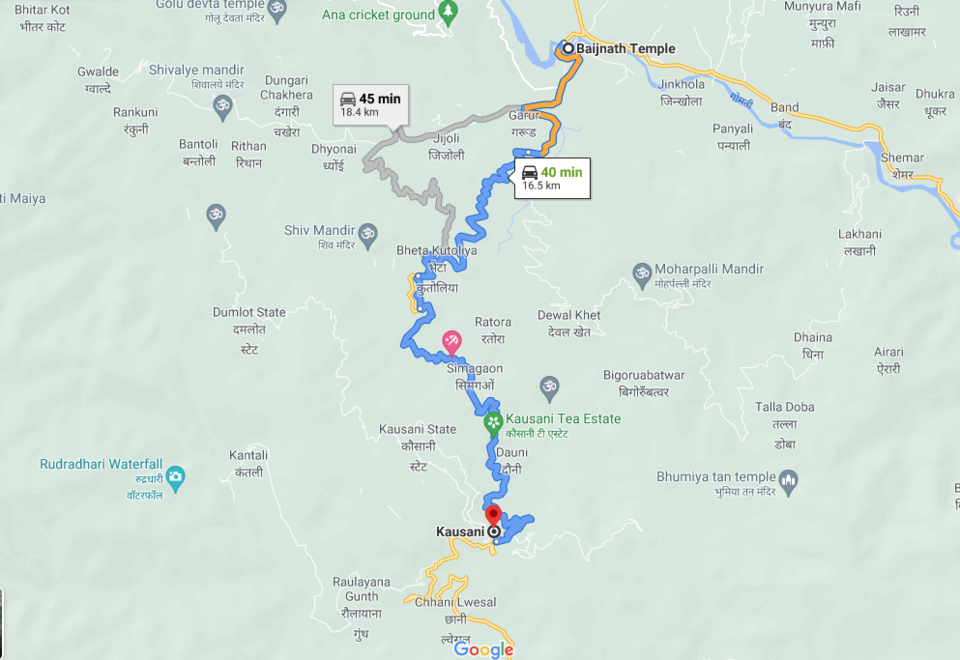 But when we reached Kausani, we found that there was no hotel as such which my pahadan friend had booked for us. We were confused, it was evening, we hadn't reached our hotel and it was not in Kausani. We were all getting tired, irritated and were not in a mood to roam around.
I called my friend and she told me that it is not in Kausani but in Kalet near Someshwar. It was a confusion I guess because I knew that the hotel was in Kalet but may be somehow the message was not communicated properly.
Well now we had to go 20 km further downwards.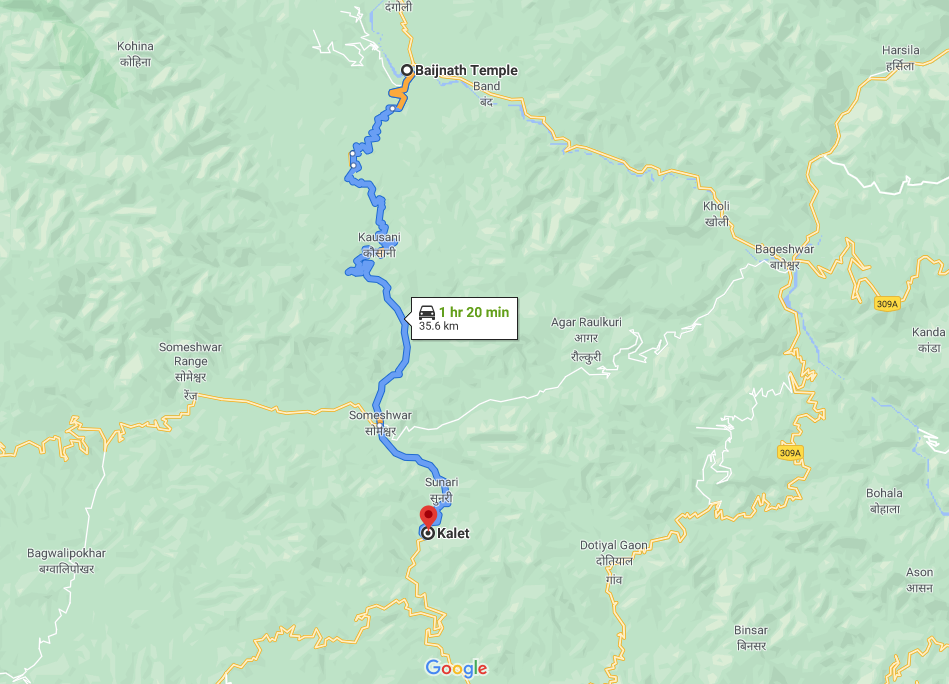 Our room was booked in Moksha riverside and we were there by 6:30 PM. It was a good place nestled amidst the forest. We were too tired and there was nothing much to do so we had our dinner and slept. Although here you can enjoy at the river bank, there are few adventure activities taking place here so altogether you can plan this place with your family or friends.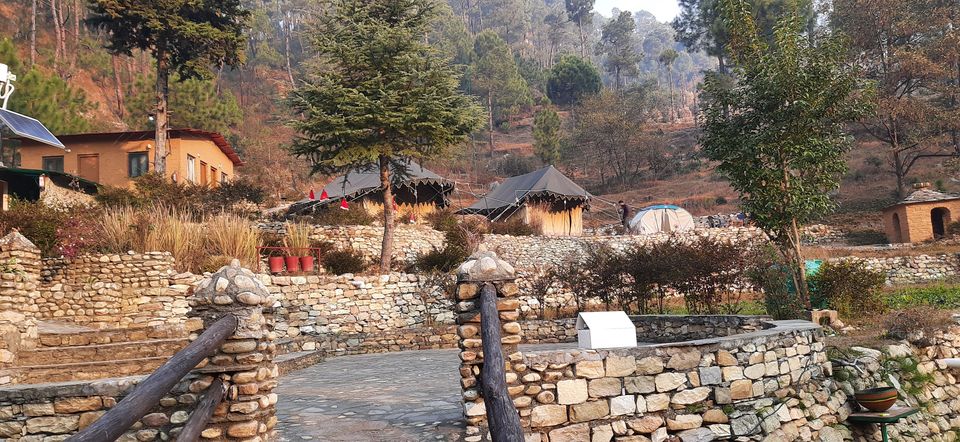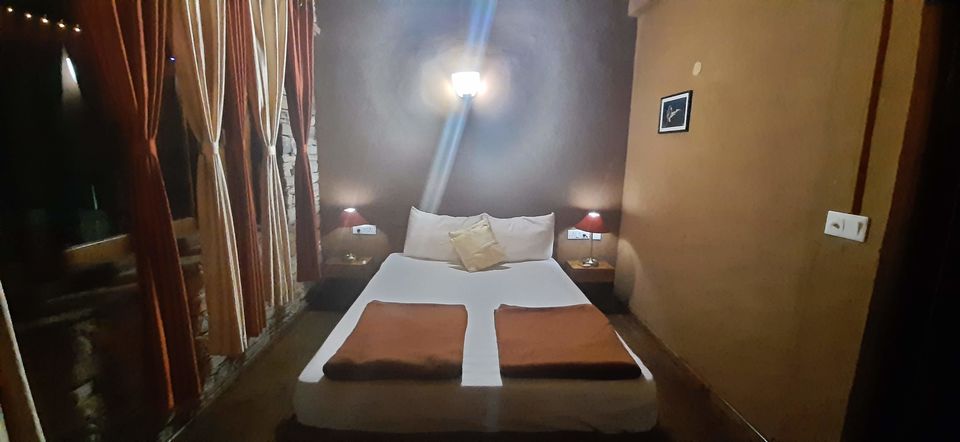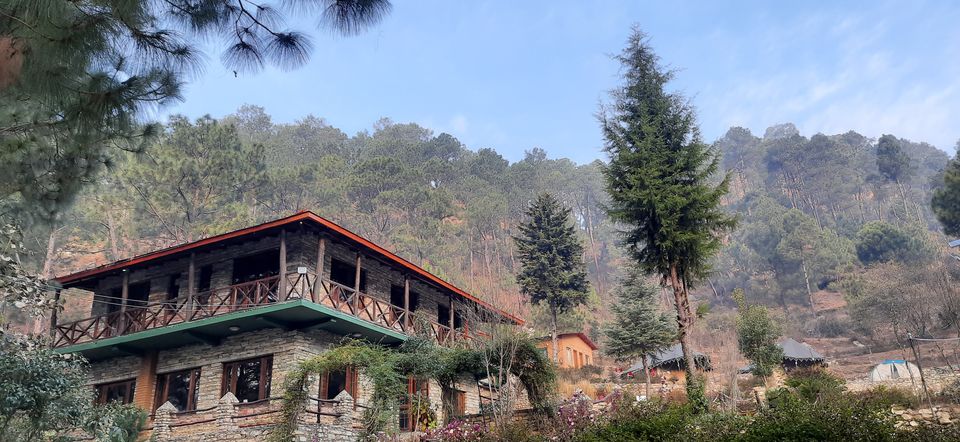 Someshwar is 175km from Munsyari and is a good place to halt before heading back to Delhi. One may also plan their stay in Kausani which is a much better and cost effective option than Someshwar.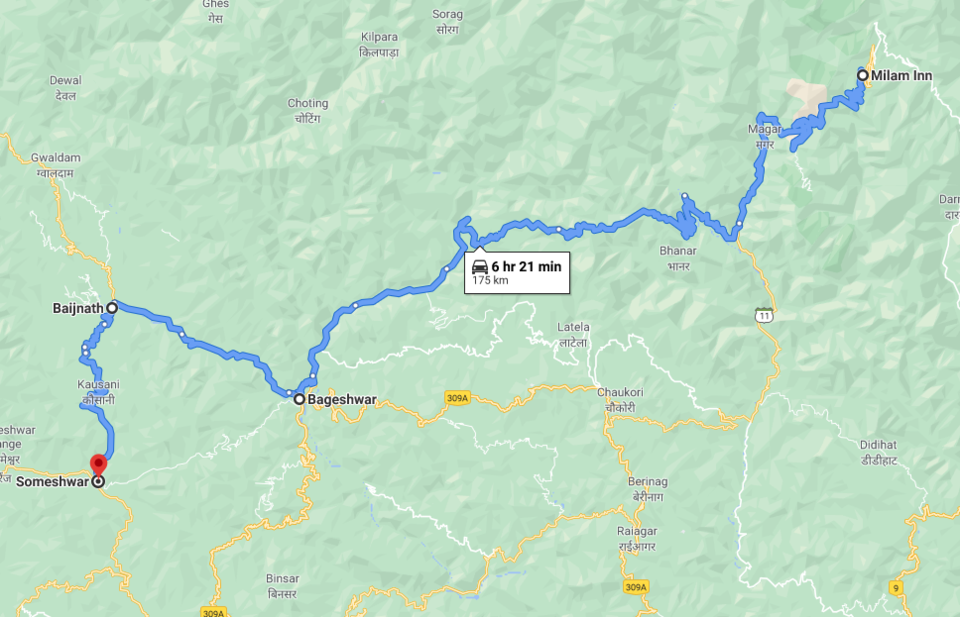 Next day we had our Shatabadi train from Kathgodam which departs at 3:30 PM. Kalet was just 116 km from Kathgodam and would require 4-5 hours only. We planned to go to Bhimtal and from there would go to Kathgodam.
Bhimtal is 98 km from Kalet and we would reach there in like 3 hours. We left our hotel by around 8:30 AM and reached Bhimtal by around 12 Noon.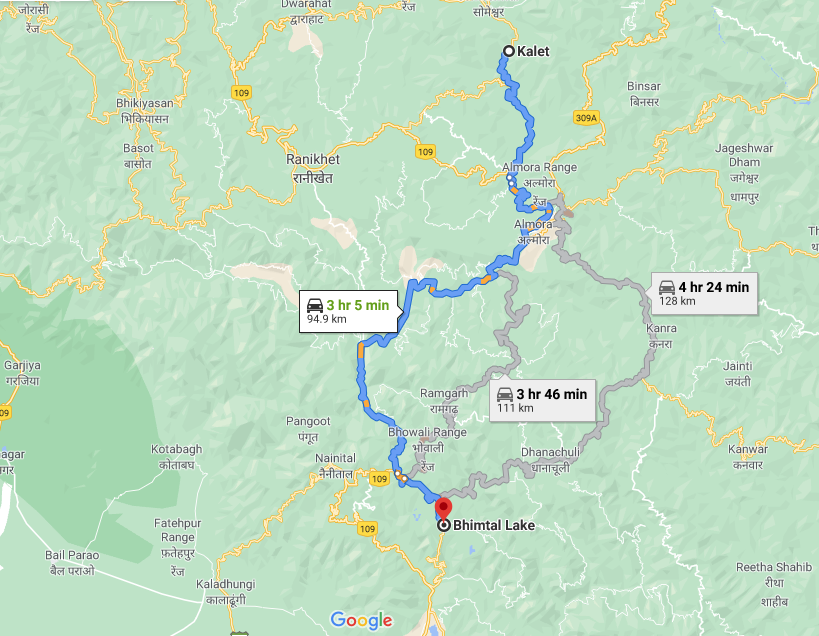 Bhimtal is famous for its lake and other activities that takes place in and around the lake like Horse riding, cycling, boating etc. It's a short getaway for weekend trips.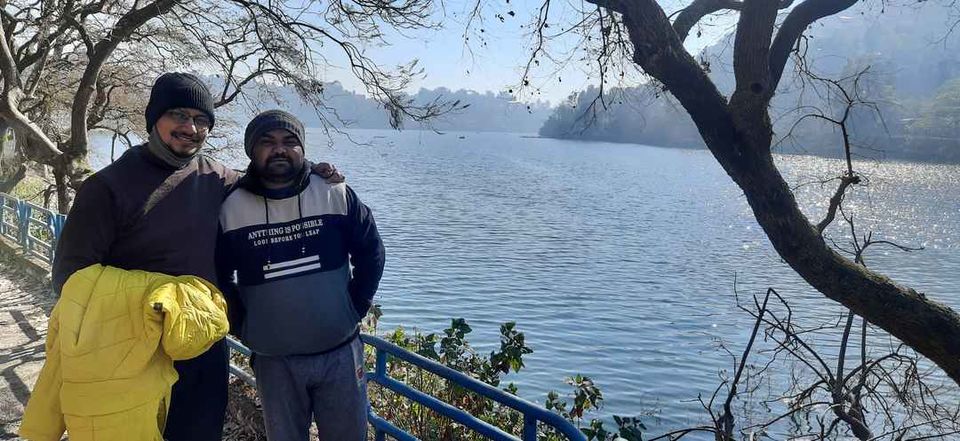 Kathgodam is another 21 km from Bhimtal. We spent around an hour in Bhimtal, had our lunch and left for Kathgodam at around 1 PM.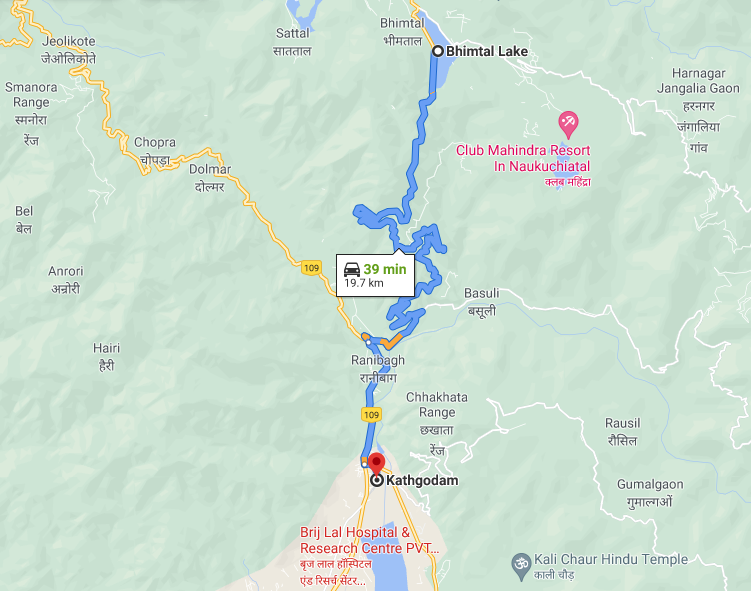 Other places that you might visit during this trip are Patal Bhuvaneshwar near Berinag, Jageshwar temple near Almora, Nainital, Mukteshwar, Sattal, Naukuchiyatal etc.
You may also visit Darma valley, Lilam valley, Panchachuli Base Camp, Milam glacier base camp and Dharchula near Munsyari.
There are various trains available from Kathgodam to Delhi and to other places. You can also board the bus from Haldwani that is close to Kathgodam.
So that was our whole trip. I hope you guys liked it.