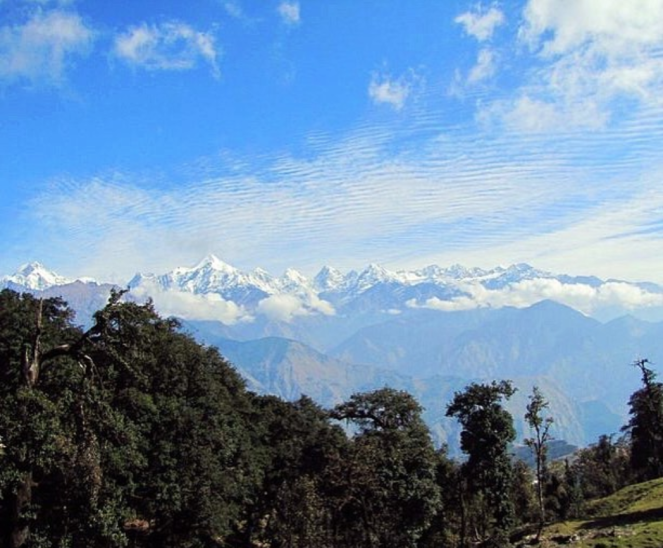 Christmas to New Year is the time I take my annual leave from work every year, to do what I love the most. Travel. Explore. Reboot.
Even though, I don't particularly love the cold weather very much, I still planned to visit a few hill stations in Uttarakhand this time. Since my family lives in Nainital, I planned to visit Mukteshwar, which is only about 46kms from home.
Situated at 2285mts above sea level the beautiful town of Mukteshwar is encompassed by coniferous forests and fruit orchards. Even though Mukteshwar looks beautiful any time of the year, March to May is probably the best time to visit the town as it offers majestic scenery when the trees are laden with fruits.
The pictures don't do justice to the view. You have to be there to witness a magic like this!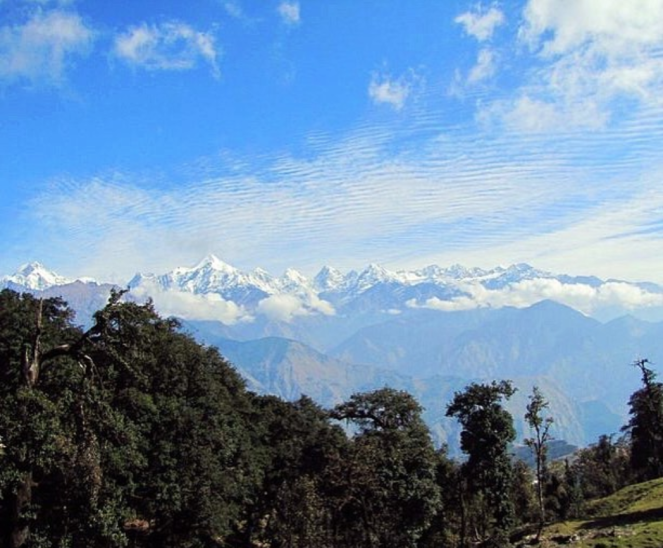 I visited the famous 'Chauli ki Jali', a huge cluster of rocky cliffs. Chauli means rock and Jali means a hole. Looking at these pictures you'll know why!
There are a few stories of Lord Shiva associated with this place and locals also believe that couples facing issues with conceiving are blessed with children if they touch these lattices.
I was immediately attracted to a group of adventure junkies participating in Rock Climbing, Rappelling and Zip lining. This spot is an absolute stunner and a photographer's delight. A number of scavengers can be spotted swooping down near the cliffs. There are a number of cliffs and rocky outcrops in the town that offer varied difficulty levels.
You can also trek up to the hills for a beautiful view of the nearby villages.
My favorite part of the day in Mukteshwar were the mornings. I'd wake up early and wait to watch the Sun rise.
The view changes within minutes and before you know it, you can see the Himalayan range!
If you love Kumaoni knits and handicrafts, do visit 'Kilmora' - the handicraft shop in Mukteshwar. Located in the outskirts of the town in Sita Village, the Kilmora shop offers hand woven and hand knitted textiles; apricot skin care products; organically grown culinary herbs, cereals and spices; and fruit processed products such as jams, chutneys and juices.
I trekked to the Bhalu Gaad waterfall in Dhari village. You can take the main road and drive for 14kms and then after about a 2kms trek in the woods, you can reach the waterfall. At the start of the trek on the main road, a few 'guides' are available who guide you to the waterfall. It is a village area and there are plenty of smaller, steeper paths that can assure you to lose your way, so maybe take the guide! Or you can choose to trek the 14kms, through dense forests and mountain streams, which is what I did..! Again, take a guide along!
My next destination was Kausani, however the benefit of an unplanned trip is that i could easily alter it and that is exactly what I enjoy. I made a small halt at Ranikhet, another small town with picturesque views. It is known that Ranikhet was the summer capital for British before Shimla.
The reason for this detour was to visit the Ranikhet tweed and shawl factory. This is a hand loom production center of woolens run by the Kumaon Regiment for soldiers injured in the line of duty and for army widows.
Its amazing to watch them work. The final products are sold in a shop across the road.
I bought some tea for home and some nice herbal creams and scrubs.
Kausani was my next stop. It was dark by the time I reached here so I called it a day and snuggled near the fireplace of my room at the Forest Rest House, a quaint little cottage in the woods
Kausani is also famous for a beautiful view of the Himalayan range, so I woke up early again, wore all the warm clothes I could gather because the temperature was 7°C and took a perfect spot in the lawn with my laptop and some warm herbal tea. I managed to get some office work done too, with a view so beautiful, I wasn't distracted at all ????
In the afternoon, I visited the Baijnath temple. It looked like a beautiful day to do some touristy things!
This group of temples is popularly known as Baijnath (Vaidyanathan), consisting of main shrine of Lord Shiva and 17 subsidiary shrines called as Kedareshwar, Laxmi-Narayan and Brahmini Devi etc. built in Nagara Style (Curvilinear Spire)
The main temple is Panchrath on plan with a projected portico, while the shikhar (spire) of the temple has collapsed in the past. The main attraction of the group is standing statue of Parvati, made of grey schist, tresses of 26 miniature images around it. On the basis of architectural features, these temples can be assigned to 9th to 13th century A.D. and probably built by the Katyuri rulers of the ancient Kartikeypura.

Other places to visit –
Rudradhari Falls and Caves - Located on the Kausani- Almora road on the way to Someshwar, this beautiful place sits on a green terraced hillside covered with paddy fields and pine forest. Legends relate the site with Lord Shiva (Rudra) and Lord Vishnu (Hari)
Anasakti Ashram - Also known as the Gandhi Ashram the Anasakti Ashram is where Mahatma Gandhi stayed when he wrote the Anasakti Yog. The Anasakti Yog is described as the gospel of selfless action and is considered one of Gandhi's finest literary works. The Ashram houses a museum that contains Mahatma Gandhi's photographs and his writings.

Kausani Tea Estate - The Tea Estate sprawls over an area of 208 hectares and is being developed as a tea-base for the entire Uttarakhand. The tea is high in flavor and strong in aroma and is exported to Australia, America, Germany and Korea.
Though I couldn't visit a few of these places, I do plan to see them the next time I am there.
Have you been to these places in Uttarakhand? Do let me know of a few more places I should explore!
Thanks for stopping by ????