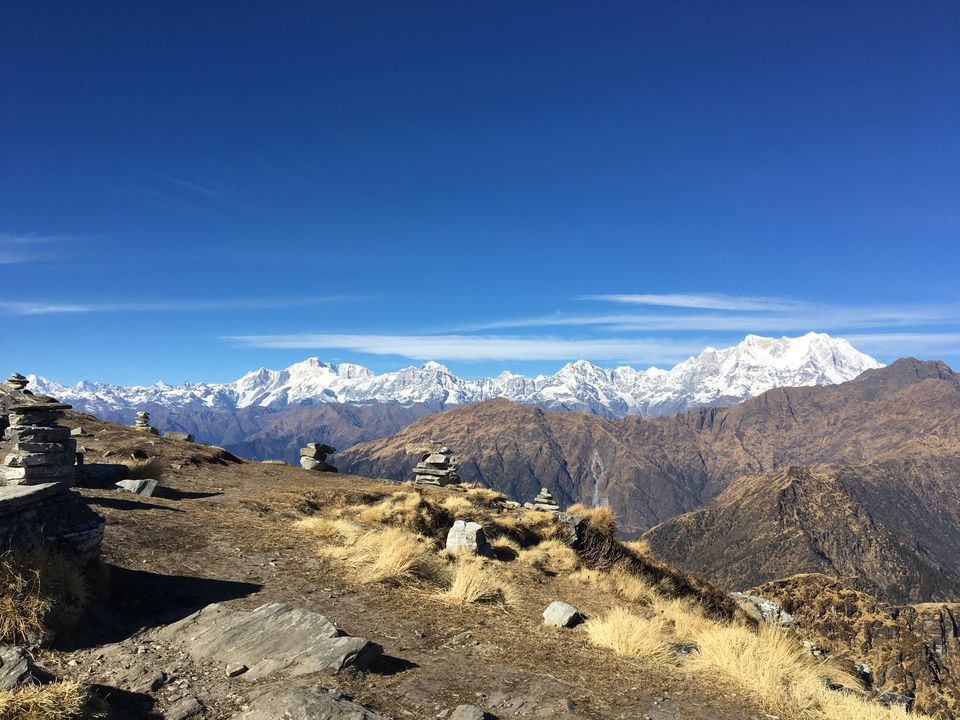 After planning this trip twice and cancelling it too, I gathered up all my guts to plan to travel to this place again for the third time in the very same year 2018 because I had been wanting to go to this place as if it had become my life aim. I got lucky the third time and finally, had the chance to go there, the only difference was that this time I got to go with my fellow travellers rather than going solo.
We decided to drive down to our destination Chopta, Uttarakhand which is at distance of 460kms approximately. We left from Delhi on Novemeber 30th at midnight. Since, we had left already after dinner time so, we didn't have had to stop for dinner on the way. We carried protein bars and sufficient water for the journey. the first break we took was around 4:30am to have Tea/ Coffee. It was getting more cold as we were driving towards Chopta.
The second break which we took was when we had reached Devprayag Sangam at 7am where two rivers "Bhagirathi and Alaknanda" confluence to form Ganges.
There was road side construction going on which made the journey tiring + weather condition+ the destination was already too far. Finally, we managed to reach Chopta around 1:30pm. This were few guesthouse where people generally stay and so did we. I realized there was no electricity in day-time. People survive on solar power there. Also, this is really less populated. And yes, the view is great.
There was a person named Santosh for service, also, the person who greeted us. I got freshen up and ordered for lunch which was Daal and rice along with a Pahadi cuisine after which we passed out. The temperature was dropping as it was getting late in night. I woke up around 8pm. It had got pretty cold by then and ordered for dinner as we all needed to have proper rest to trek the next day. My friends and I ate and slept off early.
We woke up around 8am in the morning and again, it was cold outside, got bathed and ready to leave. We went to guest house kitchen itself for breakfast and also, got us some food packed for the lunch along with enough amount of water. We started to trek towards "Tungnath Mahadev- the highest Shiva temple in the world", it -becomes tourist place during off season and 150/- is being charged for an individual. We started trekking. In beginning, it was fine not tiring as I was taking baby steps while trying to maintain the pace but after almost an hour, I was taking 1 minute breaks every time I saw a place to sit and sometimes, just like that to click pictures of the mesmerising view, or pictures of each other, with each other and N number of selfies.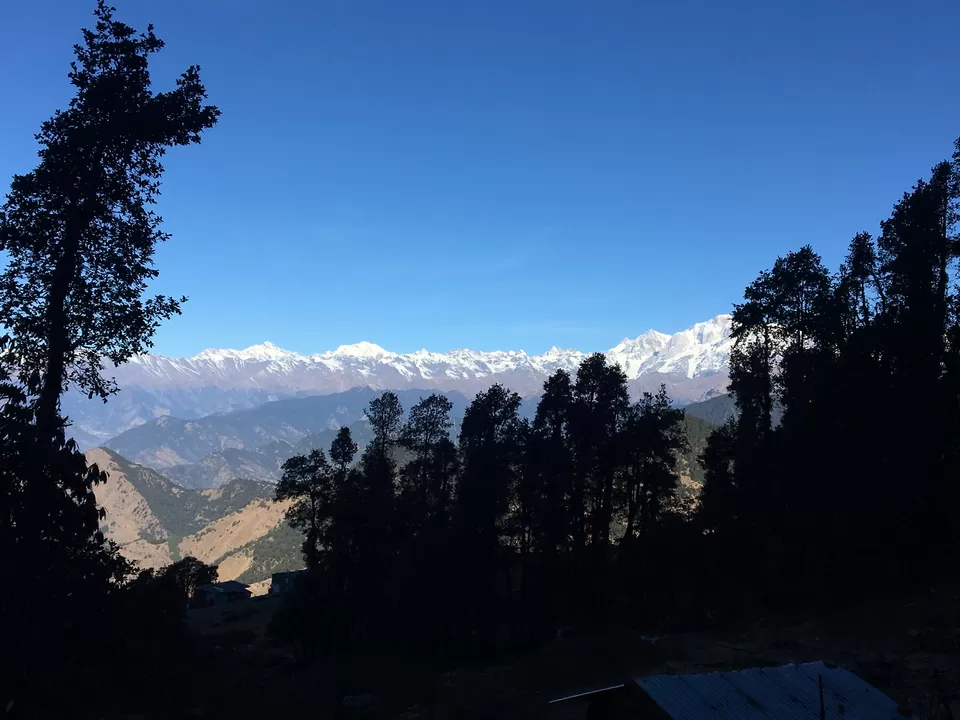 Finally, we reached Tungnath Mahadev around 1:30pm and I must put it across how immensely I felt blessed to have completed this trek. It felt like an achievement to me as I was dying to come to this place.
We again clicked N number of pictures. Lol!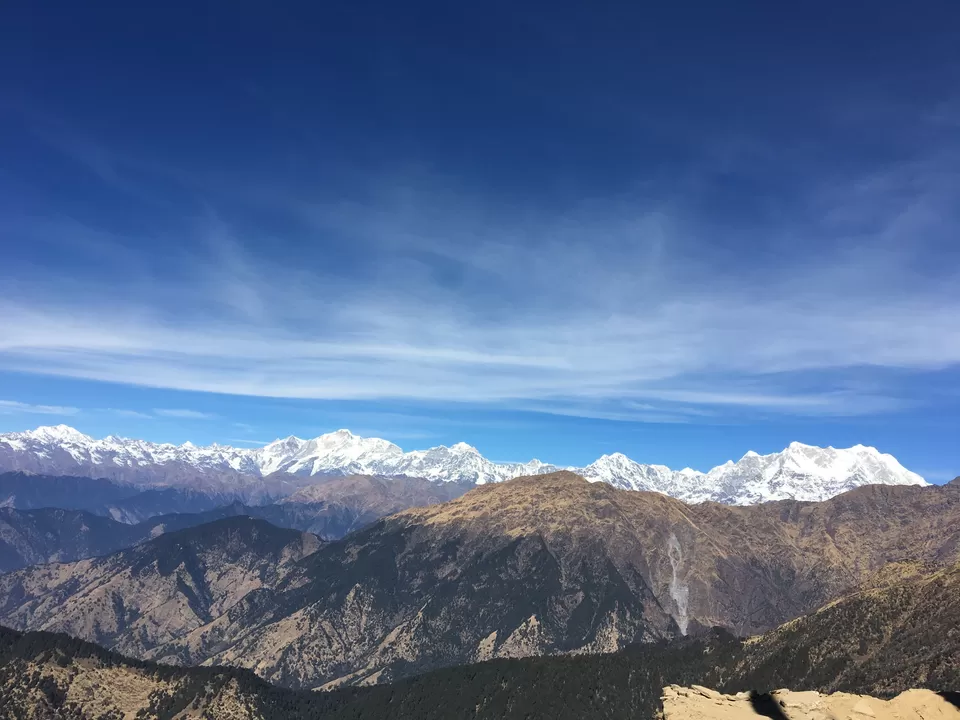 we walked hardly for a Km and we sat down to eat some food and I sat almost by the edge, enjoying a faded blue view of mountains, different ranges in that space. Nothing seemed better than that in that moment.
I just felt like sitting there forever but we had to move for Chandrashila Summit and we picked up our bag, water and started to move ahead. This time, the trek got much more steeper. I remember taking breaks again and again. We always kept ourselves hydrated in order to keep moving and complete the trek.
We reached at the top of the mountain around 3:30pm, we did the Chandrashila Summit. The snow covered Himalayan Range was right in front of me at eye level, so magnificent, the sky was bright blue something which I had never witnessed before. I was completely in awe of such scenic beauty. I could not take my eyes off the view. I walked few steps ahead. There were many structures made up of various sizes and shapes of stones kept one above another. It looked strange and beautiful all at once. I just sat there in front of Himalayan range, looking at those snow covered peaks which were gregarious, standing peacefully.
We had spent some half an hour there and sun was setting so, we got ready to trek down and reach our guest house. I thought trekking down would be easier but actually, it was not. We took a break again as there was provision to sit, spent some half an hour there and sun was setting so, we got ready to trek down and reached our guest house. I thought trekking down would be easier but actually, it was not. Around 6pm-6:30pm, we reached the guest house, took our belongings and packed our stuff. We drove down to the campsite (Neelkanth Camp, can find it on your way near to starting point of Tungnath trek) where we had planned to stay for the night. It was -8 degree Celsius by the time we reached our campsite, which was in an open area. We got to have an amazing egg curry for the dinner which I still crave even while writing this, I can feel the taste on my tongue. We were damn tired after trekking for hours so, passed out eventually.
Next day, We woke up at 8:30am. We got bathed by 10am, packed our stuff, had breakfasts in camp kitchen and were ready to leave but the view that morning was again something not to miss.
We left for Delhi and began to drive down towards our destination. It was 6 in evening when we had something to eat for second time in the whole day. We stopped for last time on our way back to home to fetch something for dinner. Finally, we reached home at 12:30am. We ate a bit and we slept off as we were so tired. I slept like a baby that night. Calm, peaceful and content.
They say Travel makes you wiser, modest & a storyteller and I say all of it is damn true!