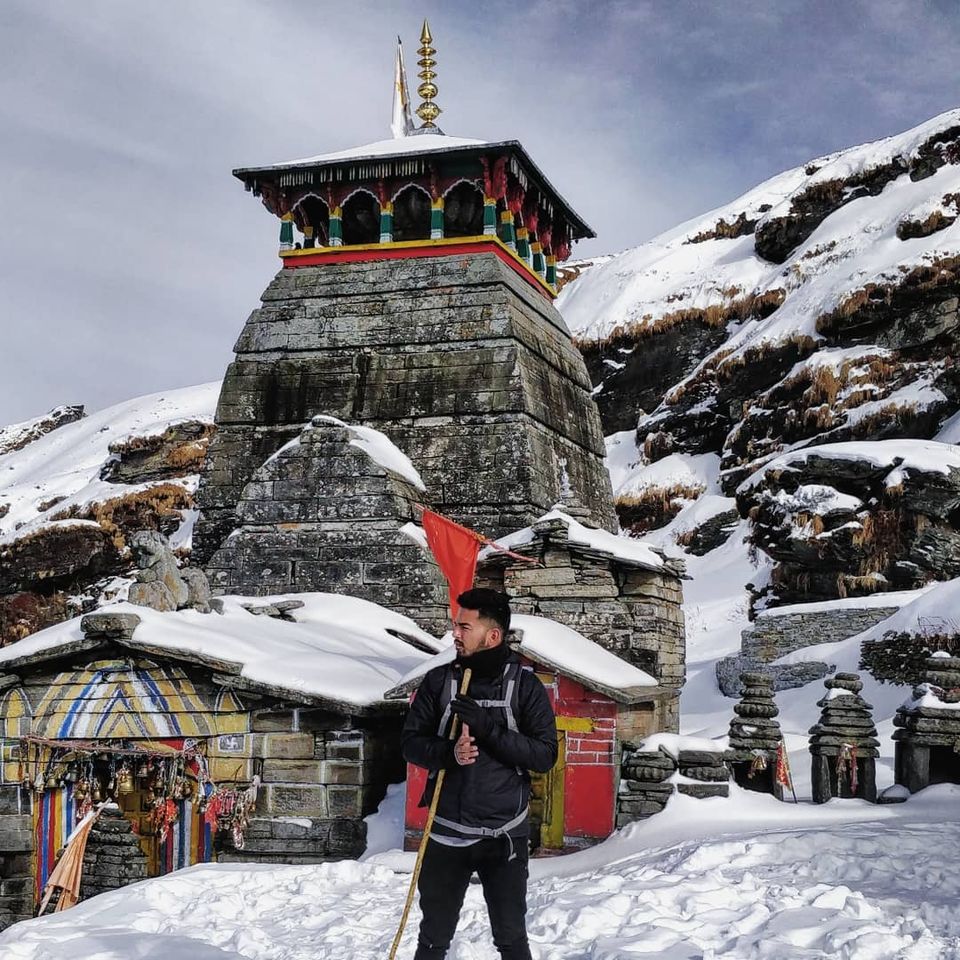 Tungnath was on my bucket list for a long time and I had already decided to go there this winters. So my friends and I decided to go there by bikes. So the date was fixed and were ready to go on 8th Jan. As the day came near the excitement was increasing. So the day came and were off to go. Me and my 4 friends started our ride to Chopta on bikes. Started at 9:00 am from Dehradun. First checkpoint was Rishikesh. Then started again with our josh high but due to Char dham Yatra Road Project going on we got stuck in jam many times. Second checkpoint was Devprayag but we didnt stop here because we were already late. Devprayag is the confluence of Bhagirathi and Alaknanda rivers which forms the name and river Ganga, the lifeline of India. We continued our ride and reached Srinagar at 5pm which was very late. We ate there and started moving for Chopta in cold and dark conditions. We reached Ukhimath at 8pm from where Chopta is 30km only. We thought it will be easy now but...this was the toughest part of whole trip. First 20km were easy and we started seeing snow at the edges of road. But as we moved forward, thick layer of ice on road started making problems for us. We didnt knew the exact location of the room which we booked so we were moving without any knowledge and I advice everyone never do and take such risks. Our lives were literally at stake as we didnt know where to stay and our bikes also were not able to get a grip on roads. There was no one around from whom we could get help. But we still continued. After 1 and a half hour of struggle we finally reached a place called Bhaniyakund. Its 5km back from Chopta. And when we started reading the names of hotels we found our hotel in which we booked room. We reached to our room at 10pm and they were sleeping. We asked them to give us food but there was nothing so they made Maggi for us. Water was frozen there so they gave hot water to drink. There was so water in bathroom etc. So we managed accordingly. Temperature was -10•C and we thanked god for making us reach safely. At 12 we slept keeping in mind a beautiful trek is awaiting us .
We woke up at 9:30am and got ready till 10:30am. We started the trek not from chopta but from Bhaniyakund which is 5km away from chopta. The hotel guy helped us in finding a shortcut by which we reached chopta just in an hour. From chopta we started the trek at 11:50am . It was difficult to walk because our shoes were not meant to walk on snow so we rented boots. They were also not very effective but were better than ours. The trek was beautiful. We saw Monal the State bird of Uttarakhand on our way many times. We found many tourists on the way who came from different parts of country. Some came for darshan but the 'Kapats' of Tungnath remain closed at this time of the year which they didnt know. As we trekked upwards we found abandoned shops and houses. These people leave during winters and come back during summers. By 2:00pm we reached the temple. All the tiredness vanished when we reached the temple. After reaching we were just mesmerized by the view. We were feeling blessed after reaching such a holy place. After resting for some time we decided to trek on for Chandrashila which is 1 km trek from Tungnath temple. But the trek was not easy as compared to the trek we did to reach the temple. Due to heavy snow it was very tough to trek. We were taking a lot of time as we were trekking slowly so no accident occurs. After reaching halfway we decided not to go as snow was making it tough to trek and we didnt have much time beacuse we had to reach to our room before sunset which we knew was impossible by then. While trekking downhill we started taking shortcuts by sliding on snow and not following the path. In my opinion trekking downhill was more tough than trekking uphill as boots were slipping more and sliding on snow for shortcuts was the biggest mistake. Our clothes got wet due to it and we knew we did a great mistak by doing so. We reached Chopta just when the sun set but we still needed to go to Bhaniyakund. We could not take the shortcut from which we came upwards because there was no light so we took a big decision. We started trekking downwards through the road knowing that it was 5km walk but still it was better than shortcut. We were walking from middle of the forest in the dark and it was very scary just like night 1. We reached our room at 9:00pm and were releived we reached safely.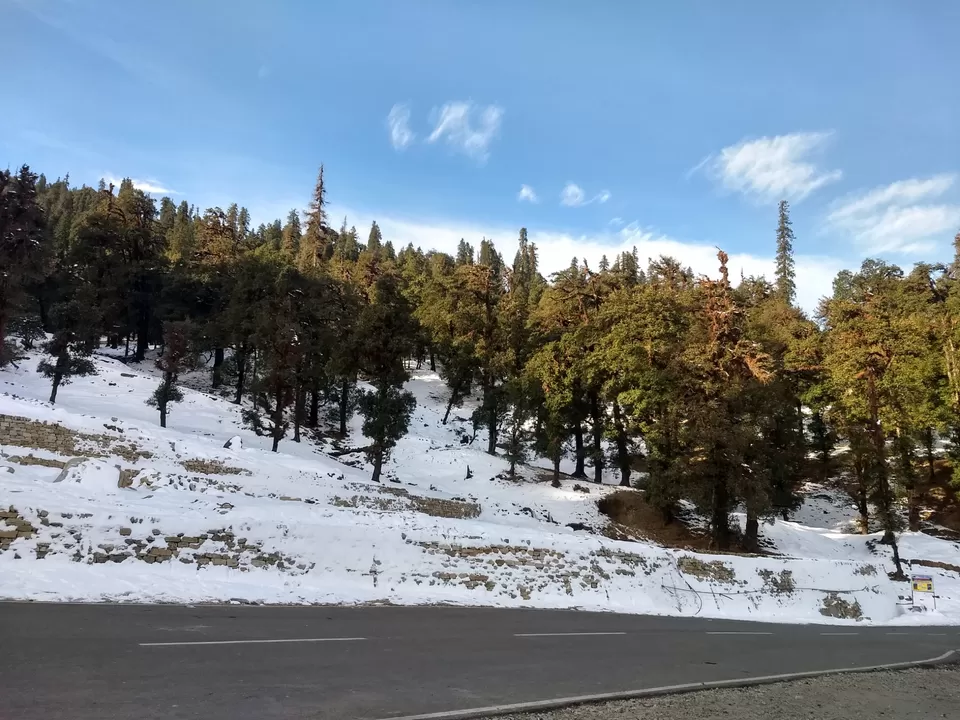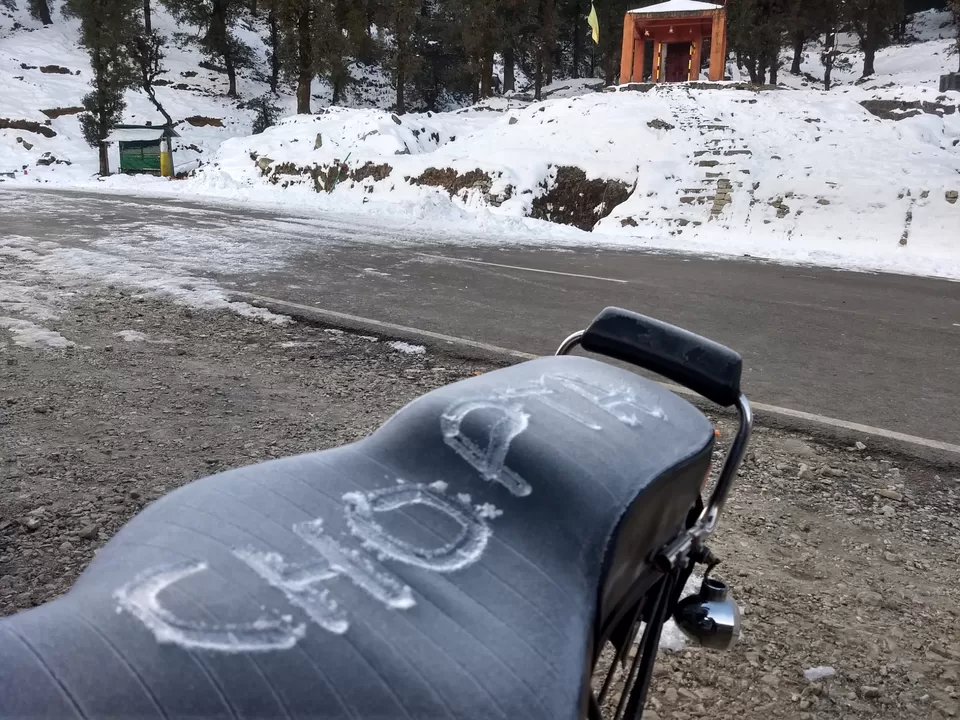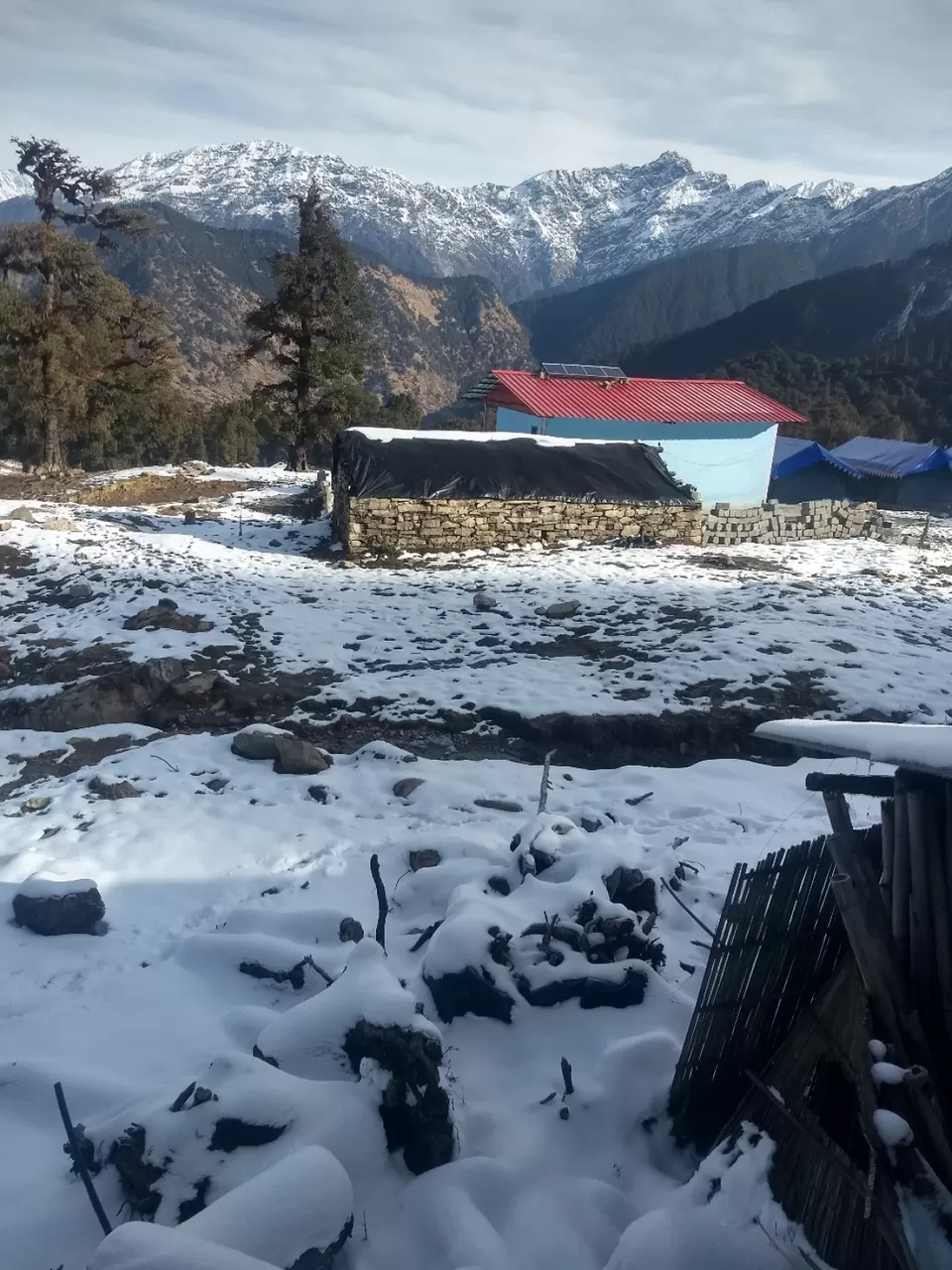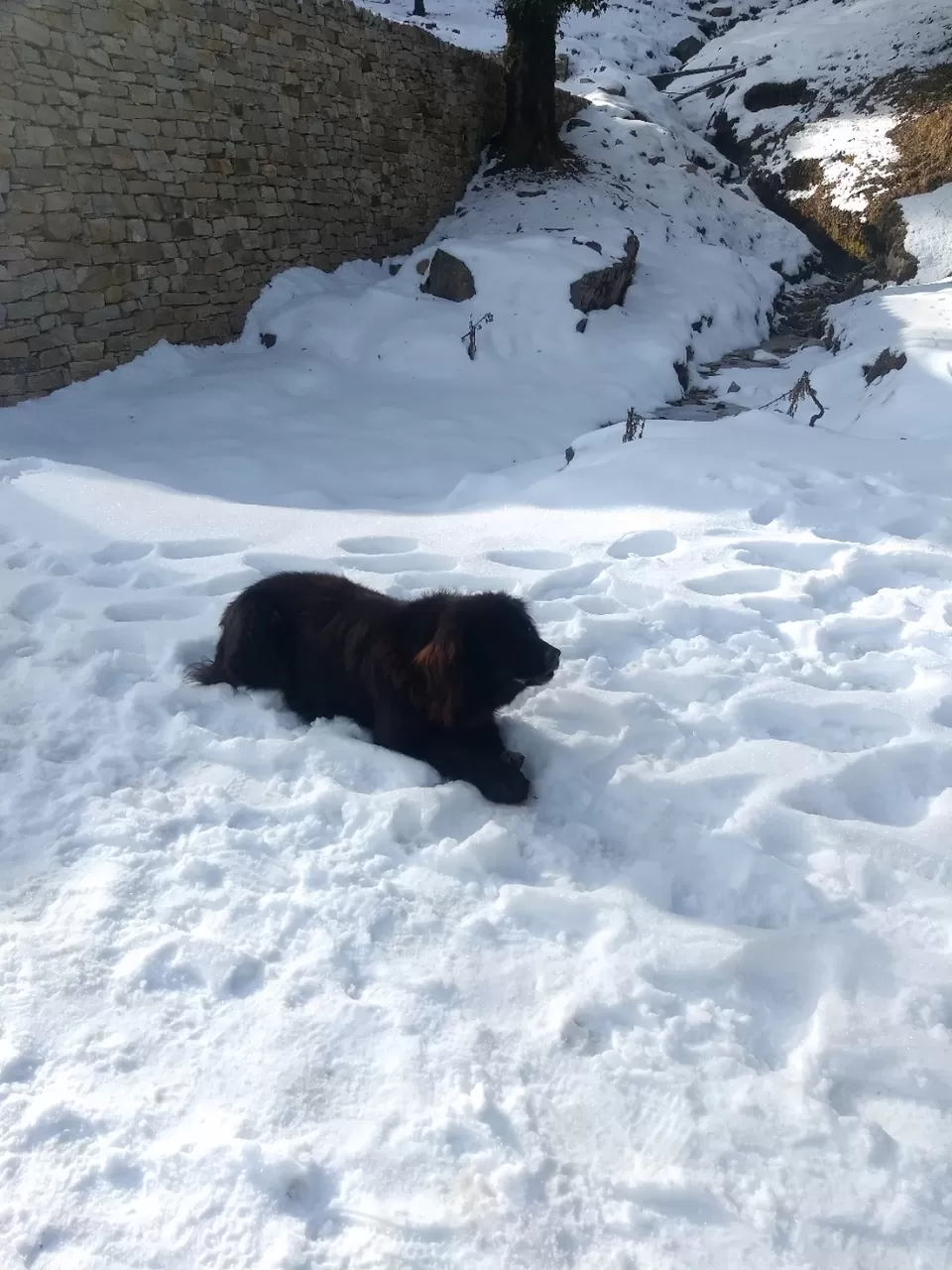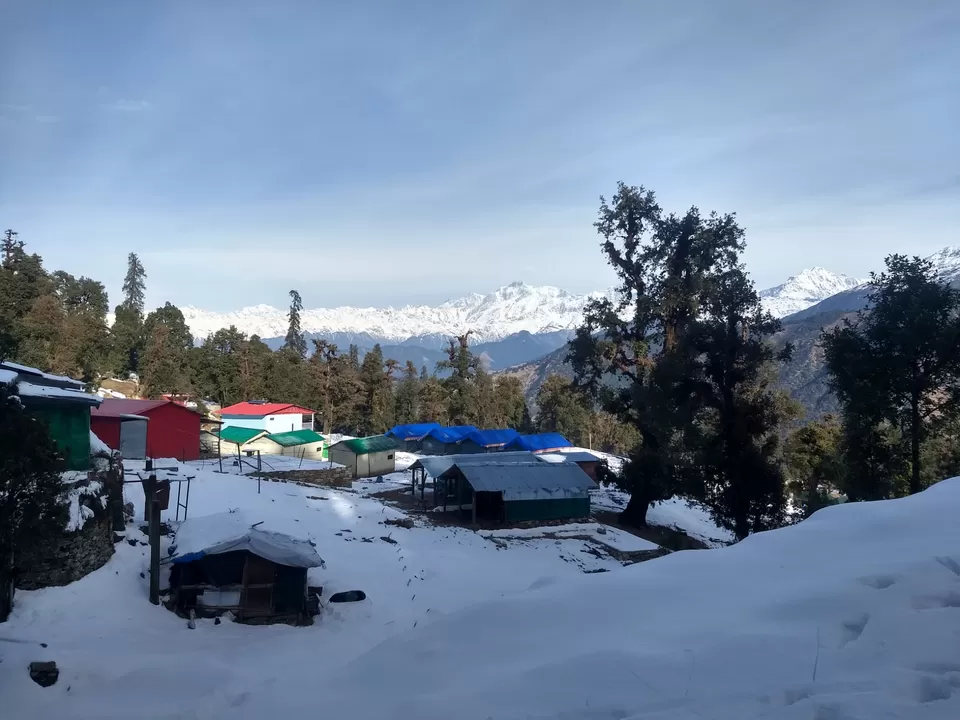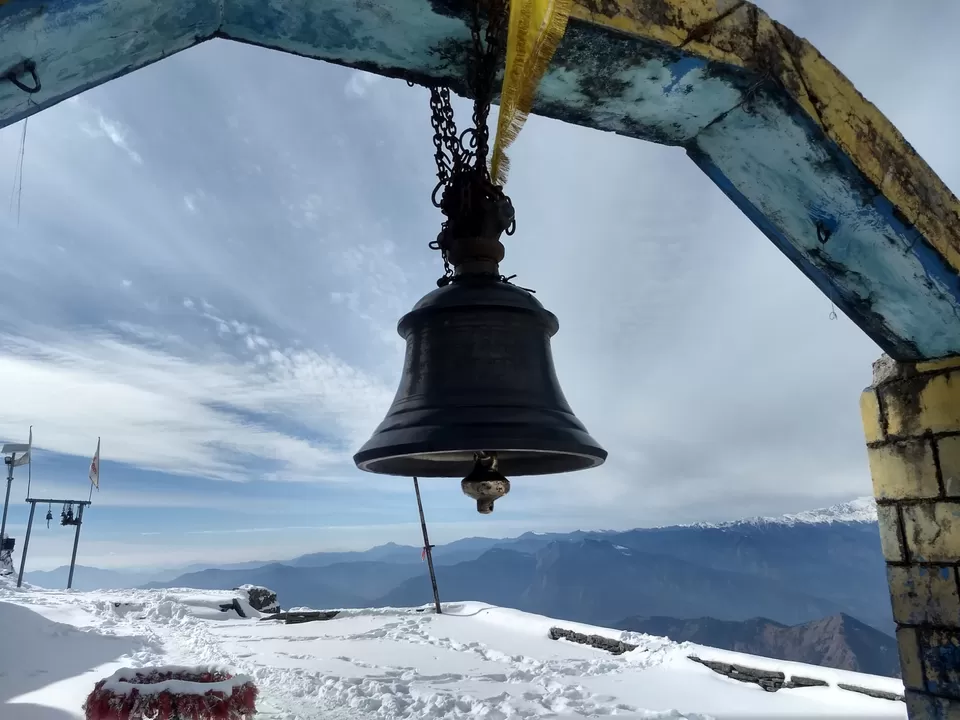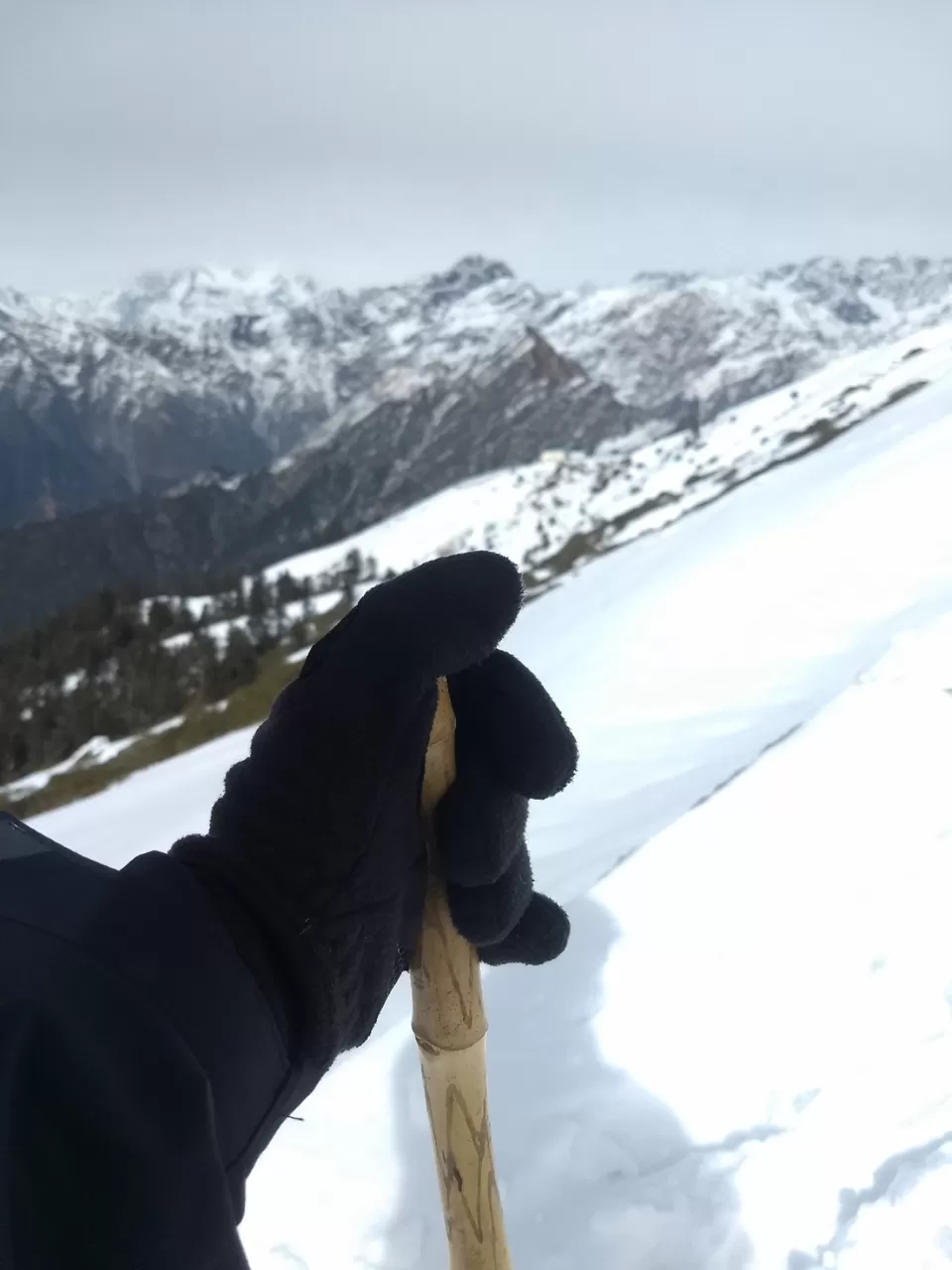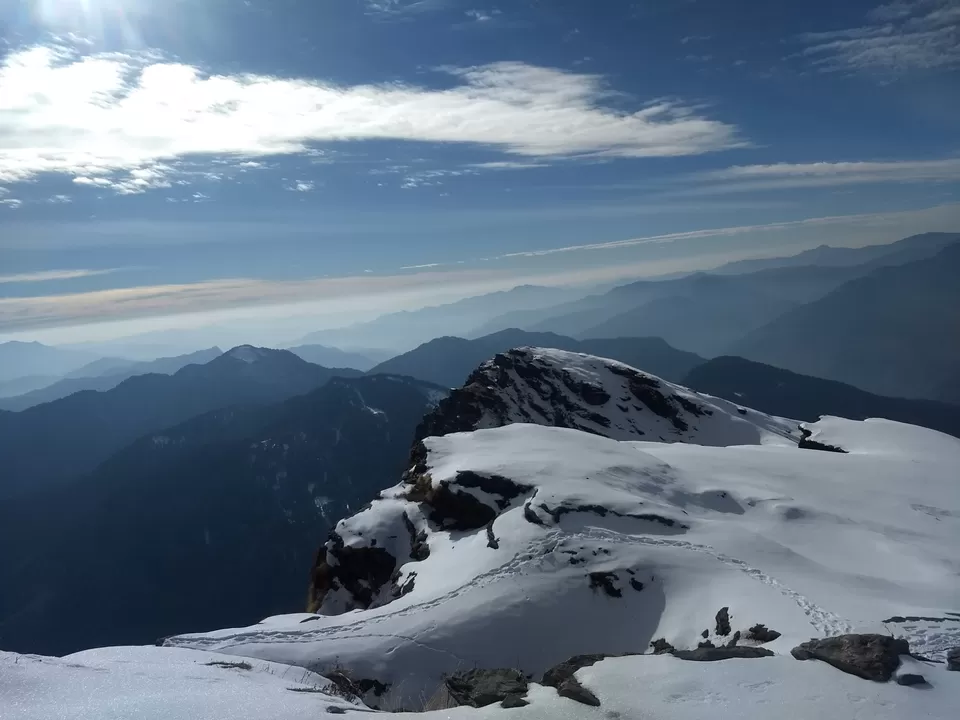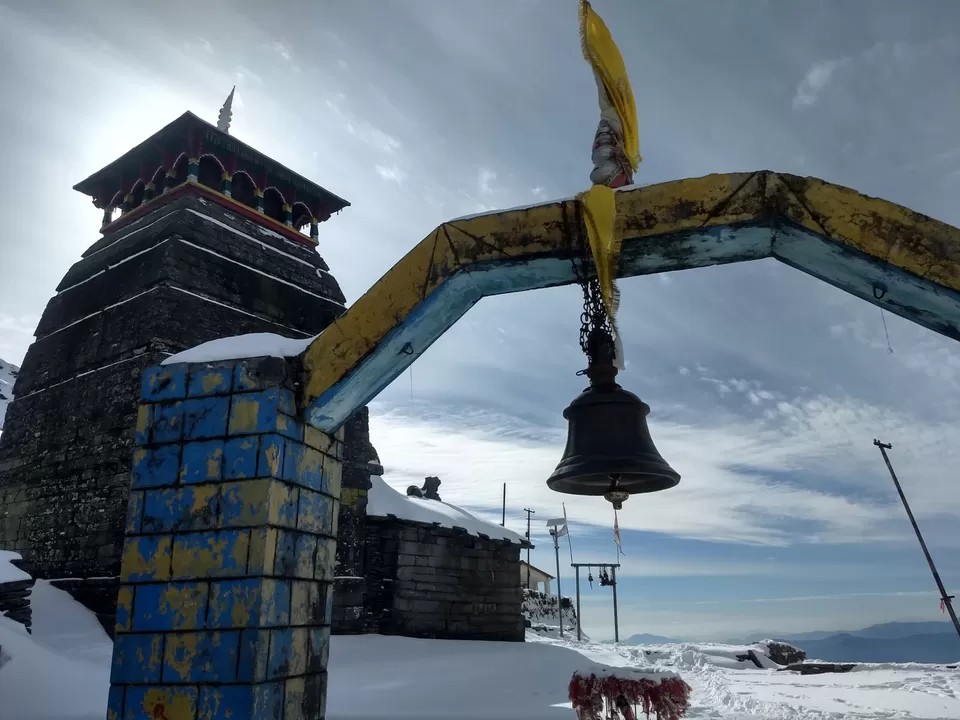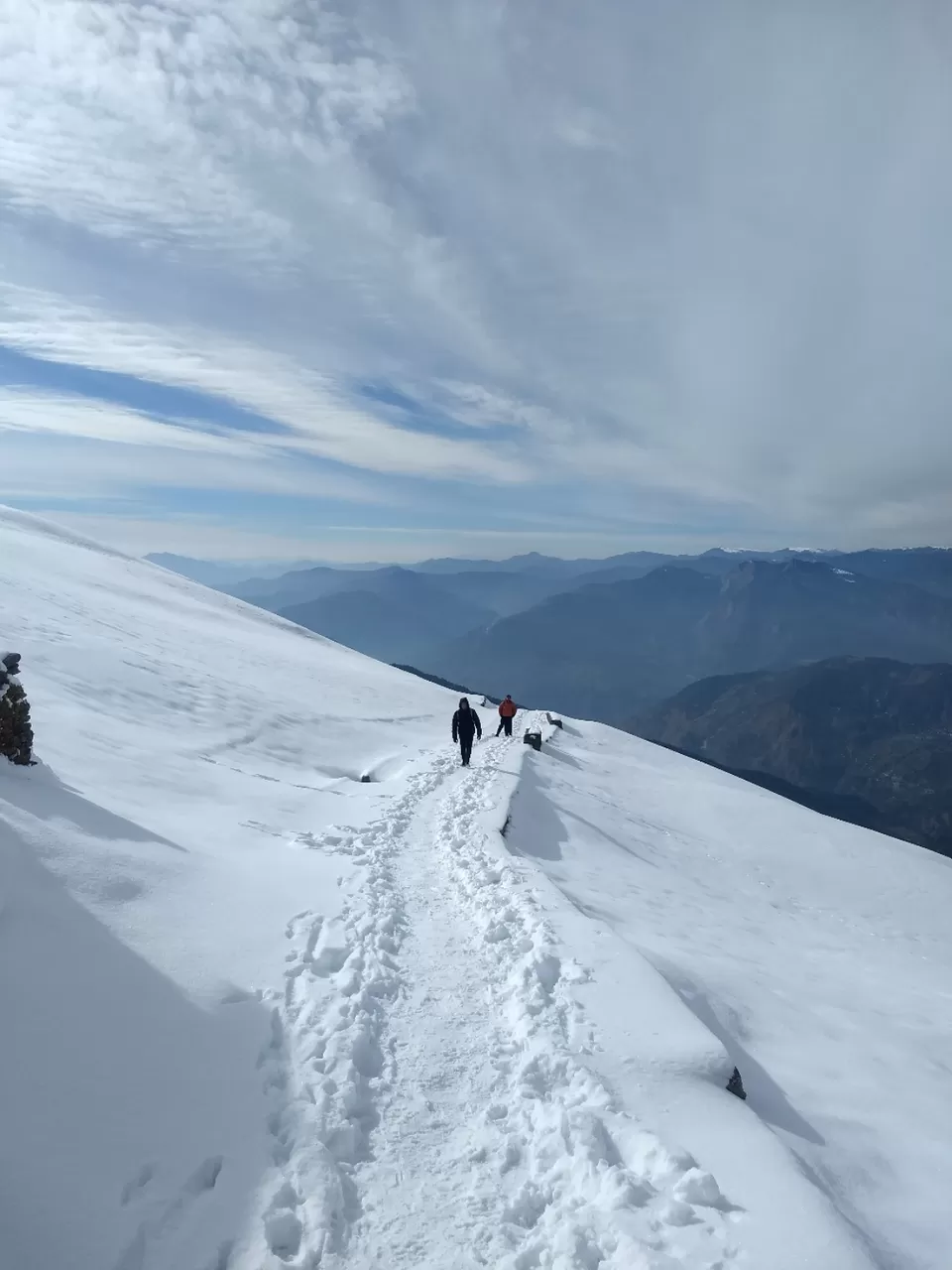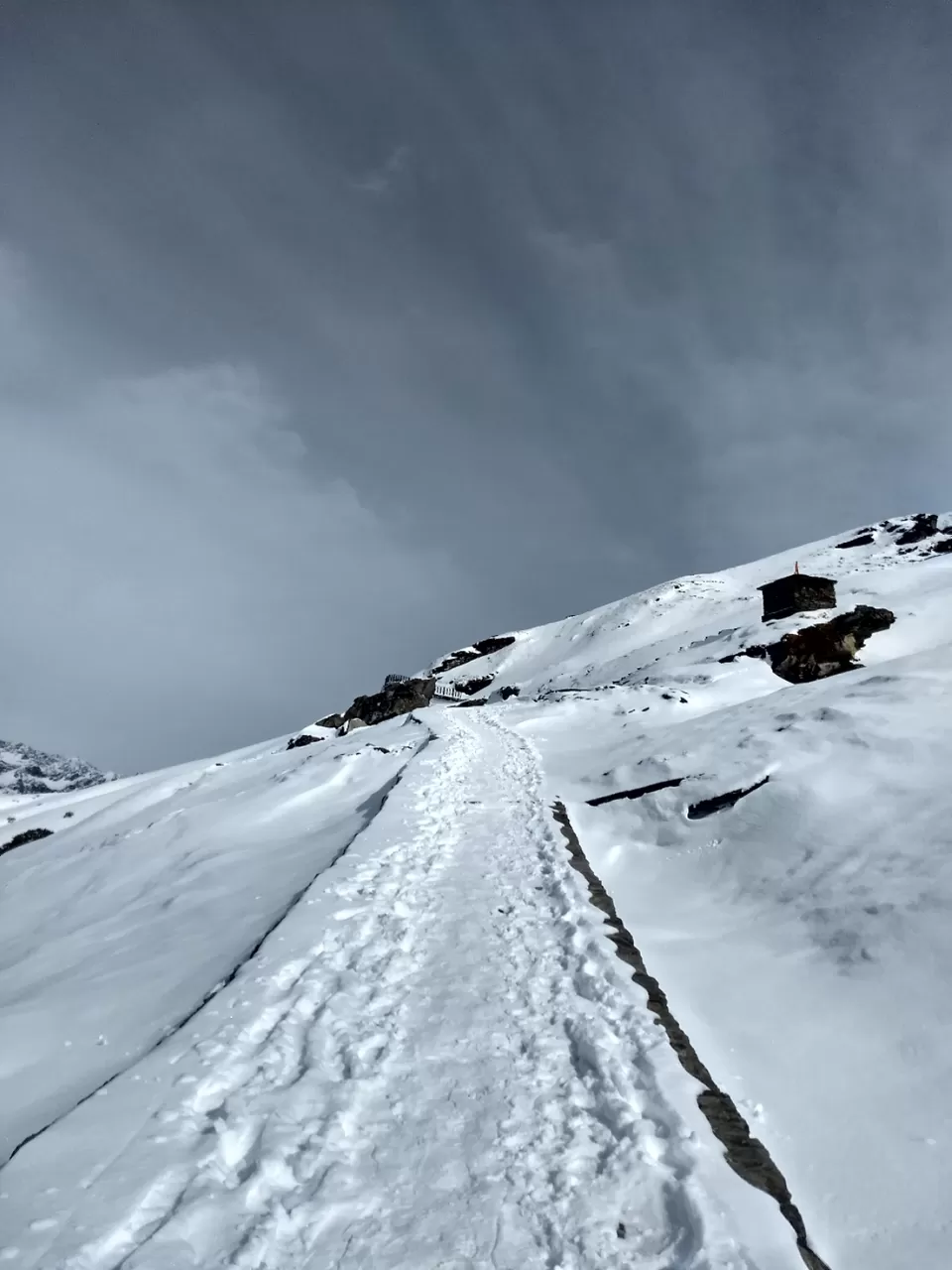 We decided to wake early in the morning but we didnt. We woke up at 10:00am in the morning and got ready till 11:00am and started riding towards Dehradun. We knew it is impossible to reach Dehradun now as we started late but we decided to ride till its dark. We didnt had breakfast so we stopped at a Hotel few kilometers ahead of Ukhimath and then again started riding. Next stop was Dhari Devi Mandir, temple of Dhari devi the protector of chaar dhams. We went to the temple which has a great history. It is said that The Kedarnath Floods was a result of relocating the Dhari devi shrine to other place. We reached Srinagar at 4:30pm and continued our journey without stopping. By sunset we reached Devprayag. It was 6 pm and we were in a dilemma whether to keep going or stay. After discussing we decided to go till Rishikesh. We could have gone to our homes but then our parents would have said that why didnt you stayed, why did you take risk and all stuff. So preventing us from getting scolded we decided to stayed at Rishikesh which was 2:30hours drive from Devprayag. We started riding carefully in the dark. The good roads were coming only in patches. As i told you about the Char Dham Road Project. We reached rishikesh at 8:30pm and booked a room. After getting fresh we went for a walk outside and got us some dinner. After dinner decided to go to Lakshman Jhoola which was nearby. It looks magnificent in night. Cold winds were blowing that night and we were feeling good. We bowed our heads towards Maa ganga and went to our rooms to get sone sleep after a long journey.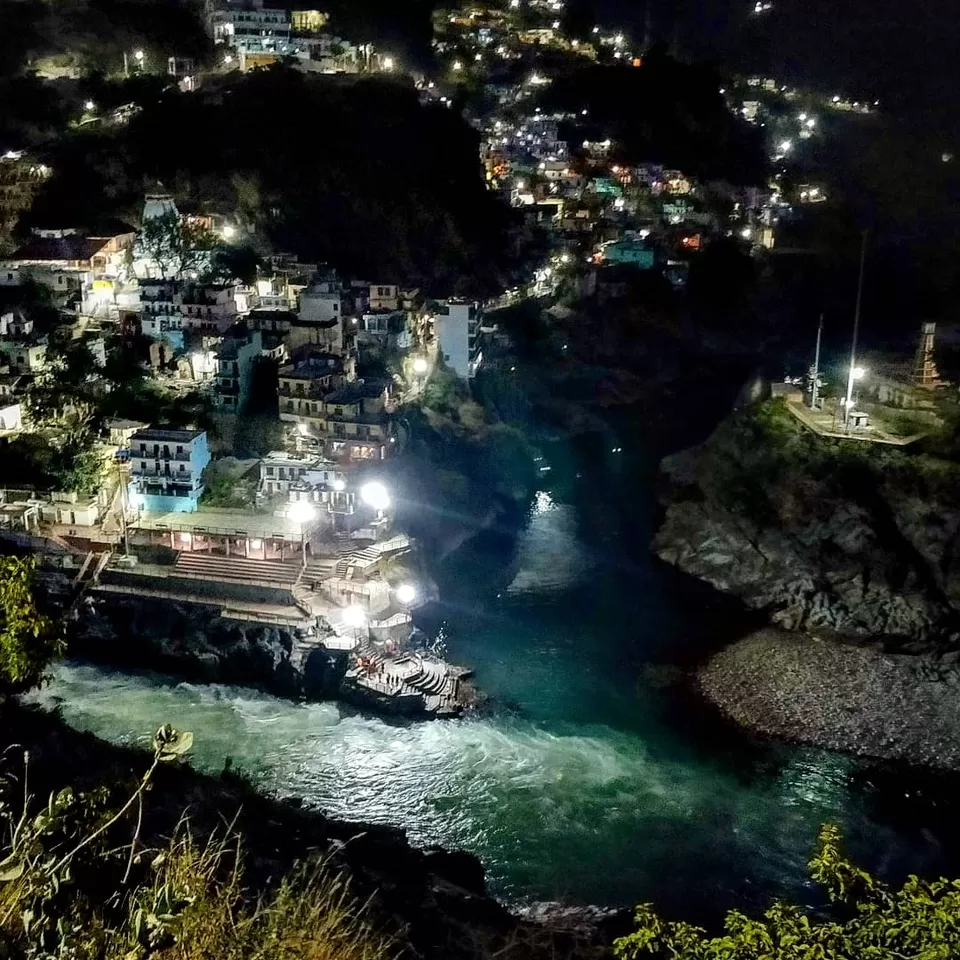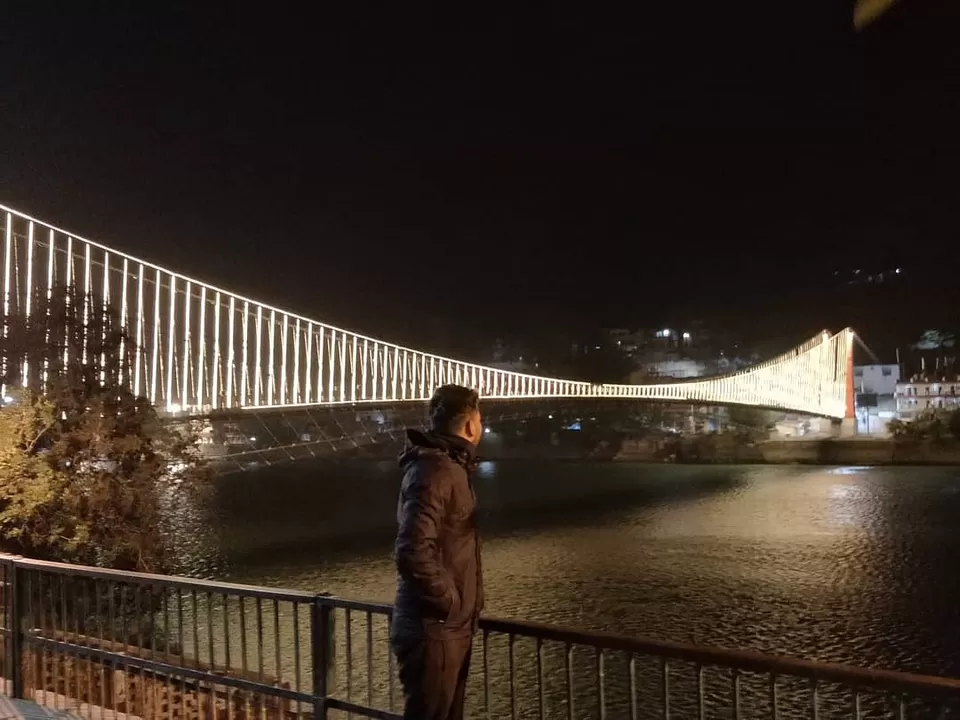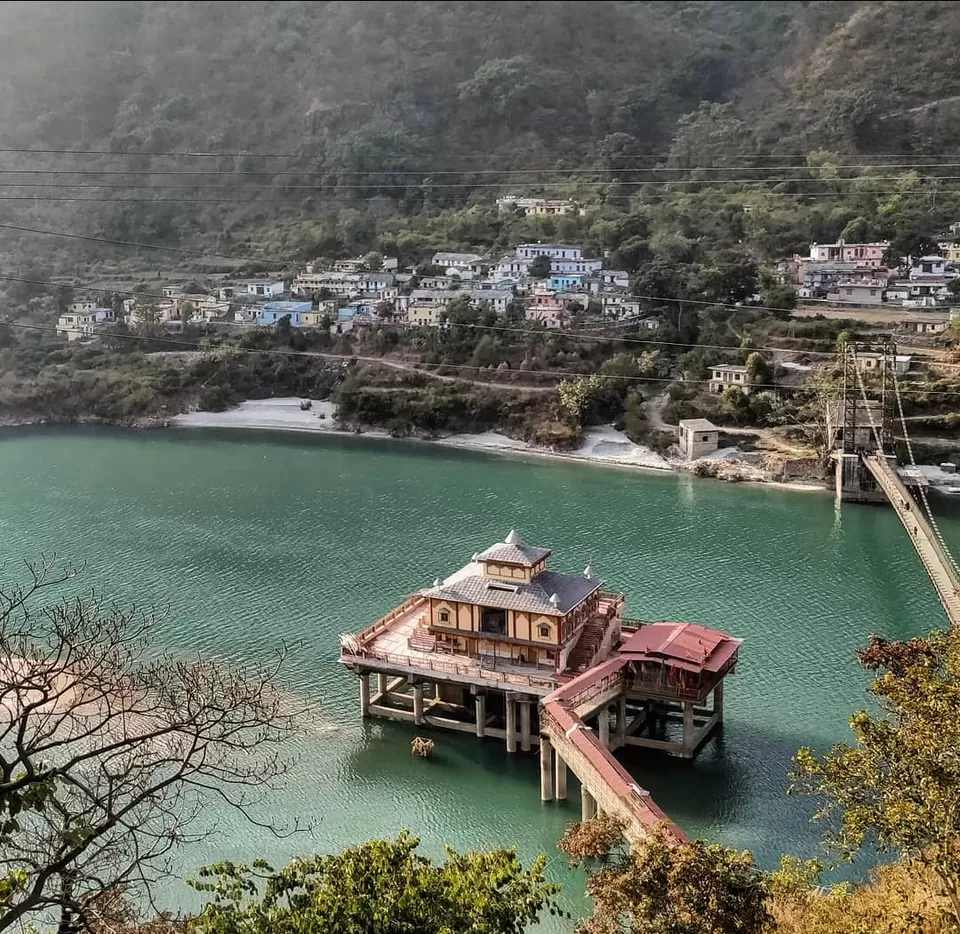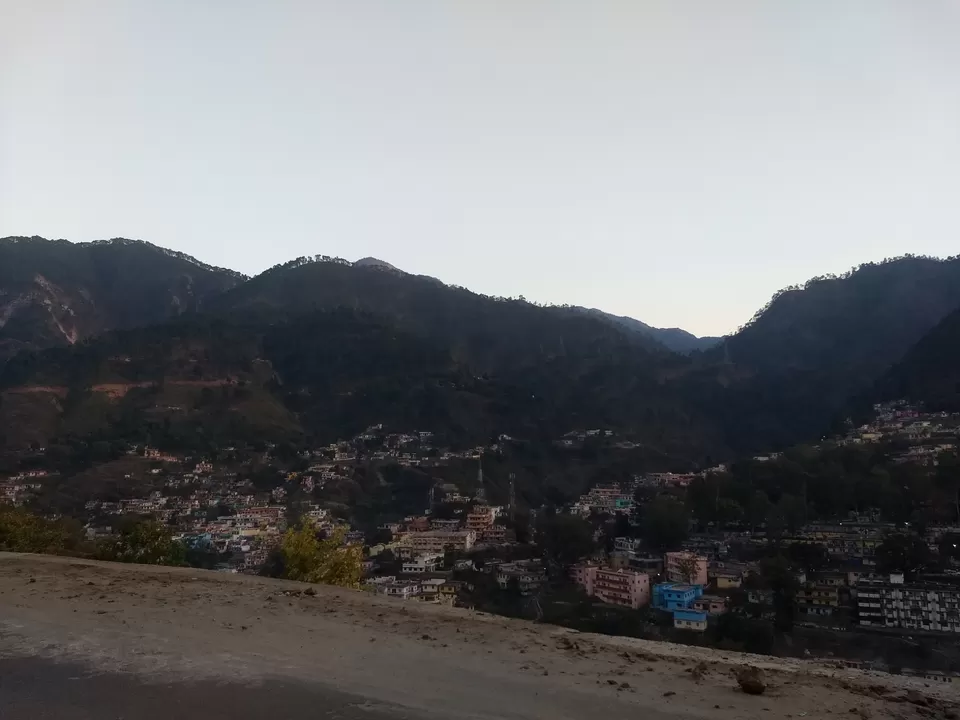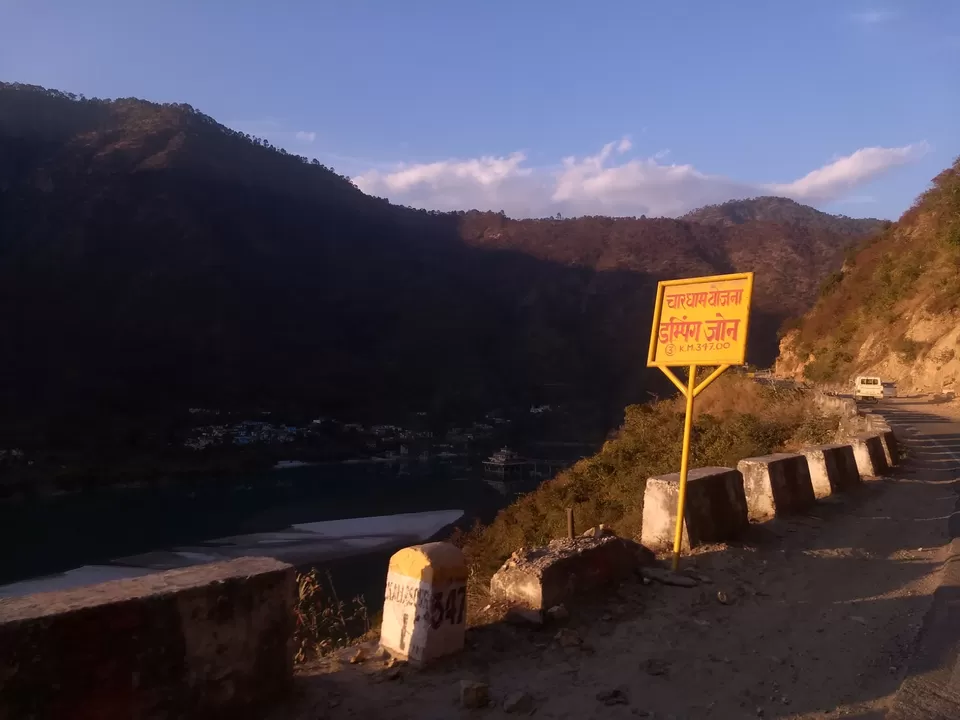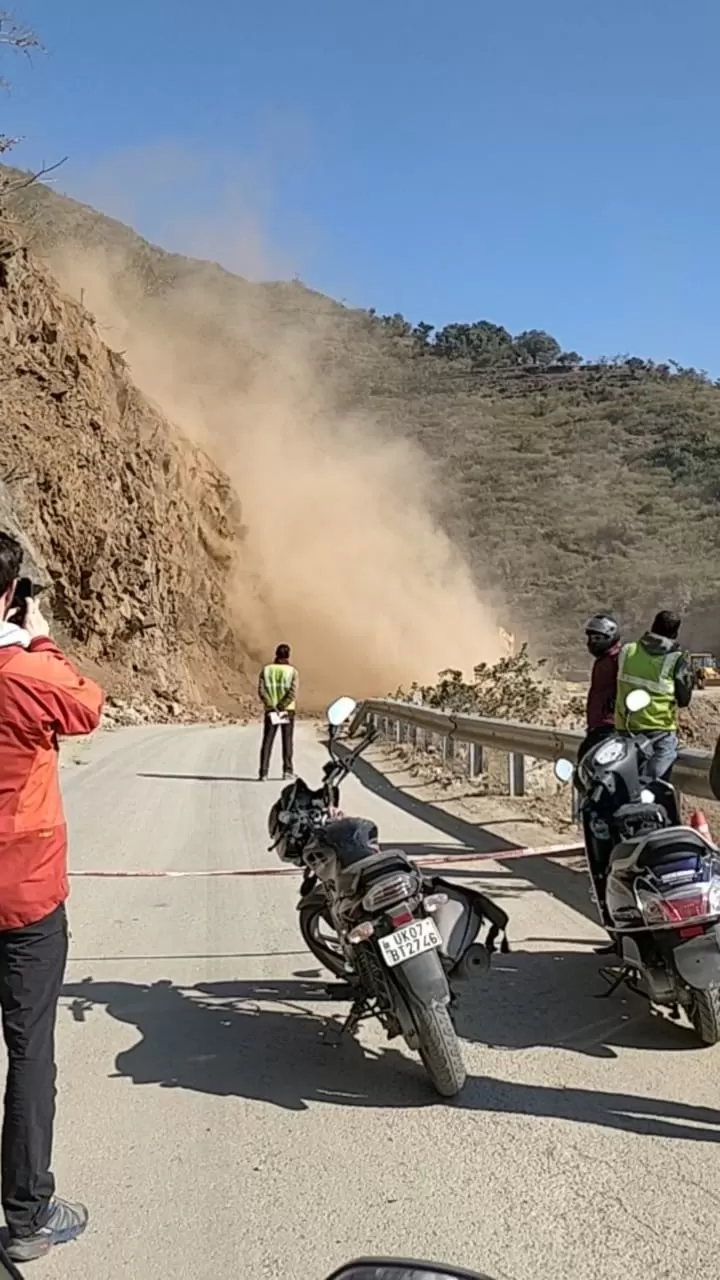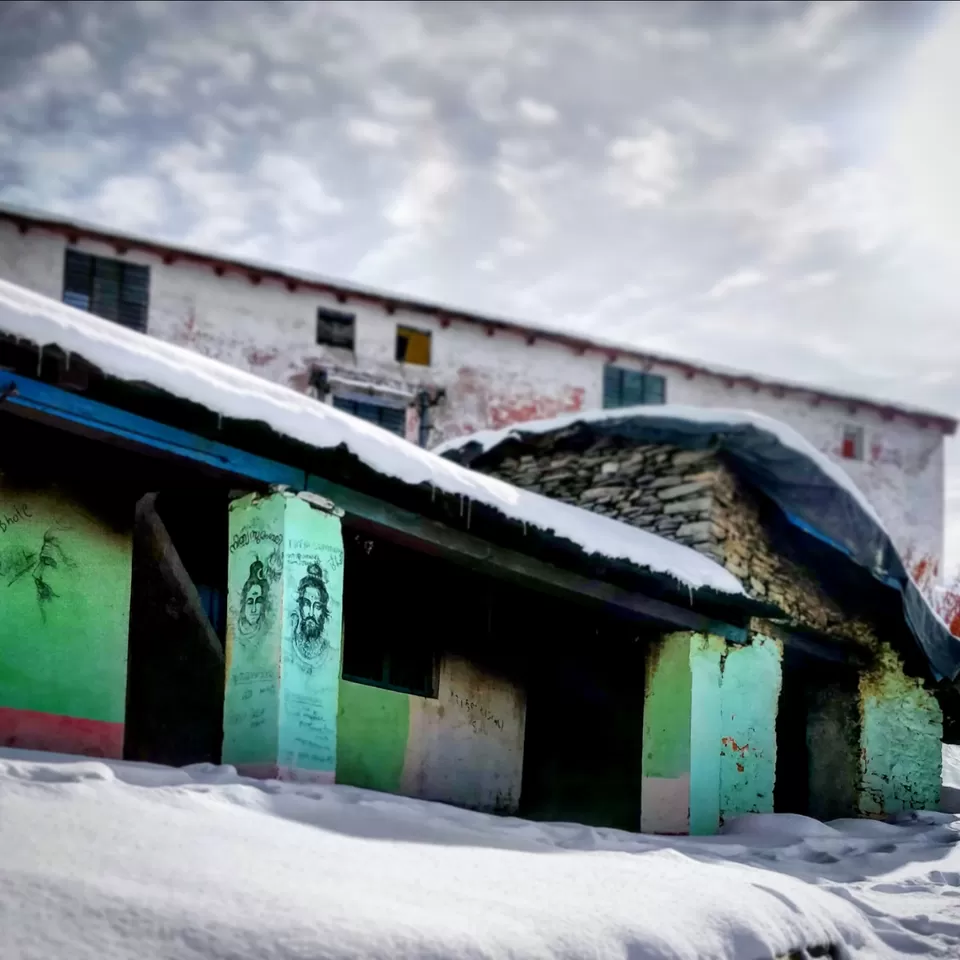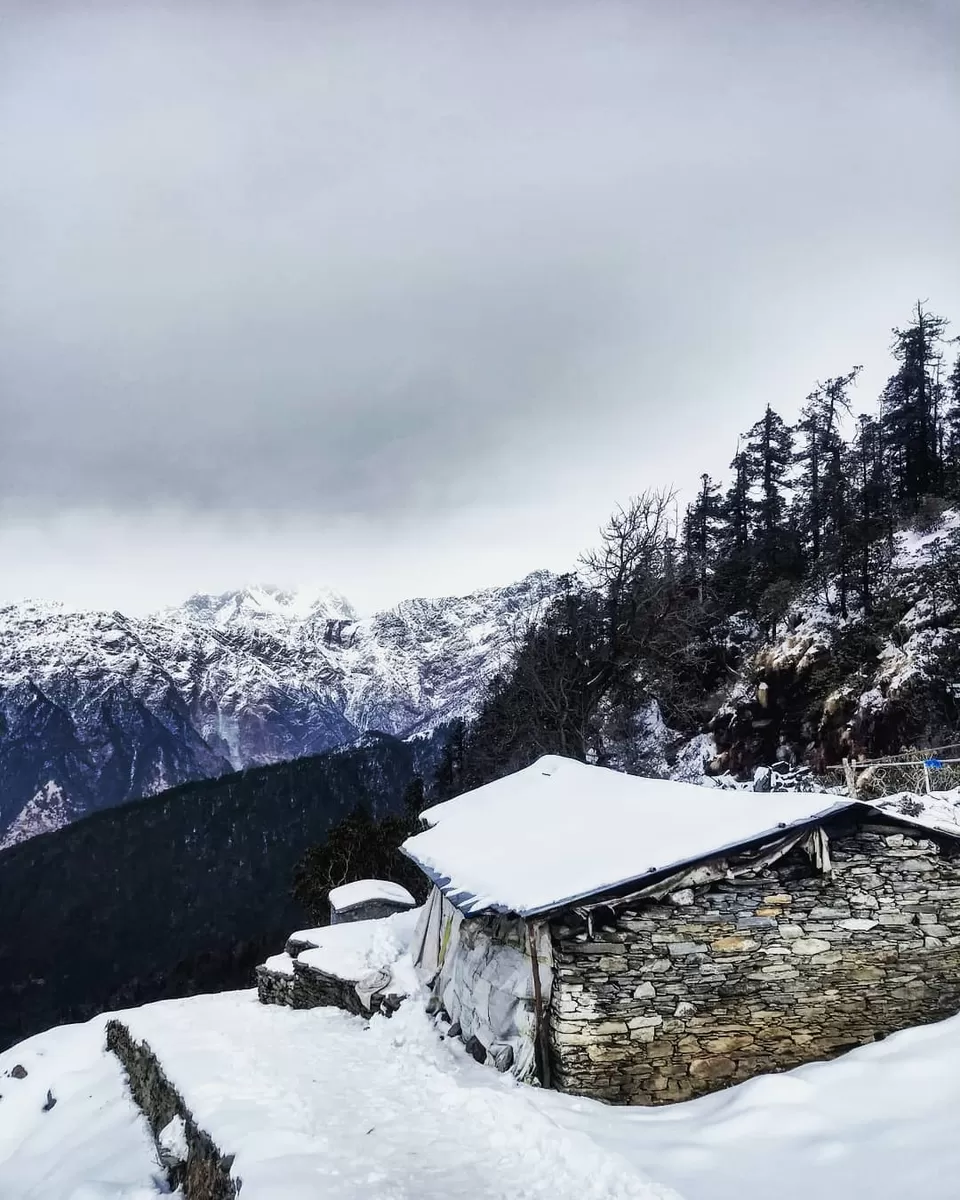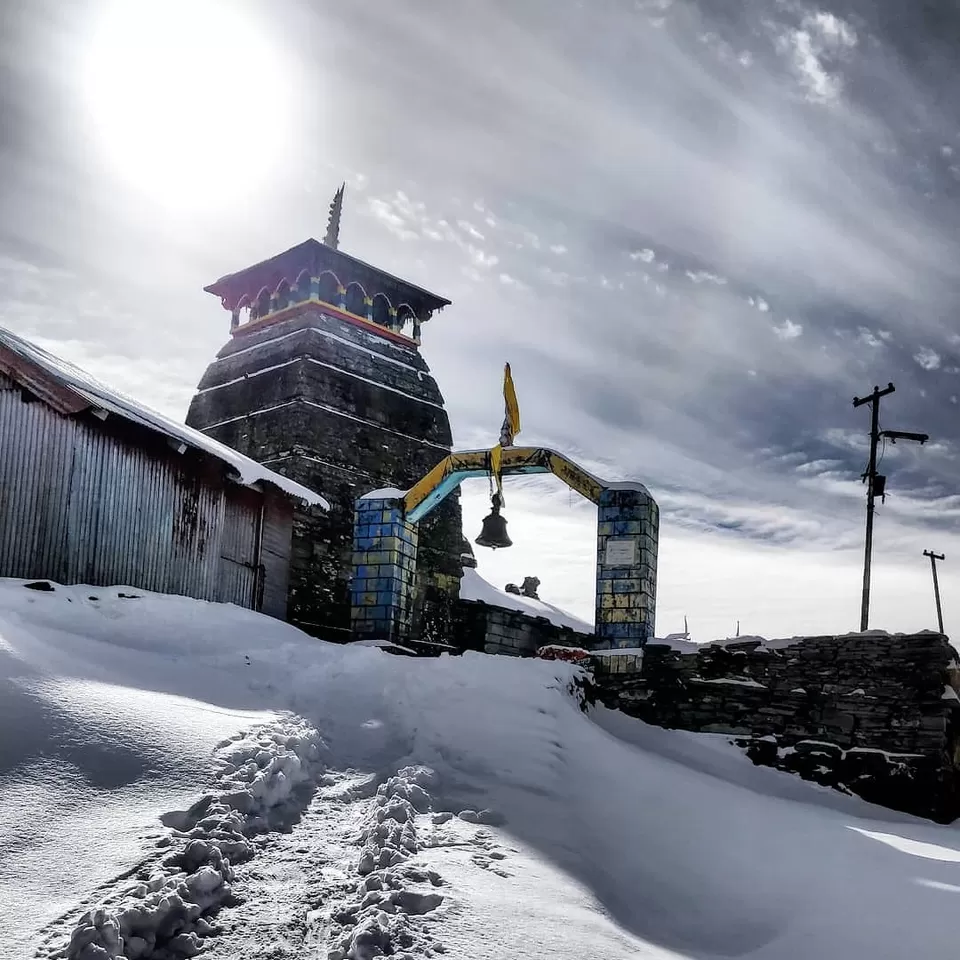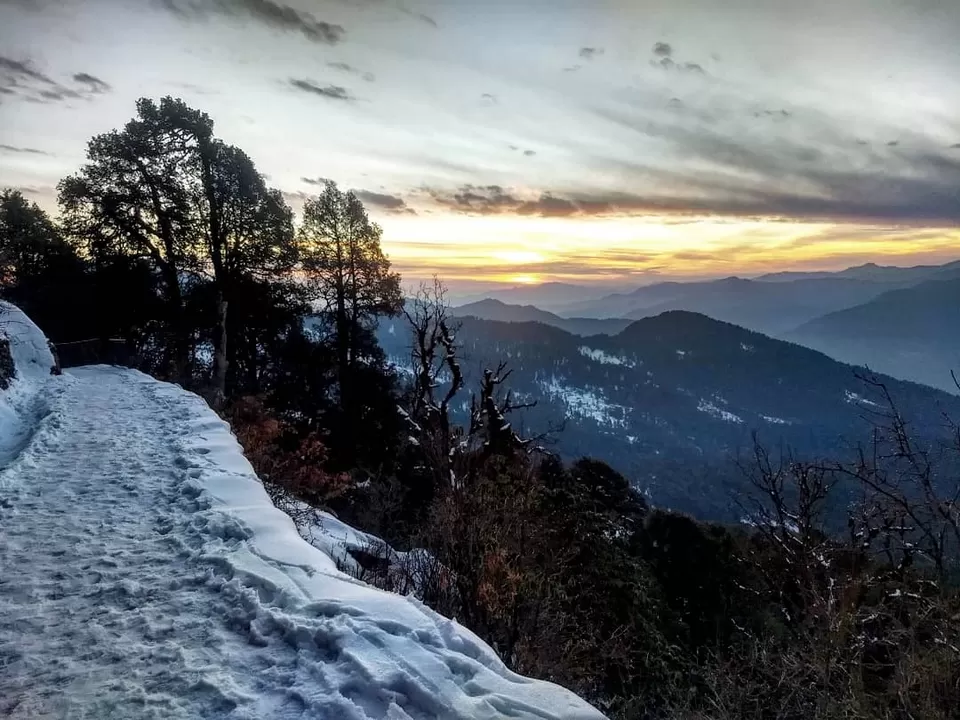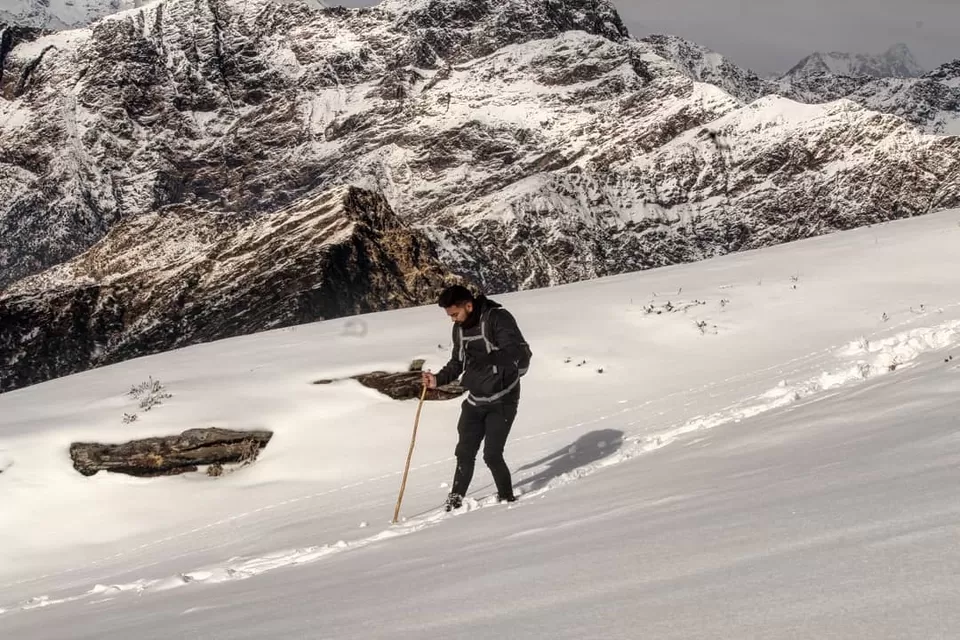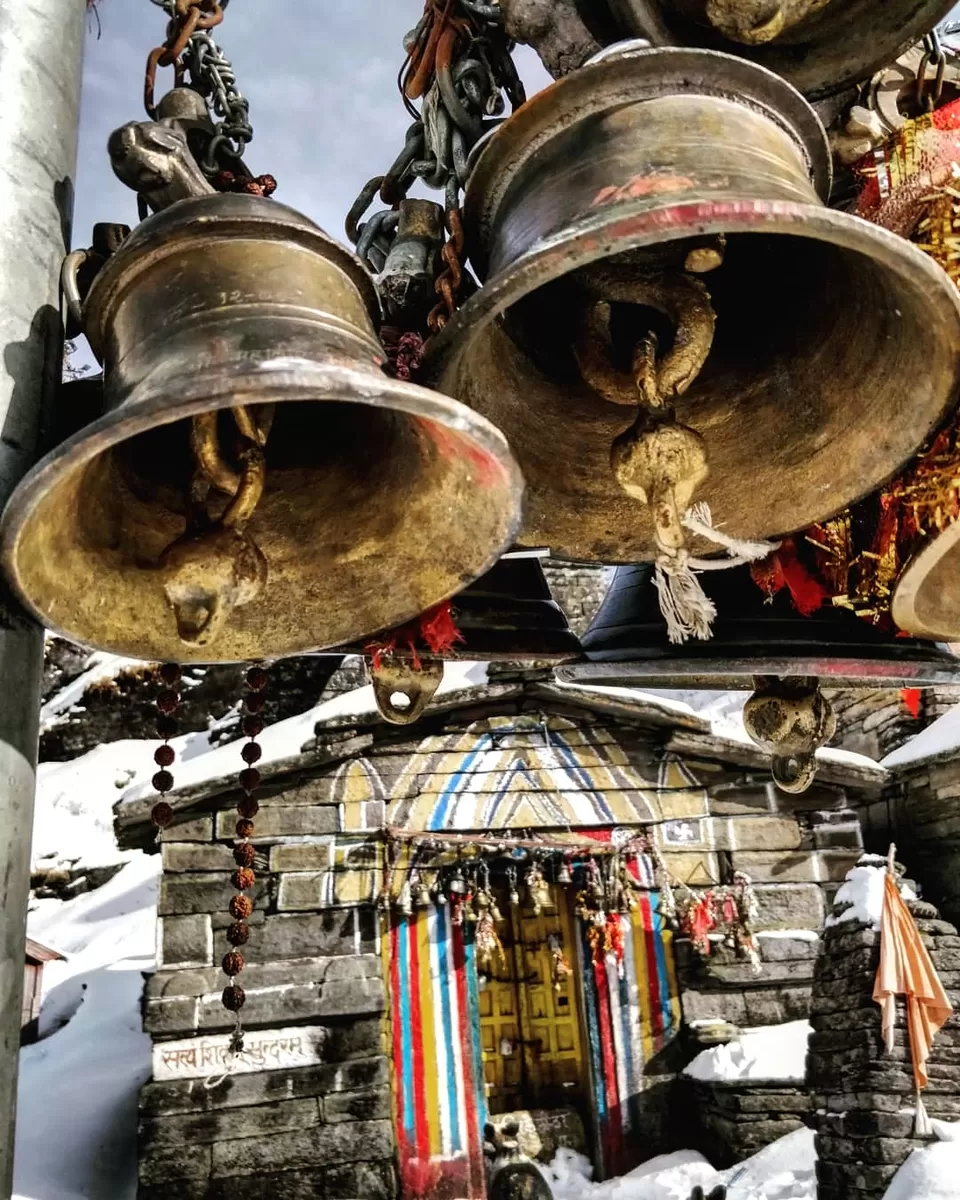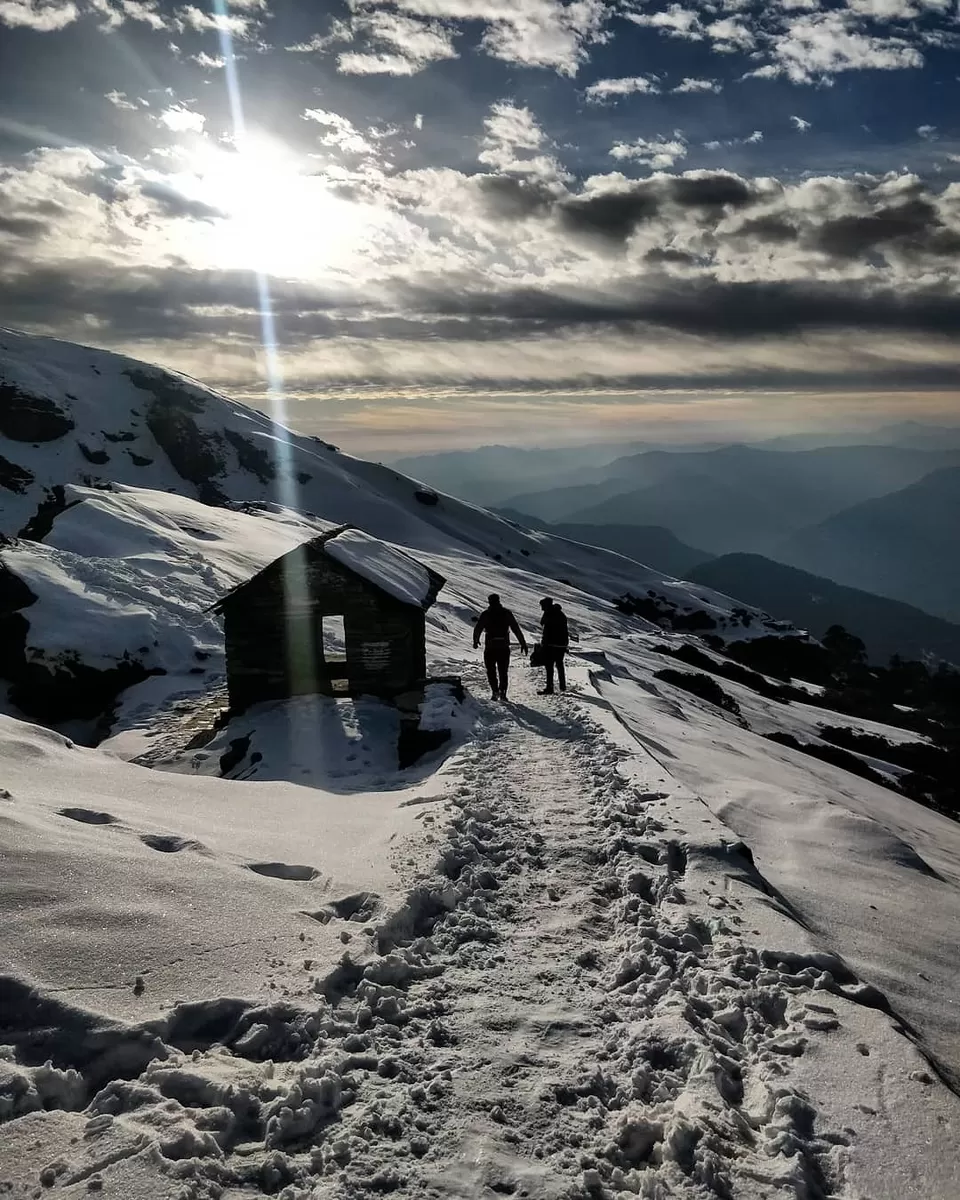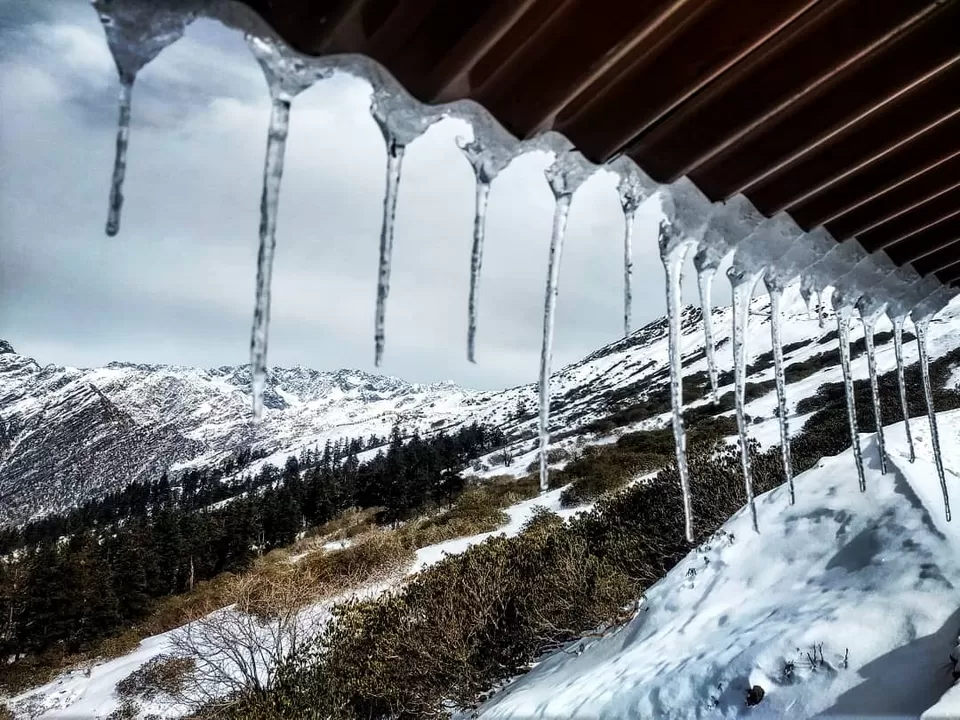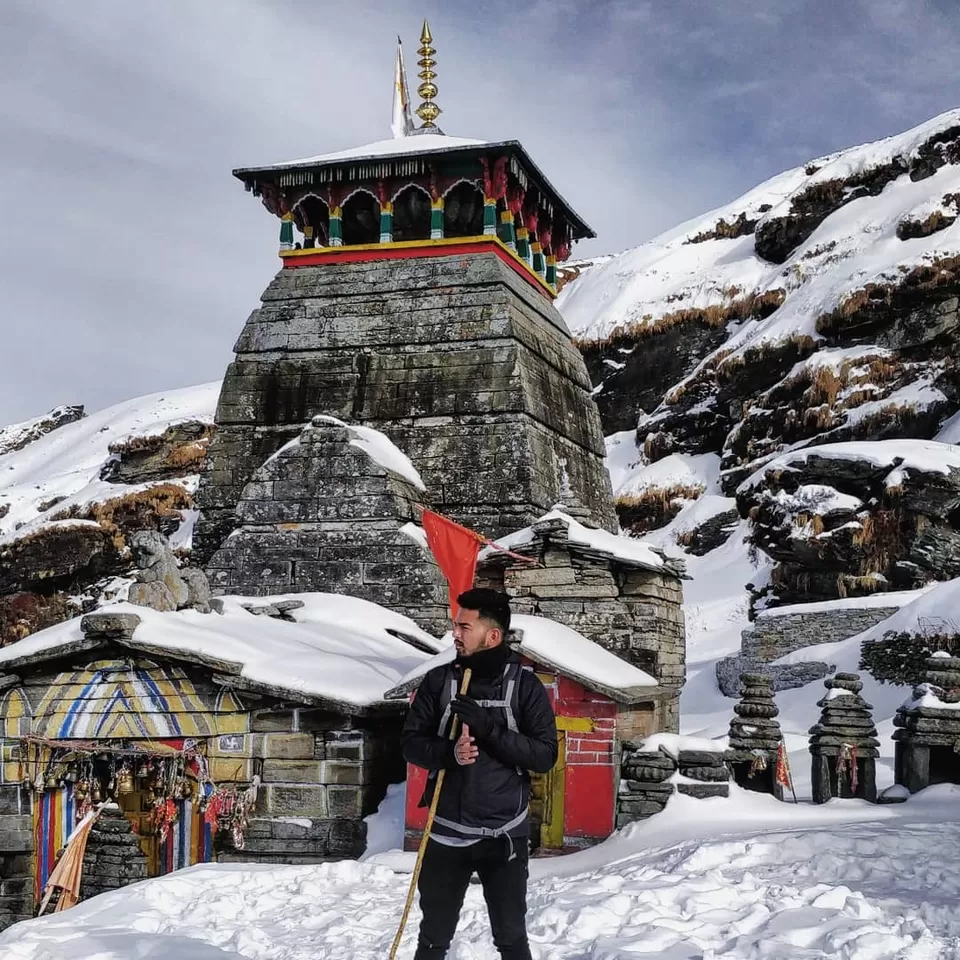 Dehradun is only 1 hour away from Rishikesh so we woke up at 11am and reached home safely by 1pm as we had dinner on the way. It was a trip to remember and felt good reaching home and eating home food after a break.