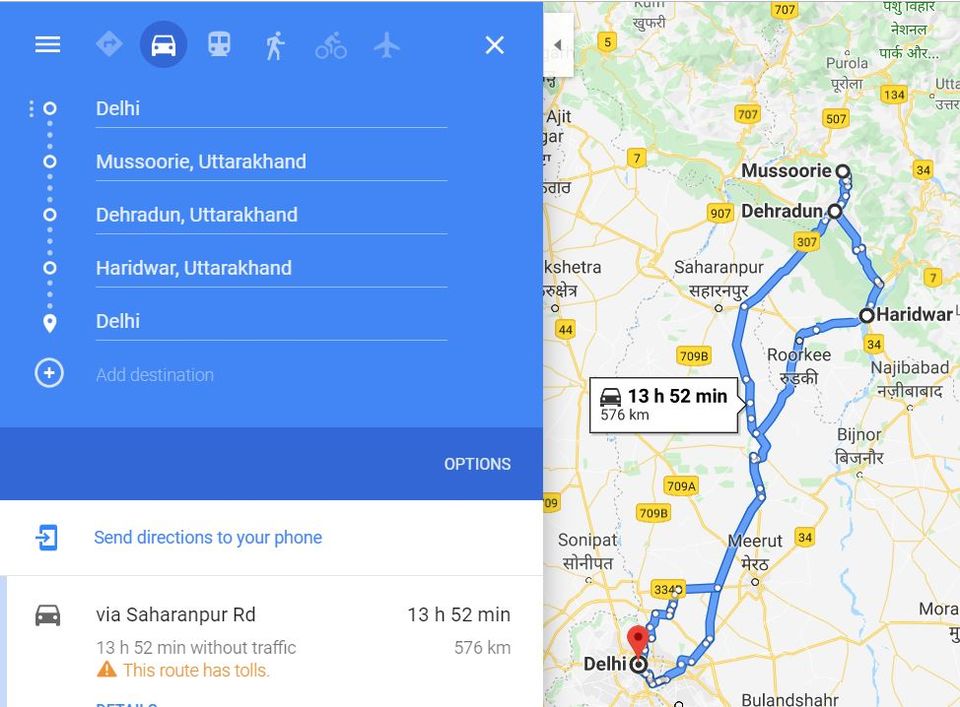 Yes, it is true three cities in 3 days. Moreover, I have covered almost all places, which I can found over google. Let's start with the city tour now.
1.) Mussoorie Tour
2.) Dehradun City Tour
3.) Haridwar Visit
DAY 1:-
I reached Dehradun early morning via train from Delhi. The weather was awesome. After reaching there, I contacted the person who is giving me bike on rent. He took photo of my driving license and collected 700 Rs deposit with 400 Rs per day charge of bike (2 wheeler without gear scooty). After taking my bike, I headed towards my homestay that is around 13 kms from railway station. However, the best part is, it is between Dehradun and Mussoorie.
After completing Homestay formalities and get freshed, I started my trip on bike.
First day I started with Mussoorie and below are the list of places which I cover n day1
• Bhatta Fall: - I started my trip with this fall, which is not very big but you can visit if you have time. All other activities you can find on kempty falls as well. There is ropeway option available to go down. You can skip this fall if you are planning for kempty falls.
• George Everest house: - Most Thrilling road of Mussoorie. You will get beautiful view from top and one old House, which was meant to be George house in early days. Destination is okay but the route is good and you will feel adventurous while driving, do ride until the end if you are riding two wheeler????????.
• Company garden: - There are lot of things and shops in the Garden. Entry fee is 25 Rs. You will get options for food shop, haunted house, wax museum, food court, swings, boating, mini train, entertainment gaming shops, place to seat with view. Cherish beautiful moments and enjoy your time.
• Kempty falls: - Route is awesome specially when you are on bike, you will enjoy riding. There are two ways to go to Kempty falls one with the stairs where you will get shop on both the side of stairs. And another is with ropeway. There is pool and boating area near fall. Must place to Visit. You will get options for flying fox and zip liner on the way to Kempty falls.
• Mall Road: - Most common and famous road of every hill station. You can roam around the road and do shopping, mostly female items are available. You will get few café as well near shopping market.
• Gun hill point: - This place is famous for Ropeway, may be you get best view I feather is good. It is on mall road.
• Kellogg memorial Church: - It is like other normal church, you can visit if you have time.
• Red Tibba: - Red is color and Tibba means top. So now, why this name is given:-? Red Tibba name is given because when sun rays fall over Himalayas it will turn the mountain color from green to red and Tibba because it is top point of Mussoorie about 8000 feet from sea level.
There are only two points in the world from where we can see the winter line, which is like horizontal line after that, Vibgyor lines are visible. Between those two points first is Switzerland and second is Red Tibba of Mussoorie. Best time to visit this point is November during Diwali. It is originated in 1962 and you can see the beauty from top of the cafe. In addition, you can see charo dham from this point during November. This point is end of Mussoorie. Entry charges are 50 Rs. Must place to Visit.
• Jain Digambar temple: - On the way down from Red Tibba, you will get a Jain temple. It is like other normal Temple, you can visit if you have time.
• Ghanta ghar: - It is also on the way down from Red Tibba. A big watch on wall.
• Picture palace road: - other end of mall road is called as picture palace road.
• Sisters market: - Shopping market, Mall road is better option.
• Shiv temple: - A big Shiva Murti is there on the road back from Red Tibba.
DAY 2:-
I wake up early in the morning and had my breakfast then left Home stay around nine in the morning. And headed towards below place: -
• Mdda park: - Just 2 kms from homestay, it's a very normal garden but you will get good view for sunrise and sunset if you reach on correct time.
• Robber's cave: - One of the best place for sightseeing Also popularly known as Guchhupani or Guchchu Pani. Beautiful cave with river water, flow is very speedy so you have to balance, but you must go inside the cave and explore the waterfall. You will really enjoy it. There is a hole on top inside the cave, from where sunrays direct fall over waterfall. Entry charges is 25 Rs. Must place to Visit.
• Tapkeshwar temple: - It is a famous holy temple of Lord Shiva on the bank of river, which imparts it a unique sanctity. Simple and charming in its appearance. As water droplets continuously drops on the shivling, hence it was named as 'Tapkeshwar'. There are three small caves inside the temple.
• Forest research information Centre: - It is among the oldest institutions of its kind. In addition, it is the biggest forest based training institute in India. It is well maintained with beautiful greenery all around the campus. There are six museums in the main building. Entry charges are only 40 Rs and 20 Rs parking charges if you have vehicle.
• Mindrolling Monastery: - If you are looking for a place in Dehradun to escape from noise and pollution then taking a trip to this monastery is good idea. The major attractions include the art, statue of Lord Buddha, paintings and the Stuba.
• Sahastradhara: - Sahastradhara- Sulphur water holly river water n sulfur water used as medicine.
• Gandhi garden: - If you are tired of traffic and pollution then you can visit garden ,you will definitely feel fresh and peach.
• Kumar sweet shop: - everything is famous but ras malai n kulfi, faluda is must try. Must place to Visit(if you like sweets)
DAY 3:-
I wake up late in the morning, had my breakfast, adieu to the Home stay family and left for railway station. Their I return my Two-wheeler and catch train for Haridwar. I reach Haridwar around 2:00 Pm. I just left with half day here so decided to visit two temples followed by famous Aarti. After I reached to Haridwar, I took shared Auto from railway station to Mansa Devi Temple. On the ticket counter, you can buy ticket of both the temples together, which will cost you 363 INR. This ticket include Ropeway (the view from which is exhilarating) to both the temple and transport in between the temple via Road (Mostly through traveler).
Mansa Devi Temple: - Mansa Devi Temple is a Hindu Temple dedicated to goddess Mansa. The temple is located on top of the Bilwa Parvat on the Sivalik Hills, the southernmost mountain chain of the Himalayas. The temple also known as Bilwa Tirth is one of the Panch Tirth (Five Pilgrimages) within Haridwar. The term Mansa means wish and it is believed that the goddess fulfils all the wishes of a sincere devotee. Devotees who want their wishes to be fulfilled by Mansa tie threads to the branches of a tree located in the temple. Once their wishes are fulfilled, people come back again to the temple to untie the thread from the tree.
Chanda Devi Temple: - The Chandi Devi Temple is a charming temple dedicated to the Chanda Devi Goddess, perched on the Neel Parvat of the Shivalik Hills. The Chandi Devi Mandir, also known as Neel Parvat Teerth, is one of the five pilgrimages of Haridwar and is also known as Siddha Peetha, a place where devotees worship to fulfil their desire. Because of its location, the Chandi Devi temple is also a preferred choice for trekking tourists.
Take care of your belongings. You will get refreshments, as there are few snack joints at the outside. Be careful from Monkeys. :)
Har ki Pauri: - Har ki Pauri , the famous ghat of Ganga. Meaning of the term 'Har Ki Pauri'- "Har" means "Lord Shiva", Ki" means "of" and "Pauri" means "steps". A large number of people gather on both the banks of river Ganges to sing its praises. The priests hold large fire bowls in their hands, the gongs in the temples at the Ghat start ringing and the chants flowing out of lips fill the air. People float earthen Diyas, with burning flickers and flowers in them as a symbol of hope and wishes.
Below are the few IMP details:-
HOMESTAY:-
Name: - Horizon Homestay
Contact Number: - 9999889421, 7351200900
Two Wheeler provider: -
Contact Number: - 9634270381
Entry changes: -
Kempty falls Parking changes: - 30
Company garden entry: - 25
NOTE: Best time to visit this place is October to March
I lost all my pictures for last 8 months so could not able to upload any pictures. Apologies.. :(