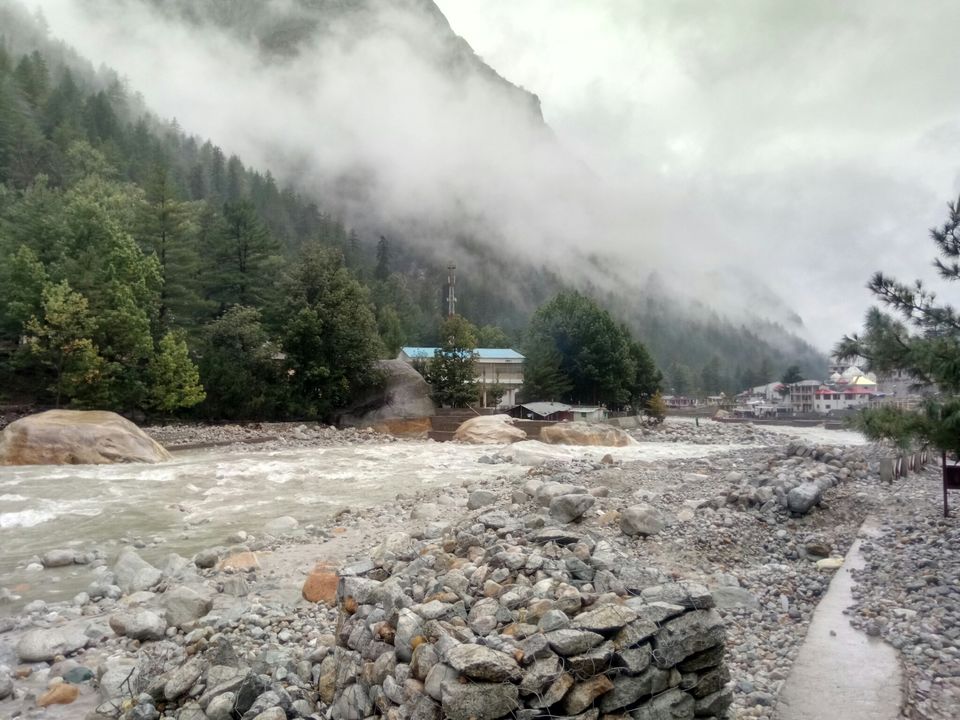 Search carries a connotation of journey;we set out with the hope for new insights and experience in heavenly gangotri.Gangotri is a highly located town in the district of uttarkashi in uttarkhand,a place of beauty and meditation ,a horizon where nature has indicated all signs of life and a place where one could feel the essence of creativity.The concept of paradise is very truly reflected in gangotri which is symbolic to true peace of heart and soul for which each one of us "exiled on earth",yearns.
Gangotri is 98 km away from uttarkashi and is primarily a pilgrimage site for the Hindu pilgrims .It is among the  chota(small)char dams (four abodes) which are a set of four pilgrimage sites in Uttarkhand starting from Yamunotri, gangotri , kedarnath and finally to badrinath(the direction of journey is from west to east).Here the pilgrims make intimate contact among themselves and exchange during their stay merchandise and ideas.Once the rite of pilgrimage is accomplished each returns to his native place provided with pardon and satisfaction of Godliness.
One has to avail alternate mode of travel while reaching Gangotri. We have different routes to reach uttarkashi which is the central point where one needs to hire private cabs/shared taxis .The distance from uttarkashi is covered in around 4 hours due to steep turns.The cost of shared taxi per person is 230.
FROM AIRPORT-The nearest airport is jolly grant in Dehradun from there buses ply from ISBT or one can avail the services of shared taxis which would cost around 200 and it will take 6 hours to reach uttarkashi. The bus charge may vary depending upon your choice of alternative it would be costing around 250.   FROM RAILWAYS -One has two alternatives here depending on circumstances the first being Rishikesh,secondly Haridwar or Dehradun. The connectivity is quite good from both places.The private buses would take around 7 hrs to reach uttarkashi from Rishikesh.(Note:It is advisable not to take the route of Rishikesh now as there is an on going construction of NH 94 as result of which your duration of travel will increase.)The cost of local bus service is 240 per person.The route of Dehradun to uttarkashi will take you via mussoorie bypass.
The views from uttarkashi would be majestic wherein the taxi will drive you through the Topsy turvy curves of the mountains and each moment would be like a mystery covering various road signs.Landslides are quite common in this area so if you are courageous enough to combat the situation you can take part in this journey. Adventure seekers will experience thrills of high peak turns throughout the journey. The water trickles gently,cascades down small waterfall ,sprays from fountains run along the channels and streams or remain still in the pools also known as "kund" in local language,reflecting the sky above.Constant movement and stillness combine to create a harmonious environment which both soothes the soul and reflects its own fluidity,while at the same time remaining pure and true to its undivided essence.Meanwhile you will come across areas like Harshil here one can have fun of sightseeing along with an apple in his hand.The apples are relatively lesser in cost out there. Maneri dam will also come in the way here one can experience the magma of maneri and gushing of water through its barrage.The whole journey is complete in itself.The height will be tremendous throughout covering alpine trees,snowy peaks,river gushing down and mist of clouds all in one journey(Note:please do carry necessary medication)
Arriving in Gangotri it would be a vision of a vision of Earthly paradise or miniature garden of paradise.This place is exactly 3059 m above sea level.The things to look out for in Gangotri are as follows-
The prime attraction of the pilgrims is "Gangotri temple" -The temple gates are open between 3 am to 3 pm. Apart from that offering/aarti is performed at 6.30 pm at the ghat and 7.30 pm at the temple premises."Your silence and watchfulness will be your prayer at gangotri temple".
PANDAVA GUFFAW(caves) -Mountains in background of track are sacred art of creativity .This is best short track I have seen in a long time and is located 1.5 km away from Gangotri it is a place where the pandavas are believed to have rested en route kashi. It is a dazzling track underneath which the bhagirathi river flows.Walking on track,slowly absorbing the peace contained there allows the roaring sound of water to gradually drown out all preoccupations of an overwhelming sense of peace descends and visitor is drown into state of contemplation of divine unity.                               SURYAKUND-It is around 0.5 km away from gangotri Nowhere water is more soothing to eye and soul.It is a vertical fall of bhagirathi river through enormous big stones.It is seen if the flow of water is less out there then one can see the submerged shivlinga in the middle of water fall.
GAURI KUND-It is yet another spectacular kund wherein you can see the river gushing and roaring at the rate of knots.Its structure is such that a deep gap remains between two mountains.
Apart from these,if you are a pilgrim or an enthusiastic trekker one can can go to gaumukh which is 18 km away from Gangotri,the origination point of bhagirathi river and the other trek is also 18 km away from gangotri it is kedar tal trek.
Exiled in concrete jungles as we are ,unless we are able to content ourselves with the shadow of paradise that is virgin nature,we must create for ourselves surroundings which by their truth and their beauty recall our heavenly origin and thereby awaken our hope.
"The description is not described"(J.Krishnamurti).The words have no meaning for this place you need to grab the wordless wisdom of the mountains in gangotri. This place is an opportunity to return to the world of eternity .Just feel that juice,the taste,the thickness of trunk,and other qualities of mystery out there,out of hidden root.
"EAT IT AT THIS POINT WHEN IT IS FRESH,
BEFORE DUST SETTLES UPON IT"
(RUMI)