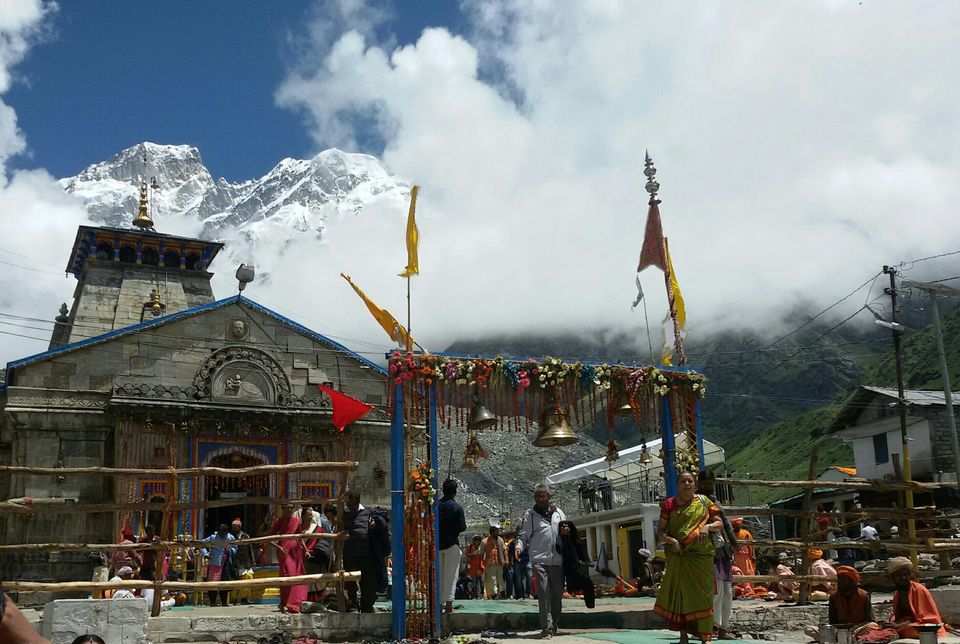 Say Uttarakhand and it instantly brings to mind the pictures of snow capped mountains , clouds flying over valleys, rolling meadows, pine forests, pristine rivers and their confluences, and of course wandering ascetics. Due to its geographic speciality and spiritual significance, this state is a haven for pilgrimage and eco-tourism. Travelling to the 4 religious hubs in the lap of Himalayas –Yamunotri (origin of river Yamuna), Gangotri (origin of river Ganga), Kedarnath (shrine of Lord Shiva) and Badrinath (shrine of Lord Vishnu) is popularly called Chardham yatra. This much celebrated circuit open from May to November draws Indian and foreign tourists to undertake pilgrimage and witness Himalayan splendor. The 2013 clouds burst disaster has affected tourism in the state for the past 2 years, moreover the pictures of pilgrims suffering during landslides and the ensuing roadblocks relayed in TV, newspapers did not deter our enthusiasm to defer planning any tour to the spot. The rejuvenating Himalayan air, trekking, sightseeing and the privilege of travelling with other 10 friends from Mangalore to the most beautiful destinations of India was an amazing experience for all of us.

Day 1
Flight journey from Mangalore to Dehradun
Hoping for safer, smoother and shorter yatra , we left for Dehradun from Mangalore on June 18th 2016 early morning. To travel to the Chardham circuit, we hired a mini-bus from Haridwar since it was the only mode of transport that could carry 13 people across the terrains. Helicopter service has become popularity , if pilgrimage is the only objective, one can choose this mode of transport.
Day 2 and 3
Dehradun -Mussorie- Barkot (stay) - Janki chatty (Stay) –Yamunotri
Traffic jams from Dehradun to Mussorie are common during weekends. We passed through crowded Mall road in Mussorie, LBS Training Institute for IAS officers & Kempty falls . Had day's lunch at 3.30 p.m. A slight deviation from the circuit route, we stopped at Lakhamandal -a very less travelled town but with a lot of heritage associated with Pandavas. Walking through some of the old wood homes covered with stone slabs was a pleasant feeling. That night made an emergency halt in Barkot. Early morning started from Barkot , sound of gusting river Yamuna and sight of pine trees kept our company throughout the journey.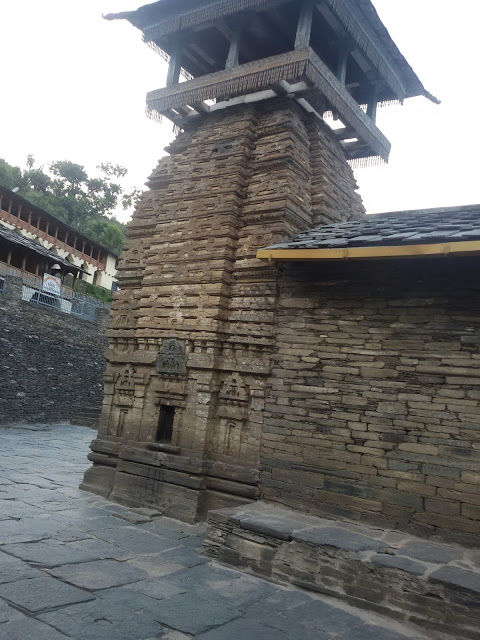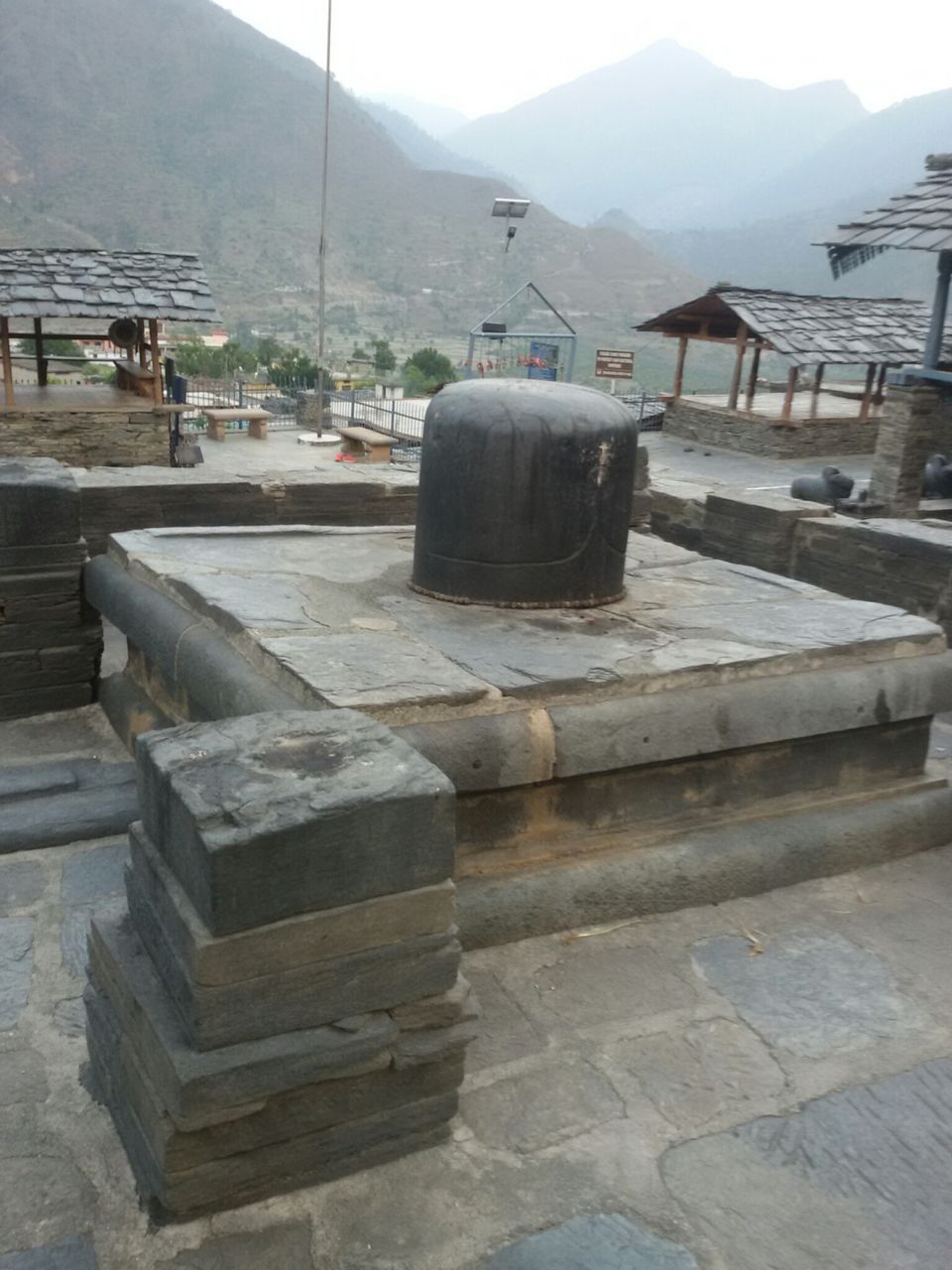 Yamunotri -the main source of River Yamuna and temple of Goddess Yamuna from where one can catch a glimpse of the actual glacier is located at a height of 3293 above main sea level (MSL). To visit Yamunotri, one has to stay back in the town of Janki Chatti and then walk up to the main temple. The 6kms uphill trek is filled with mesmerizing views of the Himalayas and the river flowing at the one end. The elevation of Janaki Chatti is 2,576 meters whereas that of Yamunotri is 3,323 meters. In other words, the average gradient is about 12.5% The last 1 km is pretty tiring as the climb becomes more steeper and rough. For the uphill journey, we took a pony ride ,it was a unique experience altogether, riding on steep slopes trying to save our head from hitting the sharp rocks, fear of falling etc. A person (ghodawala) accompanies us all along so that there is no need to be afraid of the journey.Helicopters are seen flying in the skies.
Had nice time at the temple, witnessed the glacier and had short meal For the return journey, we came downhill trekking, watching the panoramic views , that cannot be matched with any other destinations within the country. Due to pony shit, flies are a nuisance here. In the chilly evening that followed scanty rain ,we had to take care of throbbing feet.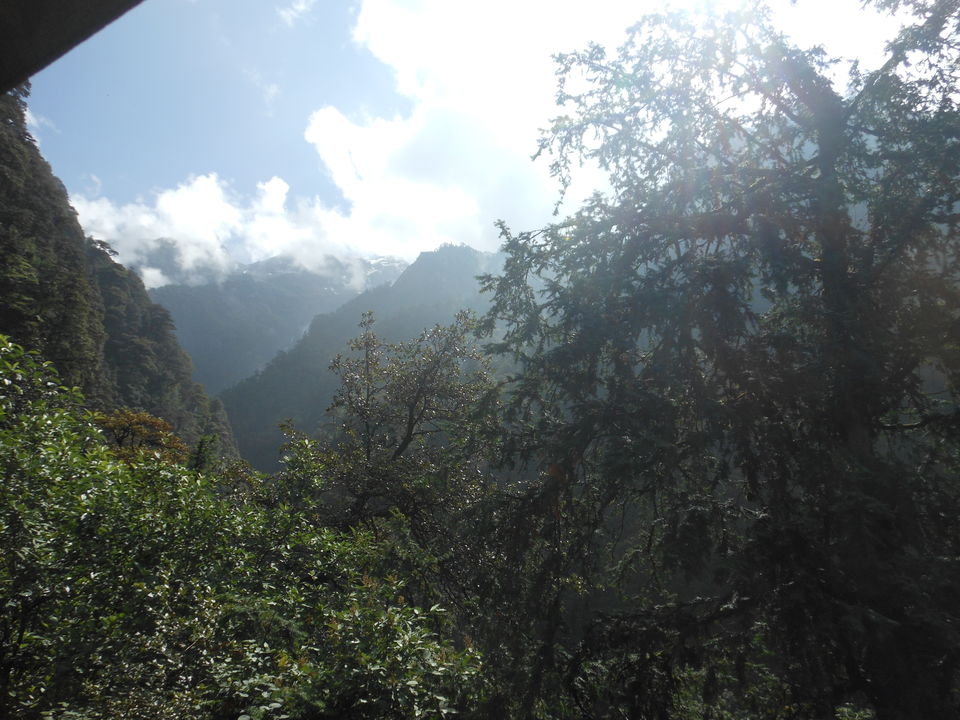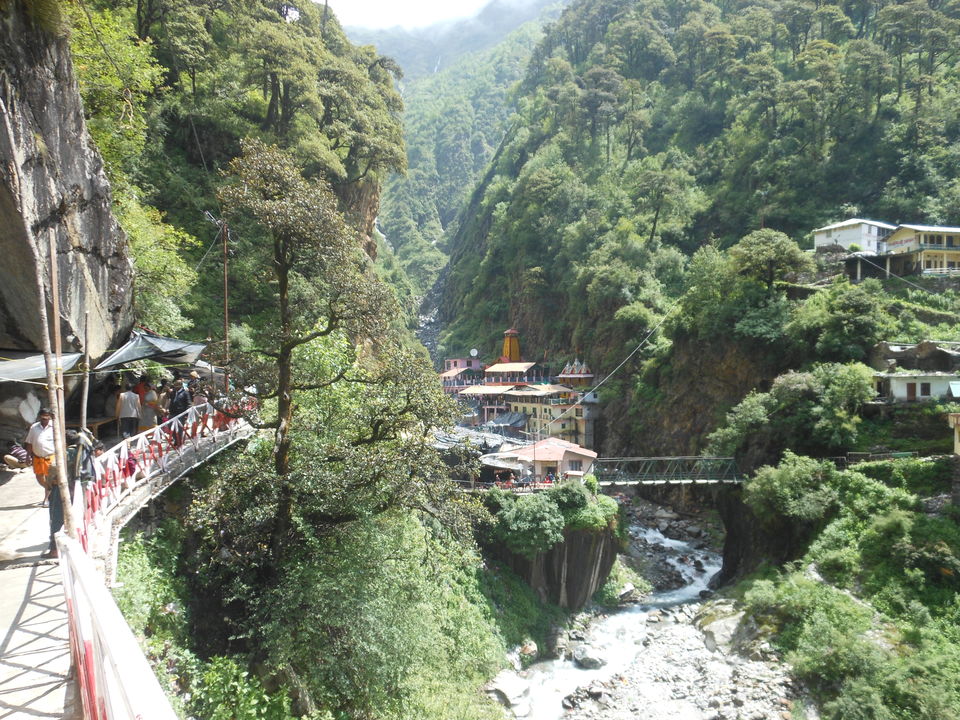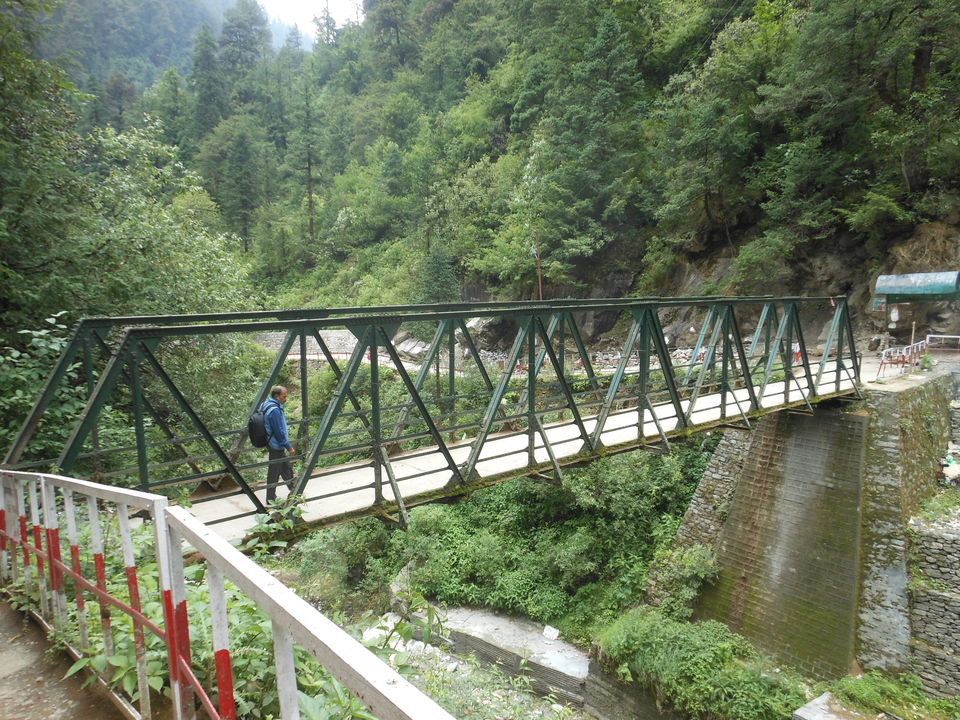 Day 4 and 5
Yamunotri to Uttarkashi (halt)to Gangothri
Uttarkashi is the holy town set on the banks of Bhagirathi River at an elevation of 1158 meters. This town is the starting point for Treks to Nachiketa Tal, Dodi Tal, Dayara Bugyal (bugyal, a high-altitude meadow) Sat Tal, Kedar Tal, Gangotri-Gaumukh-Nandanvan Tapovan.Visited sacred Vishwanath Temple dedicated to Lord Shiva . There is a trident made of eight imperative metals. According to Hindu Mythology, Lord Shiva slaughtered Vakasur with his Trishul at this sacred place. The Nehru Institute of Mountaineering set up here imparts mountaineering training to young people . Evening, we walked through 1 km long tunnel that connects 2 parts of town , purchased varieties of pahadi fruits (from a Kannadiga vendor!) and had sumptuous buffet dinner at the hotel.
Early morning on day 5 at 5.30 A.M, all of us were out to make the awaited trip to Gangotri. The road to Gangotri passes through Maneri, Bhatwari, Gangnani and Harsil. Thoroughly enjoying the scenery with swooping ranges and gazing changing facets of Bhagirathi as she makes her way across the Himalayas, we reached Gangotri at 10.00 am. The road is very bad after Gangnani, it is quite dangerous also, a driver must be very cautious on this route. Flowing Bhagirathi, green valleys with cedar and pine trees kept company through- out our journey. Gomukh glacier becomes visible as we approach Gangotri.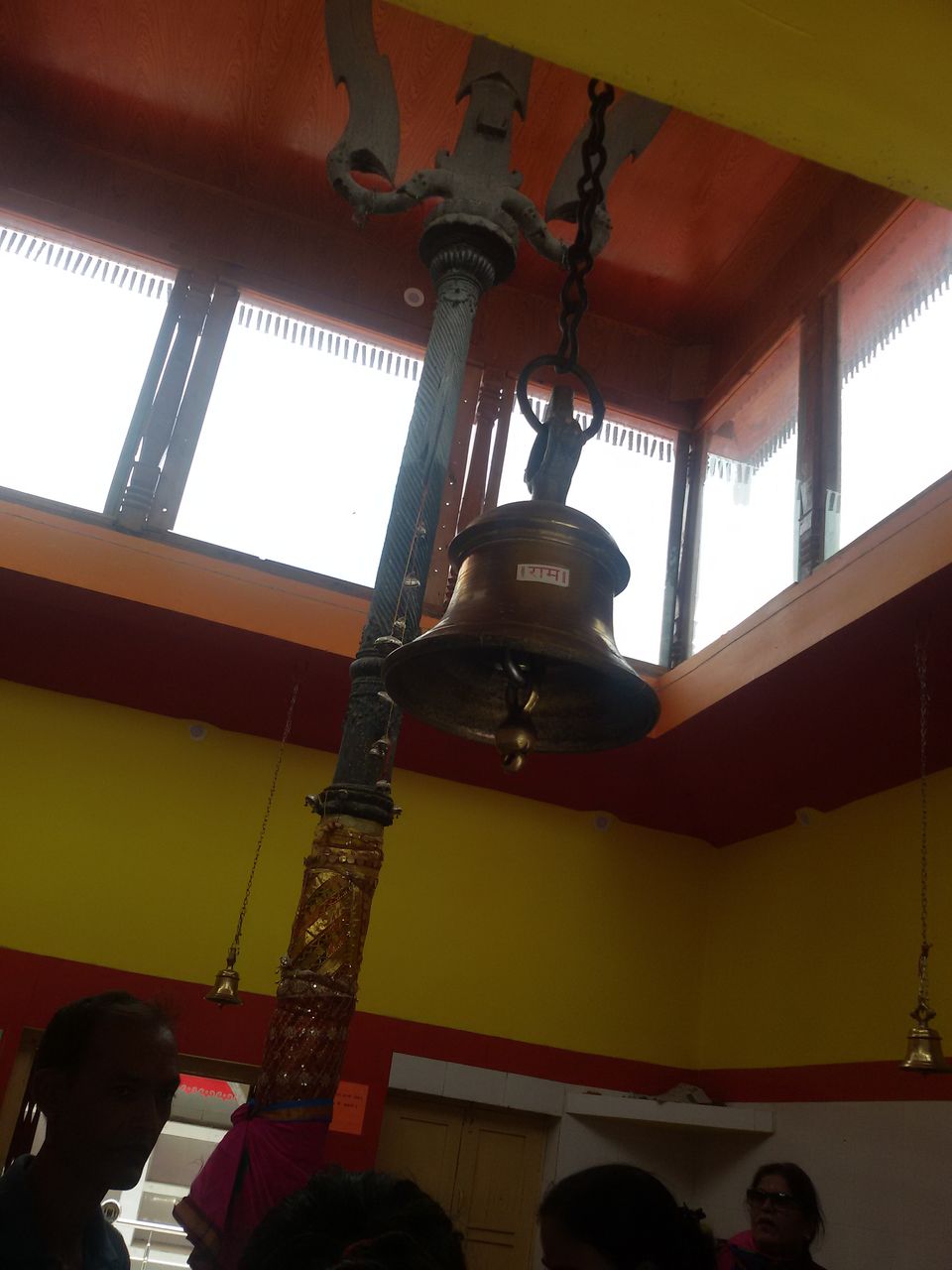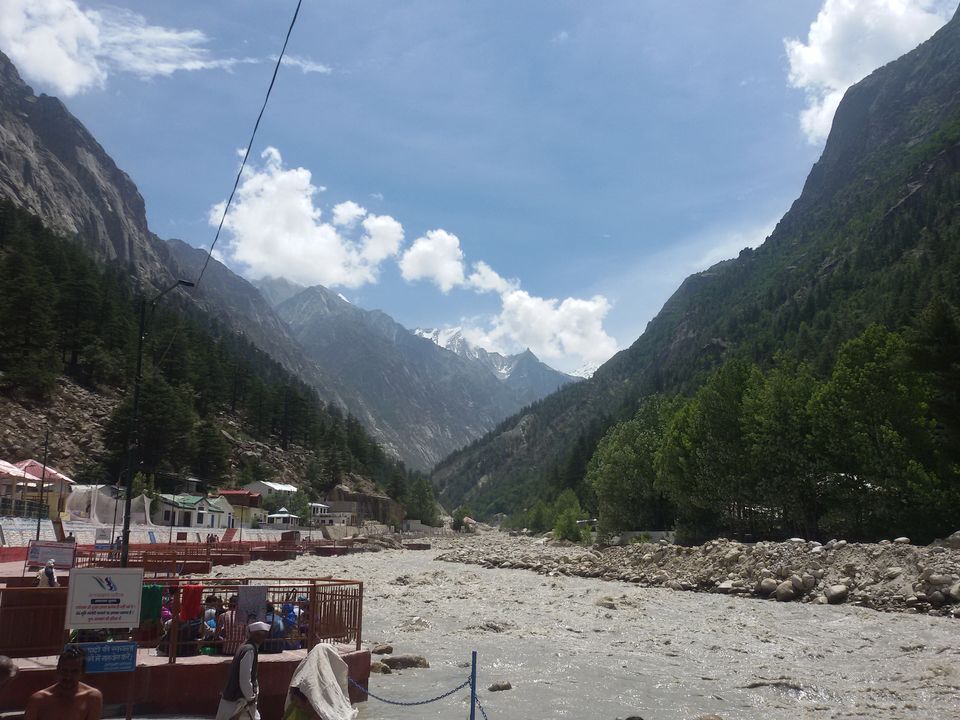 Gangotri is located at an altitude of 3100 meters(MSL), on the banks of Bhagirathi river. The white colored granite ,20 feet height exquisite temple houses Ganga Devi's idol, Goddess Yamuna and Lakshmi. BhagirathShila, where King Bhagirath is believed to have performed his famed saadhna to bring Ganga from heaven to earth, is located within the compound. The river water looked like flowing Horlicks was very cold ,I could dip hand/feet for a few minutes to collect the holy water. We took same route to go back to Uttarkashi. On the way stopped at Khedi Waterfall and Bhairon Ghati. After Bhatwari, as we approach Uttarkashi, there is an ashram of Pilot Baba. It looks like a spiritual disney land with gigantic images of Ganesha, Shiva and numerous other sages. The ashram has a pleasing natural ambience with landscape, lush green gardens with beautiful flowers.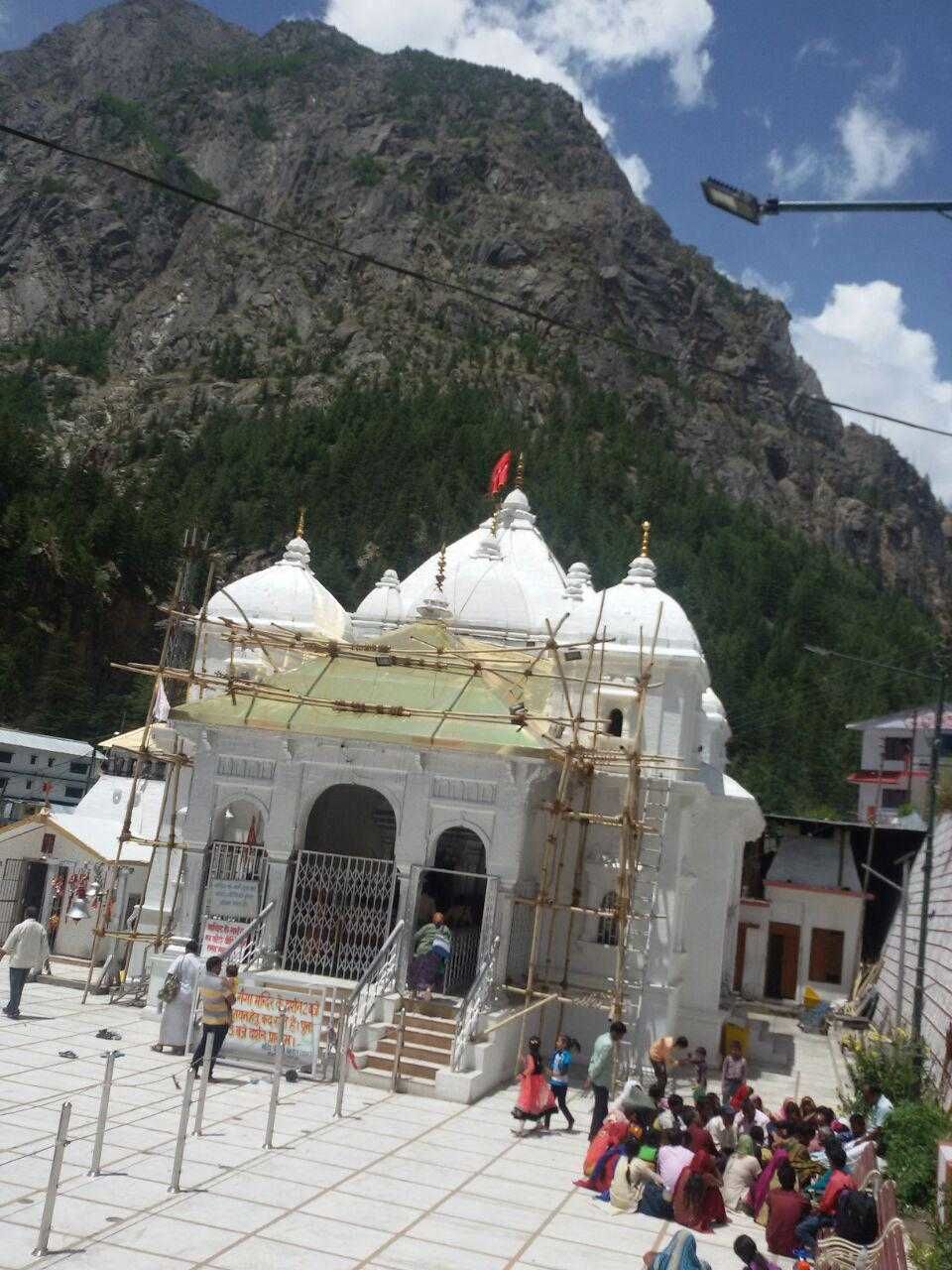 Day 6 and 7
Uttarkashi to Sonprayag(Halt) to Kedarnath
Had breakfast of Aloo- parota at Lumbgaon, purchased woolen shawls ,by then we got the news that Honourable President of India Pranob Mukherjee would be visiting Kedarnath that day. Throughout the journey,we had view of Garhwal Himalayan peaks ,terraced fields and meadows located on the mountain tops. Visited temple at Guptakashi and got our Bio-metric/Photo metric registration and verification done at GMVN office for the next day trek to Kedarnath.
After reaching Sonprayag, our efforts to book Helicopter tickets to Kedarnathji were in vain ,as there were many backlogs of booked pilgrims due to suspension of flying services in light of bad weather .TV channels were carrying the news that Honorable President of India Pranob Mukherjee could not visit Kedarnath that day for the same reason. Taking inputs of internet weather forecasts at Kedarnath from Dilip (our son) over phone we spent night speculating about next day's weather conditions. Food served at the hotel was refreshing, spot -prepared phulka, bhaji, rice, dal and milk.
Kedarnath can be accessed by Helicopter which is available from Agastyamuni or Phata, foot , mule , palki or kandi. Those who visit Kedarnath by Helicopter are on the mercy of several causes like –bad weather conditions , technical reasons, VVIPS visits etc .If the flight is cancelled / rescheduled the passenger is required to travel on his own .Further you stand to miss the natural beauty of the valley and the trekking or may have to wait till backlogs are cleared. Our Honourable President could not make his visit due to rains.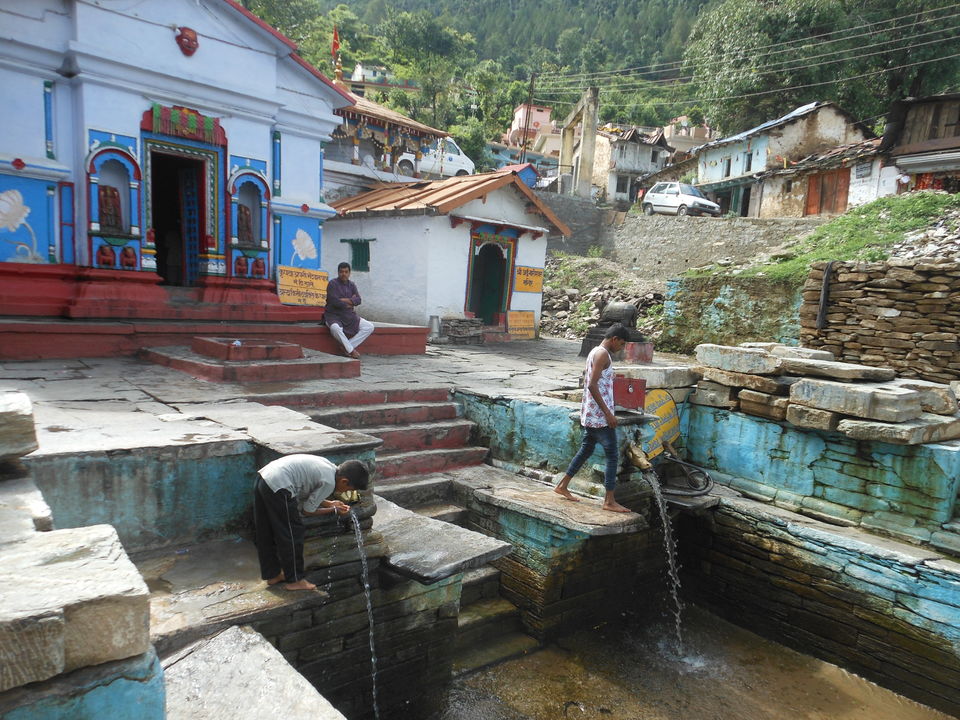 On day 7 at 6.00 a.m,we left to Gaurikund( 5 km) in our Traveller .We hired a pony from registered Ghodawala . The trekking route is around 8 ft to 10 ft wide and it has an iron railing on the edge. There are proper shelters with Bio-friendly toilets for tourists to take rest after every 400-500 meters. Medical facilities available at every halting place. They have also built emergency helipads at Gaurikund, JangalChatti (4kms), Bhimbali (06kms), Lencholi (11 kms), Kedarnath base Camp and 02 more helipads at Kedarnathji. At Bhimbali, and Lenchuli refreshments , fiber cottages , overnight halting facilities are available. As higher we went we found the scenic beauty mind blowing and heavenly. We stopped after 5kms to have tea and biscuits , do not expect express standards of service or hygiene, meanwhile mules also had their breakfast of Jaggery balls and water. We met people walking barefeet, a pregnant lady with her husband, newly married couple ,old people on ponies, dholis ,one thing common among all, travelling all the way in the glory of Lord Shiva for thanksgiving of his bounties upon them.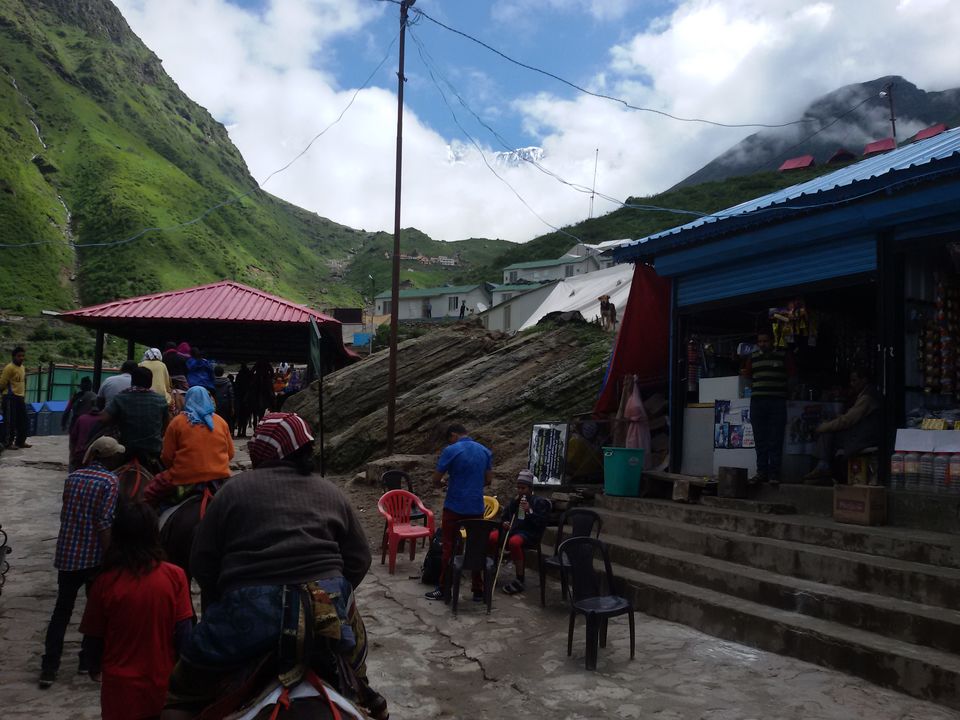 At 10.15 a.m we reached the Kedarnath horse camp place ,from there one has to walk 2 Kms to reach the temple. The view of snow clad mountains, River Mandakini flowing nearby, full circle of mountains, some of them covered with moving clouds was a mesmerizing sight. The sight of washed away old trek due to the 2013 floods makes onefeel sad . The Shikahara of temple can be conspicuously spotted from this place. It was a sunny morning, I started walking almost forcibly taking long breaths. After a short break, resumed walking, had I not opened my umbrella, it would have been tiresome. There is a big commercial helipad, helicopters which operate from Guptkashi and Phata land here. One Panditji approached us offering his facilitation to perform Abhishekam at Kedarnathji temple. Instantly we agreed ,he directed us to wash our feet , bow to Nandi and get inside the Mandir. In North Indian Temples, everyone can go inside Garbha Griha, touch the huge Shivalinga, apply ghee (we had carried Nandini Ghee all the way from Sullia).
After that successful worship, Panditji took us outside to perform the closing ritual .He offered us Silver coin, Trishul and Prasadam. We did pradhakshina around the temple, spotted the Bheem Shila that protected the temple from devastation during 2013 tragedy . Standing at the holiest and top most places of Hinduism the feeling is very different.
By then our group members started arriving, we reciprocated our experiences, clicked some pics, paid the dakshina to Panditji . It was 12.00p.m ,never in my life worked so much with only 1 cup tea, 3 biscuits and 4 dates , unbelievable to me .After relishing the day's lunch Parota and Chana masala, we headed towards Helicopter waiting centre to check whether return tickets are available. It was a no helicopter ride for the day,as it was cloudy. Meanwhile the horse riders were with us, Pradeepji declined to ride the horse, I rode for a short distance of 4km,after a while joined him committing that trek would include more stops at all pits.
We had refreshments to overcome restlessness, and not tiredness, chatted with other pilgrims.We felt as though distance of one Km was too much here,gazing at the perspective view of never ending curves , descents and the scenary. Kedarnath gave us the immense pleasure both spirituality and adventure-wise .Reached Gaurikund at 5.00p.m ,had a cup of hot tea , boarded a Jeep to Sonprayag, reached our hotel before 6.00 PM.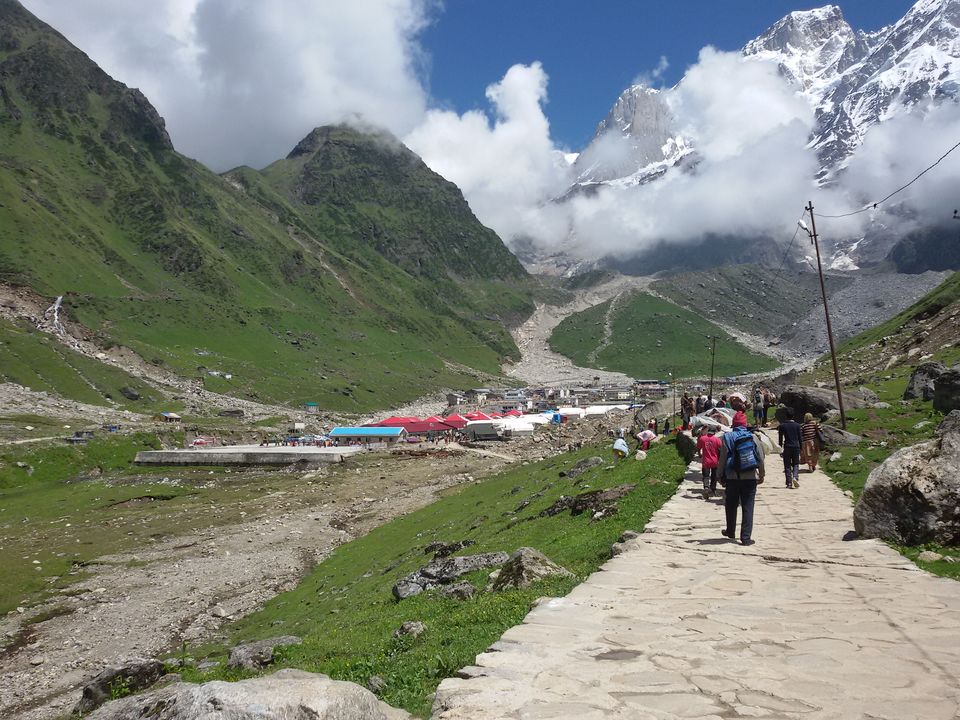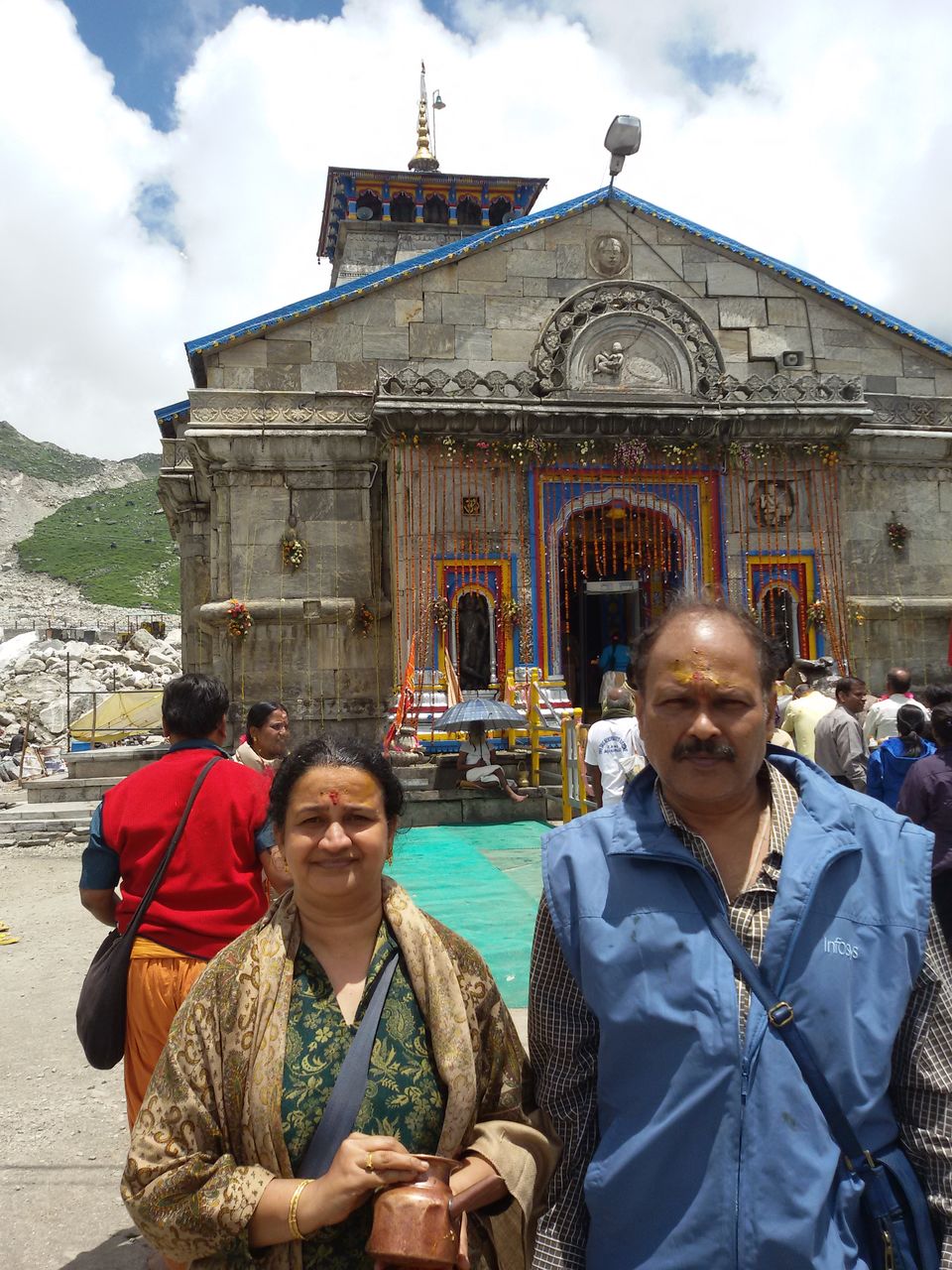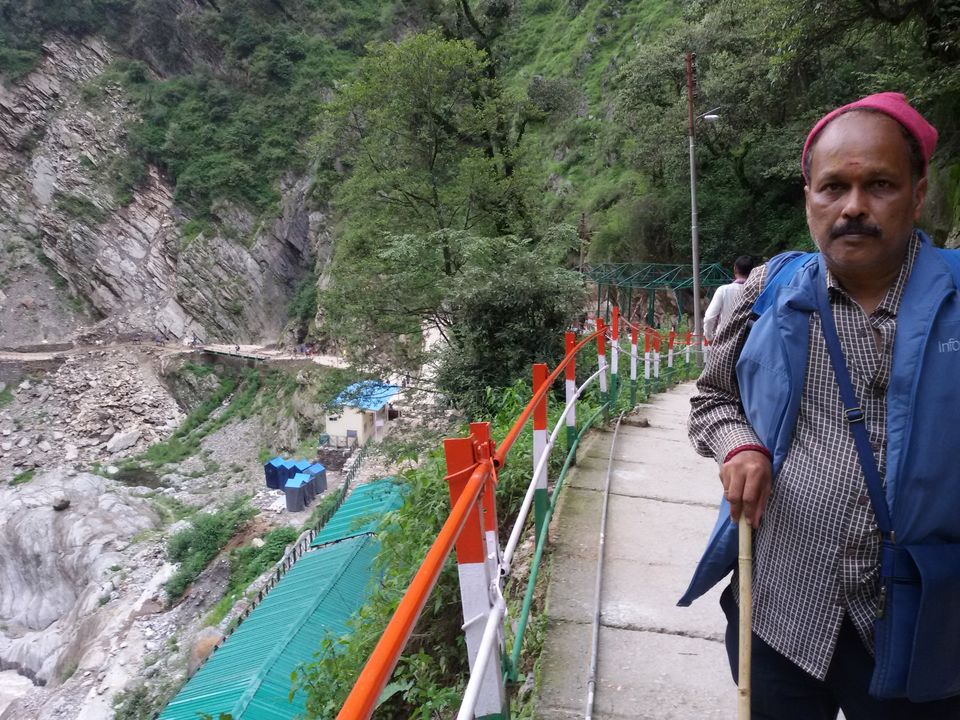 Enroute to Badri ,we halted for lunch at Chopta popular as Mini Switzerland ,the ultimate destination for trekkers. Our lunch was a bowl of Maggie Noodles and a bottle of Amul buttermilk( very recent batch). I was surprised not to find Pathanjali products anywhere even in remote corners of Uttarkhand.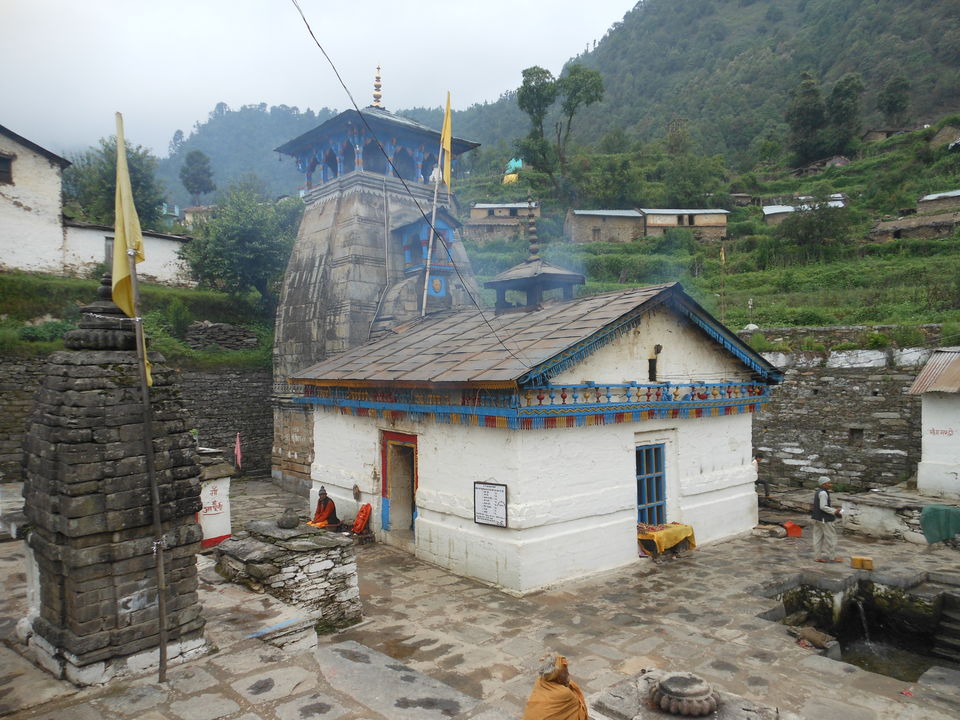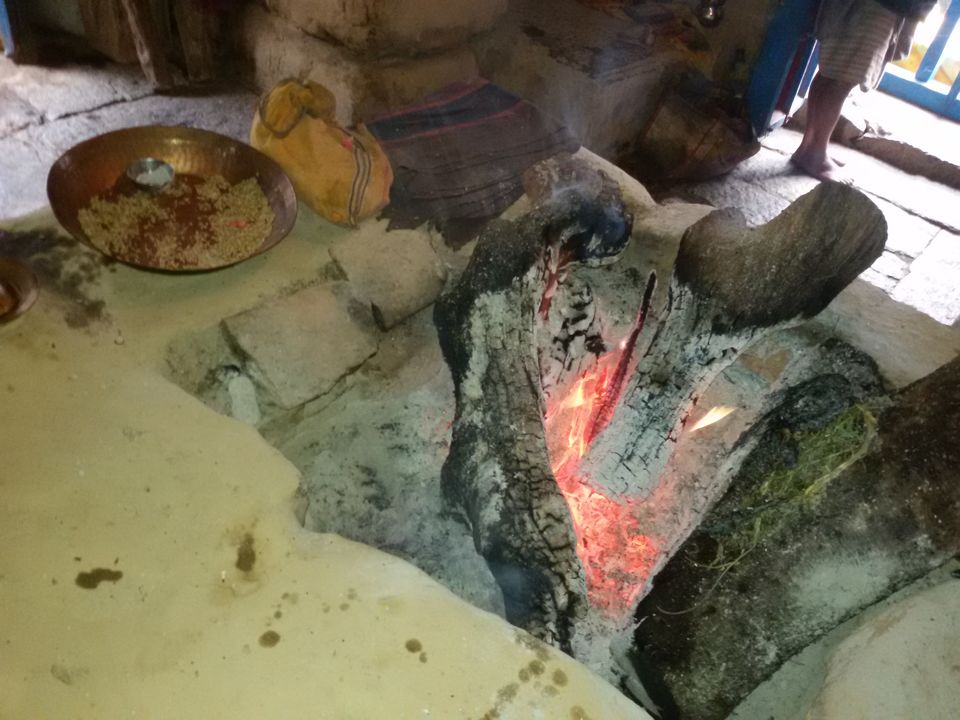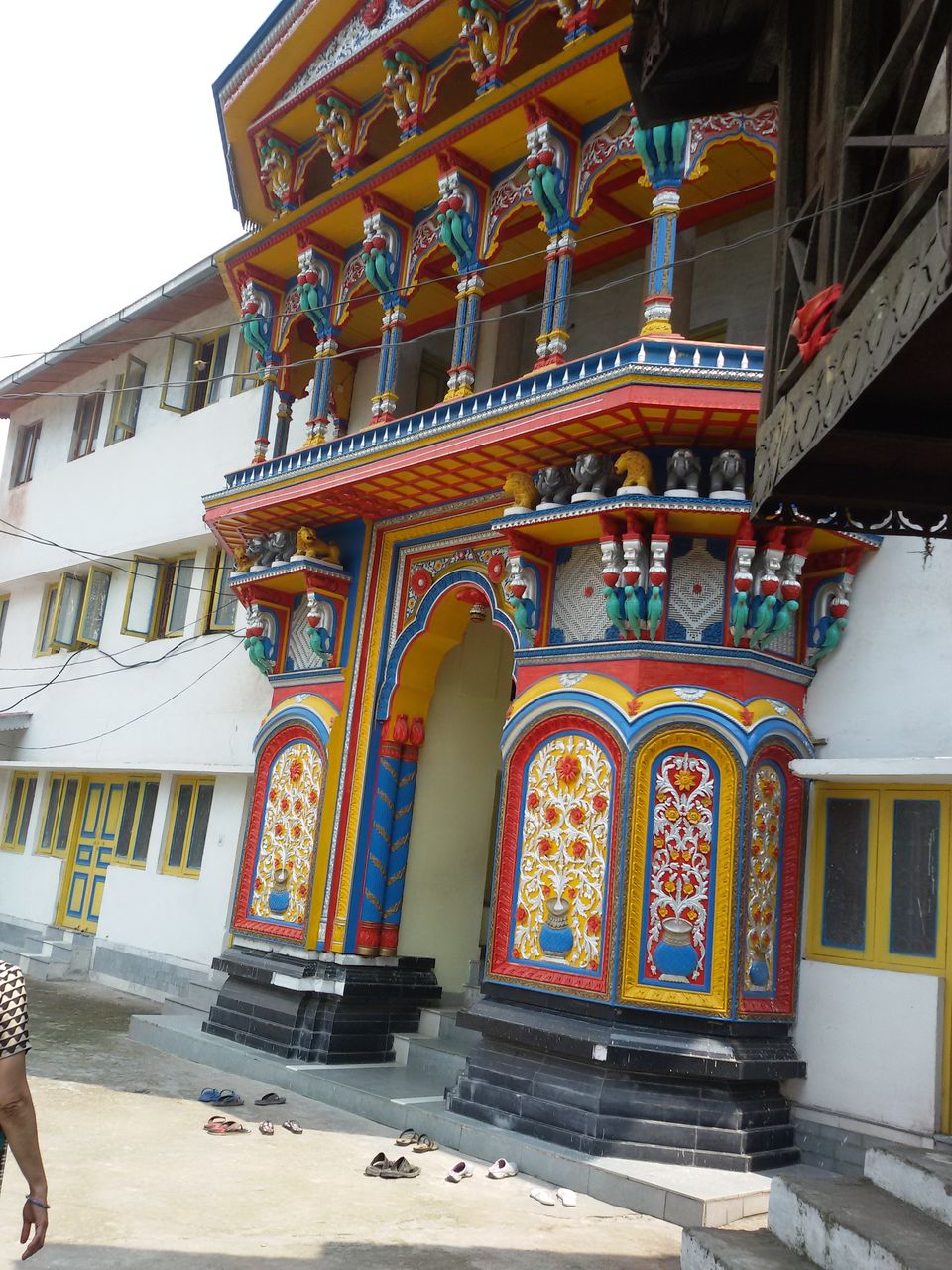 The journey passed through lofty terrain curves, cliff and waterfalls , landslides seem to be common in this area.Traces of loose boulders on the ground, pulverized rocks ,viscous stones, parked as well as working bull dozers say lot about the frequently occurring hill disturbances and efforts taken to clear the debris for passing of vehicles . Thanks to the maintenance work by Border Roads Organisation , roads were clear ,luckily no natural interruptions , we reached Badri at about 6.00p.m.Visited Bhadri Vishal temple situated on the banks of river Alakananda.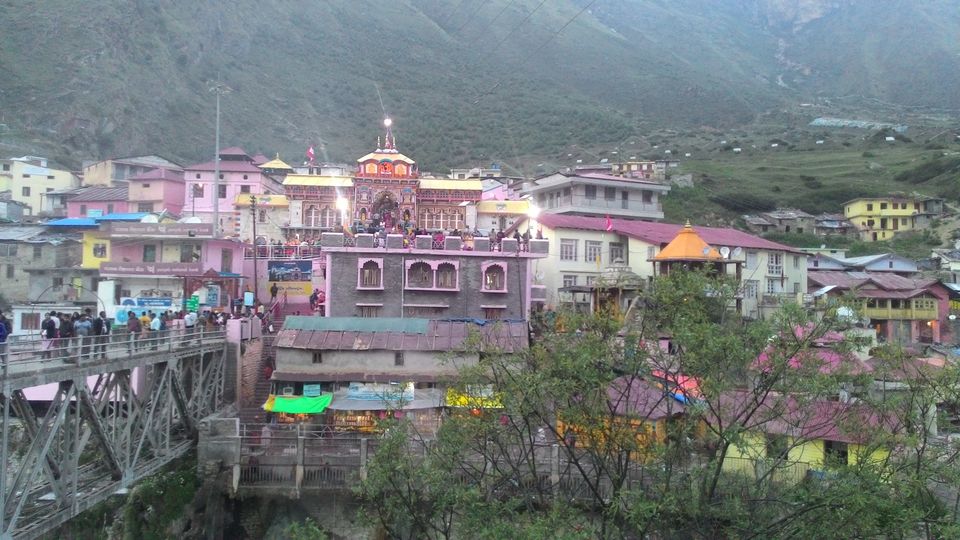 The early morning at 5.10 am next day was a visual treat to witness the golden hue blazing Neelkant Parvath when the first rays of sun flashed on the mountain for 10 minutes. After quick grabbing of south Indian breakfast we proceeded to Mana. An additional attraction for Chardham pilgrims is this tiny hamlet on the Indo-Tibetian border (24km from Badrinath) that has connection with Mahabharatha legends. Evening was spent strolling the town and participating in arthi. That night platter of dal, subji, chapathi was arranged at Kashi Mutt. Weather was spine chilling cold.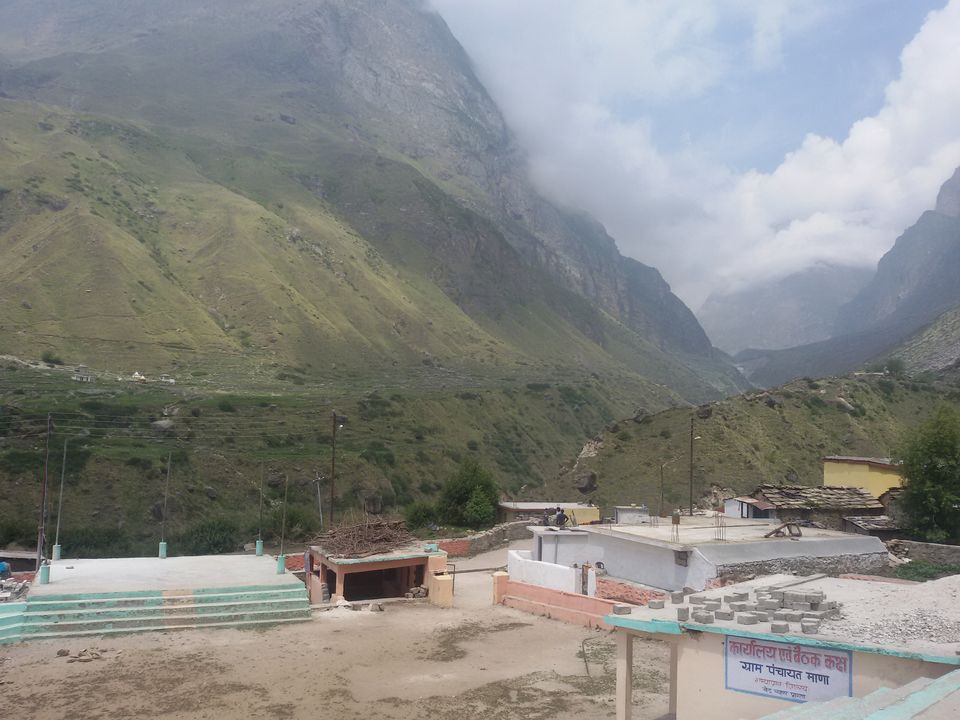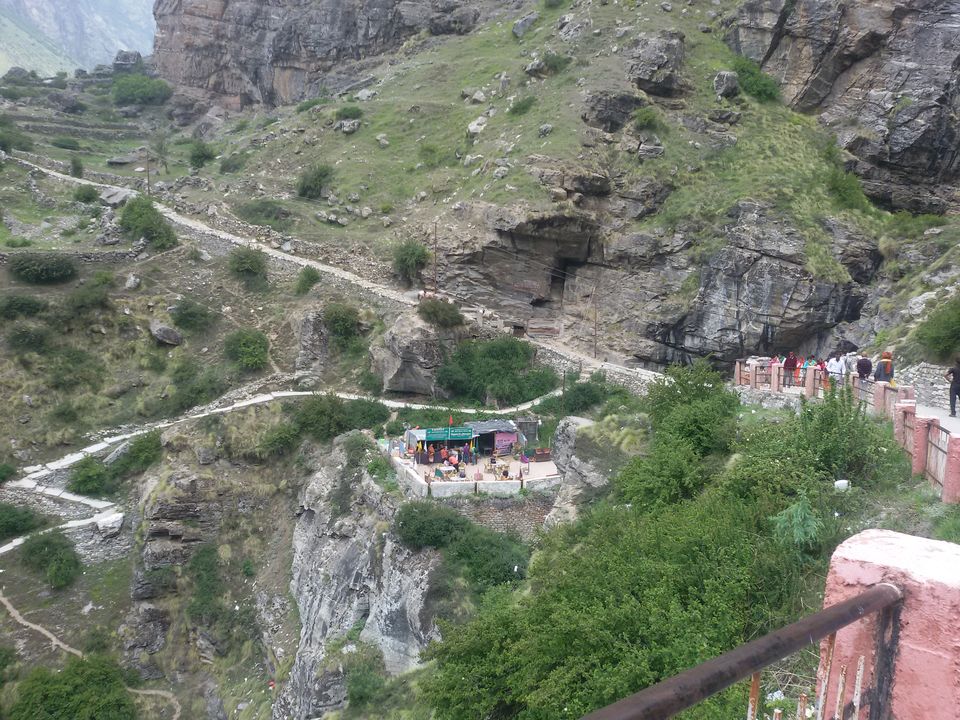 Day 8 and 9
Sonprayag to Badrinath(halt)
Visited Triguninarayan Temple and Ukhimut where the Utsav murthy of Kedarnathji is brought down on the 2nd day of Deepawali and worshipped for 6 months during winter when Kedarnath becomes snowcapped. The priests at Kedarnath temple are Ravals from Karnataka, boards in kannada can be spotted at this temple complex. Snow capped peaks of the splendid Himalayan range are distinctly visible from Ukhimath.
Day 10 and 11 Badrinath to Haridwar(Stay)
Left Badrinath early morning at 5.30 ,had a final look at the beauty of the snow clad mountain peaks before boarding the mini bus. The journey between Badri and Joshimath was really a scary experience the mountains were so steep and it's a one way road. Along the way, loose boulders, cleaned up debris, stand alone or working bull dozers are a common sight. Our Driver was sportively mumbling "Agar dada girega, baap,par dada aur beta bi girega" i.e due to loose nature of mountain slopes ,even if a small boulder becomes loose, the entire support system collapses. Vikram Singh is a master of Chardham route, calm and skillful driver. Under his steering skills we did not have a pinch of stalling problem anywhere , weather was to our side.
A long drive of 320km for 10 hours travel, along River Ganga ,her tributaries and confluences stretching over mountains and valleys took us to a different wonderland. We crossed Vishnu prayag that lies at the confluence of Alaknanda River and Dhauliganga River, Karnaprayag which is the confluence of Alaknananda and Pindar rivers and Nandaprayag, the confluence of Alaknananda and Mandakini rivers. Vishnuprayag Hydro Electricity Project owned by Jaypee Industries around 12 km is located at Hanuman Chatti near Vishnuprayag. Largely, owing to good roads after Joshimuth and timely water-breaks (as weather gets hotter as we reach plains) our journey went on smoothly till Rishikesh. After Rishikesh ,a long traffic hold-up can cause a unwanted halt for hours for the otherwise half an hour journey to Haridwar. It was Sunday evening, roads were full of jeeps carrying boats on roof with tourists for water rafting.
Next morning hired a car to visit the most talked about Baba Ramdev's Pathanjali Vidyapeet . This is about 20 km from Haridwar at Kankhal and about 15 km from Roorkee . Various facilities such as Yoga Classes, Natural health therapies, Ayurvedic treatments, OPD are available in this Yoga institutes. Patients suffering for long term disease can undergo treatment in the hospital. Food is expensive and the service at the food counters is very slow. Waited long to grab our order of rose petal drink and dosas. There are 2 campuses I and II. Visited Daksha Mahadev temple a Hindu temple dedicated to Lord Shiva. It was scorching hot at Haridwar.
The evening was spent absorbing the sight and sounds of Har-Ki-Pauri and participating in the Ganga aarti. Crowd gathering is too much here and no vehicles except cycle rickshaws are allowed to the site.
Day 12 Haridwar-Dehradun- Mangalore
Wonderful moments on the lap of Himalayas had drawn to close. Early morning packed with bags, fruits, memories we bid good –bye to our friends to Dehradun airport.
Frequent searches leading to this page:-
best 3 star hotels in dehradun, best romantic places in dehradun, top 6 places in dehradun, dehradun trip package price, water parks places in dehradun