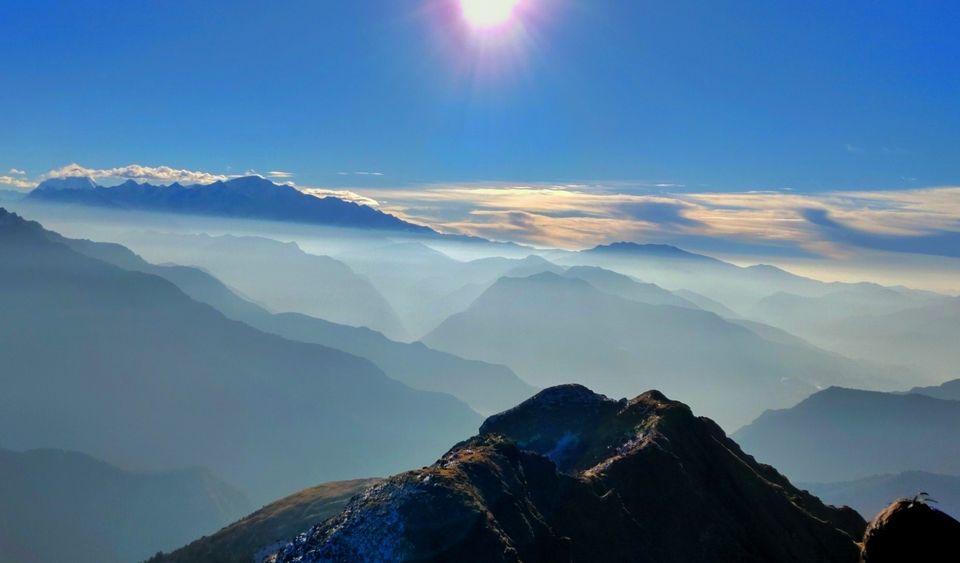 Chopta-Tunganath is one of the best places around Dehradun to visit before peak winters, if you don't want to witness too much cold weather or snow because in December almost all places in Uttarakhand are fully packed with snow. One of the good things about this trek it runs year long.
Chopta-Tunganath is a nice and a moderate level trek due to its steepness but offers splendid and marvellous views of Garhwali and Kumwaoni Mountains around it.
With the Height of Approximately 4100 metres ( 13500 ft) Chandrashila Peak is the Highest point of this trek.
This trek is also famous for Tungnath Mahadev temple which is the highest shiva temple in the world and one of the "Panch Kedars" and is believed to be 5000 years old. (Panch Kedars: Kedarnath, Rudranath, Tungnath, Madhyamaheshwar, Kalpeshwar) (Image 1)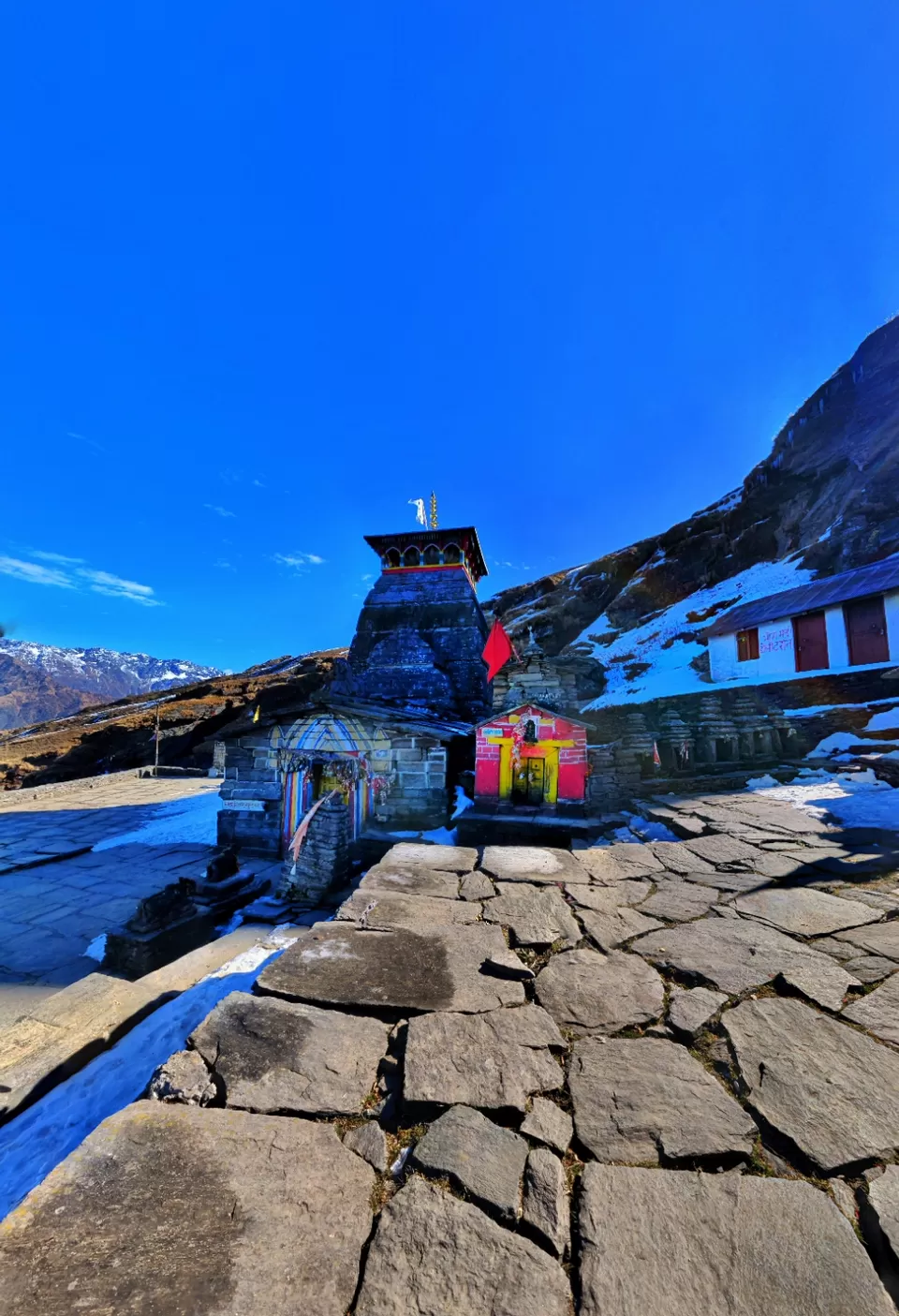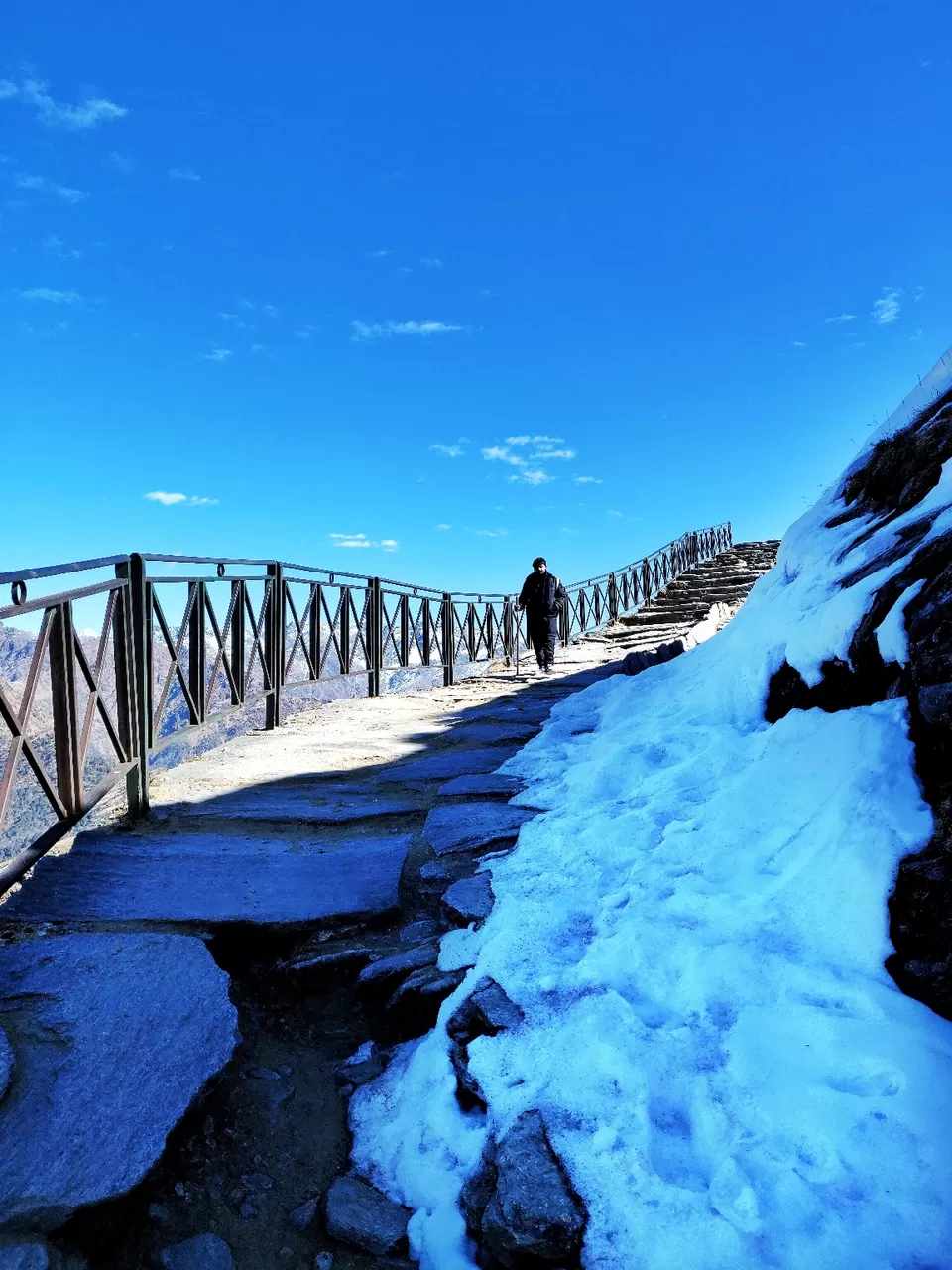 Dehradun is a very popular hill station that attracts solo travellers, trekkers, families and couples alike. Dehradun is located at an altitude of 1400 feet above sea level and has a pleasant climate all year round. Dehradun is like a base camp for almost every travelers coming to explore Uttarakhand due to its connectivity to every place in Uttarakhand.
You can reach Dehradun via Airways (Jolly Grant Airport), railways or Bus. And from Dehradun you can take a bus to Rudraprayag and shared cab till Ukkimath or Chopta.
we started from Dehradun on 17th of November at approximately 8:00 AM. Distance from Dehradun to Chopta is approximately 250 Kms. It takes around 8 to 9 hours to drive through Dehradun to Chopta via Rishikesh, Devprayag, Srinagar, Rudraprayag. But Nowadays there is construction work going for Char Dham Yatra all season route. Due to which it may take longer. So we reached Chopta by 7:00-7:30 PM in the Evening. Rudraprayag, Devprayag and Srinagar are also places worth stopping by for 15-20 minutes, so we did.
First Stop: Rishikesh - 30-35 Mins for Breakfast
Rishikesh is known as Gateways to Himalayas and Yoga Capital of the World. It is one of the Significant Holy Heritage cities of India. It is believed that Lord ram did penenance in Rishikesh for killing the Evil King Raavan. Rishikesh was introduced to Western world when the famous Beatles Band visited Maharishi Mahesh Yogi's Aashram and meditated there for weeks and this is why that Aashram is now known as Beatles Aashram and is the one of the major tourist spot in the city apart from Numerous ghats Laxman Jhula etc. Rishikesh is also very famous for Camping Activites & Adventure sports among them White Water Rafting is at the top.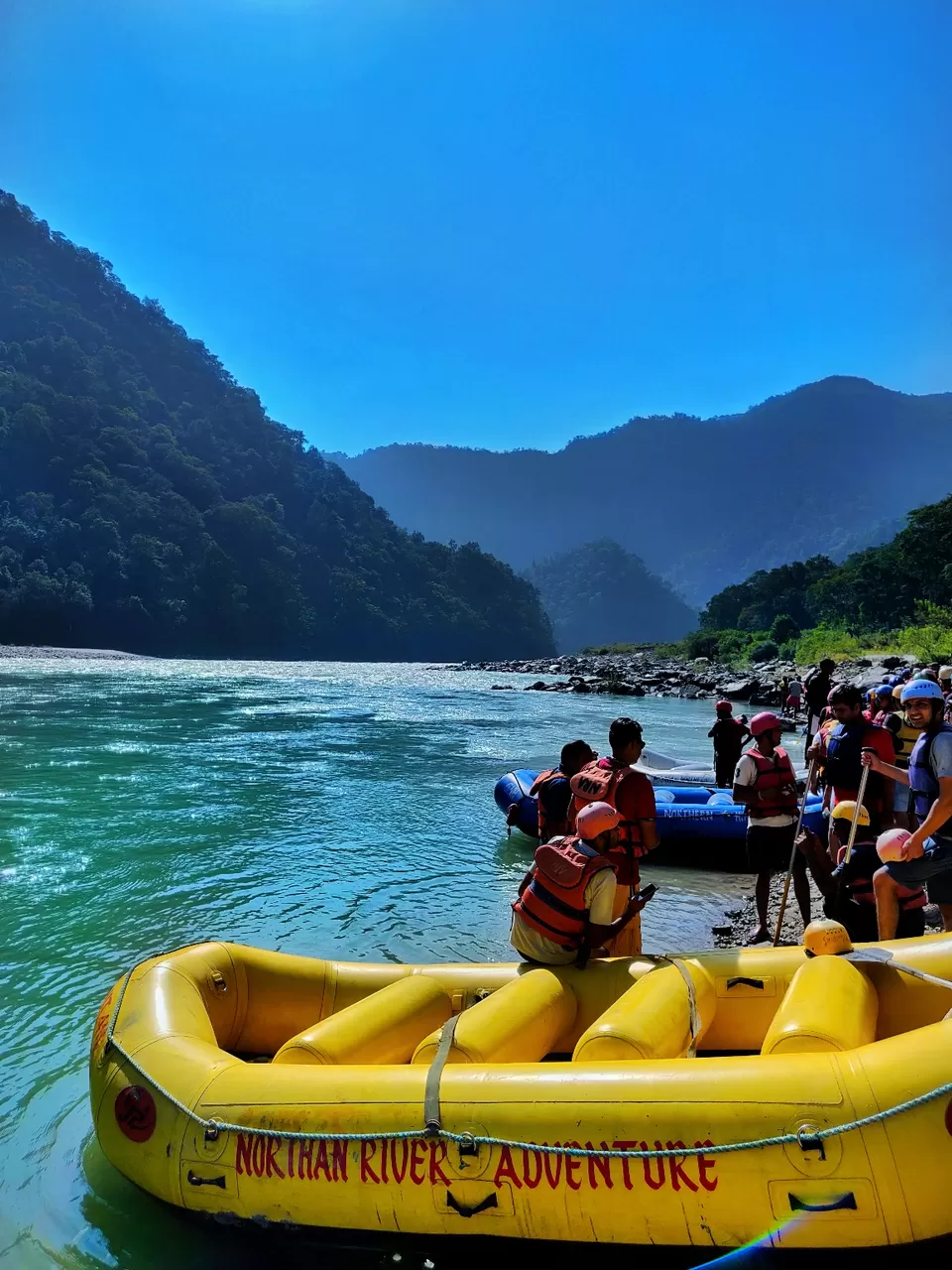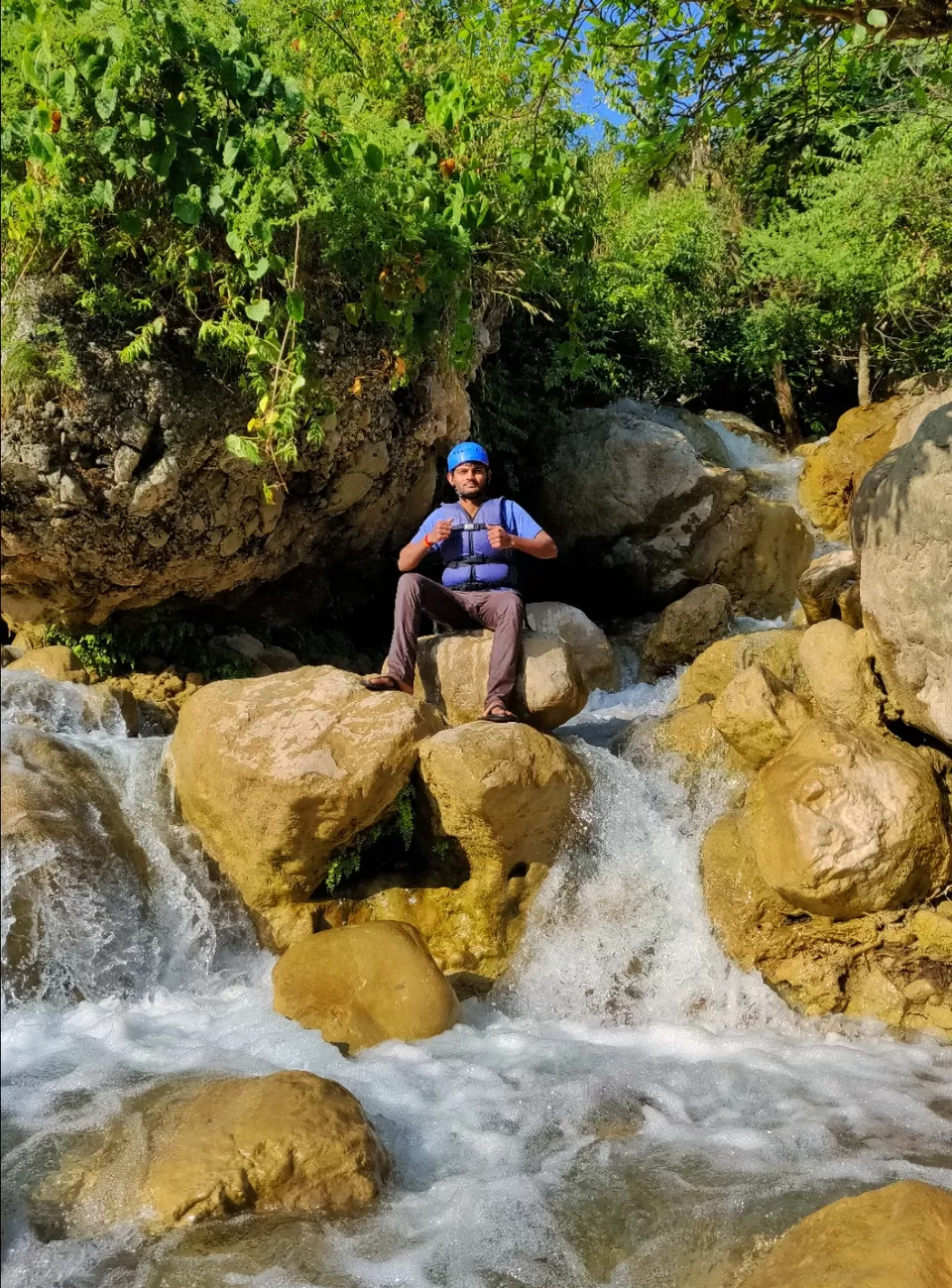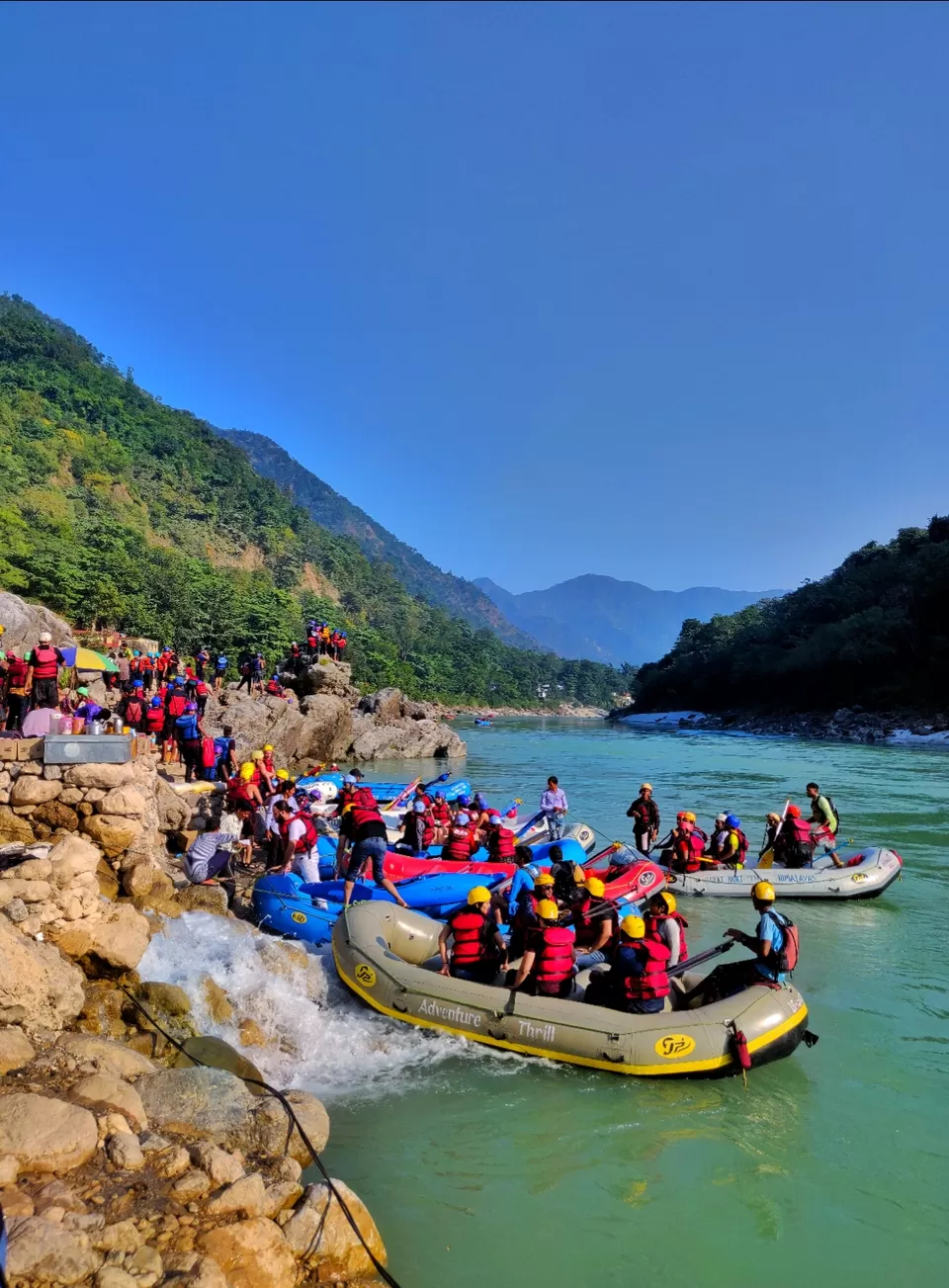 Second Stop: Devprayag - For 15-20 Mins
Devprayag is the last confluence point of rivers Alaknanda and Bhagirathi and also the Place where both the river after combining gives rise to "Ganga". It is a religious hub and is quite popular among tourists coming for pilgrimage or seeking some solitude close to nature.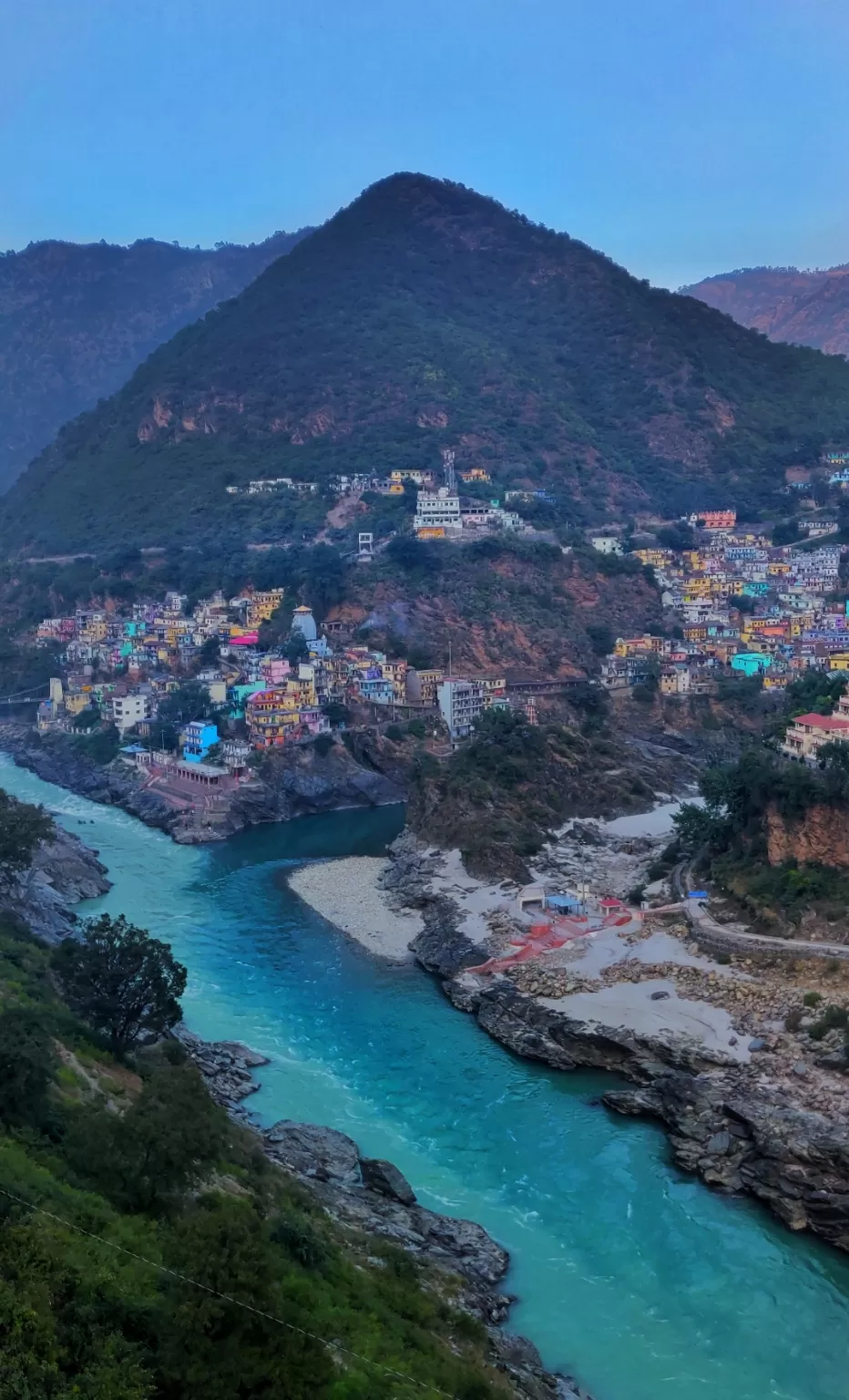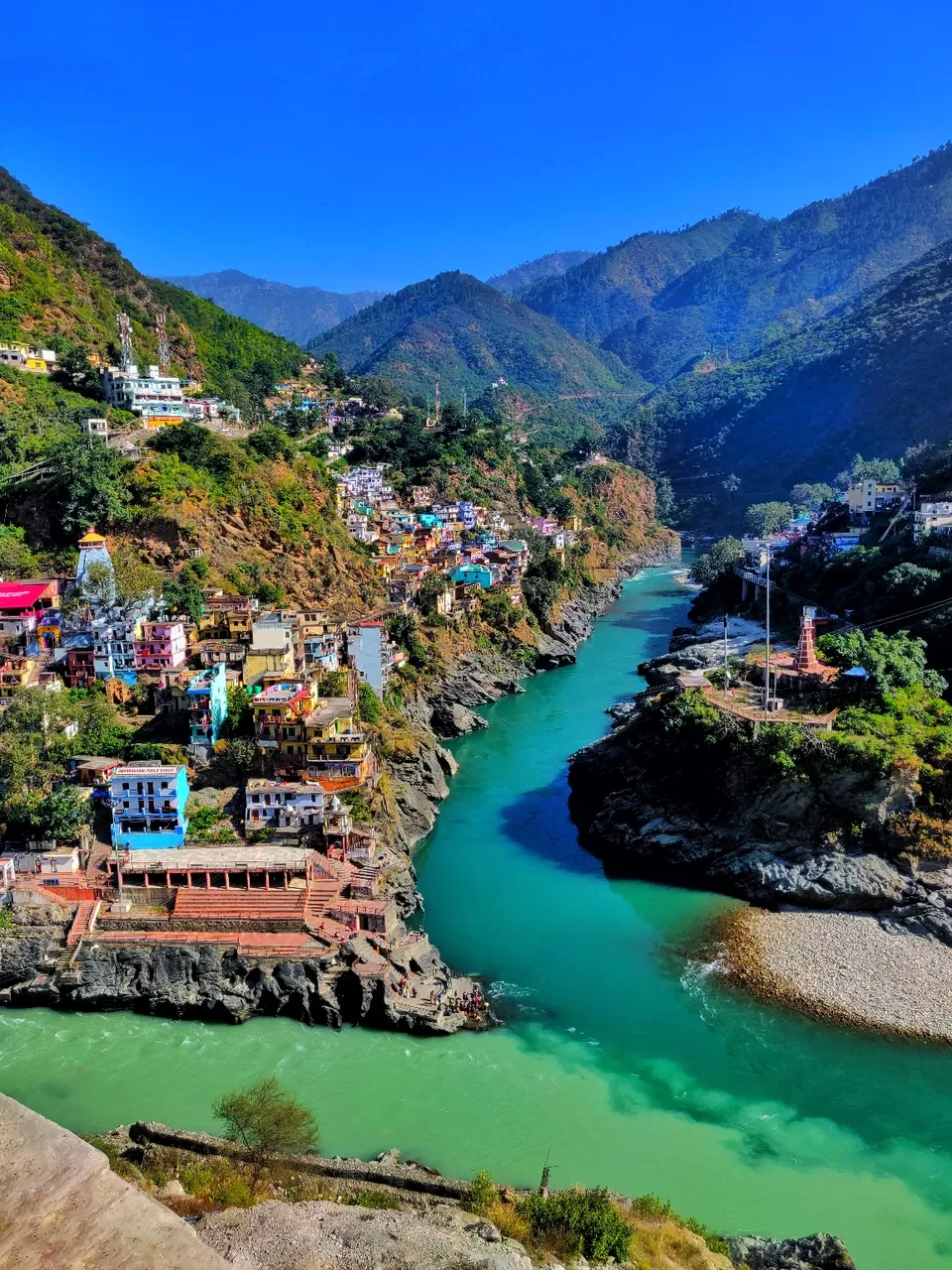 Third Stop: For Lunch - 1 Hour
The historic town of Srinagar is located on the banks of Alakananda River and amidst the foothills of Himalayas. Srinagar is also an important tourist attraction for its natural beauty and several temples. One of the important temples of Srinagar is Kamleshwar Mahadev deidicate to Lord Shiva. Another important temple is Kilkileshwar Mahadev on the banks of the Alkananda River. This temple was established by Adi Shankaracharya. Dhari Devi Temple located 19 Km Ahead of Srinagar is also a major Temple.
While going towards Chopta Srinagar is the best place to stop by for having lunch because it has numerous Veg & Non-Veg Restaurants and various street food shops also.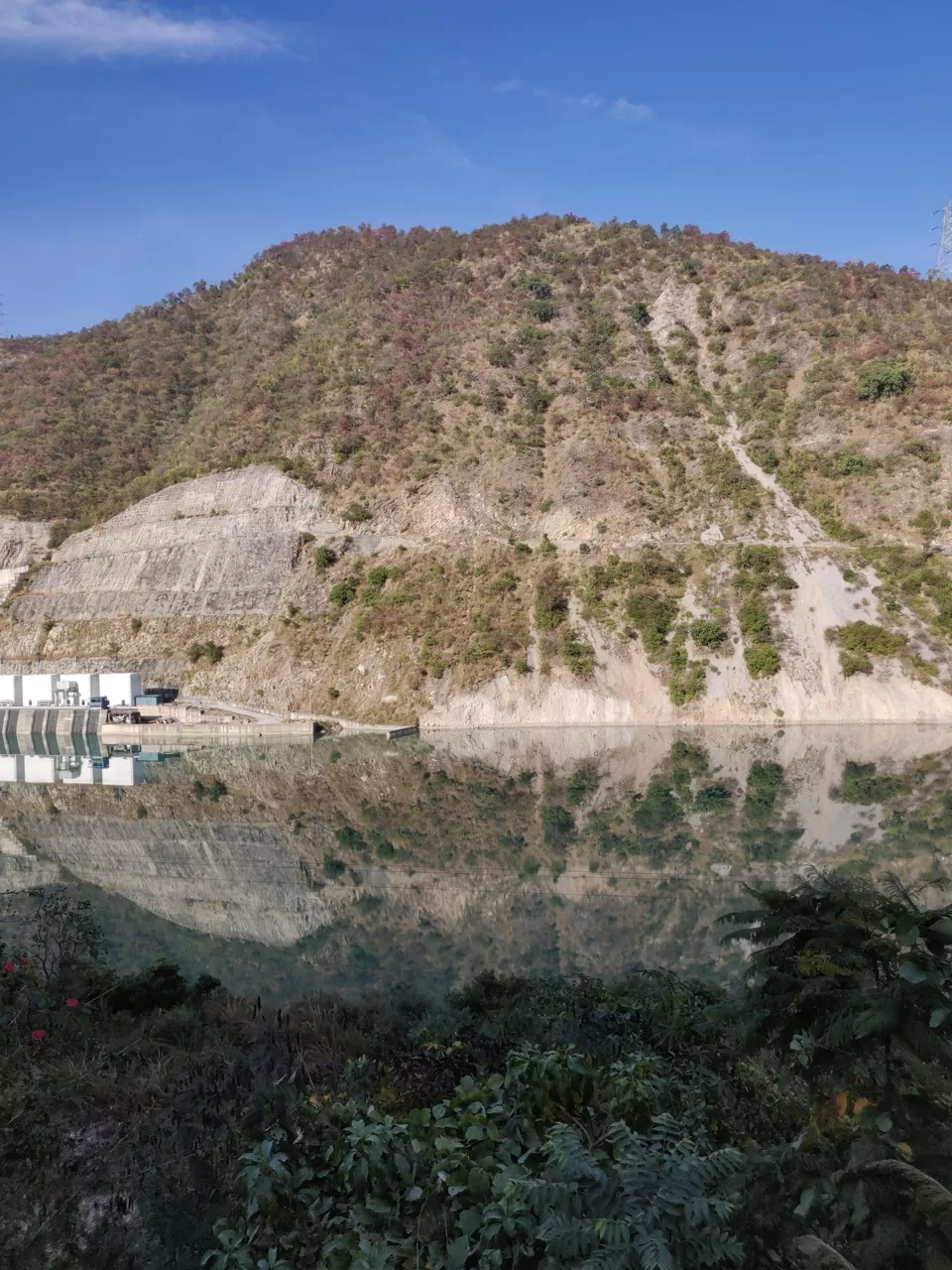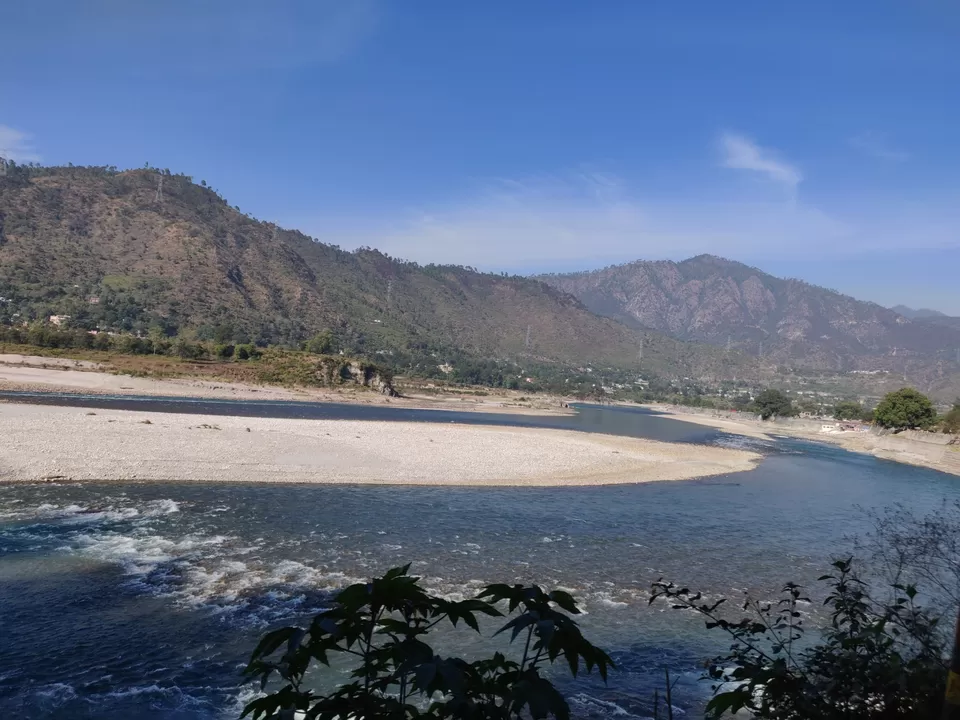 Last Stop Before Destination: 15-20 Mins - Tea Break
Rudraprayag is one of the Panch Prayags or five confluences of Alaknanda River ( Alaknanda & Mandakini Confluence Here). This town holds a lot of religious significance and is very popular because it lies on the road to two Sacred Dhams Kedarnath & Badrinath. Chopta is also the part of Rudraprayag District.
From Rudraprayag Chopta is merely 25 Km and takes about an Hour to reach.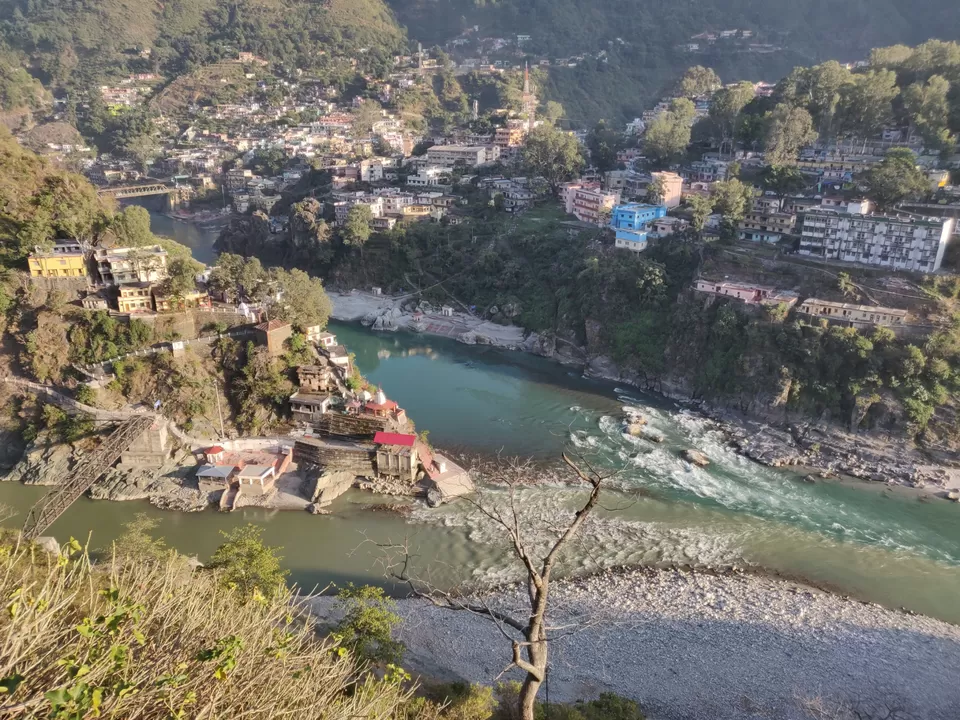 Finally after about 10-11 Hours of Driving we finally reached Chopta Via Augustmuni-Ukkimath by 7:00-7:30 PM.
There you can either choose to stay in camps or in lodges but lodges are very few in number. Also there are not many shops there (5-6 Max). They serve food and other basic items but until 9:00 PM Only.
Charges of Camps are around Rs 500-700 and lodges around Rs 800 which can easily fit 4 People.
At Night Temperature here goes down to 2-3 Degrees in November and -5 to -6 Degrees in December so it is advised to carry sufficient amount of Wollen layers to keep yourself warm. Also there is Electricity connection to this place and people here survive on Solar Power which is used only in nights, so Carry a 20,000 Mah Power Bank for the whole group or your Personal Ones. Though there is no Network here but some Networks work sometimes and you can make a call depending on your luck.
Deoria Tal, at an altitude of 2,438 Mtrs, is a calm and serene lake famous for its mesmerizing reflections of Chaukhamba Range in the crystal clear water. In the night, the density of stars on offer in the sky is such large that it makes you forget everything else.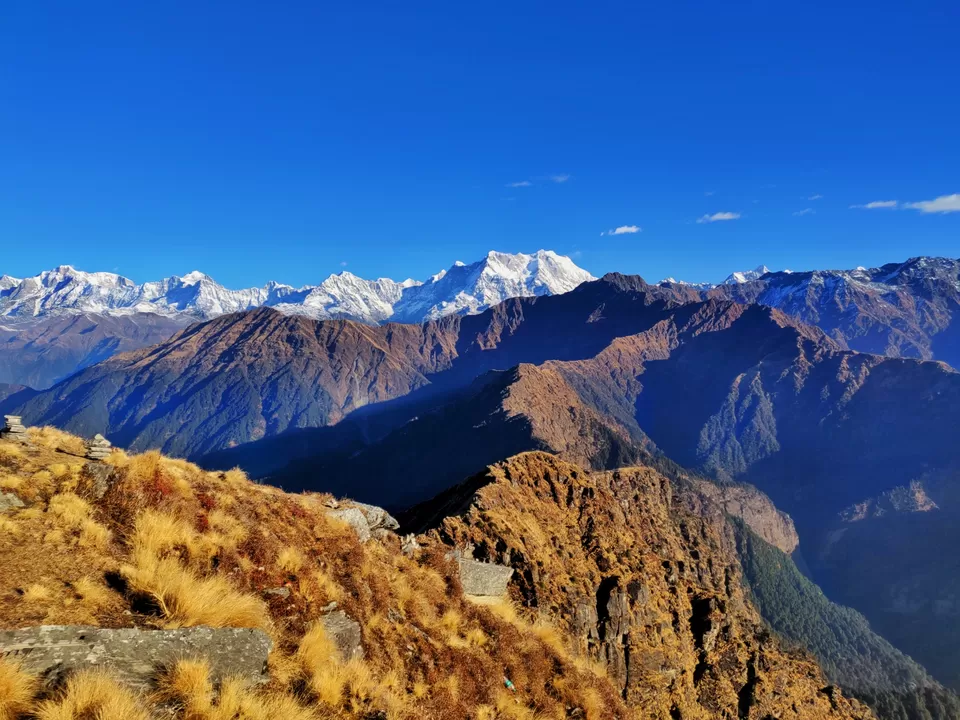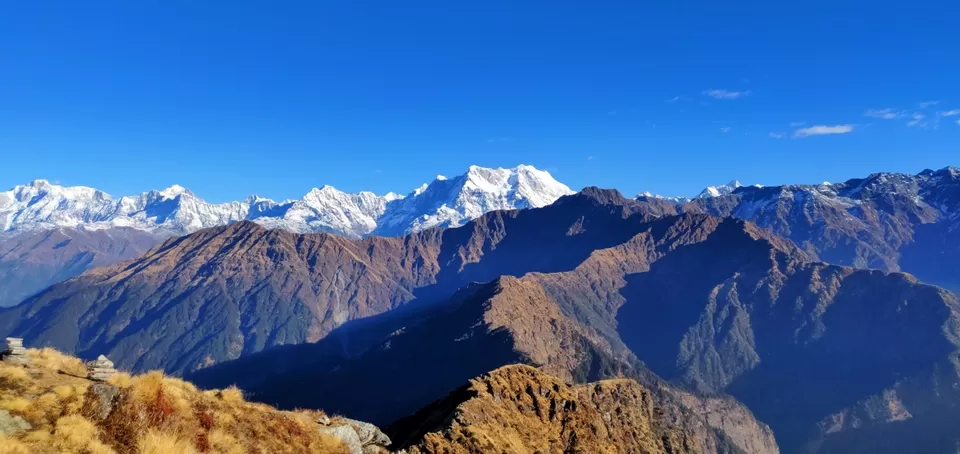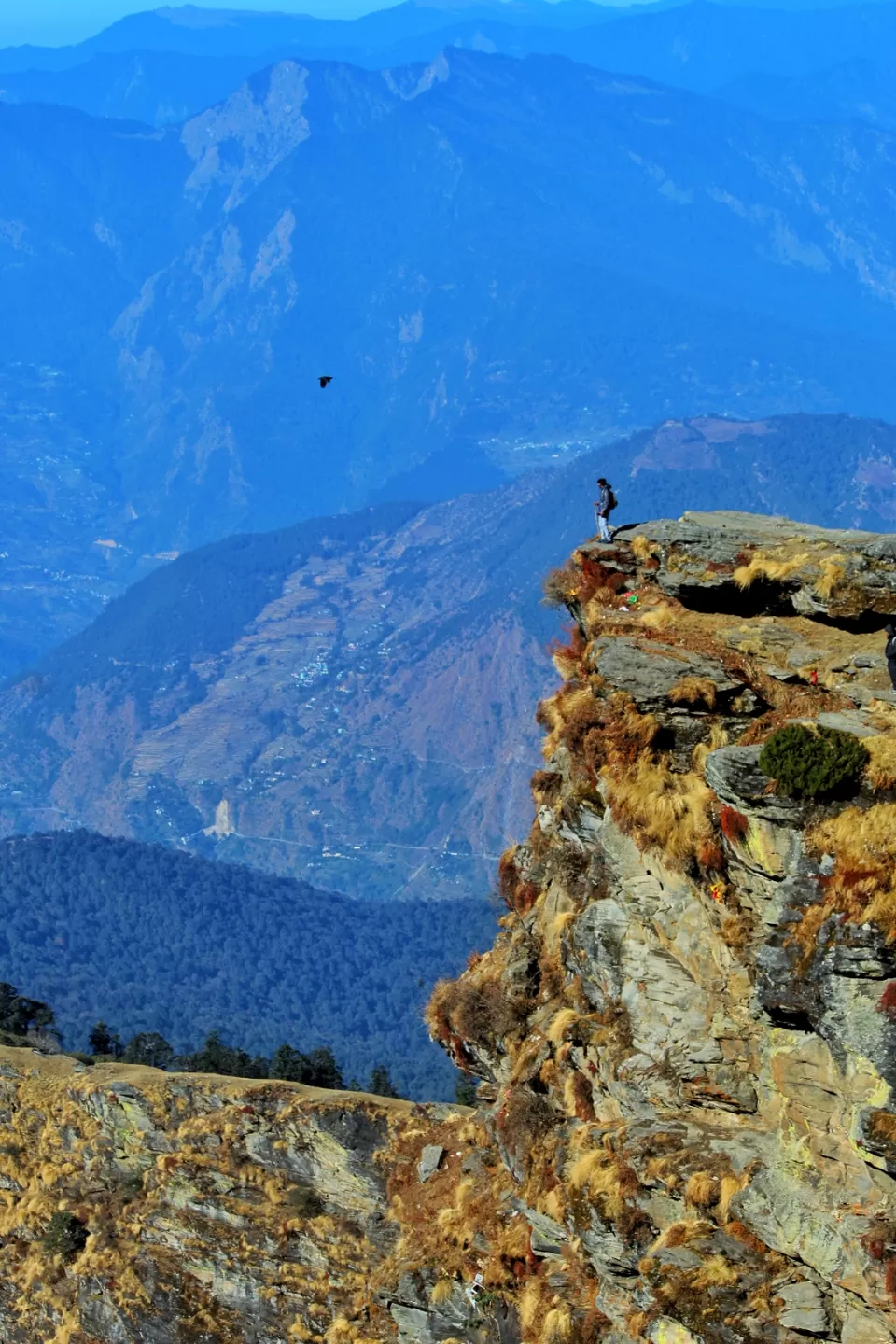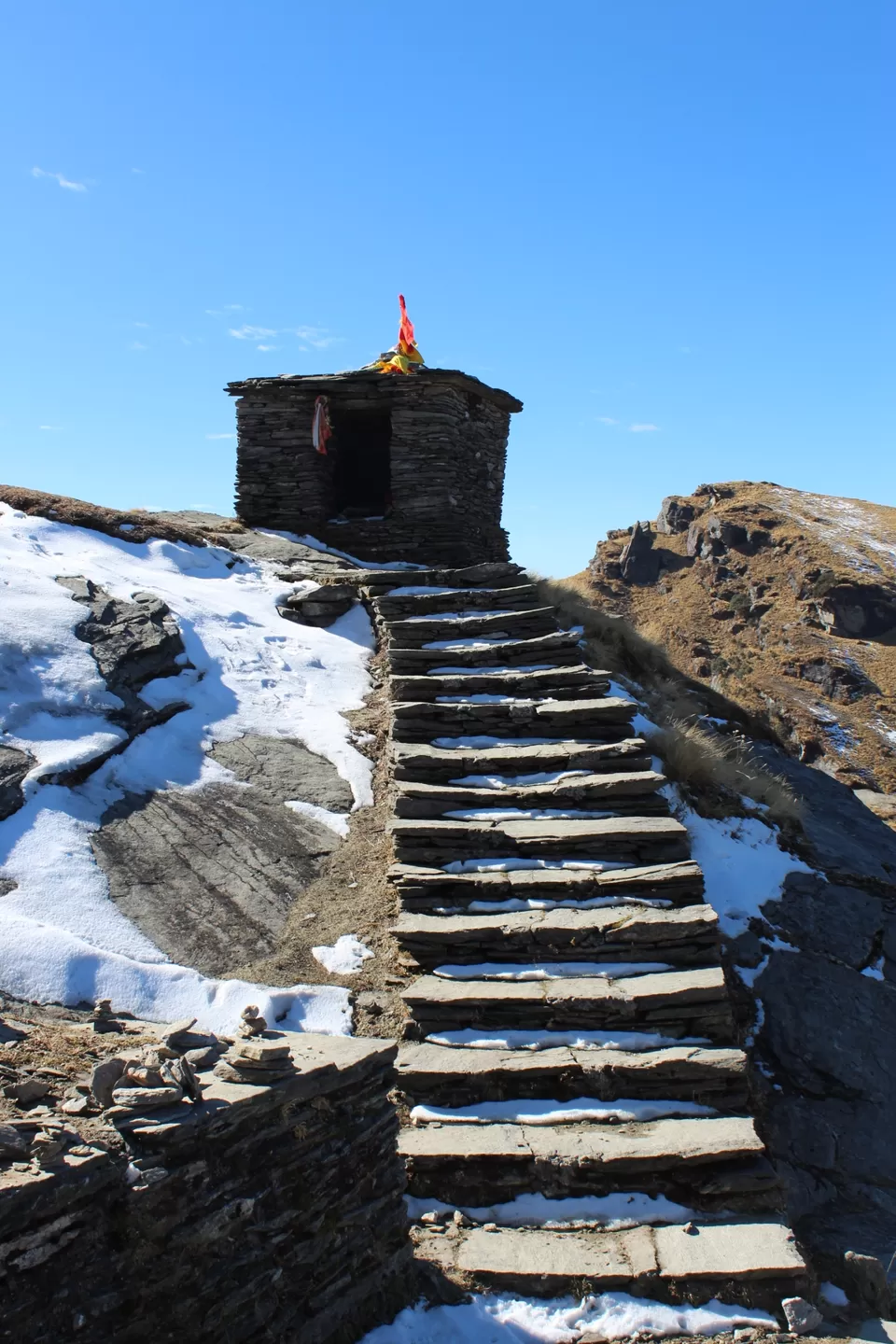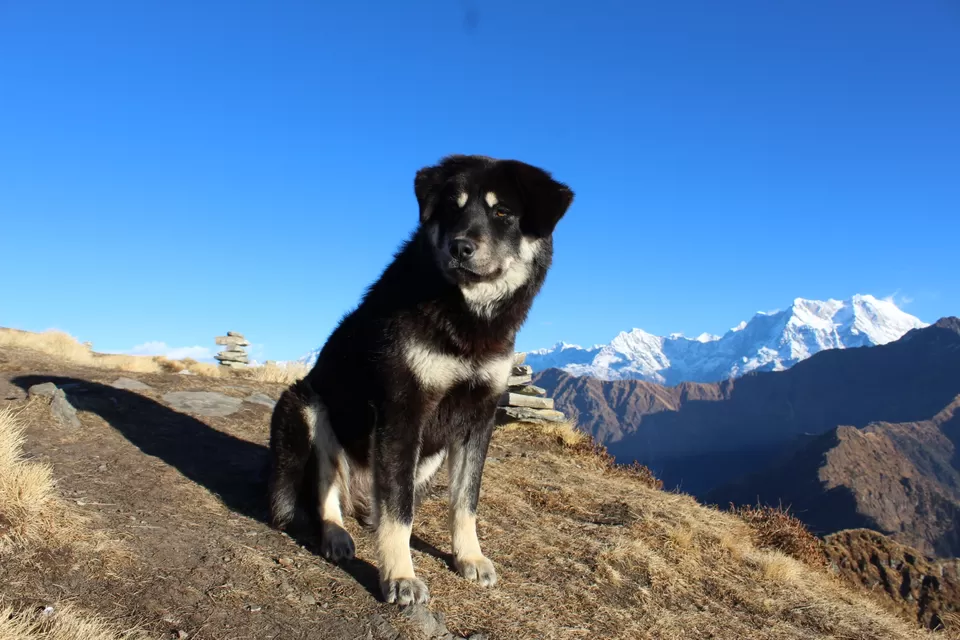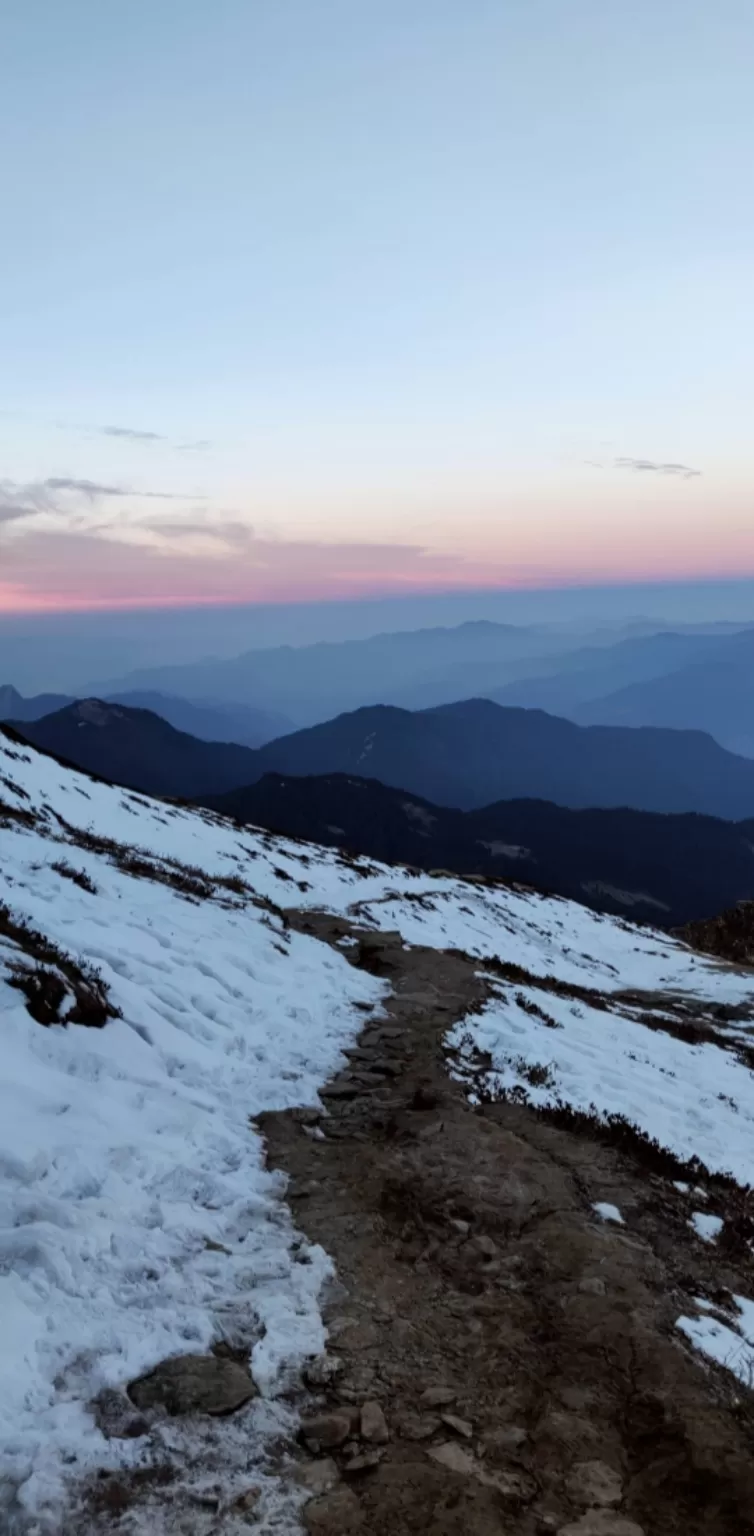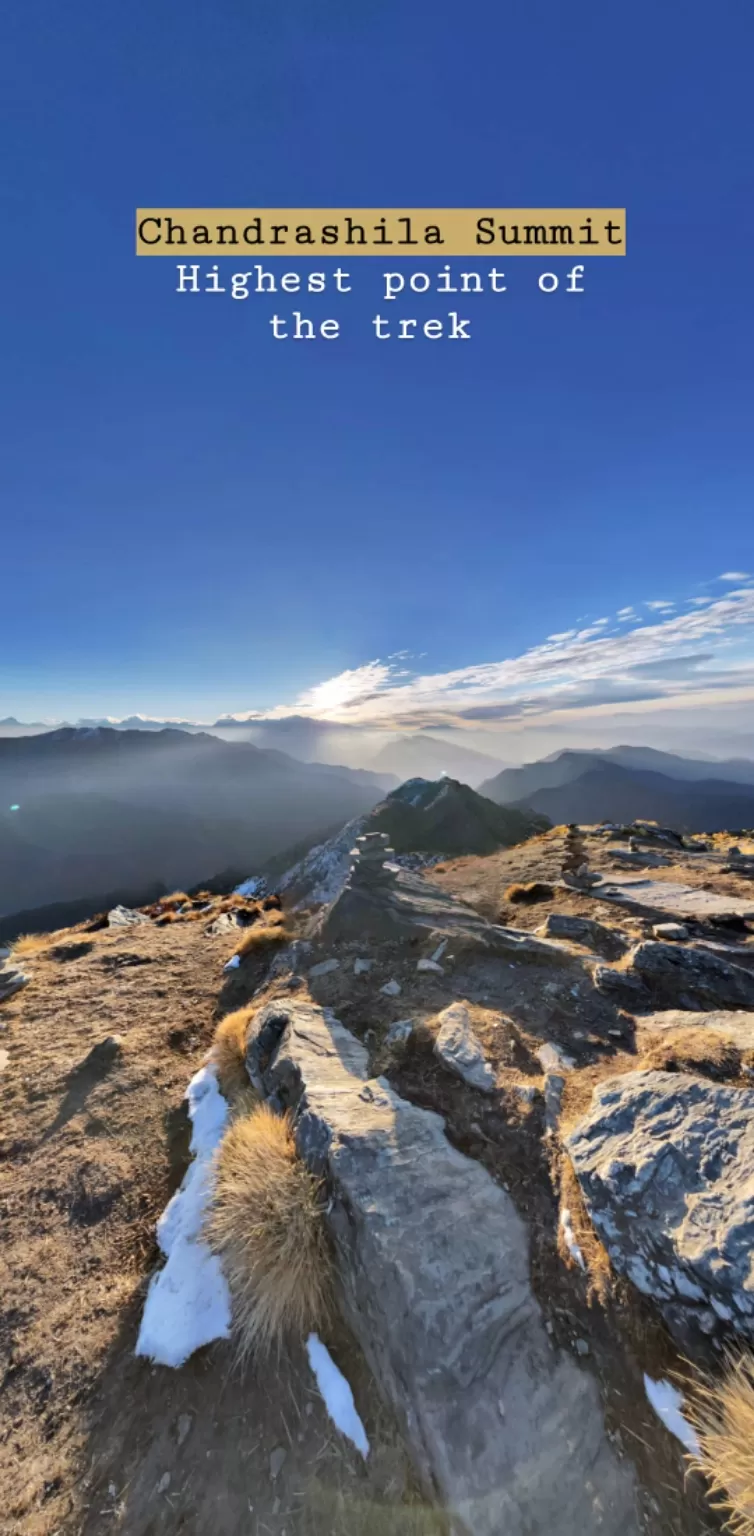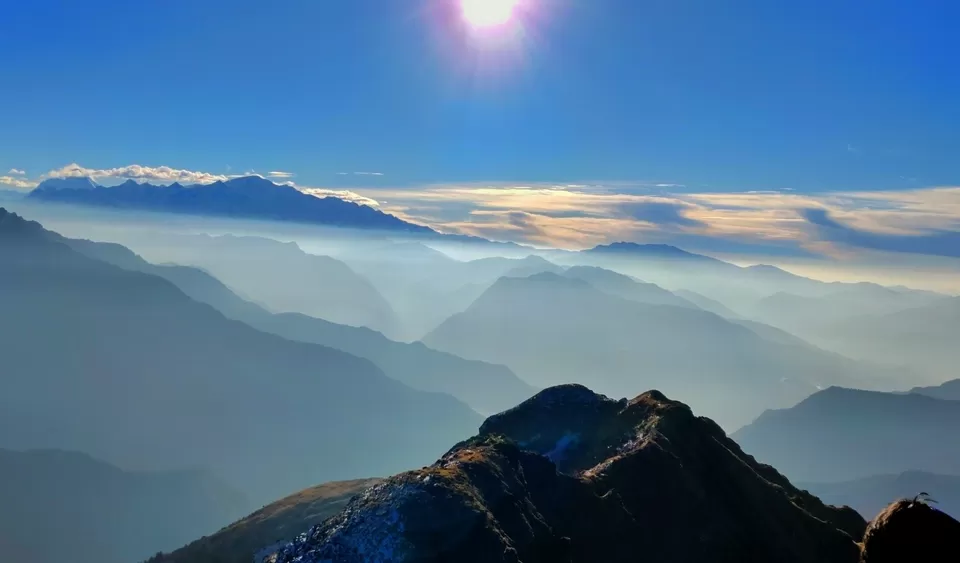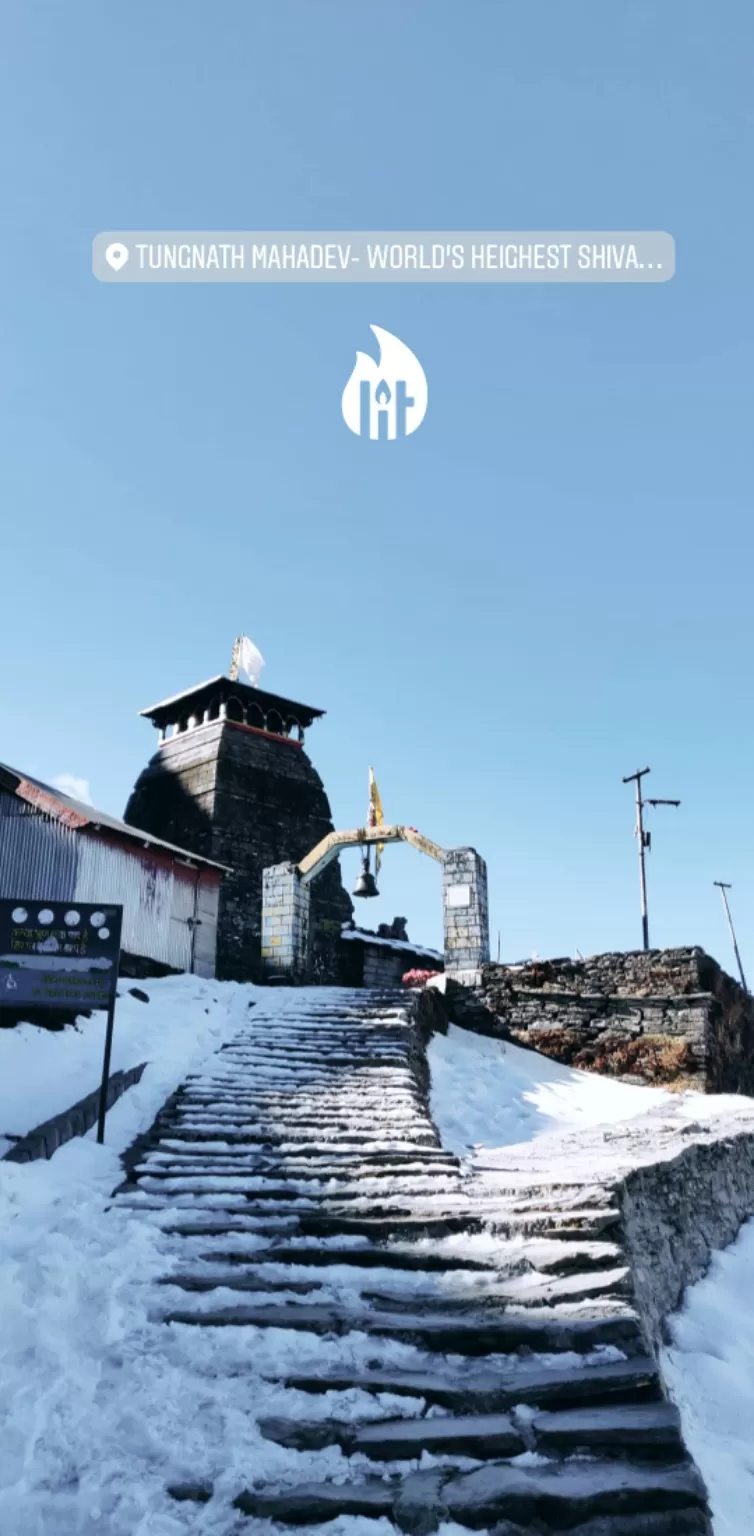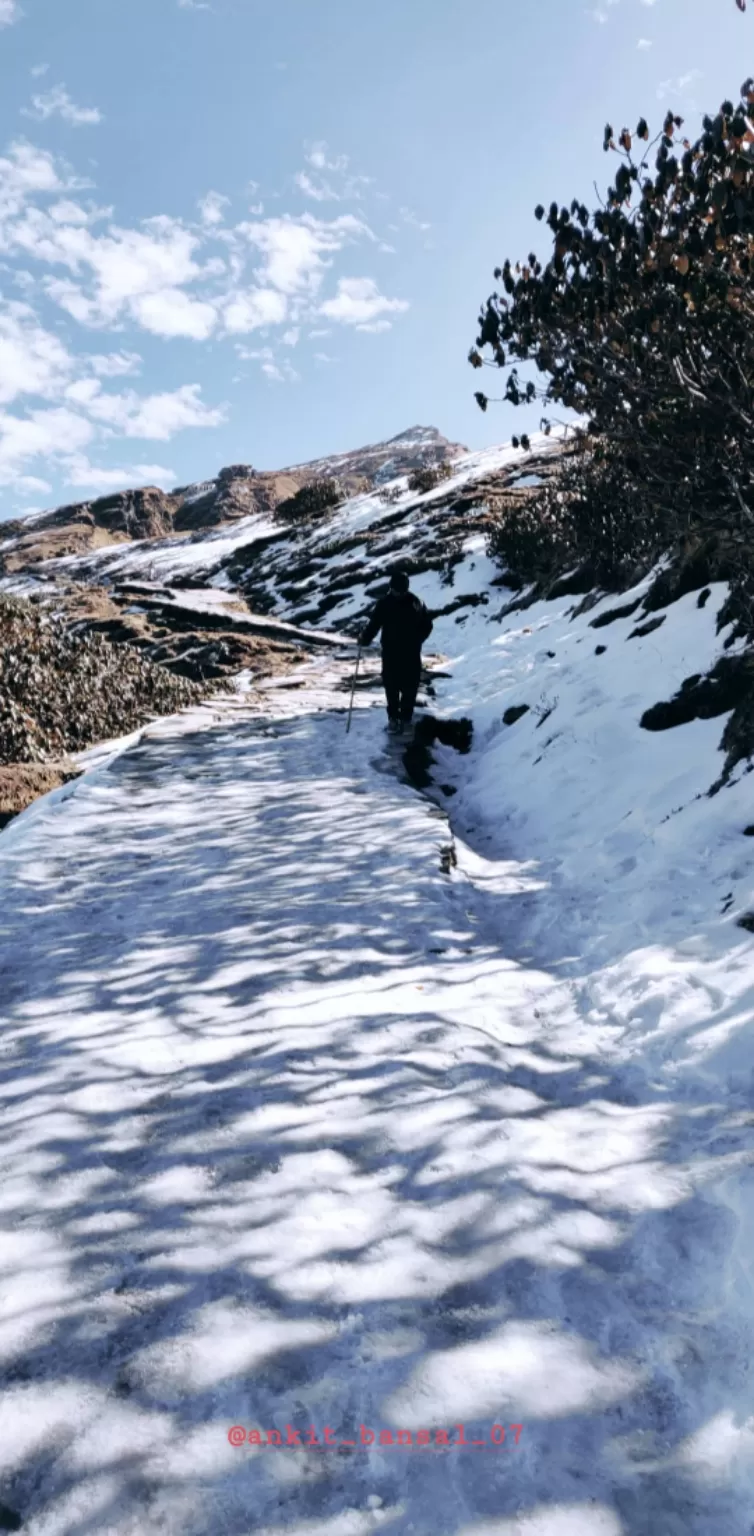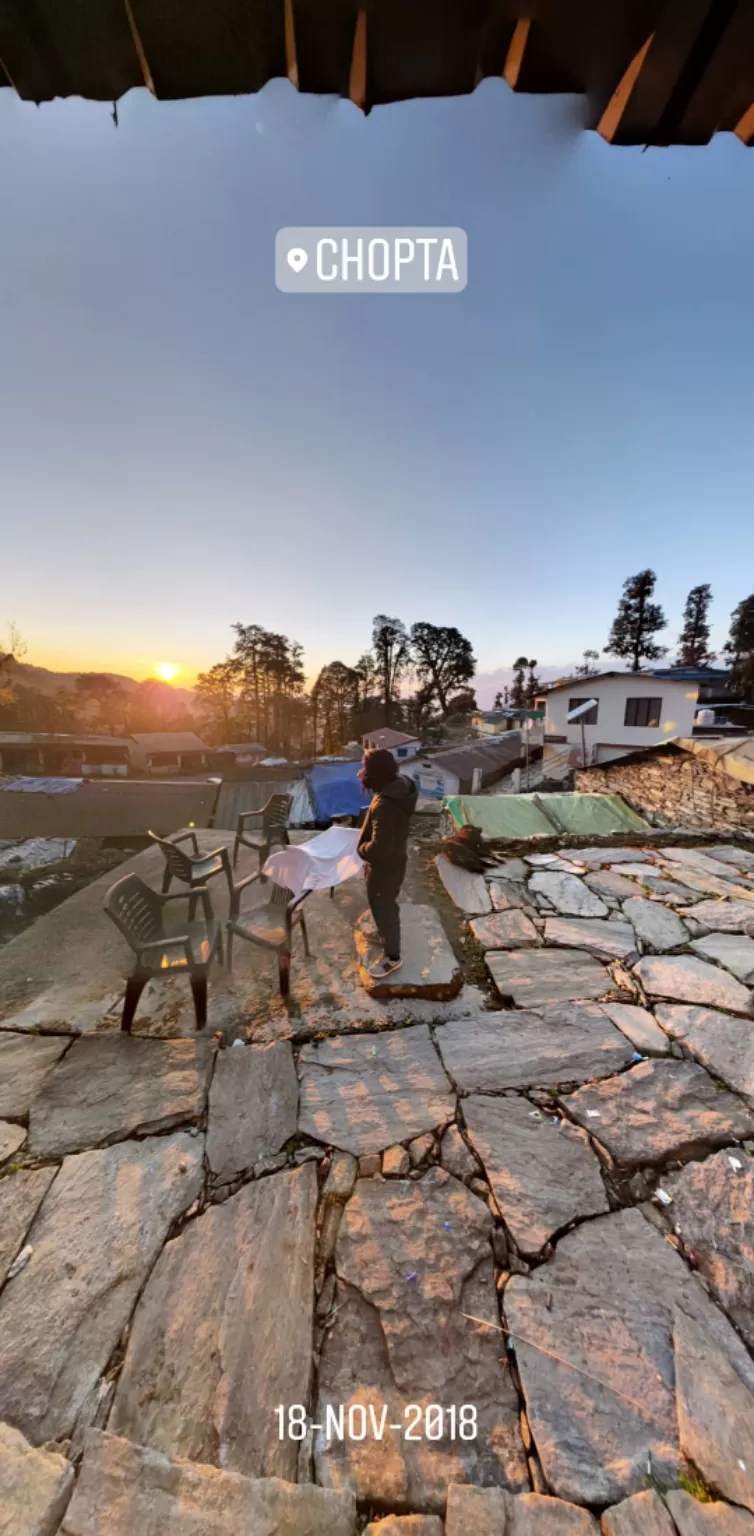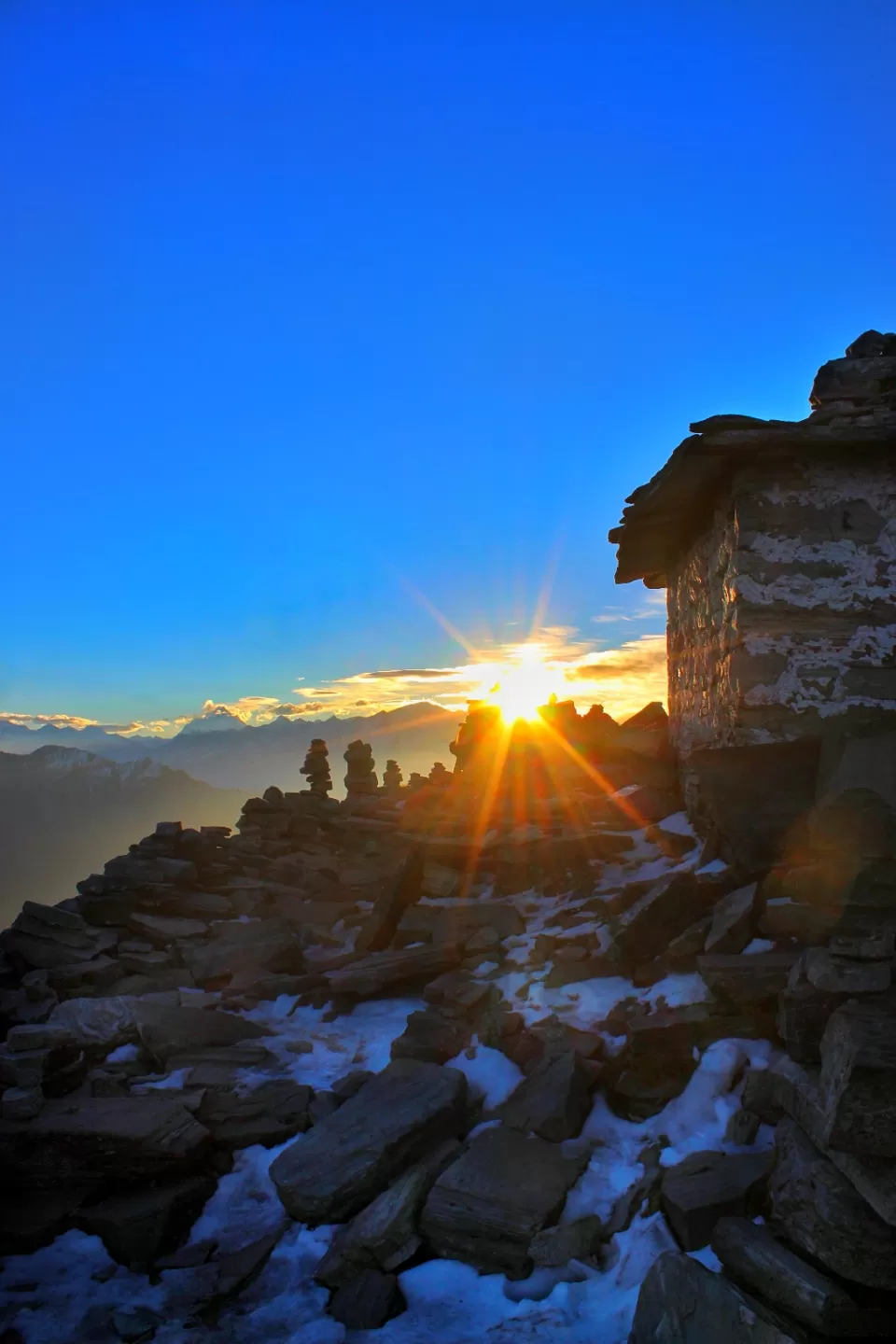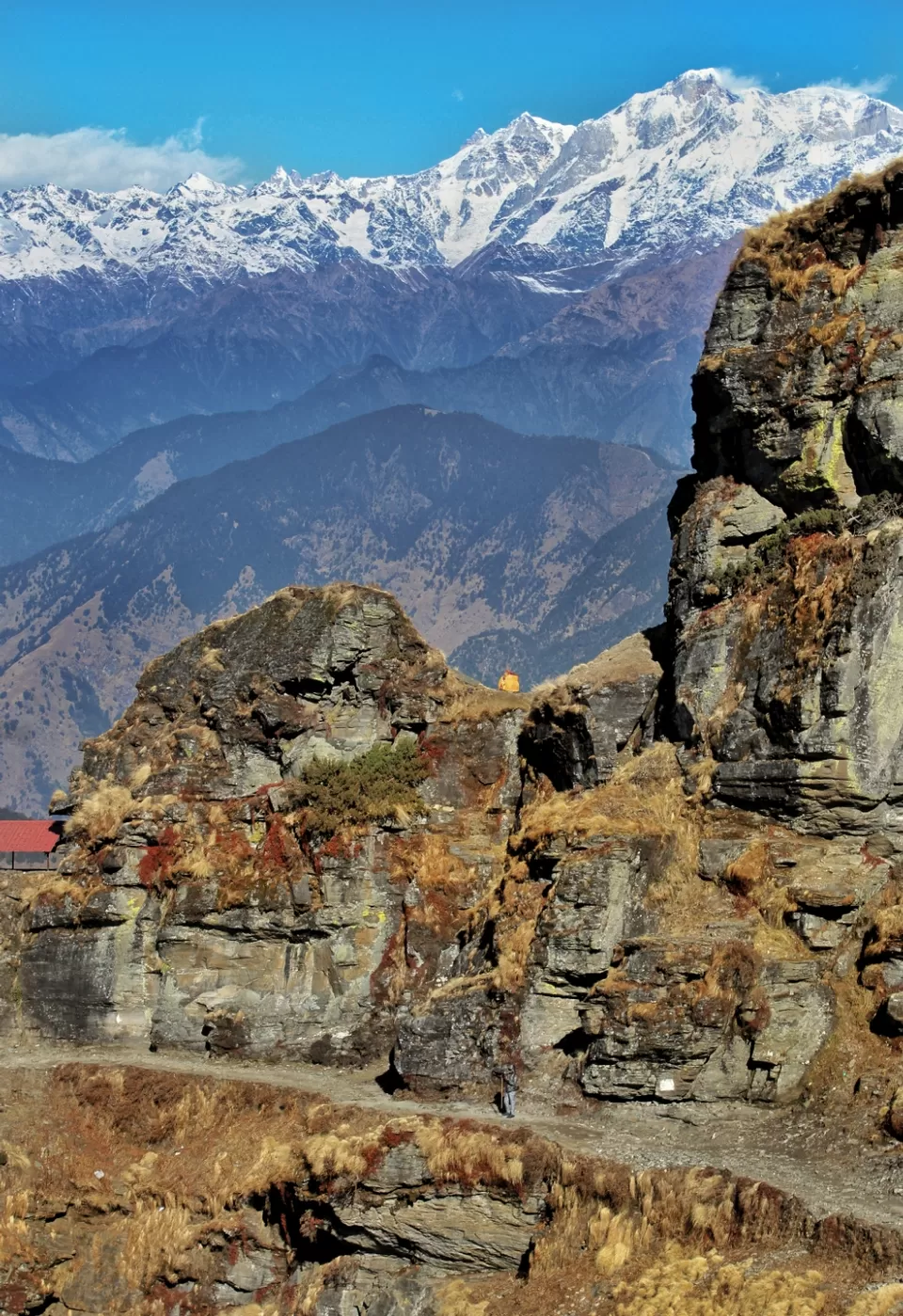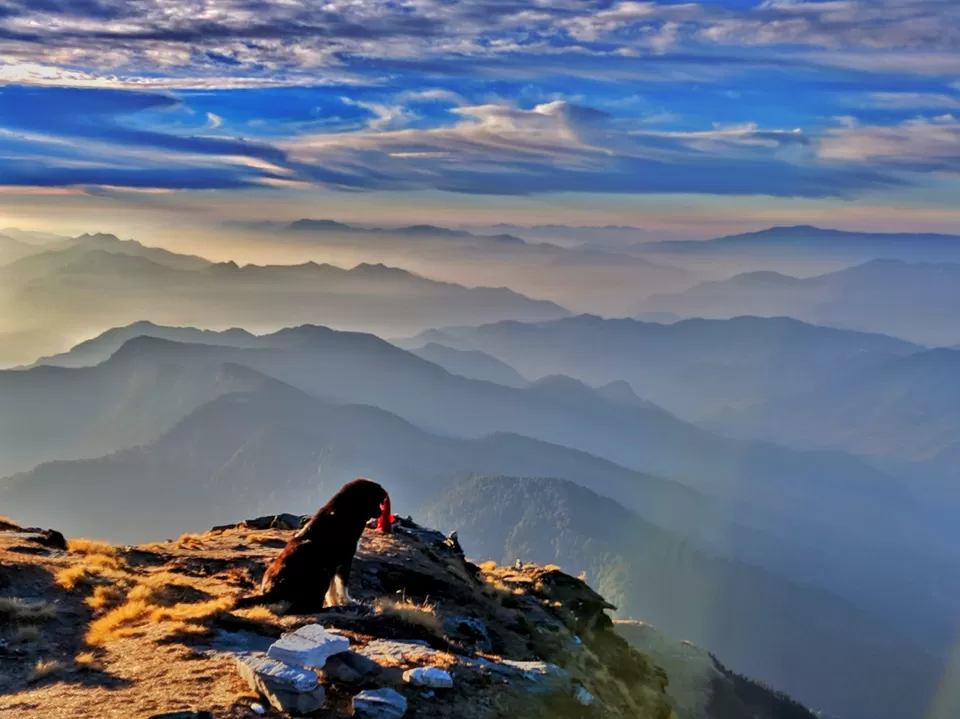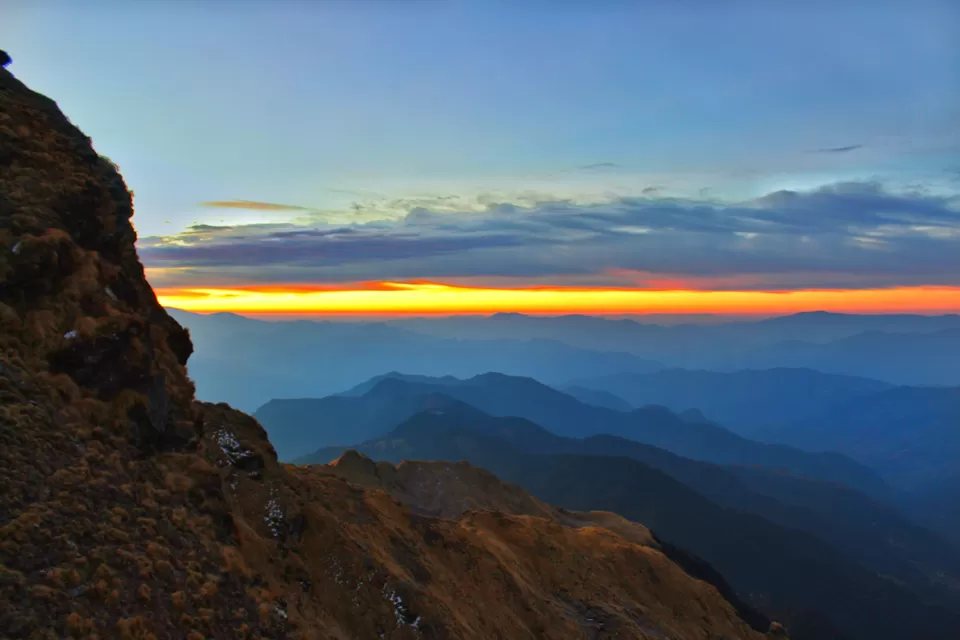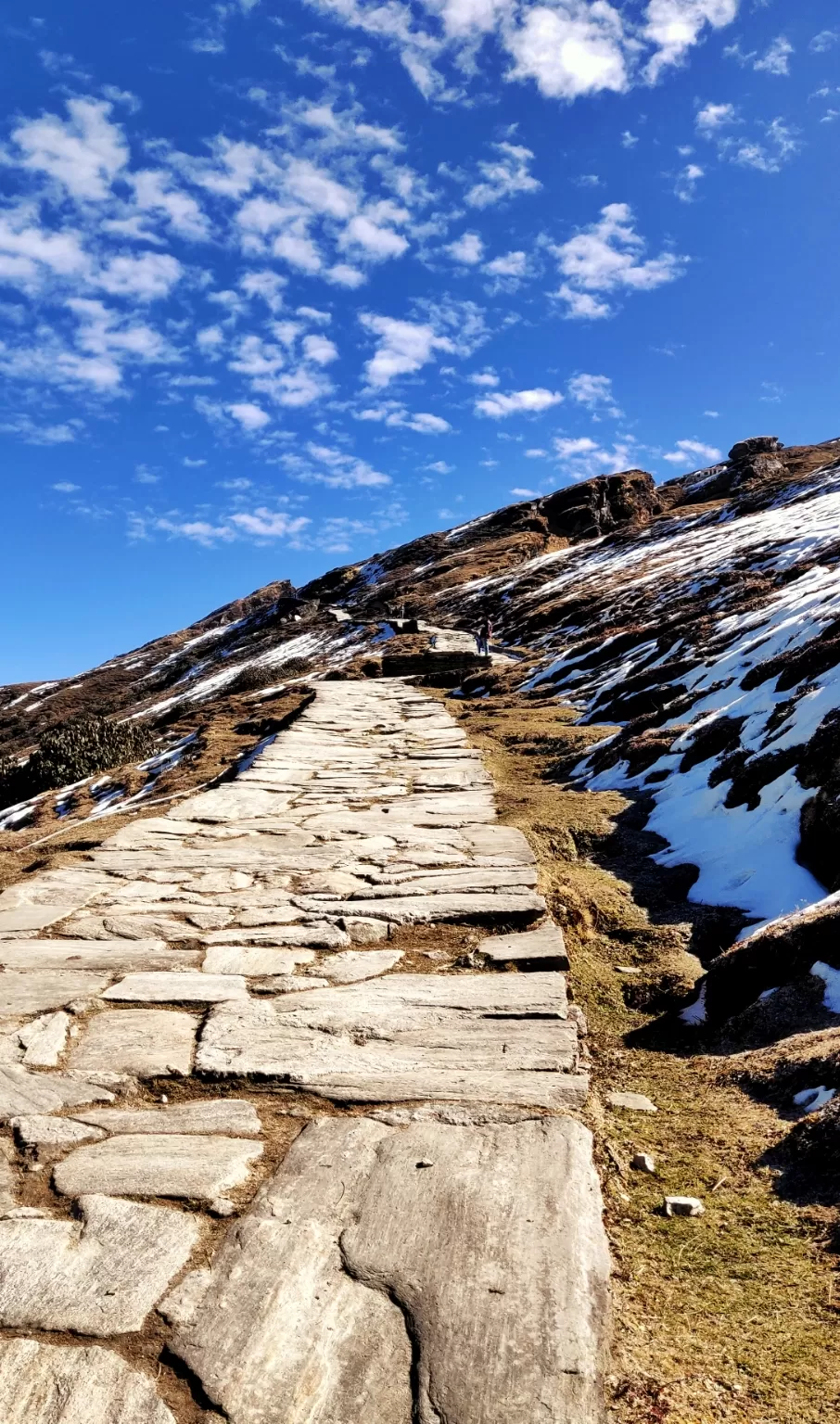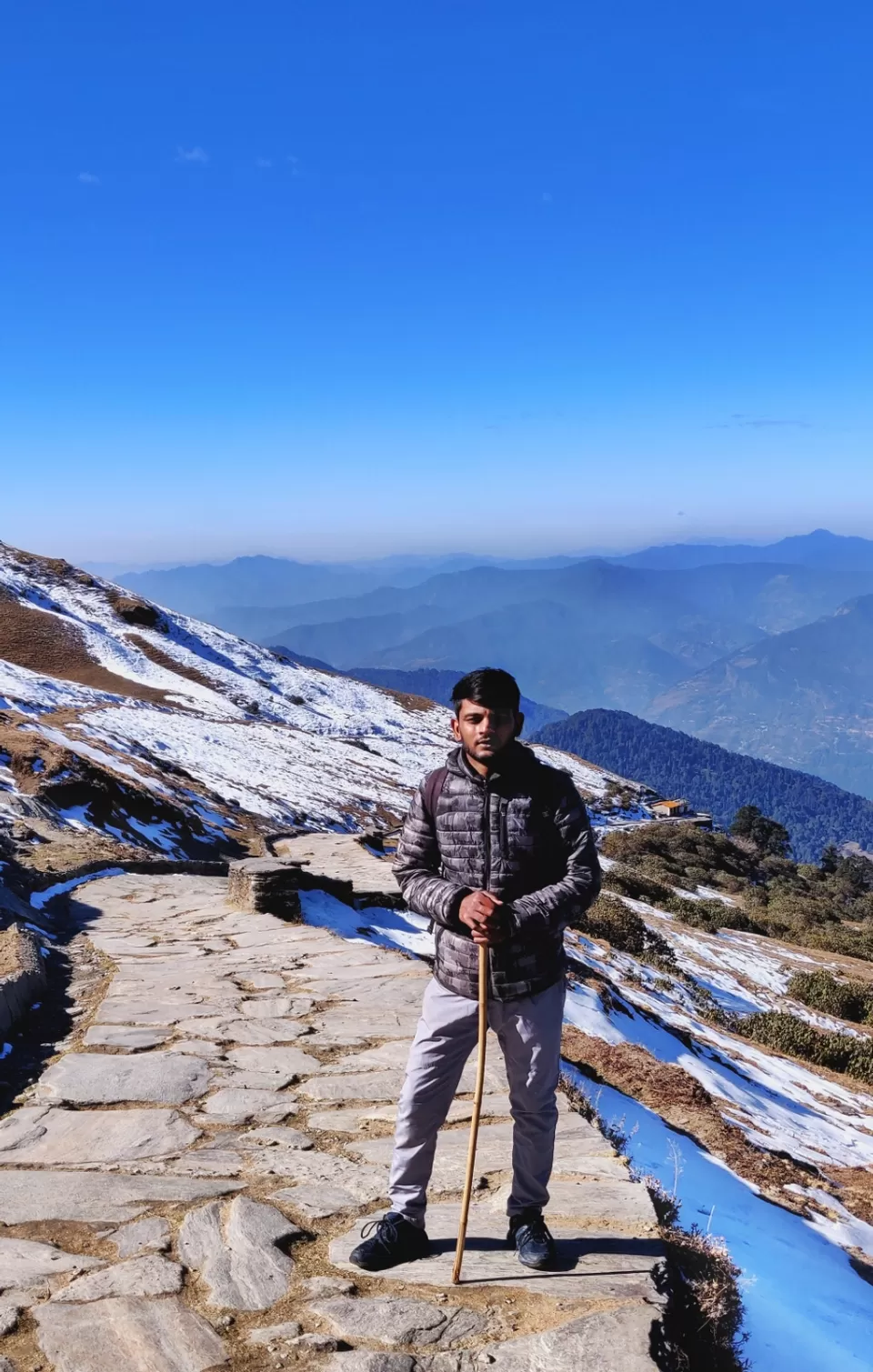 On Day 2 We Started our trek from our Lodge which was at the Starting point of Trek at 3:30 AM because we wanted to witness the Sunrise from the Chandrashila peak which is so beautiful and surreal as suggested by our Lodge owner.
Everything is Closed down at that time, so if You want to start the trek in early hours to witness Sunrise then keep these things in mind:
1) It is Very dark as there are no lights on the way, so don't forget to carry a flashlight.
2) Wear Good quality shoes because there will be snow on the trek at this time of Year.
3) It gets even more colder at night and specially when Climbing up so it advised to Keep one more layer ( for both upper and Lower body) handy just in case you need it.
4) Keep your Head Covered at all times if you're going in night because it is too cold.
5) Ask your Lodge owner to Lend you trekking Sticks/poles.
6) Buy Extra Water bottles and Something to Eat as there no Shops in the way which will be open.
7) Last But the most important Keep All your trash with yourself and don't throw anything on the trek because you will be heavily fined if you do.
Entry Fee: Rs 150 Each and Student Discount 50%.
Note: Along with Entry fee you will be required to Submit Rs 500 as security deposit for not throwing garbage. All your plastic garbage is counted before you start trekking and if You throw anything or forget anything on the trek you will be fined additional Rs 4500 i.e Fine of Rs 5000 for Throwing Garbage.
But as we started in night there was no one there, but on our way back we were made to give entry fee and asked whether we have brought our trash back or not.
So Now Finally the trek is 4 kms upward and en-route you will find lush green meadows. You can witness a wide range of snow capped Himalayas. The trek trail till Tungnath temple is well marked and fully concreted with railing on the most of its part.
But Trek trail from Tunganath temple to Chandrshila Peak which is another 1.5 Km is neither well marked nor concrete. You will certainly miss the trail due to snow but you should keep moving carefully and you will find the trail again.
It will take around 3-4 Hours to reach to the peak in time to witness a beautiful sunrise and splendid 360° View of Garhwali and Kumwaoni Mountains. Notable peaks in this panorama of grandeur are—Nanda Devi, Trishul, Nandaghunti, Dronagiri, Chaukhamba, and Kedar.
We reached there just in time to witness Sunrise and rested for couple of hours in the sunlight as we freezed due to extreme biting low temperature. And after clicking a million pictures we started the Descent at 8:00 AM and it should have took us 2 to 2 1/2 hour to reach back but due to unlimited photo sessions and Fun Boomerangs and Vidoes in Snow it took us 3 1/2 Hour. And For the rest of the Day we rested in our camps in Chopta alongside the Bonfire and Chill music.
But If your are rested in 1-2 Hour you can drive down to Deori-Tal and Camp there for the night. It is a 2-3 Km hike for Deori-Tal from the Village. Or You can also Camp in Chopta and Enjoy Bonfire and Chill.
On Day 3 we said adios to Chopta early in the morning to reach Dehradun in time and started our return journey at 9:00 AM Keeping in mind the Construction work going on.
We Stopped in Rishikesh to eat something and reached Dehradun by 7:00 PM