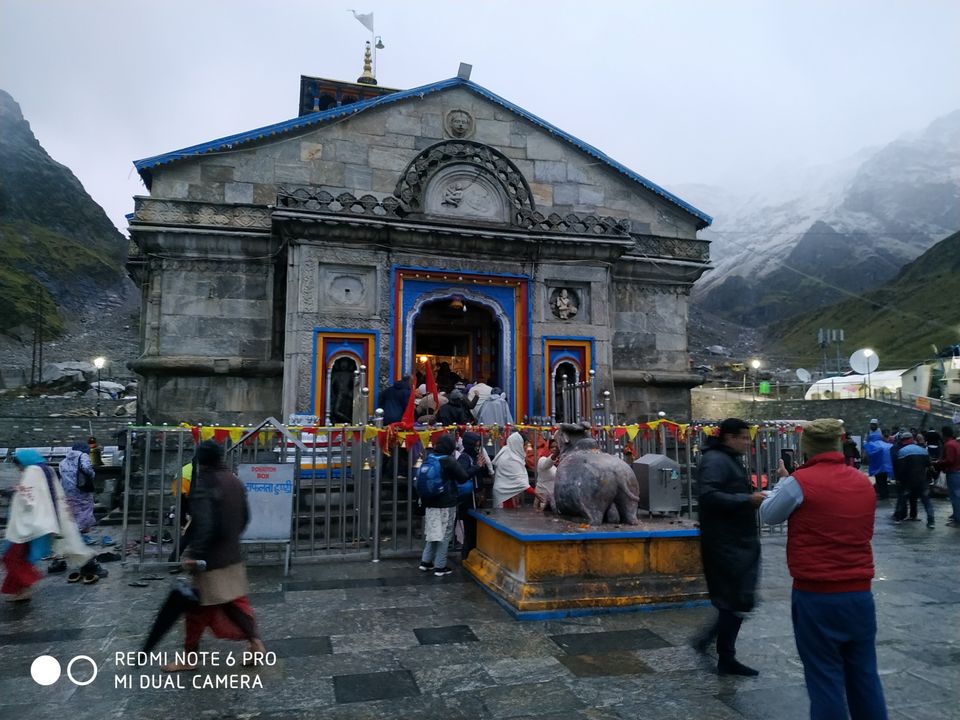 So this is our travelling story to kedarnath.
All the packing we're done and we started our journey from delhi, by noon we left for Rishikesh , After 6 hour's of journey we reached rishikesh , the weather was quite good as the October is the best season to visit pilgrimage in uttarakhand as the road conditions are not good during monsoon time, the cloudburst and road collapse is frequent. So after a night stay at tapovan rishikesh , the next day early morning we started our journey around 7 am.
‌So while moving towards guptkashi , we had our breakfast at Byasi which is nearly about 2 hour from rishikesh, so the next stop of journey was devprayag(sangam) , where two rivers Alaknanda from srinagar garhwal and Bhagirathi from tehri garhwal region , so like this there we're many small towns i.e, srinagar, rudraprayag, tilwara, agyastmuni on our way.
‌The weather was beautiful here and of course without getting into any traffic we easily reached rudraprayag which is nearly 70 kms from devprayag. It is among the five prayag (sangam) of uttarakhand, alaknanda river and mandakini from kedarnath meet here in rudraprayag .
‌
So after a tired journey of 7 hour's still we have to reach guptkashi where all the bookings we're done for the overnight stay. With less comfort as the road are not good, quite bumpy , because of roads collapse during monsoon and the all road weather works which was in process somehow our driver manged to drive innova with ease but still with those bumpy we we're tired.
Finally we reached Adhvanta resorts in guptkashi . After 11 hour's ride we we're tired and want to be in a comfort zone. So we decided directy to go in tents and have rest after which we had coffee and snacks . Now we go through our plan for tomorrow as already our arrangements were done advance which was prior booking of helicopter tickets. As there are two way of to reach kedarnath firstly is by helicopter and the other is by trekking, which nearly takes about 6 to 7 hour's to reach kedarnath by trekking of 17 kms and as we we're knowing we can't take to that , so we in advance booked the tickets to reach there. After having our dinner we quickly get back to our tents to sleep. The climate of guptkashi was cold about 10०c at night.
Next morning we we're late and left our tents by 8.30 in the morning, so our next stop was phata helipad from where we we're supposed to travel by helicopter, the journey of the ride was about 7.30 minutes, so finally we reached booking counters from where we came to know that our ride will be after 2 PM, as last day because of the bad climatic conditions some of the travellers who we're supposed to travel could not travel and are in queue . So it was decided firstly they will fly to kedarnath and there after today's booking one, so we move towards the waiting area.
One thing which is common there is the climate changes frequent there and which results into low visibility due to which helicopters do not fly. This happened with us while we we're about to fly but somehow it was our good luck that the weather soon gets normal after 1 hour of delay. Finally after 7.30 minutes we reached the kedarnath helipad, the oxygen level was low as compared to guptkashi which one of our member jayanti ma'am felt while we we're heading towards the temple .
After reaching there we firstly head towards our hotel as the temperature there was about 2०c so quickly we move to our rooms and have our warm clothes and after having rest of 1 hour we got back to the temple. Still there was 1 hour left for the prayer which is "sandhya aarti " So we decided to be there and click some of the pictures around the temple. We did not noticed how the time escaped and now the prayer about to start .
So the raval who is the holy priest of kedarnath came from inside the temple started the offering from the bhairo baba who is supposed to be a the fierce manifestation of Lord Shiva associated with destruction and devastation.
After that ganesh idol is worshipped . So after the prayer we we're supposed to have the visit of baba kedarnath. So after having the visit of the temple we get back to our rooms and next morning we quickly got up by 5 am and did our offering and prayer and around 6.30 we quick get back to the helipad as I already told u about that the weather changes frequent so decided not to stuck there and quickly get back to guptakshi and move toward Badrinath temple.
So I would like to thank Mrs kamla Ruplal ma'am from Australia and Mrs Jaintri Mudliar ma'am from New Zealand who asked me to visit with them to the beautiful journey.... Still the journey to badrinath remains....