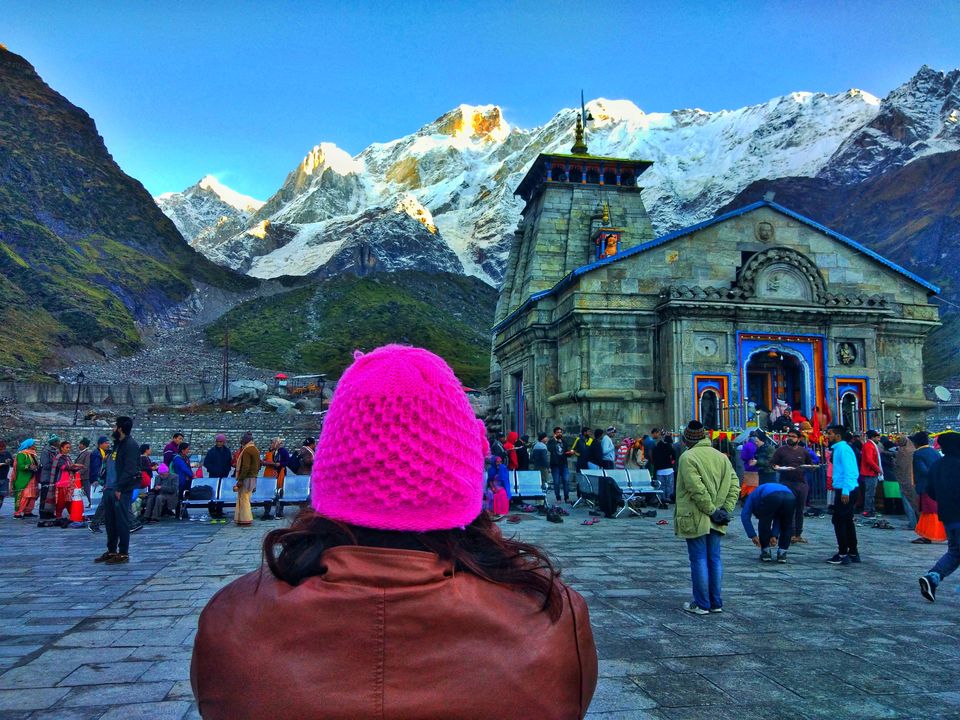 Framed with the beautiful Mandakini River, snow-clad mountains, forests and mesmerizing views, Kedarnath is a deeply spiritual experience for travelers.Each year, thousands of Hindu pilgrims flock to the temple to seek the blessings of Lord Shiva. And i am just one of them who wanted to visit this place since long time and curiosity increased to another level after the massive flash flood that happened at uttarakhand in 2013, even though everything wiped out at surrounding the shrine survived at Kedarnath. As the temple remains open only during summer month's i. e. in between April (Akshaya Tritriya) and November (Kartik Purnima, the autumn full moon) i decided to visit this place just before the closure of the Temple i. e. by end September as weather remains pleasant.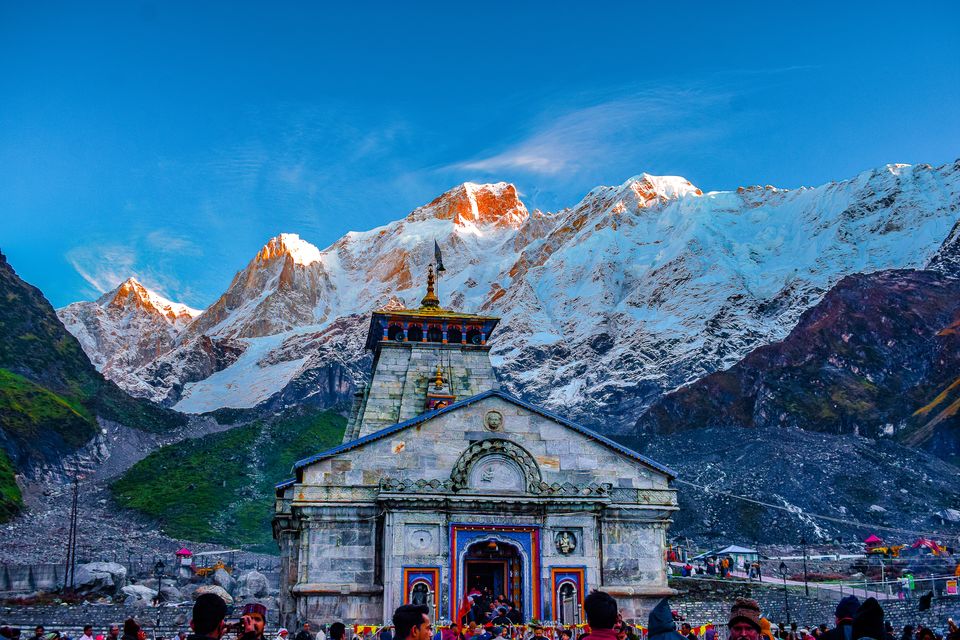 Along with Kedarnath I visited Haridwar, Rishikesh, Rudraprayag and Devprayag. And I must say this one was one of the best spiritual & devotional trip I did recently. Here is the complete itinerary below
It is very difficult to pull off leaves from job work life. I had only 5 days for this trip. After some research i opted out to go with the trip organiser Amazing Uttarakhand with their suggested package as per our itinerary. It was Delhi – Haridwar – Guptkashi – Kedarnath – Guptkashi – Rishikesh – Delhi. The tourism company provideed Swift Dzire for the transfers.
Day 1 – Pune – Delhi – Haridwar (28th Sep)
I left pune at 4.30 AM, morning flight is always recommended so that you get full day to explore the places where you are going, reached Delhi at 7.30 AM, and then i got freshen up at the airport, called up the driver who was waiting already outside of the Delhi airport T3 and then we headed immediately towards Haridwar. The road to Haridwar goes from Meerut & in morning we didn't face much traffic while getting out of Delhi. In between he stopped at some random dhaba to eat snacks & breakfast. Chhole Bhatura & Kachauri. The road was scenic & beautiful & green due to plenty amount of waterfall in the season. After 7 hour long drive i reached to Haridwar, checked in to the hotel & decided to take rickshaw to go to local sightseeing instead of taking a car out. As there are so many places to visit in Haridwar I choose to visit (1. Mansa devi mata mandir & 2. Har ki pauri for Ganga aarti) as time was short. First I reached main market area at Haridwar, then had walk for around 1KM to reach base of Mansa Mata Mandir. The temple is located at hill upside. People can take Udan Khatola (Ropeway) or can trek upto the temple. Mansa Mata is famous for completing all wishes of the devotees who come to visit there. I decided to take rope-way to save the time and I am just too lazy to take the walk. It was 265 rupees only for 3 people for return journey. It was mesmerising view of Haridwar & Ganga River from Udan Khatola.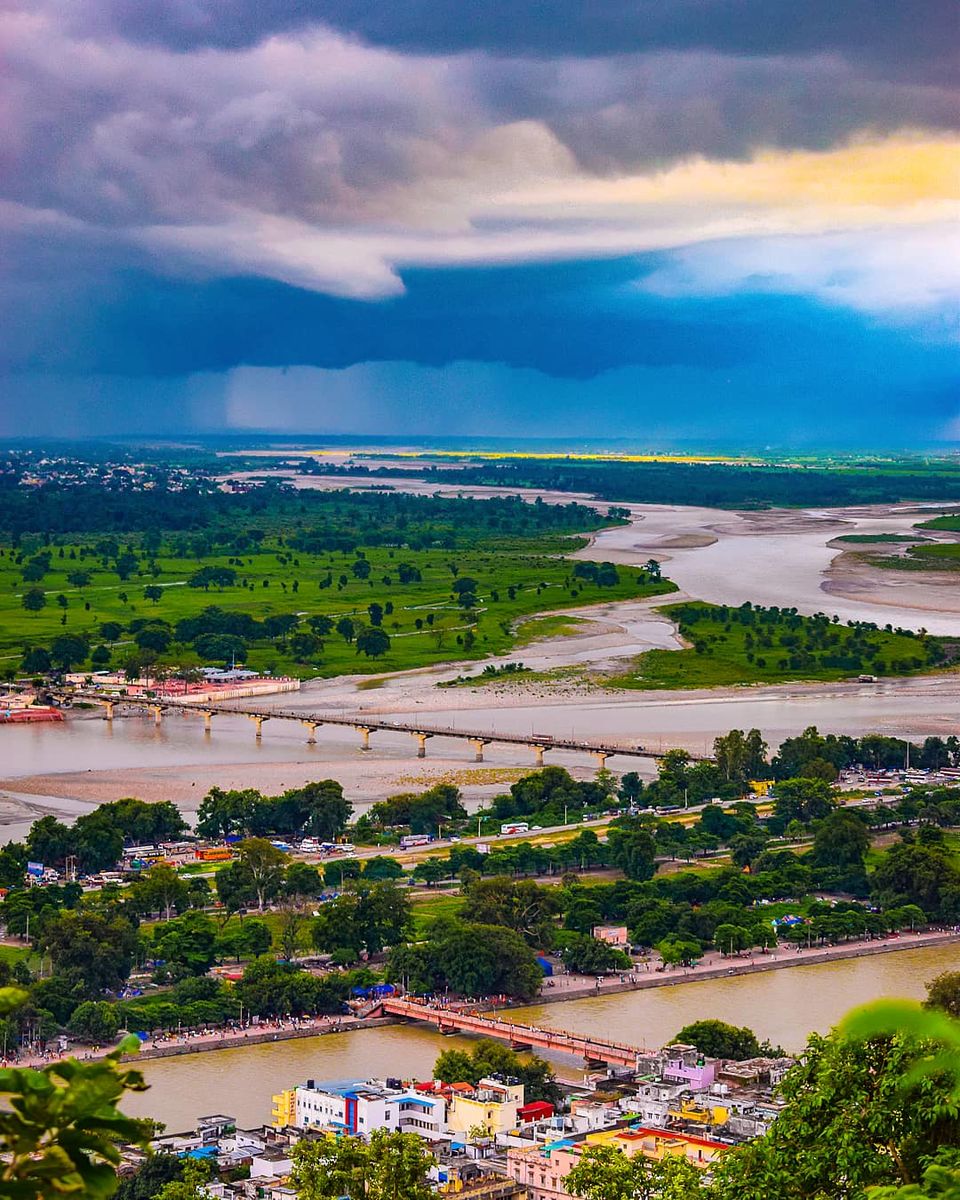 After the darshan I spent some time at view point on hill, then went to see Ganga aarti at har ki pauri but due to rain & bad weather (it was raining, all thanks to extended monsoon) I missed it. So i visited Har ki pauri again next day morning at 4.30 AM watched Divine Ganga Aarti and people taking bath in Holy Ganga River.It was pleasant experience. Then I headed back to hotel had breakfast & then started my journey towards guptkashi.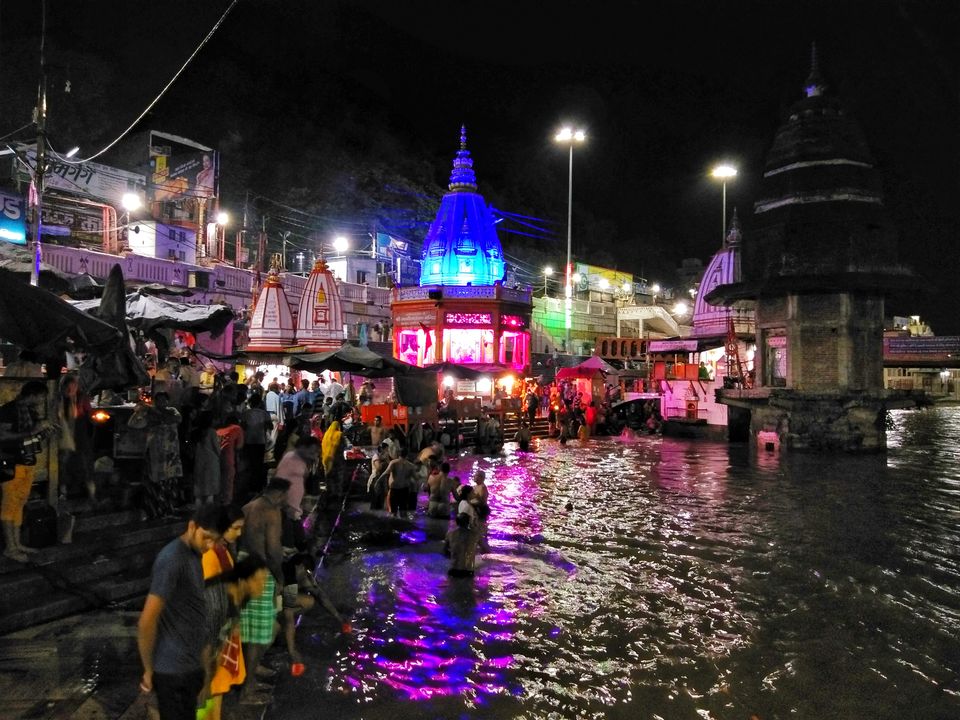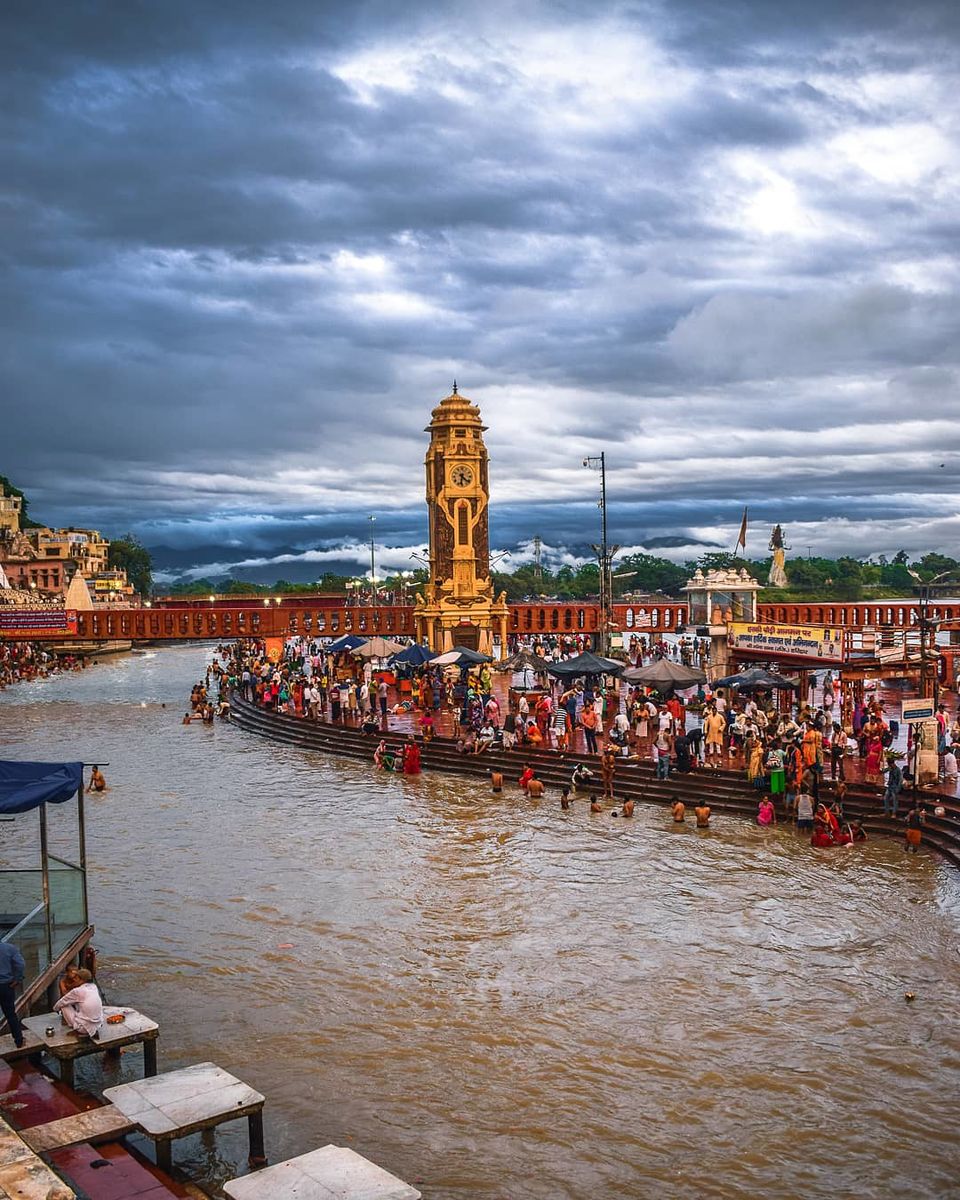 Day 2 – Haridwar – Guptkashi (29th Sep)
It was tough journey till Guptkashi, it took 8 hours to reach guptkashi, the road was full of slush due to rain and bad weather. In between i blessed to see the triveni sangam at Devprayag. It is one of the Panch Prayag (five confluences) of Alaknanda River where Alaknanda and Bhagirathi rivers meet and take the name Ganga. Further the route till Guptkashi was scenic & effect of pralay which came on June 2013 was also visible throughout the road.
Day 3 – Guptkashi – Kedarnath (30th Sep)
Finally the day has arrived. My long time awaited dream was about to complete I started my Journry at 5 am. As per the local citizens the kedarnath trek should be start at early mrning. Because it takes 2 hours to reach Gaurikund which is located at base of Kedarnath Valley, and then 6-7 hours of trek to reach kedarnath. As soon i started the journey there was landslide happened just after 3 to 4 KM from Guptkashi. And there I got stuck, so the driver suggested me to cross the landslide by walking through it & pick a local transfer from that side which will take me to the Gaurikund. Hence i decided to go with that option and somehow managed to reserve the space in the cab & reached at base anyhow. At Gaurikund there was a counter for biometric registration for the Kedarnath trek.
After finishing all the procedures I started climbing the trek, after 1.5 km i reached pony/horse pit stop from where we can get a pony or horse for trekking which takes 2300 rupees from base to kedarnath. I decided to climb up till wherever i can reach and from there will look for pony or horse. Along with the scenic view of mandakini river and kedar valley i reached till Rambada. It was 2 PM in the afternoon, so took halt for some snacks. From there i took pony to reach kedarnath.
After 3-4 KM i saw Snow Mountains, by all the hustle and bustle i finally reached 1.5 km away from the temple. I had my hotel booking at temple area where I reached at 8.30PM. The temple was closed by then. But the feeling was unexplainable, it was a breezing chilled and the feeling to reach was at way high level, which was incredible. Temple was lightened up the LED's and everybody was roaming around.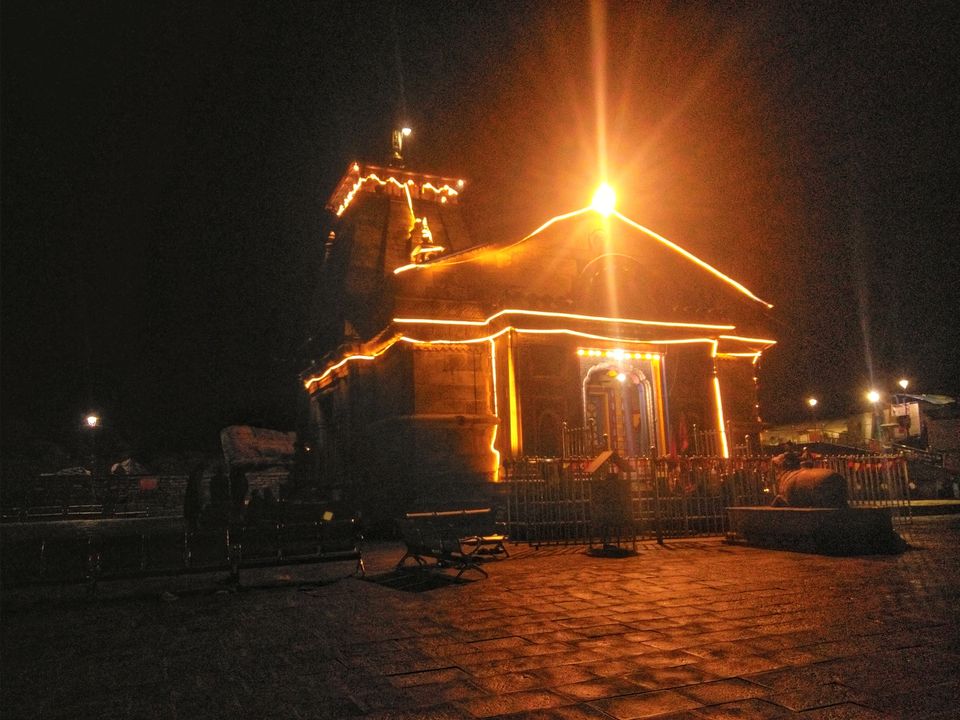 I checked in quickly in hotel throw the bags there and immediately headed back to temple area. Surprisingly I had full coverage to mobile phone with 4G connectivity, so me and everybody was having a video call with families and loved ones. I spent some half an hour there and again jumped into the hotel room because it was freezing cold out. Then i had dinner & passed out.
Day 4 – Kedarnath to Guptkashi (1st oct)
Next day I wake up at 4.30 AM in the morning & without even brushing my teeth and i straight away went to see the temple in the light, and then whatever i saw was just mind blowing, awesome, amazing and the view to die for. It was so breathtaking view. Whole environment was going holy and devotional feel. There was essentials rituals of morning chants was already proceeding inside the temple. I got fresh and again came back to see the view and temple again. There was long queue for Darshan but i have been lucky as i got the VIP entry to the core of temple, i performed all the rituals and Abhishek inside and took the blessing of Shiva. It was such an amazing experience to stay there for like 15 mins which many people didn't gets. After that i went back side of the temple to see the rock which saved the temple during the pralay which caused 1000 's of the death in June 2013. You can imagine the scary flood situation occurred due to cloud burst at the uphill of the temple at chorabari lake.
The after effects of that incident are still visible in kedarnath and many places at route. Then I had my breakfast & started descending the trek. I managed to reach down at around 4.30PM. The driver was waiting at car parking, then i came back to the same hotel at which i stayed in Guptkashi.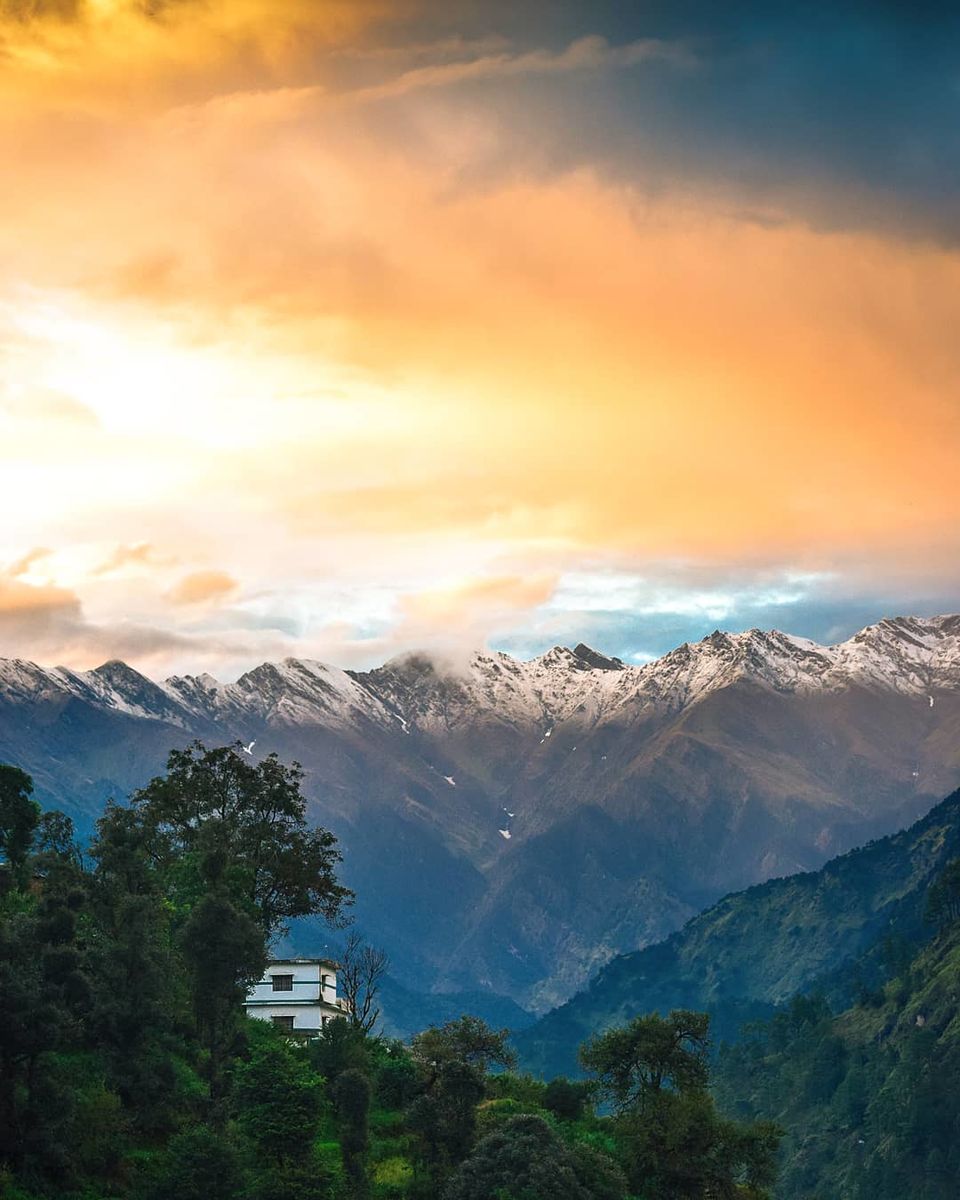 Day 5 – Guptkashi to Rishikesh (2nd Oct)
It again took 8 hours to reach back to Rishikesh. I reached at 2.30 PM at my hotel then after lunch took some rest and headed to see the most happening Ganga Aarti at Triveni Ghat. It was wonderful experience of the Ganga Aarti. After that did some shopping from local shops.
Day 6 – Rishikesh – Delhi (3rd Oct)
Next day morning i took a short walk alongside Ganga River for sightseeing and saw Laxman Zula, Ram Zula, Parmarth Niketan Ashram and Beatles Ashram.
Finally, the most wonderful trip has come to end. I Headed to Delhi and reached in Delhi at 5 PM in evening.
Things to carry:
• Carry light luggage with warm clothes and raincoat.
• Eatables are available in between at reasonable cost.
• Wear good gripped shoe
• Nose cover (as path is covered with pony dung and it smells really bad)
Some Notes:
• If anyone have trouble in walking, or allergic to pony/mule/horse urine and dropping or time is short then plan by Helicopter which can be easily booked online.
• A normal traveller takes only 6-7 hours to reach at temple from Gaurikund by walk. So walk patiently don't rush while walking as due to high altitude you may feel breathless.
• Avoid taking Pony or Horse from Sonprayag it will increase your journey by two hours. Take pony from Gaurikund. Also Start early in morning from Gaurikund so that by noon you can reach upto Temple. Have darshan and Stay overnight at at Kedarnath and next day morning start your return journey towards Gaurikund. And if anyone is planning same day return then there is full chances he will reach Gaurikund by early evening or late evening in that case it will be very difficult to get seat for Gaurikund to Sonprayag transfer. In evening huge line takes for transfer to Sonprayag. Secondly getting accommodation becomes very difficult at Gaurikund as there are very few options available.
• Avoid travelling with kids of age below 12 as weather is very unpredictable in Himalayas and it's quite risky to handle children's while sitting on Horse/Pony.
Frequent Searches Leading To This Page:-
places to visit in uttarakhand for couples, hotel in chamoli uttarakhand, uttarakhand tourism coronavirus, unlock 4 uttarakhand travel guidelines, uttarakhand travel guidelines unlock 4