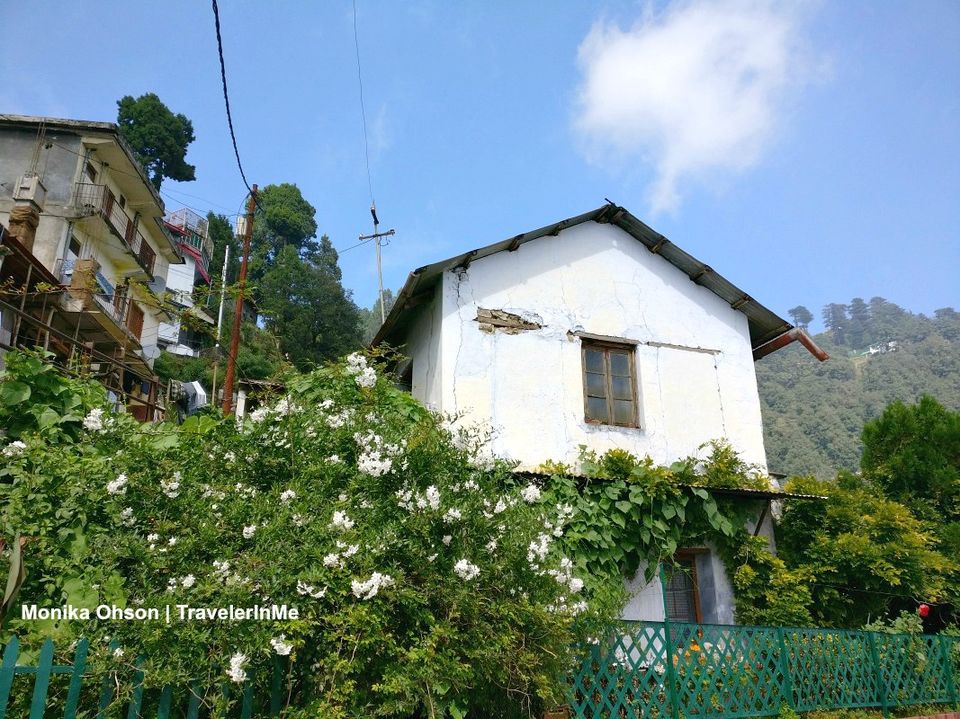 Last summer we girlfriends were planning to do a short weekend trip to Landour for two reasons; a break from the mundane and to meet Ruskin Bond.
But it did not work out because of the massive rush to the hills and chaotic jams through out the route.
Later in the year around Gandhi Jayanti I was all set for Landour. Now accompanied by a common friend and my husband.
Before I share about my trip let me pen a few lines about the place. Landour is a small cantonment with a name inspired from a village in Wales called Llanddowror. It was built by and for the British army somewhere in 1820s. A sanatorium was the first building to be built by them for their ailing soldiers (now occupied by the Institute of Technology Management of the DRDO). In fact, 2/3rd of the place is a cantonment and the rest is Landour bazaar which connects it to Mussoorie.
The route up to Mussoorie was bad and chaotic ….. I sometimes wonder why we don't have basic infrastructure in place if we want to boost our tourism? In short, a journey of 6 hours took nearly 12 hours. On return we followed the GPS which took us on a route that was much better and away from the urban chaos.
The road leading to Landour is narrow, steep and chances of jams high. The usual road leading to it had a long jam so we were guided through another one which required skillful maneuvering of the car. Thankfully both the men are fantastic behind the wheels.
We booked our stay at the peaceful Wolfsburn Estate. Our cottage unit had 2 rooms, an attached bathroom, a functional kitchen, dining area and a sit out. Clean and well equipped with all necessary items for a long or short stay. There is no food service so one can either cook or go down to the famous Char Dukaan close by. The serenity of the place is unbeatable.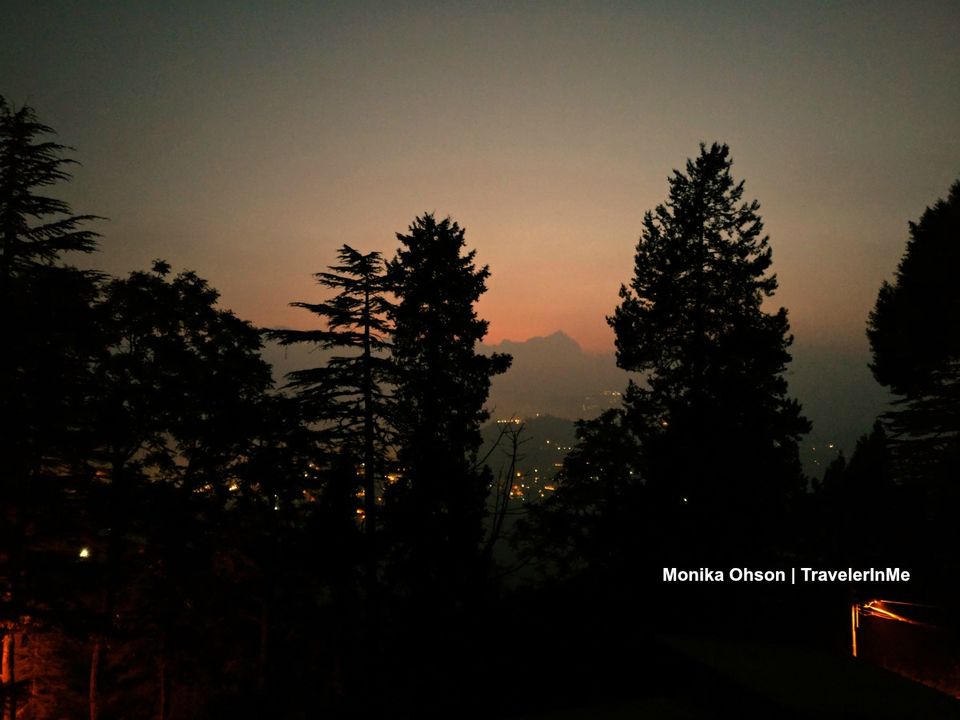 It was twilight by the time we reached our stay. So after a hot cup of masala chai followed by an early dinner we called it a day.
Being an early riser, I took the advantage of the quietude……. immersing myself in the freshness and beauty of nature.
Our first stop was Char Dukaan for some wholesome breakfast. There is a small parking near Char Dukaan. You may find the price high but then its a luxury you are getting high up there.
Anil's Cafe shall remain as a delicious memory in my mind. One bite and I felt at home ….. gobi paratha (the best, after the ones made at home), aloo pyaaz paratha, some sinful cheese onion paratha and kadak masala chai / coffee to go with them. So for the couple of days we were there, we patronized the place for our major meals.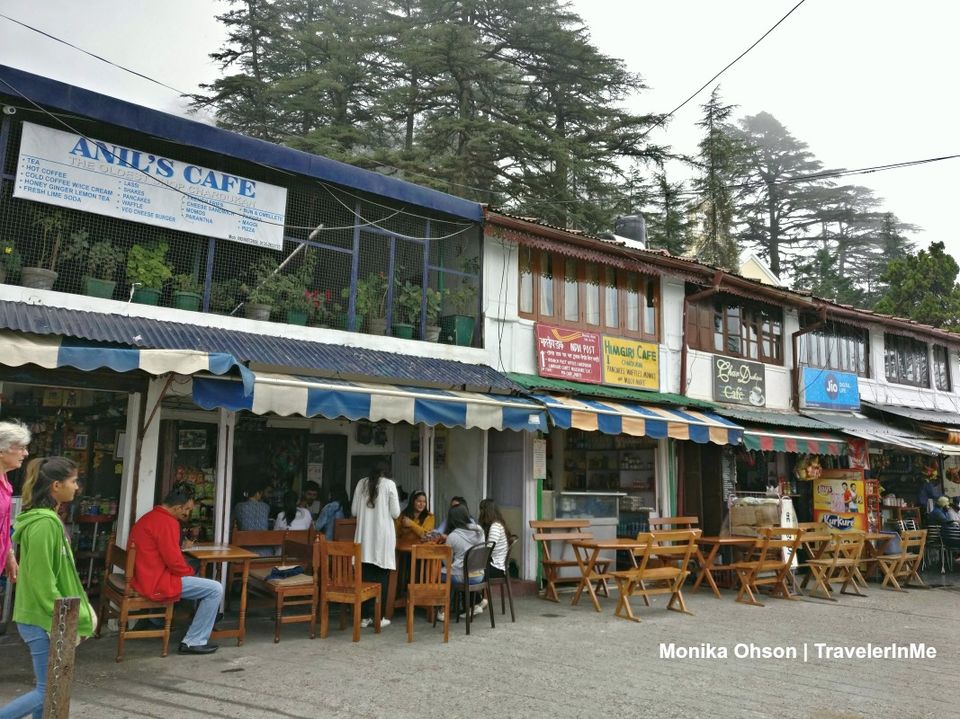 Once our tummies were happy …. we were all set to explore Landour, and the best way to do it, is on foot.
Our first stop was the Anglican St Paul's Church built way back in 1839 for the British residents of Landour. The Sunday services were just over when we reached there. We smiled back at smiling faces and entered the church. We could feel the healing calmness of the place seeping in. We prayed and left after admiring the beauty of the place.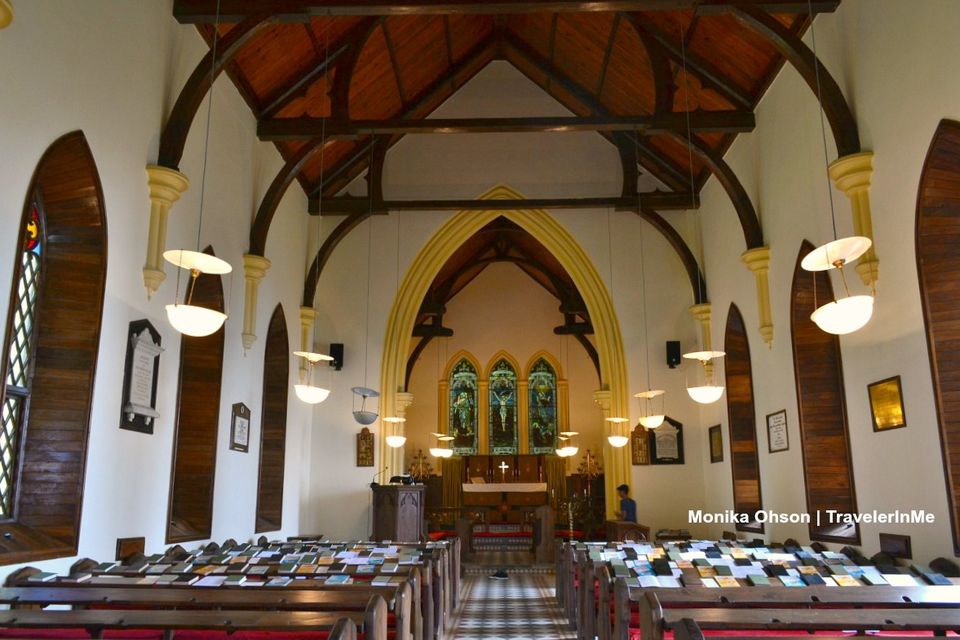 We took a leisurely walk of the famous Landour loop , admiring the landscape and stopping at some prominent places like the the Landour Language School, Landour Bakehouse , Prakash Store and not to forget the wonderful quotes one gets to read throughout.
The Kellog's Memorial Church was built as a Presbyterian church in 1903 and was / is also the home of the Landour Language School (LLS) where British people were taught Hindi at that time. We could not explore the interiors as service were still on and we did not feel it correct to disturb those gathered to pray.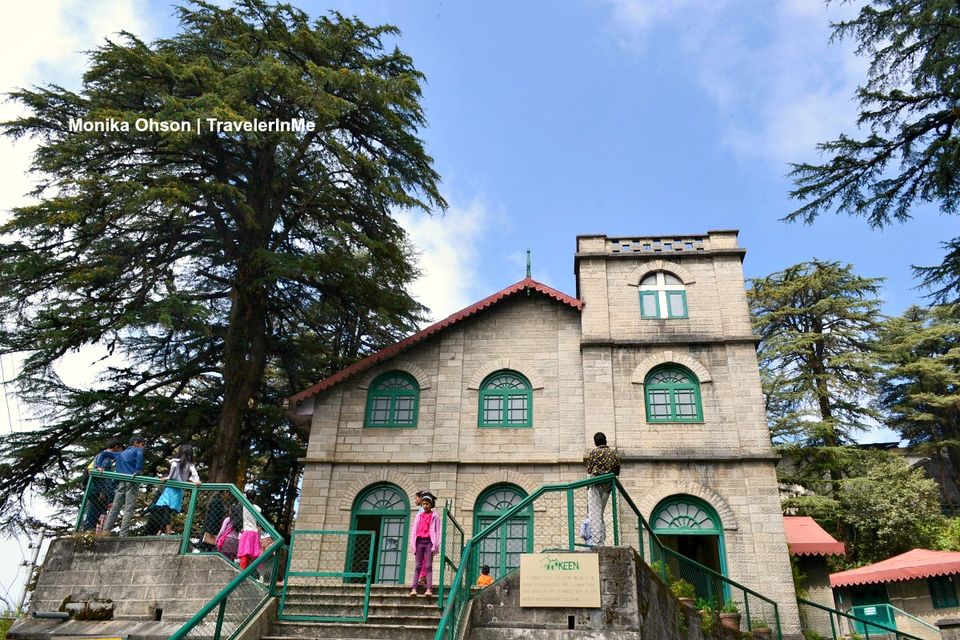 "Landour Speaks " …… because of the quotes on display at regular intervals. I was quite fascinated by them and it made my quiet walk peppy.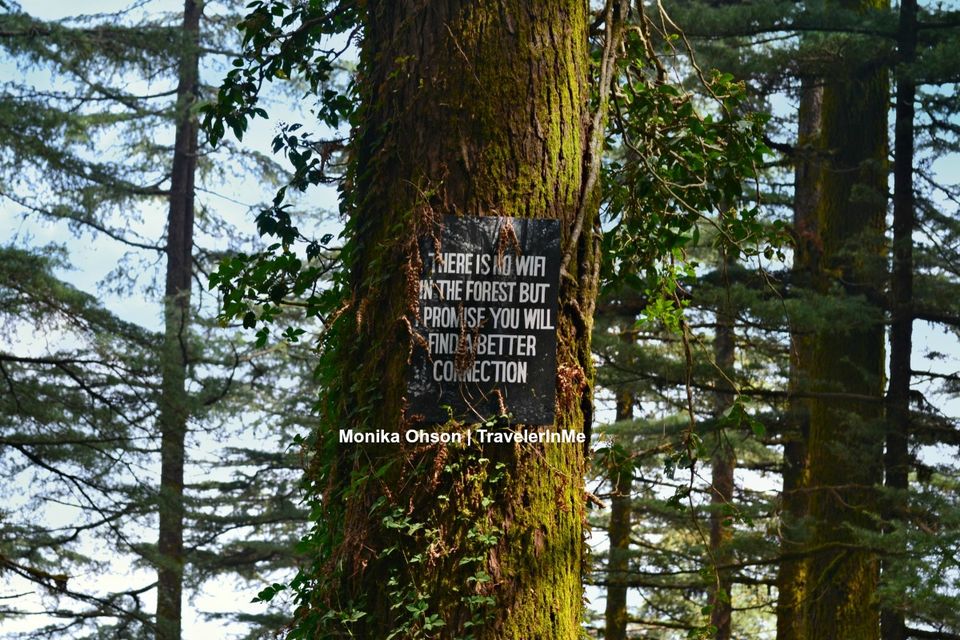 The cantonment is clean with sufficient number of dustbins (with wonderful quotes) but unfortunately with the influx of all sorts of tourists don't be surprised to see litter outside the bin rather than in it. So much so for responsible tourism.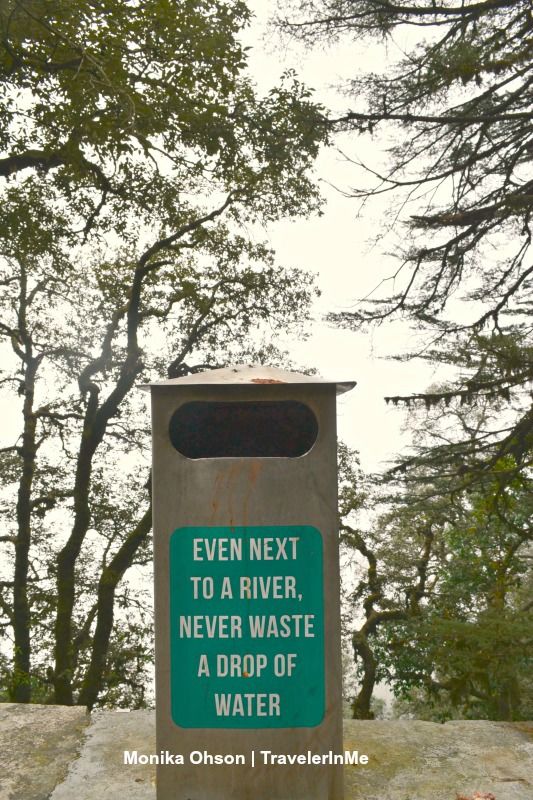 The loop was pretty empty as the the tourist flow to Landour crowds its famous cafes and eateries. We strolled at a slow pace, enjoying the quirkiness of the place and the freshness of nature that we city dwellers are bereft of … . Our next stop was the must visit Landour Bakehouse in Sister Bazaar.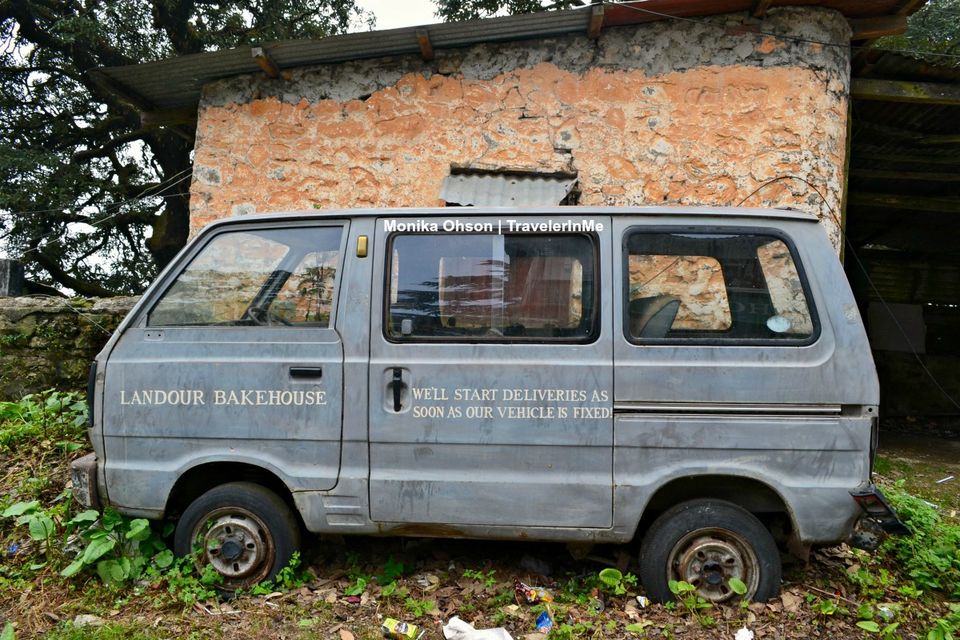 The bake house not only whips up some delicious munchies and beverages but has engaging interiors. I regret not getting some delicacies packed for home (maybe a reason to revisit it, hahahaa). We carried some stuff for the day and were warned about the monkeys who over time could recognize the packing and its yummy contents.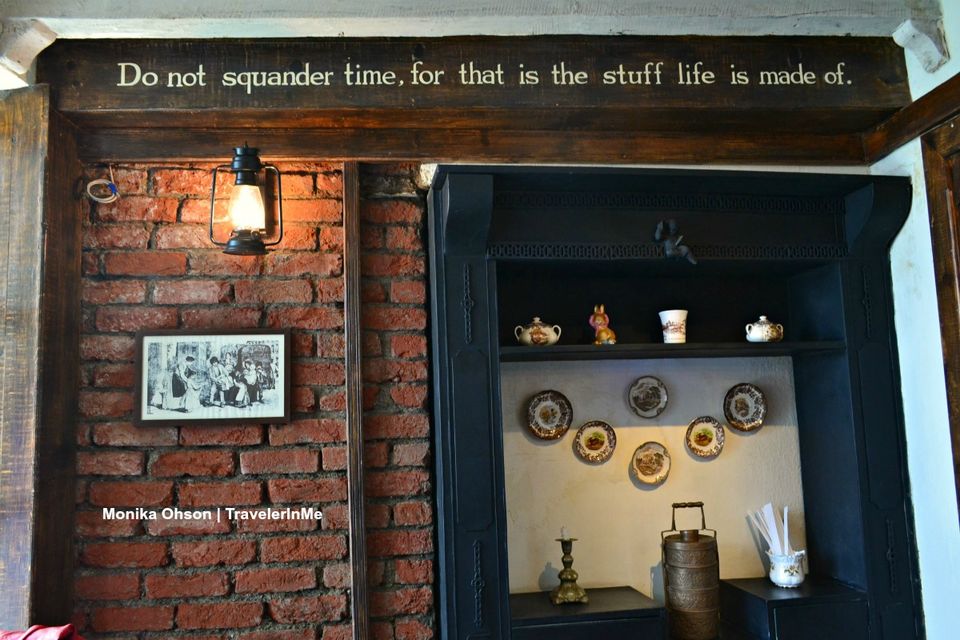 .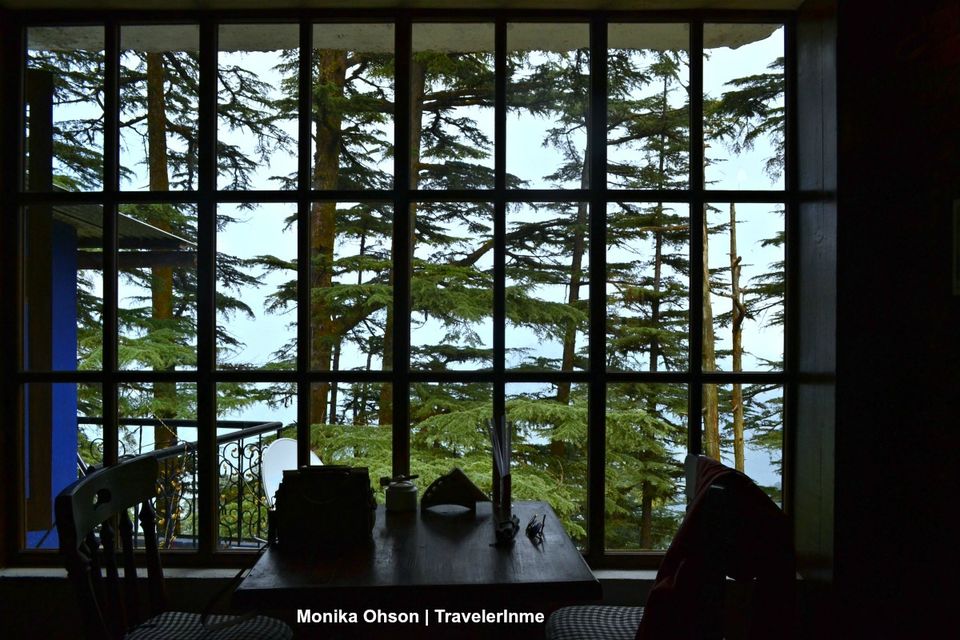 The next stop was the Prakash Store for its famous home made peanut butter passed down by generations from the British Raj time. Frankly, I have not become a fan of this peanut butter as its pretty salty & bland for my taste buds who are used to the crunchy versions of brands available otherwise. A stroll into Prakash Handicrafts next door made me realize the handicrafts were steeply priced (higher than city rates) !!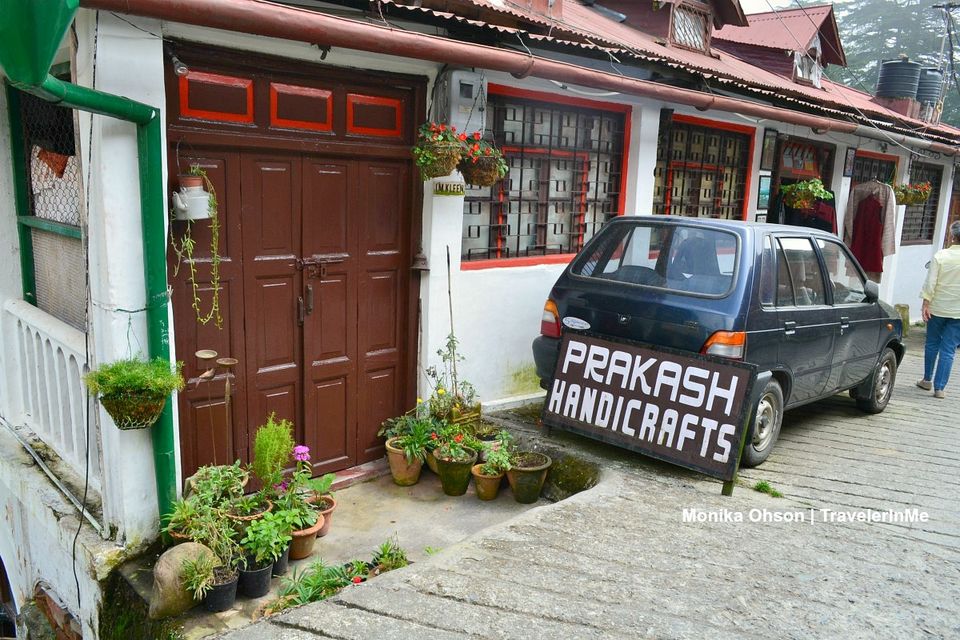 We returned to Char Dukaan and from there proceeded to our next exploration , Doma's Inn and further to Mussoorie Mall. We wanted to visit Doma's Inn mainly to see Ruskin Bond's house and probably a lucky chance to meet me (made an unsuccessful attempt ). The Inn is vibrant and colorful, a building you will not miss.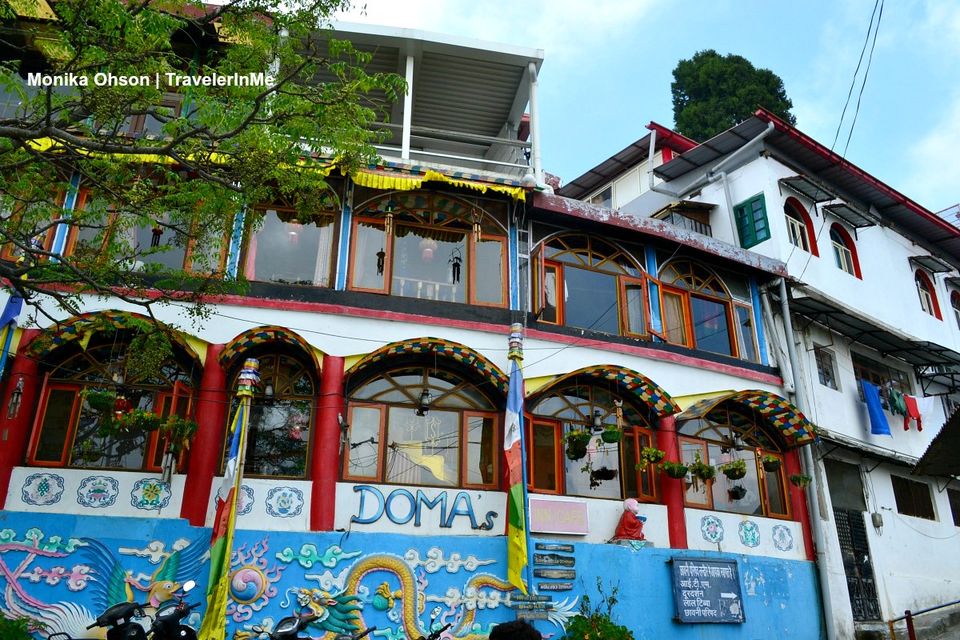 I did try to meet him at his place, reluctantly though as, it was afternoon (lunch / nap time), it was his home – a private space….. after retracing my steps back a couple of times I made the final attempt. Well, I was greeted by a young lady from his family who mentioned that he was resting hence would not meet. I was satisfied, at least I would not regret not trying to meet him.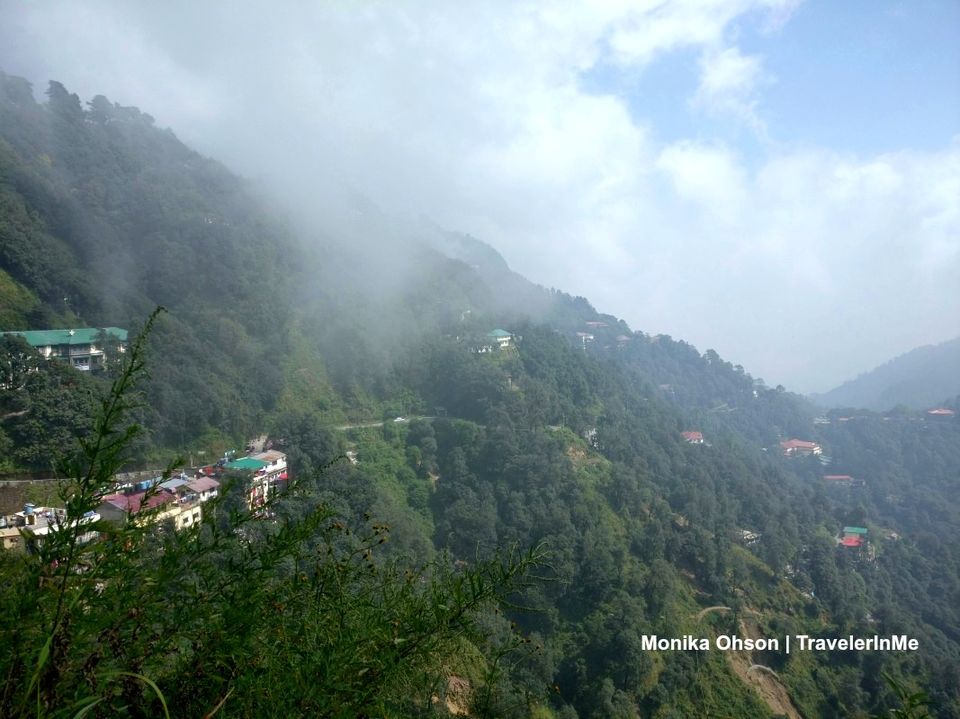 We actually wanted to meet Ruskin sir in person at the Cambridge book store get an autographed book and a photo with him on Saturday, but, all thanks to NHAI the roads did not allow us to reach our destination on time. So we decided to go to the book store to try our luck knowing all the odds. I had an idea that it was fairly far (from a non trekker, non exerciser point of view) and this led to an argument — me vs the men …… they won promising to take care of me fully, going slow to match my pace, resting when I wanted to etc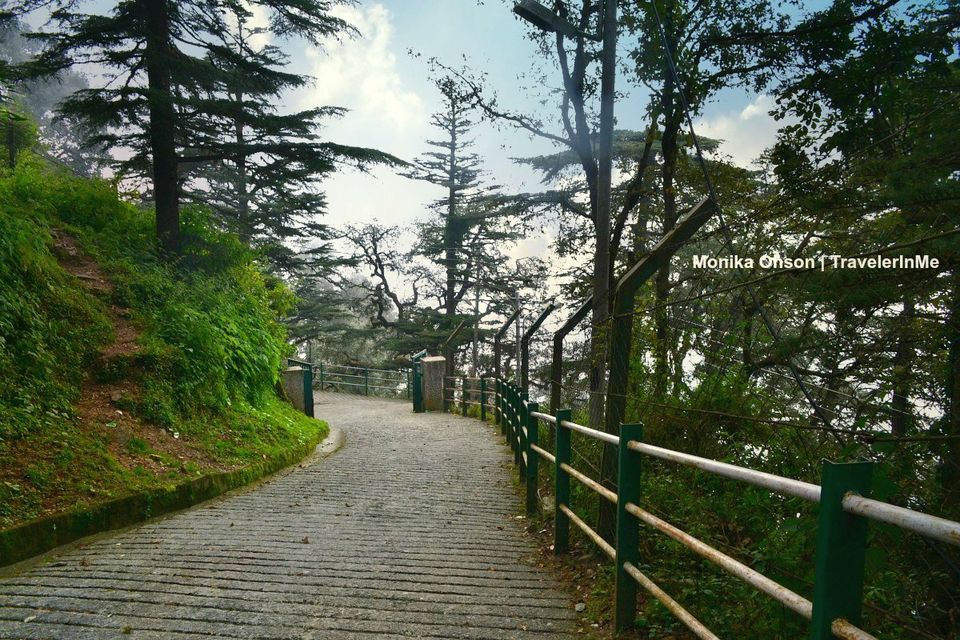 While going downhill we got a ride till the entry of Mussoorie mall and this luck did not work on the way back …. uphill! Time when I kept grumbling and the men were all amused. Nevertheless it was a good decision and a fun but strenuous uphill climb.
Mussoorie mall as expected was thronging with tourists …… over crowded, commercialized and best avoided. We had a quick lunch and went straight to our destination, Cambridge Book Depot. Ruskin sir apparently comes only on Saturdays for a few hours. We bought some book and started our return journey.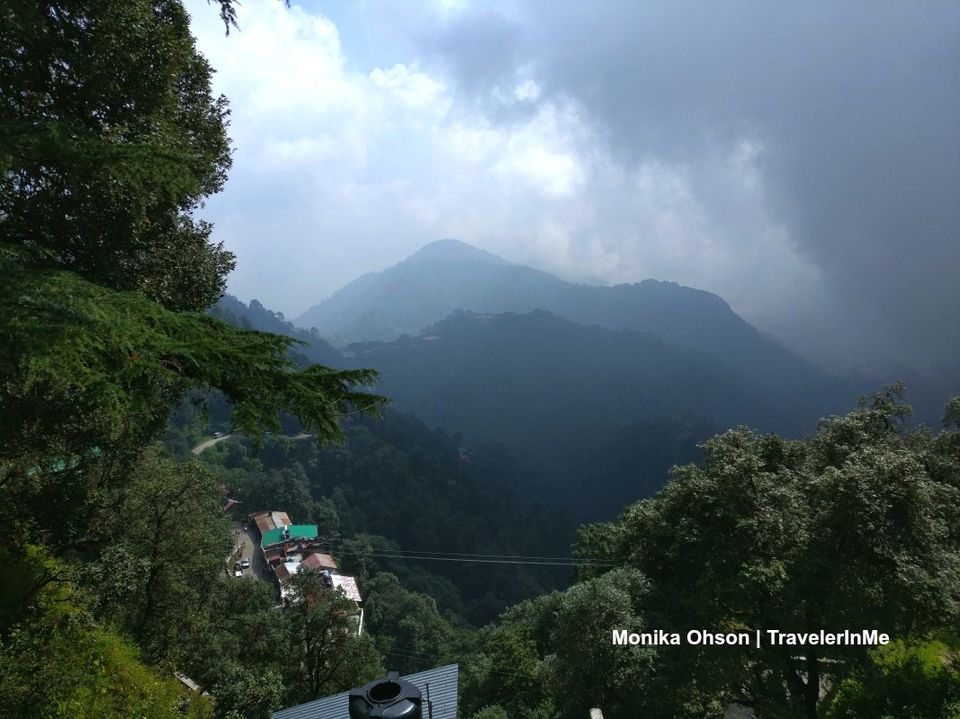 Our final halt for the day was Cafe Ivy just next to the parking and Char Dukaan. This is another cool place to spend time. The food, the ambience and the views (if you get a place in the deck) are good.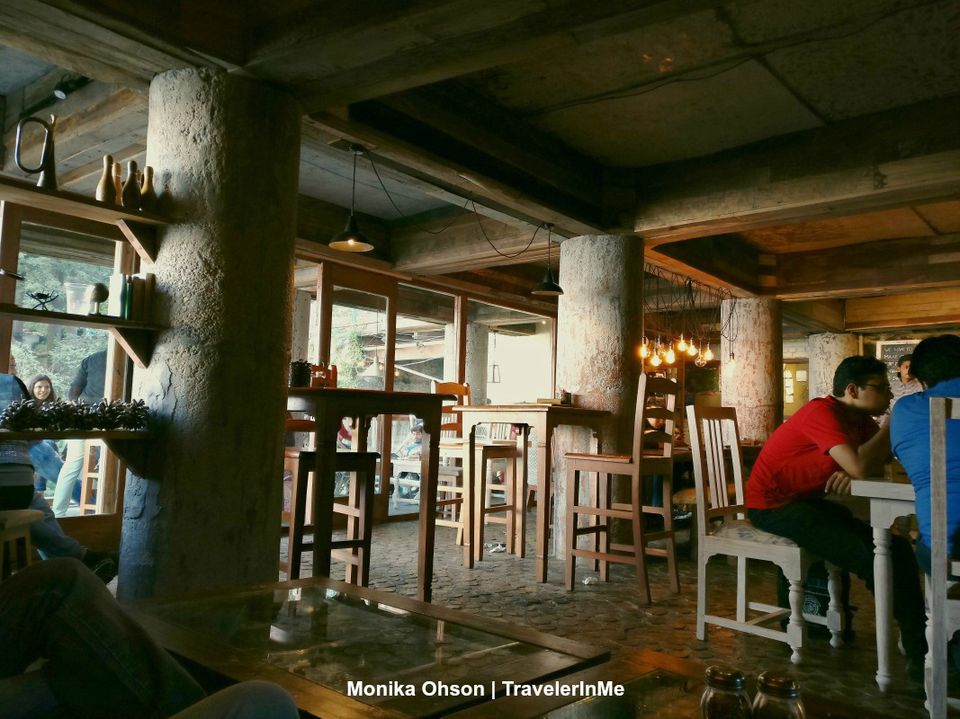 Having relaxed we regained our energy. Thereafter it was time to get back to Wolfsburn. One must remember that they call it a day pretty early in the hills. By 8/8:30 pm all shops including Char Dukaan are closed. We ensured to get our dinner from Anil's Cafe on time.
The next day we were back on the road to home …….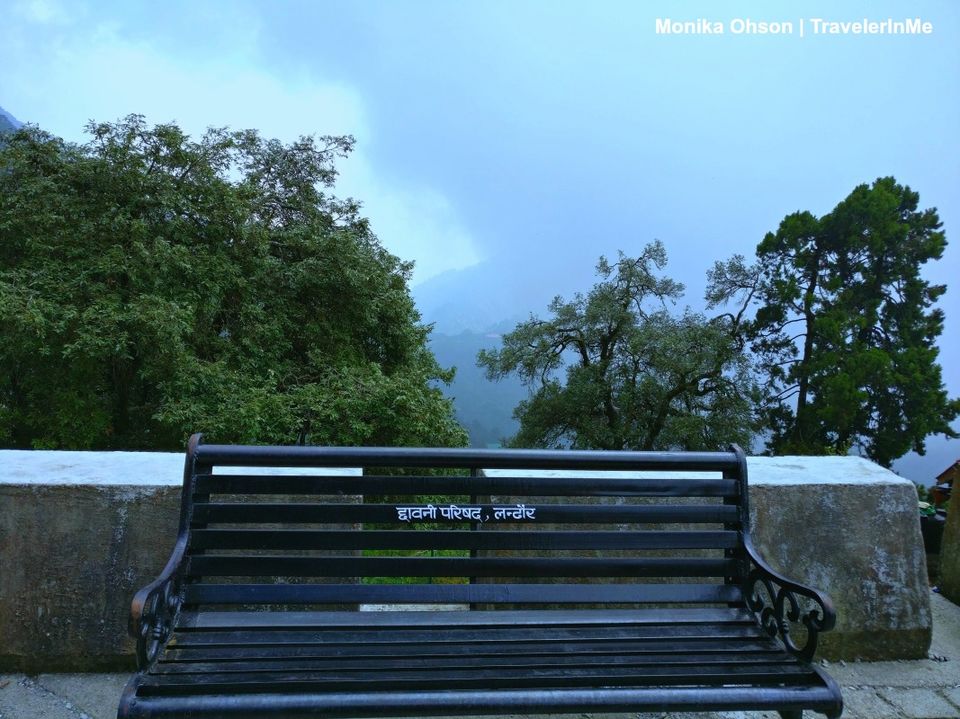 .
...and, if you like what you just read, do 'like it' & 'share it'. Also do not forget to 'follow' to remain updated about newer posts!
HAPPY TRAVELLING!
Monika Ohson | TravelerInMe
This was first published in TravelerInMe