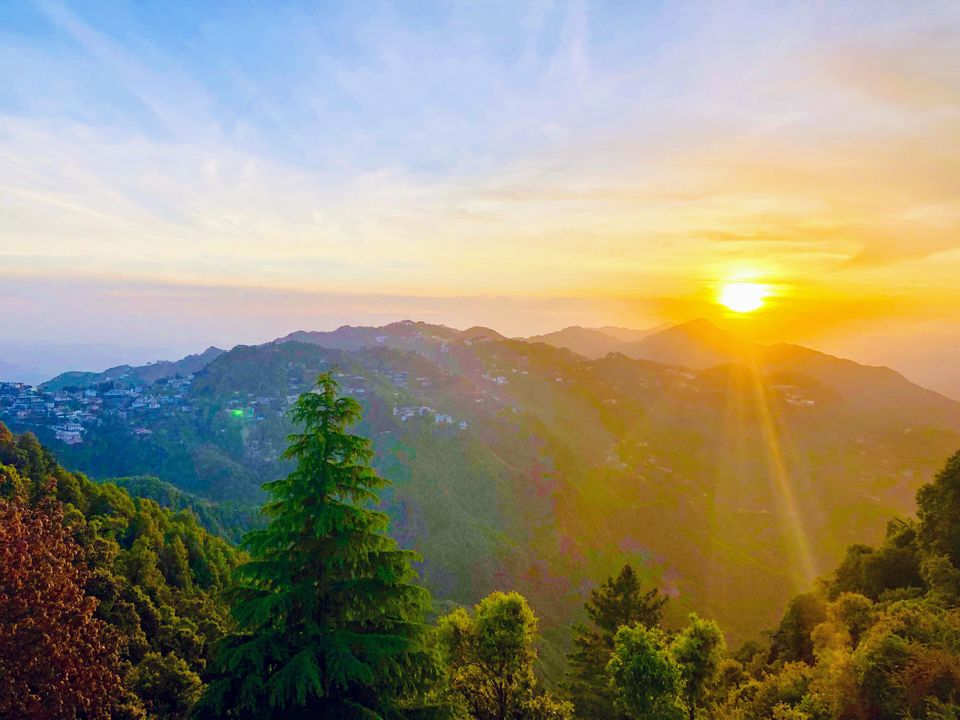 Finally she found courage to travel Solo ...
Being an avid traveller and with my zeal to explore all places new and old, I have always travelled with my family and best friends. But there comes a time in everyone's life when you need to have that time for oneself, to accompany your own self, to introspect and enjoy your own company and reinvent peace and joy within. What perfect could that time be if not on one's birthday. Yes, unlike every other travel of mine, I made this 2 day prior impromptu plan of my journey in the Himalayas. As it had to be something exciting , I joined a trek group for a trek to Nag Tibba - the highest peak in the Garhwal Himalayas. http://first-trek-the-mount-of-nag-tibba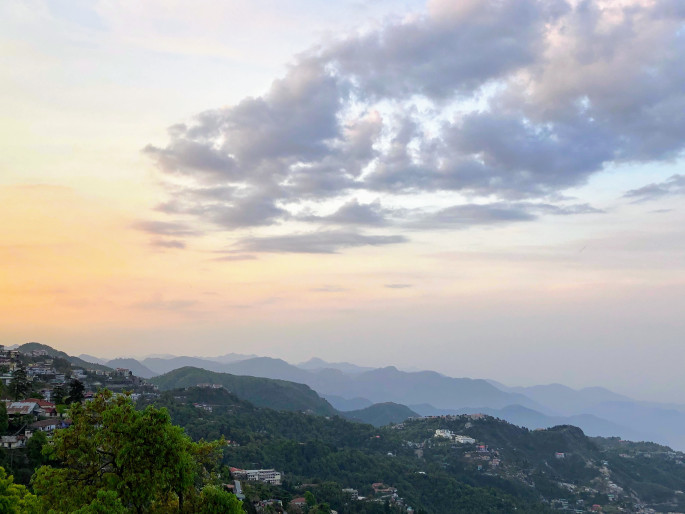 Post the trek I planned my solo travel to the "Queen of Hills" as it is called - Mussoorie and the "Yog Capital of World" - Rishikesh. Mussoorie is a beautiful hill station oddly 35 kms from Dehradun , the Capital of Uttarakhand. Its strategic location is such that it was the favourite destination of British during their times here. The mall road of Mussoorie is a hustling street with all sorts of eateries , shopping options and what not. Yes Mussoorie has many destinations, points and sight seeing itineraries that everyone explores but what I was seeking was just besides Mussoorie - A quaint twin town of Landour hardly 4-5 kms from Mussoorie.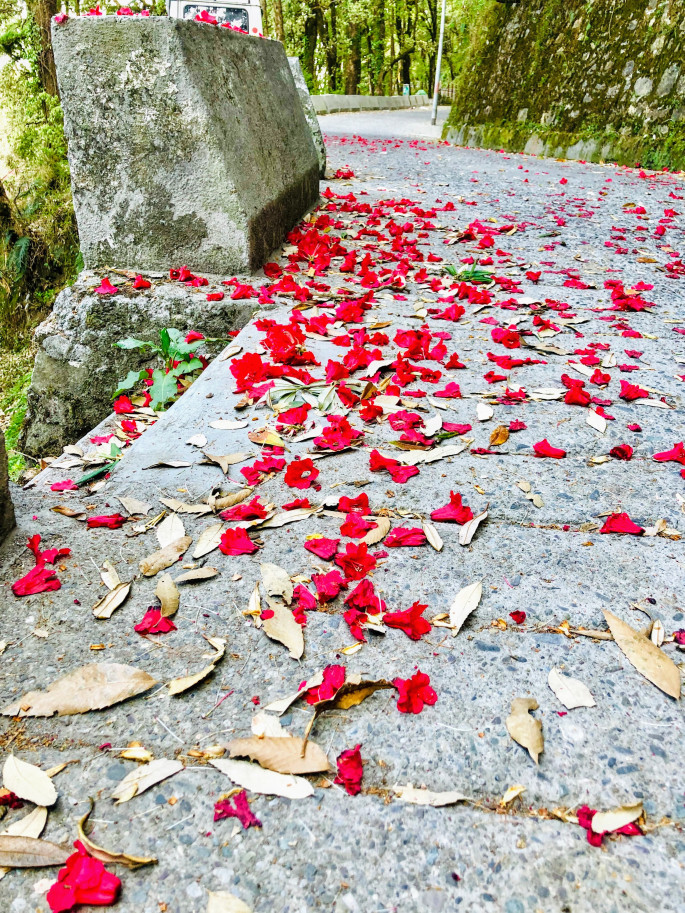 Rendezvous with a beautiful town
Landour - Named after Llanddowror, a village in Carmarthenshire in southwest Wales is a twin town to Mussoorie where you are entitled to lose the track of time. This place is certainly a the one we read about in those fictional books where there is a quaint town located uphill with amazing landscapes, beautiful valleys, alpine trees and heritage houses. The charming walks , majestic hillside , oldest of heritage schools , beautiful architecture of churches Landour hosts us with pleasure . There are some exclusive heritage hotels and amazing properties to enjoy the glory of this silent hamlet . This quiet nook in the Himalayas is home to leading writers such as Ruskin Bond, Bill Aitken, Allan Sealy, Hugh and Colleen Gantzer, and film personalities Tom Alter, Victor Banerjee and Vishal Bhardwaj.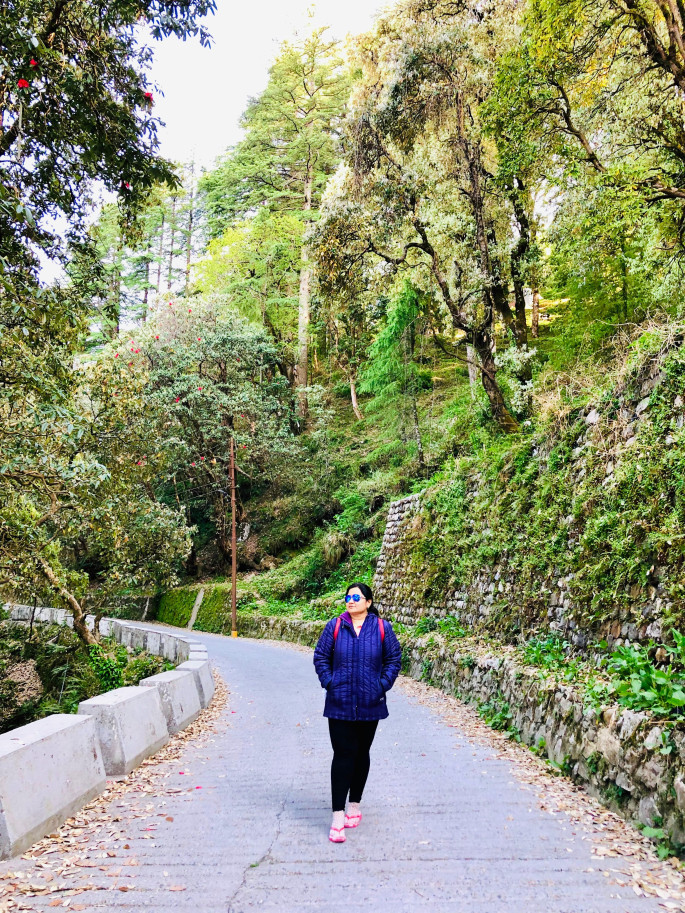 Landour has some oldest of houses with Irish touch and old heritage feels. The town hosts some amazing cafes - Landour Bakehouse being one of them . This bakehouse is a beautifully crafted place with perfect theme of serenity, quietness, harmony and scrumptious cakes, cookies pies and likewise. Sister's Bazaar in landour is again a quiet place where I found some old shops selling all the latest stuff. Prakash Stores is a shop which sells their speciality cheese, jams etc since decades now. Landour has 4 shops at the start and the area is now known as Char Dukaan because of it. Here we are entitled to have the best of omelettes , parathas etc. Even Sachin Tendulkar has tweeted about the food in Char Dukaan area.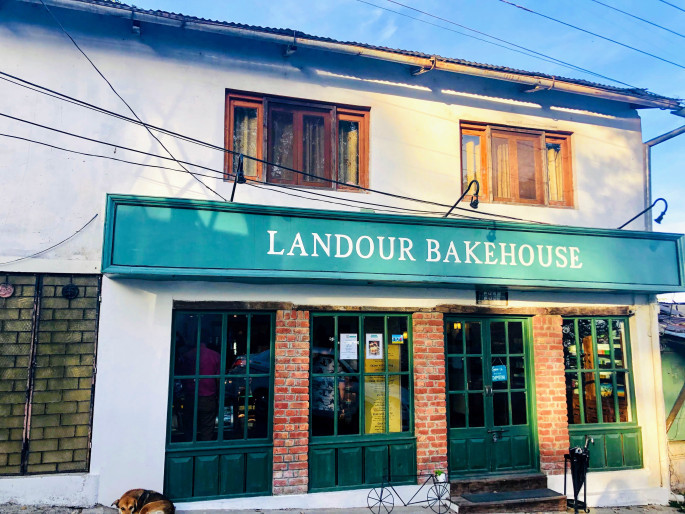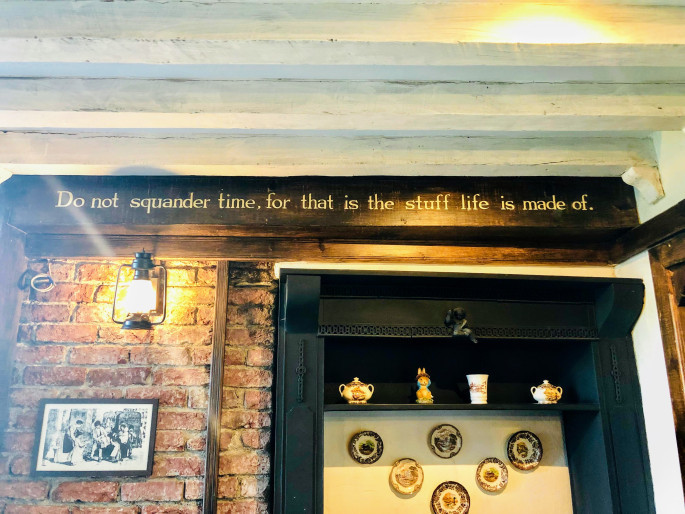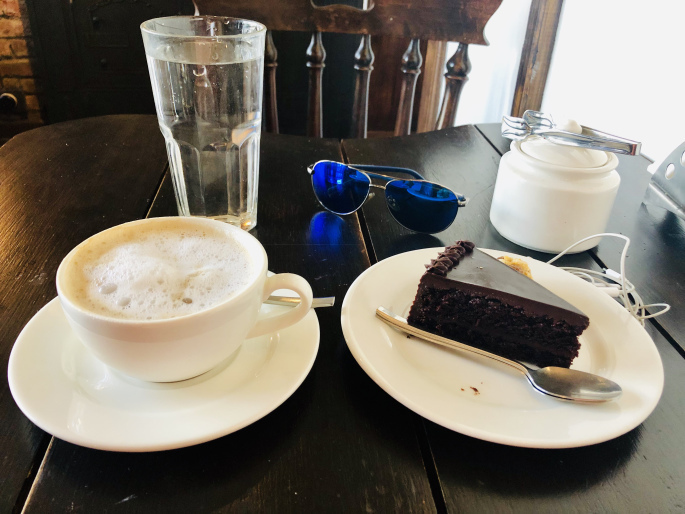 One of sweetest things I came across in Landour was a small polythene bag with plain papers inside it with a message saying -
"Poetry Pouch - This is a poetry collective performance. There are few poems to read and pen and paper; if you wish to write."
I was more than surprised with this amazingly thoughtful gesture. i read all the poems written in the pouch and penned down mine as well. And to my surprise before I was back from my stroll in the town, the papers were replaced and my poem was already with them. It is because of these kind gestures, these chain of good thoughts that the world becomes a better place to live in.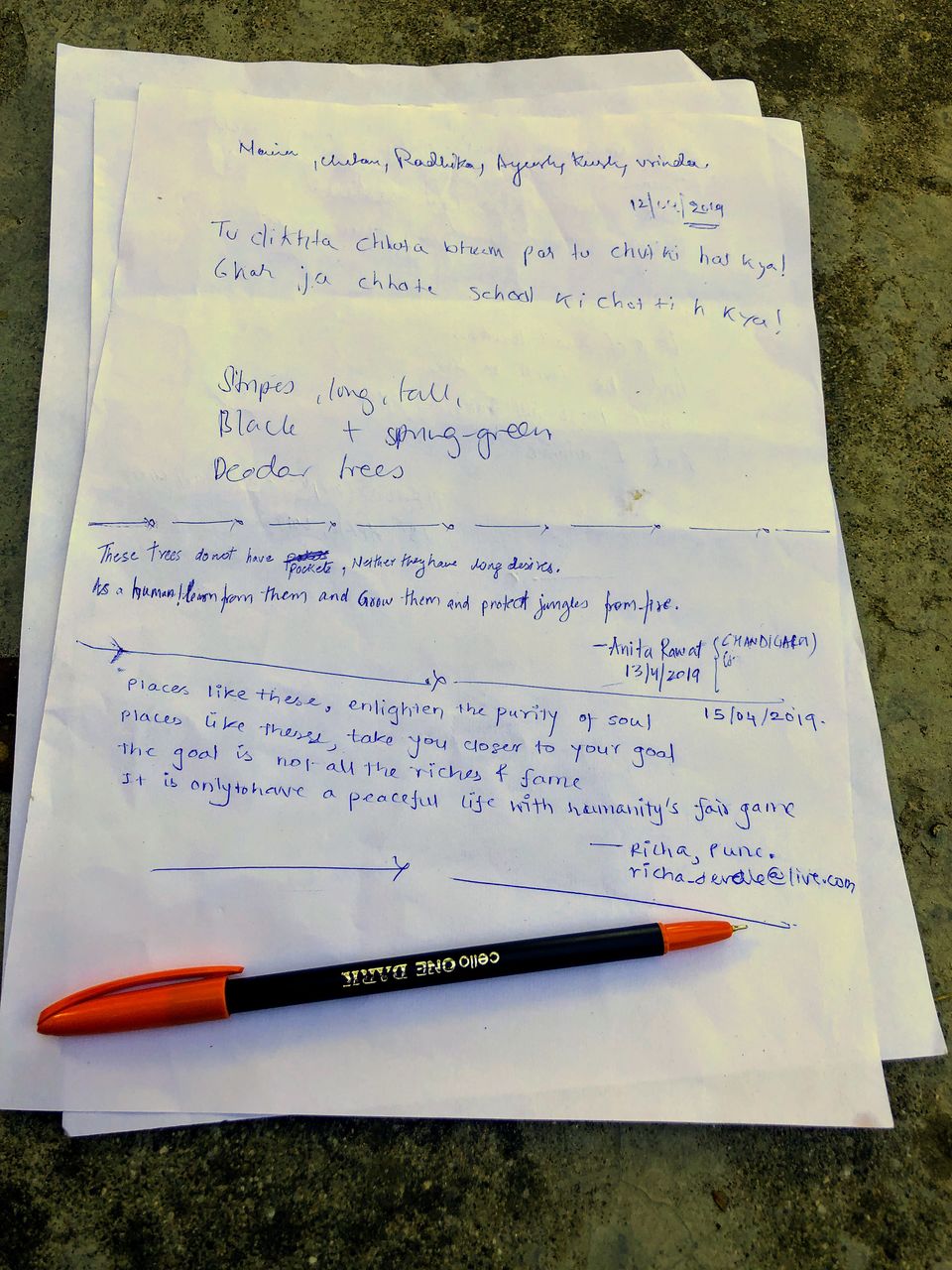 Landour has a point called as "Lal Tibba" wherein Tibba means mount in the Garhwali language. Lal Tibba has a couple of nice cafes serving fresh Rhododendron juice and scrumptious food. These cafes are excellent viewpoints for the snow clad mountain ranges and sunrise and sunsets. I had refreshing Rhododendron juice and got lost into the beautiful stage god has set for us. This place has the background of snow capped mountains and the 360 degree horizon turns red at the time of sunrise and sunset - Hence the name Lal Tibba. Lal Tibba is one such place in Mussoorie where we can see one of the best sunrises and sunsets from the same point.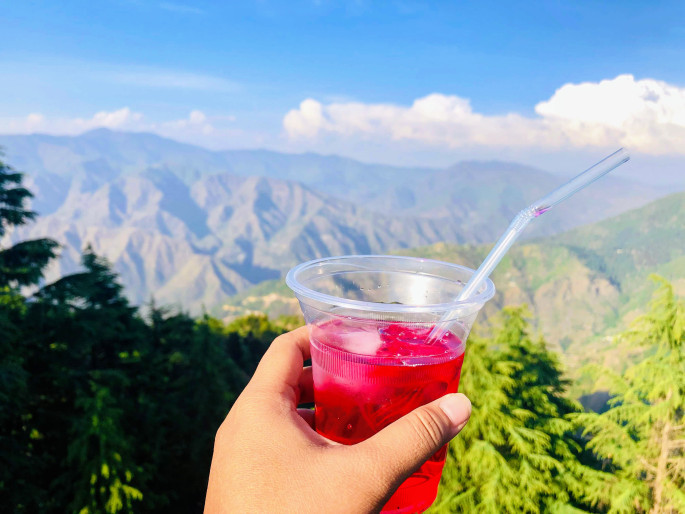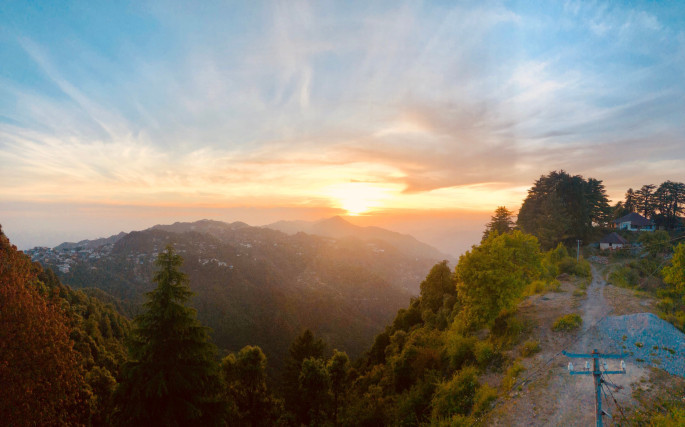 Winterline of Mussoorie !
Every year during the winter months of November to February something magical happens in Mussoorie - The western horizon turns a myriad combination of yellow, red, orange and mauve. This is known as the winterline. And surprisingly enough this phenonmenon is unique to Mussoorie and part of Switzerland only making Mussoorie one of the most unique places in the world. The sun drops behind a false horizon, a grey mauve strip with bright line of orange and yellow colors at its upper end. It is said that this winterline occurs due to the refraction of sunlight at a particular angle, visible only from mountain areas with long clear valley towards west. Since I visited Mussoorie in April , I was able to see slight occurence of winterline at the sunset in Landour.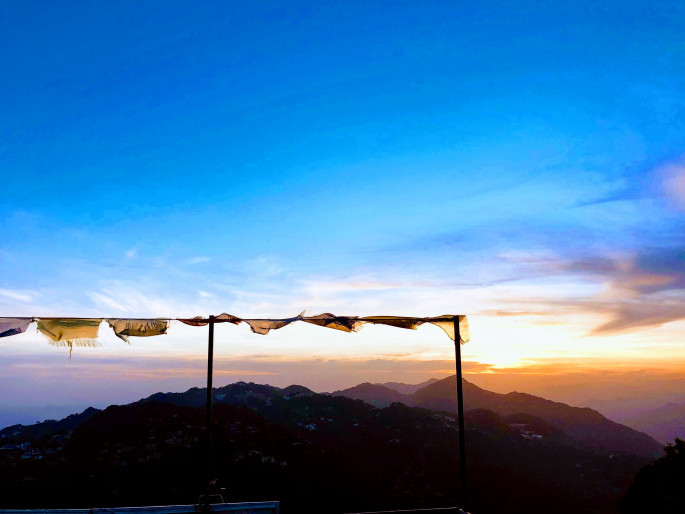 Mussoorie is a beautiful town from the British era with some amazing places to visit with breathtaking views and wonderful landscapes. One will always be surprised to so much this hustling town has to offer to us with the classic food joints, wonderful scenic points, range of shopping options and yet a serene atmosphere overall. And to add more to it, Landour is a cherry on the cake, crown on the head , apple of the eye of Mussoorie making it one of the best places to visit and experience beauty at its best.
"It is always the same with mountains. Once you've lived with them for any length of Time, you belong to them. There is no escape."
~Ruskin Bond