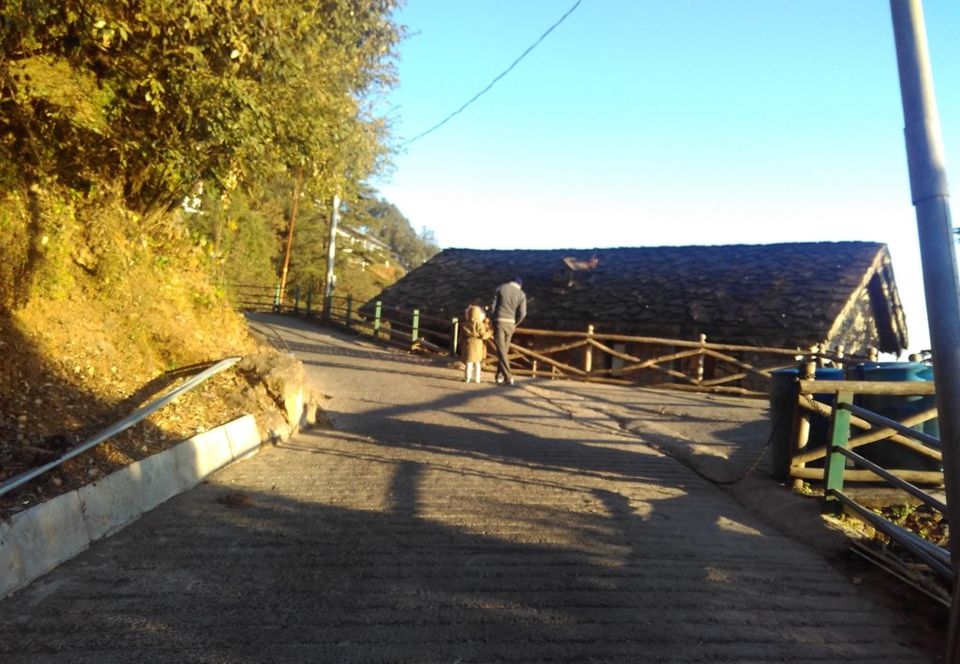 Lal tibba is the famous viewpoint in Mussorie. It is perhaps the only spot in Mussoorie where you can find a respite from mad rush during peak season. It still has the charm of old Mussoorie days. It lies in Landour area of Mussoorie. The serenity and calm of this region are difficult to express in words. You will find mention of this area in many articles by Ruskin bond and perhaps the charm of this area inspired him to stay here forever. Landour derives its name from a small village named Llanddowror in Wales. Landour has a rich history associated with the British Raj. A military hospital was established here in year 1827 for the treatment of British soldiers. British soldiers suffering from malaria and other tropical diseases were sent here for recovery. The cool and salubrious environment of Landour suited in the recovery process. Nurses serving at the military hospital were used to live at an area in Landour which is now known as Sister's Bazaar.
How to reach: You can easily reach Lal Tibba by reaching Picture Palace taxi stand at Mussoorie. From there you can hire a cab to Lal Tibba. While you can hire cab up to Lal tibba, I will suggest you stop at Char Dukan and then walk from there. If you don't mind walking on a steep hill surrounded by trees then you can reach up to Landour Bazaar and from there it is a road going uphill to Char Dukan. It is a stretch of about 1.5 km and it is better to walk than to sit in the car and smell the odour of a clutch plate struggling to negotiate with the slope.
Walk in Landour: You can start your walk from Char Dukan. It is an almost flat trail heading towards Lal tibba.In contrast with Mall road at Mussoorie, you will find this road mostly deserted with towering Devdar tress giving you the company. You can enjoy the view of rolling hills and majestic mountains towards your left. At Lal tibba you will find two cafes. These cafes have binoculars installed and offer you, a guided view of Himalayan peaks. From here you can see Kedarnath, Gangotri, Yamunotri, Trishul and other peaks of Himalaya.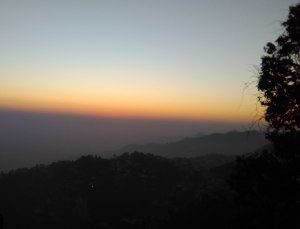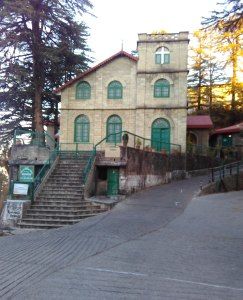 The best part of walk starts from Lal tibba towards sisters Bazaar. As very few tourists take this trail you will find the whole trail welcoming you by the cool whispering of Devdar trees and occasional chirping of birds. The trail passes through Christian cemetery. This part of Landour is most serene. On your right, you will find small tombs decorated with flowers and wild blue flowers growing at corners and towards your left, you will see glimpses of snowcapped Himalayan peaks through openings amid thick Devdar trees.
After a walk of 1kilometers, you will reach Kellog's memorial church. At this point, two trails lead you towards Sister's bazaar and another heads back to Char dukan. Take your left and you will reach the famous Landour bakehouse. Here you can enjoy a nice cup of coffee with their delicious homemade cakes and bread. Sitting in this English style café you can relax and give yourself a well deserving rest. From here you can turn back and take the second road going back to Chardukan. While returning back you can buy some homemade jam at Prakash stores adjacent to Landour bakehouse. If you are walking in evening time during November- February you will find an orange hue hanging over the western valley. This is the famous Mussoorie winterline.
Well, this is all about one of the easiest and tranquil walks in Mussoorie. So when coming to Landour leave your vehicle at Chardukan or even at Landour Bazaar and walk all the way to Sister's bazaar. Remember these trails are meant for walking and enjoying the scent of lustrous hills amid chirping of birds and whispering of trees.