Nestled in a quiet hamlet of Nainital, at a height of 5,000 feet, Fagunia, a permaculture driven farmstay and retreat invites all to explore the sustainable side of life, the dire need of the hour. You could wonder, what is Permaculture? A design system resting on agriculture, water harvesting and hydrology, energy consumption, natural building, forestry, waste management, aquaculture, appropriate home designs & technology and community development.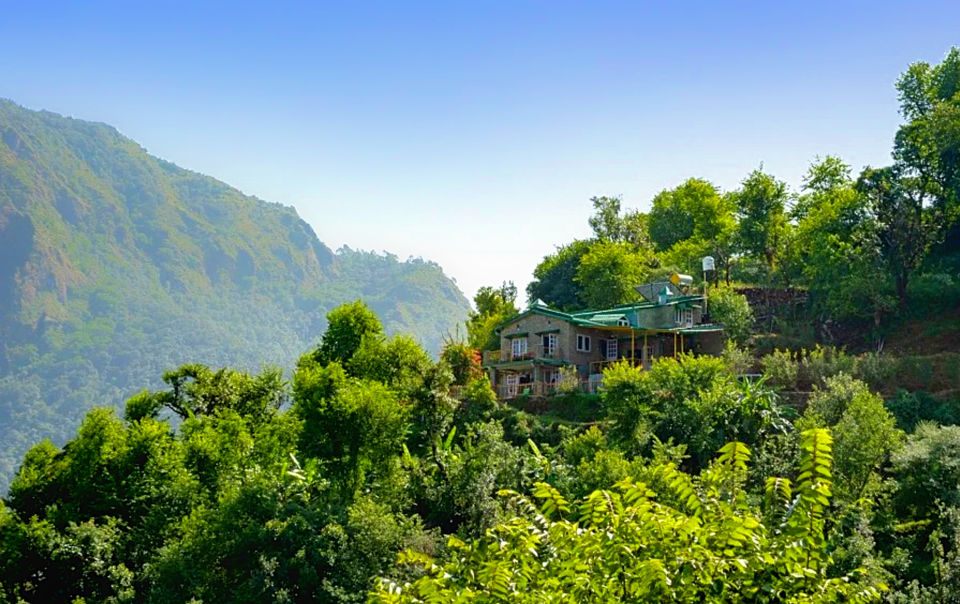 While on a chat with the owners, Anil Cherukupalli and his wife, Aditi Pokhriyal confirms "we have just started on the design phase for it to turn into one so still a long way to go before we can call ourselves a permaculture farm."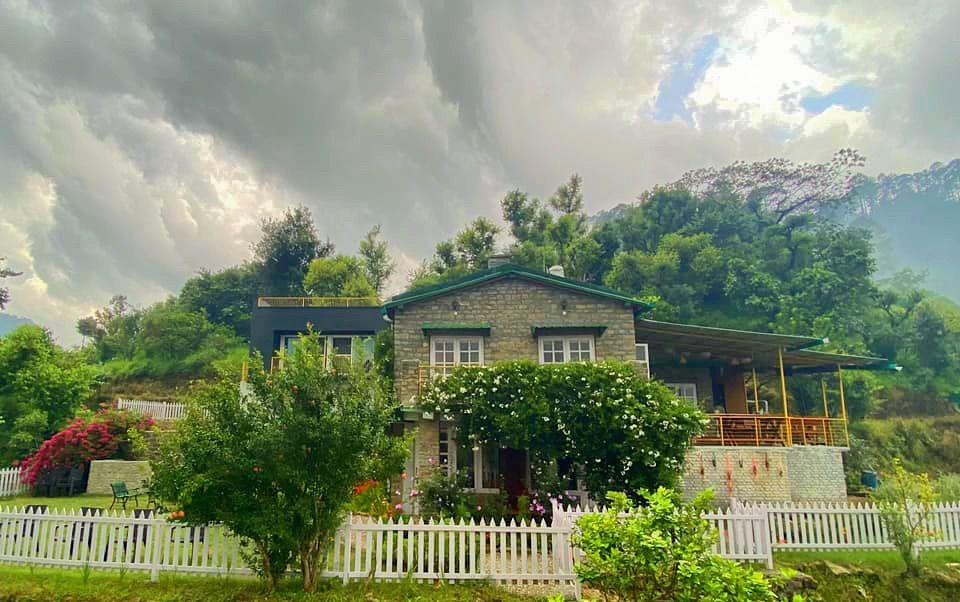 Eco-minded indoor living that connects with outdoors
The big part of their vision was to make a retreat within close quarters to nature and to let people fall in love with what nature offers. The couple rebuilt and redesigned the stone-clad mountain abode, once build by a local farmer into a modern day villa that also celebrates Kumaoni architecture. They prioritized the use of local and recycled materials wherever possible. Over 70 percent of the stone and wood went recycled and upcycled from the pre-existing house.
What to expect when inside
The villa stands in three levels and includes two sprawling suites, each with ensuite bathrooms, cosy attic rooms and a sit out overlooking the lush valley outside. The ground floor comes with two independent rooms with ensuite bath along with a common kitchen and an alfresco dining area offers full view of the Himalayas.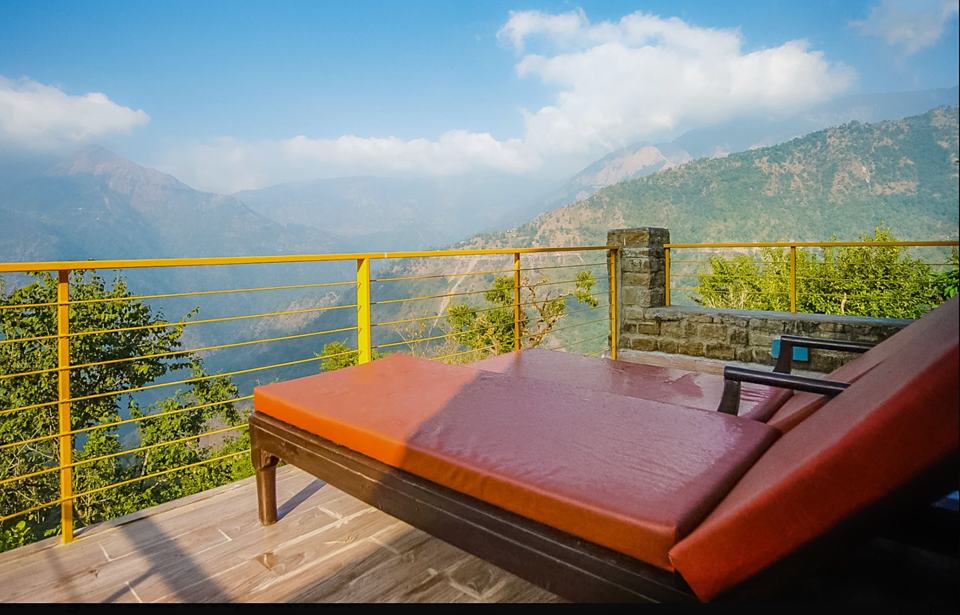 Lovers of architecture would admire the muted tones of white-washed stone walls and wooden beamed ceilings. Each suites and rooms named after resident birds of Kumaon come dressed with handpicked antique furnishings. Each corner thoughtfully done to give travellers a home feel. Some furniture cozying up the corners like wall mounted bookshelves, tables and chairs are repurposed.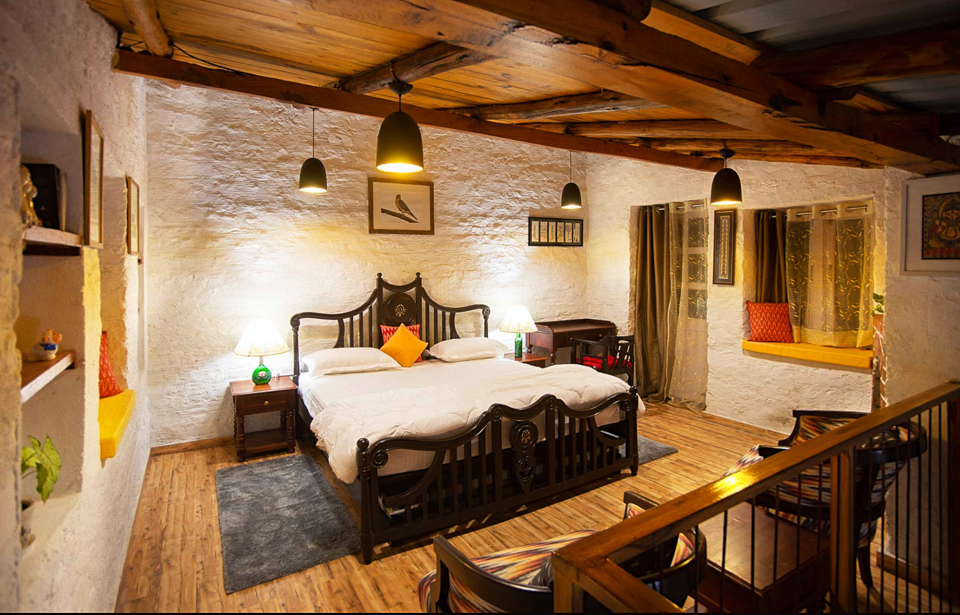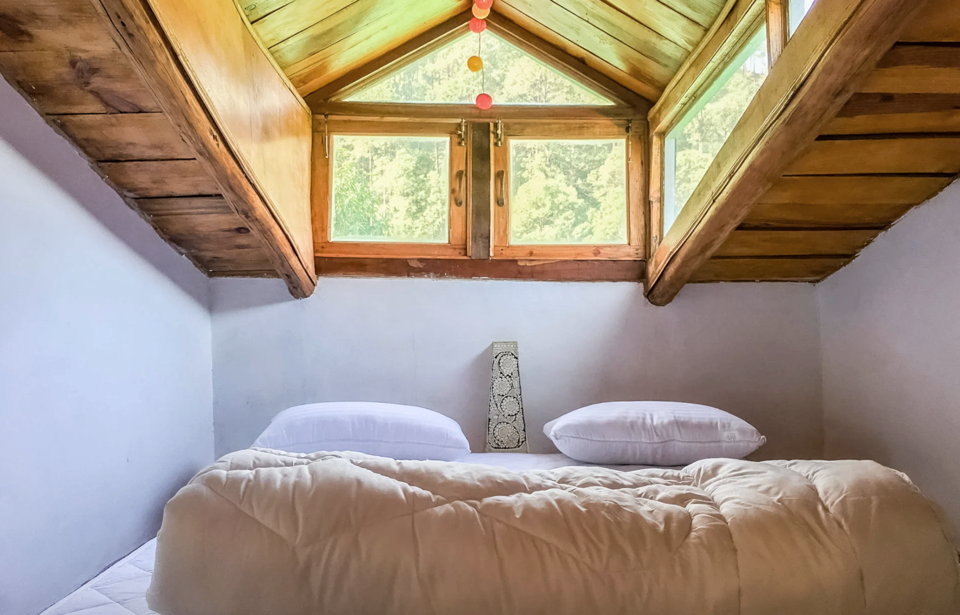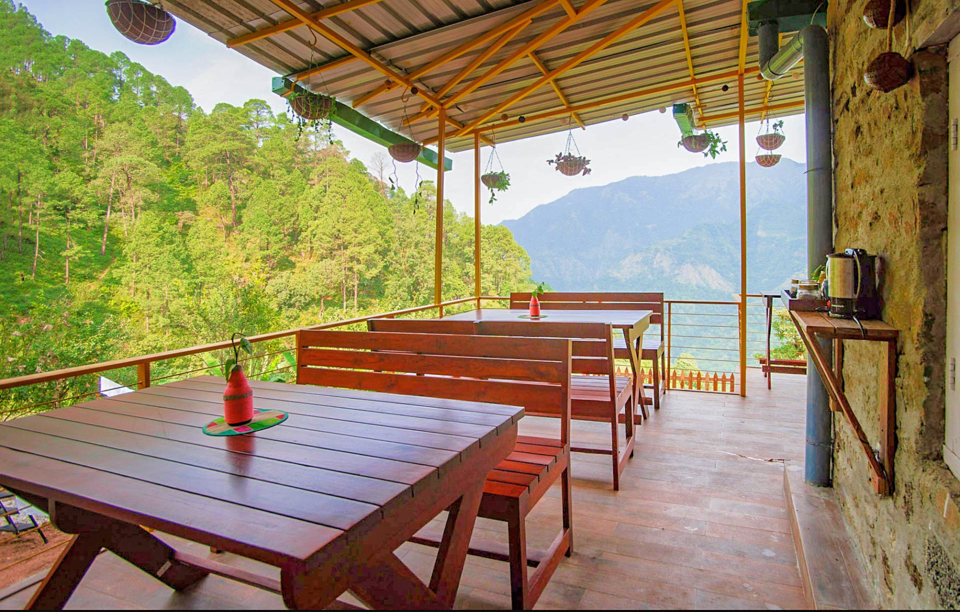 Sustainability at its core
They wove sustainability throughout the homestay—the natural elements, texture and favouring simple local materials don throughout the home design. The couple kept the natural onsite grass and decided not to disturb any trees. The compact design rooms keep the space warm and helps minimize energy use. Solar water heating and LED lighting reduce electricity consumption while rainwater harvesting help in water conservation. The on-site soak pit filters grey water and create layers of gravel and sand which eventually percolates the ground and fills up the water tables. Further the sewage management set up comprising a sustainably recycling system onsite converts sewage into natural fertilizer for farm use. This is a way forward to a permaculture homestead that align in land management.
There's more to it
However, the goal of Fagunia isn't only to practice sustainability. The couple also aim to explore community development. And they work towards drawing in locals into the daily running of the farm and the retreat.
The farm gifts delicious food
The farm grows locals fruits and vegetables that goes in the menu plan of the homestay. The verdant farm estate has pomegranate, kafal, malta, lime, bhimal, peach, apricot and other trees in abundance. The couple's endeavour to harvest pesticide-free produce is paying off. The homestay offers Pahari and Telegu meals which speak of simplicity, nutrition and wholesomeness. Non-vegetarians, don't get disheartened, there are egg, chicken and mutton meals on offer for additional cost and cooked fresh, family style. Sourcing food ingredients within 5 kms radius, supports the sustainable plan.
When was the last time you sat for an outdoor dinner of home grown, freshly harvested veggies! This is the new definition of luxury for city folks post pandemic!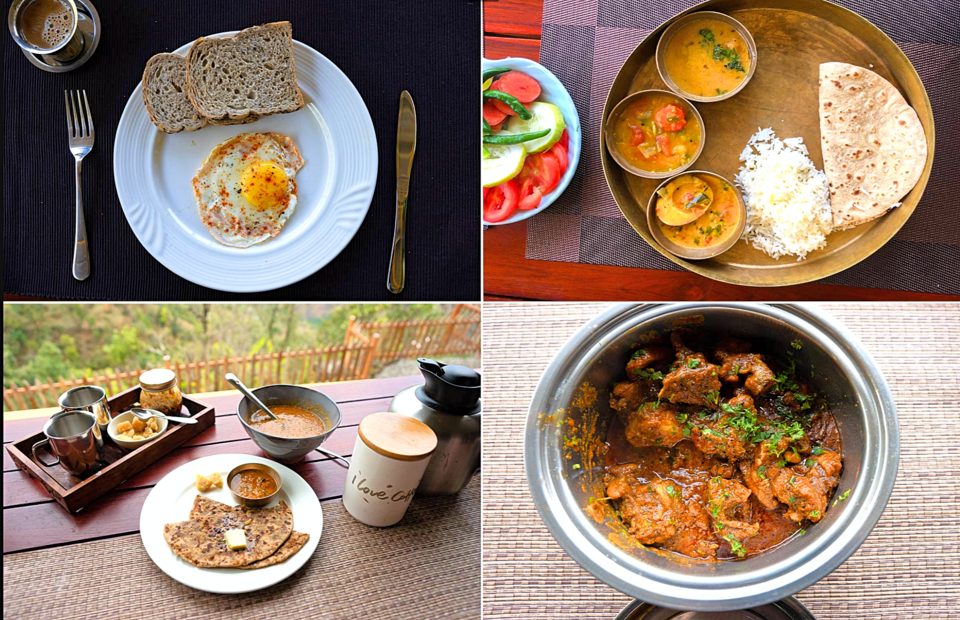 Another plus of the retreat
The creative workshops and cooking classes allows travellers to learn a new skill. Anyone interested to collaborate with Fagunia to share skill-sets that can benefits travellers and the community is most welcome.
Where nature is all around...
Local resident birds like barbet, red billed blue magpies, yellow nape woodpecker and black-throated sunbird are rare for us city dwellers and often find refuge in the homestay's garden and in the surrounding greenery. Think of forest walks, waterfall, birding spots and trekking trails — you'd find them at stone's throw distance and every day. The breathtaking mountains and chitter of birds is an antidote to stress. And spending time in the mountains once again helps us ease that stress.
Fagunia is a story of an Indian city couple, who looked for a home and envisioned an eco-minded abode that which is permaculture orientated reflecting an iconic sensibility about them and their designs. A story so inspiring that might push some of us to transform our passions into a workable reality.
Want to hear the unique story from the couple itself, hurry and book the homestay for your next holiday!

For more such out-of-the-box holiday retreats and travel stories follow me on Instagram and Tripoto.