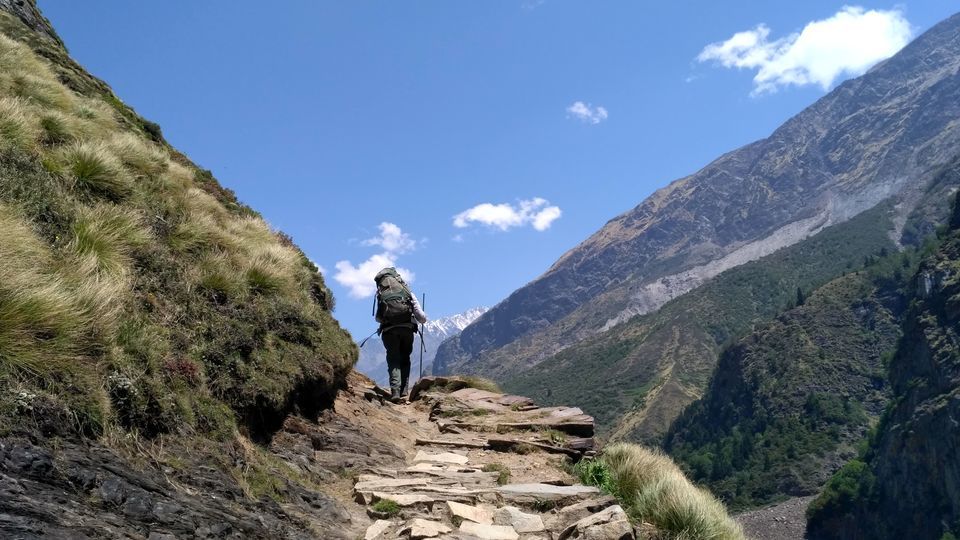 It was almost after walking for 28 km, at nine thousand something ft, in the middle of the route, when the sun started hitting direct and hard. The wind was blowing fast enough to push me to the edge of the 2 ft wider path that falls down into the river, roaring and flowing opposite to my direction. In spite of the fact that there was no human or even animal visible on the trail for miles, I was not really thinking of what can be the prospects of walking alone but the question that hit me through between all that is why am I travelling? Where is it that I want to reach? Do I really have to come this far? What exactly am I looking for? Will I be able to get out of my system and be free for a while? The thing I realized at that point of time is, I didn't know anything apart from the fact that I was really really really feeling this need to walk and walk and walk and just keep on walking no matter if I ever reach somewhere or not.
Since I belong to Uttarakhand I would rather skip the Delhi to Munsiyari hurdle. I reached Munsiyari post lunch and the weather was pretty cloudy and windy. In order to trek in the upper Himalayas around that range, you need to have a permit. So, as soon as I got off the taxi, I went straight to the SDM court and began the required procedure. You don't really need to do anything but tell them about your intent to go on the trek to Milam glacier and Nanda Devi base camp ( It's just one mountain in between Milam and Nanda Devi ) and the concerned person will write the application and add the required papers. You just need to give him three photocopies of your identity card and three photographs and rest will be done. The application was sent in the court and I went out to eat something which could be nothing but Shikhar-Bhaat ( Mutton is called shikar in Pahad ). As high as you go in the hills you really need to try that taste. It was almost 1500 hours when I got the permit signed by the court.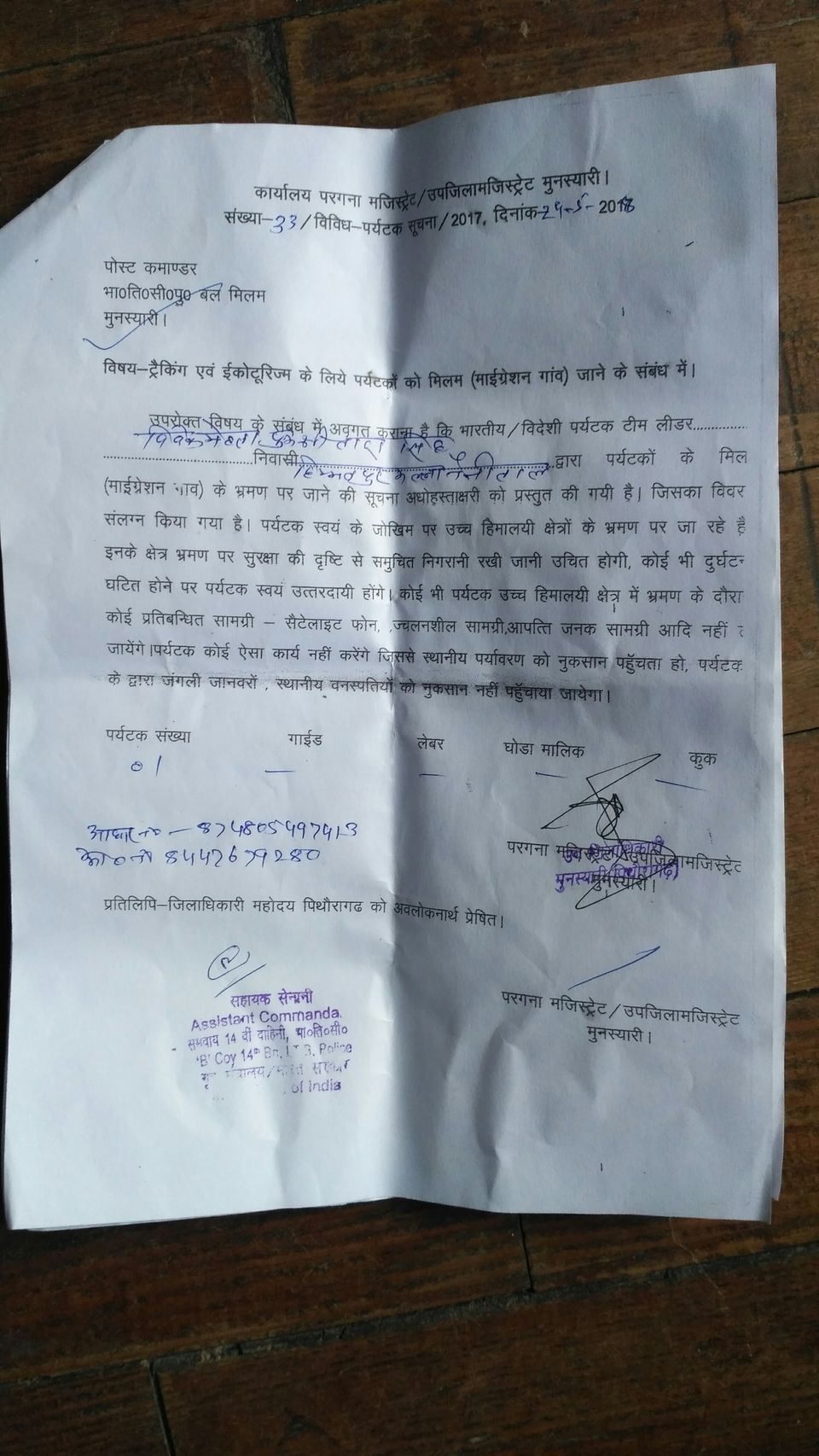 Now there will be three copies of the documents, one will be kept at the SDM office, the second, you will have to submit at the ITBP base, Munsiyari, to inform them about your plan and the third will be with you, signed by SDM and the Officer in charge at ITBP. That will be your permit to go ahead, which you later have to show on the route on three different check posts of ITBP and mark your entry and exit. So if there is any rescue situation, they would know where to look for you. While I was doing all that, there was a group of few boys heading out to the trek already and I also had the same plan to cover some 5km by the time it gets dark, which I had heard to be done by a friend who went on with his group a week ago. But because till the time I got the signed permit, it was already 1630 hours and it was raining. I had no idea of the route and since I was going alone, I decided to stay at Munsiyari for the night. I head back to the KMVN TRH, as I knew someone there as I was already there an year ago.
The Guest House was full. All rooms were occupied but he arranged a bed for me in the dormitory. As I entered the room I could not be much happier as it reminded me of two things, the first was that I am a boarding school kid and secure the best memories of my life from those years, memories I can live my life with and second, the guest house was built in British era which reminded me of my childhood again. I was born and spent my childhood in hills, in a Government institution and campus, established long back during the colonization. I have always been fond of the kind of architecture they had, the windows, beds, mirror, walls, roof, flooring, everything. There were 8 beds and with the very first look I knew which one I had to choose and it was next to the window.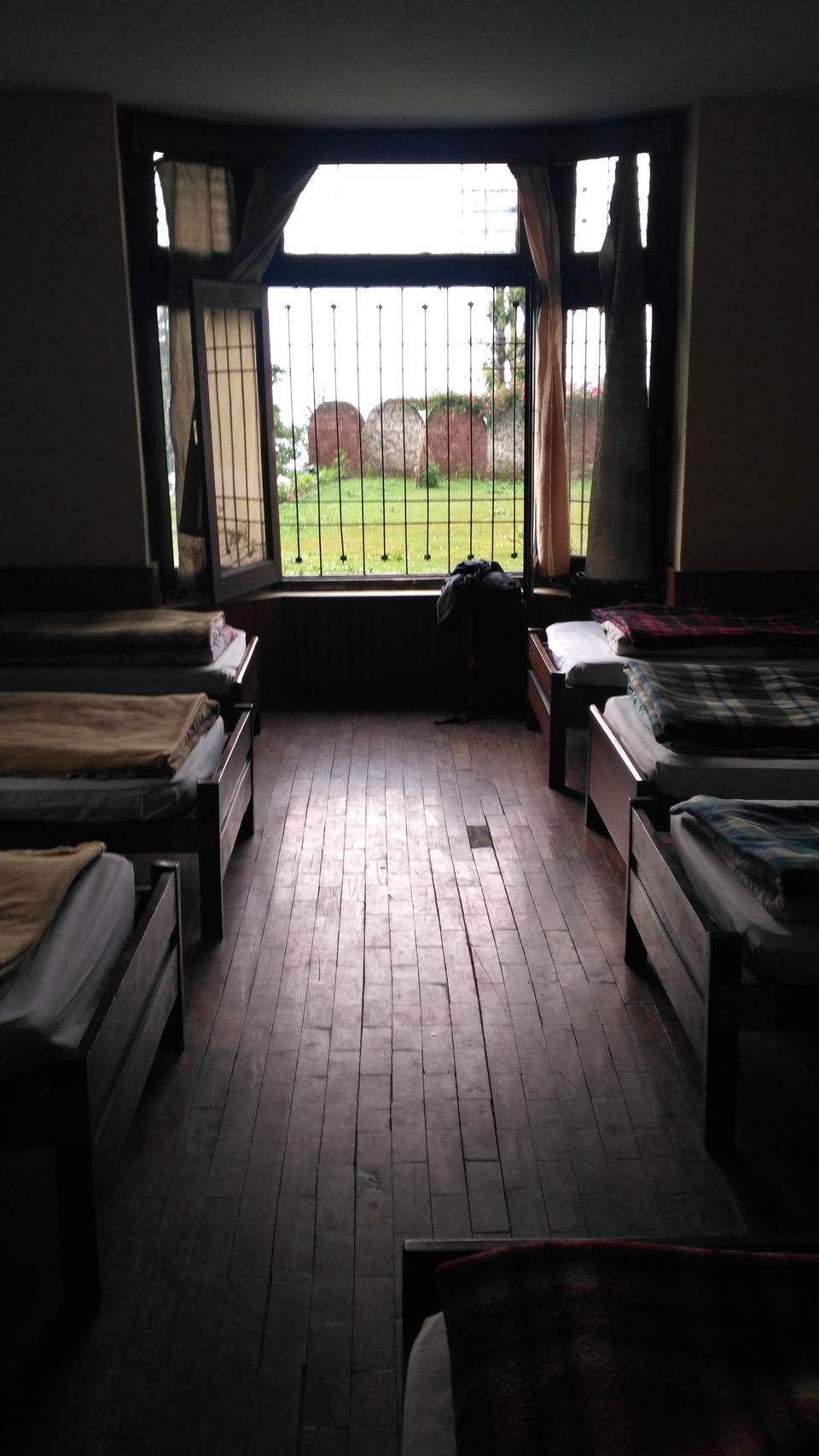 It was raining outside and I went out in the reception, had tea, talked to people and gained the knowledge about the route and did my homework because I had no idea about it other than what I had heard from people and searched on the internet as much as I could. There were few maps on the wall which I looked into and memorised.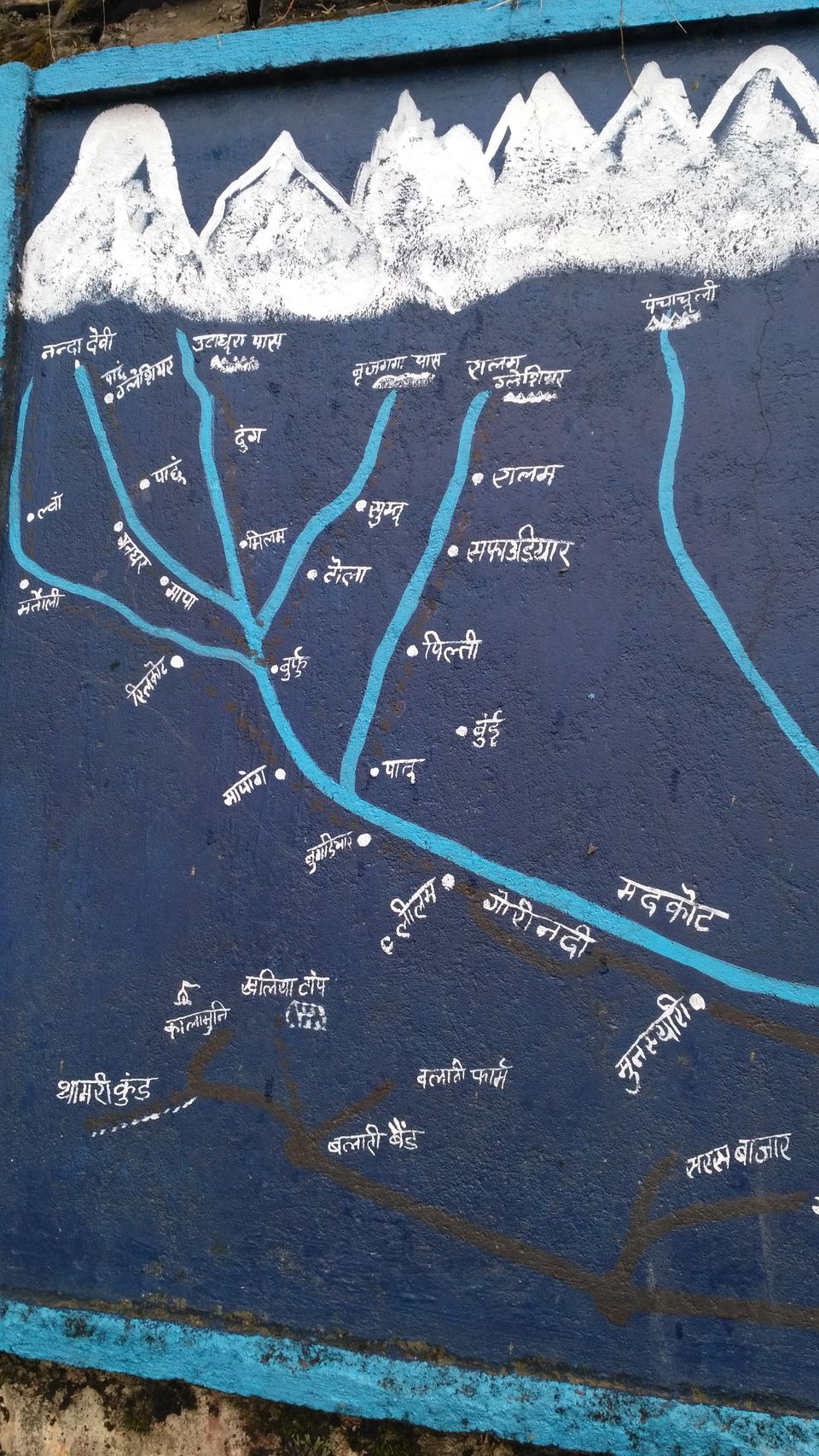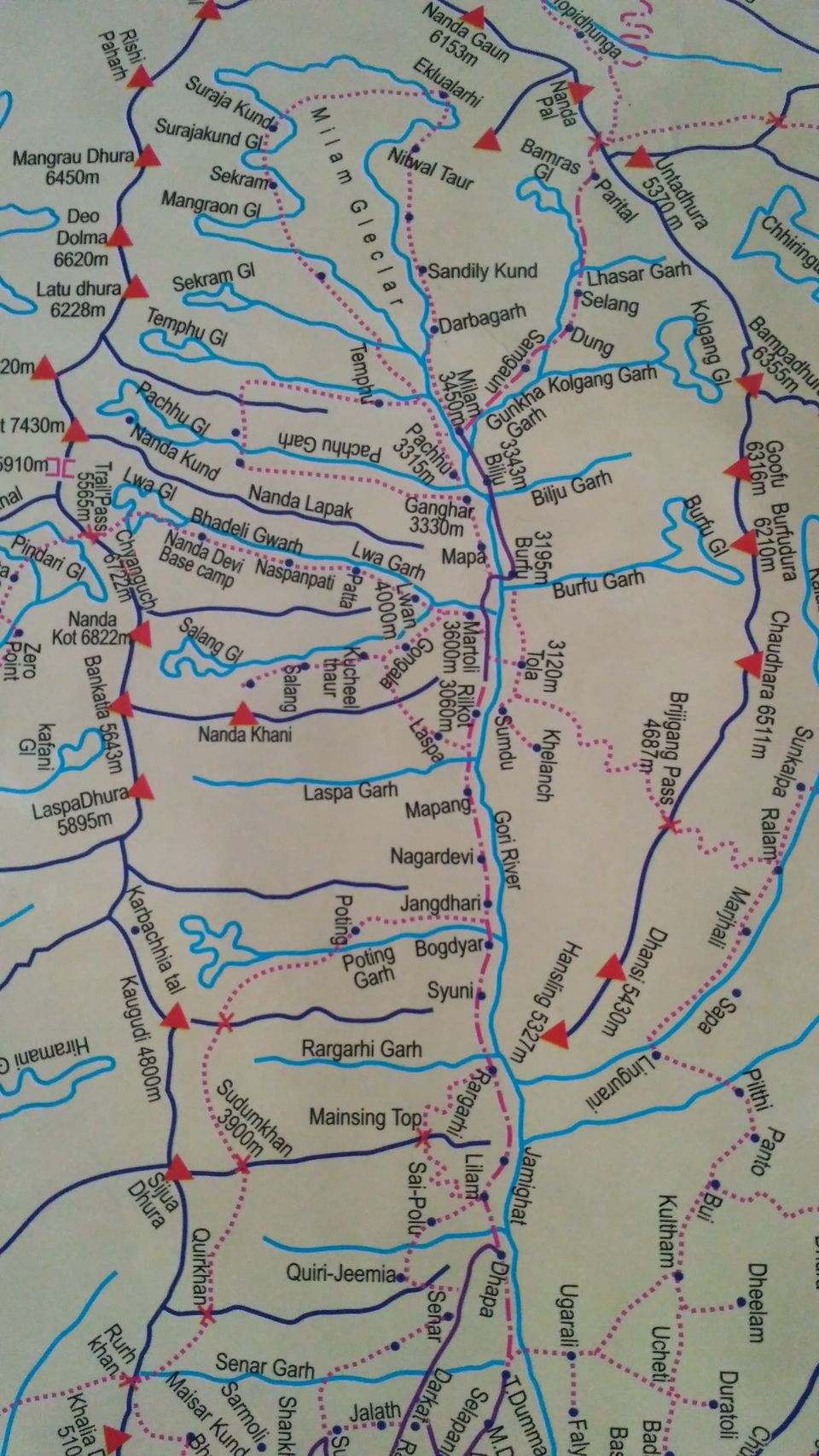 So the trek actually starts from Chillamdhar, 11km away from the Munsiyari main town. There are few vehicles that go there. I talked to a taxi guy, got his number and confirmed the timing to be 0600 hours in the morning, at the taxi stand. That evening I wanted to read something but unfortunately I didn't have any book. But when you are on your own god takes care of everything for you and this time he sent a writer, a fellow traveller in the same dorm and then the night turned into a poetic session.
I woke up at dawn, got ready and called the taxi guy. He mentioned that he will be at the stand in a few mins. The special thing about sunrise in Munsiyari is that Munsiyari faces the Panchachuli right in front and the sun rises from west of the peaks, so you can see the rays lighting the white mountain, it's mesmerizing. After reaching the stand I found that the driver would not go to that direction until he finds few more passengers. During summer, not many villagers live in the area as they were gone up to the upper Himalayas in the Johar Valley. They live up there for cordyceps and other herbs they extract from the top Himalayan mountain. Now let me make it clear here that Milam glacier is the origin of Gori Ganga, which is in Milam village. The trek is alongside Gori Ganga to its source. The valley in which the river flows is called Johar valley. After some time few passengers arrived. Since I had missed covering the first 5 km yesterday, which was till Lilam village, I had to cover that with the distance of 18 km set for the second day, that is to Bugdiyar which was today.
The thing was that I didn't know the route and I had no physical map of it but I did my research and knew the places where I had to stop as per the content provided on the internet and told by my friend. I was very much dependent on the sun and I really wanted to make it to Bugdiyar before the sky gets dark, also I did not know if I will be able to walk that long. So, I asked him to make the drop and he asked me if I can pay him extra for the vacant seats. The bid started with 700/- and we settled on 250/. It was already 0700 hours in the morning, I reached Chilamdhar a quarter past eight and the journey actually started. It was all me with 15kgs of backpack on my shoulder. The trail started with a slope to cross the river and reach the other hill. As I started to move downwards, I felt my right leg was shivering, still no idea why that was happening. I asked the leg but got no answer. Maybe he was trying to adapt to the earth.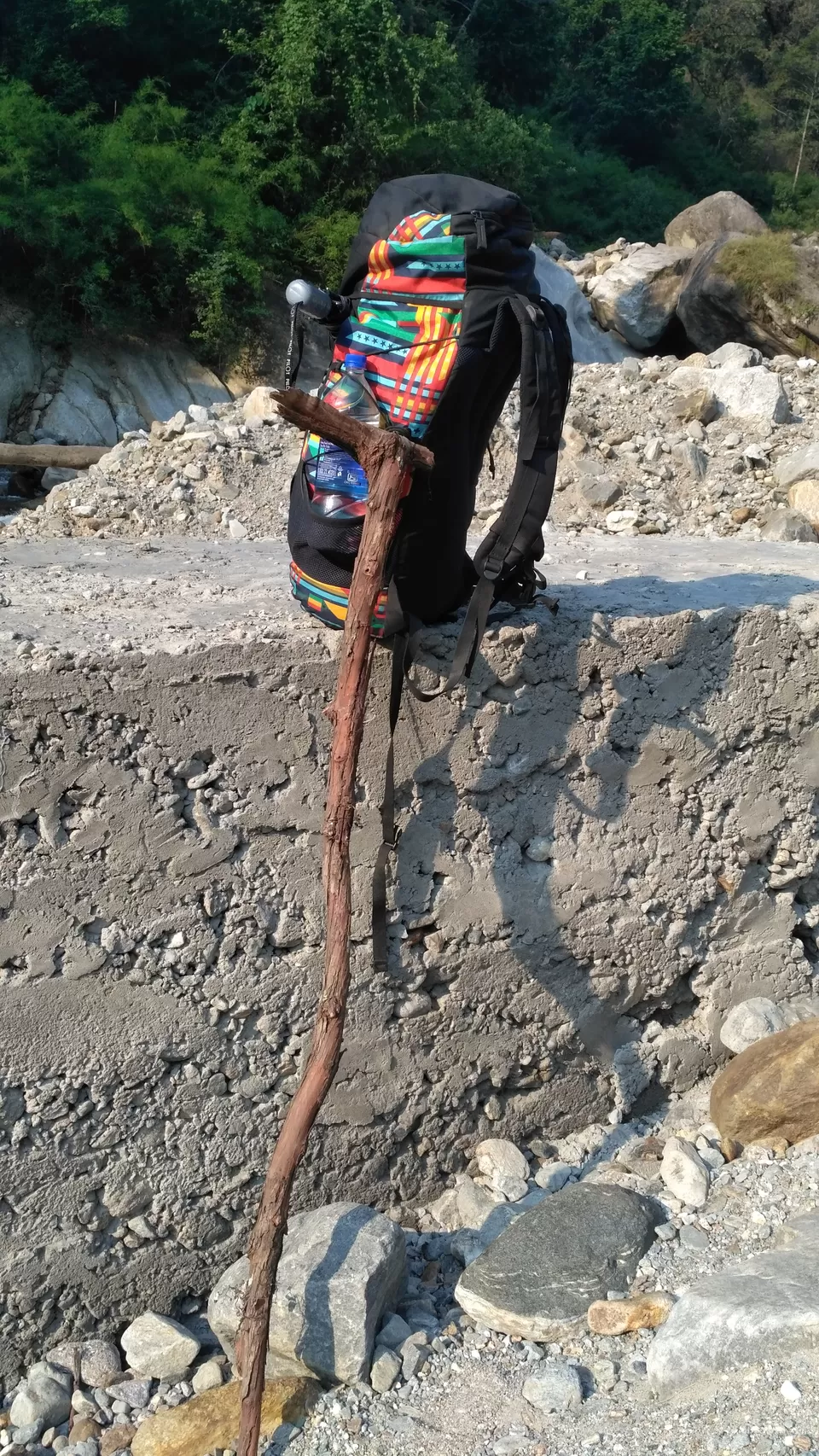 Now every time you go for trekking or hiking you must have a stick, it helps a lot. It's like the best companion, I mean there are a lot available in the market and you can get them easily but since childhood I use to find one in the woods and I still believe that you have to find it on the route, the right stick for that particular walk. I found this big branch of Buras, below the tree, just in the beginning and I knew that was it. I picked it up, it was tall till my shoulder and looked heavy but it was not, it was perfect.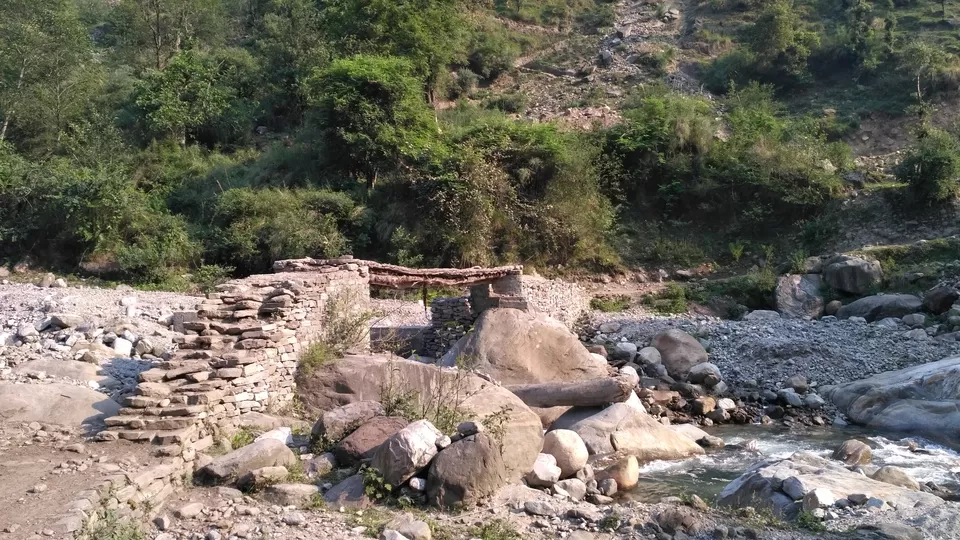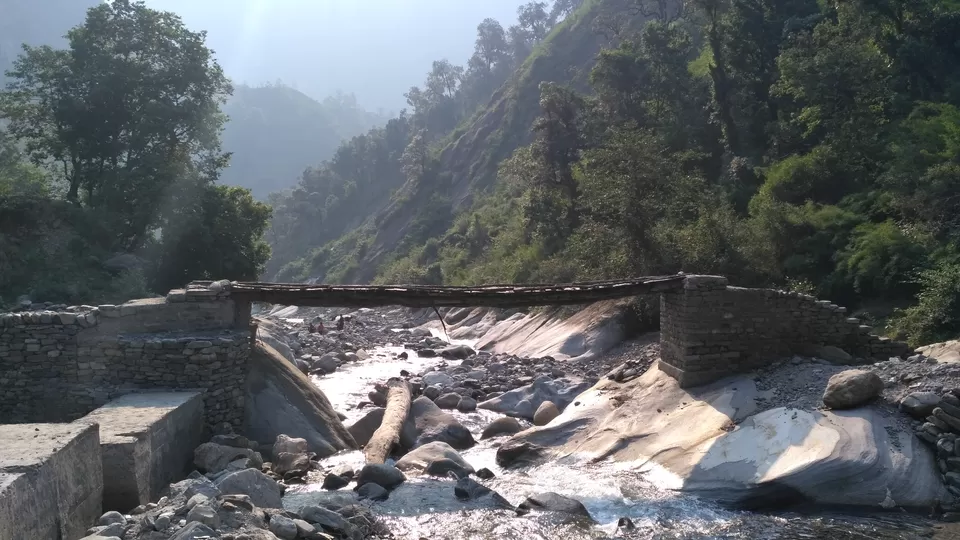 Now after reaching down, I had to climb the same 60 meters straight up. It was quite a test. I was pretty much warmed up by that time. I saw two porters carrying the luggage of ITBP crew. When I asked, I got to know it was 80 kgs each they were walking with. I was stunned to see it.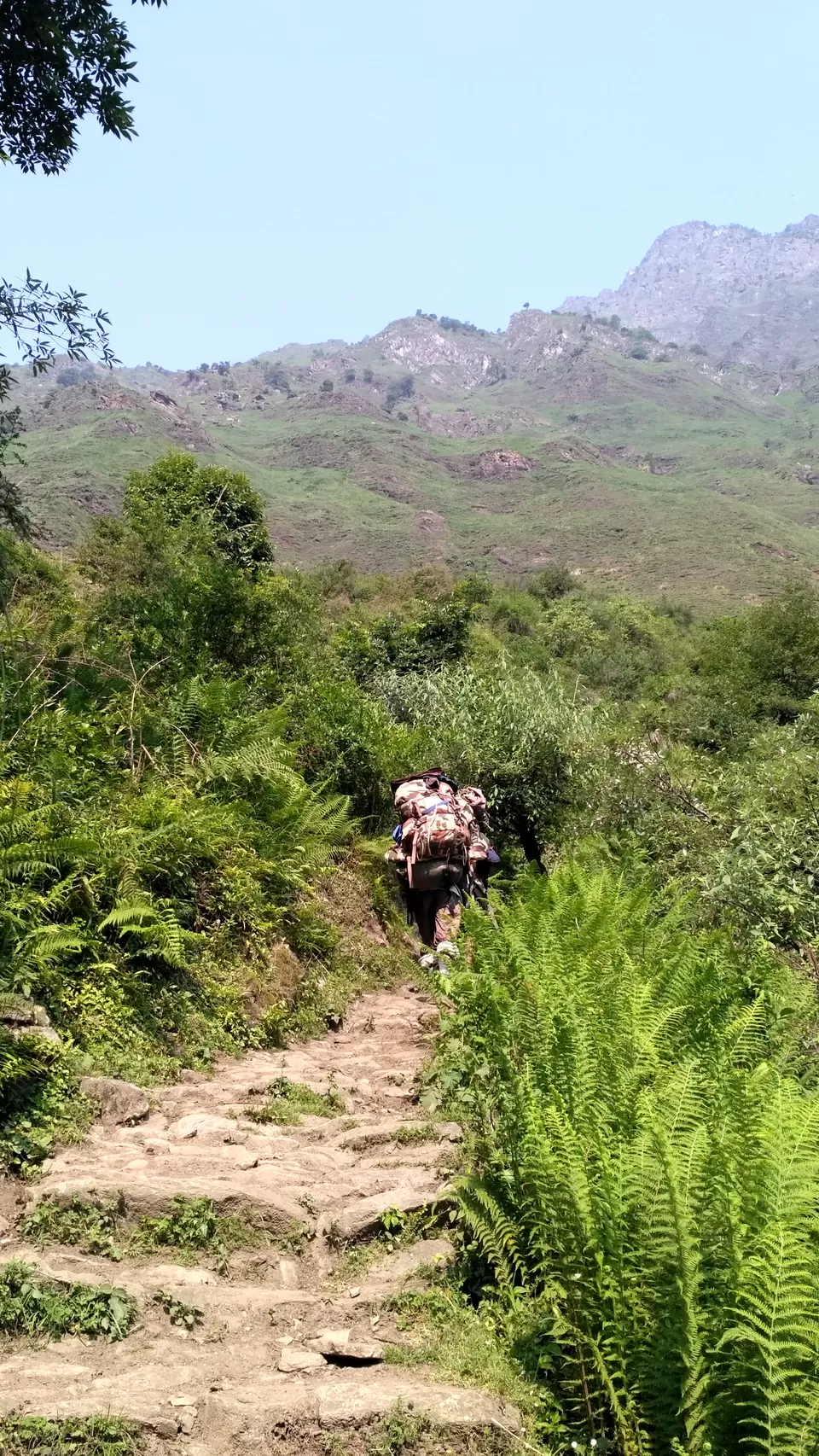 It was wide, proper mud road til Lilam and I continued walking. I reached Lilam and at the end of the village, which was at the top certainly, found a hotel, now when I say hotel anytime, it is not some fancy hotel if you imagine but it was an old Pahadi house with few rooms in it for accommodation, had a big yard and a wood shop serving maggie and Dal-Bhaat. I ate Maggie for breakfast, my first meal for that day, which was for INR 30/-.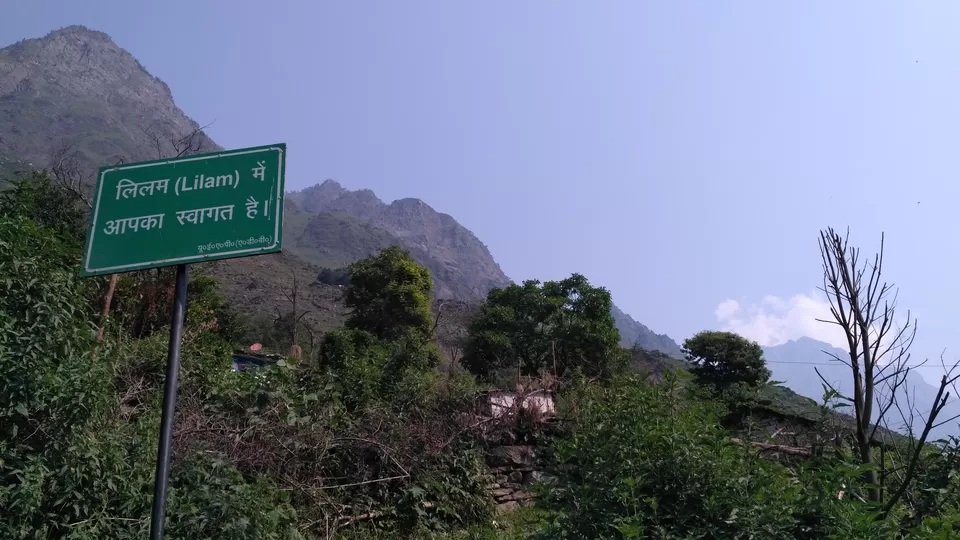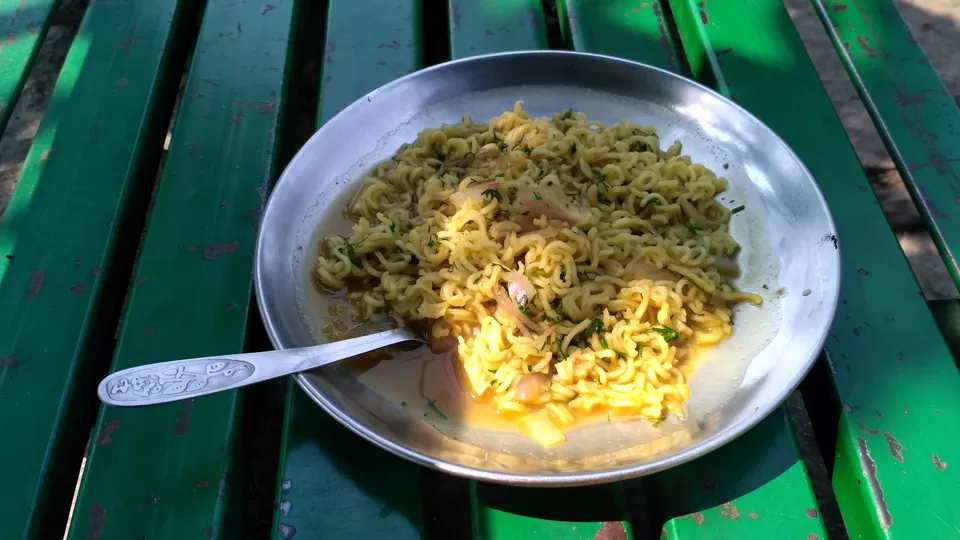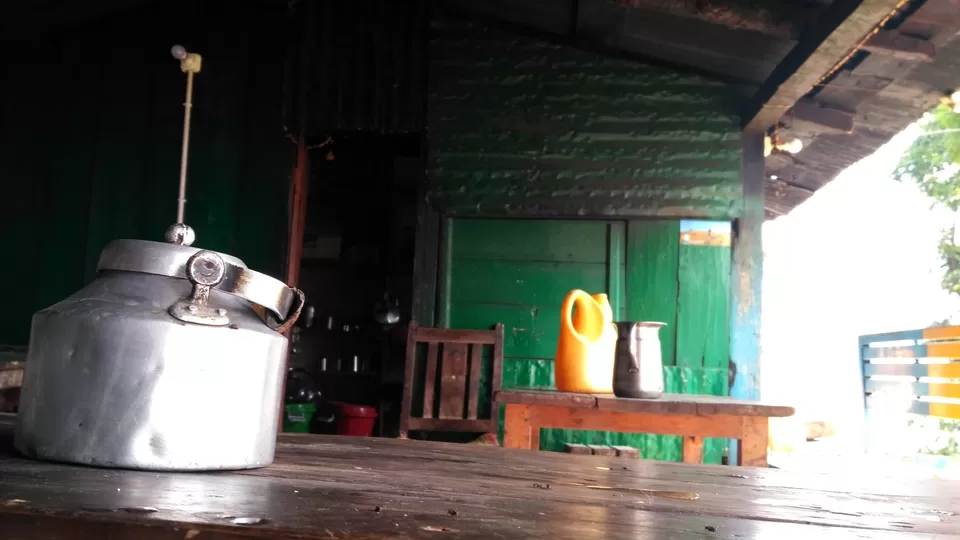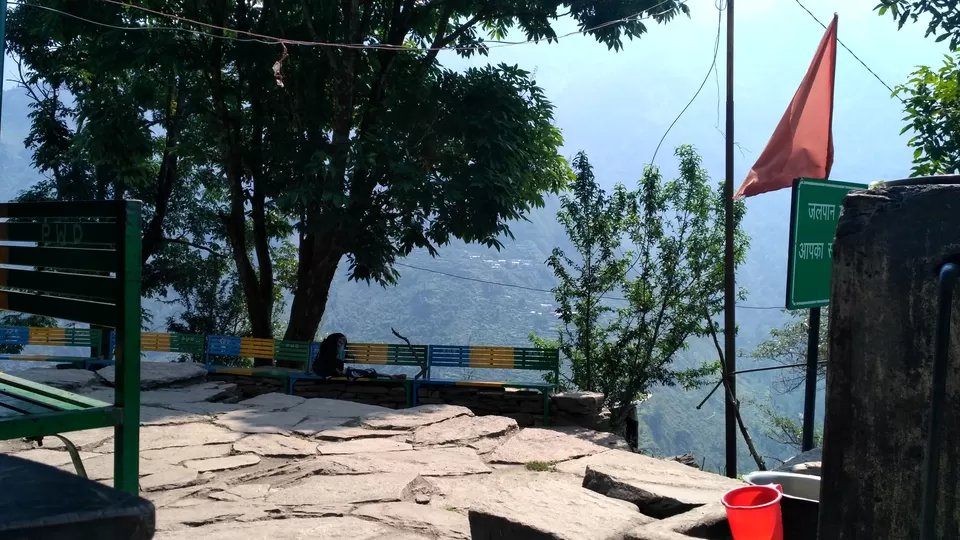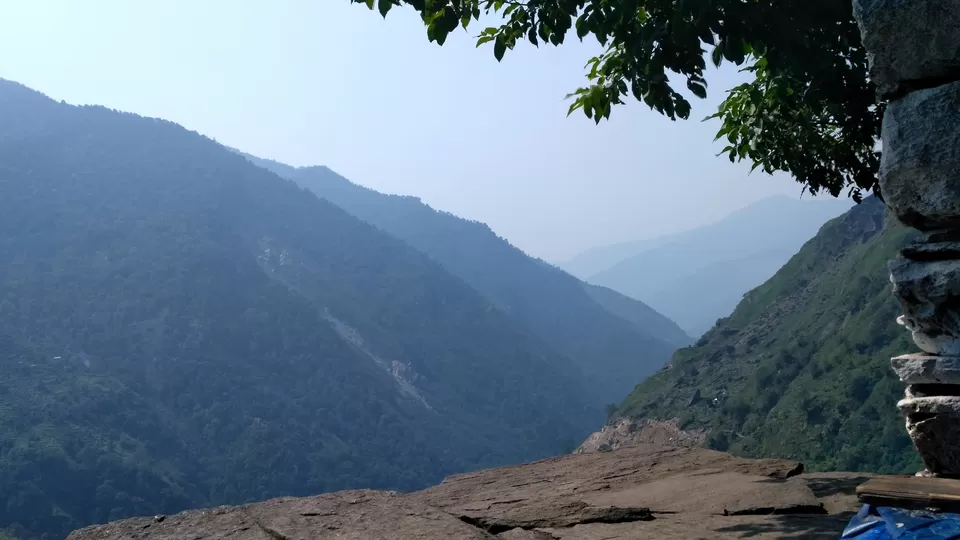 Now the major and only difficult level of the whole route was about to start. As you know by now that I had to go along the river but it's not that the path is next to the river all the time and you can easily walk. There are two routes that go from Lilam, one is down the mountain, a few meters above the river and reaches Rargadi bridge. This route was closed because it was broken and risky and even the ITBP had no information whether it's open or not. The second one and only choice for me was to walk the whole mountain, reach its top, which is called the Maan Singh top and cross it over, then go down from the other side to reach its bottom, which meets at Rargadi bridge.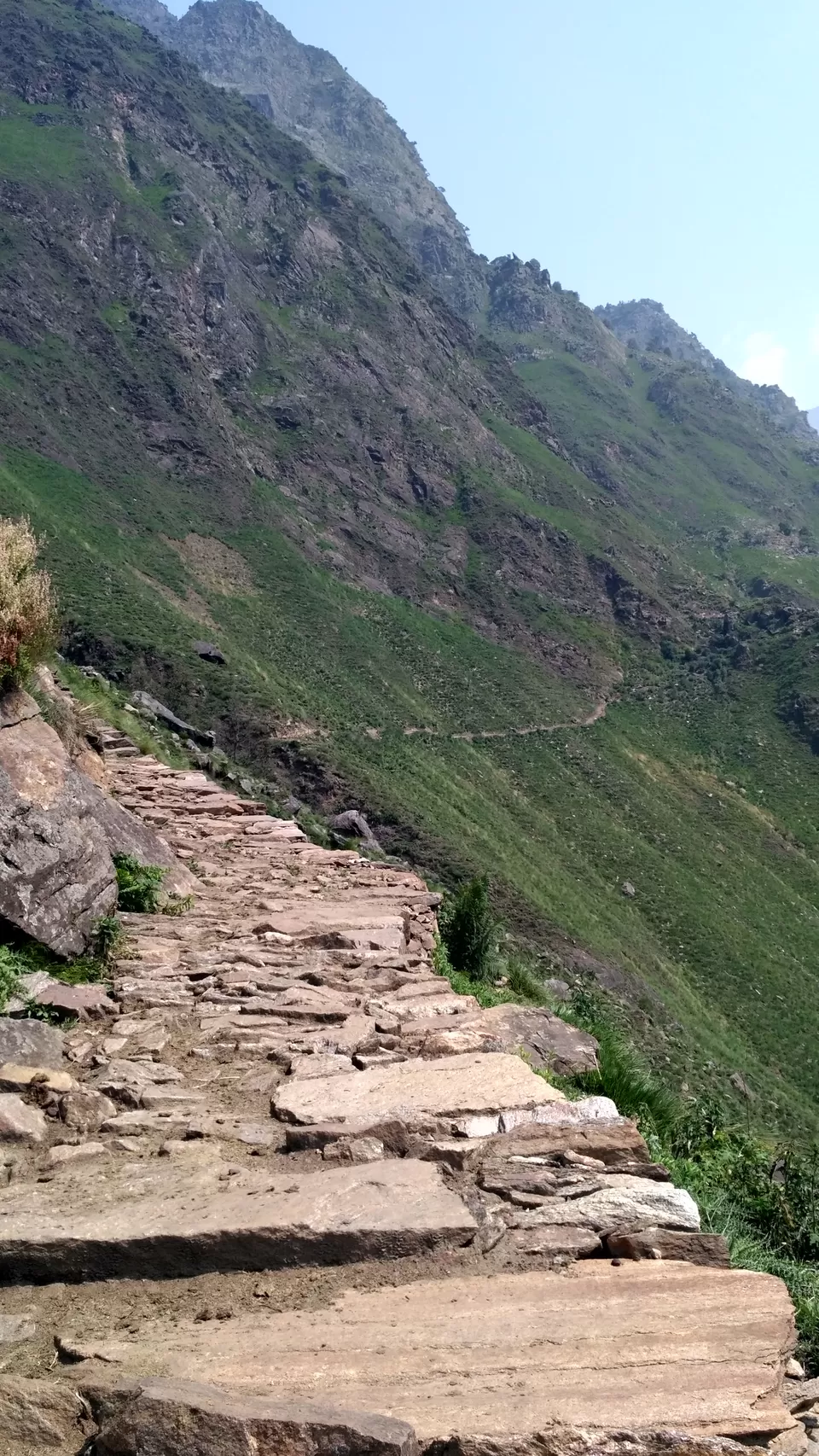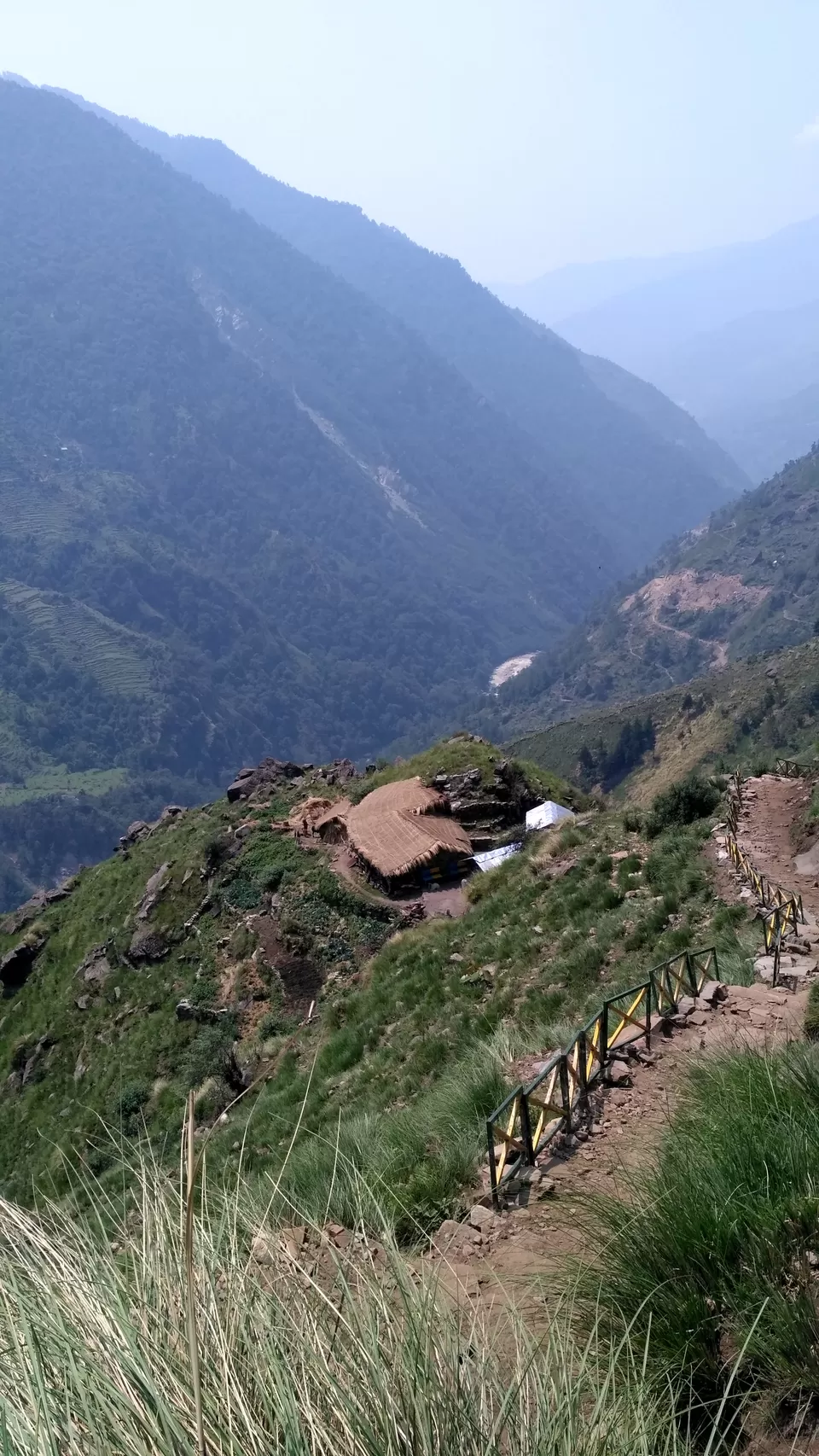 When I asked the porter again about the route, one of them told me that you have to walk to the top and then it's just down from there. I can not tell you how those words became my strength. When I started walking, it was really a tough climb straight up many times, and all I had in my mind was that there will be downhill coming anytime after any top or any turn, so I should keep walking. But I didn't know that it's gonna be a hell of a walk to reach the top.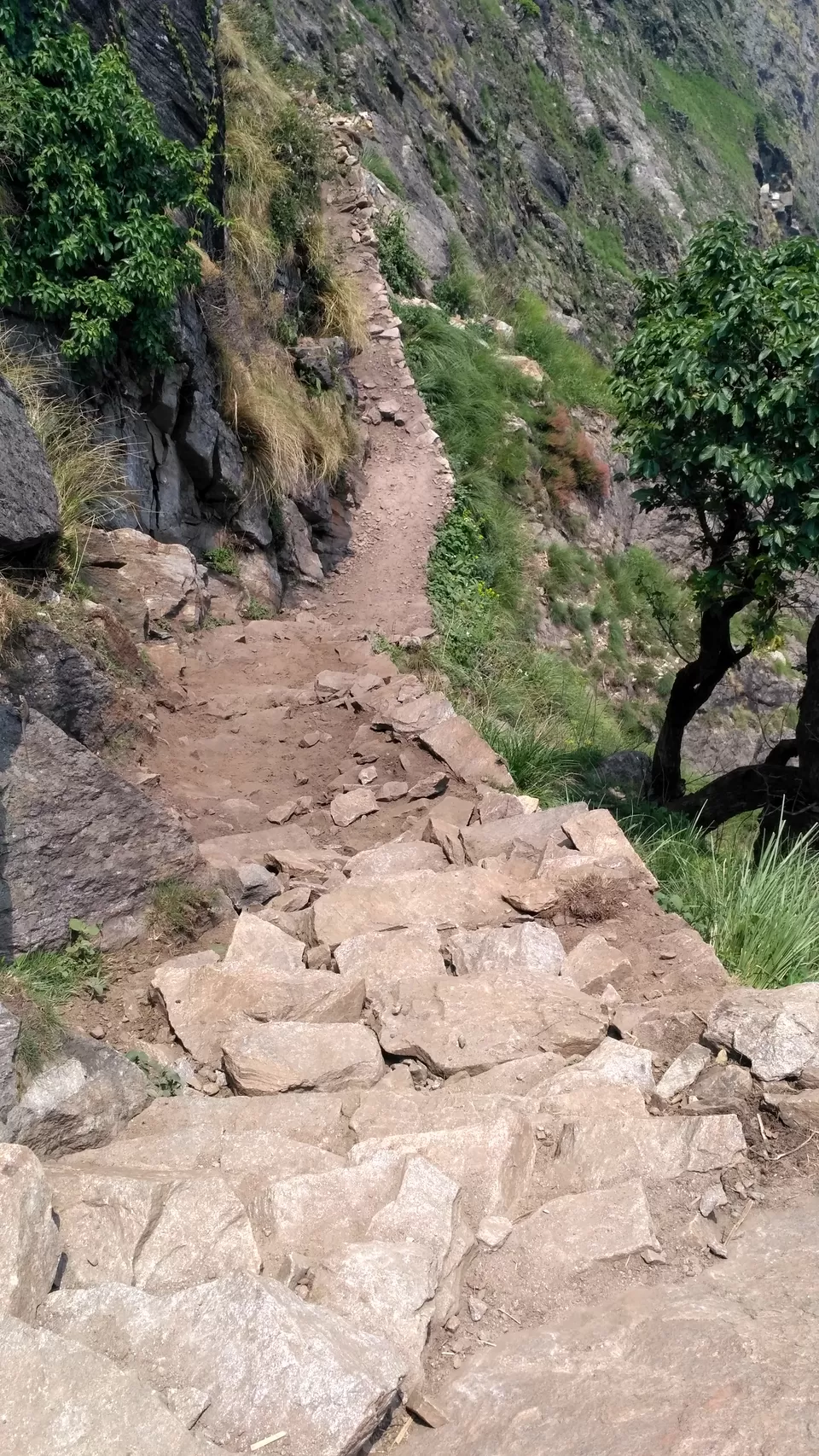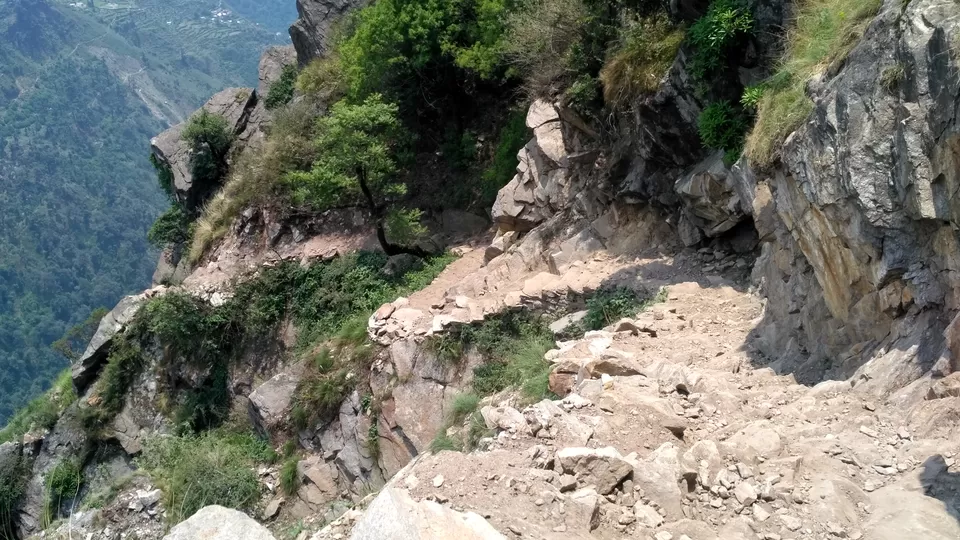 I met this father and son duo on the way and it was good to see them having this good time together. They started there day from Lilam as they were already there yesterday. The father was looking quite unfit so the son had to be his pillar of strength. It was good to acknowledge that bond. It was really getting harder in between to just walk straight up on that edgy path.
After a few hours when I was really high up on the mountain and I noticed that there is nobody around, I stopped and sat on the edge to breath the vibe and laughed at myself and continued. Few horsemen and their horses carrying luggage passed me and I followed them to maintain the speed.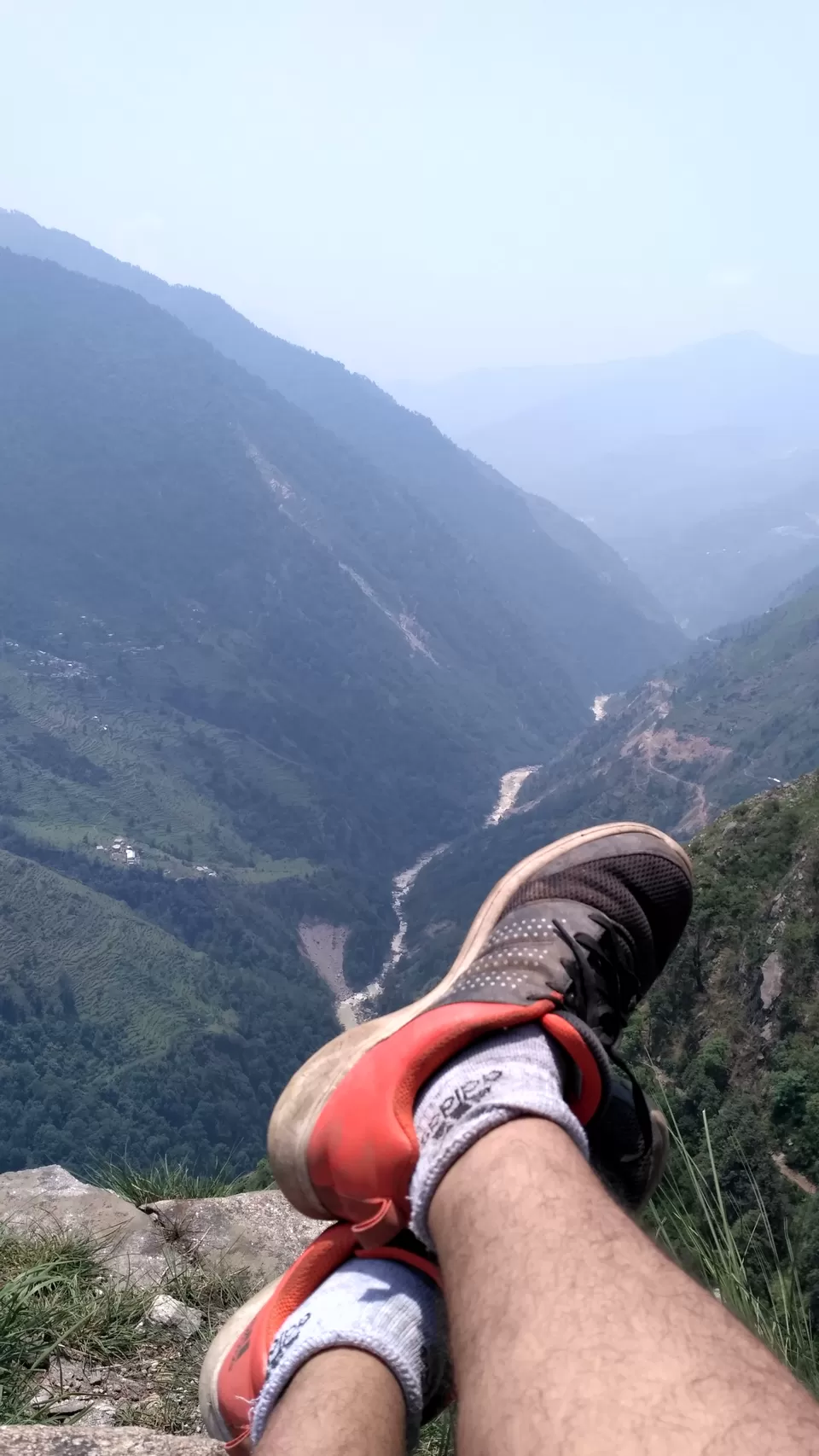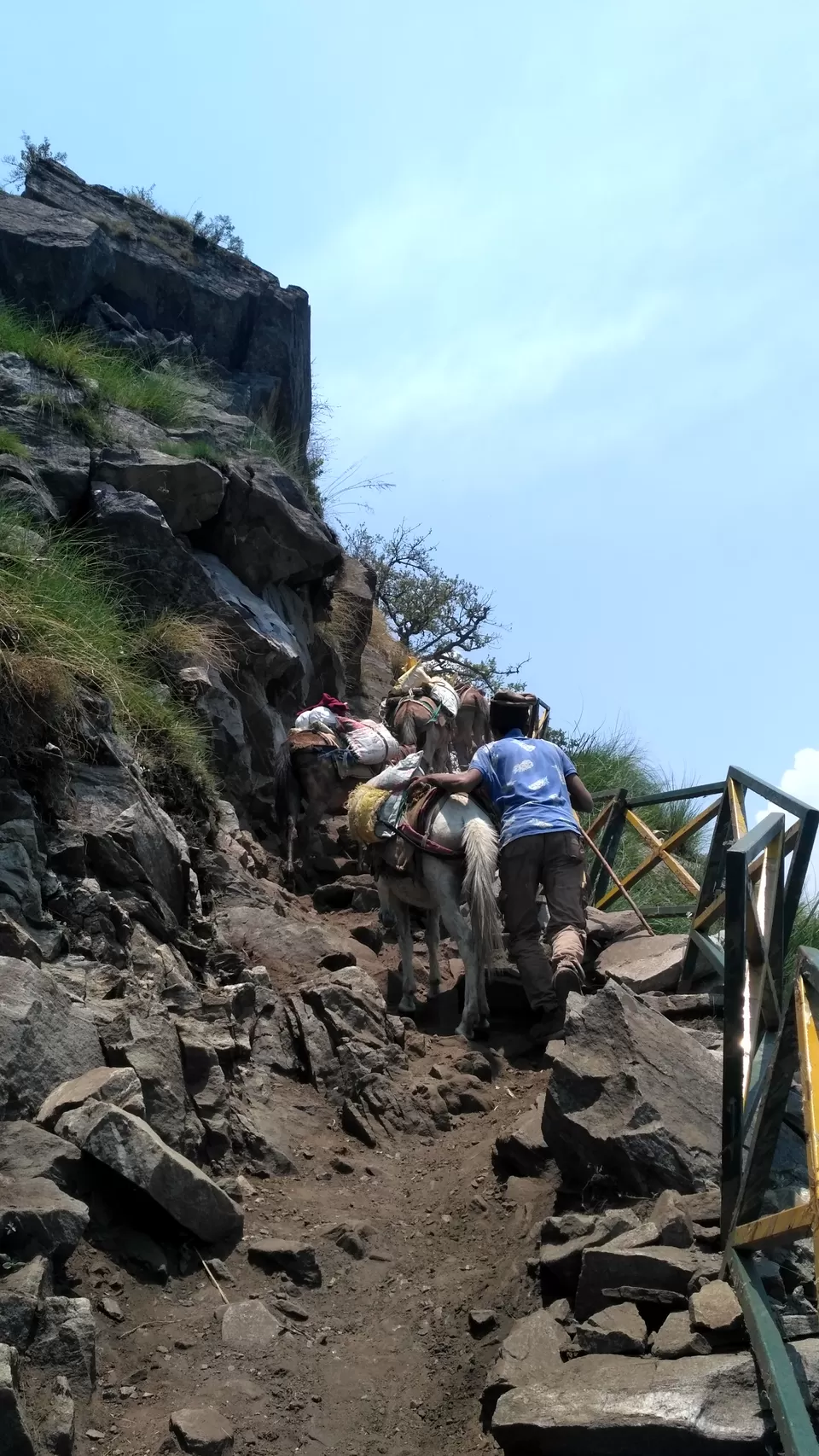 We reached the top and that was it. It was cool to look back and see it from the Maan Singh top. I was quite relieved and from there it was all down in between the oak jungle, back to the river again. The horsemen stopped at Babaldhar for lunch so did i. Had lunch there as well, Daal - Bhaat which was INR 80 per diet.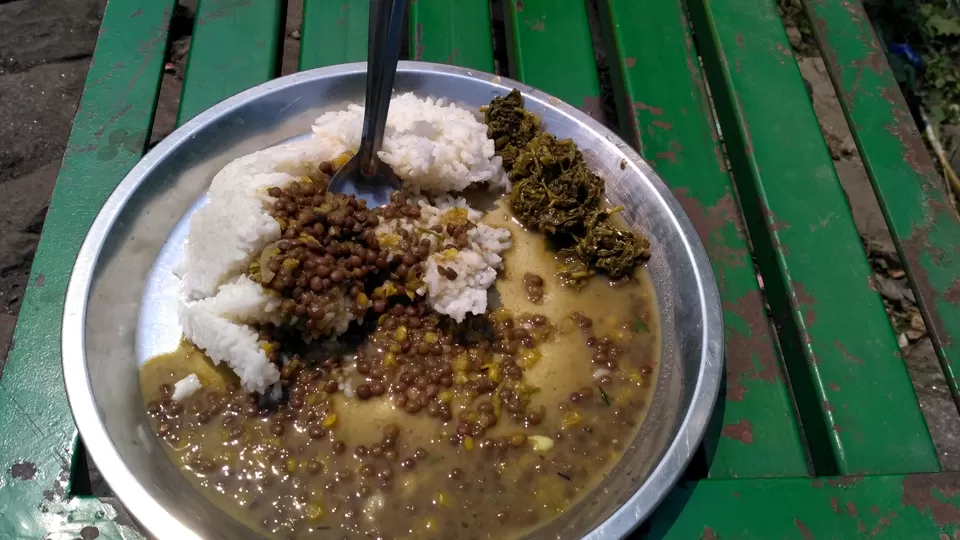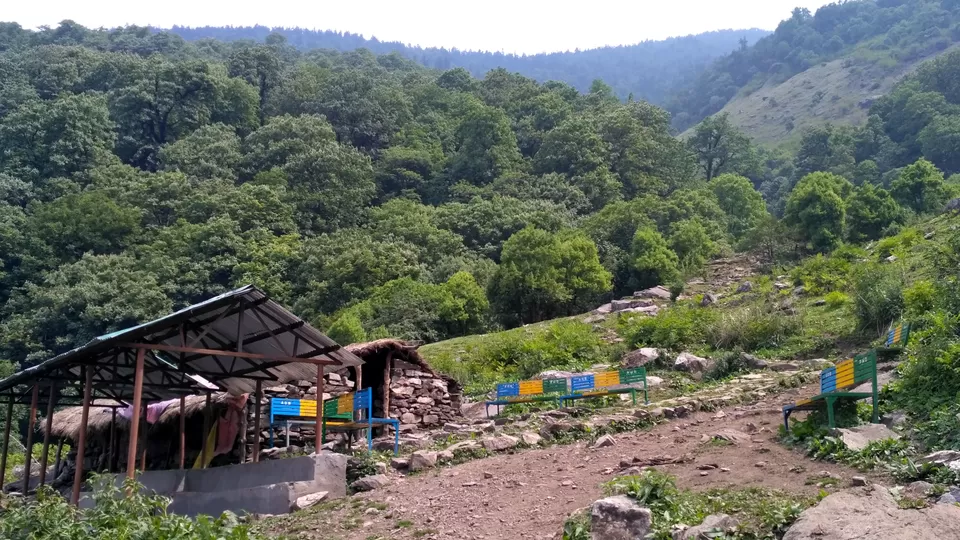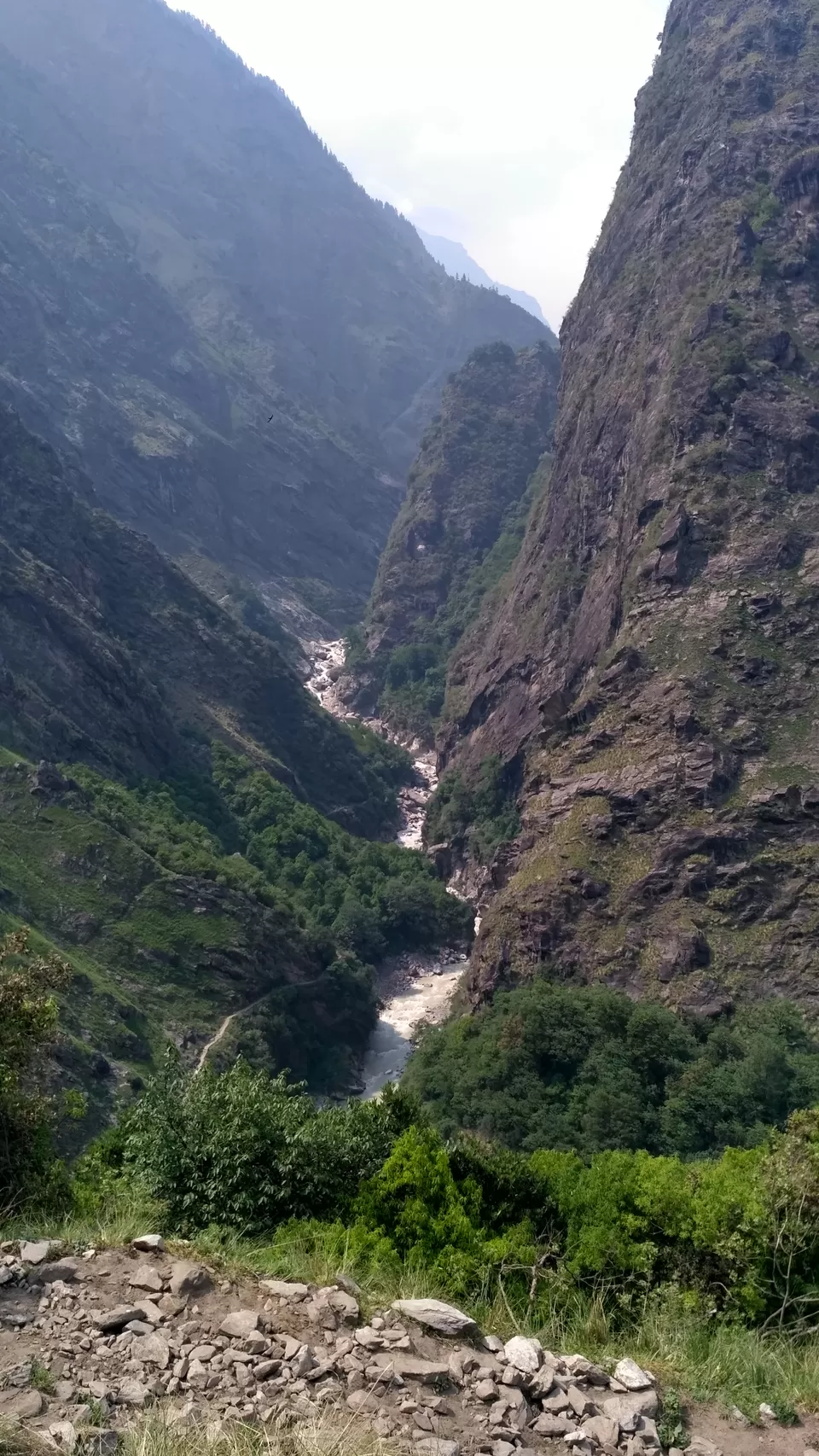 I thought to rest for an hour but instead moved ahead for the last 6 km of the day to reach Bugdiyar because I had no idea how the route was and how much time it's going to take me to reach there, so rather than taking a break after lunch and rest I thought it will be better to just walk slowly. I reached Rargadi bridge, crossed it. It was 1500 hours in the evening, and the dark clouds started to cover the sky. I was feeling the pain to be honest, not in my legs but in the shoulder because of the bag.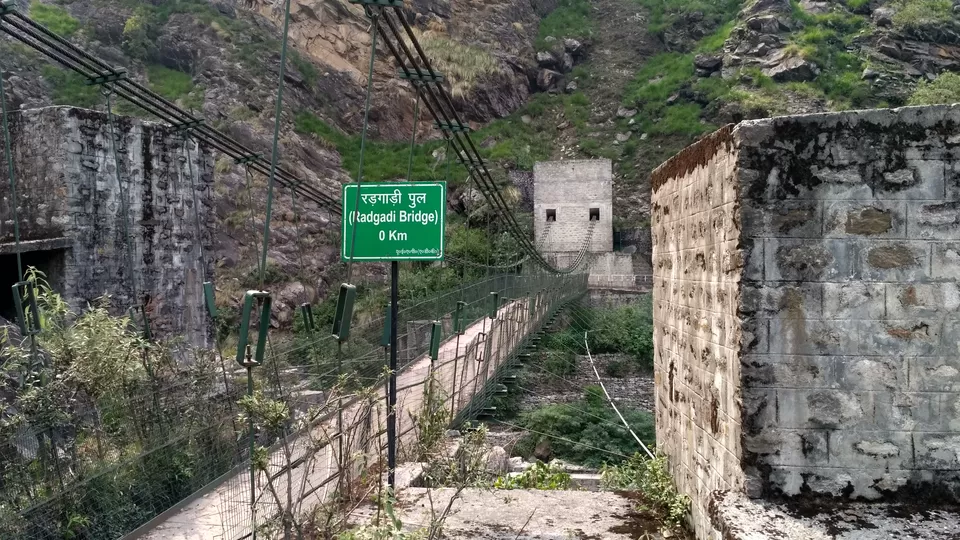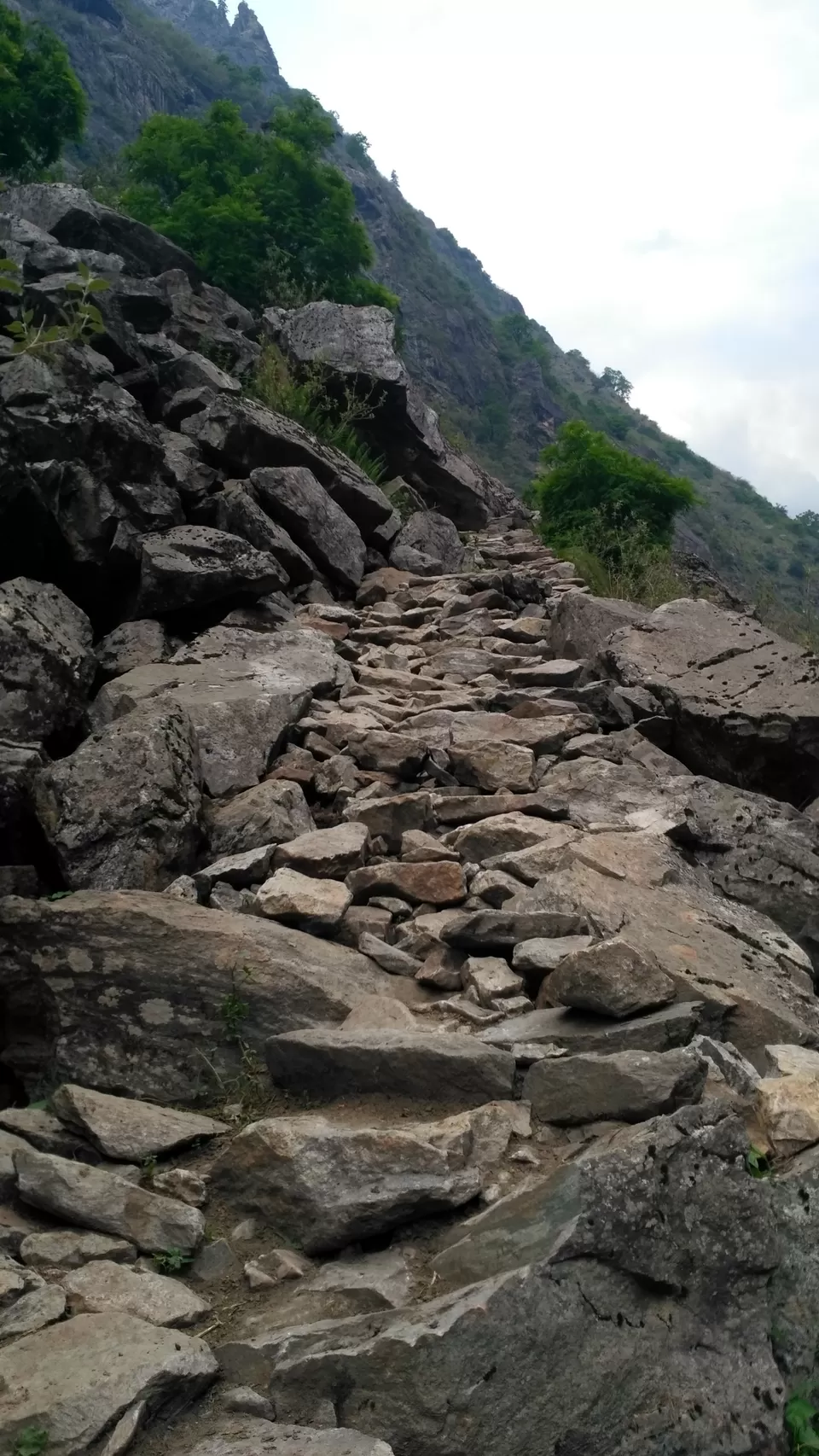 I knew it's just 6 km but I had no idea how the route will be as it was never just straight. Then rain began to slowly drizzle down, I covered my bag and took out the umbrella. After walking for few more kilometers in the rain, after a turn i saw an ITBP Soldier who was going for his first joining at the post was standing under the rock to cover himself from rain, I offered him the umbrella and we shared it till Bugdiyar.
By 1730 hours that day I reached Bugdiyar. I marked myself at the ITBP check post and signed the entry.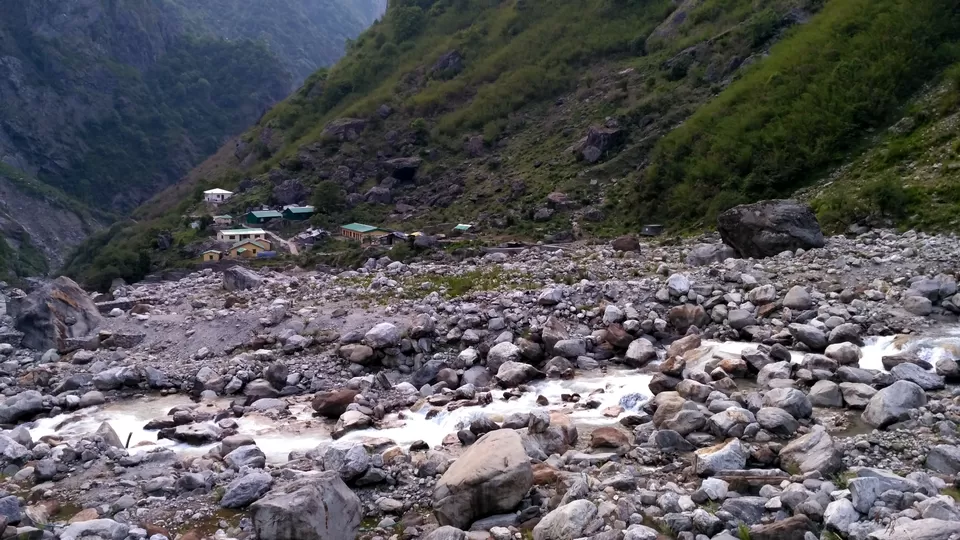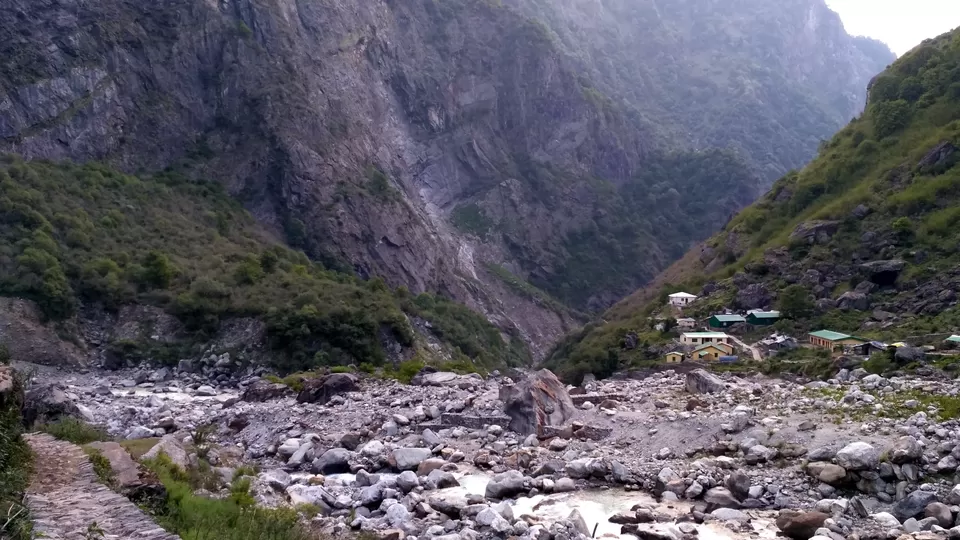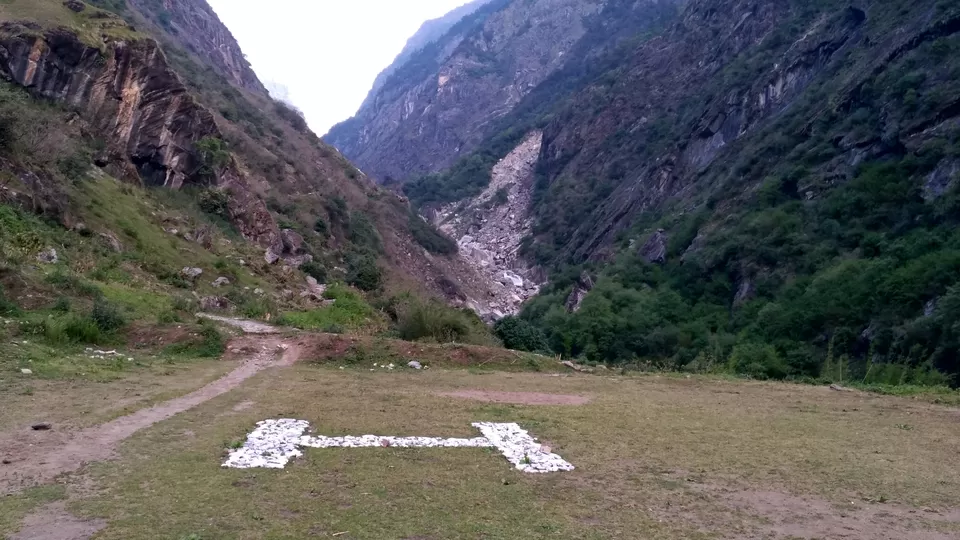 I went into a hotel, again, don't get fancy, when you hear hotel. It was a hut, rugged built of woods and tin shed. The ply was kept on both sides and a mattress would be given to you with a blanket, where you sleep next to hard life conversation of the horsemen and porters. There was no charge of sleeping but just eating and drinking. There was no mobile network, no electricity in the area but only solar panel torches. If you have to make a call, you have to go to the ITBP check post and they have a landline facility which is one rupee per minute which I never used in the whole trek. I got to meet a man from ITBP who was from the same district, Pithoragarh. We talked about a few things here and there and I went to the den. The dinner was served right after the sky turned black.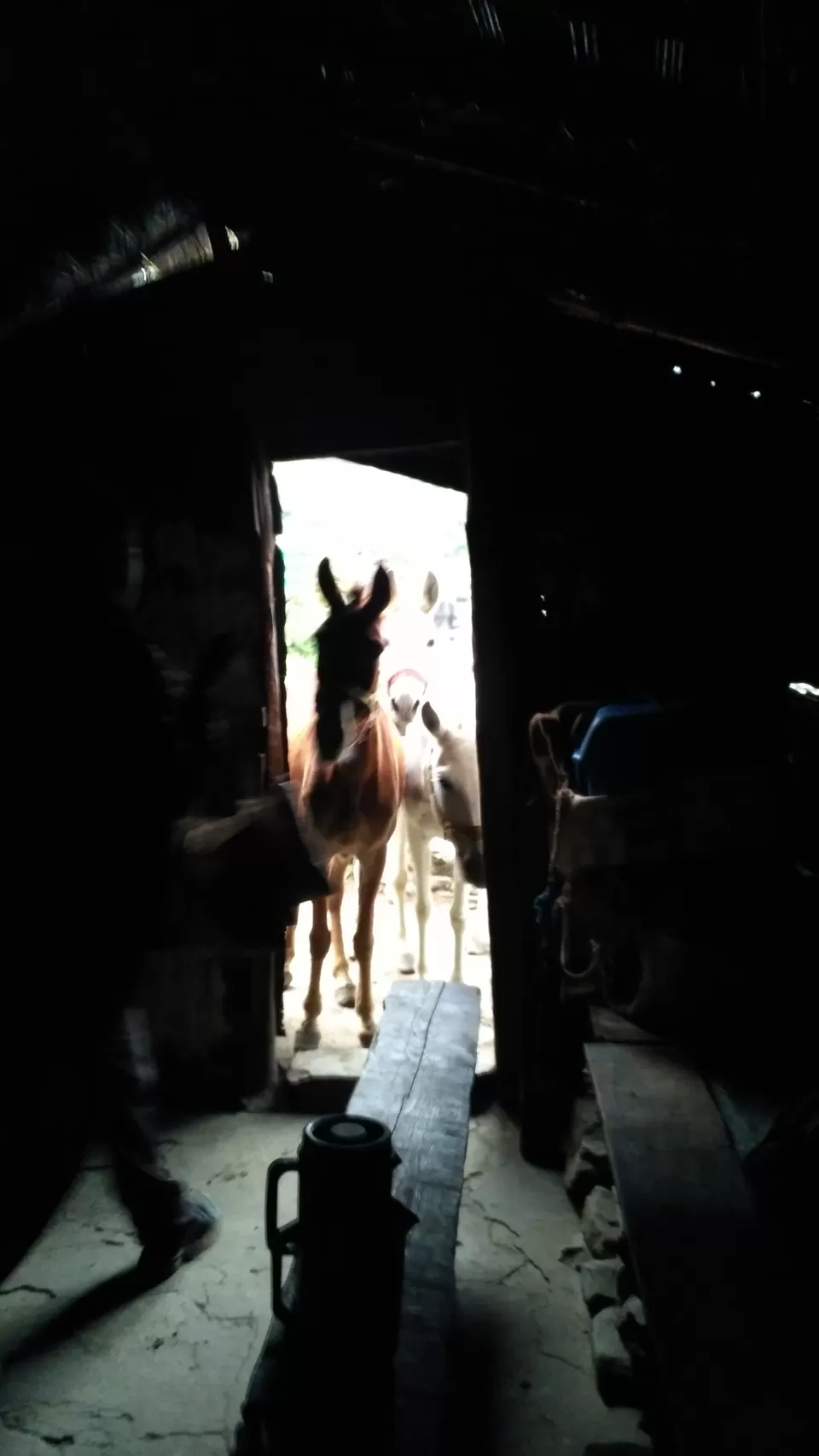 The sun started to show up with its orange light dressing the mountains slowly from top to bottom. The river was roaring hard. I could really feel nothing on my legs, they just got numb. The shoulder was still the same. I reached Nahar Devi, there was just one "hotel". Ate Maggie again but here it was INR 50/- and moved ahead. The sun was now shining with all its glory, the mountains looked new and the river was smiling at me. The path was still the same, narrow with ups and down but it was better than before in terms of hectic climb. I was walking alone for miles, talking to myself and many others I knew. Asking several questions to myself and the mountain and the river and the god and my father and a friend and answering them all on their behalf.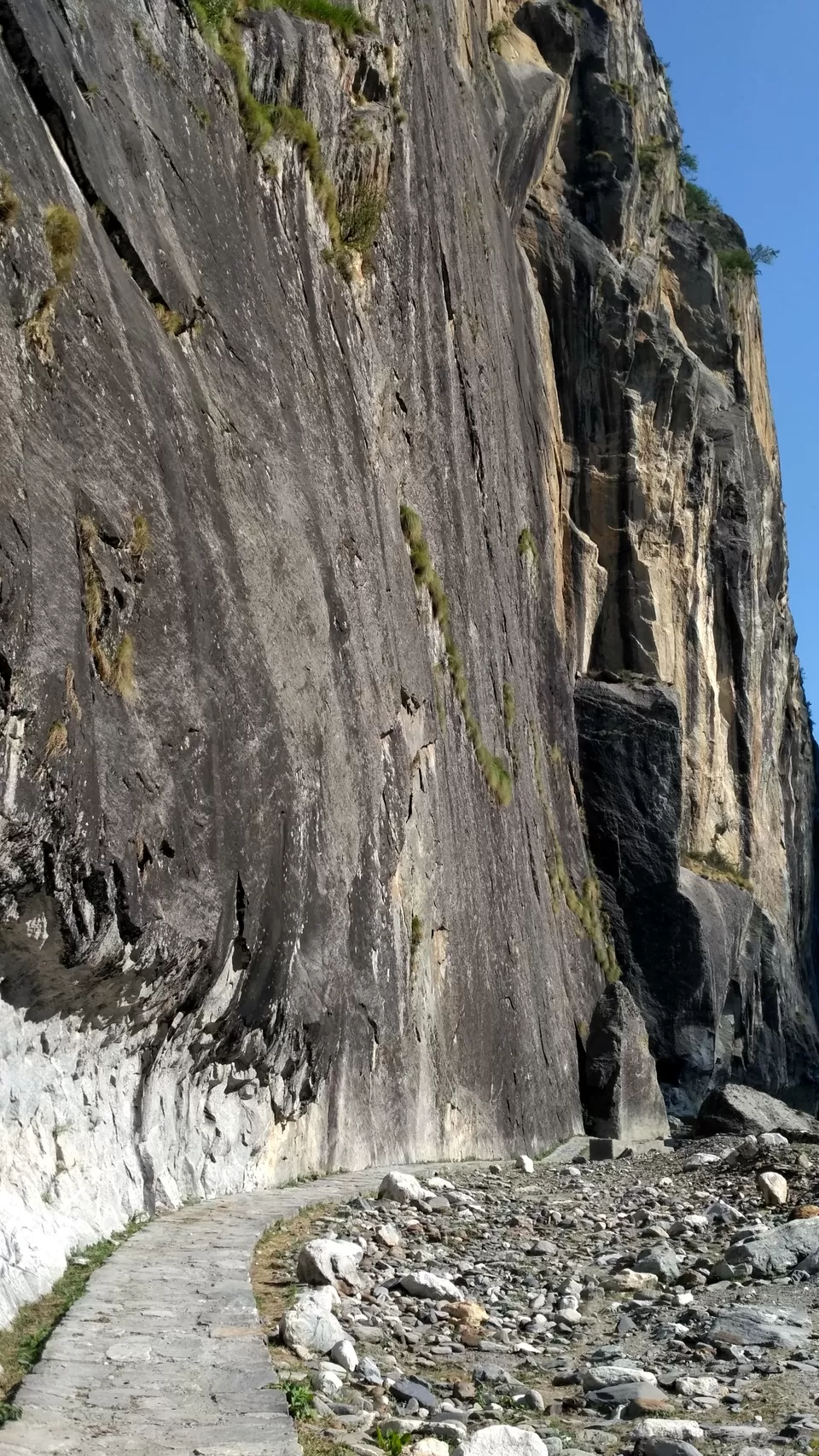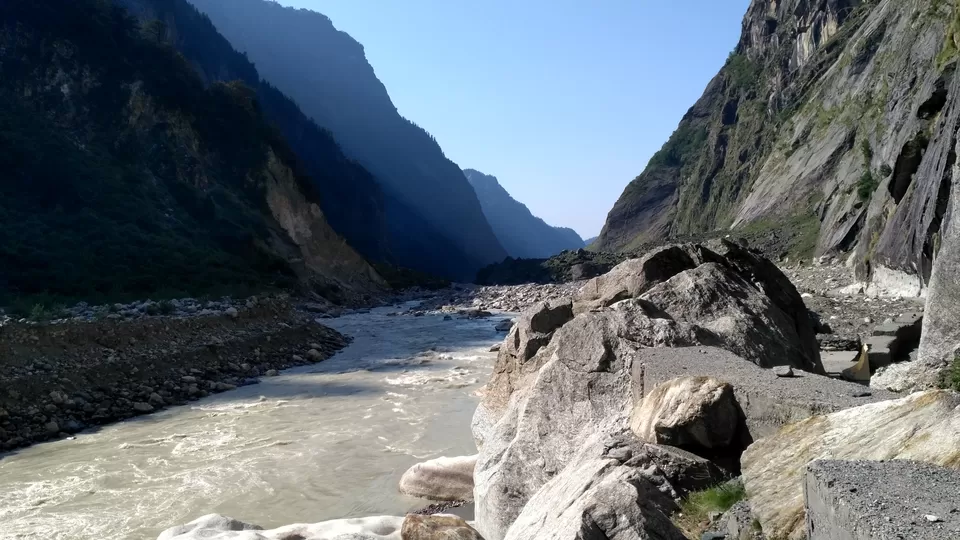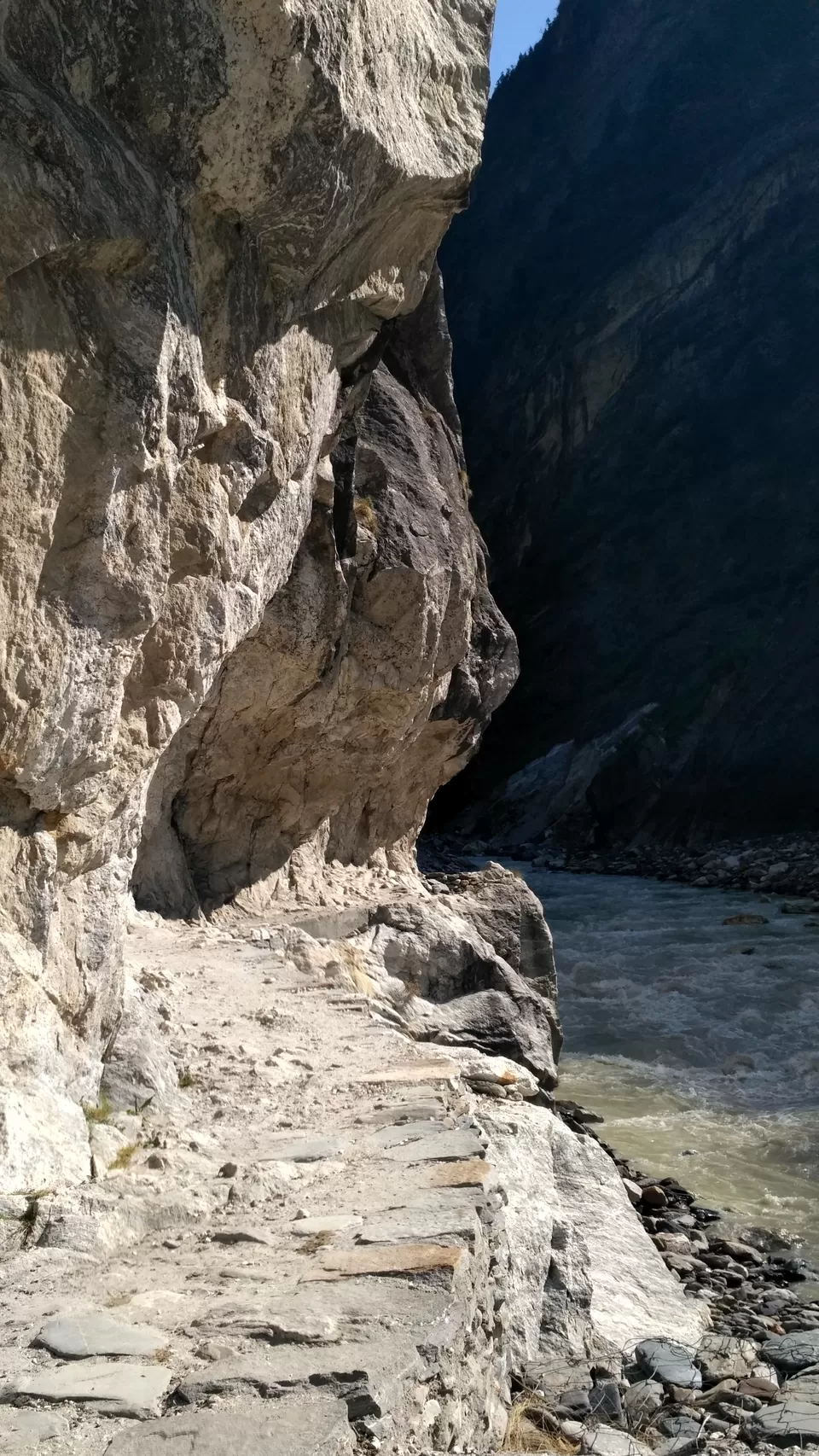 The wind was running wild. I was loving that walk. There was not a single second for which I thought to have come with someone else. I was feeling powerful and great and really enjoying the walk. At that point in time, I really thought, why I came here but I just kept on walking. I think I was wanted to challenge and check my physical ability and be away from the world for a while where no one can see me, no one can find me if I get lost. There were beautiful waterfalls of different capacity on the way.I had a bottle which I could refill throughout the journey.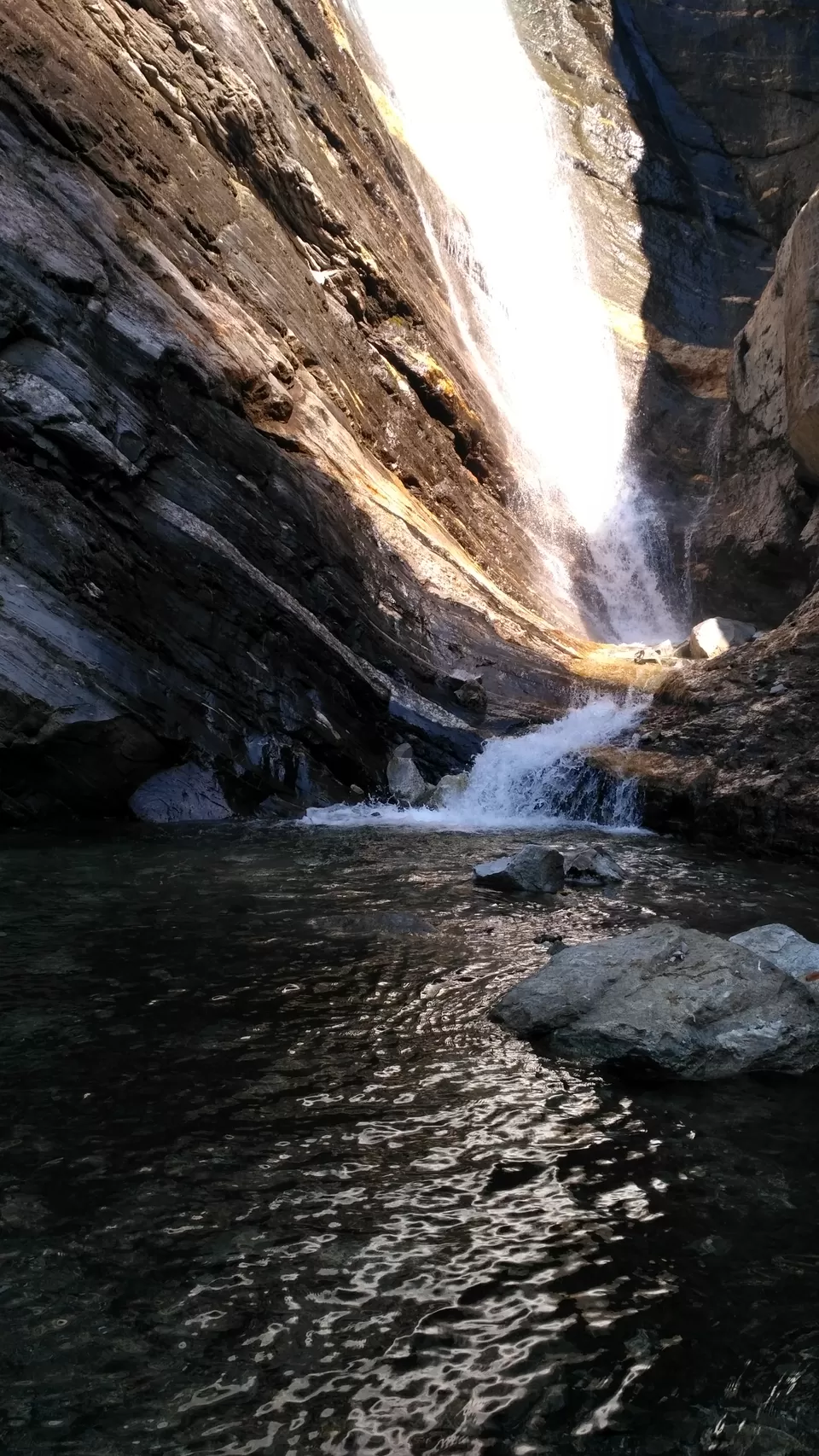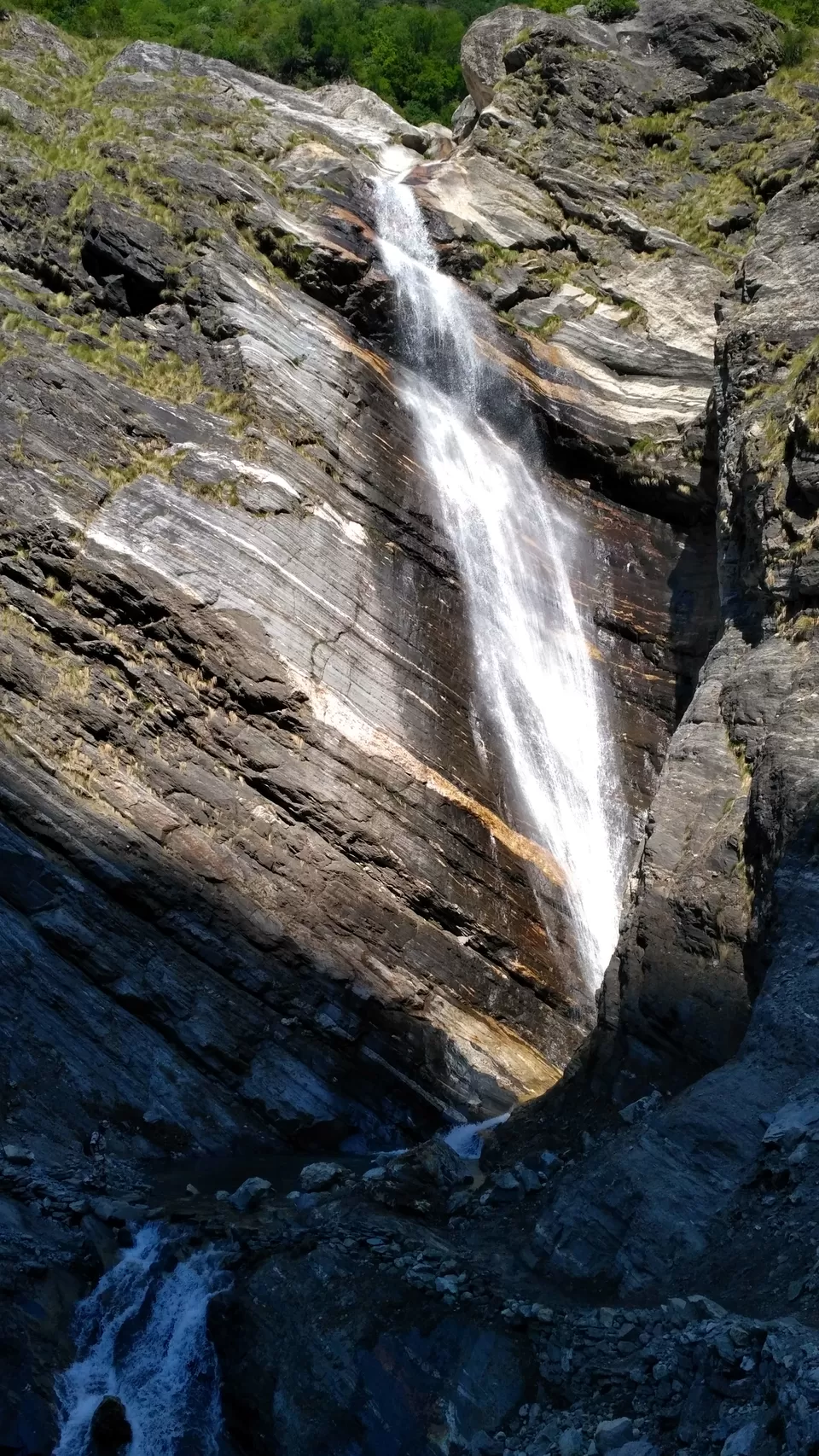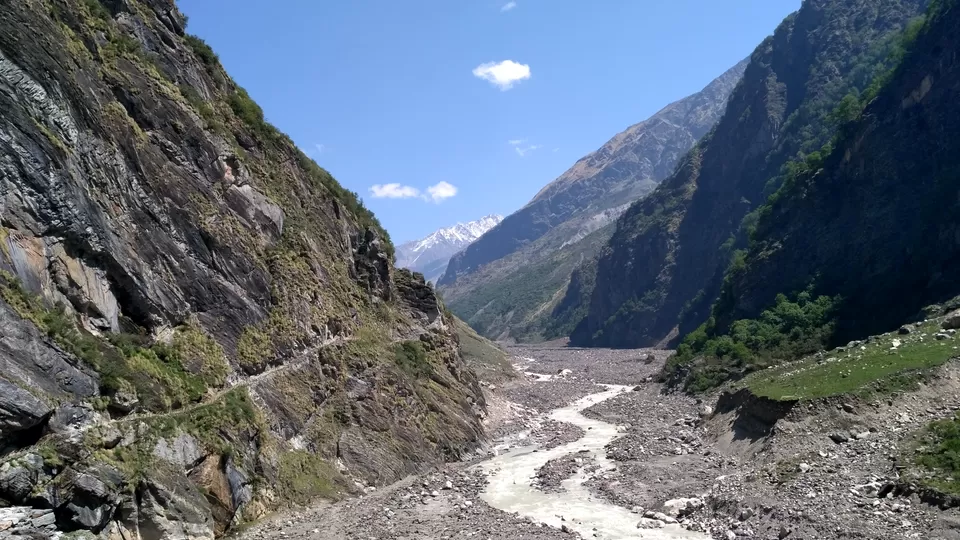 I reached Mapaang, there I ate maggie again for INR 50. Now what I noticed is that, from that first maggie I had to this third one, every time it tasted different and it was because it's not just the maggie flavour that comes with it but they were adding some local stuff in it, which made it different. There, I saw few men cleaning the cordyceps and I had few words with them about it, to gain knowledge. I met a man there who came all the way from England, he asked me about my starting location on that day and how he can go to Delhi from Haldwani, as he had to catch a flight back. He told me that he got 6 weeks of leave from his work. So, he spent 3 weeks in Thailand and he is up here for the rest of the 3 weeks. He was in his 50s I figured and was alone as well. After talking to him I got to know that he has been to Milam earlier last year and he is going to Nanda Devi base camp. Nanda Devi and Milam are very close. It's just a mountain between them. Getting to know that, I was quite surprised and felt wonderful about his spirit.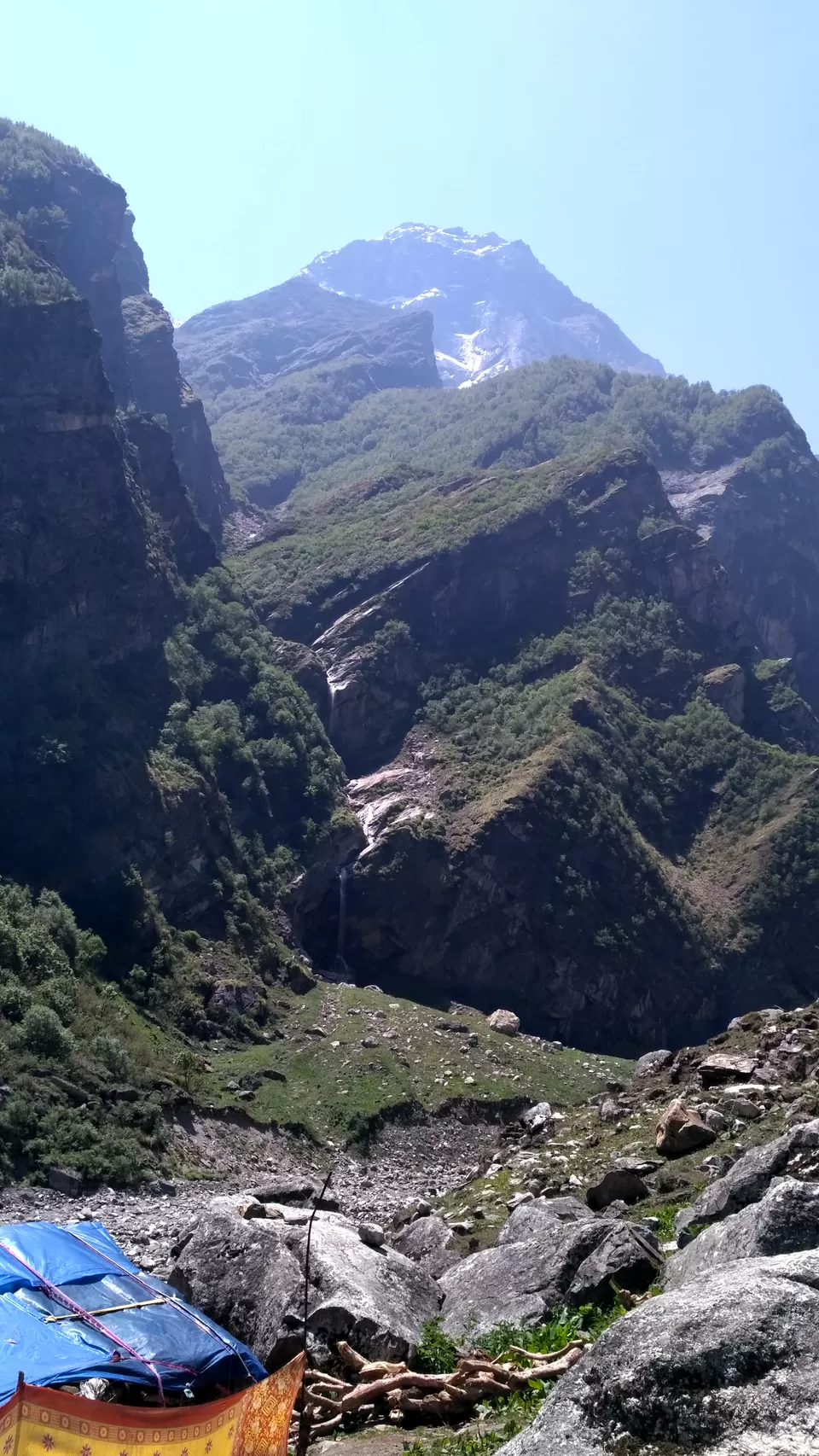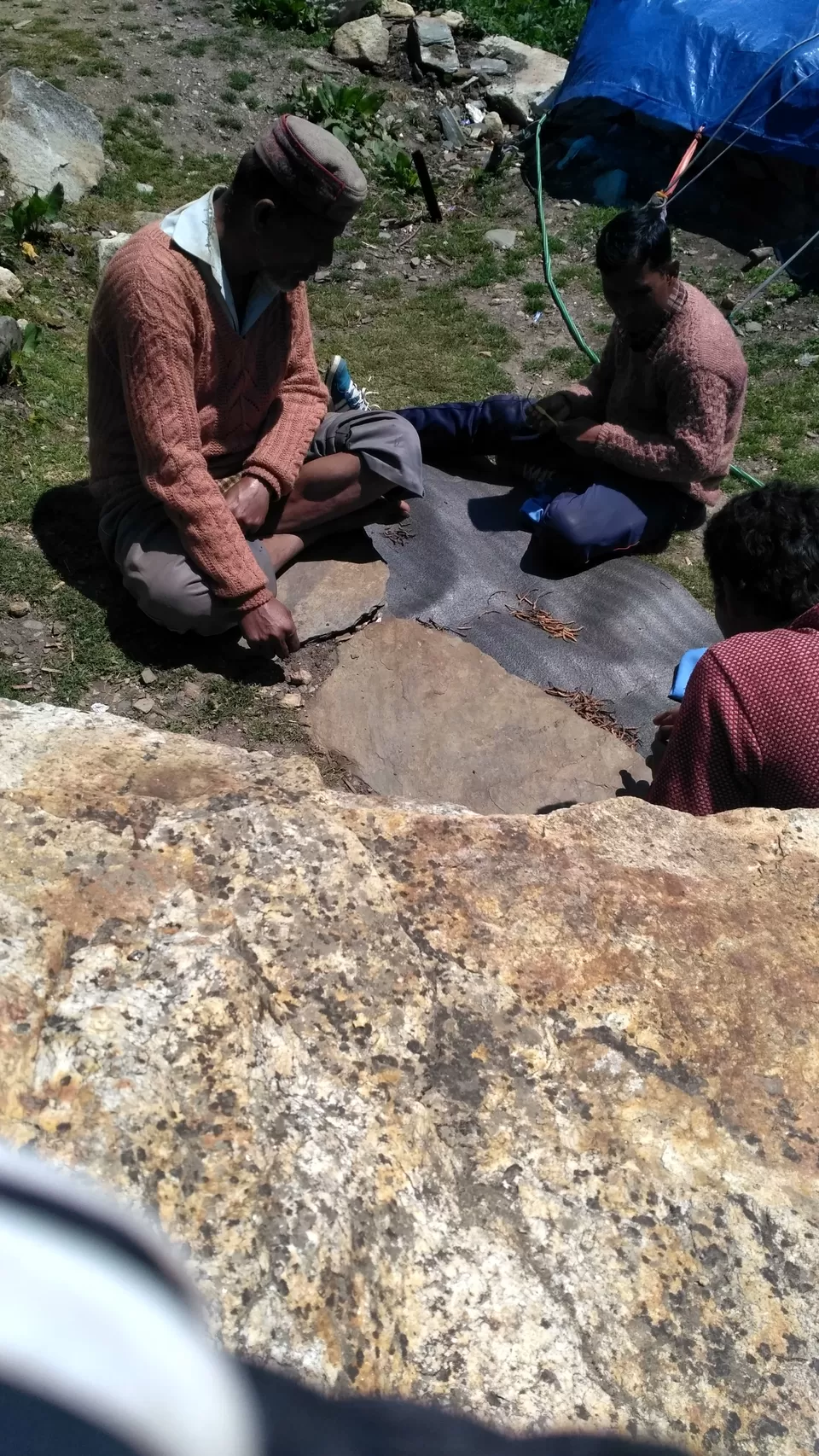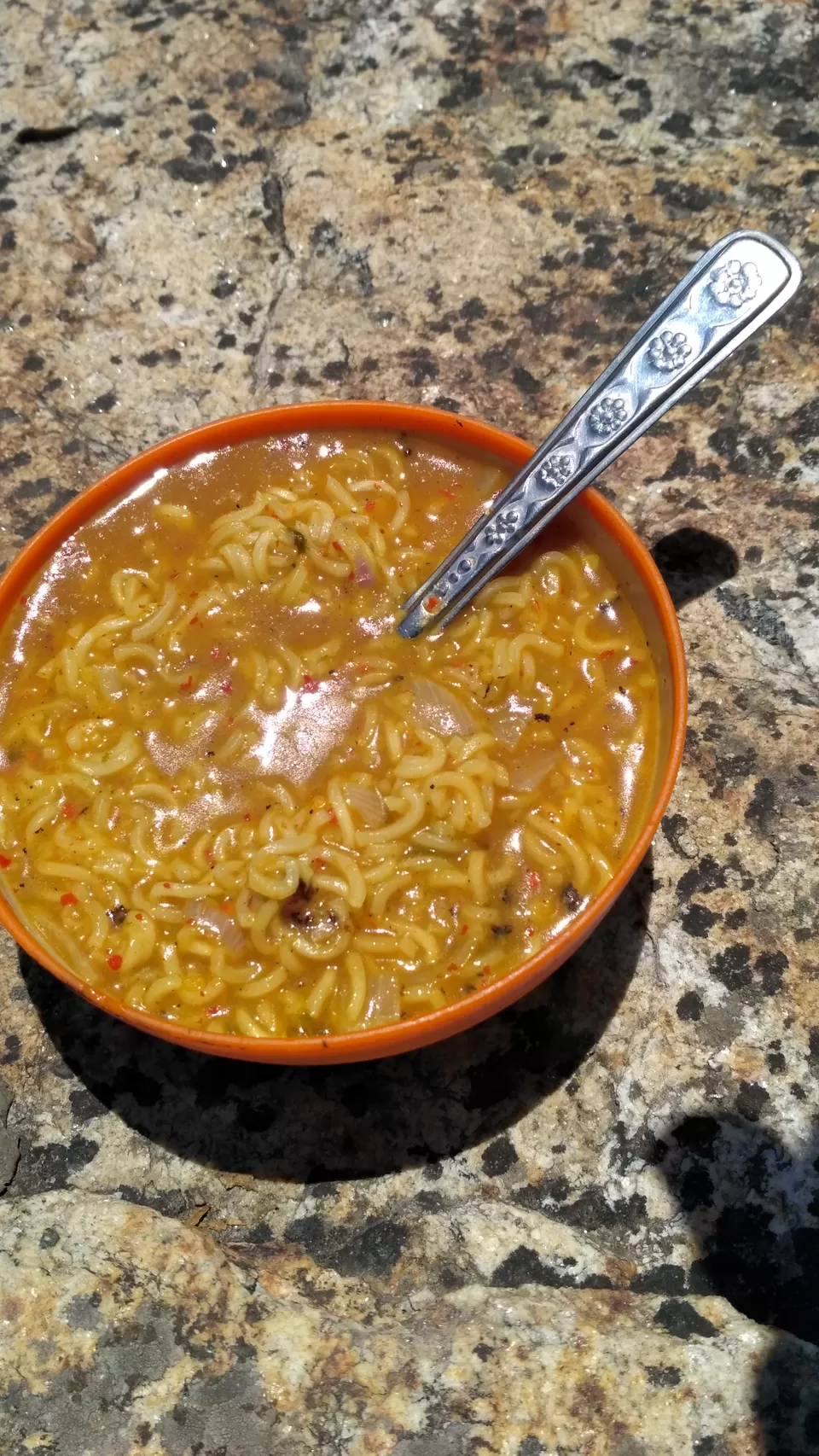 Now the view was starting to get beautiful and the path was lovely. The wind was really singing melodiously. I could see the snow at the top of some mountains. I saw the man walking ahead of me and he had his own pace as per his age so i passed him. After a few hours of walk, I could see houses at some kilometres of distance, which I guessed was Rilikot and I stepped ahead.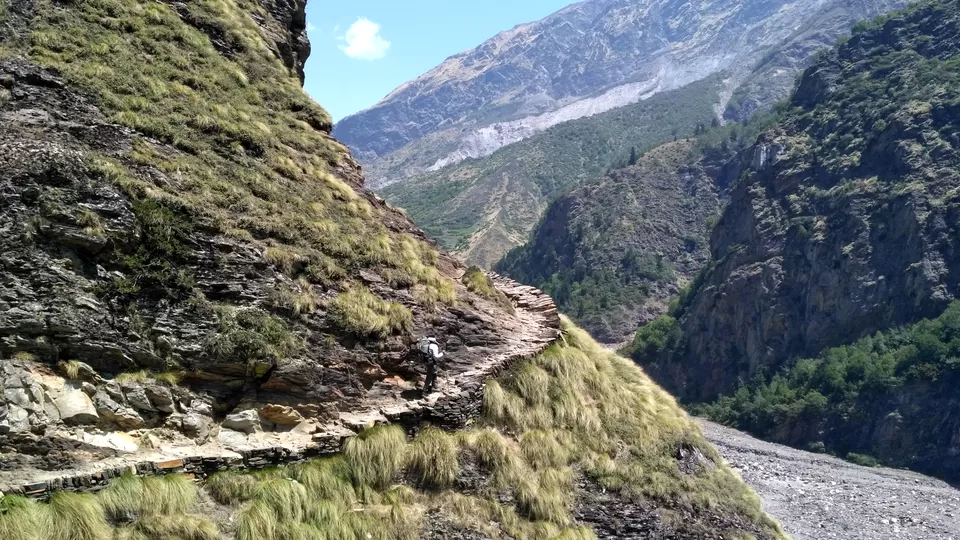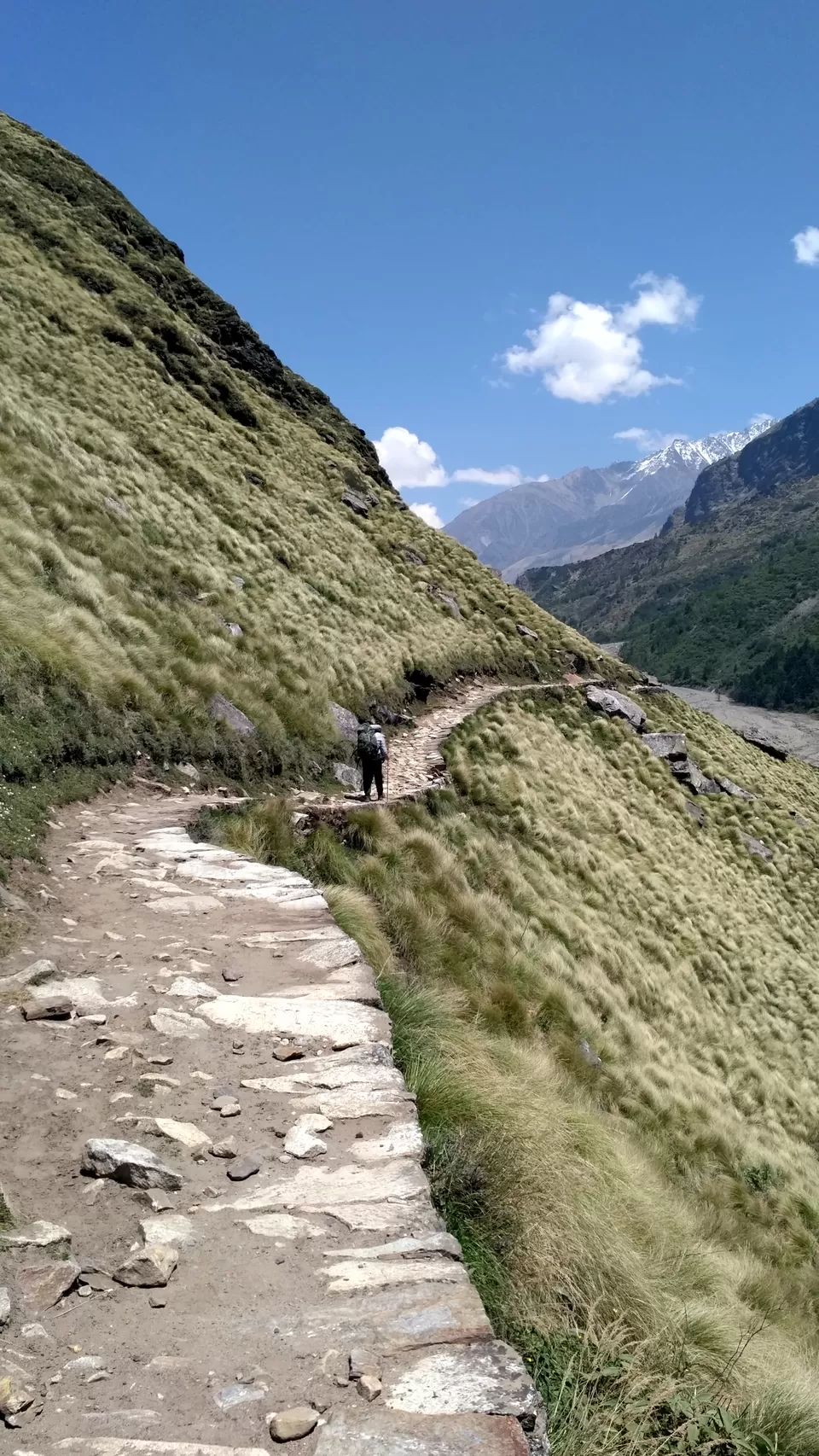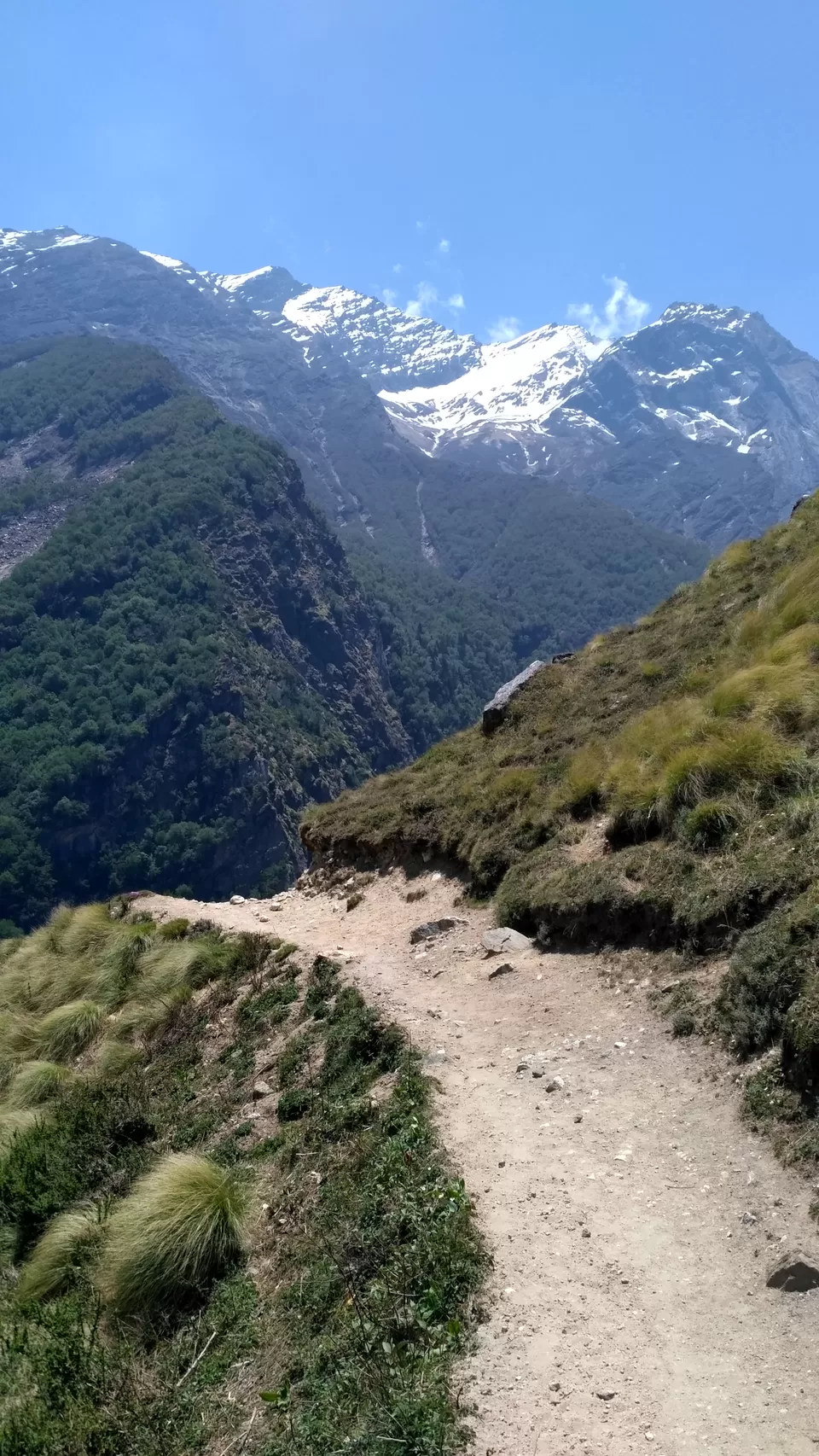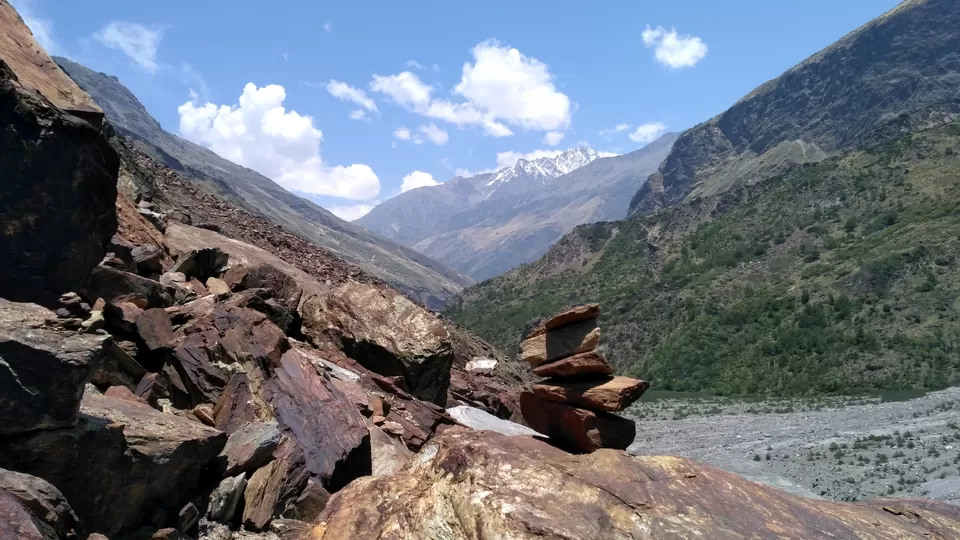 As I reached close to it, the trail was a bit narrow and tough. I could hear drilling sound coming from somewhere above me and I saw the stones pelting down. As I walked ahead not knowing what's happening, an old man standing on the way asked me to stop and lean down to the side of the wall as it was a narrow path above the river. When I questioned him about the situation, he mentioned, "blasting." Then, a dynamite exploded from above, shattering the stones down and as I got up to move, he said, "wait up, there is one more", and then once again it blasted. When I moved ahead, I saw a JCB machine and a few army men cutting the rock to make a road there. I reached Rilikot and again marked myself at the ITBP check post, as being told.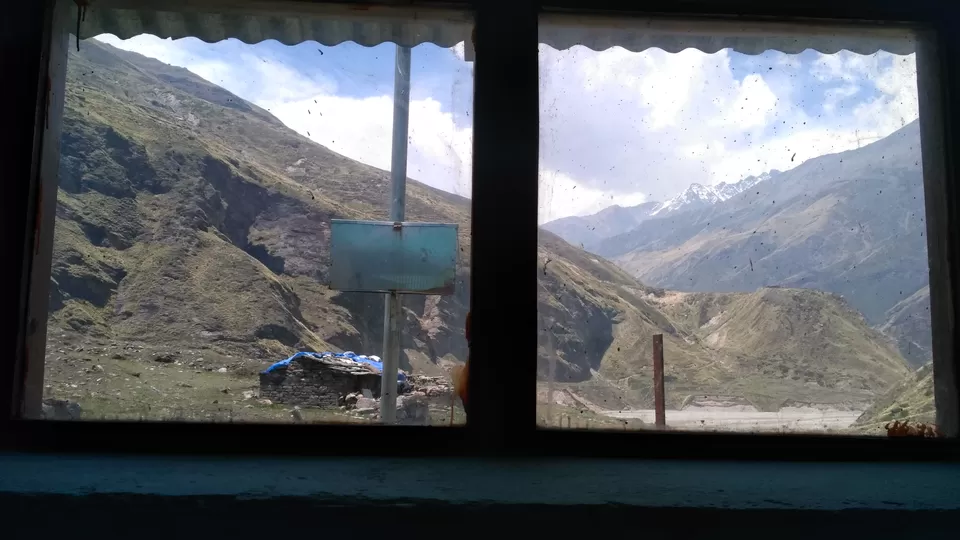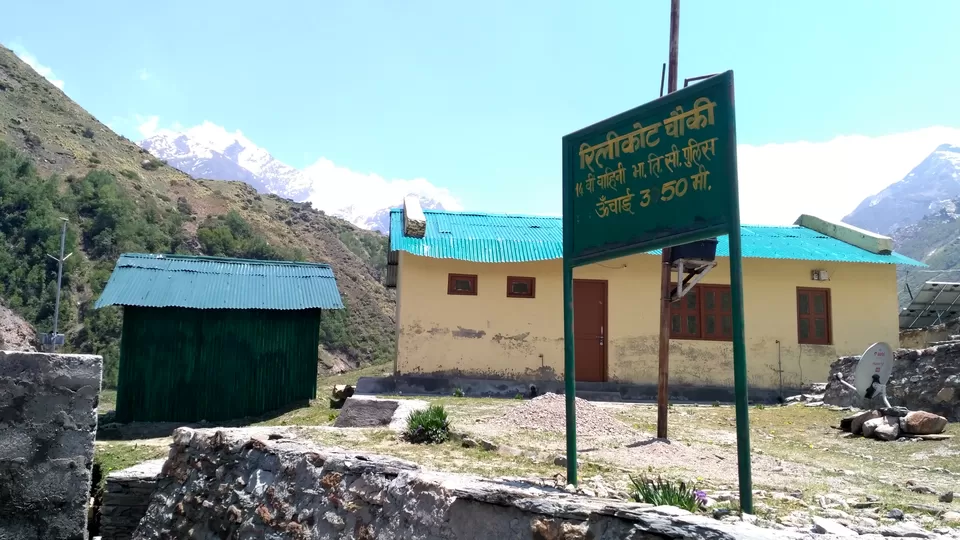 I went ahead in the village where there were around 8 to 10 houses and only one "hotel". It was 1400 hours. As I reached there I saw a group of boys ready to leave and when I noticed they were the same guys whom I saw going for the trek on my first evening at Munsiyari when I got late for the permit. They were from Himachal and were actually headed for Om Parvat but ended up coming here, which meant that they started an evening earlier than me and here they were. The more interesting thing was that they got to know about the second route that was down the mountain, which I didn't take because I was not sure if its open or not but they met 'many porter who confirmed that it is open and I had to climb the Maan Singh top but still I got them. I was feeling fantastic at that moment to realize how fast I am walking. It gave me another kind of high. They left and I settled there for lunch, same Daal-Bhaat diet for INR 100. By the time I finished eating, resting and gathering the information about the place, it was already quarter to 0300. Now I knew the second day stop has to be Rilikot as everyone told and written on the internet. But I got to know that Milam is just 18 km away from there and it is a good wide vehicle road for the army and ITBP trucks. Most of the things including these trucks are Air dropped there. Now there is another village which is Burfu, 9 km away from there, so it's halfway to Milam. I thought it is still 3 to 4 hours for the sky to get dark, so I moved on.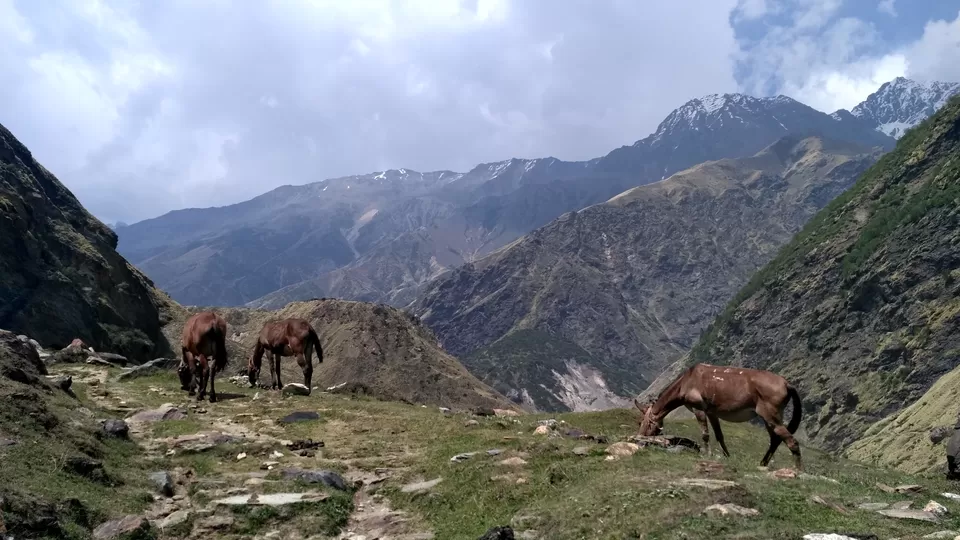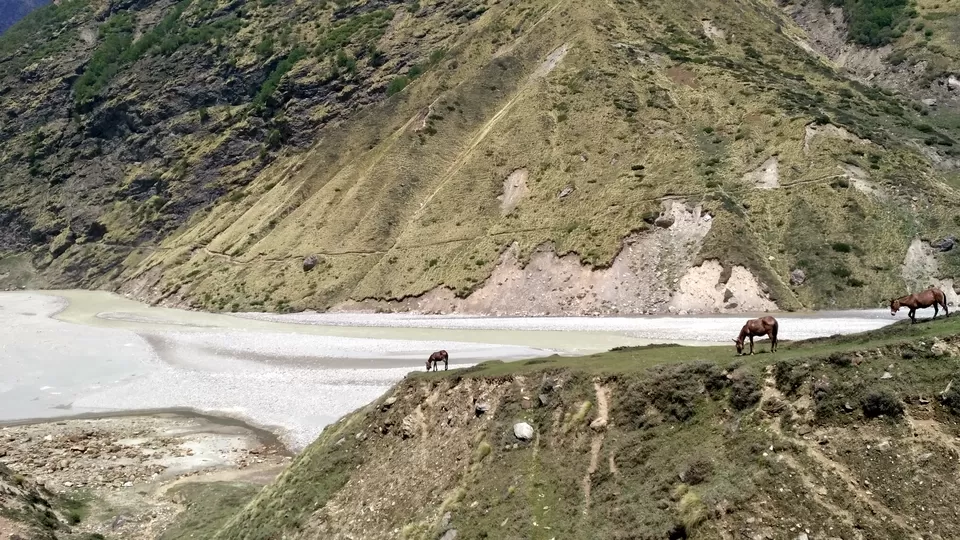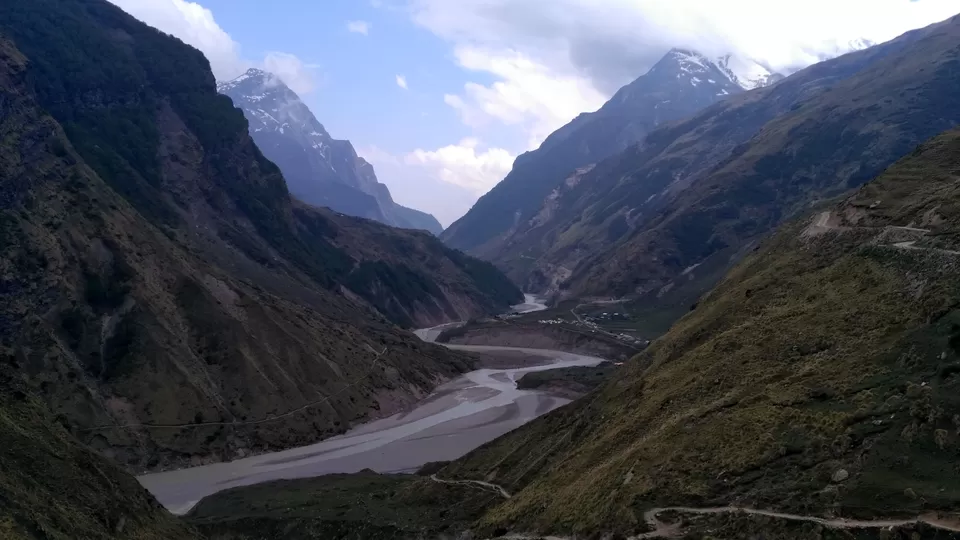 I went on with the route and it started to get cloudy and rain started to fall again. On that route for the first time, I felt the high altitude sickness. It was getting hard to breathe but I had no option but to reach Burfu anyhow. I kept on moving under my umbrella and managed to reach Burfu by 1700hours. The rain was over, the sky was clear and the sun was spreading it's last light to the mountains. I stopped at a hotel which was across the bridge from the village Burfu.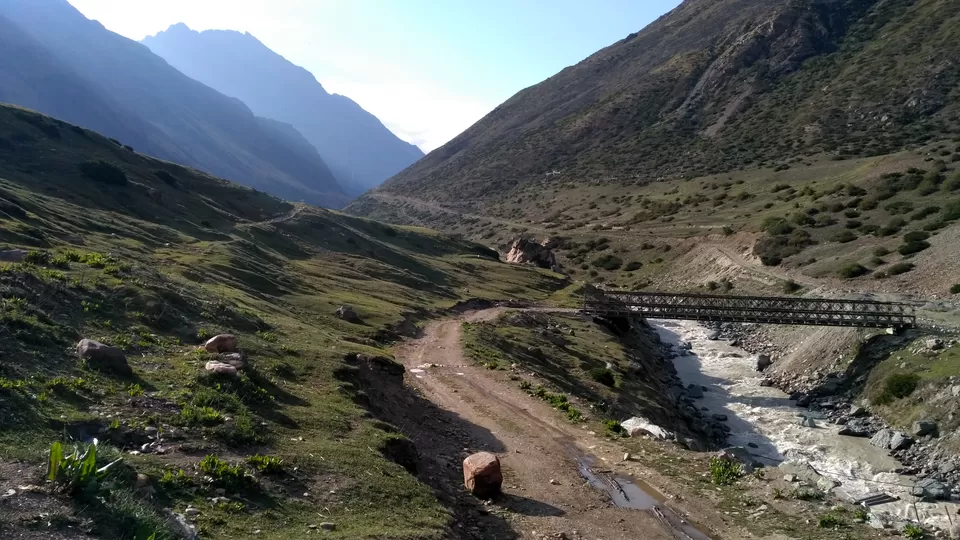 I drank tea and met a guide who was travelling with an old man of age 65. Now the interesting part is that this man came from Tamil Nadu all alone to see Nanda Devi. His guide told me that they are on the trek from 14 days. They went to Nanda Devi base camp and stayed there for a day and now they are moving back. It has been three days since they have come from the Nanda Devi Base Camp and have reached only Burfu. Now the thing is that from Burfu you can actually go to Nanda Devi base camp and come back the same day. The old man was looking really sick and he could not really walk enough so his guide was really tensed about how he is going to make it back down to Munsiyari. I understood the zeal of the old man to see the mountain but also understood the stress the guide must have been going through. The guide told me that they are short on medicine and ain't got any protein stuff. Now I was worried about the guide more than the old man because the old man came for his wish to see the mountain and he did but if anything happens to the old man it's going to be all on the guide. So, I gave him the extra pack of Glucose I was carrying, Volini spray, some tablets for cold and fever in case he needed.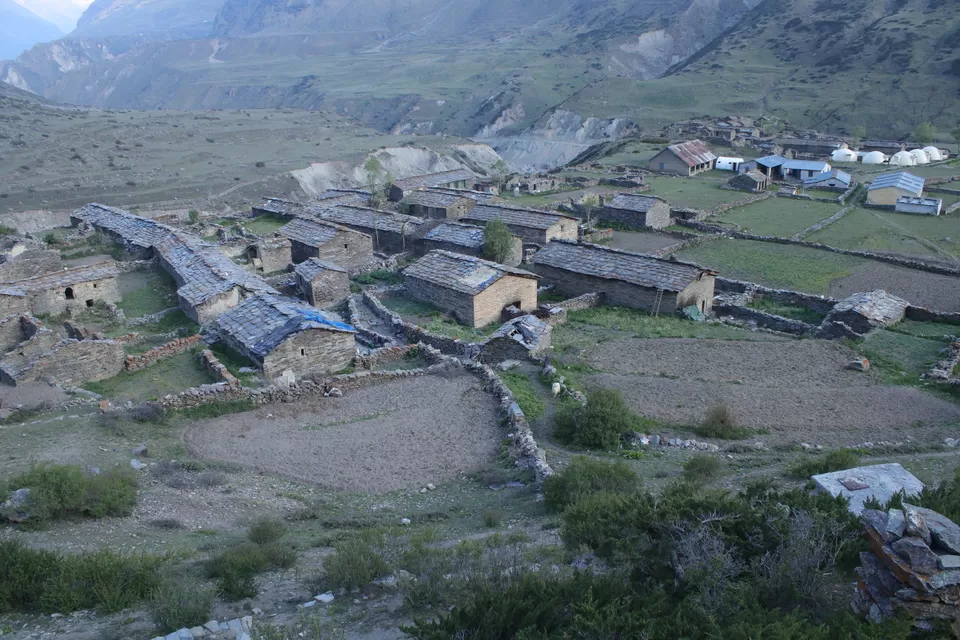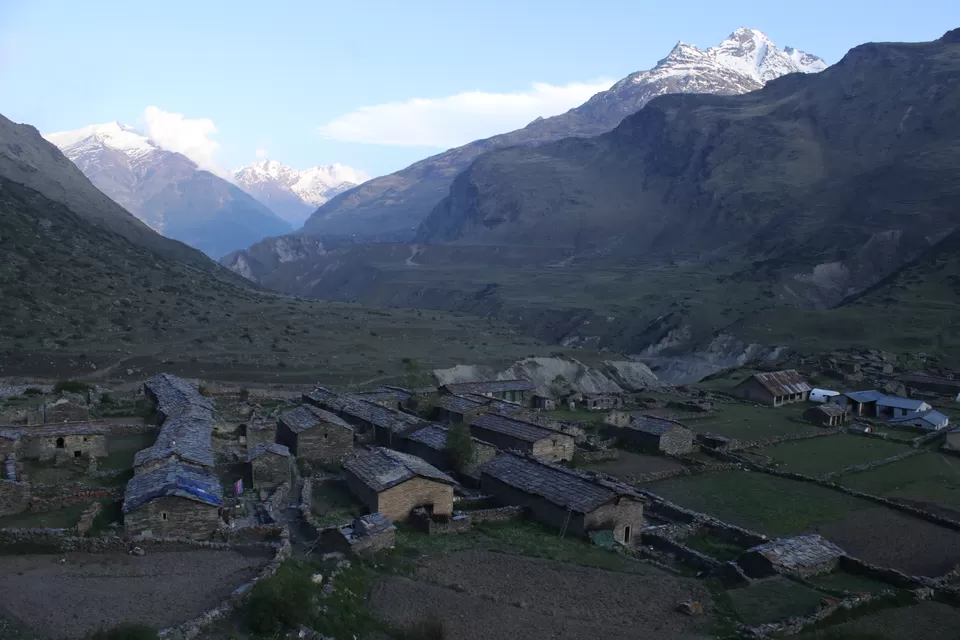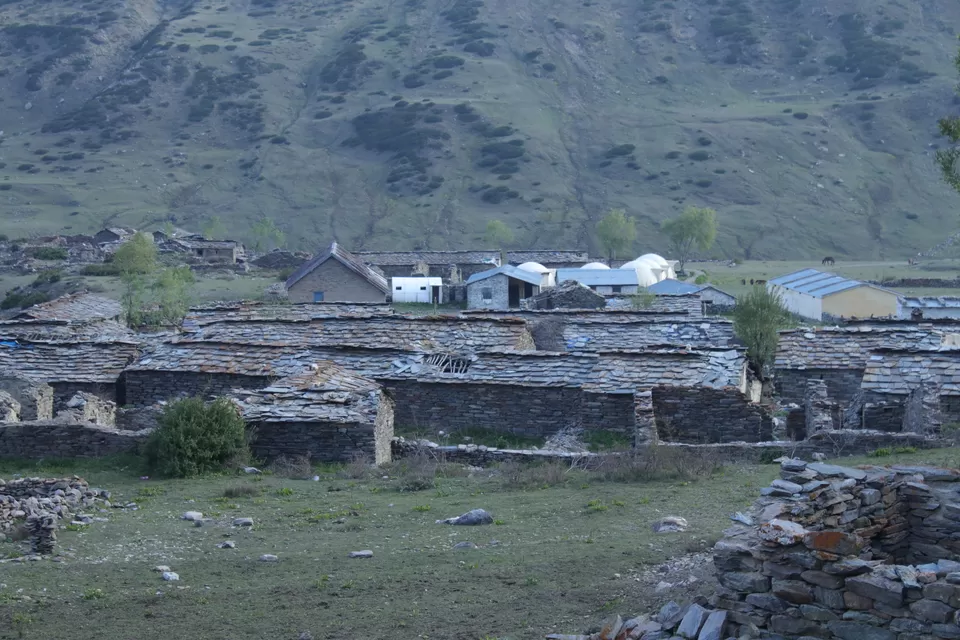 Then I moved to the village, again to a home stay. The house belonged to Gokhram Singh Jangpangi, who lived there in the village with his wife Leela Jangpangi. The hotel, which is their house is known as Leela aunty's place. I found the place to sleep for the night and kept my bag wandered around the village and it was a beautiful landscape.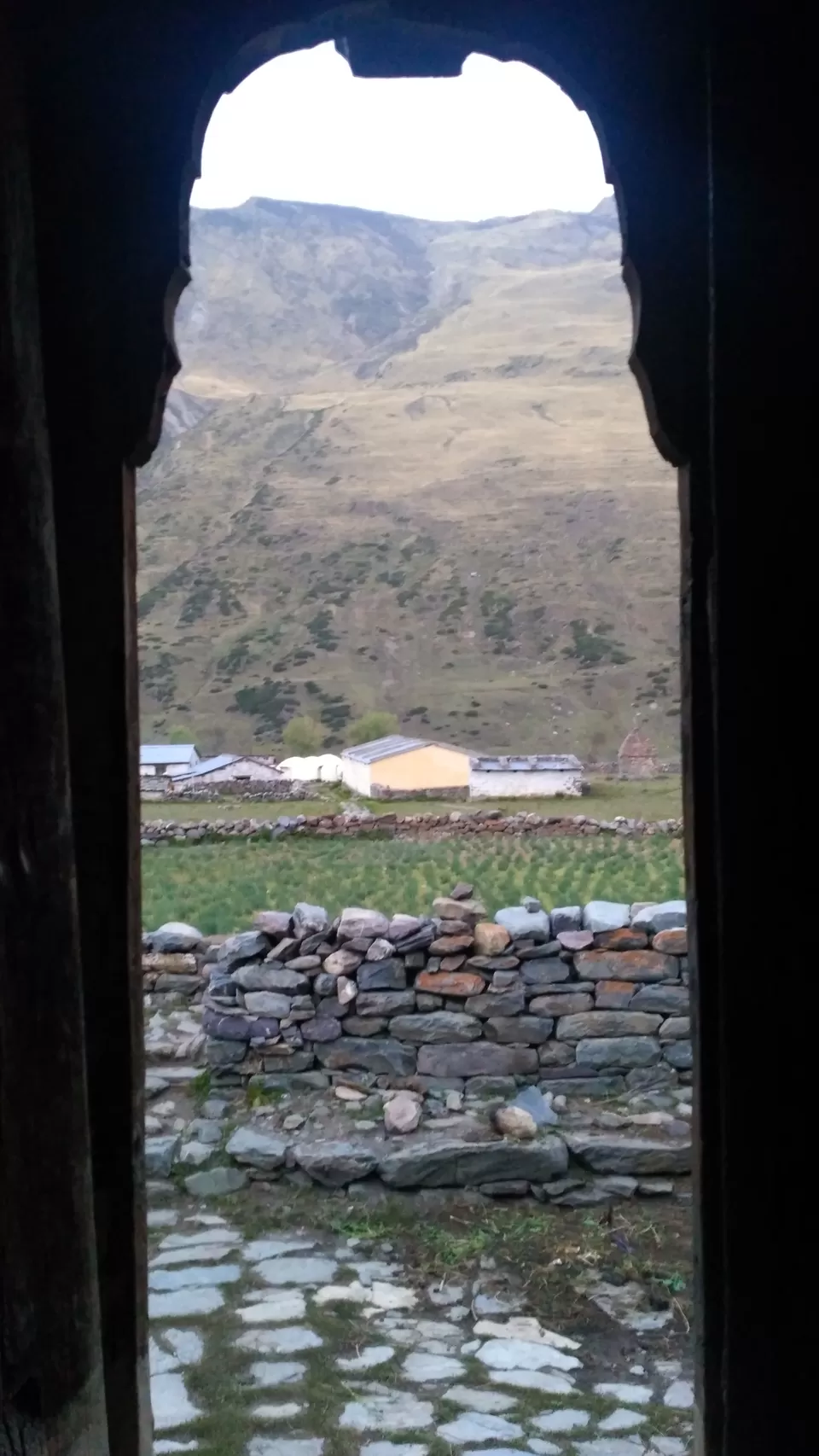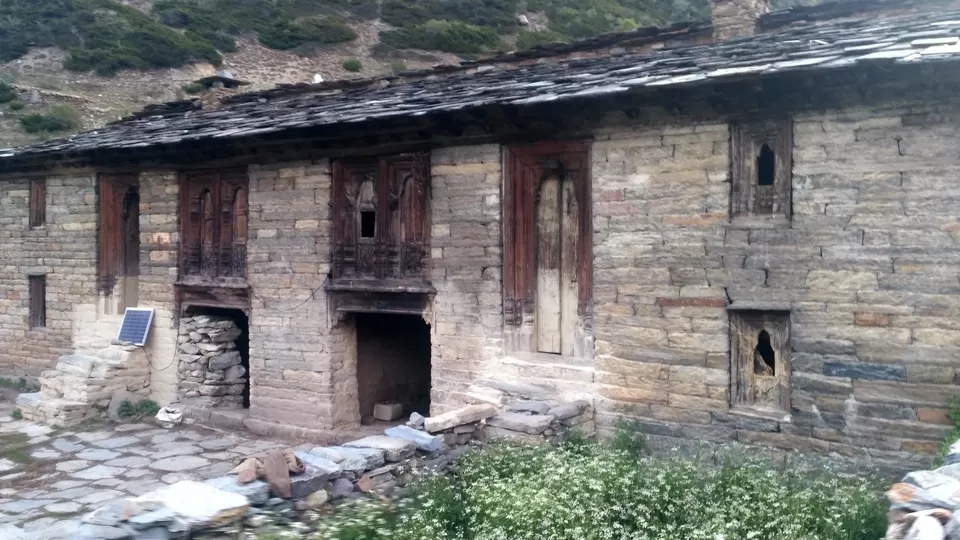 The sky went dark and Mr Jangpangi asked me if I wanted to have a drink. Well, that was gold. So the thing is that you don't get the English wine there but a home made drink made out of rice and other stuff and it tastes really good. The man and I sat in their kitchen where the lady was cooking the food. We three spent a good time talking about many things around the place and people and their family. The man was a retired Army personnel who fought in the 1971 Indo-Pak war. So the stories of the war began about how they were air dropped and how they walked through the jungles and how they stayed out of food and how his friend got shot in the head right in front of him and how he was scared and how he was angry and how he thanked god that kept him alive through all that. It was unimaginable to hear what he spoke and I could see that compassion in his eyes. And that's how the day ended.
Next morning I paid them 250 as I was charged for the sleeping space as well. Remember, to sleep you will only be given a mattress and maybe a blanket but you need to carry your sleeping bag. I was all excited for that morning because I was about to reach where I wanted to be and it was an easy walk in a beautiful weather. Because it's a wide valley, the sun showed up early that day and we wished each other. The road was wide and the river was quiet and easy, sending light wind to the sky. With my pace, I reached early near Milam, that I could see from a distance of 3 km because it's a big valley.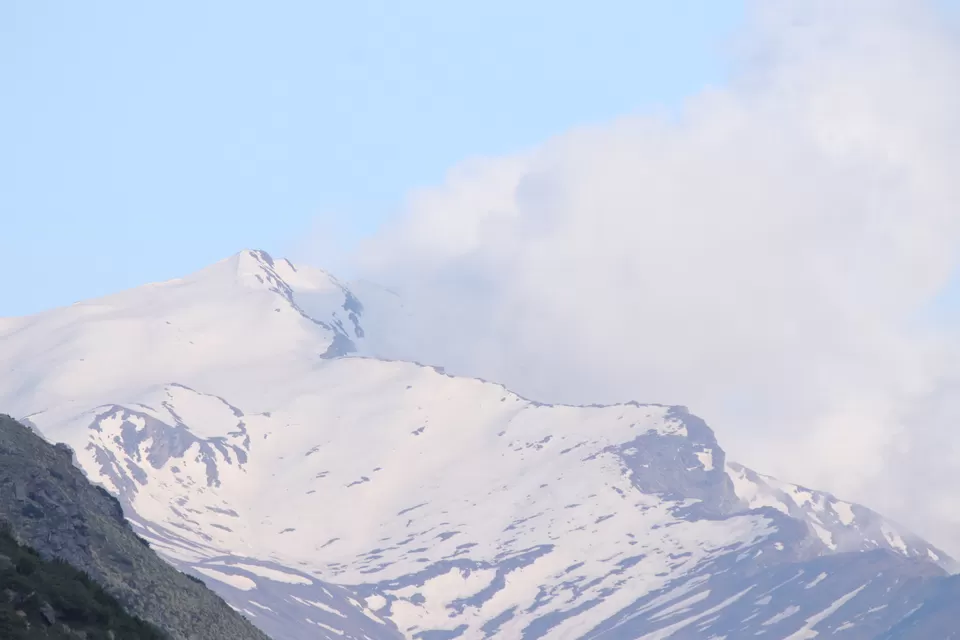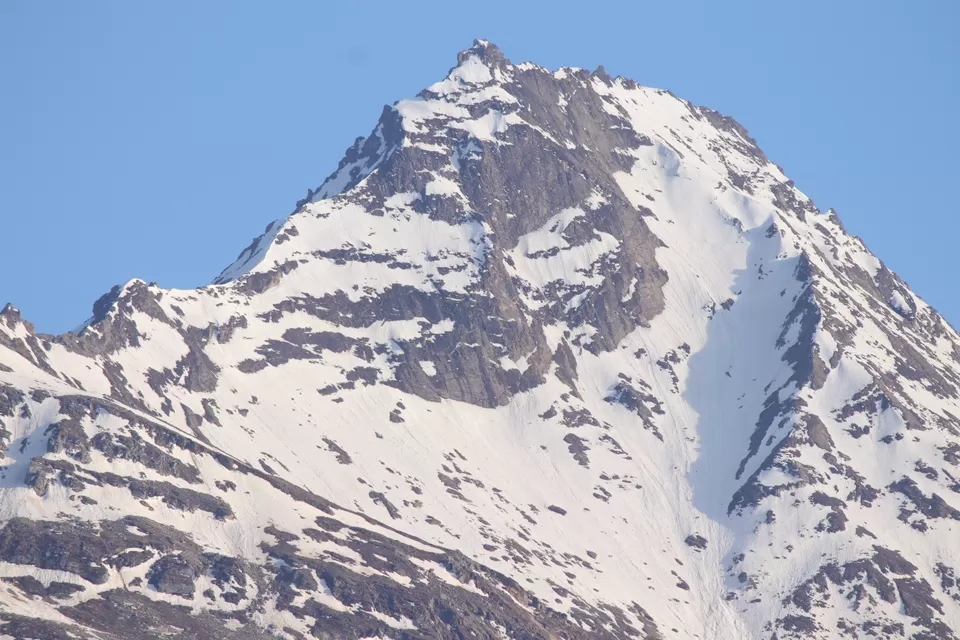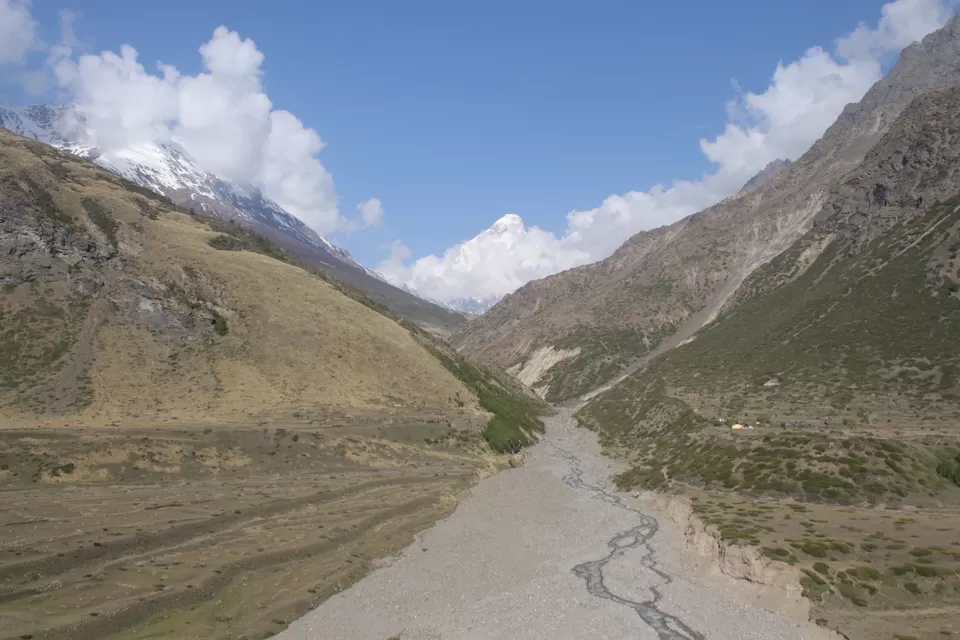 I could see the Nanda Devi Parvat which was on my left, behind the Pachhu village, shining white. I reached Milam by 0900 hours. Marked myself at the ITBP base, Milam, again. Went into the village to find the place to stay which I already knew through research. So, I asked the people around and walked towards it. It was at the end of the village. I had to cross the whole village and I was blown away to see the houses and architecture and the size of the village which was abandoned.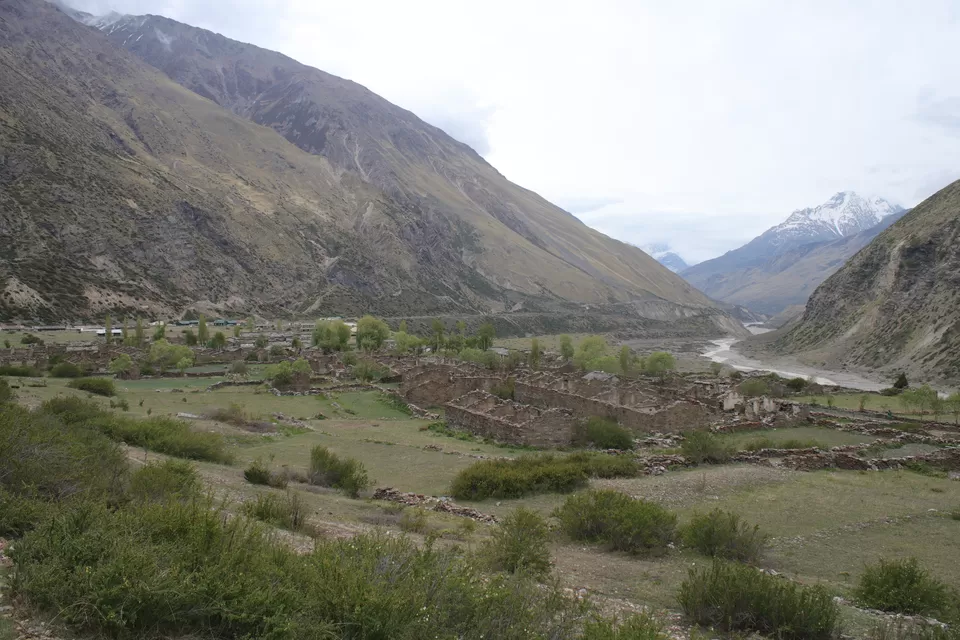 I could only imagine, what kind of atmosphere it would have been when people really lived there. I went to the guest house where I found this old man, aged around 75, but was quite fit. He was working in the field that he had cultivated. There was a duplex old pahadi house with a garden surrounded by trees and lots of stuff growing in that little farm which he took care of alone. He was living there with his dog Bruny, a German Shepherd, a very friendly dog. As a man can be accompanied by nothing better than that. It has been a very common bond in the hills between the man and his dog. Without a doubt, you will find at least one dog in most of the houses.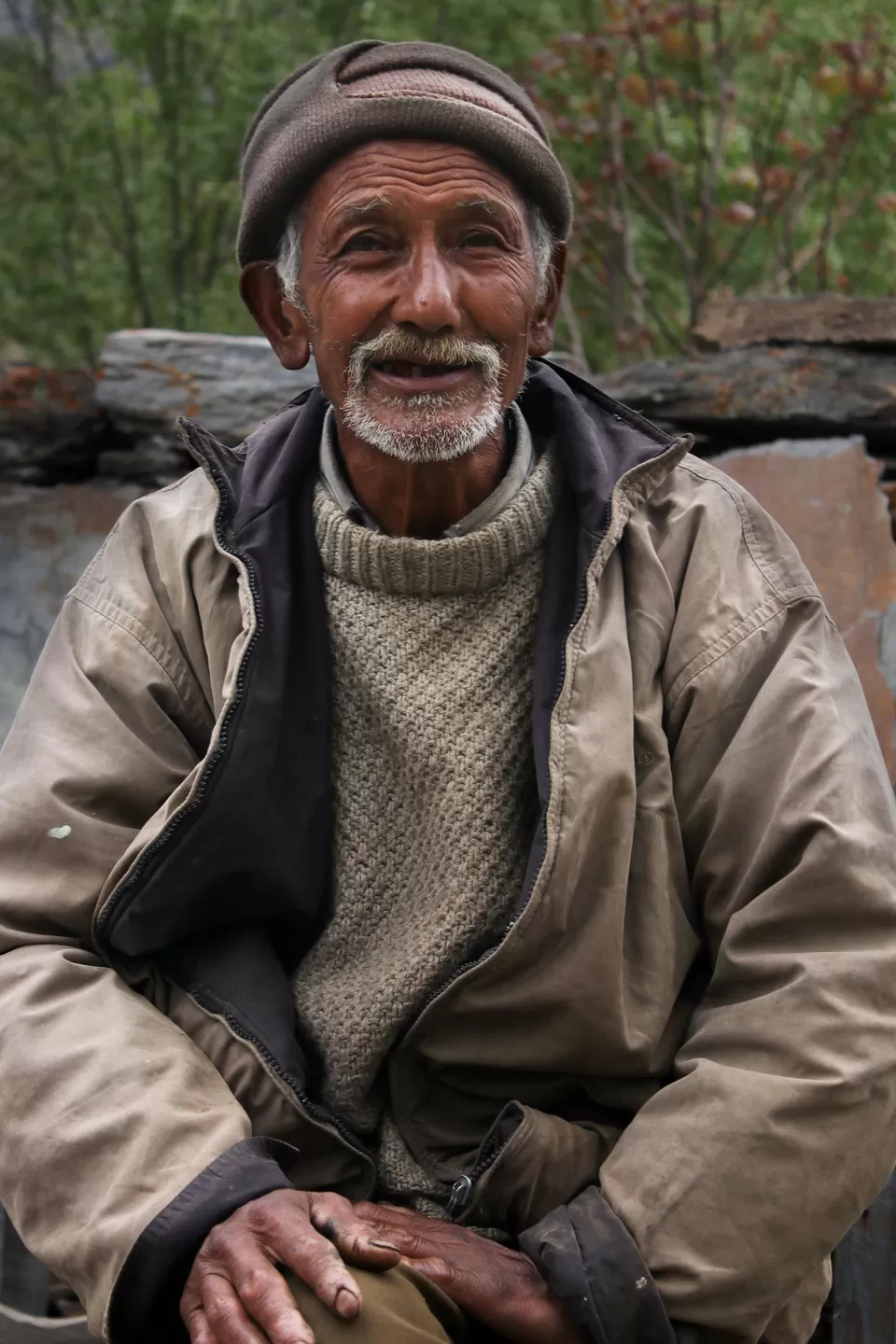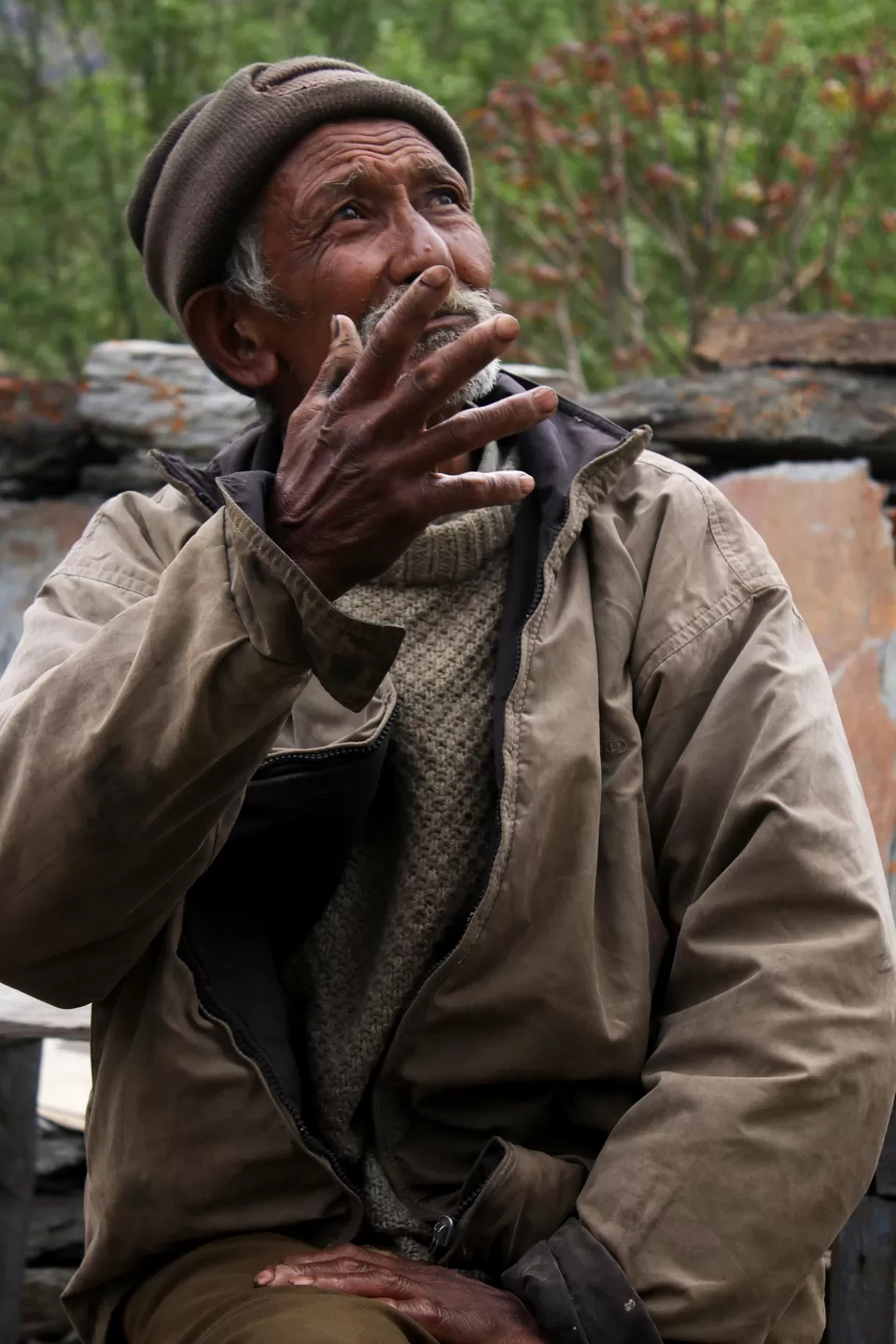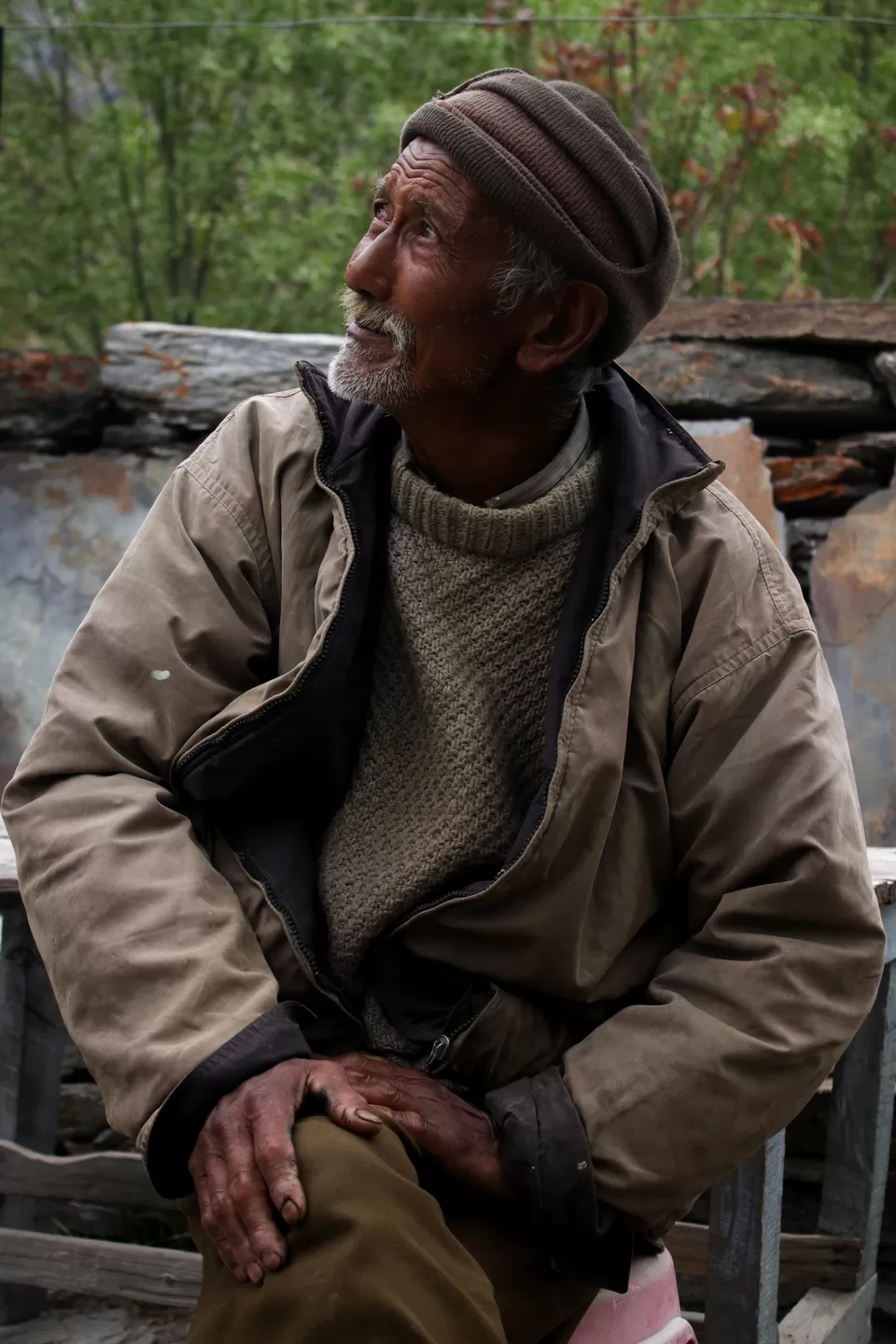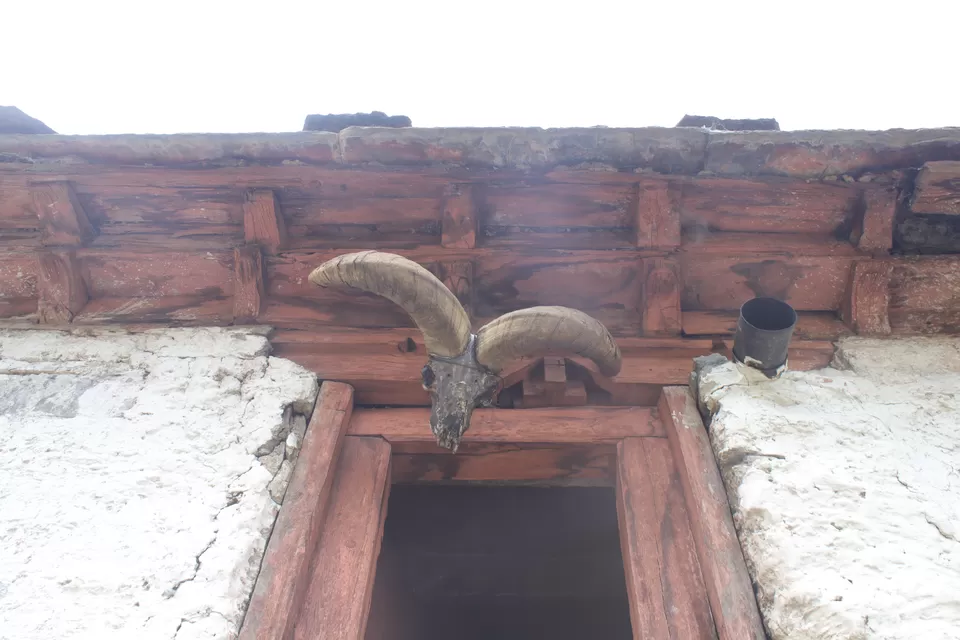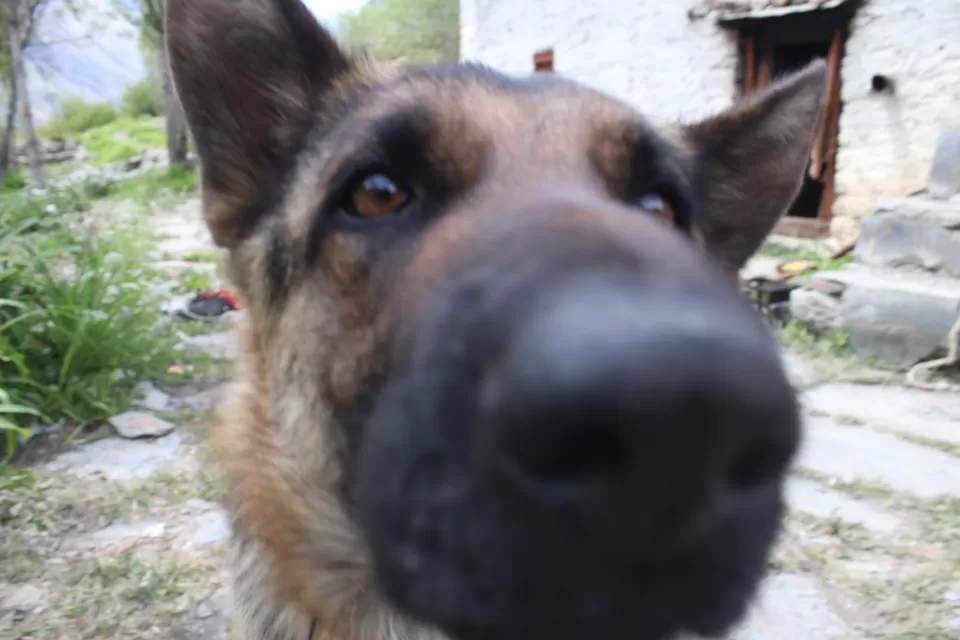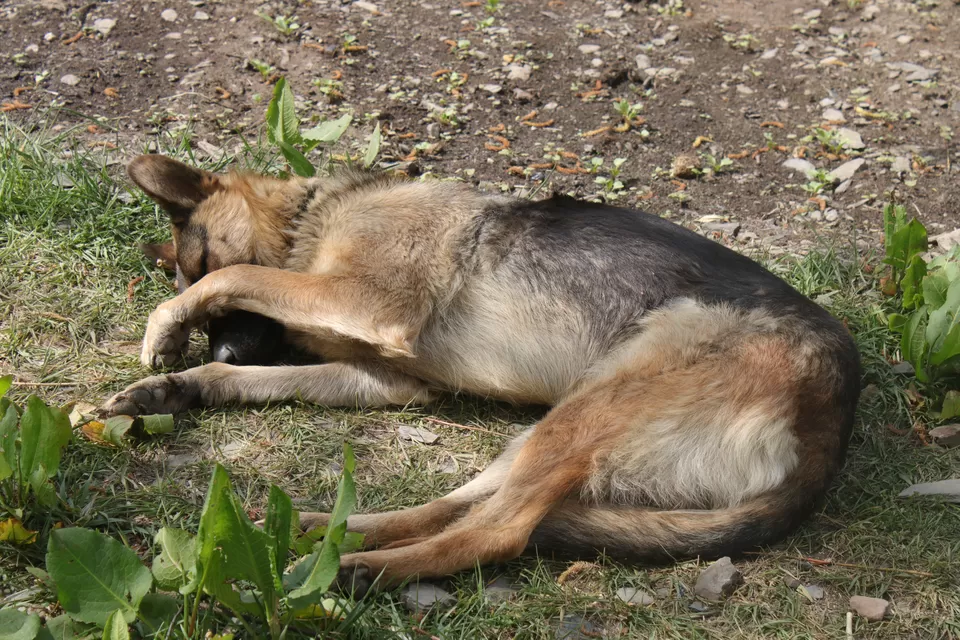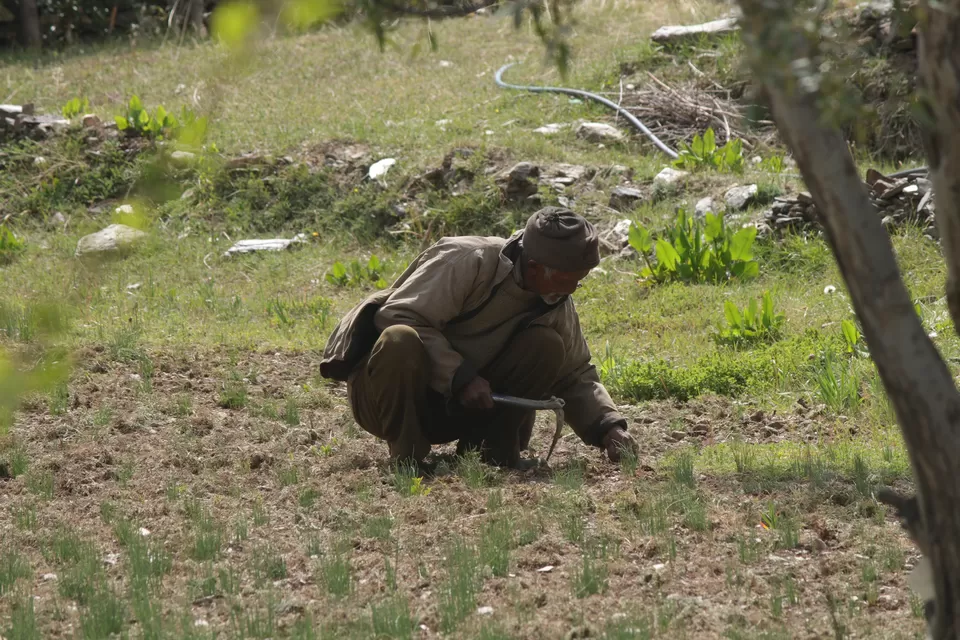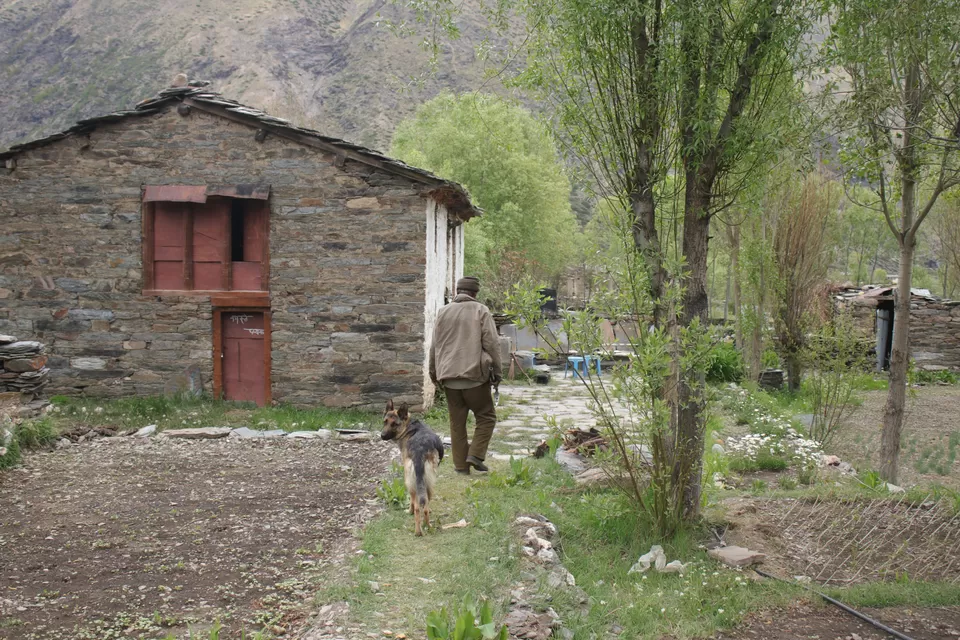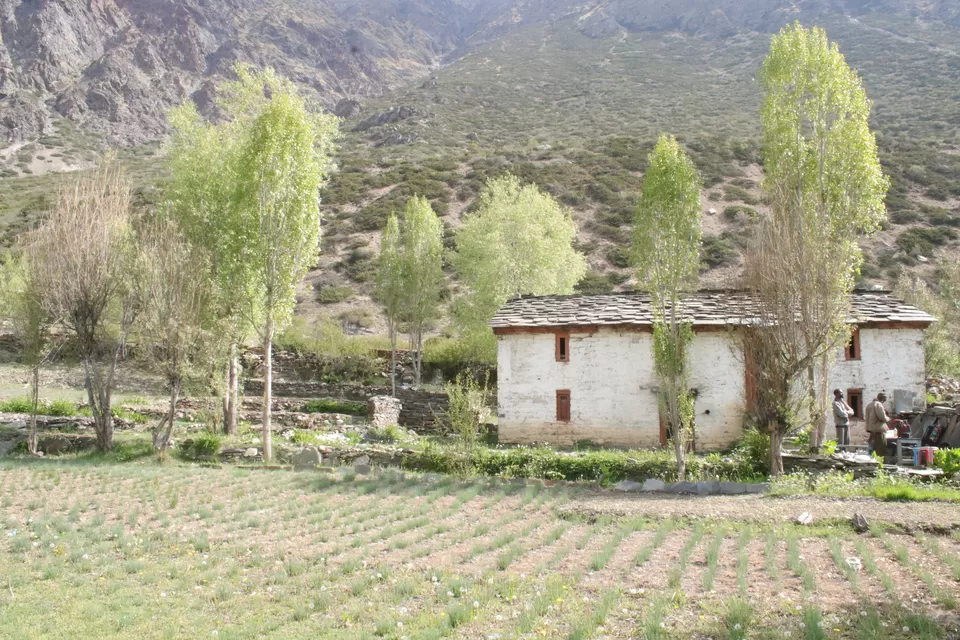 My ability to speak Kumaoni language helped me throughout my journey, to make everybody understand easily. I sat there in his courtyard and he brought this register which I opened and saw the remarks and letters and experiences of people written in that but I had no idea what to write about, so I asked him to just keep it for a while as I have nothing in my mind.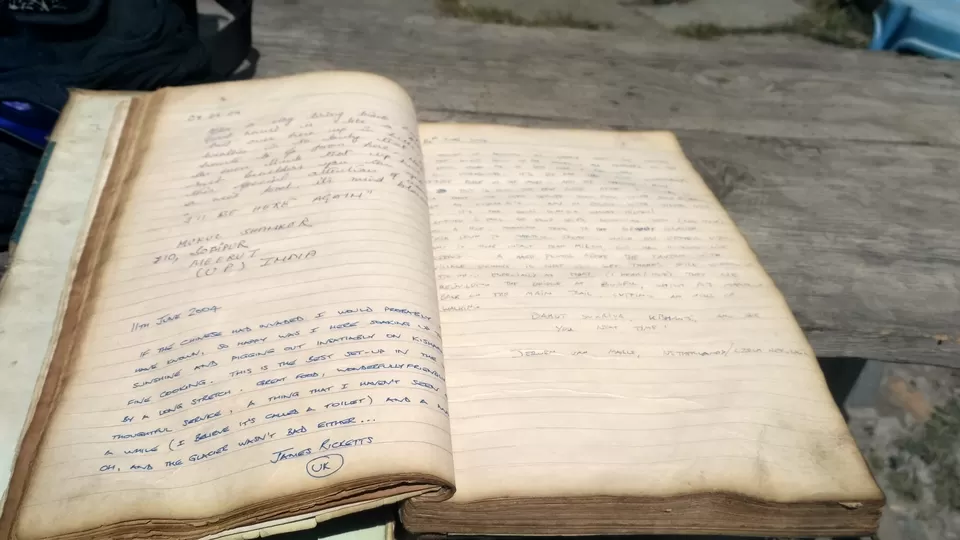 He told me to keep the bag as I had to first go to the glacier which was 3 km ahead of that village and then come back. I kept my bag there and went on to the glacier and saw this little source from where the water was pondering which was unbelievable to see because I have seen that river in huge shape down below.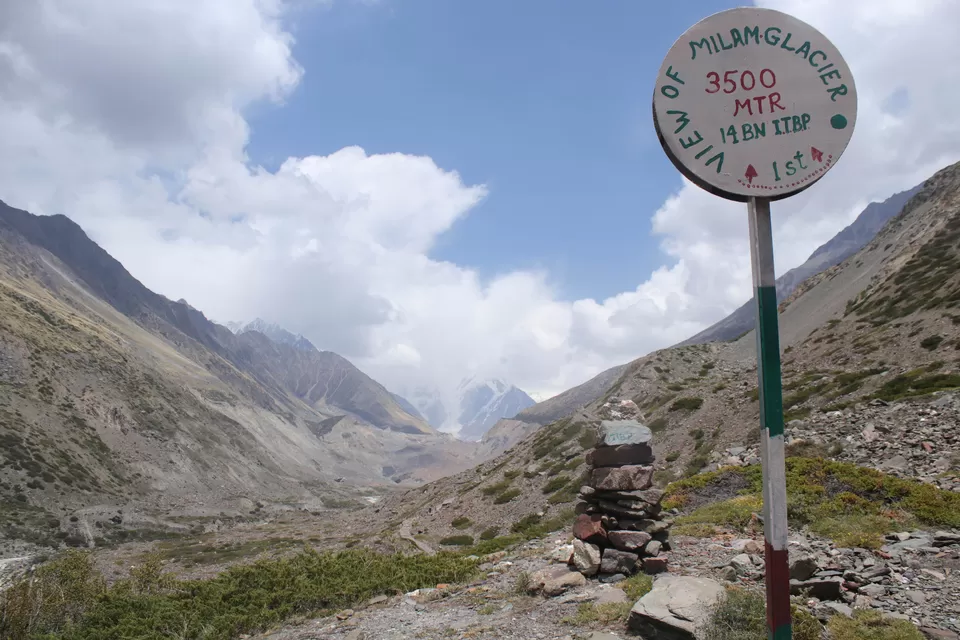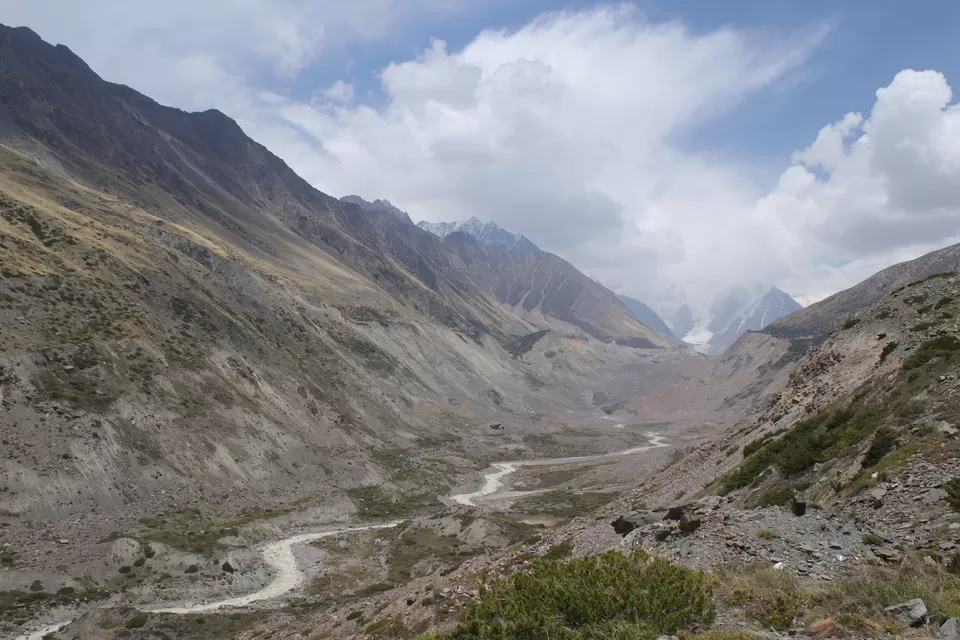 I came back to the house, drank tea and went straight to the river to bathe. The water was freezing cold. Because the river had strong current, I looked out for a shallow place. I went in and the cold water hit my body like a current and I got out in secs. The sun was equally bright, so I went in again and when I came out I felt no pain. It was all gone like magic. It was one of the most fantastic feelings I have ever had. I sat under the sun for some time with my legs on the water for a while and let it all sink in.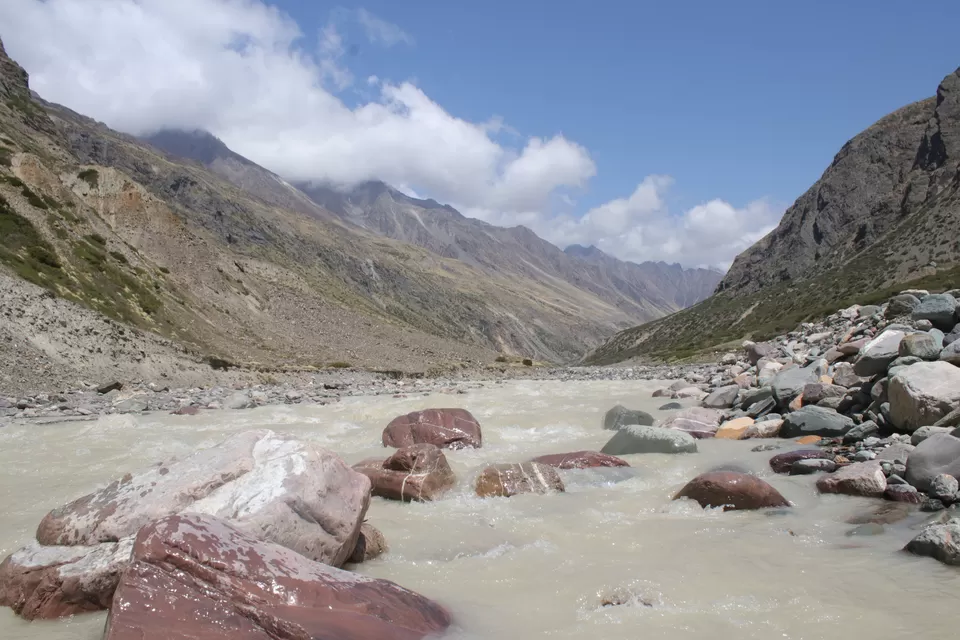 I came back to the house and he gave me the food ( Daal-Bhaat), by now I knew that everybody in these villages has that local drink. I asked Bubu ( Grandfather is called bubu in Kumaoni), his name was Kishan Singh Martolia, if he has anything to drink. Surprisingly he had two kinds of it. One was the normal hard drink and one was called "Jaan", which was white, cold, like a beer. I took the hard one obviously and had it with food, talking to the old man. I knew one thing looking at him, that this day, I am gonna get to know a lot about this place and the Himalayas and other stuff. Now the other stuff is actually very interesting and historic. When I sat there after that bathe and drank that homemade wine and the sun rays were beautifully warm and I took the first morsel in. I was feeling amazingly happy. The happiness of just being there, sitting and drinking and eating that Daal-Bhaat. I thanked God for giving me the opportunity to do that and for letting me have that experience, providing me that food, within that environment.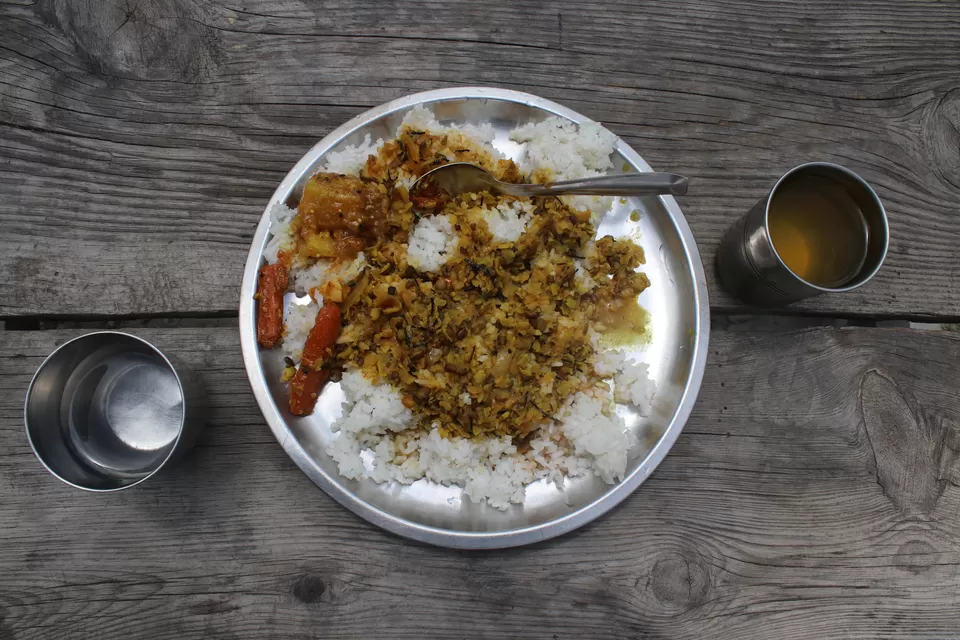 So the conversation that started between Bubu and I was that he asked me why I came alone. I told him that I like it to be alone. He laughed and said, that is one thing I like myself. Away from everything, I like it here where nobody is.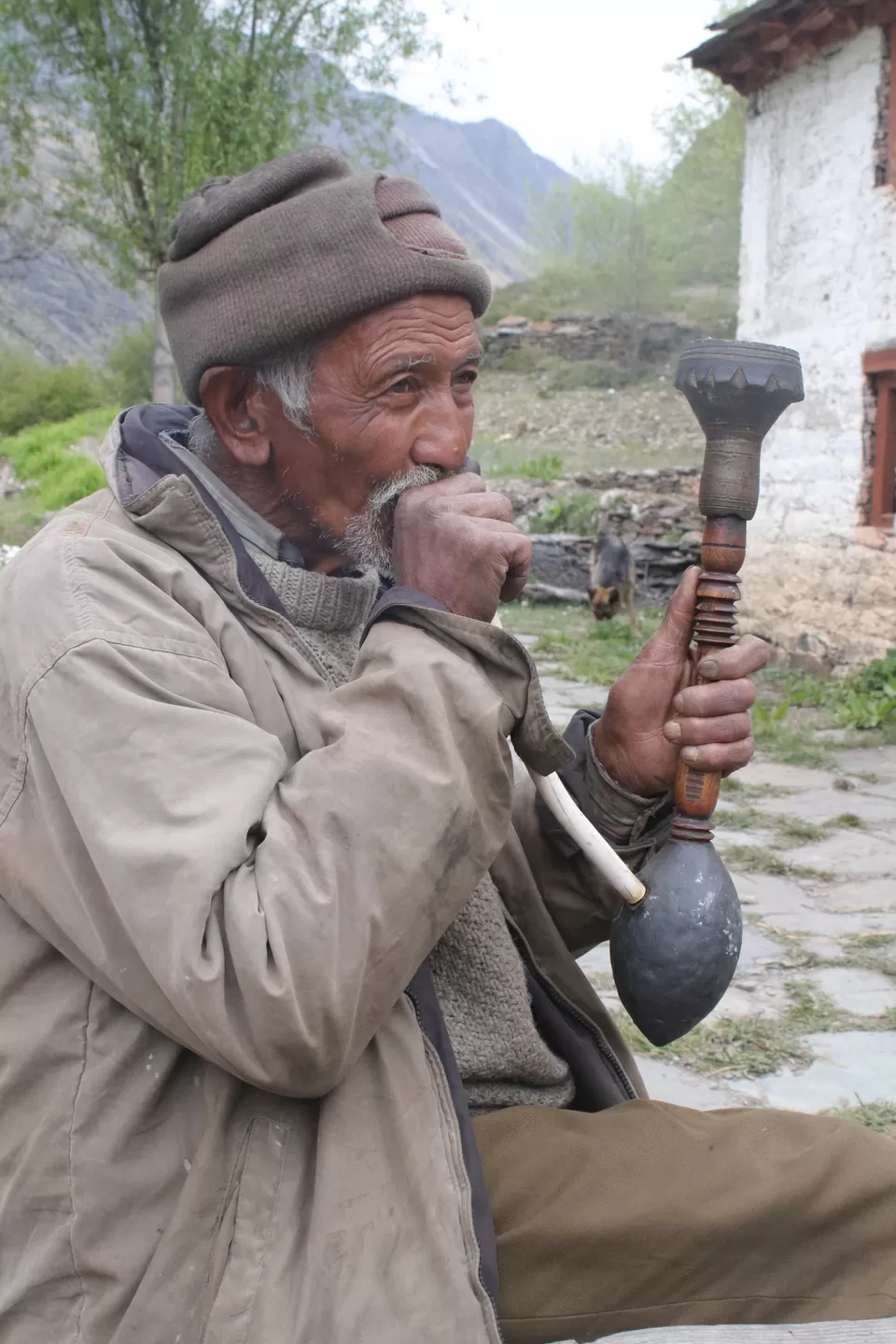 The other stuff which I mentioned was the history of that village, that valley, that route and the most important man Nain Singh Rawat ( C.I.E ), who was my main motivation for this journey. I realised the answer to my quest at that point was to walk through the history of Johar valley. To reach the home of Nain Singh, whom I was reading for a long time and to discover the history of Shaukas. The man who traveled and discovered and mapped the Trans Himalayan route.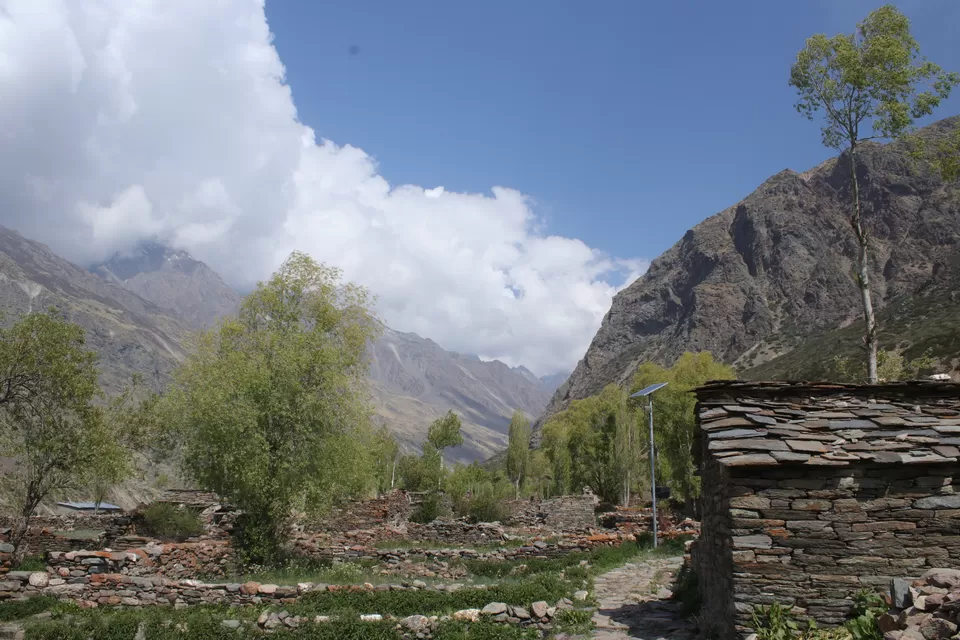 Shaukas are the people who lived in the 12 villages of Johar valley. They were asked to migrate from the valley during the 1962 Indo-China war, as it is close to the border. Since then few people from the villages come up in the summer for herbs, that grew in the Himalayas after the snow and go back down in autumn. The villages were divided according to different cast of Shukas with Milam at the highest and last village in that valley. They were always professional traders and did a great volume of trading to Tibet at that time.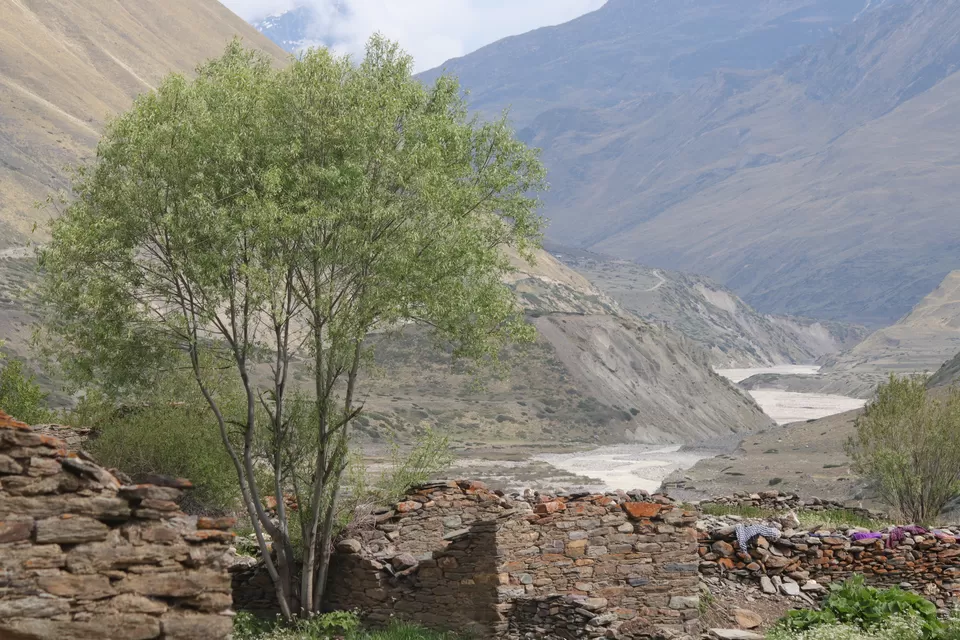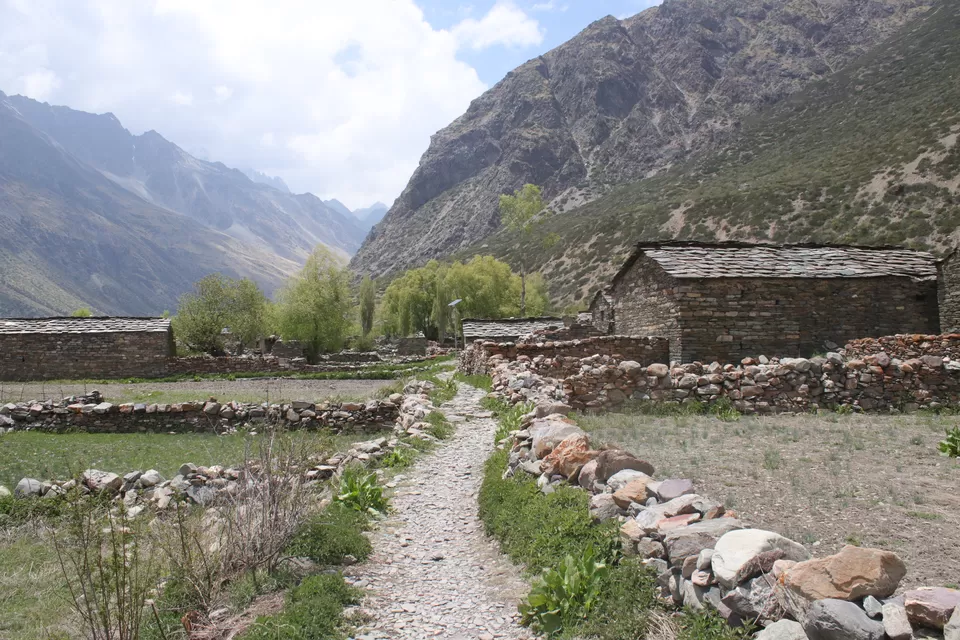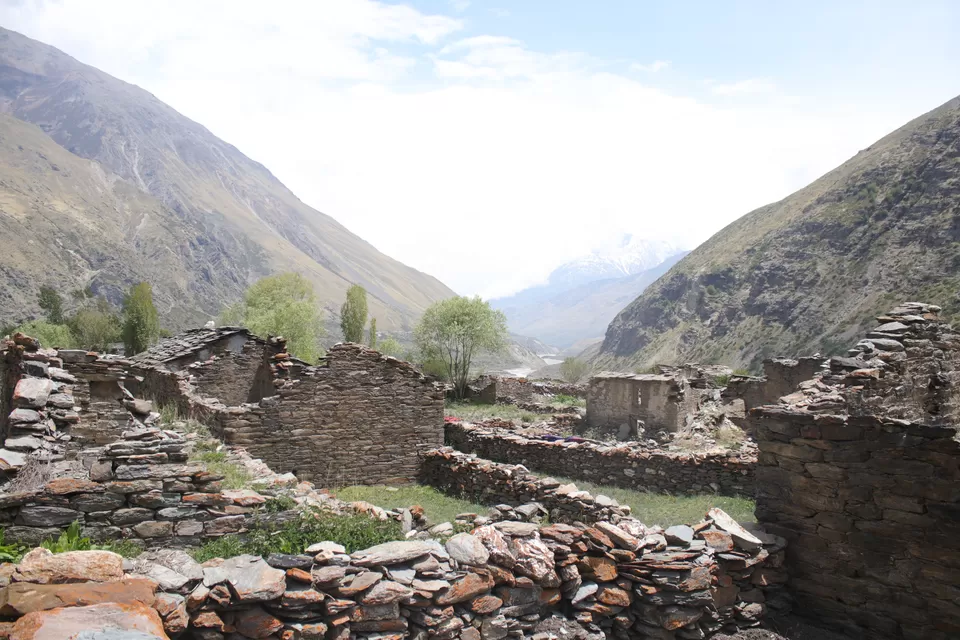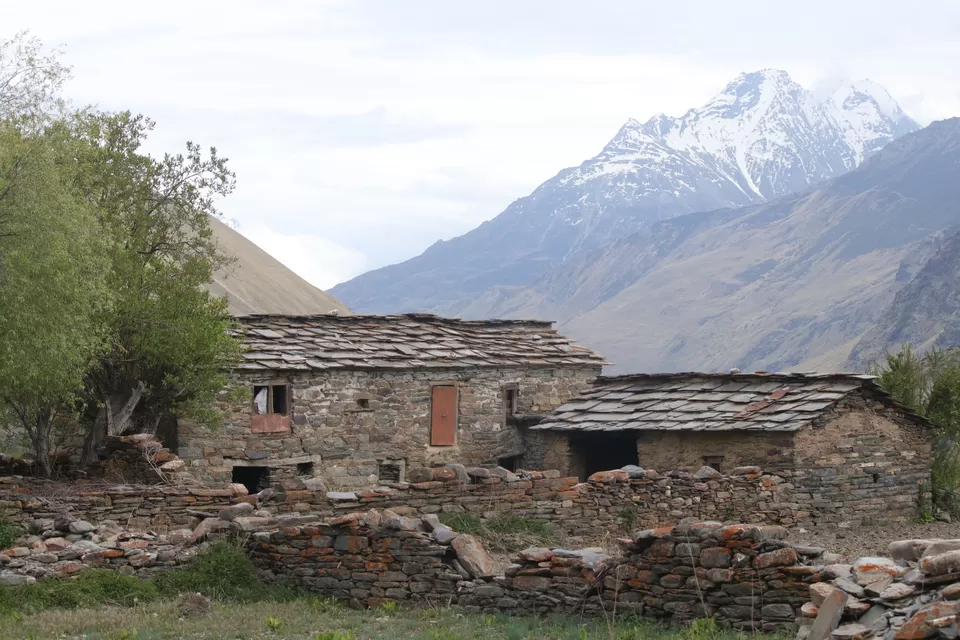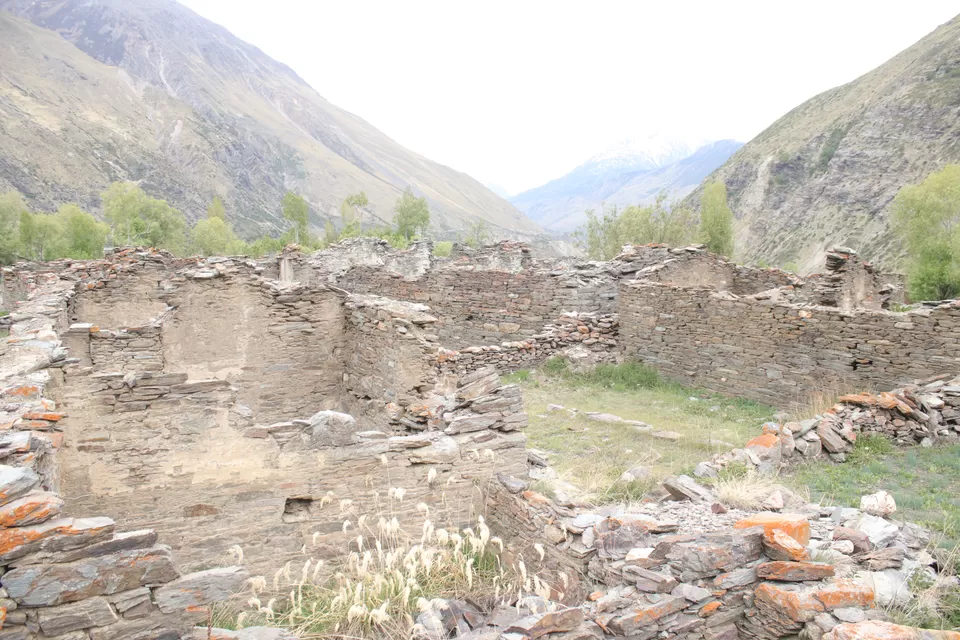 The village was so large that any new person could get lost in it for the first time. It was once the biggest village in Almora district with 500 plus families living there. ( Mialm is in Pithoragarh district, Which got separated from Almora district ). They had their own jail and own form of magistrate. Shaukas have always been very brave, intelligent, smart, the natives of trans Himalayas with Mongolians as their ancestors. After the migration when they had to come down most of them got involved in business. But many of them are well educated as well and are in white collar jobs. The education was established among Shaukas long ago. When the world today is still struggling with girl education, it was unimaginable to see a separate girls school at the Milam village, established a century ago. The knowledge of books and the knowledge of the toughest region of the world made them smart enough to lead a good life and stay ahead from many living down below in the plains with luxurious facilities. They have a very rich cultural heritage which I didn't find among others in Uttarakhand, not even in my own.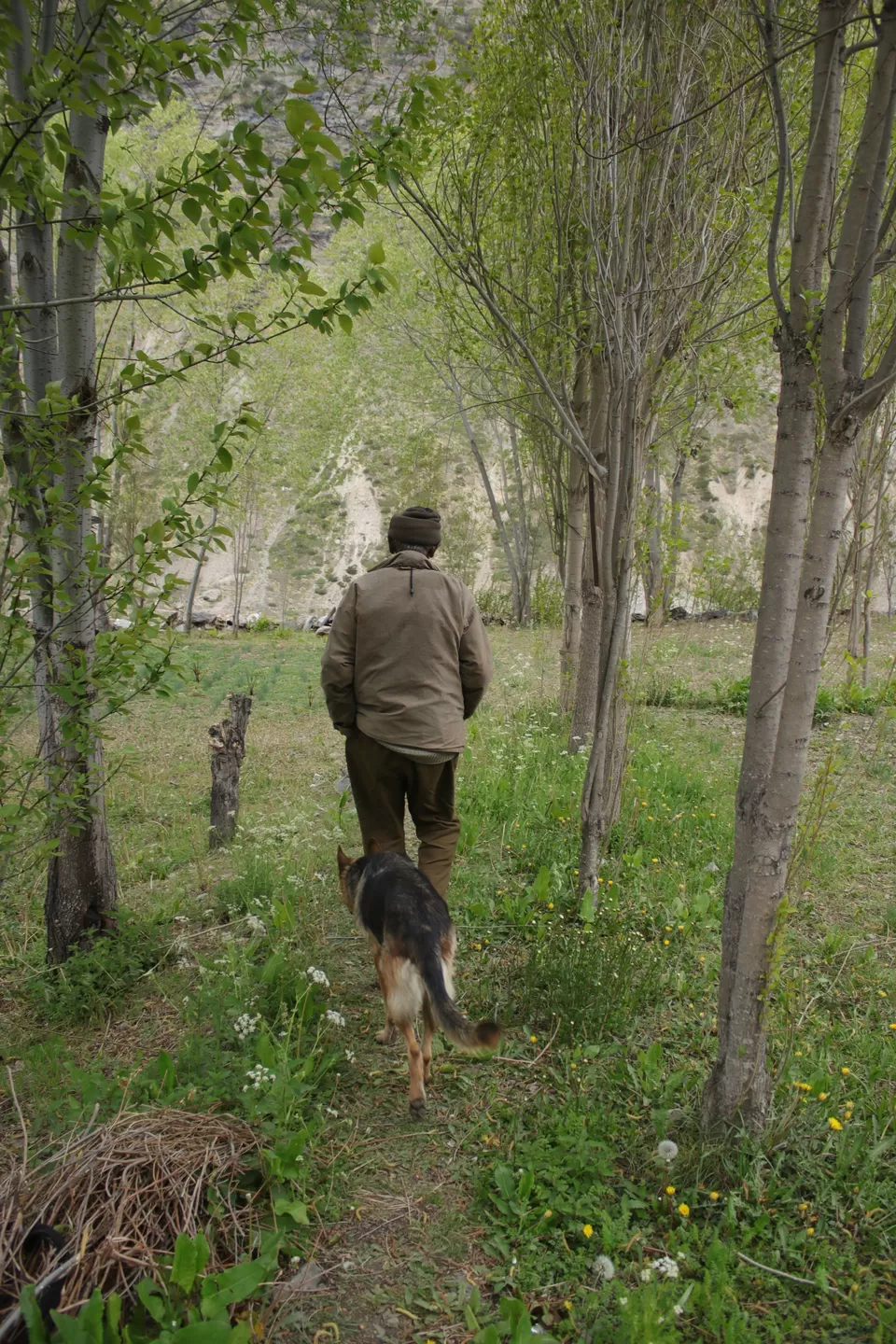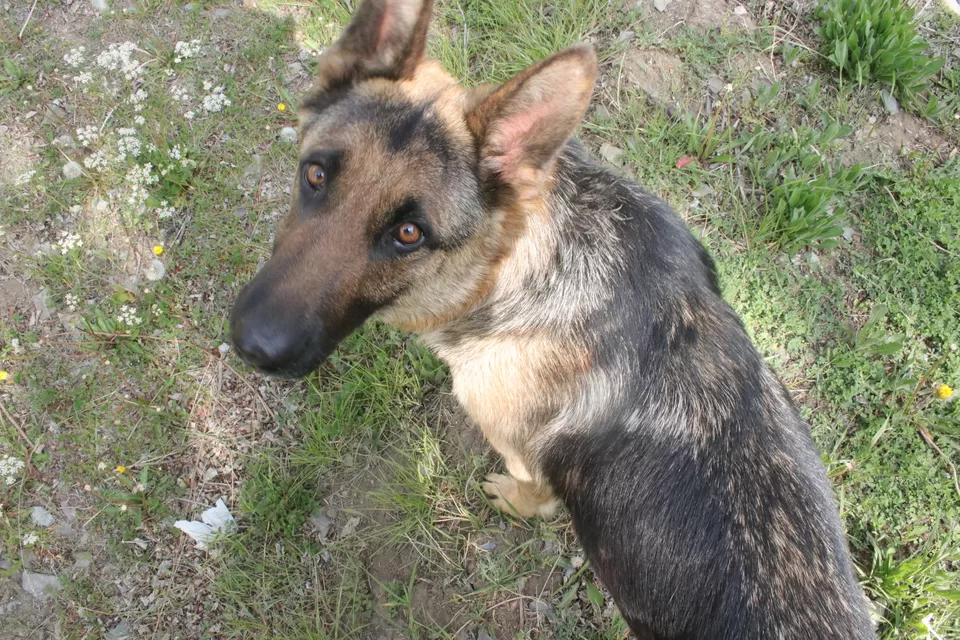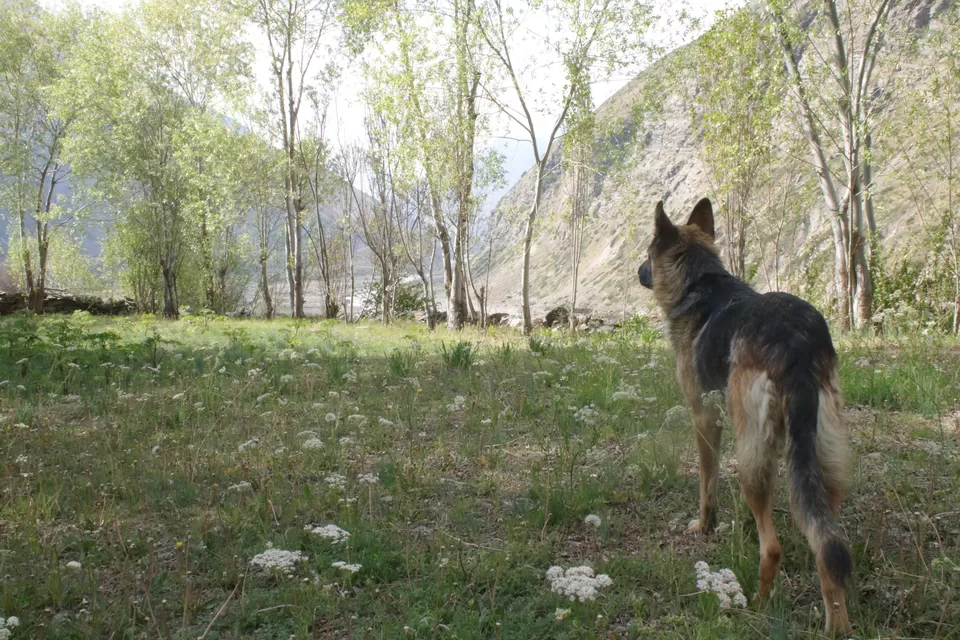 I went on to roam around the village with Bruny. The conversation and stories kept on going throughout the day and the light and warmth of sun turned into wood fire with great dinner and sleep afterwards.
I saw someone coming from ahead and I noticed that he was the young boy who was walking along with his father, I met en route. He told me that his father couldn't walk more as he had a surgery done recently so he came up with another man. I was happy that he chose to walk. I went to the ITBP base and confirmed if the truck is coming today and on what schedule.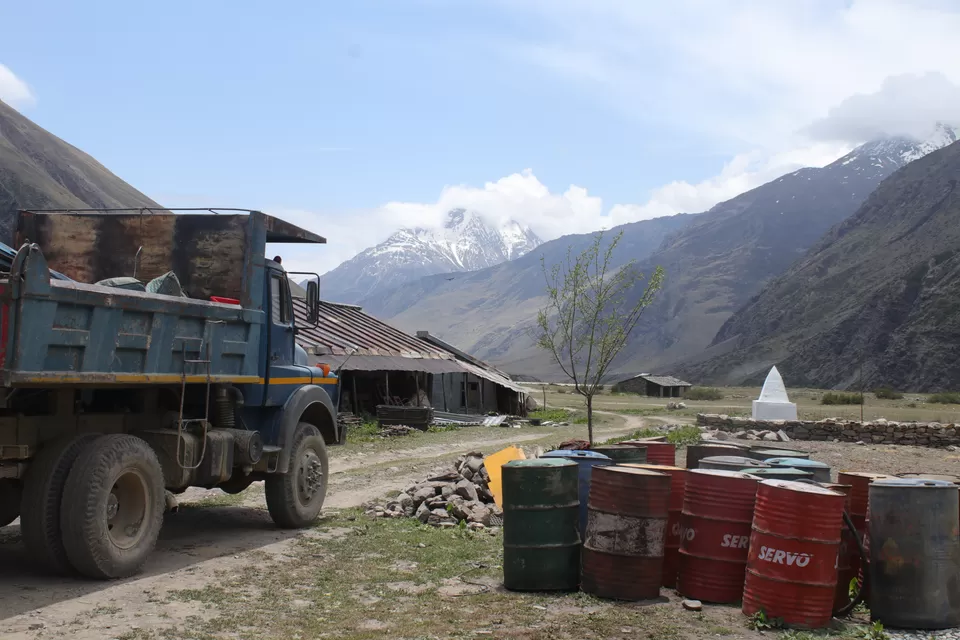 I marked myself out at Milam post and sat on the back of the truck at around 1245 hours, it was more deadly than walking. I reached Rilikot by 0230 hours which was 18 km of distance, ate lunch at Rilikot and decided that anyhow I had to reach Bugdiyar by the evening which was 14 km of distance. I again marked myself out at Rilikot check post and went on. Now from Rilikot to Bugdiyar it was just Mapang and Nahar Devi. Nahar Devi was 11km. I reached Mapaang by 0450 hours and there I met that old man and his guide again whom I met going up, the old man who went to Nanda Devi and was sick. He looked fine that day. I didn't stop there for long and just kept on walking. I was eager to reach Bugdiyar anyhow so I can reach Munsiyari the next day.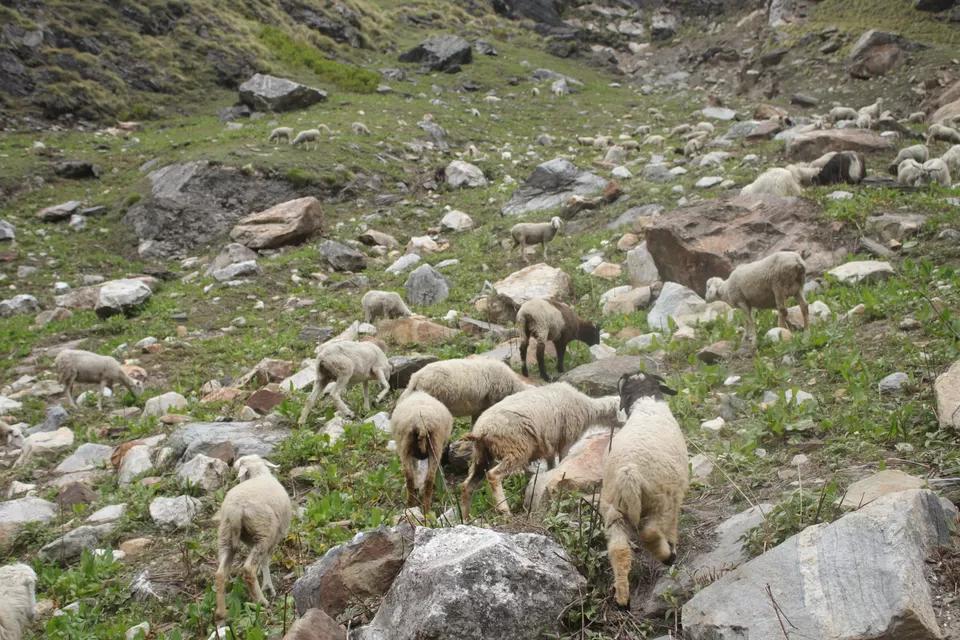 Now on that route, I did not find any single soul walking by. I walked as fast as I could. The path was a bit easy than what it was while going up but it was not straight. It was still full of ups and downs. Anyway, I reached Nahar Devi at 0630 hours and the sun was out, just the white light left in the sky. I took a tea break at Nahar Devi, it was cold. I met those Himachali guys again, as they were staying there for the night.
Now from Nahar Devi, Bugdiyar was 3 km. It was pitch black by that time and I lit the torch I was carrying and walked through its light. After 2 km of the walk, I could see Bugdiyar ITBP check post's light from up and I just kept on walking. When I reached there I had to cross the river from a small bridge that leads the way to the other side, where there was the hotel and ITBP check post. The river was full of big stones and the path was in between them, which I could not find and got lost. I walked ahead and reached to the river sounding dramatically horrific. I tried to figure out where the bridge was, so I moved a little down from where I was standing and there was no bridge. I stepped back to where I came from but I lost that path as well. The river was very loud every time I went near it and then somehow I found the trek back and tried to remember the way. With that torchlight, I tried to trace the footmarks, found some and followed them. Luckily I found the way to the bridge through the stones and crossed it. That is how the day ended and I reached Bugdiyar at 08:00 hours and the guy at the hotel was quite surprised to see me come back so early and that too at night. I also met the father of that boy whom I met at Milam. He was a bit worried about his son, I told him that he has reached Milam this morning and I am assuming that he will be back by tomorrow. He asked me if he had his bag with him? Was he looking fine? I mentioned that the bag was there with him and he was looking more than happy. And then the drinks and the food and the sleep.
The same drill started early morning that day. Now there was a confirmation about the route, down the mountain is open and I really wanted to avoid the Maan Singh top this time. But words were that it is quite risky and if you get lost or anything happens, you won't be able to get rescued. But I had to take my chances. I again marked myself out from Bugdiyar check post for one last time and said goodbye to the friend I made at ITBP. I went on and the sun started to show up after an hour and when I reached Syuni, 3 km from Bugdiyar, I met two people from that same group of Himachali boys. They split because of few grudges and they were waiting for their group to rejoin. I informed them that I met with other people in their group last evening at Nahar Devi. They were relieved to know that they are close. I asked them if they are gonna take the down route because these guys had come up from the same route and we three walked together from there.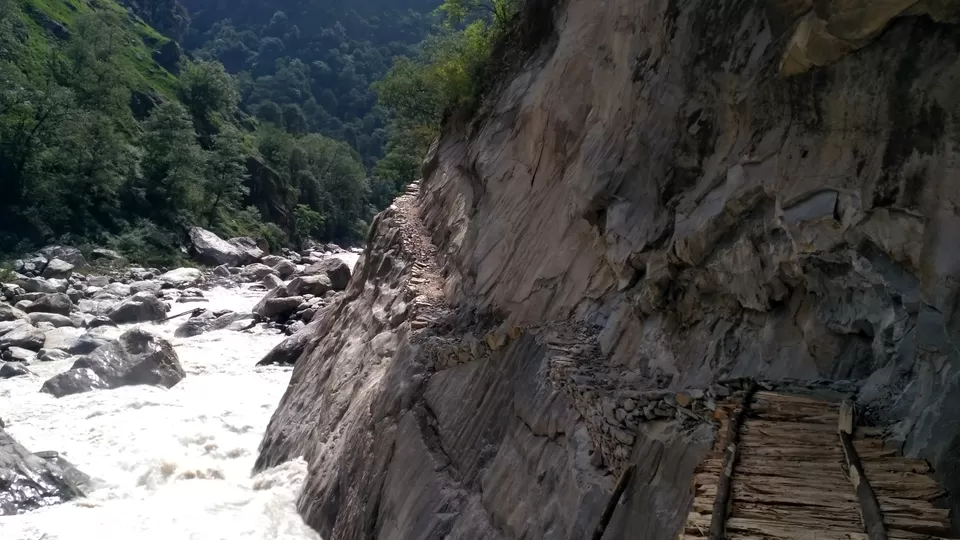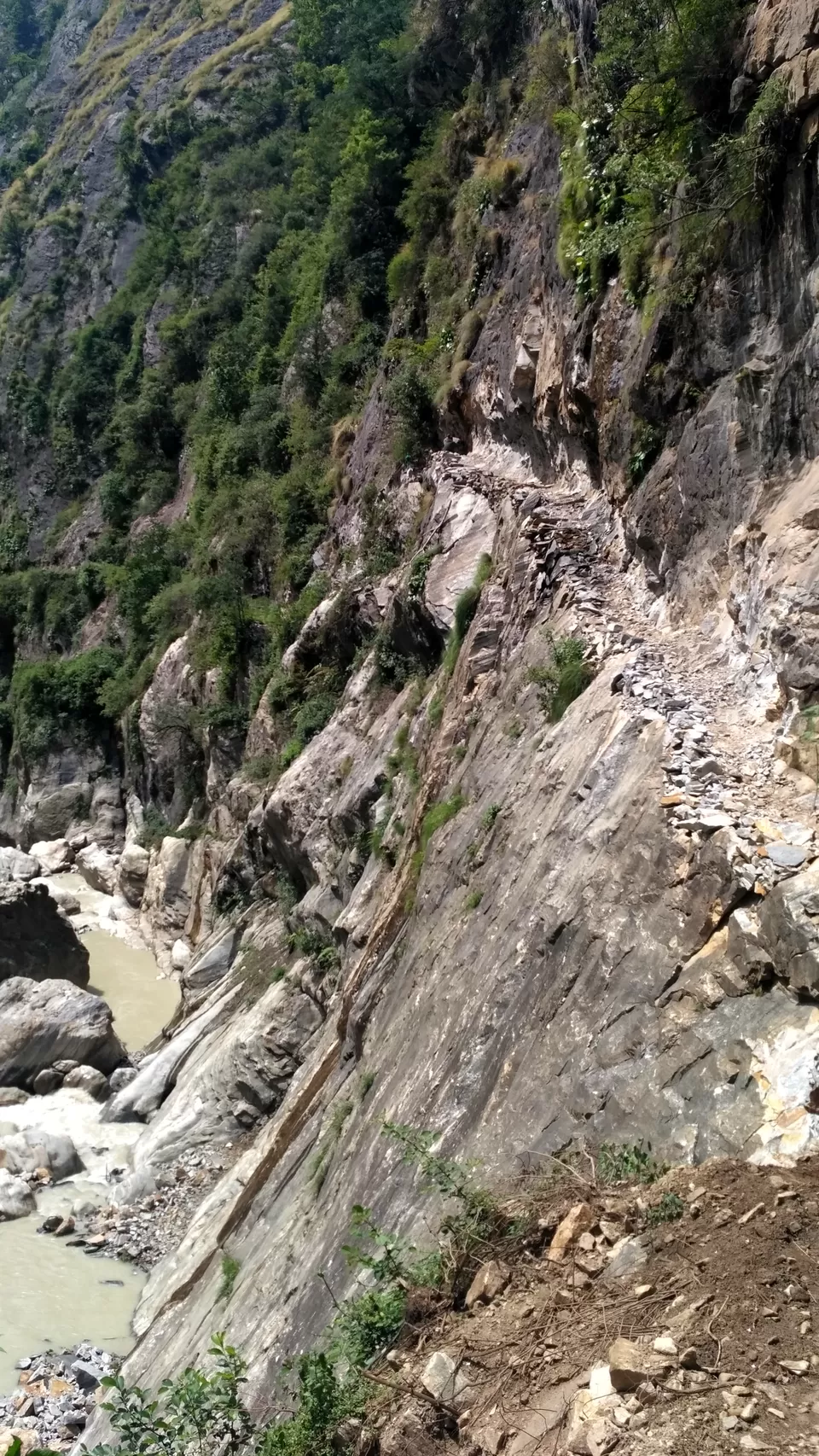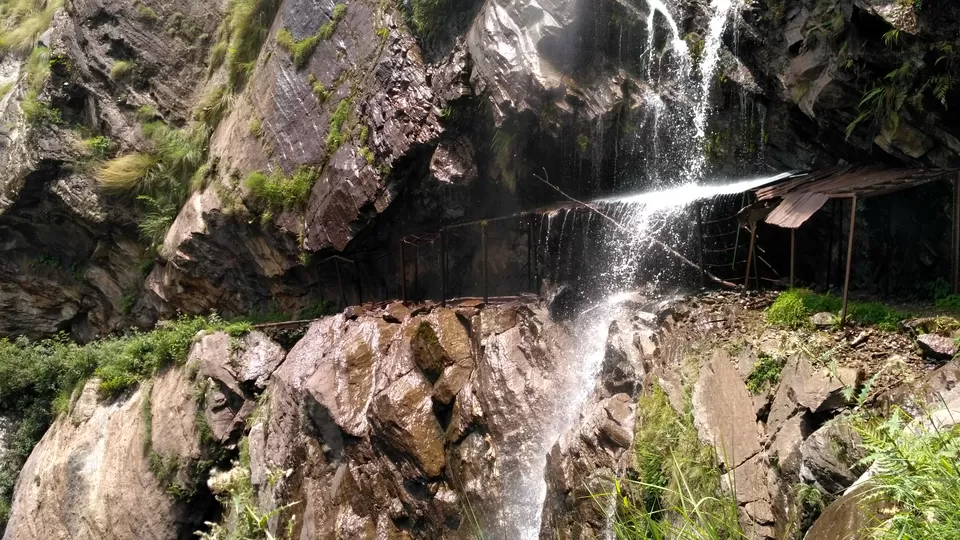 The down route was divided a little above from the Rargadi bridge. It was very different and risky in its own way than the Maan Singh top. It was inside the jungle, slippery and more narrow than the whole path I went through till now. The path was just cut through the rocks, trees and made with wooden bridges in between with a few spectacular waterfalls above your head. There were stones pelting down because of the horses and people walking right above in the Maan Singh top route, so one had to watch while moving. In between,there was not really a path to walk but grass to adjust your foot and walk and sometimes a rock to climb and get on with it. Because they both had to wait for their group to reunite, I had to move on alone again and by 0200 hours I crossed Lilam the last village and reached Chillamdhar, sat on a taxi and came back to Munsiyari, visited the Trible heritage museum, saw one match between under 16 girls in the very famous football tournament of Munsiyari, spent the night again at TRC and head back to home the next day.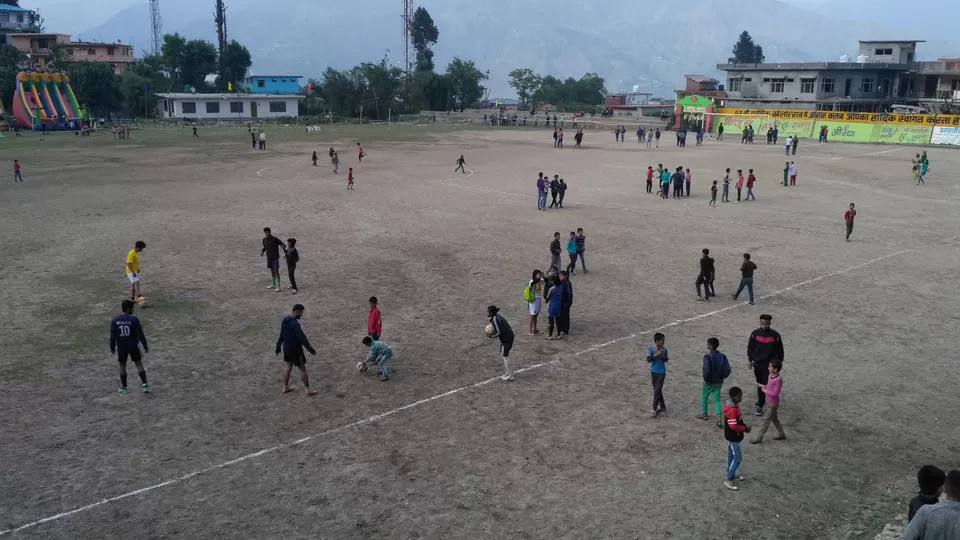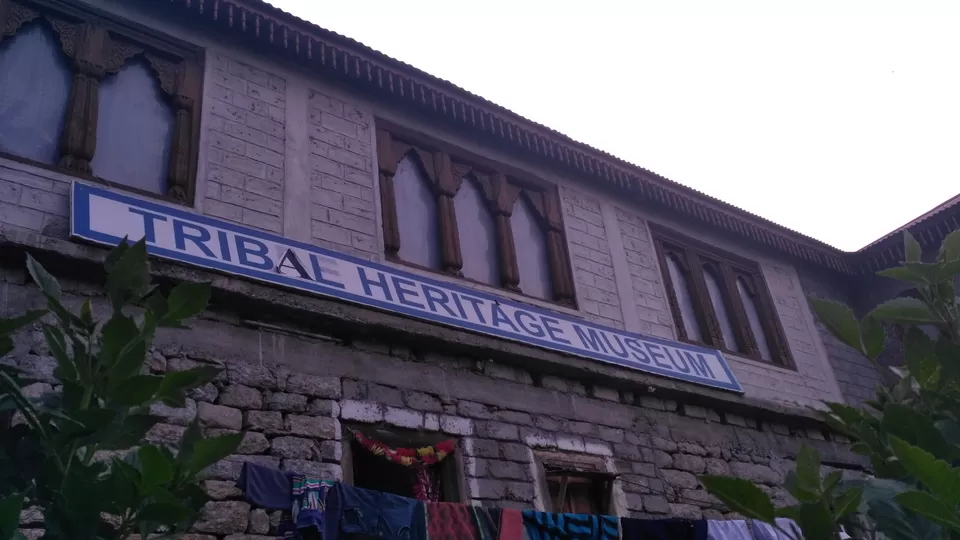 The things that I learnt during the trek is that walking alone gives you more strength than being in a group. It gives you the courage to lead your heart. I was welcomed with surprise and smile and respect when people got to know about me going on alone. There are several turns on the way which you have to cross every time with a thought that you never know after which turn you will find your destination. So you just need to walk to that turn and always look back to see how much and through what you have walked. The beautiful thing about that trek is the river Gori Ganga. It walks along with you, I mean at first reverse, but its loud voice keeps talking to you and motivates you not to give up.
Things that you need to remember for this trek are
You should carry a tent or mattress only if you want to go to Nanda Devi base and only if you want to stay there for the night otherwise you don't need the tent in the whole journey. That will be an unnecessary burden to carry.
You must really check the geographical condition of that area. Gather as much information as you can of the complete route.
In this trek you will find many opportunities to refill the bottle, as there are several water sources.
The best thing will be to walk with the sun from rising to setting because you can easily cover most of the part early in the morning. When the sun gets straight up your head you can maybe rest for a while and then continue.
As everybody says and you might know, walk light and check earlier about how much weight you can carry with yourself because not being in practice of carrying the heavy weight on shoulders for long distance can really break your back.
Keep medicines, volini etc.Glucose is the best.
While walking for long we get hungry and then eating food like never is the biggest mistake, if you have to walk more in the day eat light just to restore the strength or energy. Don't eat too much at once.
Now, in the end, the most important thing is to just believe in yourself. In between the trek, you might get the thought of giving up and it gets hard sometimes but don't lose calm and focus on your route. Look no down, look no up but just where your next step is gonna fall. Memories a song and walk singing that to yourself.
Do not worry about anything, stay true and nature will help you to be where you wanna be.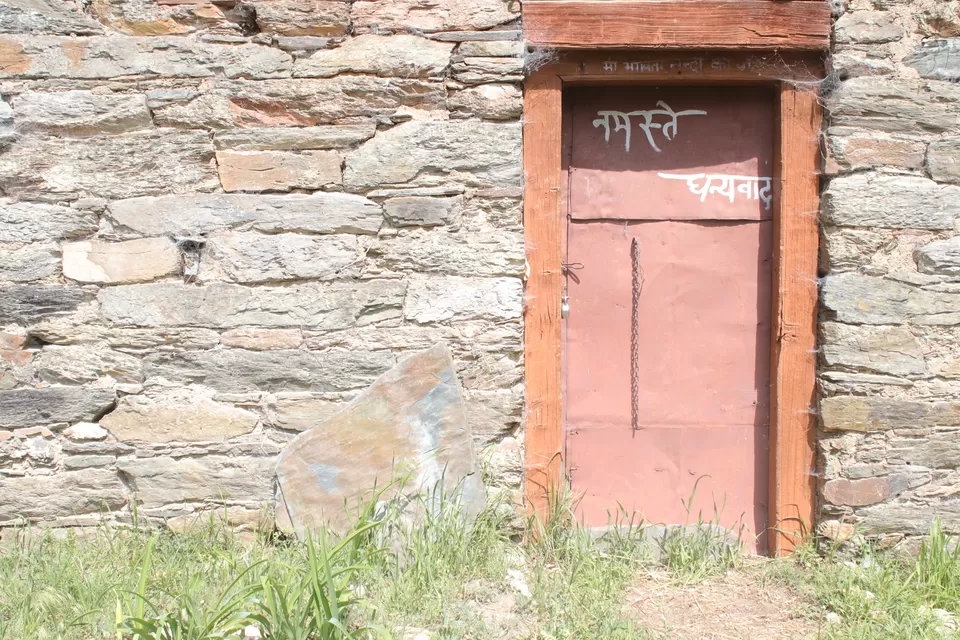 ( Munsiyari to Bugdiyar 33 km ) [ In between Lilam-Maan Singh top- Babaldhar- Rargadi- Syuni ]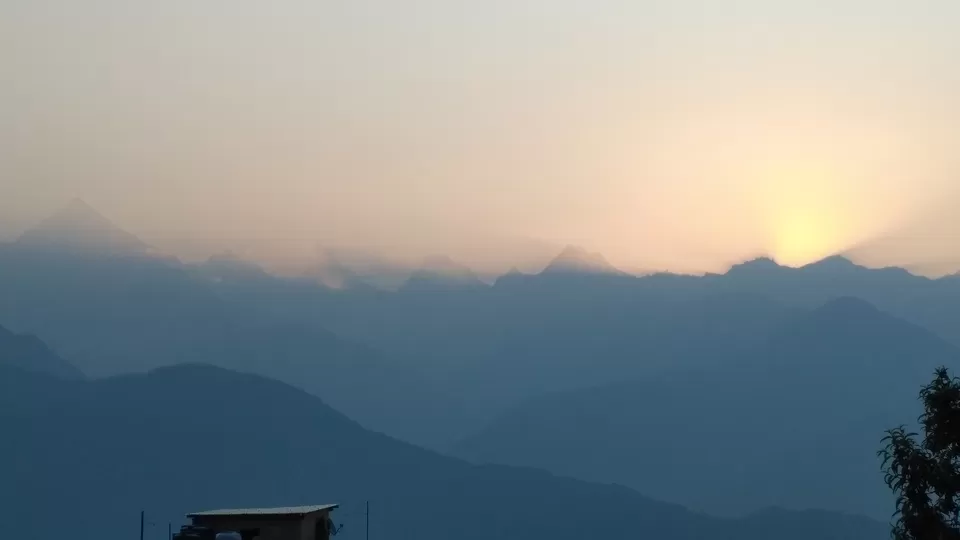 ( Bugdiyar To Burfu 23 km) [ In between - Nahar Devi- Mapaang- Rilikot- Martoli ]
I woke up at 0400 hours in the morning, and got ready, drank tea and paid the bill for the night, which was INR 240 and it summed up to INR 350, that I spent on the first day, from the point I started to walk and that was 22 km of distance. At 0500 hours, I started to walk again. Now I knew that the next stop for the day was Rilikot, 14 km away, with Nahar Devi at 3 km and Mapang, 9 km of distance, in between. The first 3 km to Nahar Devi was again quite tough and uphill.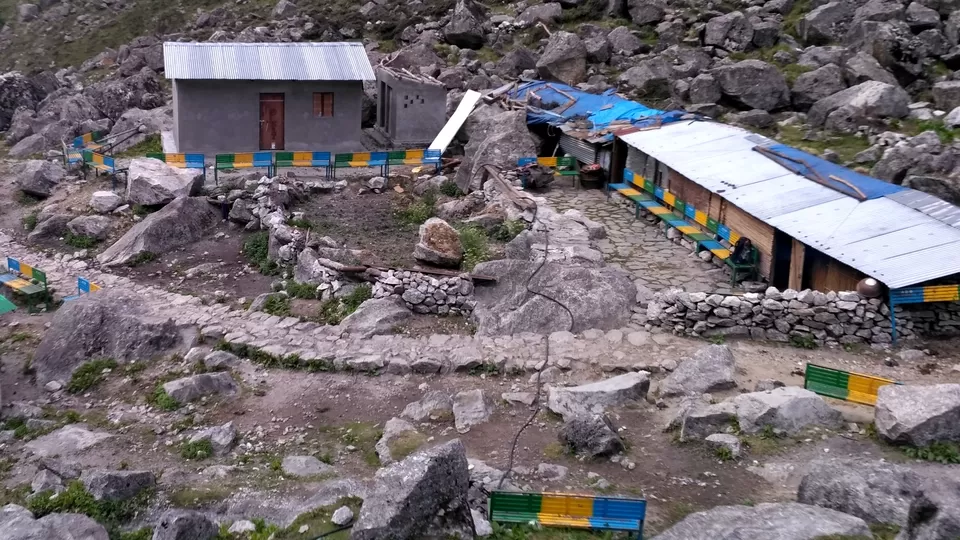 ( Burfu to Milam Glacier 12 km) [ In between - Bilju, Ghanghar and Pachhu on the other side ]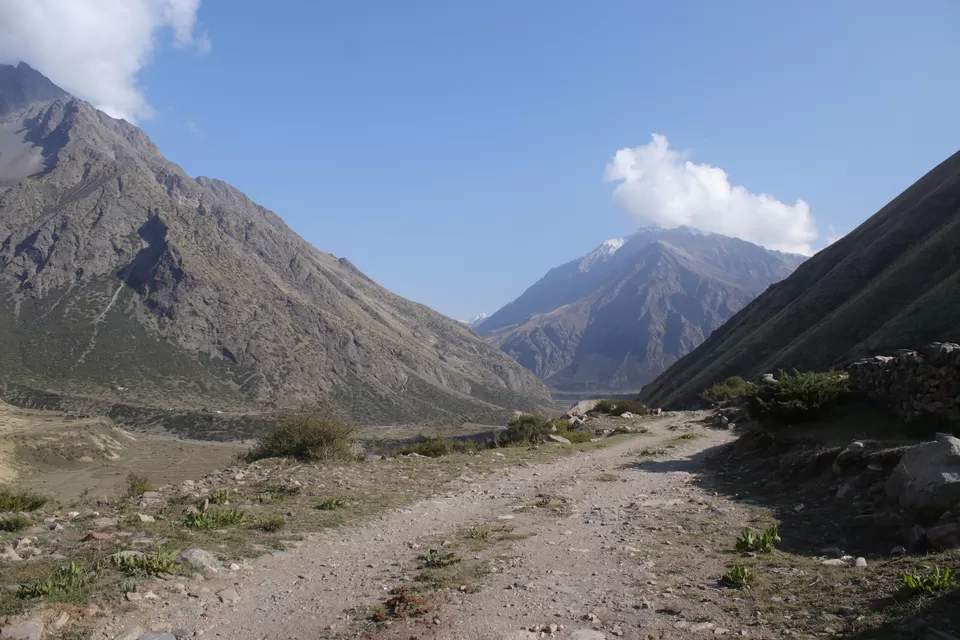 ( Milam To Bugdiyar 32 km) [ In between - Bilju- Burfu- Rilikot-Mapaang - Nahar Devi- Bugdiyar )
I woke up early as per the routine and because of meetings with some ITBP soldiers at Milam, the evening before, I got know about the truck that comes from Rilikot to Milam almost every day for loading and unloading stuff and it goes back to Rilikot around mid-day. Then I wrote few of my words on that register at Bubu's guest house. Paid him 650/- for the whole day including many things. I walked out of the guest house wishing the old man, through the village with a promise to come back.
( Bugdiyar to Munsiyari 33 km ) [ In between- Syuni-Rargadi-Lilam- Chillamdhar )