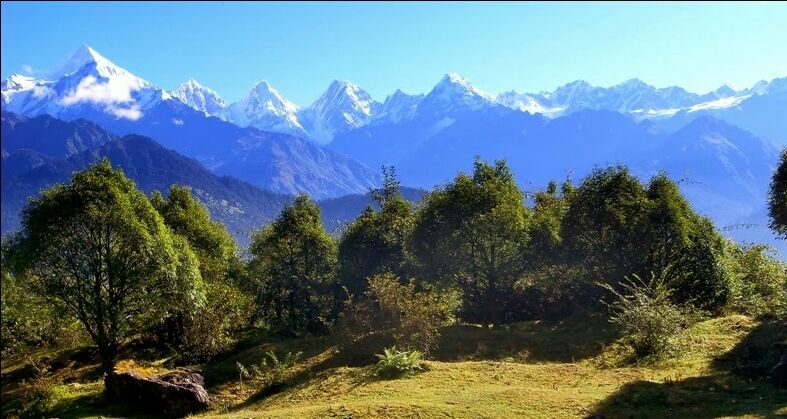 A small village with an aw- inspiring panorama of snow-capped Himalayan ranges, Munsiyari is situated in Pithoragarh district of Uttrakhand state. This scenic hill station is perched at an altitude of 2298 mtrs above the sea level. Munsiyari means place of snow and is also referred as Little Kashmir. Panchachuli is a group of five peaks and is the star attraction at Munsiyari as they look like chimneys and are amongst the gorgeous treasure love for the magnificent peaks of Nandadevi, Nandakot, Raja Rambha and mountain of Nepal Himalayas. Munsiyari is famous for its picturesque beauty and trekking excursions and is popular with trekkers and adventure enthusiasts as this place is the base of Milam, Ralam and Namik glaciers.
There are many places to visit in Munsiyari –
Birthi falls – The Birthi falls is about 35 kms from Munsiyari and can be approached easily by a short trek. Falling from the height of 126m, it offers an extremely refreshing experience. With lush green surroundings blooming in various colors, it makes an ideal place to sit and enjoy tea. The ideal time to visit is between the months of June to September.
Panchachuli Peak – A prominent peak which is visible from all the points of Pithoragarh district, Panchachuli peaks looks majestic from Munsiyari. The Panchachuli peak are a group of five snow-capped Himalayan peaks lying ta the end of eastern Kumaon region. The peaks have altitude ranging from 6334 mtrs to 6904 metres. You can experience a spectacular sunrise in the morning and sometimes a magnificent moonrise just after sunset. It is believed that the legendary Pandavas of Mahabharata, cooked their last meal before proceeding to heavenly abode. Chuli means chulha thus the group of 5 peaks named as Panchachuli.
Maheshwari Kund – As called as Mehasr Kund by locals, it is just a few kilometres walk from Munsiyari. There is a famous Hindu legend associated with the lake. It says a Yaksha, a demi-god who used to reside in the pristine lake, cursed the Kund. The storey goes that the Yaksha fell in love with the beautiful daughter of the Sarpanch. However the villagers didn't let him marry her and dried the lake where he lived. Upon knowing, the Yaksha cursed the villagers that they suffer from drought for years to come. Hence the place battled with drought for several years. When the villagers apologised him for not letting him marry his adore, the lake was set free from the curse. This pristine lake is now dotted with scarlet rhododendrons, oak trees and other Himalayan flora. One can have a clear view of Panchachuli peak from this place.
Betulidhar – Betulidhar is a colossal garden blossomed with the scarlet coloured rhododendrons situated at a height of 9000ft. This place offers exciting skiing opportunities. The ski month begin from December to February. However, the most salient feature of this place is absolutely gorgeous sunset and sunrise with an entrancing view of snow covered Himalayas and Balati and Ralam Glaciers.
Darkot – Darkot is a tiny hamlet about 6kms away from Munsiyari. This pristine village is encircled by the majestic Himalayan peaks and is blessed with flora and fauna in abundance. One can see rustic houses cocooned in Darkot displaying the rich culture of Kumaon. It offers a varied range of articles to buy, the most famous being pashmina shawls and sheep wool blankets.
Nanda Devi Temple - A 3km trekking from Munsiyari will take you to one of the ancient and oldest temples established in earlier days. Nanda Devi temple, a pure epitome of creativity and architecture, it is regularly visited by the devotees in large number.
Khaliya Top - Khaliya Top is an easy 10km trek from Munsiyari. It offers a magnificent view in summers of great Himalayan ranges. The five famous peaks namely Panchachuli, Hardeol, Raj Rambha, Nandakot and Nandadevi are clearly visible from here and this makes it an amazing experience for even a first time trekker.
Madkot Village – Madkot is a picturesque hamlet, which is blessed with scenic splendour as the place is rich in vegetation. The village is about 22kms from Munsiyari. This hot water spring is located on the banks of Gori Ganga River. The river is a popular spot for white water rafting.
Images taken from Google search engine.