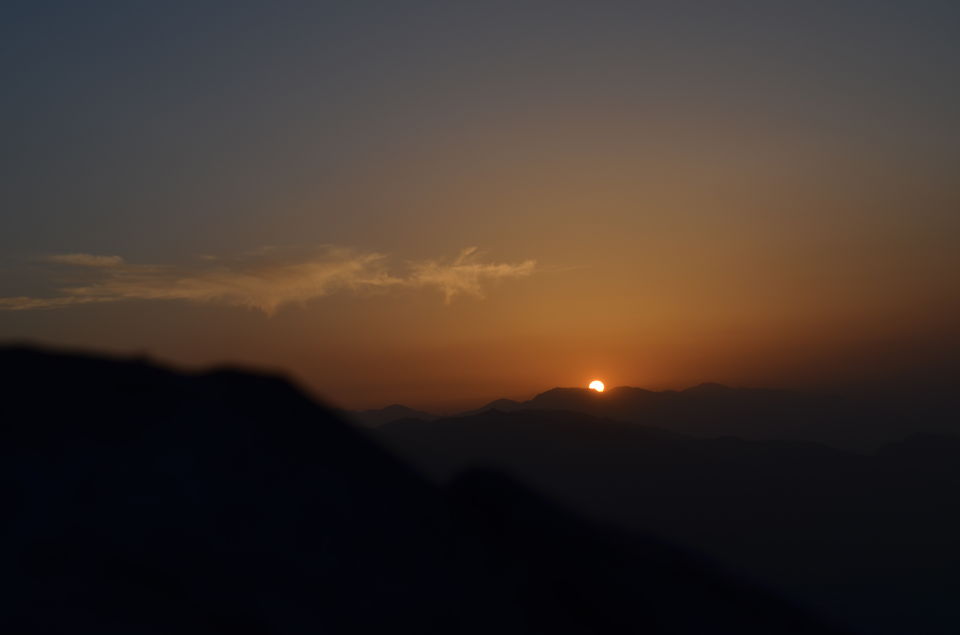 Mukteshwar is a small town and tourist spot in Nainital district, Uttarakhand, India. It is located in the Kumaon (or Kumaun) region at an altitude of 7500 feet, 51 km from Nainital and 343 km from Delhi. Uttarakhand is divided into two regions: Kumaon (or Kumaun) and Garhwal.
After lots of confusion, discussions and conflicts of choosing the destination between Chopta (Tungnath/Chandrashila trek) and Mukteshwar, we, group of five colleagues, finally decided to travel to Mukteshwar. Since it was snow fall in mid-March across the northern parts of India, the weather report of Mukteshwar was pleasant.
On 24th March, we started our journey from Noida at 4:45 a.m. by our manager's car. The journey was started with breaking seal of the liquor bottle. As we were carrying it from Delhi, it's not advisable to carry unbroken one. We stopped at Garhmukteshwar (a small town in Hapur district, Uttar Pradesh). It is the closest place from Delhi of habitation to the Ganges river. After the drive of few hours, we had breakfast at Maharaja Palace near Uttarakhand border. A bit headache was started to me as we were heading towards Mukteshwar. May be it was because of the circular mountain routes.
At 1:30 p.m., we reached to the resort, Mountain Trail that we had already booked for two days. Camping options are also available at Mukteshwar. We had kept two options for the stay in our mind, Camp Purple was the second one. At the resort, the resort manager did 'Tikka' (Tikka is a mark worn on the forehead by Indians) and offered welcome drink made with rhododendron (Rhodo) or Buransh flower. My headache had gone after drinking two glasses of it. Rhododendron trees are majorly found in Uttarakhand. It's red flower has many medicinal properties.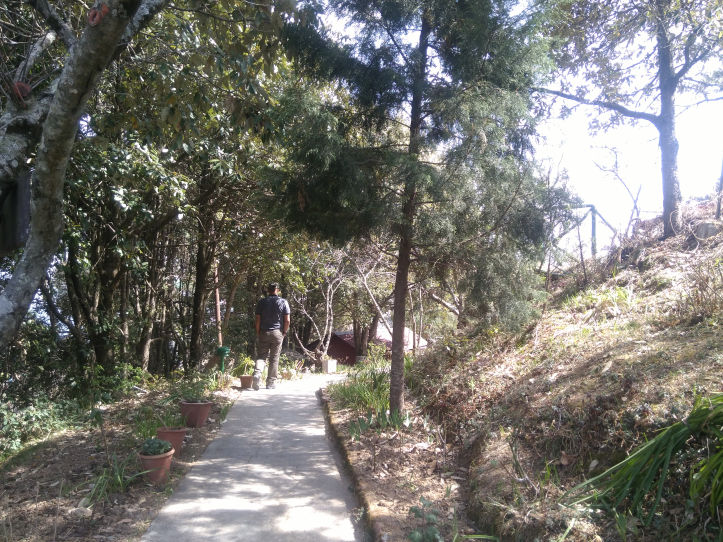 After the checked-in, I took a quick round of the resort. After freshened up, we had lunch around 2:30 p.m. After that, the others went for a quick nap and I sat on a bench kept nearby. The whole town with eye soothing greenery was visible from there. The weather was pleasant. The cool breeze, the melodious-sound of bells, the peacefulness, the chirping of birds removed my tiredness.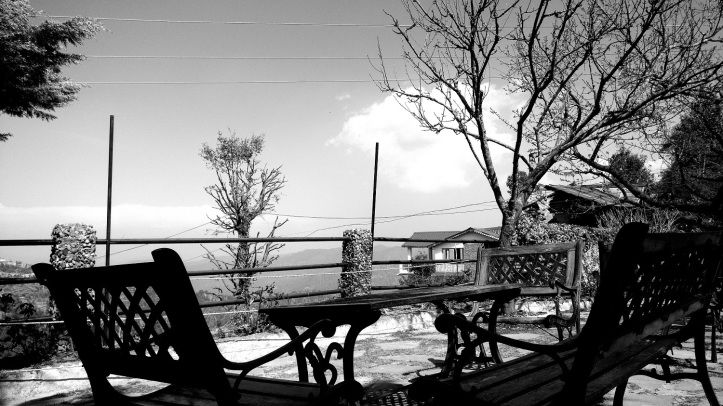 After getting ready, around 4 p.m., we headed towards Mukteshwar temple, dedicated to Shiva, which is approximately 6 km from the resort. We devoted flowers to the temple, clicked photographs and came down the stairs. The KMVN tourist rest house is considered as the best place to stay as it offers magnificent view of the Himalayas. It is just few meters away from the temple. We went to PWD (Public Works Department, Uttarakhand) bungalow very near to the rest house. We heard from the locals that once it was Jim Corbett's residence and soon the KMVN would open it for tourists. It offers the best views among all the stays available in Mukteshwar. Nanda Ghunti, Trishul, Nanda Devi, Nanda Kot and Panchachuli are the major peaks visible from here. In summers, due to mist, all these peaks may not be visible. The best time to visit the peaks is just before and just after winters.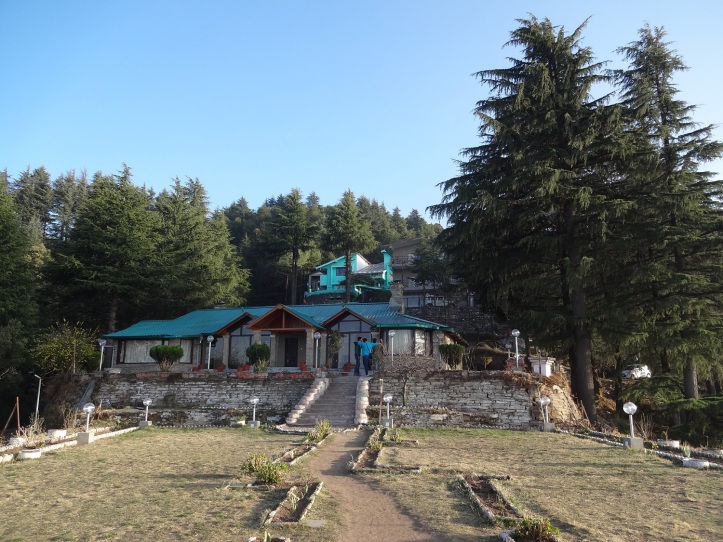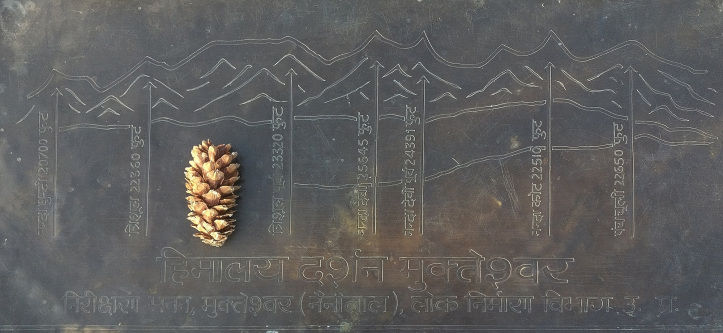 After having lots of fun clicking photos in different poses, we started waiting for the Sun to set.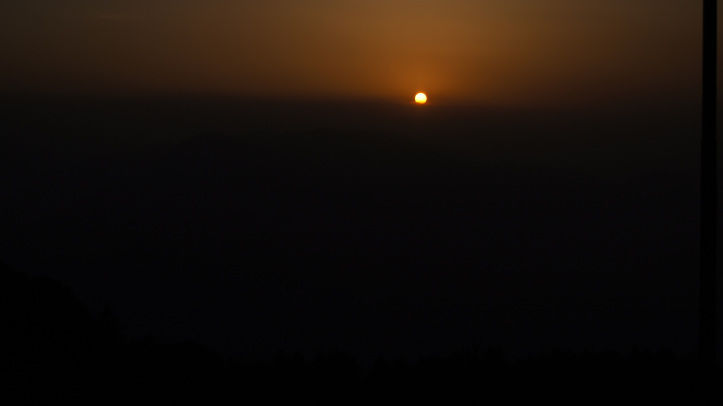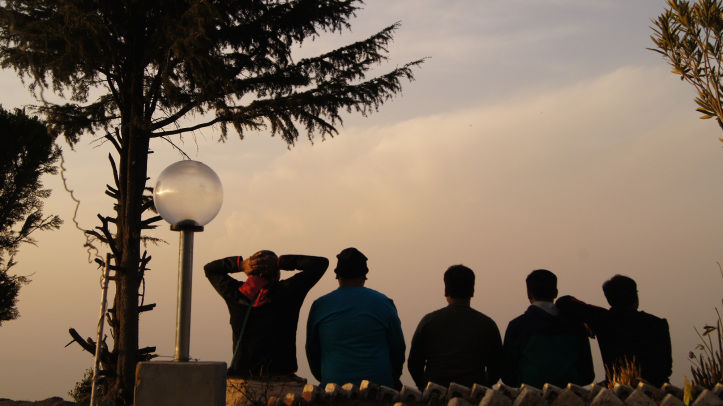 Sunrise and sunset should never be missed in the Himalayas. I always make sure about this. I love sitting quietly and seeing sunset with almost no worries/thoughts in my mind.
We came few steps down from there towards the resort, had tea at the small tea spot near to the post office. The taste was so good. I enjoyed the tea with a song "Kabhi Alvida Naa Kehna – Title Song" playing on the radio.
We came back to the resort at 7:30 p.m. After freshened up, we started a bonfire, opened up the whisky bottle, shared personal experiences and memorable events. After enjoying the bonfire for one and half hour or so, we had dinner. Agreeing to wake up early at 5 a.m., everyone slept around 11 p.m. as we were tired due to the 8-9 hours drive from Delhi and the activities of that day.
We woke up at 5 a.m., freshened up and left for the sunrise. Manav, the colleague, set his camera to capture the time-lapse. We drove to towards the bungalow hoping for the best view of sunrise. But the sunrise side was covered with deodar trees. So we had to come back till end of the trail of these trees. We missed a few minutes of the sunrise in search of getting better view.
We are always looking for something better that we sometimes fail to realize that we already have the best.
After capturing it in our eyes and cameras, three of us went to the resort by walk around 2 km. After having breakfast and rest for 30 minutes, we played table tennis and fussball available at the resort.
We headed towards Bhalu Gaad waterfall which is around 8 km away from the resort. After parking the vehicle, there is approximately 1.5 km of hike to reach the waterfall. I stood in the cold water for 15-20 minutes and clicked few photos. The other group was doing cliff jumping but it was very risky as the cliff was slippery and not suitable for jumping.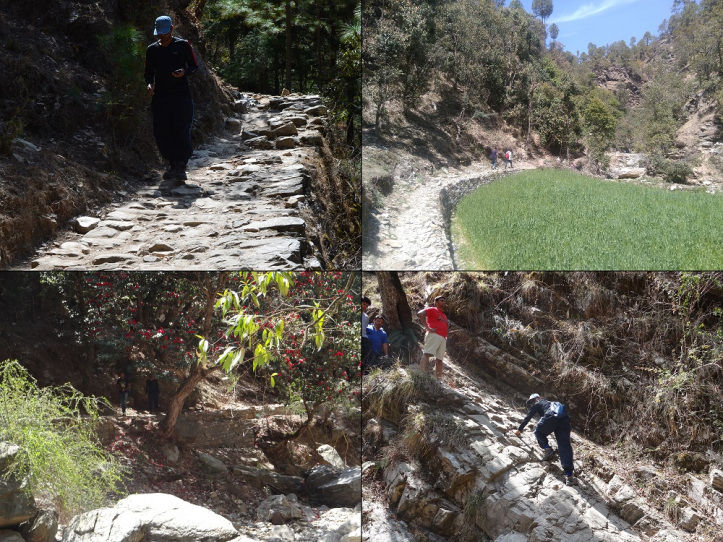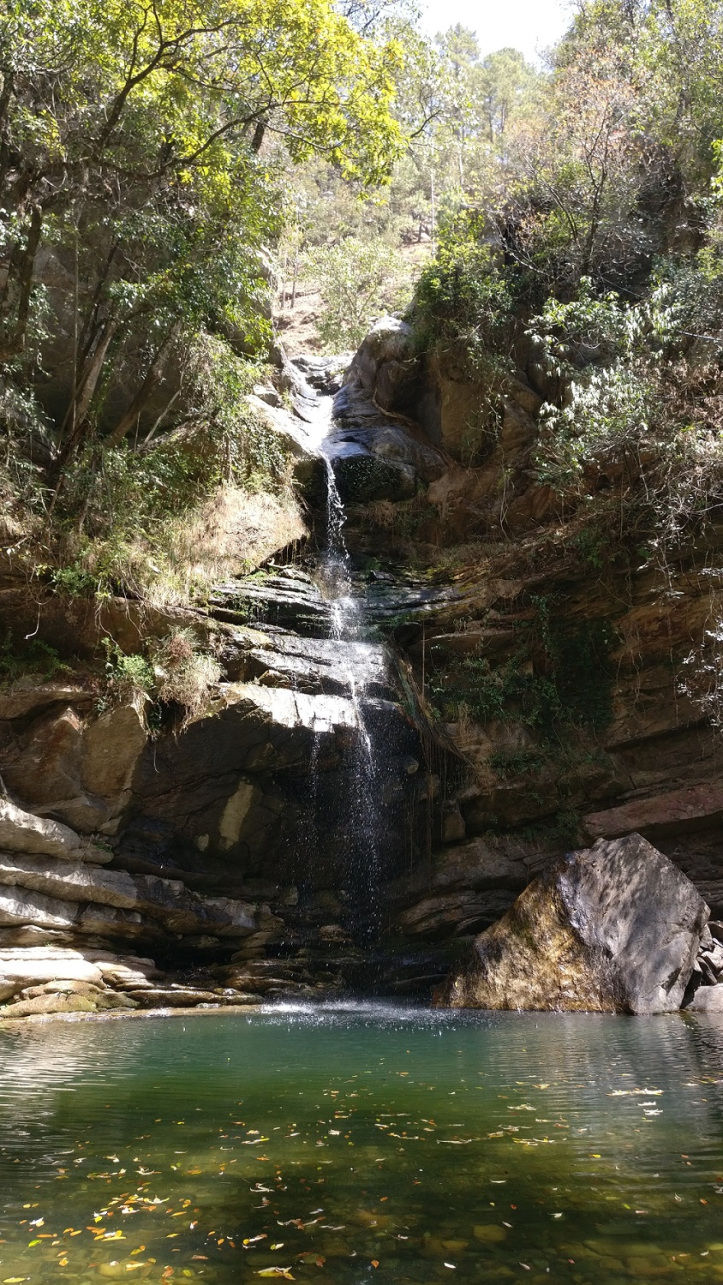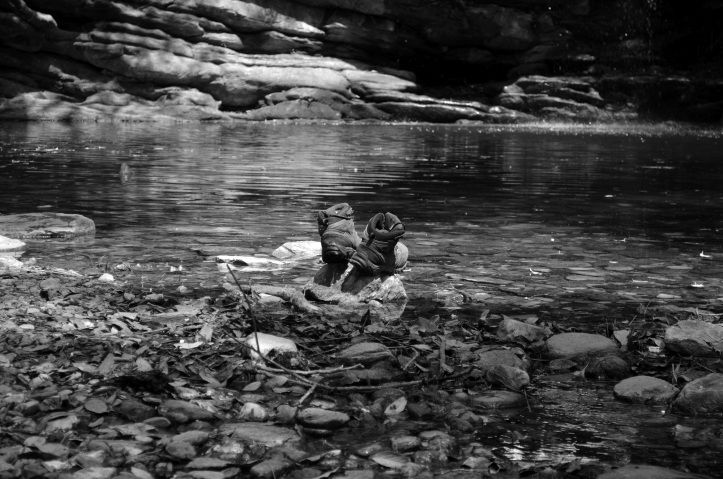 After spending an hour or so, we came back to the parking area. We had lunch at Chaandi Maati Café, went to the resort and took an hour of rest.
The most adventurous part of the trip starts now. We headed towards Chauli Ki Jali. It is near to the Mukteshwar temple. The overhanging cliffs are locally known as Chauli Ki Jali and are used for rock climbing and rappelling. It offers spectacular view of the valleys below. We were offered two options for the rock climbing: 85 feet and 35 feet. We chose for the first one. I was very excited for first rock climbing adventurous experience. Before starting, the guide told us the basics to use toes for climbing and hands only for support. And it started. For the each move, I had to think and look for places to keep my feet and grip for my hands. At some points, I had to switch position of my legs to go slightly right side. It required lots of efforts as my body weight was totally on my hands. And finally, I reached on the top! What a wonderful experience it was!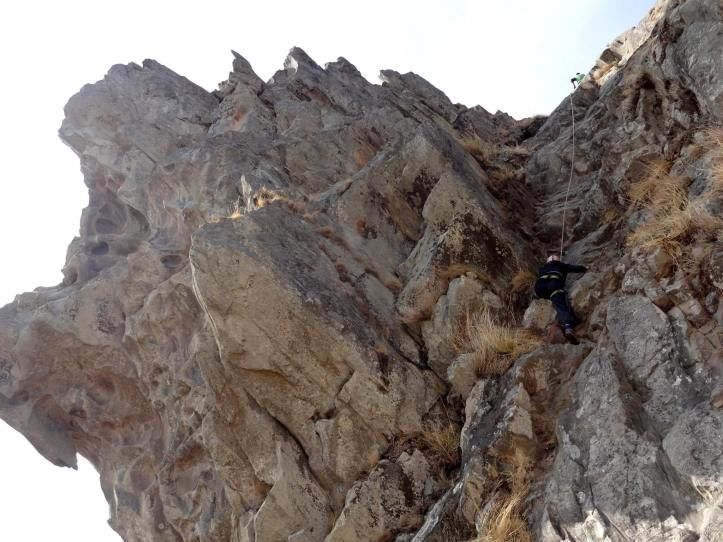 We completed all these activities by 5 p.m. and the sunset time was 6 p.m.! We waited there for the sunset only. Amazing! The view was better than yesterday. Apart from hiking, setting and rising the Sun is what I love about mountains.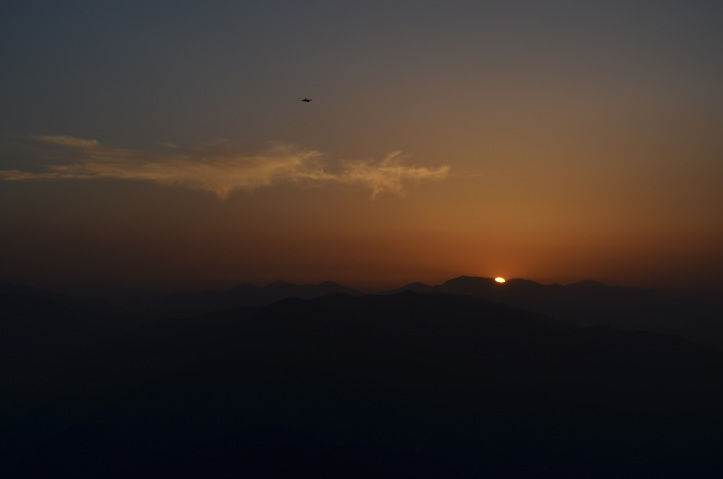 The black spot in above image is a drone. Some other group carried it there. We came down to yesterday's tea spot and some discussion with the local on Indian Veterinary Research Institute (IVRI) near the temple, the post office usage by locals, the population and the residential properties.
We came back to resort and had dinner around 9:30 p.m. Three of us went for a walk around the resort and found a herbal Pakorewala resort. Manav was looking it for his last two visits of Mukteshwar! We came back to our room, had some talk and slept.

To enjoy sunrise again, we woke up at 5 a.m. and walked around 1.5 km to the Sai Mandir. It had the best view that we missed yesterday in search of better one. We named it as Akela Ped (A lone tree) as there was only a tree as compared to the group of trees we saw till now.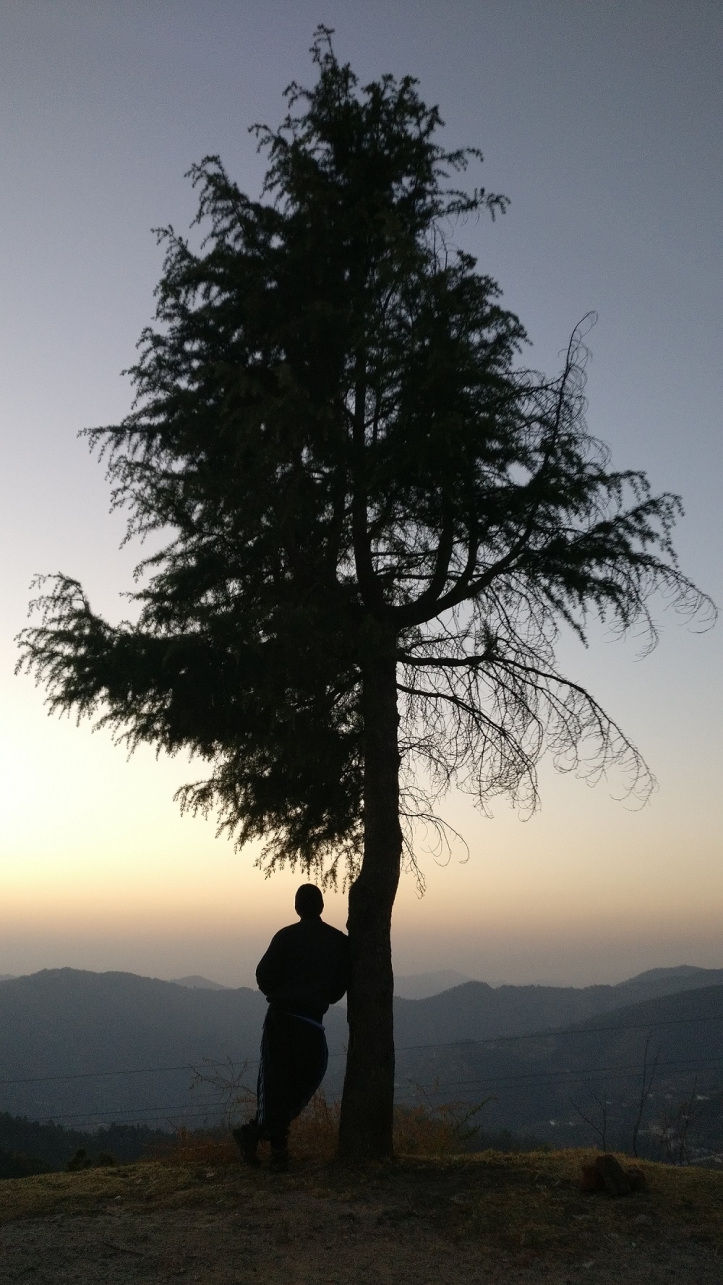 We walked back, had breakfast, freshened up and started our return journey to Delhi at 9 a.m. And the mid way, we came across this: