The winter chills have truly set in and misty mornings have us reaching for cosy sweaters and socks. With the holiday cheer gripping us, it's the perfect time to head out to the mountains and enjoy the crisp mountain air! Tucked away amidst quiet hills, Dehradun is a vibrant hill station nestled in the Doon Valley of Uttarakhand. Featured time and again in Ruskin Bond's timeless novels, the city's old-world charm is accentuated by its serene beauty and pleasant climate. A seven-hour drive from Delhi through winding roads lined with pine trees will take you to this lush paradise.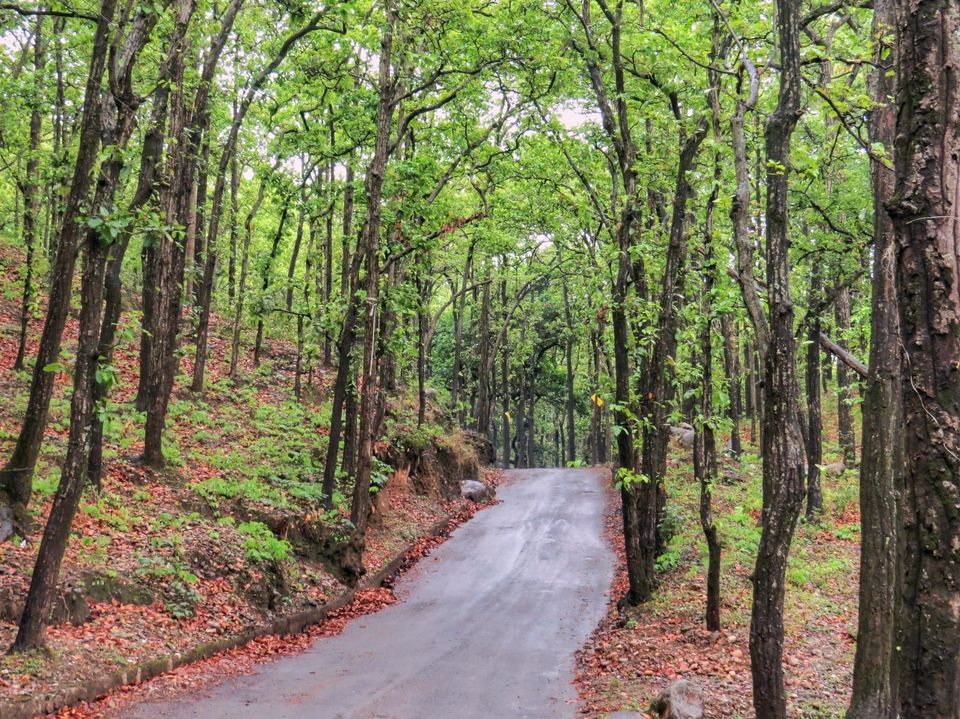 Perched next to a murmuring river away from the hustle and bustle of this city, goSTOPS Dehradun Maldevta is the perfect spot to have your authentic winter escapade. The hostel is a treasure trove of beauty and comfort, with its rustic interiors and modern amenities. Wake up each morning to views that seem straight out of postcards– lush green valleys glittering under the winter sun on one side while a river flows along peacefully on the other. Whether it's just soaking in this tranquil beauty or going for a leisurely stroll, get ready to have your soul soothed and your spirits lifted.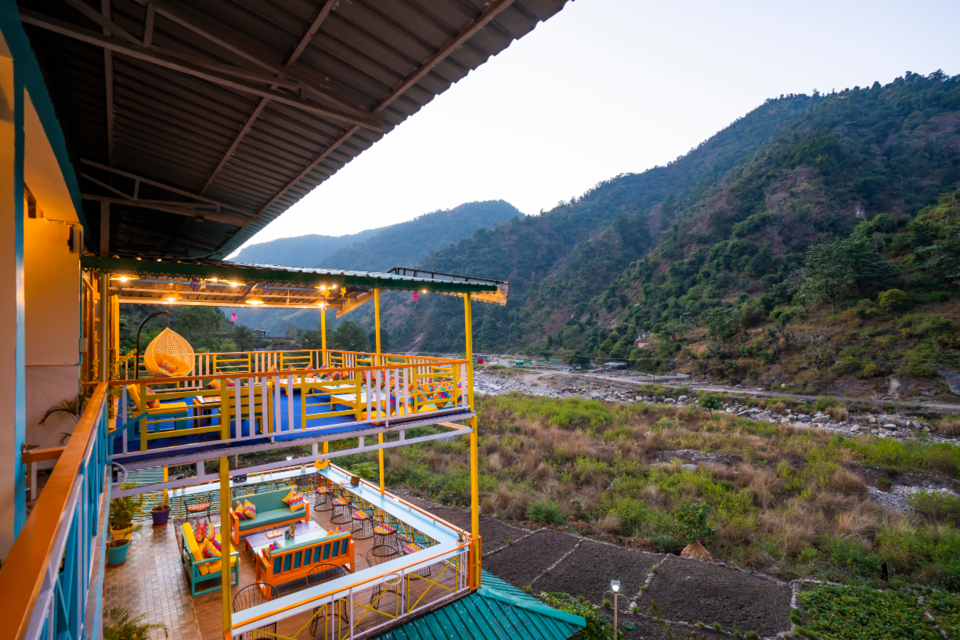 Gone are the days when hostels were just a place to crash for the night. goSTOPS Dehradun Maldevta has changed the game with its picture-perfect setting and luxurious amenities, making it the perfect pit stop in the lap of nature. And that too, without burning a hole in your pocket.
About the Property: A 'Soulitude' Like No Other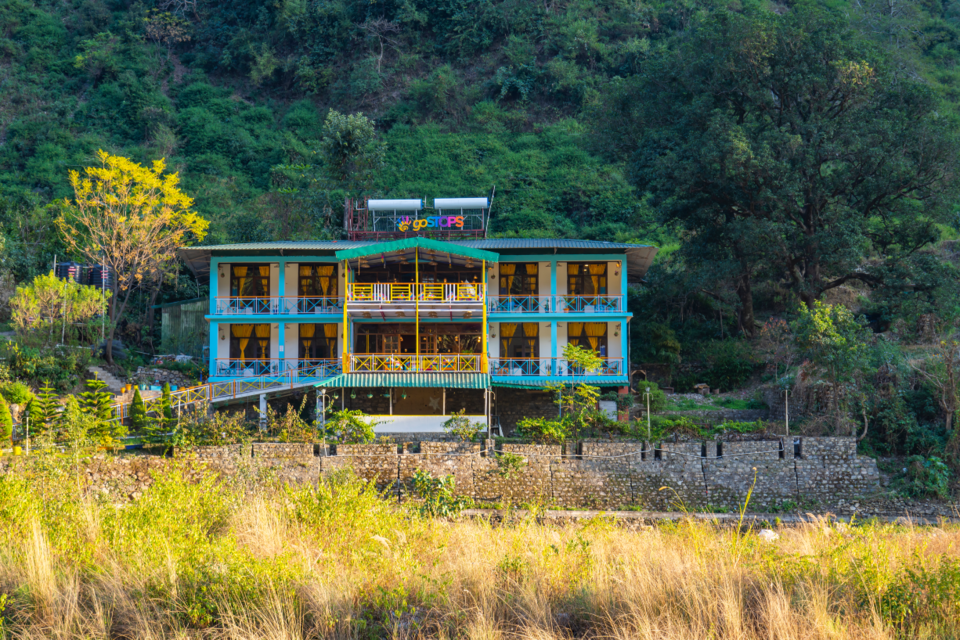 Nestled in the lap of serenity, this riverside haven is the right kind of escape from your everyday hustle and bustle. The secluded property features charming rooms offering unparalleled views, open and spacious decks to breathe in some crisp mountain air and a huge outdoor area for never-ending surprises from nature– making it a one-of-a-kind getaway that will leave you feeling rejuvenated.
Moreover, the hostel has been designed to strike the perfect balance between privacy and making new connections; an ideal spot for solo travellers or groups alike. So whether you're looking for some 'me time' with a book in hand, or want to make new friends over games, movies and bonfires– goSTOPS Dehradun Maldevta guarantees that your travel cravings are fulfilled!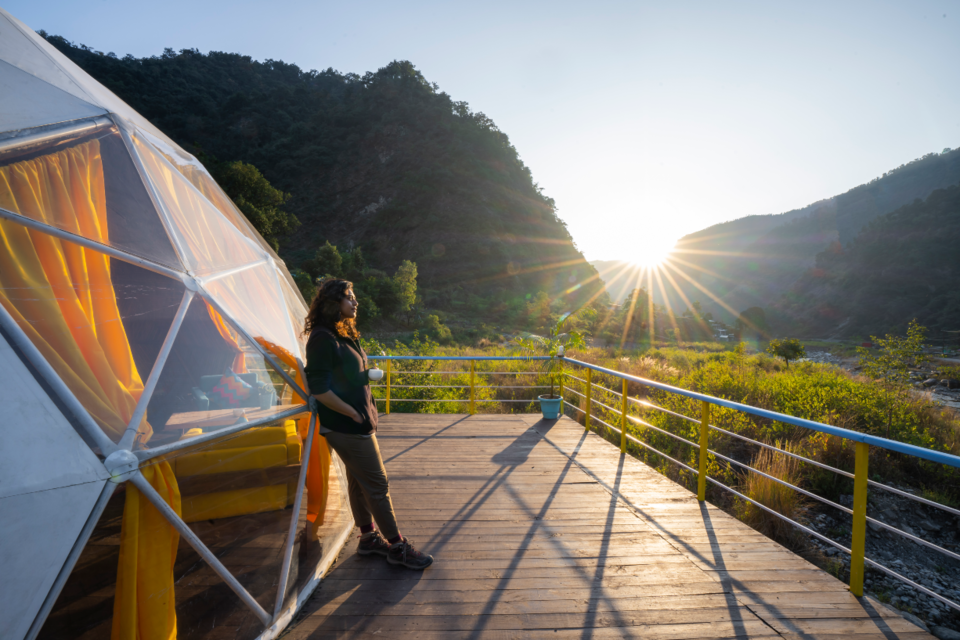 The hostel offers a range of accommodation options to suit your preferences and budget. Whether you're looking for an economical stay or something more luxurious, the property has it all. The dorm rooms are perfect for those who want to meet other travellers, with comfortable beds and plenty of storage space. The deluxe private room is ideal for couples, families or solo travellers seeking privacy and a cosy space.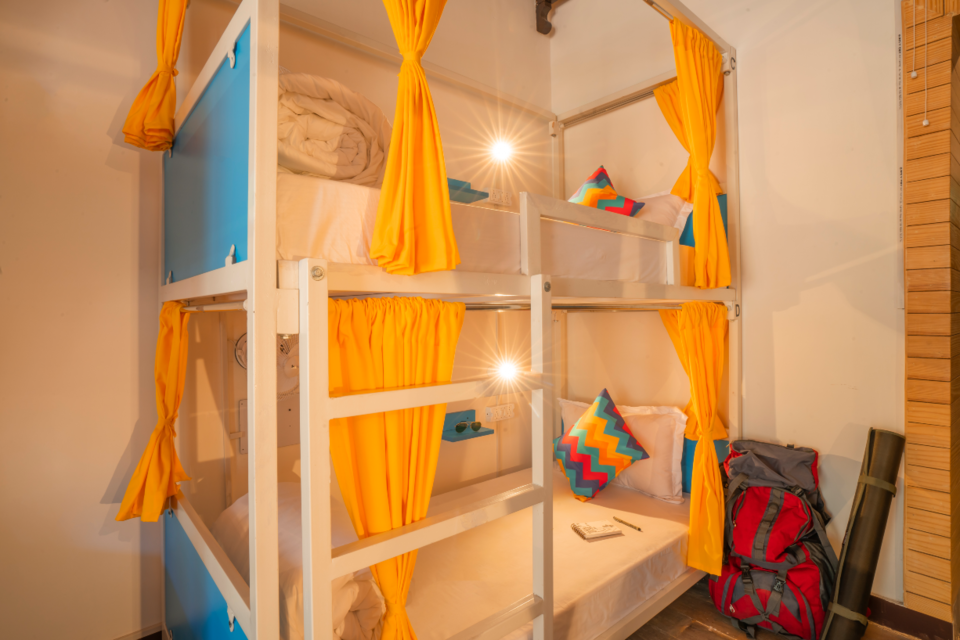 If you're looking for a unique experience, you can opt for a deluxe cottage or dome with wooden interiors that looks like a setting right out of a fairytale. The windows are designed to provide you with uninterrupted views of the mountains and starry skies.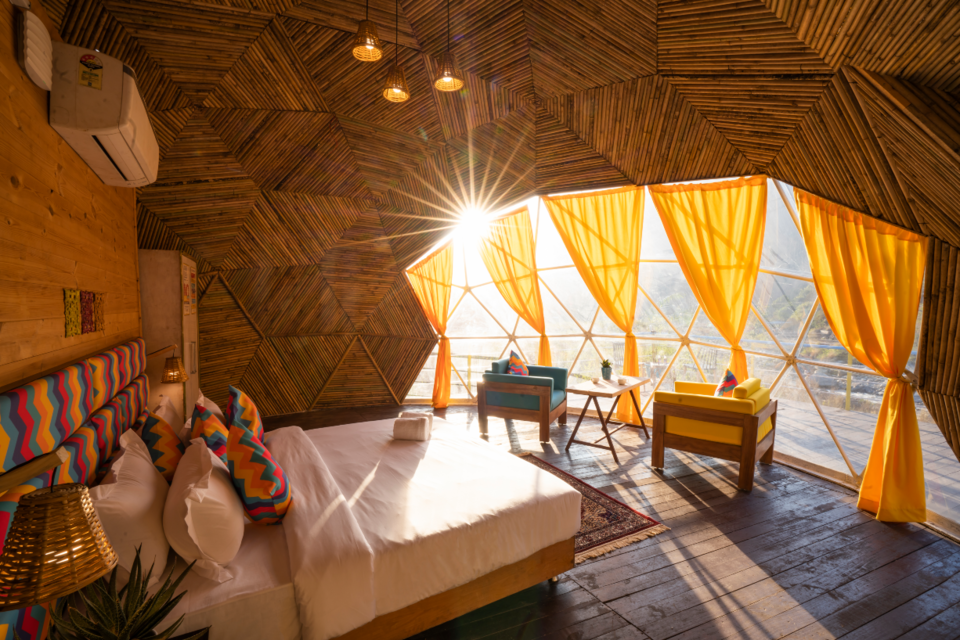 Every room comes with lockers to store your valuables while you're away.
goSTOPS Dehradun is perfect for those looking for a workation surrounded by the beauty of nature. The property offers free Wi-Fi access throughout the premises so that you can savour the beauty of the mountains while working without any interruptions.
Things to do:
The best part? There's never a dull moment at goSTOPS Dehradun Maldevta! Whether you're looking for a peaceful day out or an adrenaline-filled adventure, the property has something on offer for everyone.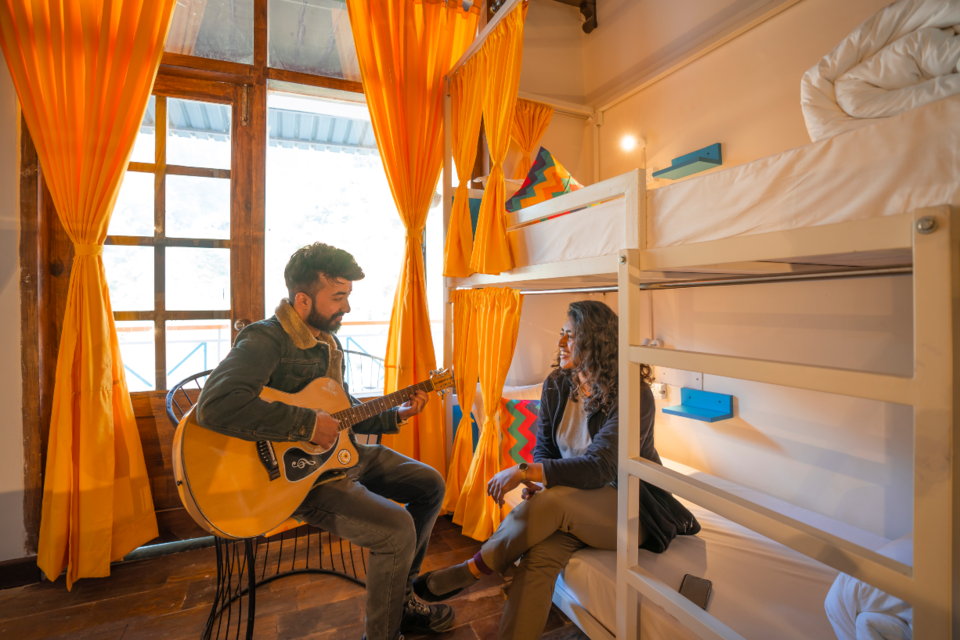 Take a picnic by the riverside and spend some leisurely hours watching the water flow over stones. Gather with friends and strangers in front of a roaring bonfire to keep the chills away and spend the night swapping stories and making new friends. The common areas with games and movie nights will keep you entertained for hours. Don't forget to lie down under the night sky and watch the stars twinkle in the distance.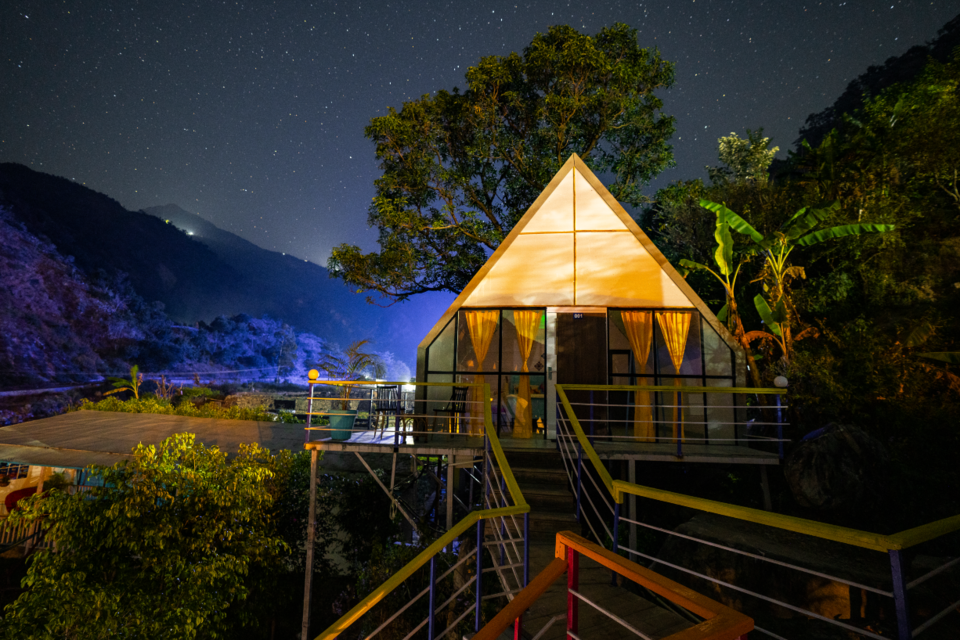 Dehradun is a natural paradise for travellers that will help you break away from the monotony of everyday life and have some fun! Here's a list of places that you can visit while you're in the city:
Robber's Cave: An underground river cave with a picturesque waterfall and spectacular natural formations.
Mindrolling Monastery: A renowned Buddhist monastery featuring intricate architecture, colourful prayer flags, and an array of religious artefacts.
Clock Tower: The iconic landmark of Dehradun, housing the city's clockwork mechanism for over 100 years.
Sahastradhara: A limestone-rich sulphur spring with therapeutic properties situated in the foothills of the Himalayas.
Tibetan Market: Vibrant bazaar selling traditional Tibetan handicrafts, clothing items and souvenirs for you to shop till you drop!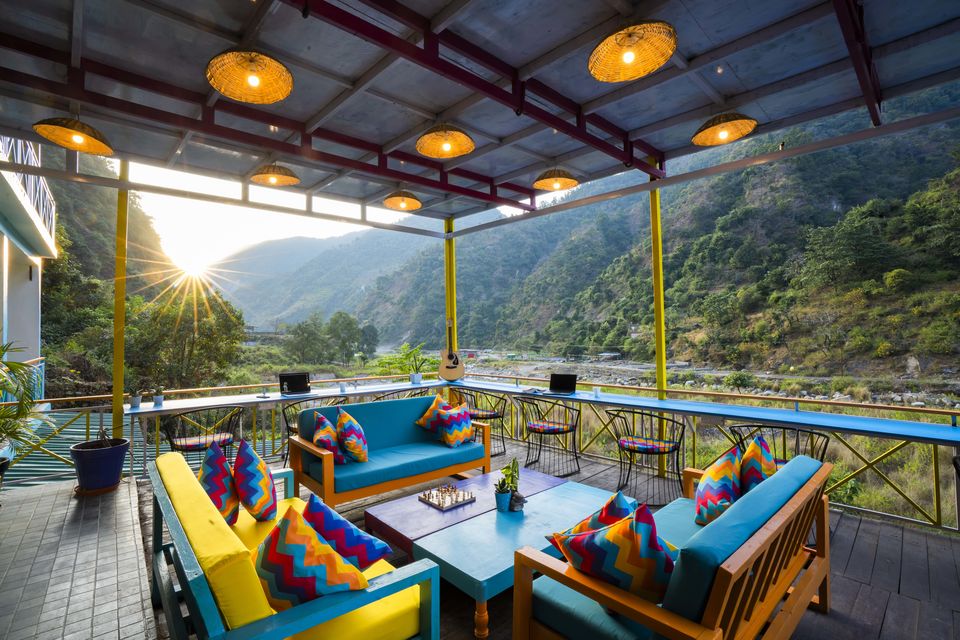 So if you're looking for a peaceful getaway with all the amenities of home and some extra indulgences, look no further than goSTOPS Dehradun Maldevta.
Location: goSTOPS Dehradun, Sitapur 6 Milestone From Maldevta On PPCL Charmoli Road, Uttarakhand.
Price: A bed in a dorm room is priced at Rs 600 per night while a deluxe private room costs Rs 2,500. You can stay at a deluxe cottage for Rs 3,000 per night while a per night stay in a deluxe dome is priced at Rs 3,500.
Amenities: Bonfire, common area, ensuite washroom, WiFi, geyser, home theatre, indoor game, laundry, lockers, 24/7 front desk, pets are allowed in private rooms for Rs 500 per day
Book your stay here
In association with goSTOPS
Ready to travel for free? Earn credits and redeem them on Tripoto's weekend getaways, hotel stays, and vacation packages.
Watch travel stories come to life with Tripoto on Youtube!