Ooty is an idyllic destination located in the Nilgiris Hills and is popularly dubbed the 'Queen of Hill Stations'. Home to the Nilgiri Mountains Railway station which won a spot on the UNESCO Heritage Site list, the misty, green hills of the Western Ghats have an allure that not many can resist. Its pristine lakes, refreshing waterfalls, gorgeous botanical gardens, lush tea gardens and rich flora and fauna are just some of the reasons why travellers flock to this ethereal hill station known to locals as Udhagamandalam.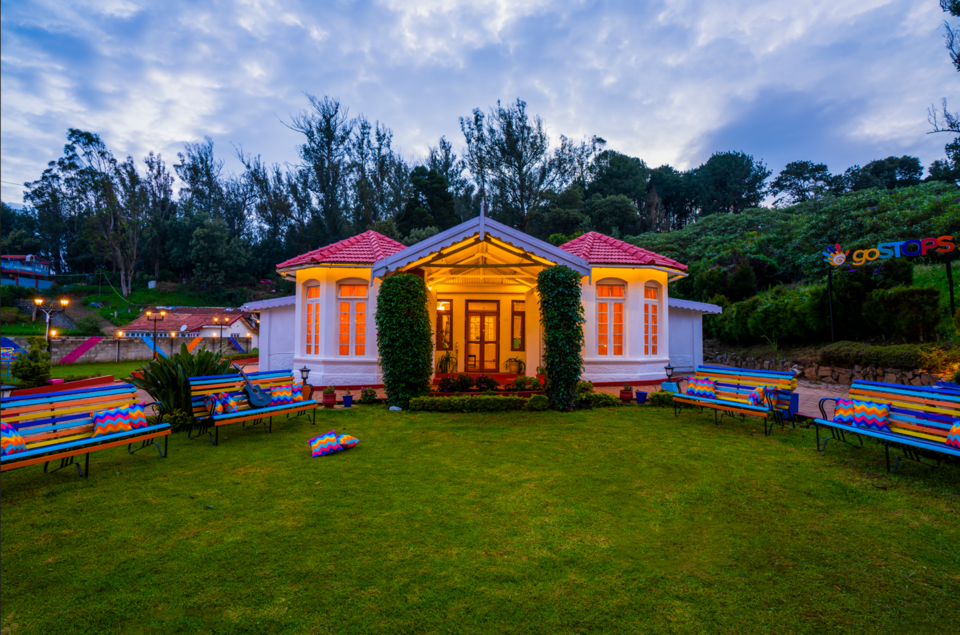 About the property
A 100-year-old colonial bungalow set amidst the soft meadows of Tamil Nadu's favourite picnic spot, goSTOPS Ooty is both charming and convenient. Just a few kilometres away from the city centre and yet secluded, goSTOPS Ooty occupies a prime location. As you arrive, the perfectly manicured garden with tall vines hugging pillars greet you at the entrance of the heritage bungalow. Surrounded by trees and nature, the property feels like a private getaway from the rest of the hill station. Inside, you'll be welcomed by the friendly staff and a reception that retains the vintage charm of the bungalow with a fun, hip vibe. An antique table with mirrors, double doors that open up the space, a wooden umbrella rack filled with an assortment of colourful umbrellas and a fireplace that brings a pop of colour, all add to the vibrant interiors within the white walls of the villa.
When you check in to the private room, you'll be greeted by a seating area complete with a wooden table and chairs to match. A poster bed with fluffy pillows, a cosy quilt and airy, light drapes add to the romance of the place. Magnificent French windows treat you to a picturesque view of the stunning Blue Mountains along with the crisp, green lawns that sparkle with dew drops. The vintage dressing table and towering cupboard will tempt you to immediately unpack as you set your backpack down on the patterned wooden floor.
If you've fallen under the spell of the room and manage to catch a nap, you'll be woken up to the sound of cheery voices, laughter and the unmistakable crackling of a bonfire that sets the tone for a night full of memories waiting to be made. Take a walk around the property to explore the many common areas decorated with brightly coloured benches, tables and cushions set against the classic white walls of the bungalow's exteriors.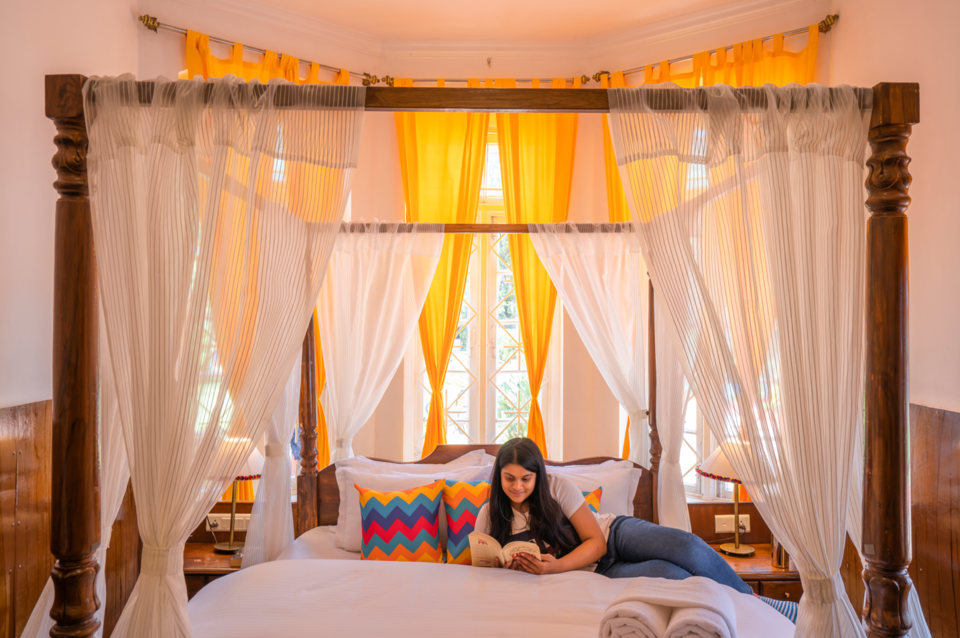 Just a hop, skip and a jump away from the famous Fingerpost Junction on the Gymkhana Club Road, the property is flanked by one of the most challenging golf courses in the world - the Gymkhana Golf Course. A favourite spot for locals who love to spend their Sundays sunning themselves at the Ootacamund Gymkhana Club over beers and barbecue, the prestigious location is set right in the heart of Ooty with easy access to rose gardens and popular tourist spots.
Activities you'd love
The hostel is adorned with colourful flowers, surrounded by lofty mountains and has cotton-candy clouds teasing you with a touch as they move past you. Unwind in their garden as you rest on one of the benches, observe the woods and play 'fetch' with your pooch who'll have plenty of space to run about. Connect with nature by walking barefoot on the lawn as you feel the warm embrace of the morning sun on your back. Zone out on a hammock with a book or sip on a cup of freshly brewed tea from a neighbouring tea estate as you lounge in your room on grand, vintage chairs.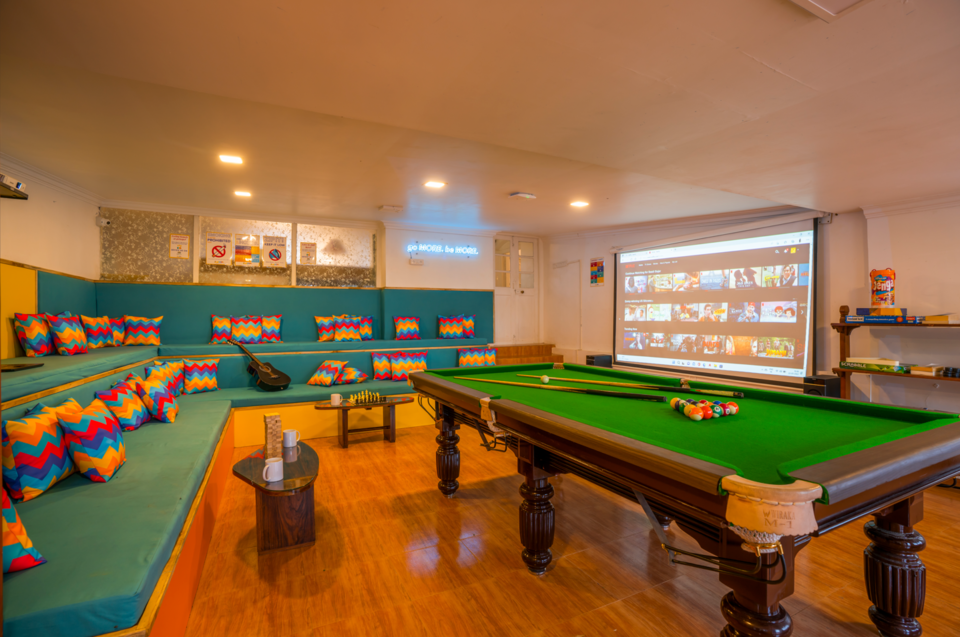 Feeling sociable? Then head to the common areas where you can play pool, watch a movie, compete over a game of foosball or jam by the bonfire with fellow hostellers. If you're in the mood to explore the surroundings, take a short walk on the mist-laden paths of Ooty towards the city centre. Imbibe the slow pace of the hill station as you seek out apples, oranges and fresh bakes that will make your mouth water.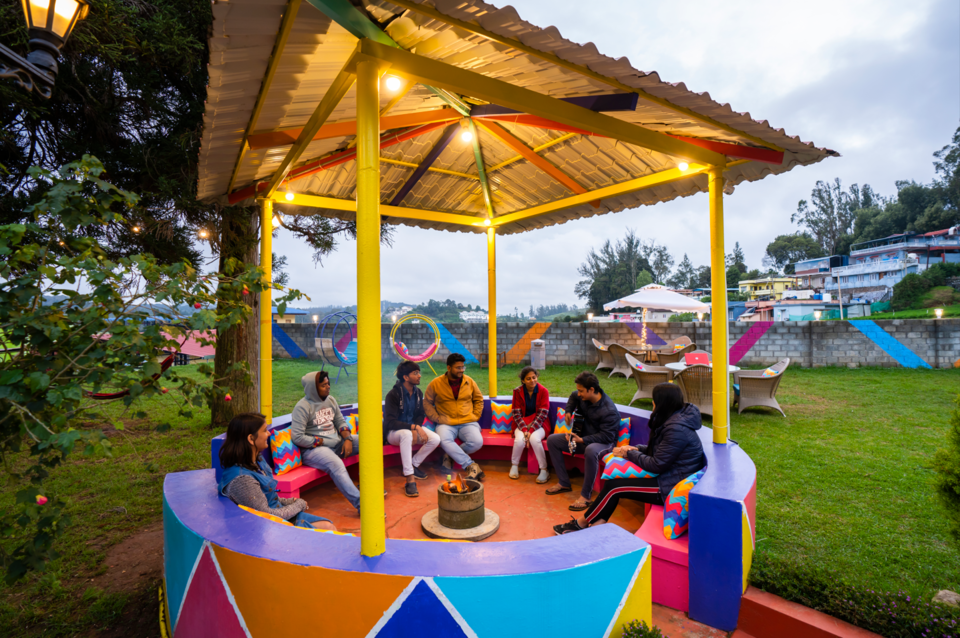 Watch green-carpeted hills racing past on a heritage train ride between Ooty and Coonoor. Explore fragrant tea gardens, admire nature's artistry at the Botanical Garden or treat your adventurous side to a glimpse of an elephant at the Mudumalai National Park.
Return from your day of exploration to the comfort of the hostel with great food and good company. Exchange notes on your adventures with guests as you watch a sunset, warm your palms over a cosy bonfire and chomp on roasted marshmallows. Sing your favourite tunes or just snuggle into bed after a steaming, hot shower as you write about your day in your journal or catch up on some reading before you fall asleep in this dreamy property.
Why you should book a stay at goSTOPS Ooty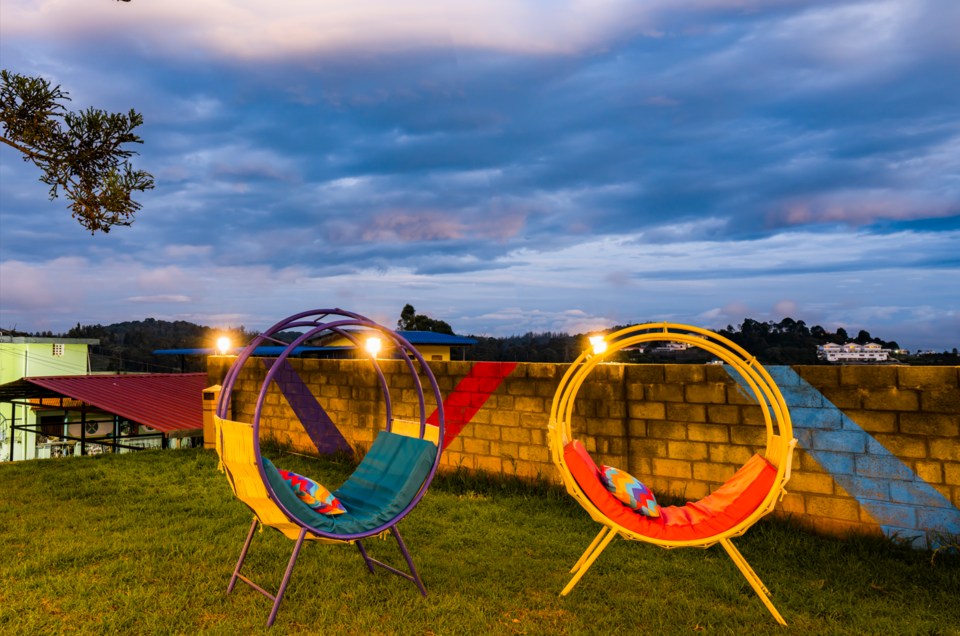 Whether you're staying for a weekend or a workation, goSTOPS Ooty is a hidden gem that's perfect for a relaxing stay that's light on the pocket. The hostel features modern amenities that keep you safe and comfortable. From dorms, free parking, locker facilities to laundry and everything in between, the hostel leaves no stone unturned when it comes to hospitality and hygiene.
Break away from your mundane routine and head out to soak in the slow, luxurious pace of Ooty, its mesmerising beauty and countless cups of fragrant tea. A delicious, charming slice of South India, you'll find yourself taking a liking to the lifestyle that goSTOPS offers - a royal accommodation on a budget that's pet-friendly, filled with good times and is a home away from home.
Location: 264, Off Gymkhana Gold Link Road, Fingerpost, Ooty, Tamil Nadu 643006.
Price: Prices range from Rs 540 per night for a dorm to Rs 2,700 for a private room.
Amenities: 24X7 check-in facility, lockers, laundry, linen, luggage room, hot water, indoor games, common room, bonfire and the bonus - it's pet-friendly, so bring along your furry friend for just Rs 500 per day.
Book your stay here.
In association with goSTOPS
Earn credits and travel for free with Tripoto's weekend getaways, hotel stays and vacation packages!
Explore the best of travel inspiration on Tripoto Instagram!