Again, it was not a trek that was at the top of my priority but as it came like a combo offer, I opted for it. Also, it was a not a difficult trek, I could invite my friends too. They could pass the fitness tests. As usual there were few in contention but only Aarthy signed up at last. The confirmation story went on till the last minute.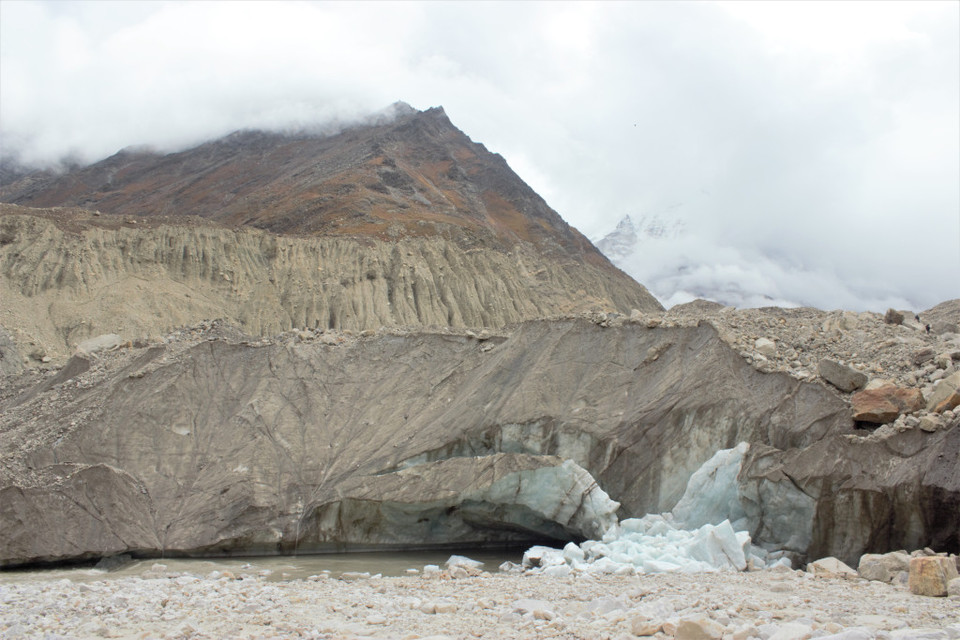 Day 0 - An interesting night
9/21/2019

I had a good night's sleep the previous night and woke up late around 9 AM. I wasn't very tired but had severe body ache as I had not warmed down the previous day. I was worried whether I'd be alright before the trek starts. With these thoughts I went for breakfast and had fool proof Aloo Paratha and Chai. There isn't anything else which is filling and healthy for the morning.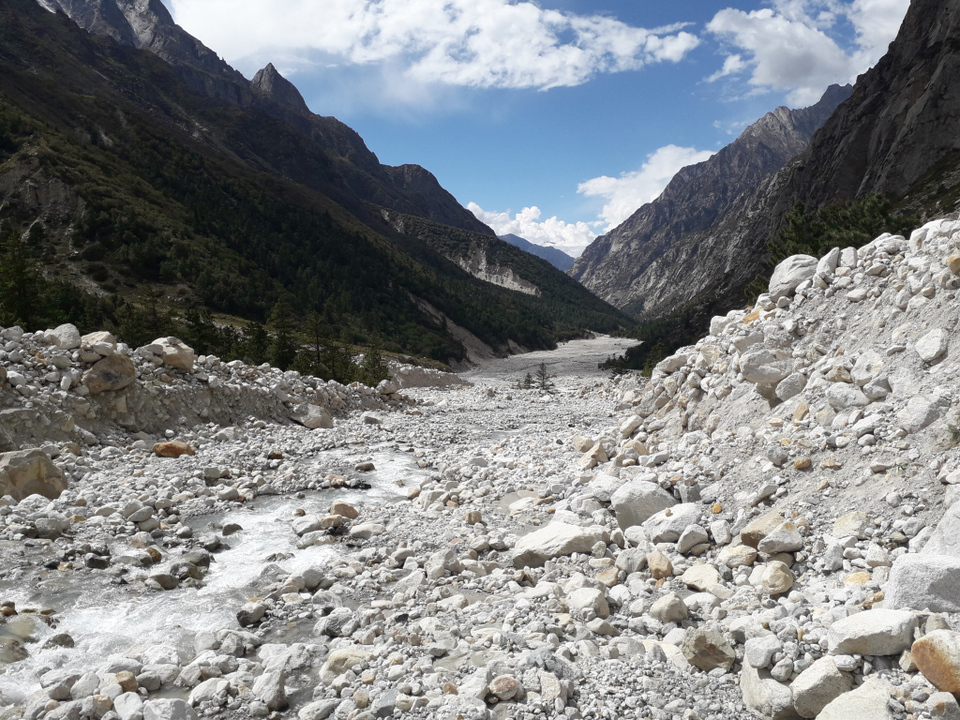 I checked in to GMVN dorm but they said people are to be coming there so gave me a room. Reading 'Love in the time of Cholera' alone in a cold dingy room wasn't helping at all. With each part around fifty pages I struggled to read the heavy novel. I first dozed off post breakfast, read, went for lunch, read again and the cycle continued.
The hotel staff asked me to take the dorm again as none had come. I was relieved as it was warmer. There was one more bag inside. It was that of a French man from somewhere near Paris. He had a story to tell. He had stayed in India for around thirty years and also an avid traveller, he seemed to have travelled to most parts of India and also talks Hindi. He had come with two friends of his who stayed in different room. He told me how he loves yoga, about his one-year sabbatical to travel India, how Pakistan was a beautiful country but within half an hour's talk how they'd ask you to convert to Muslim. It was fun talking to him. He seemed to have done the whole Gaumukh Tapovan trek in three days and come back. He also seemed to have taken bath in ice cold Ganges originating from Gaumukh glacier. He told me that police asked about permission to go to Gaumukh which he had not obtained. With all these stories he kept me busy that evening.
After his evening yoga I went for dinner along with him and his two friends who were planning to go to Har Ki Dun. After giving some inputs to them on how to plan for the trek we returned back. He insisted on paying for me and got angry when I paid my share. He told, "After all India has been so nice to me, I've to do at least this much." Thank you, India.
The fun part starts post this. While we returned, there was one more guy in our dorm. When I was checking for my water bottle, I saw it near his bed. He told he had taken it for some purpose. He was from Haryana and had few buffalos it seems. He had come there for an official purpose along with his superior. He told how he's used to having milk and ghee of buffalo, so without all that, the cold weather wasn't suiting him. He had pre planned for the trip with drinks, miked with Pepsi and offered me too. FYI, alcohol is banned in Gangotri. He asked me whether I'd have 'cool drinks'. I politely declined.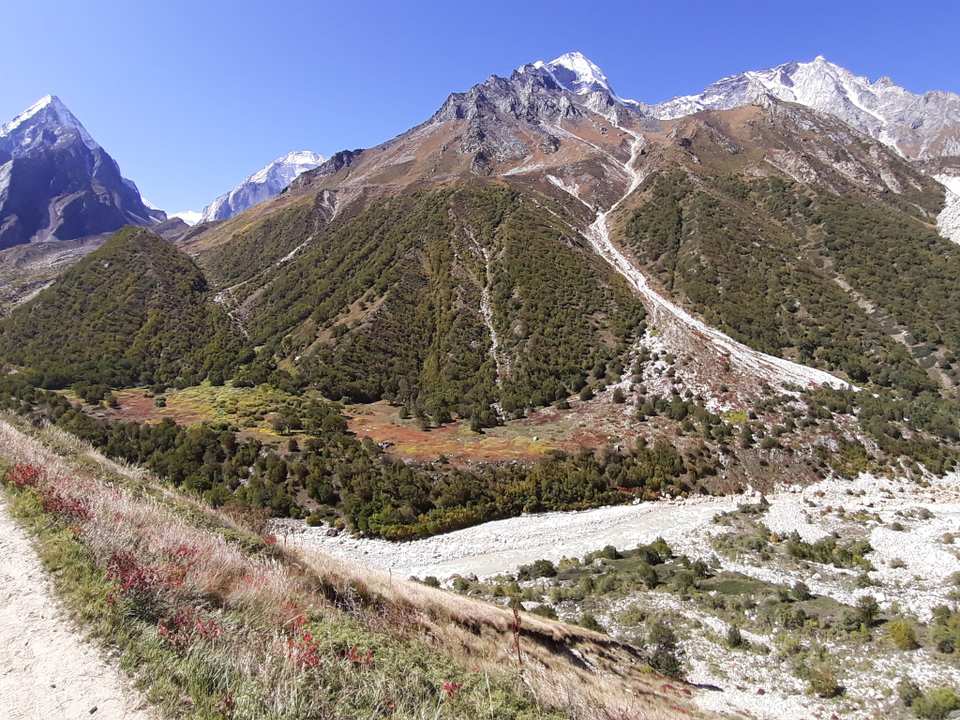 By this time the French guy had already slept. But the Haryana man was fully awake and told stories of how powerful he is, he lifted the cot, hit the wall and did all sort of antics to show it. He also struggled to explain it in English for the French man so I was forced to be the mediator. He told even though powerful he couldn't have flat stomach like the French guy, he told me to ask what he eats. I of course didn't. The French guy was excited seeing him. He just asked one question, whether or not it appealed to him, it appealed to me. Post that we slept peacefully. The question was, "you exercise so much for your body, what exercise do you do for mind?"
Day 1 - The Assembly: Gangotri (10,055 ft)
9/22/2019

It was the day I was supposed to meet my trek mates. Around fifteen of them. Before that in the morning I literally did nothing. The Haryana guy and the French guy had already checked out so I was all alone in the dorm. Had an argument back home which spoilt the mood and also helped me in passing the time. That took whole of the morning and I sat thinking of all the unnecessary things and spoiled my mood further.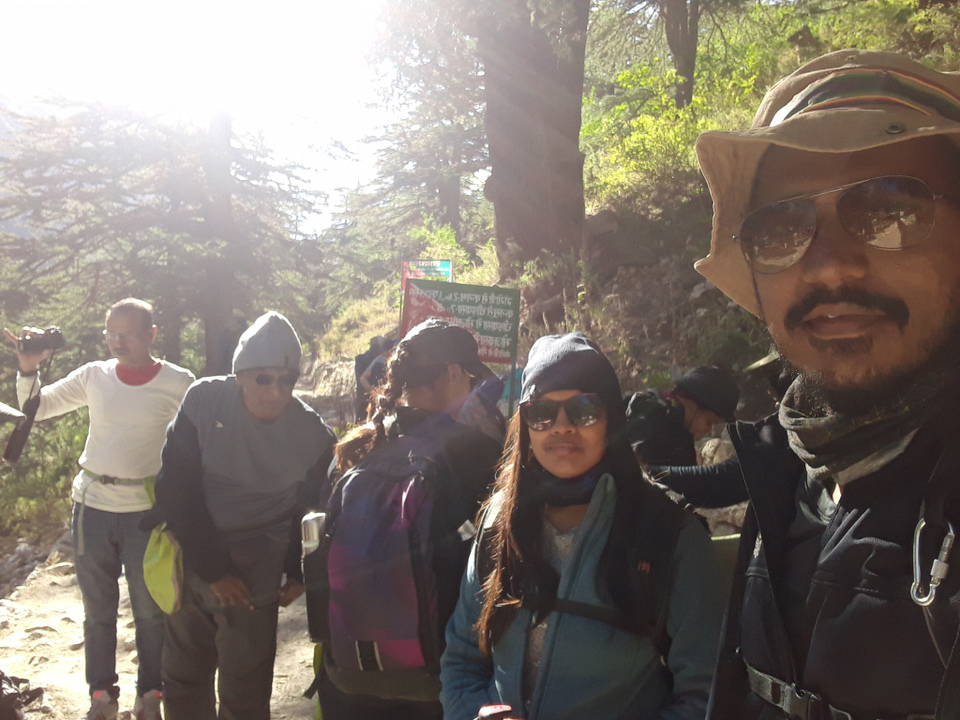 With the book getting harder to read and no interest to watch any movie I decided I'd rather sit idle than do anything. I was trying to call Aarthi every now and then but the signal was bad for both of us so we couldn't connect. Having roamed the streets of Gangotri 'n' number of times there wasn't anything better to do, so went to Birla Dharamsala for my re-entry. As usual the unfriendly room boy didn't let me check in my room so was waiting outside. With weather getting colder and the hotel owner seeing the plight of me, he allowed me to get inside a room.
As soon as I checked in the room, the other people came. Aarthy was her usual self. It was a relief to see a known face after a long time. I guess the feeling was mutual. Along with her came her girl gang and the father of one of them. In my room a couple of youngsters along with a senior entered. I had kept my bag at the single bed but the person who came later occupied it. There was an air of excitement and quickly we met our trek leader who made haste with checking of our certificates.
The list of people goes like this...
JP - Senior most brother
MP - Second brother
Mayur - And the last of Gujju brothers, Trimurthi's, who were always together. Didn't have much of a chance to mingle with them.
Sachin - The person who occupied my bed, from Hyderabad, nice guy.
Girish - Reserved guy, tagged as quietest one of the lot.
Vaishanvi - Kathak dancer and very nice girl. My personal favourite.
Ashutosh - Man with immense oxygen, his oximeter reading was always the highest. Very nice gentleman whom I shared tent on all days.
Sabai - Very entertaining character. My second favourite person of the trek. There will be a lot of interesting things to talk about him later.
Priya - Lady with the screeching voice. Sabai's daughter or more famously Sabai is called Priya's dad by other trek members.
Swetha - Along with Priya, a proud lady who was always in an urge to be first.
Pooja - For some reason the name 'Dhinchak Pooja' struck my mind ever since I saw knew her name and her. Don't know where I heard it before. She is the person who mingled with most of the people I believe. Has an eclectic dressing sense. Aarthi too is a fan of that.
Aarthi - my friend from Chennai who already made a lot of friends before she reached here.
Mihir - Our trek leader
Sunil Bhai - Our chief trek guide who guided us in rappelling too
Parvesh - Our uber cool sweeper. Man with the shades.
Like every group, it formed into three mini groups. One consisting of the three Gujju brothers, another with the school friends Sachin, Girish and Vaishnavi, another with the rest of the ladies. Our tent members were the ones who were here and there with whatever possible group. Of that, Mihir and I spent most of the time with the girl gang in lunch tent.
As we were settling in the room, Mihir came and checked our medical records. For people above some age they wanted a compulsory medical certificate which none had so he took them to the doctor next day morning. Rest of the time I catched up with Aarthi and her friends. We had a briefing session in the night where Mihir explained about the trek, safety precautions and instances for which "he'd send people down". It was a lengthy talk about the do's and don'ts post which we retired back to our room.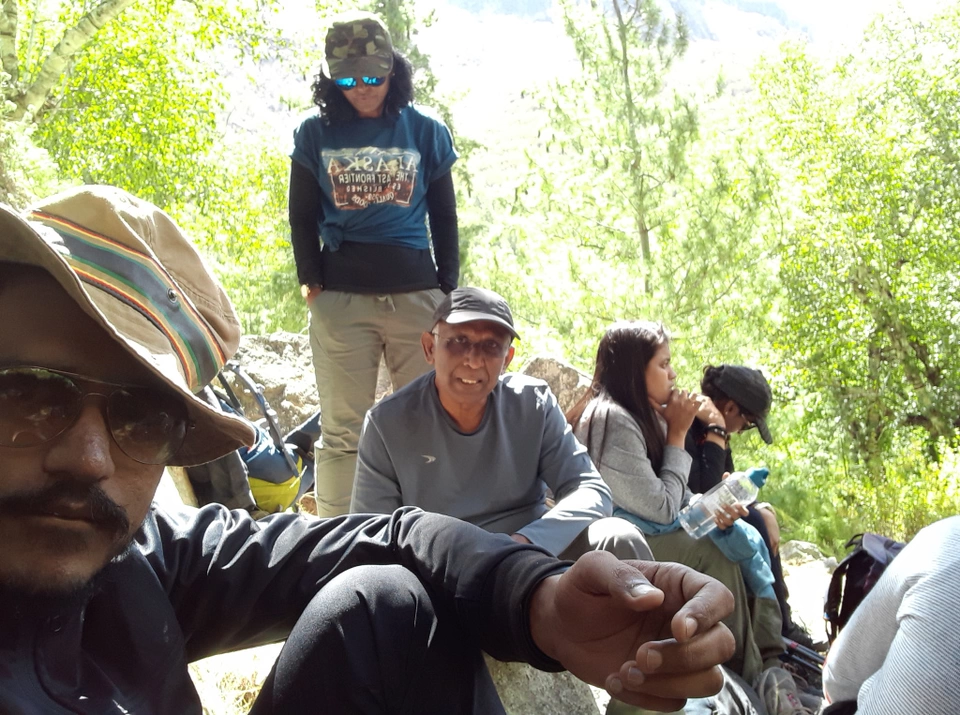 There wasn't much conversation in our room. Aarthi looked more confident with the trek after seeing few seniors and a lot of off loaders. I went back to my room and slept peacefully post that.
Day 2 - As easy as it could get: Gangotri (10,055 ft) to Chirbasa (11,761 ft)
9/23/2019
Just after a walk of few meters after an initial staircase claim it was a plain bland walk. I remember my friend saying how boring the trek was, "chumma nadanthutae iruka vendiyathu thanda". (Just you keep on walking". "Except for a trek in glacier, that too for an hour or two, apart from that there is hardly anything. I thought it'd at least rain, but that too didn't happen". I exactly knew what he meant by that. It was a sunny day. Gangotri was cooler than the path we took.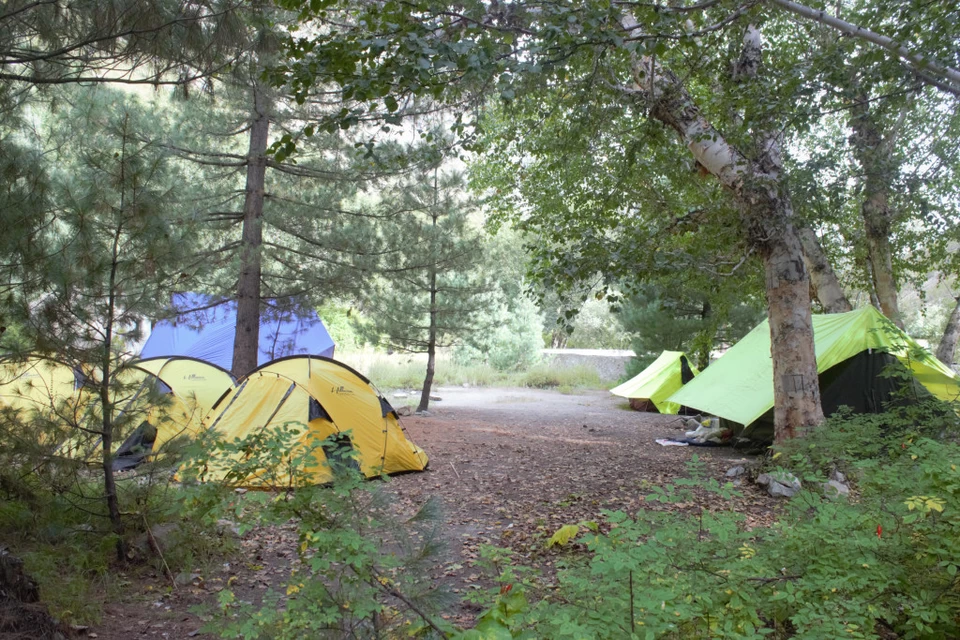 We kept on walking, and I got hungry in while. We got a decent place for lunch. Mostly Priya and Swetha lead the trek and I along with Aarthi were almost at the back and Sabai (I'll keep it as Priya's dad, that sounds better) and Vaishnavi mostly in the last. Even though I wasn't sure I showed a place which I guessed to be campsite for which Sabai said a golden saying, "campsite ah pathuta kadavulayae patha mari" (seeing campsite is like seeing god). His one liners are fun.
I think by 3'o clock we reached the campsite. The campsite was awesome. It was like a hippie place. It'd have been great if it had not been a trek. Great place to strum a guitar and light up for a barbeque with grass, beer and buddies. As soon as I said hippy place, Mihir was like, "don't say that man".
Once Priya's dad reached, bidding for the tent started. We had three tents for a group of eight men and two tents for a group of five ladies. So, the once who raised the hand first got two-man tent. I didn't raise it because I didn't know with whom I'd want to share it. If it doesn't work out, stay would become horrible. As I wanted, Sachin and Girish raised the hand and got the two-man tent. I don't remember who two where the lucky/unlucky ones to get the two-man (woman) tent. With us guys, it was the same almost till the base, with exception to the camping at summit, I'm not sure how the ladies separated it.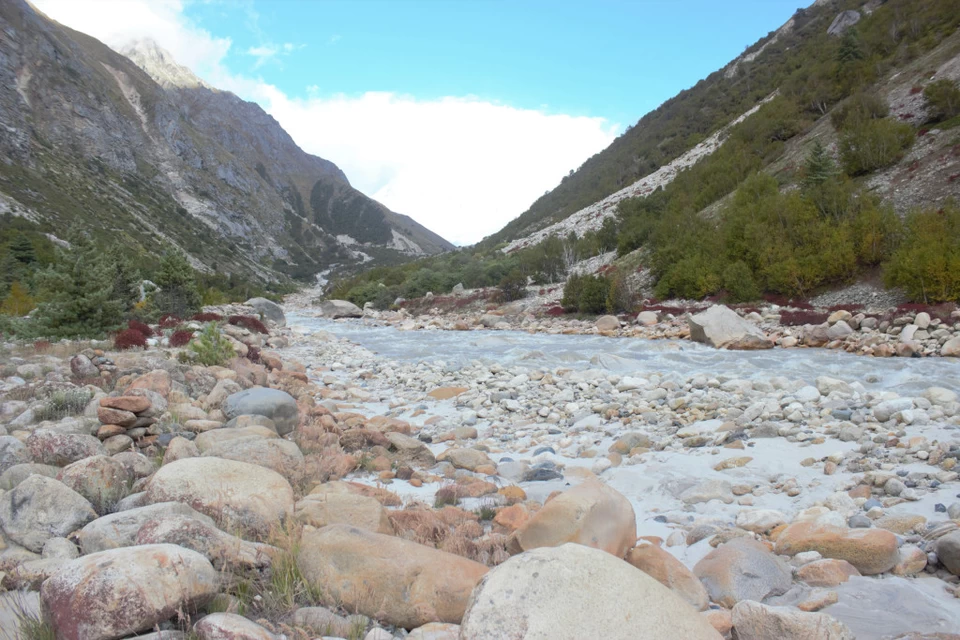 Once that was done, we did the mandatory stretching. One good thing was that Mihir made sure we stretched no matter what, which meant we didn't have any body pains throughout. Ashutosh told me how his knees were in a lot of pain when he went to Kedarnath but thanks to the stretching he wasn't feeling any pain during the trek.
In the evening, someone (guess Vaishanvi) said there was a stream behind our campsite. Aarthi, I, Priya and co. went there, the place was terrific. It was like the "Heaven's Mouth" in "Y Tu Mamá También". I felt instantly energized. The boring day got bright, thanks to the stream. I had got one great shot once in Har Ki Dun in one such stream but not so this time as my prime lens wasn't working but anyways, I was happy to be there, more than anything else.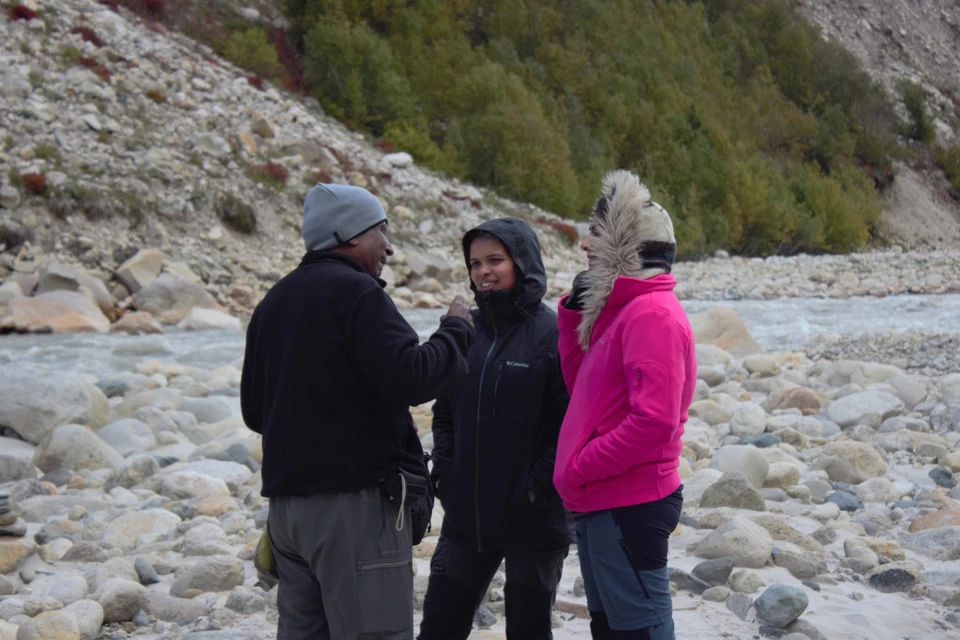 Post that we all sat together and did an activity where each of us had to tell about themselves from a third man's point of view. It was fun for certain people and we got to know about each person in a different manner. It started getting cold and we all started layering up. The activity went till dinner time where we had delicious dinner. Once done I went and slept with my new trek mates. Helped them with their liners and sleeping bag. Priya asked me to have an eye on her dad which I did in a way but he was self-sufficient. Like I told her, I slept so sound that I didn't even know that he went out of tent twice in the night for nature's call.
Day 3 - A morning toffee: Chirbasa (11,761 ft) to Bhojbasa (12,450 ft)
9/24/2019
The next day's walk was supposed to be only for a couple of hours and then camp there for next two nights and also another night while returning from Tapovan. That is due to the change of itinerary. We'll see about that at a later stage.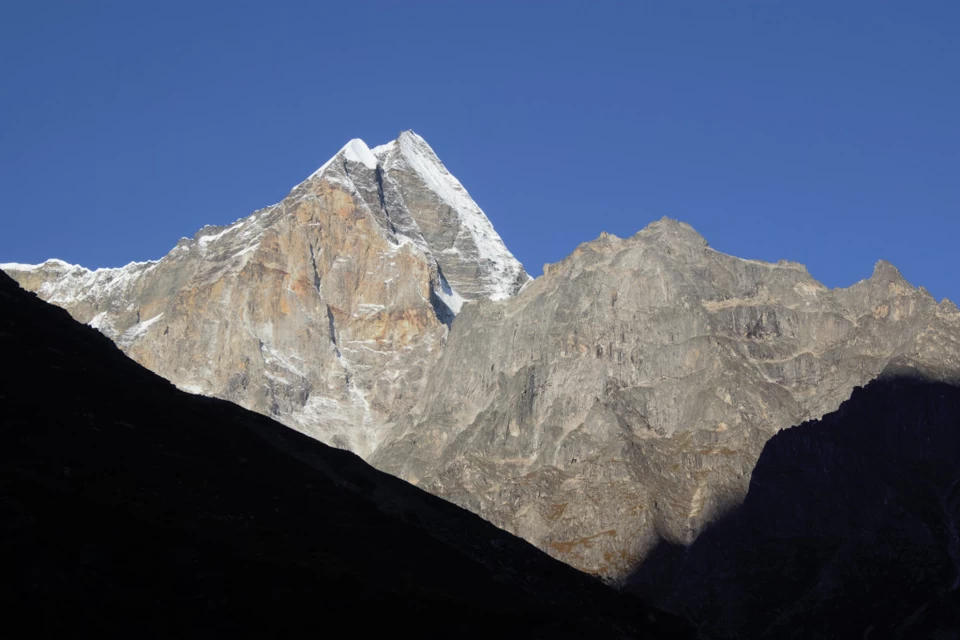 It was a 6.30 - 7.30 - 8.30 routine that day, I guess. Everyone was relaxed as there was not going to be much walk. Mihir and the guides too were cool but we started on time. May be around 9 AM at max and reached by noon. The path was as straight as an arrow, except for one rock fall area where we were made to walk one by one, without talking, without stopping, there wasn't much about that day. Even that area didn't look dangerous. The trail was really smooth. Good thing was that we were able to see Himalayan Blue Sheep as we were quiet. Got a few clicks of that and proceeded further.
The camp site there was huge. I got to know beforehand that it'd be cold and windy there. It was evident. I was excited seeing volleyball court. We were asked to pitch our tents. Pooja selected a place for her tent and the rest happened with the remaining place. There was one more batch who had started a day before. It was acclimatization day for them so it was empty when we reached there. They reached by the time we had lunch. It was good to see some new faces. Also, their trek leader Aashay seemed to be a crowd's favorite. I could see why, once their batch came. He seemed to be fun. I actually met him when I was having lunch in a nearby place.
Post lunch both the teams joined together and played Empire. It was a fun game where each had to say a name to the one who conducts the game and people would guess who's who. One who acquires everyone would be the winner. As it was a big group it was fun to play. Aarthi and I could find each other's names as we knew each other, otherwise it was tough. She won a game once, though. The trick was to select a name which was totally unrelated to you.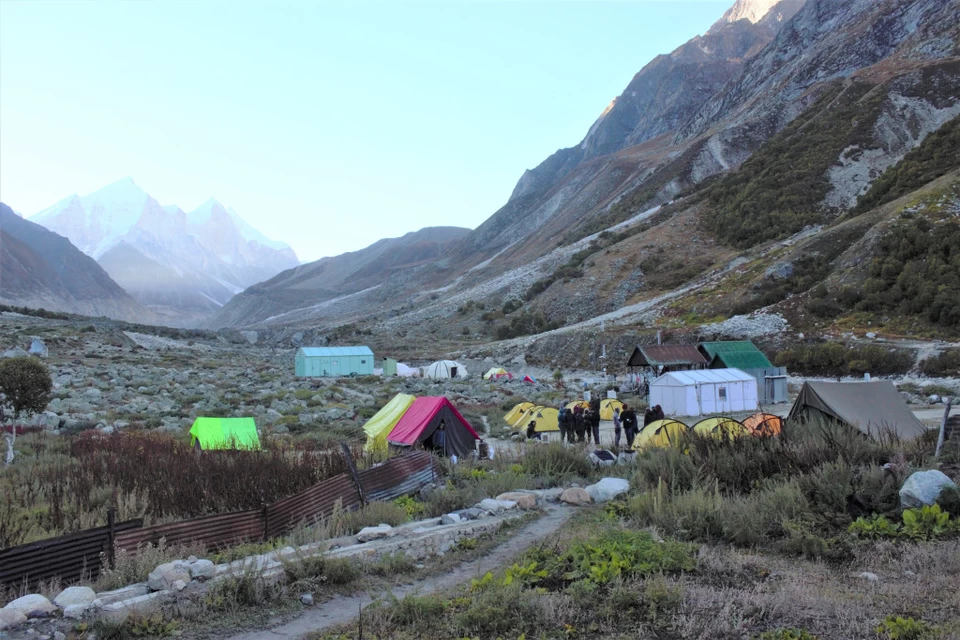 We then played Magic where Aashay and Mihir did some trick so that one could find what we tell the other one. Then the locals gathered in to play volleyball. I along with Girish were asking people there if volleyball would be available but we didn't get. I didn't want to risk playing with strangers as I didn't know to play. So that day we couldn't play.
We stayed up there with soup and sev, it was getting really cold. Few ladies went to meet some yoga baba. I sat there enjoying the game. I met Rajveer, who was the guide for Kedartal. I was happy that he remembered me even though we didn't have much conversation with each other. I think it was the same day where people were searching for Sabai. He wasn't to be available anywhere. He was sitting at a distance with Vaishnavi to whom he was explaining a story. He wanted to become a film maker by the way and called it as his second innings. I casually told it as some moment which won't happen so easily. Priya and co. who were there let out a laugh. But it wasn't a joke. We could connect with very few people who truly understand what we speak. It looked like one such moment. Wish I had camera there to click them but I didn't want to hurry to the tent, bring camera and take it, because that moment would be forever etched in my memory. If at all I make a movie which has characters like this, I'll frame it the way I saw that day.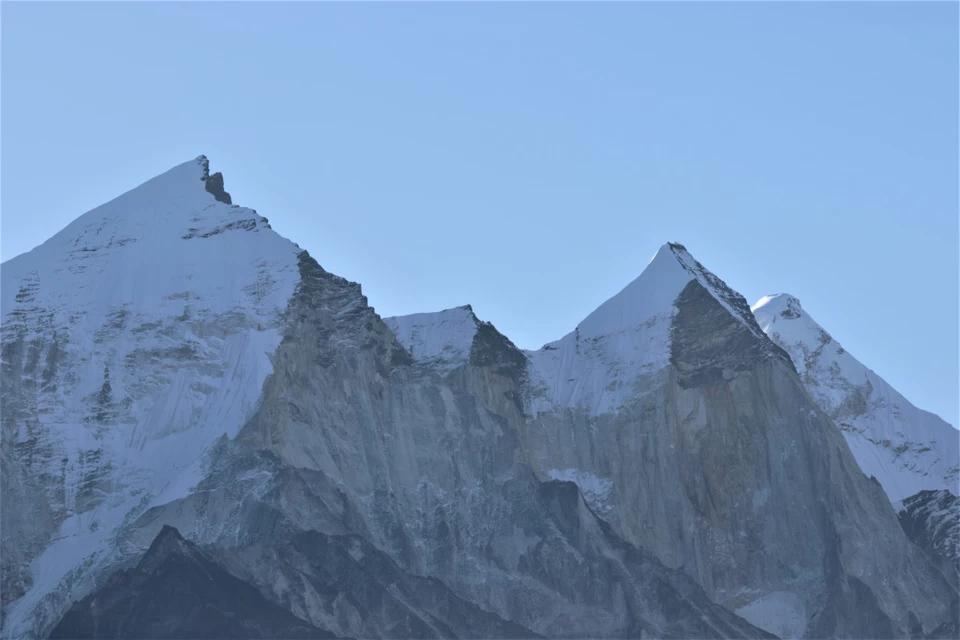 As the sun set, we spent some more time in the dinner tent, had dinner and went to sleep.
Day 4 - First Glimpse: Acclimatization walk To Gaumukh (13,455 ft) and back to Bhojbasa (12,450 ft)
9/25/2019
I always get excited on the acclimatization day as we needn't take luggage with us. It was a relaxed day, we started after 9 AM, after saying customary good bye to Aashay and co. who were set off to Tapovan that day.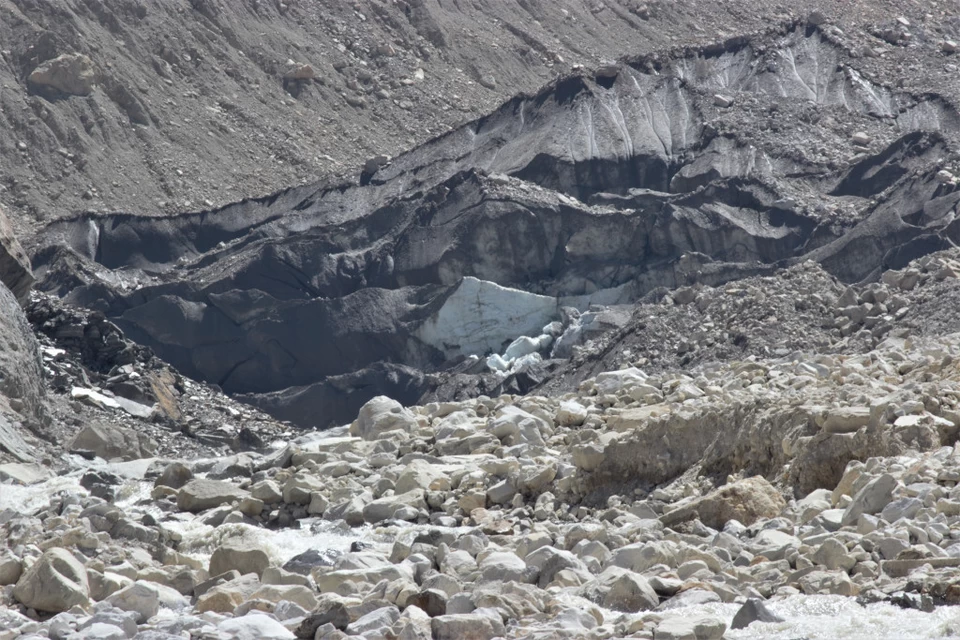 There are two routes to Gaumukh glacier. One on the left which is full of boulders and risky and the one to the right which goes further to Nandanvan if we climb up the glacier. We took the route left but didn't go till the glacier. Just stopped at a point where we could see the glacier. But that itself was close to 7 km. It was a hot day that day and I was feeling thirsty and was also peeing more often. Also, I had very less water with me so had to refill every now and then. Within a couple of hours, we reached Gaumukh where we got few good shots. The flow of water was tremendous. Each were having their own moments. We savored Ashutosh's laddu and Perk. Ashutosh wanted to finish of his home made laddus in a hurry as he didn't want to carry the weight throughout. I being the lucky guy who shared his tent, got to eat most of it until Pooja snatched the remaining, a couple of days later. By the way the laddu was terrific.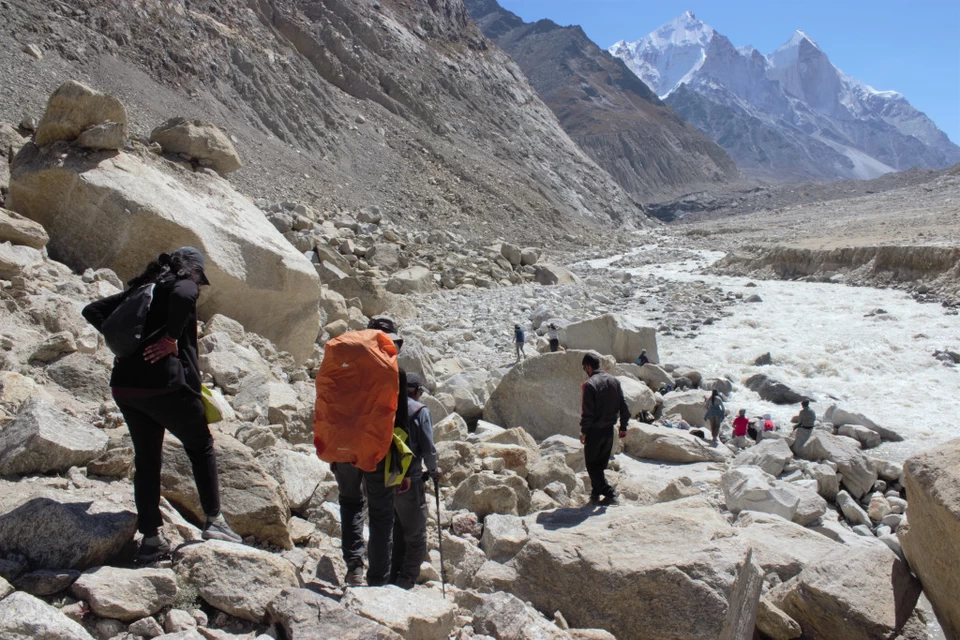 I was feeling damn hungry so I hurried back to the camp, hogged the lunch and then took breath. The afternoon went in chitchatting, I guess. Post that happened my most favourite activity of the trek. I played volleyball. Priya and Swetha also joined. Sachin played reasonably well. I was able to hit some balls too. I had always been interested in volleyball. Any sport interests me. But that was the time I could play after becoming an adult. Last I played was in eight standard. Max I would have played for 4, 5 days so the only thing I know was the position of my hands while hitting the ball. To my surprise I was able to serve well. Even though I got very less opportunity, I didn't concede any foul.
After the well spent evening, we went to the GMVN café which was serving some lip smacking snacks but as I still had to complete the trek, I didn't risk it. By the time we reached back to campsite it was already getting dark. Within minutes we got our dinner which I happily ate and slept.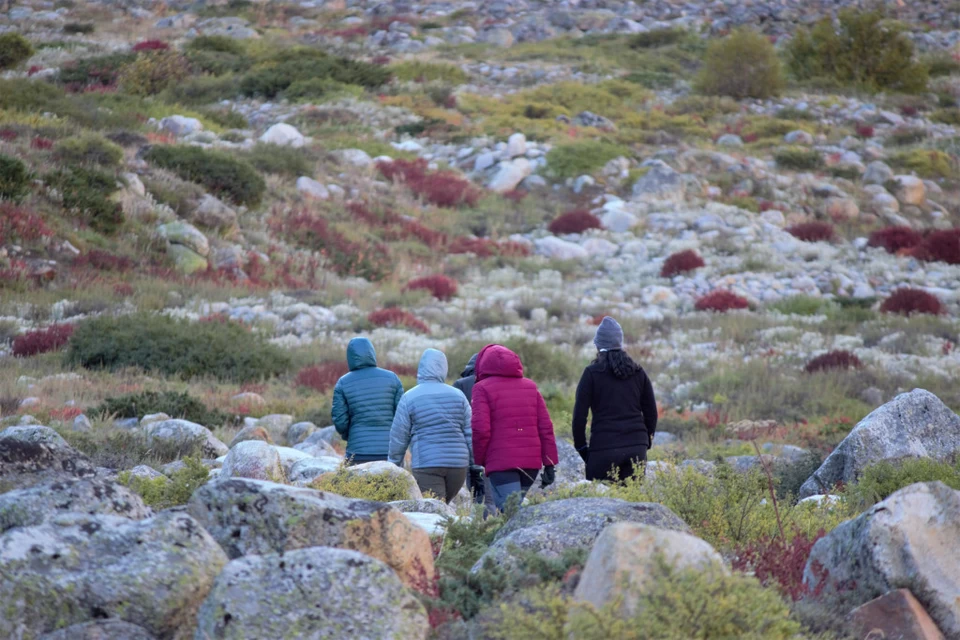 I got to know meanwhile that Sabai wouldn't be coming the next day as it'd be a steep ascent to Tapovan. He was terribly disappointed but couldn't help it. I didn't know whether it'd be tough for him as I hadn't gone before. By the experience of previous two days I thought he'd be able to do it, even if he was slow. But anyways the decision was made. He was feeling bad and it was evident.
Day 5 - Summit: Bhojbasa (12,450 ft) to Tapovan (14,202 ft)
9/26/2019
It was the most awaited day. I was feeling jitters, what I regularly feel during summit days. Everyone was telling, that day was going to be the hardest day, especially from Gaumukh to Tapovan. So, with all excitement we started the walk. We had one more surprise for the day called rappelling. For me that was the most exciting part so I didn't even see the videos which people were watching the previous day. Sunil bhai was supposed to lead the way with that. We got to the rappelling point quickly and Pooja was shit scared. It was fun to see the Pooja vs Mihir tiff there. But she eventually did it quite easily.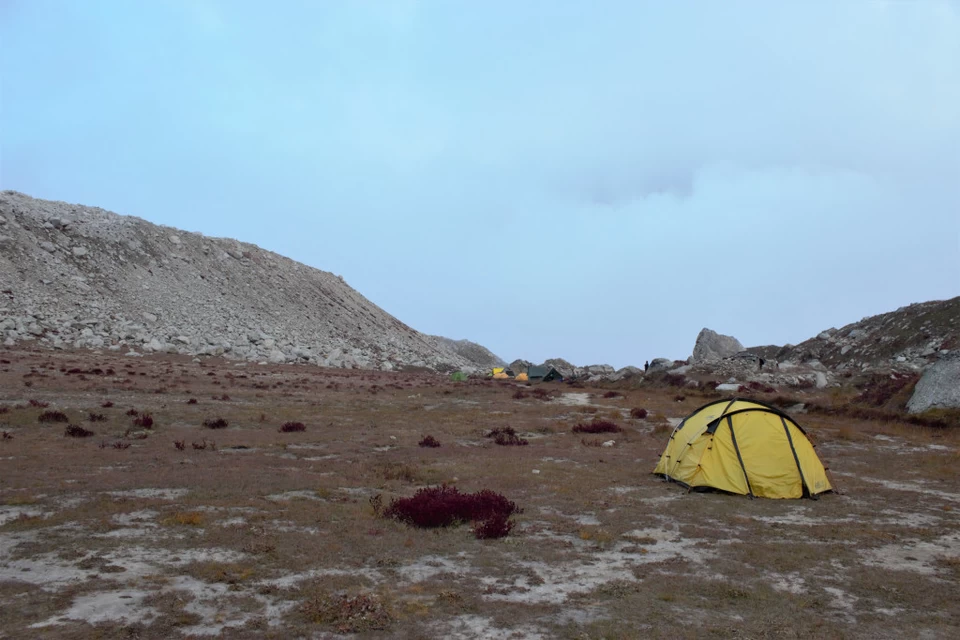 The initial point where we let off the rock and our body weight falls below, we could feel our weight, then the sound of water is nice and loud and then we reach the other side. It all happens within minutes but the activity is worth it as it was included in the package. Otherwise if you go to the adventure places, this costs hell lot and not at all adventurous, here at least we pull our own weight, even though with the help of other, we at least have some exercise.
The whole activity took an hour or so which meant our body got severely cold. But within minutes we were fine as we had to climb a place. Post that it was almost flat walk to glacier. The glacier was just like Amarnath cave where the cave was visible but we were not at all able to reach. Similarly, there was a sandy place before the glacier, it felt as if it was near but we had to walk a long way to reach it. Felt like the walk the protagonists do in 'Ayirathil Oruvan'. But finally, we reached. Priya and Swetha were there already. As Priya already had a camera in her hand I took her help to take a photo of mine in front of glacier. But I couldn't get it as I wanted. A little bit patience and taking my camera would have helped. My bad. But anyways I at least got a photo in front of it.
The place was terrific, I was a little underwhelmed the previous day but that day, the view up close was awesome. I requested for lunch break to Sunil bhai. Once he obliged, I hogged. I don't know why I'm always the first person to feel hungry in every trek. Good that Aarthy was there this time to give me company. After having lunch at a great lunch point, we started off to Tapovan.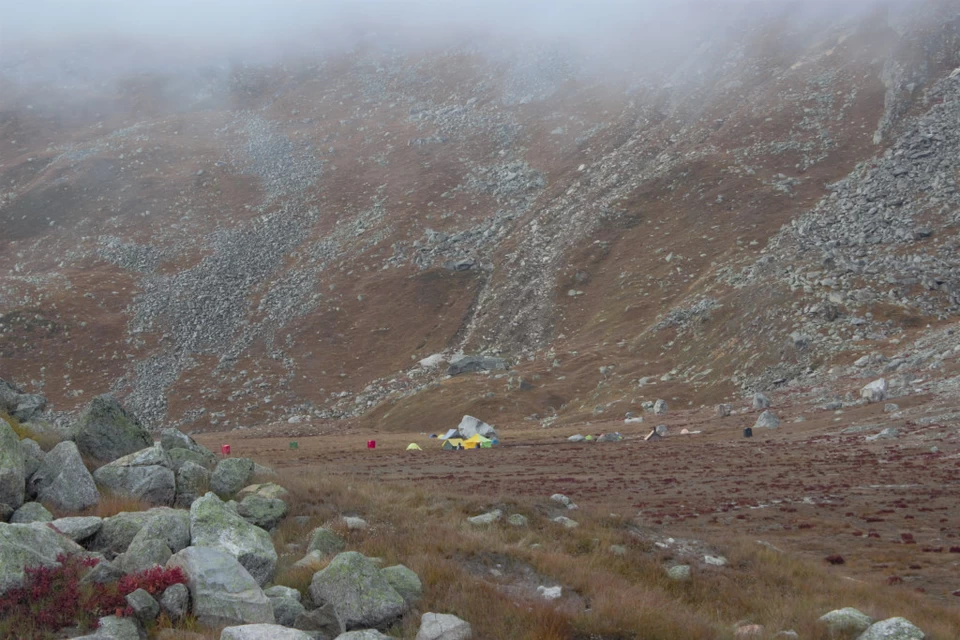 It wasn't like anything before. It was a steep ascent in boulders which were formed over the glacier. The climb was slow and risky but rewarding. Everyone loved it. Aarthy was struggling behind but she eventually did it. The view of Shivling as soon as we got to the top was mesmerizing. We thought that the decision to leave behind Priya's dad was indeed right, he'd have found it very difficult to complete it.
Within minutes the weather turned bad (in my words, awesome), it became all foggy. I love that. As I've already seen Shivling once, I wasn't worried much. The setting was phenomenal with zero visibility. We talked for some time and as it was getting cold, our guide Parvesh helped us with some dance steps and the remaining went to see baba. With Sabai left down, only I and Ashutosh were in the tent. With him gone to meet baba, I was all alone. I used Aarthy's mobile to hear songs in that misty weather, started thinking about my family back home and repent. The passage of time was heavy.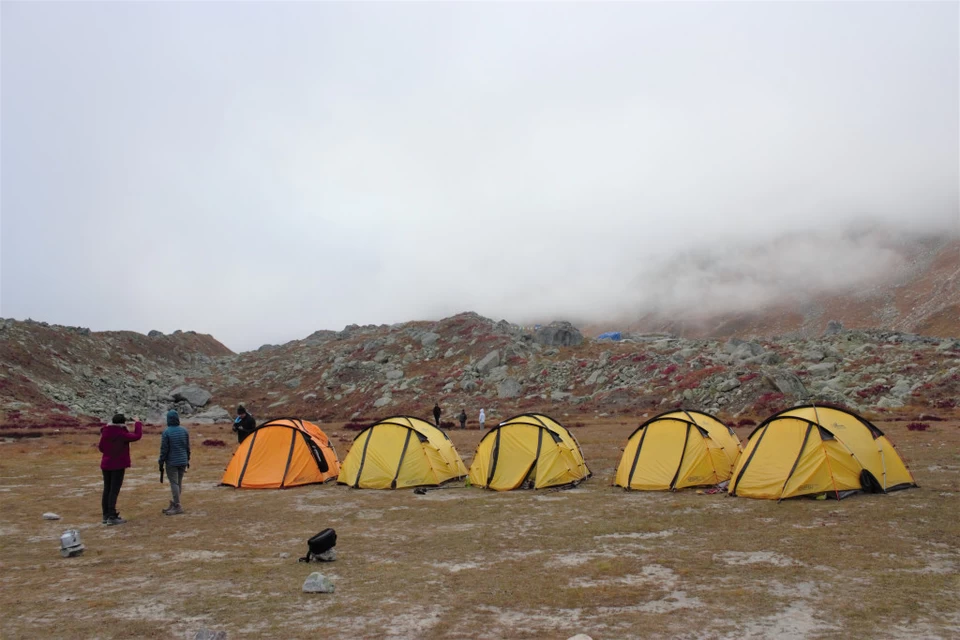 Our dinner tent was joyful as everyone who started reached the summit without any difficulties. One of the Gujju brothers were slightly sick but nothing serious. We had a fulfilling lunch and went to sleep. This time with more space as we were only two.
Day 6 - Deadly Descent: Tapovan (14,202 ft) to Bhojbasa (10,055 ft)
9/27/2019
I know the title is a little bit overwhelming but what's fun without exaggeration. So, on a misty morning, many wanted to stay for some time to checkout Shivling. The mists were slowly clearing and Mihir also was okay with staying back for some more time. I used that opportunity to go up beyond Tapovan, watch blue sheeps up close, and see a paraglider gliding from Nandanvan. A place which I wish was included in the itinerary. I thought instead of acclimatization in Bhojbasa, this could have been included. But don't know how feasible it is. When trying to check with Rajveer he said it'd be doable for me as I'm fit but not for everyone. Whether or not it's true, I felt happy. It felt like a great miss that time but not so much now. Every time I miss some place the dialogue from YJHD comes to my mind. You know what it is...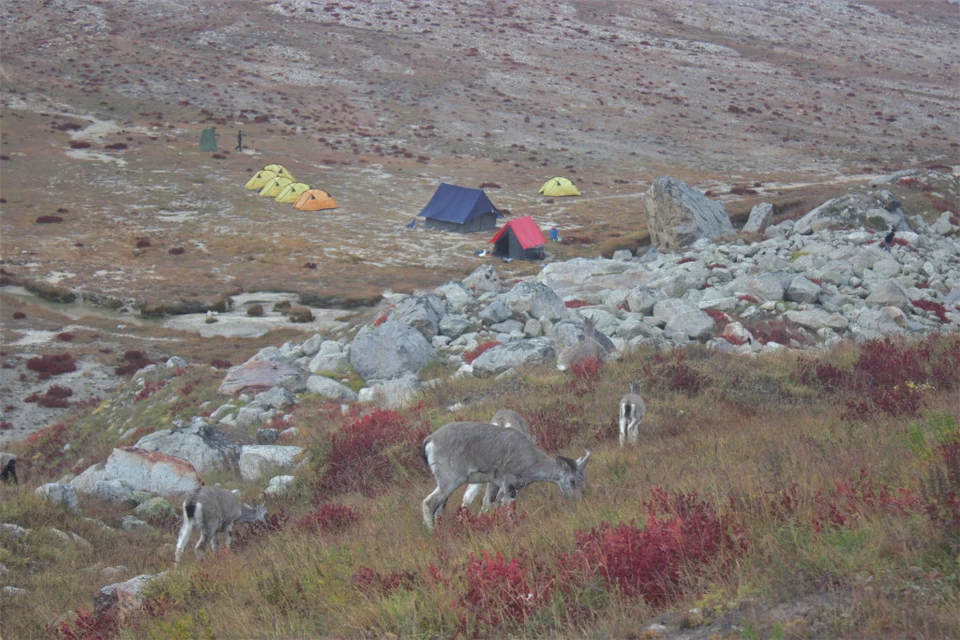 Morning before the start Mihir asked everyone to thank someone, something. It was called the gratitude circle, I guess. Pooja started it, Girish did next (I guess he was Mihir's personal favourite), Pooja went next and Aarthy. I was thinking what to say and also calculating how much time it would take but Mihir heard the second thought out loud, I guess. He asked us to start and continue it once we went down. But it never happened by the way.
The descent was awesome. Something I always love. Plus, the terrain was tough so it was even more challenging. For a change I didn't walk with Aarthy. I was behind Priya for some time, slipped and fell once on her (sorry for that), scratched my hands and got blood stains, a mandate in every trek. I wasn't much worried anyways. The descent was smoother than I expected. Ashutosh was worrying that he'd have a tough time but he did great. Sachin too said he was sceptical but he did great, he later told that it was the first time he descended without falling down.
We reached Gaumukh and sat there for some pictures. There were few icebergs which were falling and one already fallen. This time it felt even more peaceful and, in a way, haunting, giving a heavy feel. May be the fact that the trek was getting over was getting on me. Anyways for me, that was the moment of the trek. I guess it was same with Aarthy too. But again, I couldn't take the pictures that I wanted. But I took Ganga jal from there for home.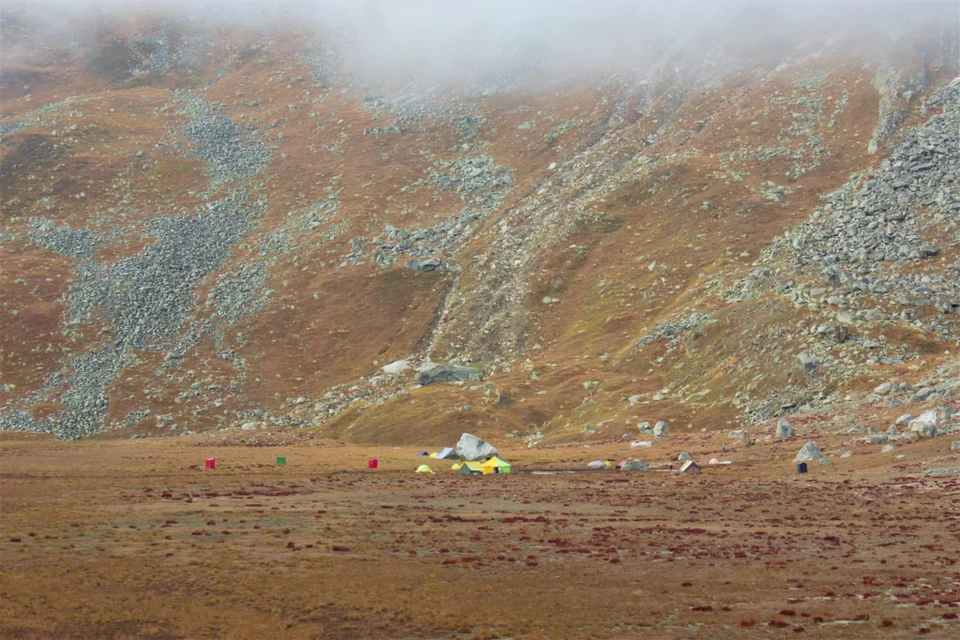 From there it was a straight walk till the rappelling point. This time I took Aarthy forward with only Ashutosh and Girish at the start. Rappelling was less noisy and more courageous this time as we had to pull ourselves harder because the ramp was in the incline. I loved it, I wanted to experience it fully by myself so went at the start. Girish followed by I, followed by Sachin and then the rest. They wanted people who can pull. Sachin told three people are enough to pull. He was right because there was less place and it'll look cluttered. Then Pooja and Swetha came. Swetha said that Sunil bhai was asking us to pull from the other side. She went up close which made Girish unhappy, he told, "would you please come this side" and continued with his effort. Within an hour or so the rest came. I think we didn't pack lunch that day, which was a bad idea, I felt terribly hungry.
We had lunch quite late that day and again spent the time in lunch tent. Pooja, Priya and co. were checking on how to give money to the villagers there. She asked me on how it generally happens. I said it doesn't happen. It didn't happen in the previous trek. She thought I said I don't generally give. Which was true too but I didn't say that. I guess that didn't go well with them. Anyways good thing was that I was not asked for, post that. Nice of them.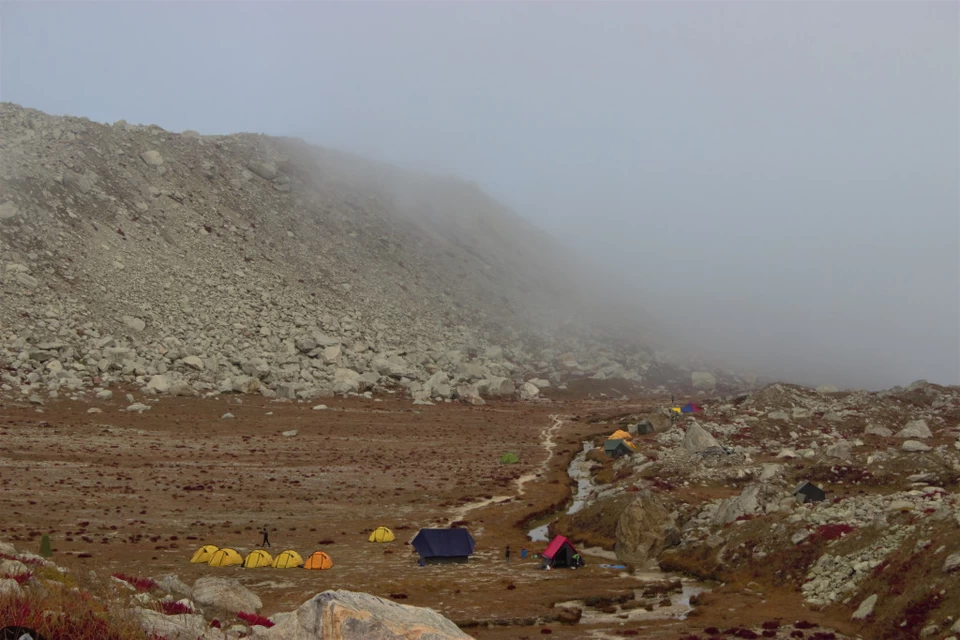 I didn't play volleyball that day as I wasn't in a mood. Just ate and slept. Nothing better to do.
Day 7 - One last down: Bhojbasa (12,450 ft) to Gangotri (10,055 ft)
9/28/2019
I was already bored of the trek and wanted to get it done with, I don't know for some reason it was one of the most underwhelming treks I've been to. Except for the brief moment in Gaumukh. I wouldn't recommend it otherwise.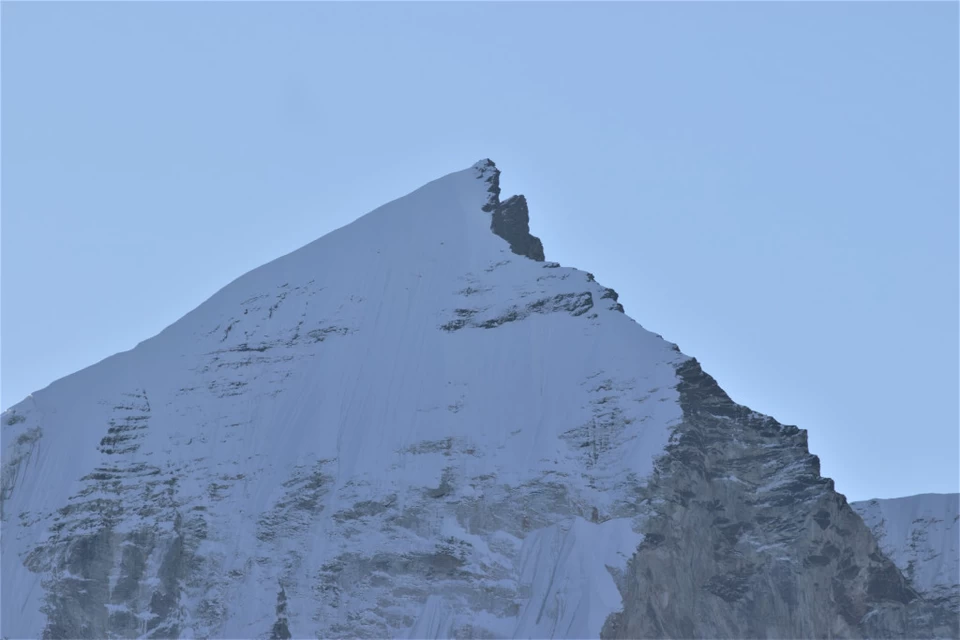 So, morning after breakfast we started with the descent, now with the route clear and just one-way ticket to Gangotri there wasn't much to do, just walk briskly and get down. So, I took Aarthy forward and proceeded at a swift pace. Used her air pods to listen to music which was awesome. Some songs add to the charm of mountains. For me the song of the day was 'oru naal oru kanavu'. I heard it the previous day in tent too but hearing it while walking was even special. That stuck to my mind from the previous day.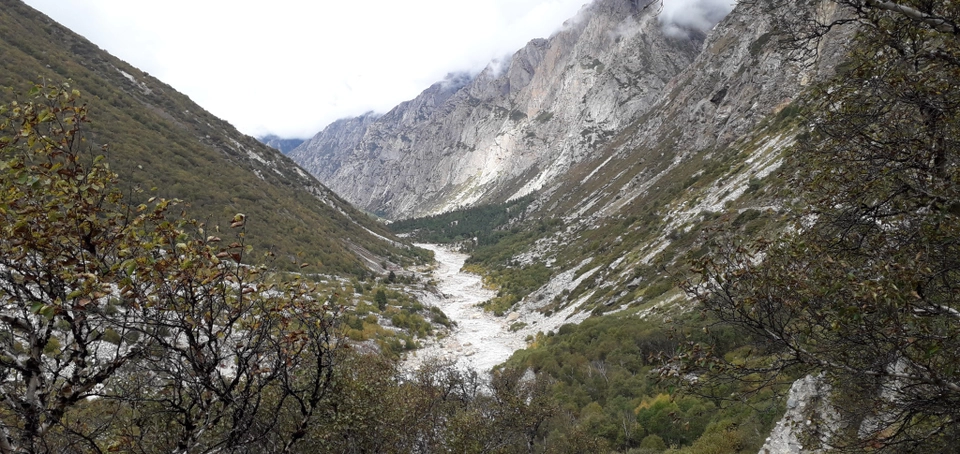 We had a lunch break somewhere close to the check post office. Weather was getting worse. I was afraid it'd rain but luckily it didn't till we reached the base. We reached the base on time, hurried towards the bathroom for hot water bath. I guess Sabai had some problem while descending but he too eventually reached in one piece.
We went back to the same room, took the same beds. Others went to check out Ghat Aarthi but I stayed back to finish a chapter in my book. For some reason I was longing to read so I stayed back all the while.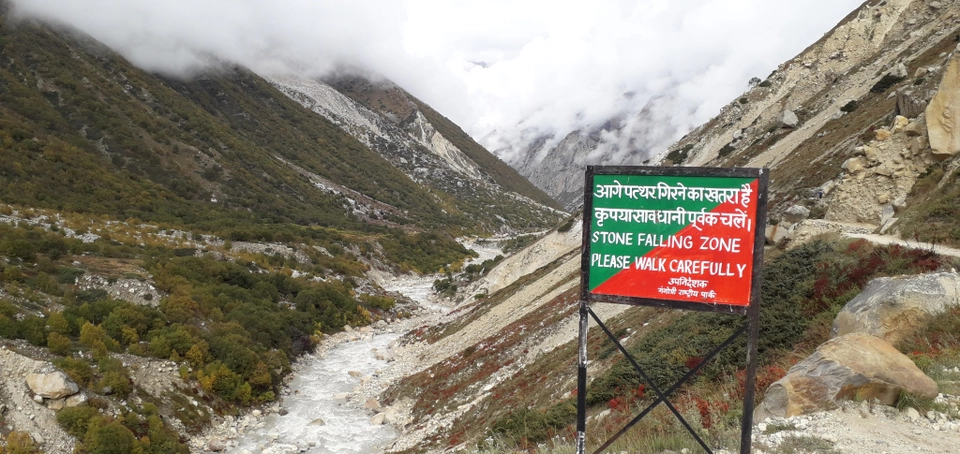 Special thanks to Pooja was sponsoring Samosas. That was a nice gesture. But I did a mistake of eating two, which upset my stomach. When I thought it was only me, Sachin came and asked, "Did you really like the samosa?" I actually loved it but that's why the problem. Anyways nothing serious happened. We had dinner in a while and slept sound.
Day 8 - Down... down.. down. Gangotri to Dehradun
9/29/2019
There were supposed to be two cabs that day to Dehradun and I chose the one which Aarthy went. In which came Mihir, Pooja, Priya, her dad and Swetha. Sabari settled for first seat. The girls asked Mihir and I to sit at the back. Even though I hate I was okay to sit as we were only two. That's when Swetha said three would be sitting in the back. I was pissed. Generally, four sits in the second row in the mountains. If it had been more people then it would have been okay to adjust behind too but with two of us tall it'd have been very uncomfortable. Mihir who came last too told the same but it anyways didn't happen. The first seat was reserved for uncle by default, obviously, as we can't ask him to sit at another place. It'd be highly uncomfortable. But that remark didn't go well with Priya I guess. She was grumpy all through the day and the mood transitioned to the rest of the ladies as well.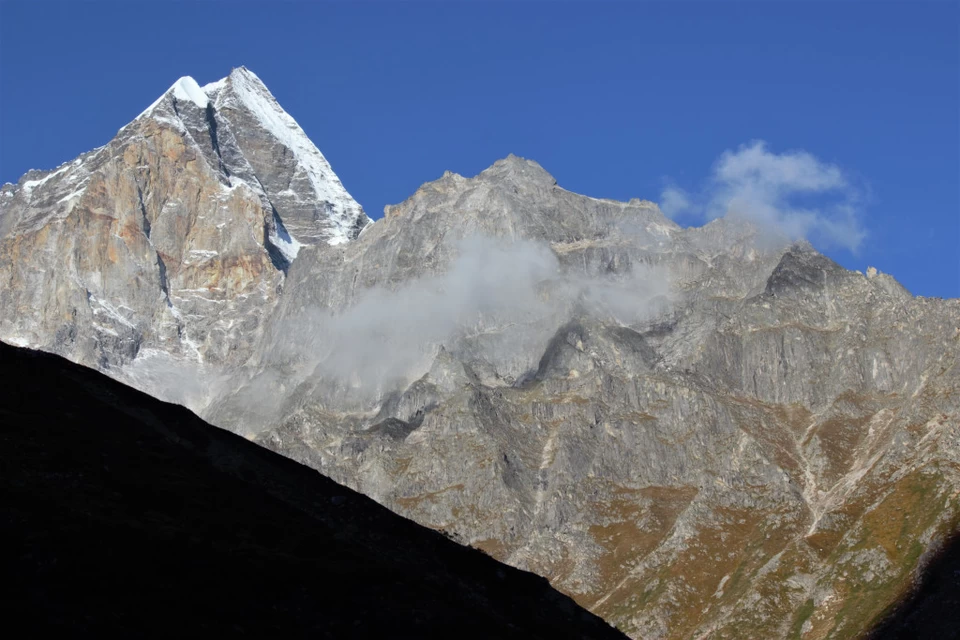 So, for the first part of the journey till tea point I sat in the middle along with Pooja and Aarthy. Priya, Swetha and Mihir sat at the back. I had a tough time completing a chapter of my book. It was very tough to concentrate and there was nothing better to do. After that Mihir came in front and Pooja went behind till Uttarkashi. It was already quite late, we started feeling hungry too. Pooja gave her trademark wolfy smile to ask me to sit at the back. It was again highly uncomfortable. As the other two were ladies, I couldn't fix up certain position too. Priya in sometime started to puke and was sick throughout the journey. Even I felt puckish and wasn't able to sleep. This has never happened to me in life before.
We had lunch at a small dhaba which was really good. I wish I had had fish meals which Mihir had. I didn't want to risk on non veg and spoil my appetite. I had already planned for a lavish dinner that night. So, I settled for veg meals, which was good too. The mundane drive down started and it started raining too. Even though it all sounds romantic, it wasn't at all. It was highly annoying. We stopped for a tea point where none got down apart from me and Sabai. He was visibly tired and told that he hasn't been in such a back breaking journey in any of the previous treks.
In some time, the sun started to set, we were near Mussoorie, a place which I wanted to go. Pooja wanted to stop to get a picture, which was obliged very lately by the driver after repeated insistence, but even she didn't stop insisting. The place where he stopped had a gondola ride, which I guess is a Mussoorie attraction, sunset was of course great but none were in mood. Swetha just settled with fried corn which she said is her usual dinner.
Out of nowhere something happened. Something unexpected. Priya started feeling puckish again and got down from the cab. Others hurried on to give water. I insisted on giving plain water before electrol. Priya's dad who got down said in a heart wrenching tone, "Ennama aachu, Priya?" It's not a general tone which he takes and he's never short of energy. So, this tone coming from such a person clearly reflected a fatherly feeling. That could be due to the culmination of his own tiredness plus his daughter not feeling well. That sentence swelled up my eyes but I quickly gathered myself from the place and went out from there.
As we were getting close to Dehradun, the traffic increased. Mihir was telling Pooja about some cool joints to party. I was in no mood for that. I would have loved to have a beer and good non vegetarian food but I didn't have proper company. Aarthy too told she'd stay with the rest of the group so I just went alone to Doon Darbar, had a kebab and biryani and a chocolate pan. It was highly satisfying, never have I enjoyed a loner's meal more.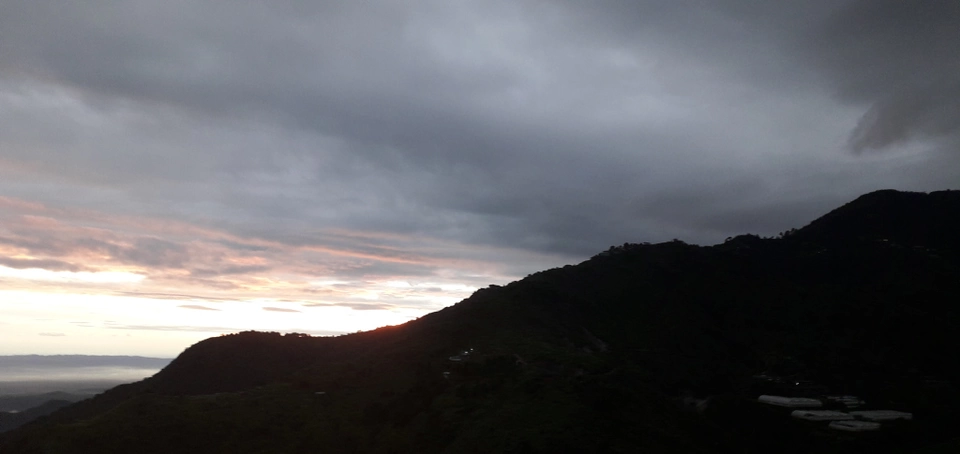 It was the first time I booked Oyo. The room was decent. The TV was not working thankfully so after talking to my family I crashed.
Day 9 - Back to the same train
9/30/2019
It was raining cats and dogs in the morning. I guess it was the same case the previous night too but I wasn't worried because it was after the trek. That's the confidence trek/travel gives you. You'll get a feel like, "I've handled worse conditions than this, can't I handle this?" I got all decked up with raincoats and started to the train. The train was literally empty. Aarthy too came on time. I used the whole compartment to dry my clothes. I feel at home in train always. I was glee throughout.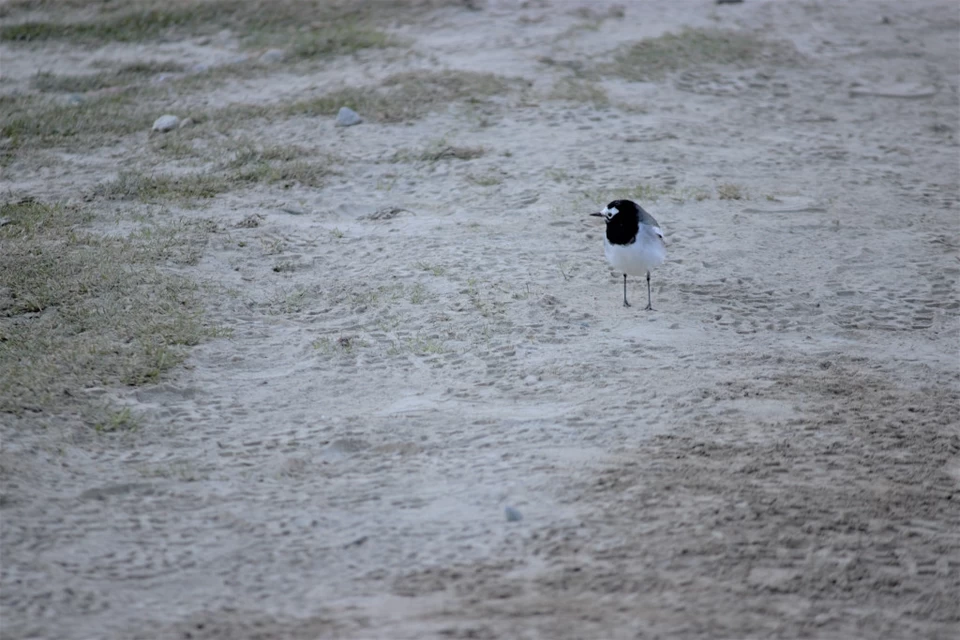 Aarthy who was going on a long train for the first time didn't feel as apprehensive as how she was the day before, thanks to the comments by other people too. I had bread omelet and she had bread toast for breakfast. She slept and I used that time to watch 'Solo' a terrific film. I was thinking whether to read the book or watch a movie but I succumbed to the latter due to guilty pleasure. Movie was great too.
We took a reverse of routine where I slept post lunch and she stayed back and was reading a book. In the evening we both watched a terrible 'Game Over'. Thanks to Aarthy's splitter we both could watch together. Finally, had Dhokla and roti for dinner along with rail meals. I noticed the food on the train to be good, during onward journey so bought from the train. What's there to do next? sleep.
Day 10 - Last day of the trip
10/1/2019
It was the last day of a long trip. I was happy. Everything went fine and I completed what I wanted to. So, it gave me a satisfying feel. After a heavy breakfast the same routine repeated. I watched C/o Kancharapelam, another amazing movie which I've been longing to watch since long.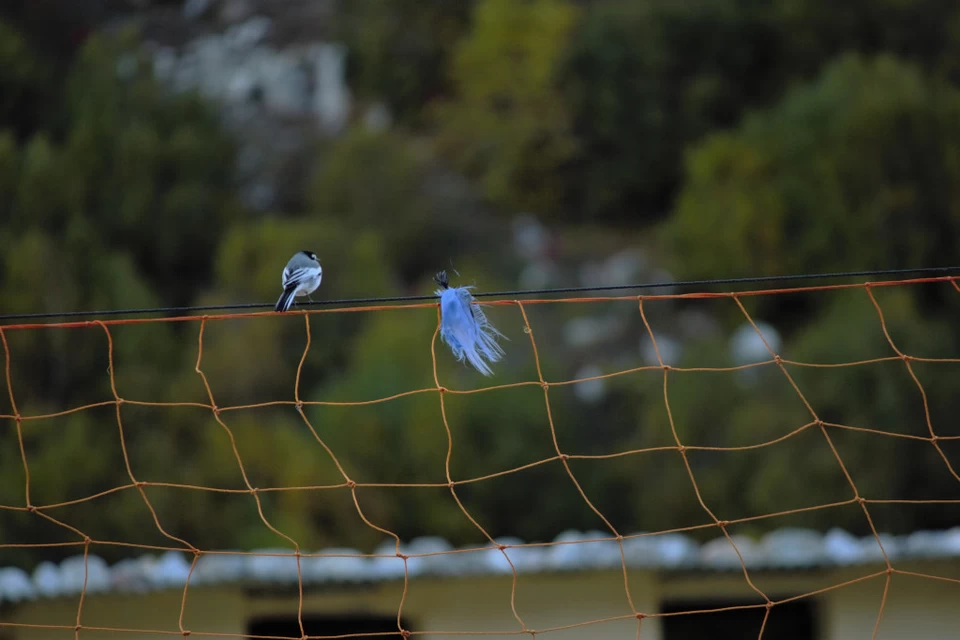 We somehow passed time doing nothing. Once the train entered Andhra border the food scene changed. There was so much non veg option for dinner but I chose to play safe with only Egg Fried Rice and Poori. The former was amazing. We topped it up with banana and went to sleep quite early as we had to get up early morning 2 AM.
An almost empty central station was waiting for us. Aarthy booked cab for both of us. That too came on time and we reached home in no time. Now it feels like the end of an era.
Frequent searches leading to this page:-
places to see in dehradun, tourist destination in dehradun, dehradun tourism, dehradun things to do dehradun places to visit