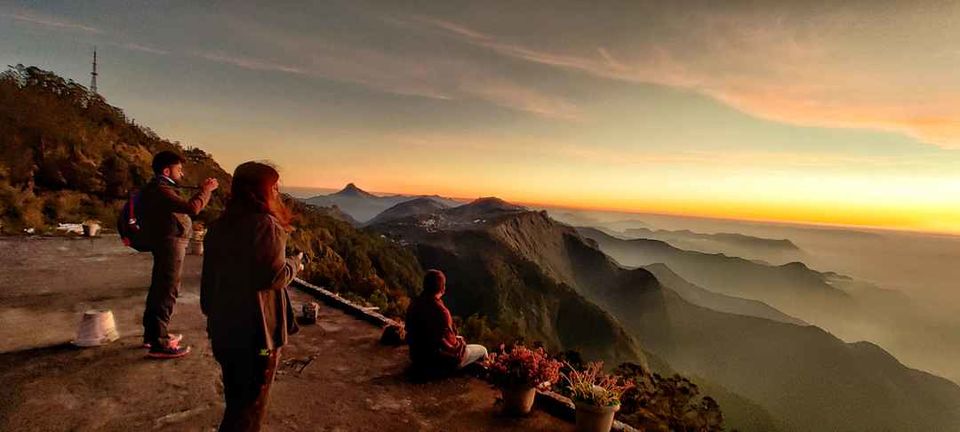 My journey started with hopping on to Tamil Nadu government bus around 8 pm from Bommanahalli. I remember having my favourite banana cake and chai before getting on to the bus at some local bakery. As soon as I entered the bus, I see a cute girl sitting next to my seat which happens rarely. Anyways I just plugged my earphones and started listening to songs. As time passed I was waiting for the bus to stop at some resting point for dinner. Around 11, it stopped at some south Indian restaurant which didn't look good at first sight. But, I was starving like anything, so I went and had my dinner followed by tea. The girl who was sitting next to me belonged to a girl gang who were also having tea. The bus was back on its way and I slept sometime later. The next morning I see shades of red and orange far in the clouds. The views were scenic so I got up and was enjoying the beautiful sunrise. Around 7 we reached Kodaikanal bus stand. As soon I stepped down the bus, I felt a cold breeze brushed my body. I was literally wearing only t-shirts and jeans. I knew that I had done a mistake by not bringing any warm clothes. Anyways no point in repenting over things that you can't change. I badly needed a chai in this freezing weather. While sipping my hot cup of chai, I was googling how far my stay is.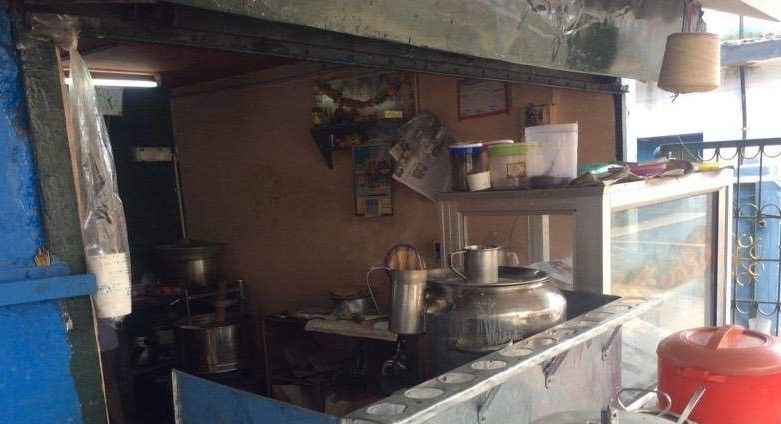 I had booked zostel for my stay. If you are travelling solo, I think hostels should be preferred and zostel is the best in the business. Google map suggested that zostel is 1.7 km from my current location. I decided to take a morning stroll to the zostel. As I followed the route, I reached a junction where the route was sort of confusing. I stopped right there looking for someone to enquire. Suddenly I see a guy carrying a backpack and a handbag, confused with the routes too. I took the initiation of asking 'are you looking for zostel' and the reply was pretty obvious ' yes dude'. We decided to walk together. So I guess google map took our decision of 'walking to zostel' seriously and gave a proper walkway. It was filled with ups and downs, between houses, taking steps at some places and whatnot. We went ahead whatever map suggested. On the way, we had our formal intro. His name was Arjun, Bangalore boy. He was a lawyer. He was telling how he landed up here. Of course, the pretty common reason, taking some time out from the monotonous work life. I also told my reasons. Being a passionate travel person I had this in my mind, that at least once I have to travel solo. To be honest, this was sort of a perfect time for a solo. I mean my brother went UK for some official purpose, not that he would have stopped me for doing this but you know that big brother instinct. There is one close friend of mine who used to constantly push me to do solo. Also, there was a trip planned for that week with my close friends but as it happens in every group, got cancelled. So here I am doing solo for all the above-listed reasons. Till the time we reached Zostel, the topics we discussed were 'what all the places we have travelled', 'how Bangalore traffic sucks', 'why solo is good', and many others. Around 8 o clock, we are standing at Zostel's reception. The check-in starts at 12 and we still had 4 hours to kill. The zostel guy was kind enough to allow us to chill in the common room and keep our luggage there.
We decided to freshen up and head for breakfast in zostel only. As soon I entered the breakfast area, I saw many people having their breakfast. I saw 2 girls sitting in one corner and one of them happens to wear a yellow jacket. I immediately recognized her, she is the same girl who was sitting next to me on the bus. In the meantime, I saw her other friends also. I went up to her and said 'Hi '. She also recognized me and said Hello in response. Let me tell you why I prefered zostel. My first experience with zostel was in Wayanad and it was amazing. From hospitality to the travel community you get there, from their amazing locations, it definitely is my favourite. For breakfast, I ordered aloo paratha and Arjun ordered dosa. During breakfast, we met other people and some foreigners who were also having breakfast. We were chitchatting about different topics with them. One of the topics was about the taste of the coffee. Arjun and I were telling them about the different coffee plantations in south India.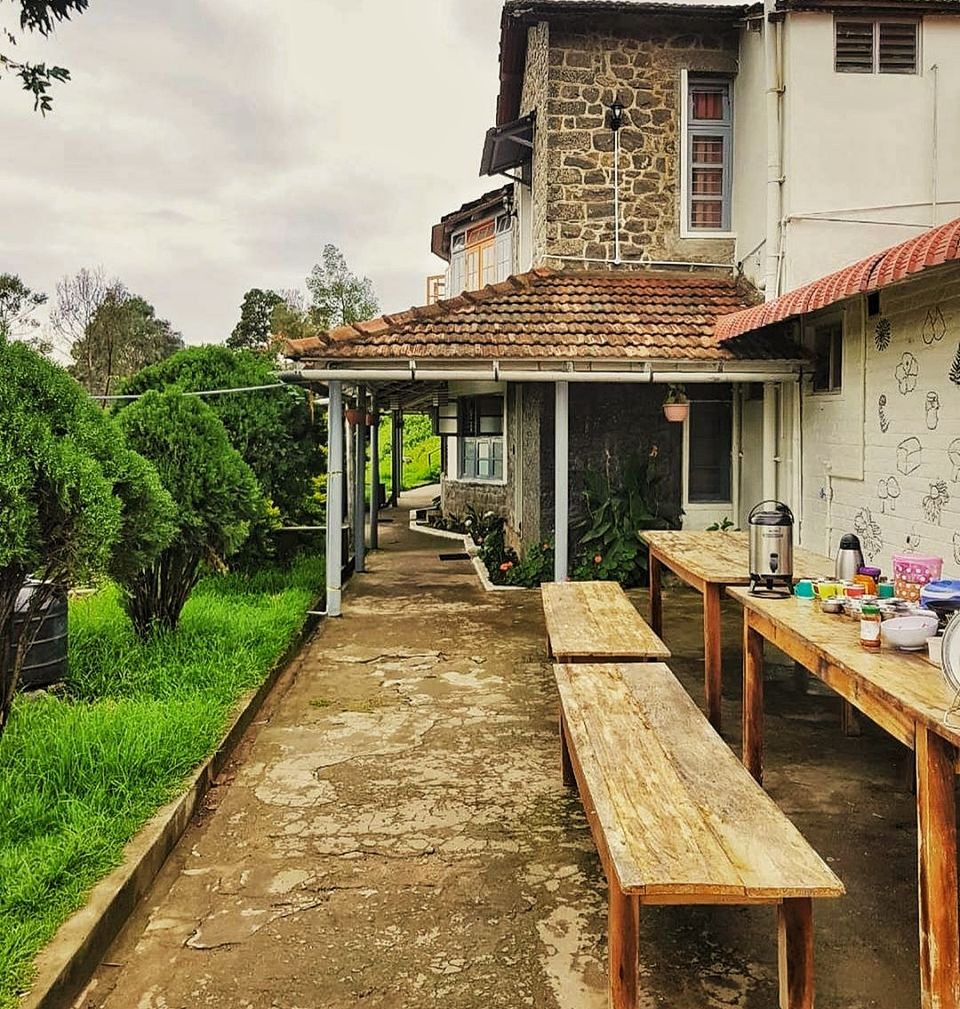 After finishing breakfast, we still had time before check-in, so we decided to chill in the common area. As soon as we entered we see 3 people sitting and involved in some kind of conversation. We went there and said Hi to them. There's Priyanka, cute specs girl full of energy and she was so talkative. She was from Chhattisgarh. Another girl was Pooja, she was pretty, youngest among us. She was from Lucknow. And then there's Ruebin who was the oldest among us. He was from Kerala. Within no time we got going as a group and decided that will roam together. Ruebin had some office work to finish, so he told will chill in zostel only. As we were discussing which all places to go in Kodaikanal and how should we divide our journey over two days. We see a girl entering the common area. So we all said 'Hi' to her and she also responded with a smile. Her name was Drishti. She was studying journalism. She also sat down with us for some time. We asked her what made you choose this career. To this, she responded,she also wanted to do something good for the country. We were about to praise her until she only started roasting her job. We got into some funny arguments but soon realized that we all have come here just to avoid this. Drishti left after some time. We started making plans and itinerary for the day. Then enters Pooja with her diary. She had done full homework for this trip. Her diary had some 2-3 pages full of places she wants to visit and cafes she wants to eat. We went ahead with her places. By this time, we had got our rooms ready. We decided we will go take a quick shower, get ready and then head out. The zostel guy had arranged cab for us. Everything looked sorted for the day. Around 12.30 we started from zostel. As soon we sat in the cab, we did basic things like exchanging numbers, creating Whatsapp group, group on splitwise. The places that were planned for the first day were pine forest, some viewpoint, Poombarai village view and mannavanur lake. The weather by this time was bright and sunny. The first place we stopped was the pine forest. The place was quiet and dense. We were stopping along here and there to click pictures. Pooja also collected some pine cones from the forest.
Next was a viewpoint. It was pretty hot so we didn't stop for long there. Next place was Poombarai village that is settled on the foothills. The view was pretty amazing. We also stopped here for lunch at some small restaurant. And then we visited mannavanur lake. This has to be one of the best places in Kodaikanal. You just want to sit and enjoy the serene lake, green meadows, hybrid rabbit and sheep farms.
Next was a dam which was also the last place for the day. But as soon as we reached there we were not quite sure how the sunset would look like so we decided to leave. On the way back we stopped at a viewpoint for the sunset. There was a small shop at this place. We ordered maggie and chai. Normally you would get a plain simple boiled maggie when you order at such small shops but to my surprise, we got a fried maggie and it was so delicious. The view from this place was beautiful, while chai and maggie added that extra charm to it.
After spending some time there we decided to head back to the zostel. By the time we reached zostel it was dark. I had stayed at zostel before so I knew the atmosphere of zostel in the night. I am talking about the campfire, people sharing travel stories, singing songs and lots of games. So we changed to pajamas and went directly to the common room. Not to mention it was really cold at this time. As soon as we entered the common room, we noticed the crowd was less. Though it was quite early maybe 7 or 7.30 I guess. Some 2 people were about to start carrom and without any shyness, I offered to join them for the game. We had our intro as we were setting up the coins for the game. We had Ritika and Shree from Mumbai. Ritika as in Ritika Singh, the actress of saala khadoos and yeah you are guessing it right, I didn't recognize her. In fact, nobody did at zostel.
To highlight the awesomeness of zostel, let me tell you a fun fact. These two people were staying in a hotel next to zostel. They had come over just to chill and they were doing this from last 2 days. How cool is that? Anyways we started our game, also in the meanwhile, the crowd started to gather all over in the common area. There is carrom, Jenga, ludo, scrabble, cards, dart and many others. After a tough competitive game, Shree and I defeated Arjun and Ritika. Our other friends Pooja and Priyanka also joined us for other games.
Some foreigners were also staying in zostel. Its always fun interacting with them because of the energy they bring in with them. After 2 hrs of games, we really got hungry. We had informed zostel people that we will have dinner in zostel only. So we were waiting near the dining area for dinner. By that time Ritika, Shree and Ravi( one of their friend)were about to leave, remember they were staying in a hotel next to us. They came to say goodbye to us. It was only 2 hrs ago we met but we were already good friends by then. We hugged and thanked them for giving us a good time. We had our dinner after they left. Dinner was actually good. It was a full course meal with chapatis, rice, daal, chana masala and paneer masala. By the time we finished our dinner, the bonfire was lit up. I had already taken shawl from Arjun because it was really cold out there. Arjun went for bed early and Pooja was having a headache, so Priyanka also left with her to give her some medicines. Drishti and one of her friend joined me for bonfire along with others.
People were playing songs in speakers. Actually, we had 2 bonfire placed yards away from each other. I noticed Ruebin was sitting with other group and they were singing songs. I also went there and joined them. Caption this, bonfire, people sitting in a circle, singing old hindi songs like ' ek ajnabee haseena se mulakat ho gyi..' and a star gazing clear sky. I couldn't have asked for a better solo trip than this with a bunch of unknown yet amazing people.
We had already decided next day plans. Next day early morning we were going for sunrise at Vattakanal. We got up around 5. Got ready in some 15-20 minutes and started with our cab around 5.45. As soon we sat in the cab, looking at my t-shirt look, Arjun gave me his shawl and pooja gave me her jacket. Vattakanal was 7-8 km from zostel. It took us around 20 minutes to reach there. As soon as we reached the place, we rushed with our cameras out to capture the perfect sunrise. As I had been to this place already, I remembered one perfect place to sit and enjoy the sunrise. So we reached that spot and the view from that spot was amazing. We just sat down to gaze at one of the most beautiful sunrise ever of our life.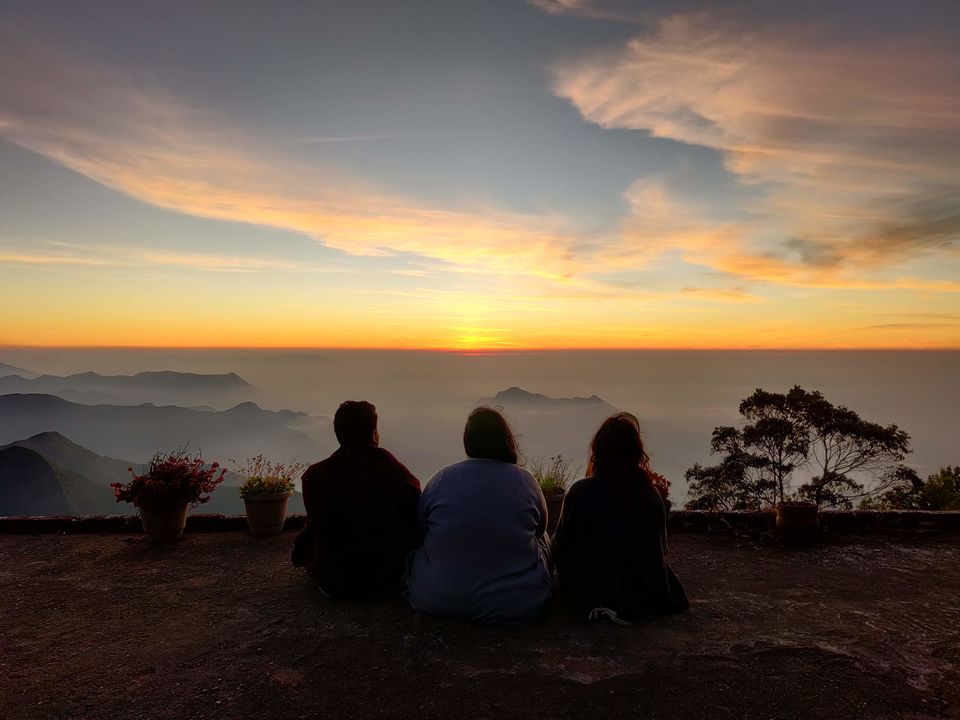 Pooja almost had happy tears because it was soo scenic and mesmerizing. We clicked some amazing pictures and then decided to trek to echo point. We spent some time there gazing at those mountains. The trek took 2 hrs in total and it was a good workout for the morning.
After the trek, we were really hungry. The plan was to do breakfast at Altaf's cafe but its timings were from 10 am. We decided not to wait for it because we had to cover other places . We had maggie and tea from some local shops. The next places we covered were moier point, guna caves and pillar rocks. We didn't spend much time at any of the places because it started to get really hot by then. Around 12 we were back to the zostel. Arjun and I had to checkout. Pooja and Priyanka were staying for 1 more day. As soon as we finished our checkout we kept our backpacks in the zostel's common area. We saw a new face sitting in the common area reading some book. His name was Johnson , again a Bangalore guy who had come solo. His story of the solo was funny. He told his mom that is he is going solo for a trip. His mother started asking questions like ' why are you going solo','Is everything alright with you '. We sat there for another hour discussing how Bangalore has changed a lot. Plan for the second half of the day was to cover all the eateries from Pooja's list. So we went out for lunch around 2. We went to a place known as 'The Royal Tibet' for lunch. The popularity of the place was evident from the crowd it had. After waiting for 20 mins we finally got the seat. Food was good though. After lunch, we went to cafe cariappa for some desserts. We took a carrot cake and cheesecake which were really good. After having sumptuous meals, we were on our way back to zostel. I was on the bike with Reubin while others were in the cab. On our way back we finally were able to see a Bison. It was humongous. His head was like some giant beast. From two days I was cribbing Reubin, that I didn't see a single bison and then it finally happened.
My bus was at 5.30 and Arjun's was at 6. We decided to leave together from zostel. Last half an hour, we went around meeting all friends, who made this trip amazing. Pooja, Priyanka, Johnson, Reubin, Drishti and her gang, zostel guys and many others. We reached the bus stand at 5.20, I boarded the bus and well that was it. So next day was my bday that means I was gonna spend my birthday on the bus. So midnight among all the calls I recieved, I also got a col from zostel and to no surprise, it was Priyanka, pooja, johnson and Ruebin wishing me bday. It was good to see within 2 days of the time we really got this close.
So what's the difference between a trip with friends and tripping solo. When you travel solo, you are approachable to people. You trust yourself, which definitely brings out the best of you. It definitely makes you feel confident about yourself because you did something on your own. You learn new things about people, place and yourself also.
Well in 2 days of time I couldn't get to know everything about my solo partners, but yeah good enough to continue them for life long. And as I am writing this piece after 3 weeks of time since my trip, we still bond, chitchat and keep planning for future trips !!