I have to write isn't it? As a siesta who smells for the slightest glimpse of hope to put words into paper this Himalayan trek was like a juicy bone given to a hungry dog. No bitch please, please.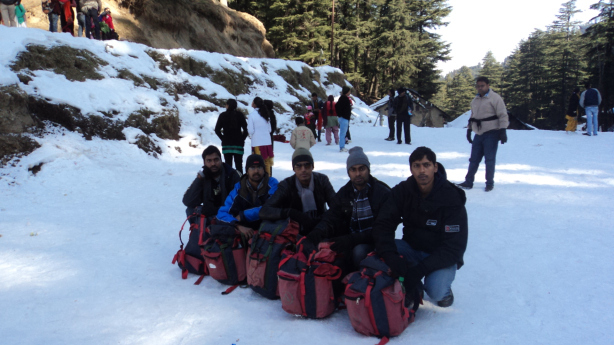 This is going to be detailed, as usual, hugely perspective, as usual and quite fun, not as usual. Generally it's the aftermath of a brilliant moment which brings out the best in one. If I had started this post a bit earlier may be it'd have been even more energetic but writing something just before sleeping when the brain doesn't want to work brings out the most candid moments.
It all started almost half a year ago when I was on bench. After a trek to Nagala, quite overwhelming at that time, the urge to do something better provoked me in gathering information for this trek. Balaji, who was the sole accompaniment for my Nagala trek kept on saying that after Himalayas no trek is substantially satisfying. I was pondering over his words for some time. Thanks to his advice I made up my mind for this trek. Oh what all I had to do to convince my parents.
December in Himalayas would make a great status message, but how feasible (sorry I'm an IT professional, you have to bear with my IT jargons, for the ones on my side, your mind would have automatically processed the word, carry on...) it was. I wasn't sure. As a frustrated, hopeless soul I prepared my mind to go for the trek anyhow. Then began the search to find people who would fit in this devious act of a dispassionate sole. The search started with my best friends, then office mates, then school mates and finally ended with my Primary school buddies Balaji, Prasanna, Seena and Karthik (quite unknown to me before the trek) joined. The next four months with rounds and rounds of discussions online, offline was pure fun. I still maintain the mail thread that we used, guys. Our purchase for the trek didn't stop till the last day. Thanks to Balaji.
Then started our trek. Decemeber 24th to be precise. But that date is just for the papers. We were mentally offline long before. The first night in train was joyous, a bit nostalgic, remembering the past or mostly these people updating me what's what. It all started from the second night when the chill started to climb our spine. The blankets, gloves, mufflers, balaclava, everything was out and how! On 26th when we got up at 9'o clock, much late than our aforesaid destination time we could see nothing but mist. Enna orae pani mootama iruku! (People who don't know Tamil don't mind translating, literal translation won't get you anywhere, it's an inside joke) was our general feeling.