Pleasure is completion
- Vikram M N
This has been second of the three impending arrears. Just the week before I completed last year's arrear Rajahmundry and the very next week, the New Year week, I planned for this trek, at the cost of missing New Year Party. I feel bad if it's New Year and I'm not with my regular group of Arun and Lokesh or with Arun or Lokesh.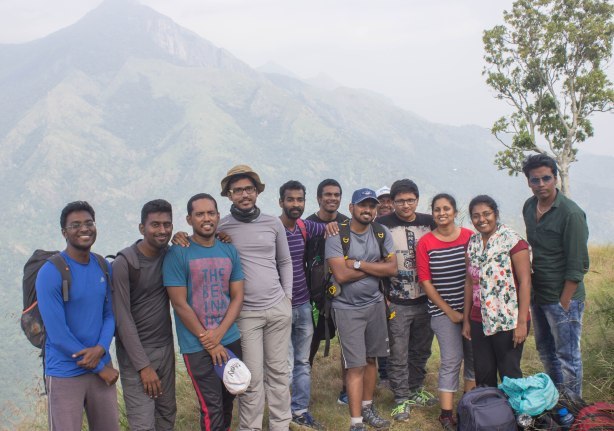 Day 0 - Re-start
It was the repeat of what I did three months ago but this time there wasn't a direct bus to Bodi. Idiots. They had cancelled the bus so we took a bus to Theni. It wasn't as crowded in CMBT like last time so the bus started on time. I didn't want to repeat the mistake of last time by waiting for the bus to stop in its regular abode for dinner. I asked guys to parcel it in Perungulathur. And boy, wasn't it the best decision of my life.
So here is the cast.
Chennai Team
Prabha - Trek Organizer
Selva - His friend
Shiva - My Lights On Friend
Richie - His Friend
Arvind - Lights On Friend Arti's brother
Mani - Aspiring director and my friend from Tadiandamol
Coimbatore Team
Sharmi - Prabha's friend
Naresh - Her brother
Siva - His friend
Anusha - Dhoni (don't know for what she's called so)
Looking at the description, it looks like a film title. 'The Cook, the Thief, His Wife & Her Lover'
So the Chennai team started on time, everyone were disciplined, they weren't carrying any unnecessary stuff. May be due to the fact that they've already trekked but even first timer Arvind didn't have big luggage. In fact, mine was the biggest, but lesser than last time as I did not have tent. But I didn't want it to be too light. I had to train for other treks.
In bus, Shiva and Arvind had some serious soccer talks which I of course didn't understand. I slept as soon as I boarded the bus. I was yet to recoup from the previous week's travel tiredness and an almost there cold. The previous week post the trek too was hectic, thanks to my cousins visit here. I was a bit worried whether I'd get sick for the trek but thankfully I didn't. And due to all the above factors I had a sound sleep in bus. Only woke up at the point where they usually stop for dinner.
Day 1 - Perfection
We reached Theni New Bus Stand at 5 AM. In a hurry to catch Bodi bus we left Richie back as he was having a standalone tea. We met the remaining Coimbatore folks at Theni Old Bus stand and reached Bodi in half an hour. Richie reached there in a while. After trying hard for morning ablutions and failing miserably at it, we took bus to Kurangani. There was also another Bangalore group who seemed to be amazed with such low ticket rates of Tamil Nadu State Transport Service. Proud moment!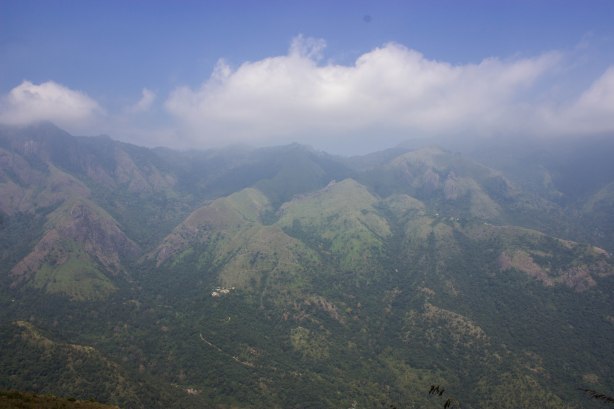 We reached Kurangani and everything was still fresh in the memory, including the failure. The room, the restaurant and everything. We were given a room to freshen up, the same place where I stayed last time. And Coimbatore folks took it to a level up and had a bath before the trek. Beautiful, isn't it. We had our breakfast with a view in an open terrace. Just like last time the food was brilliant. Idly and Vada with Sambar, Chutney was fabulous. Don't know how they make Idly so soft. I ate quite a few Idlys and got ready for the trek. Prabha had parceled his share as he was fasting.
We started off in the usual path, everyone together. This time there was water dripping at a couple of places en route so at least we had points where we could fill our bottles. But don't get mislead by this. Be prepared to walk the whole route with just the bottles you have. Last time we didn't have any water points. So at first water point that we settled, people were clicking lot of photos. Already an Electrol packet over.
The next stretch from First water point to second water point took a tool on Coimbatore gang with Sharmi struggling a lot. But they somehow managed and reached the place after a delay. Prabha and I were walking along them. Rest of the Chennai team had already reached there. From there I led to Othai Maram (solo tree). I was panting as I walked quickly and sun was beating too but reaching there was such a relief. I wanted to reach there first so as to set up my camera and take some extra rest. I did it in the process. Rest of Chennai gang came in quick succession but the Coimbatore gang took a lot of time to time. As soon as they came, they ate and took rest. Lemon Rice was divine.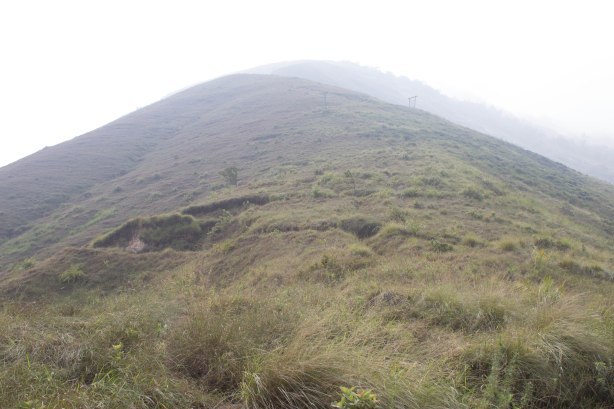 But those few moments at the peak was brilliant. Mani and Prabha were nowhere to be seen. One of the two guys reached there. It was first time for him too. The view was brilliant but sunrise was the one which stood apart. I haven't seen anything like that before. We took few silhouettes and selfies and started our way back
The return from the peak was scary due to elevation. We saw Prabha climbing up with our guide. Arvind and I reached in quick succession to the camp site. We met Mani there, who told that he wasn't confident about climbing the peak due to elevation. Not confident both physically and technically. Wise decision to make. Selva, Shiva and Richie too came down at 8 AM. I was getting hungry by 7 AM but unfortunately the breakfast was not ready. We met with the remaining Coimbtore gang who were lazing around. We got breakfast in some time. After hogging we went to tent to finish our packing and Prabha had come by then. But in all, we wasted close to 3 hours there. We couldn't put our bags in jeep because it would not be possible to take it again to the stream where we had planned to take bath. In the mean time we took a lot of good photos and relaxed before the decent.
We started exactly at 11 AM after packing Parotta for lunch. Within an hour or so we reached Othae Maram and had our lunch there. Parotta was chewy but the peas masala made for it. Shiva and Mani discussed world movies en route. Within few minutes we started off from there and walked at swift pace. At a point I lost track and got doubt about the path so I started walking back, luckily Mani and co weren't far away so we continued tracing the route to Kurangani. We stopped at two water points to fill water but we didn't have much thirst while climbing down. Again I made a point to not sit anywhere. Everyone walked real fast and reached our destination in a couple of hours.
We bribed a couple of people there and went to stream. Had a great relaxing cold bath and fish pedicure. Also did some underwater stretches. It felt great but I had to control a lot to not sleep. We had an amazing Sarbat in Kurangani as tea was not available. We couldn't spot the Coimbatore gang. Everyone there said that they hadn't seen the jeep yet. So the Chennai team sans Prabha decided to take the return bus to Bodi. Luckily by the time we left we saw our guide who informed us that they were waiting for us to enter the stream. So we started off waving good bye to Prabha and guides.
In bus, the locals were talking about certain murder which happened in that area the previous day but we weren't very excited about the gossip. We reached Bodi before 6. I thought of spending some time in bus stand and then taking bus to Theni but others suggested to reach Theni and finish dinner. That was wise as well. I wasn't feeling very hungry but we got down at Theni Old Bus Stand and searched for Vaigai Hotel, which a passerby suggested last time but that looked like a star hotel, so went to Hotel Thatti Vilas and had a feast of Mutton Biryani, Kuska, Parotta, Kari Dosa, Dosa, Mutton Chukka and Nattu Kozhi Kuruma. Everything was brilliant. Shiva was asking for Brinjal Curry without knowing that it's a Bai Kadai dish and not south's dish. I loved everything except for Kari Dosa. Except that everything was authentic and tasty.
From there we took a share auto to Theni New Bus Stand, something I hate. But we had good time pass. I was lamenting, thinking about another year and life in general. In the meantime having Theni special sweets Paal Bonda and some mittai kind of thinks, thanks to Arvind to introduce both to us. On another side Selva and Richie were discussion about Economy or something which I wasn't really interested.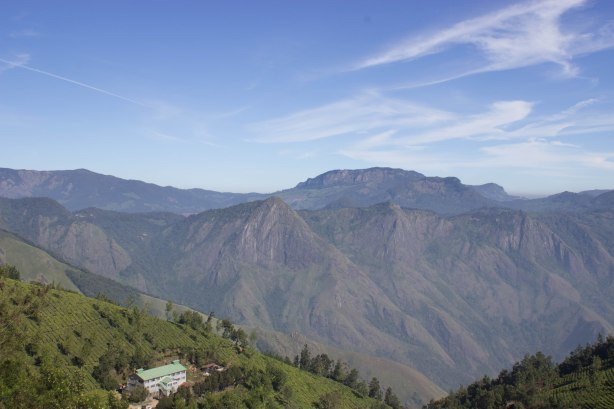 We met with the remaining gang at 7 PM and got to know that they reached by 5 PM. That was quite swift. Their idea was simple. None knew the route, so they wanted to reach some destination before it got dark and they did it in style. After having amazing tea, opting for free Wi-Fi and posting 'irutarayil moratu kuthu' selfie, we proceeded towards our tent. I didn't sit the whole day except for Othae Maram. Sharmi noted that and told me to sit at least once we entered the tea estate :) Quite observant. I wanted to check my endurance thus that move, nothing else.
We warmed down near dinner place and settled for dinner. A very hard Chapati with chicken and Rice. Chicken curry was good but Chapati gave some serious scares so I didn't ask for repeat. They were thinking a lot about giving a second serve of Chicken. That was quite unexpected. I could see how the place was getting commercialized. But somehow managed to get a second fill and had a satisfying dinner.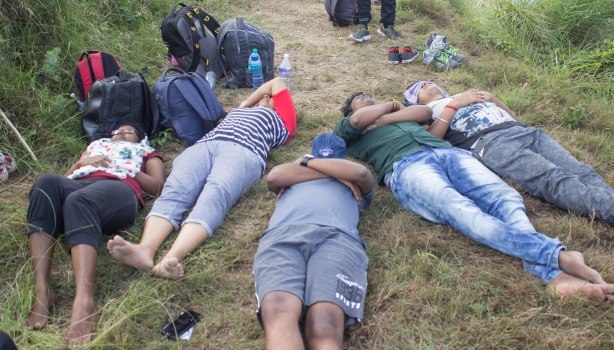 We started from there at 3 AM, which was quite late and I was asked to be the sweeper by Prabha. I obliged. That was the wise thing to do. Chennai gang proceeded at a fast pace but for us it took forever to reach. Sharmi and co were struggling a lot. No amount of lies could satisfy them about reaching the destination. After a point it became pitch dark and we were walking only in moonlight. I think that got on to Siva. He who was becoming a trekker by saying the usual 'almost there' dialogue quite often, started to get irritated once it became dark, but somehow we managed to reach Kolukumalai by 7 PM. By that time we reached, Sharmi told that she'd need a vehicle to go back the next day. I could see how exhausted she was. I could empathize because I know the pain of it, I was in that position only a couple of months back.
Within minutes we went to tent, stayed for a while at camp fire and I slept first. My usual thing. The stars were beautiful and there were people with loud music partying for New Year but they looked meek in front of us. That's what walking could do to you. Mani and I settled in a tent and I was telling him, how five starish it looks when compared to Tadiandamol where the tent was wet and dinner was bread. Weather was great, right amount of chill to enjoy and cozy sleeping bag. With aching limbs and satisfying heart I slept really well. Except for once where I had to loo. Somehow I wasn't worried about the next day, my usual habit, I somehow had a gut feeling that I'd be completing the trek.
Day 2 - Elation
Day started at 4.30 AM sharp. Coimbatore folks had opted out of trek to Meesapulimala peak. So with the remaining team we started off on the dot. Again great discipline. We had tea near the counter and started the walk. It was dark and cold in the morning and Shiva was wearing sandals which made him feel even colder. Beyond a certain point I, Selva, Richie, Shiva, Arvind and Mani started walking first. As I knew the route, I hurried past everyone. Rest of the guys too agreed to the point of covering as much distance before the sunrise. I guess the sunrise point is somewhere before the actual peak but we didn't stop anywhere and proceeded.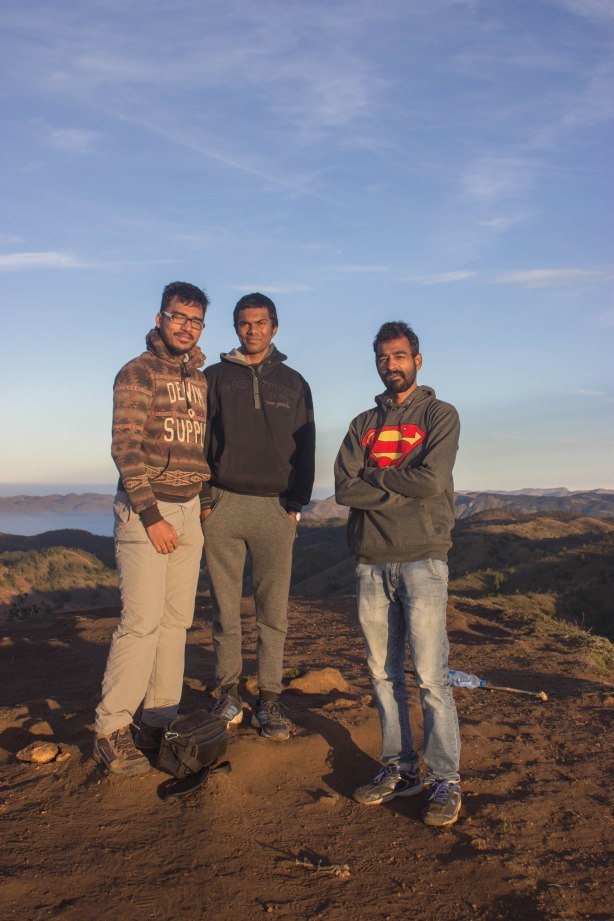 By the time we reached the Tamil Nadu - Kerala border there was visibility. We could see the peak in front of us. That peak which was not even visible last time around. Selva, Richie, Shiva and Arvind proceeded at a brisk pace. While we were walking we could see the horizon and sun slowly coming out. Everyone were giving different kind of expression. As I was walking last, I could see everyone's face glued to the mighty sun, the sun which we hate daily. It was so nice to see real joyful elation. It was like meditation. I turned back a few times to view it. It was of course beautiful but I didn't want to stop before reaching the peak. At certain point, everyone were mesmerized by the beauty of sunrise and stopped to take photo, video, time lapse etc. but I proceeded towards the peak and reach there first. To spread the hands and shout out success inside me felt brilliant. Job done! But Job not Well Done yet as I had to complete the trek.
Bus as usual came late and as soon as we got it, wished each other Happy New Year, I switched off the phone and slept. With that much tiredness I didn't want to be woken up for anything at all. It was a great way to end the year, beaming with pride and satisfaction. All is well that ends well.