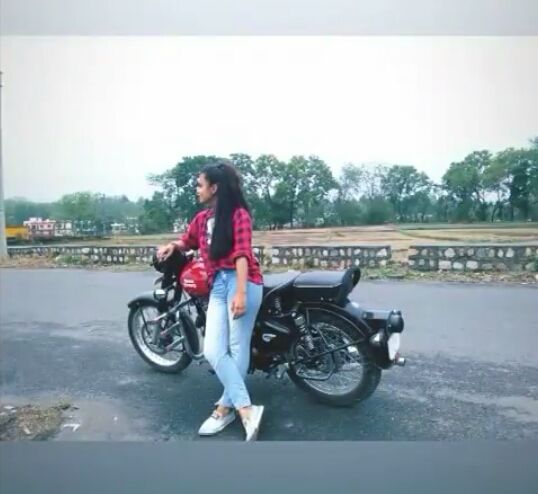 There's a bunch of questions that pop up onto my instagram dm's that being a girl how your parents allow you to travel alone... Or questions like:-
- hey, don't you get scared of traveling solo?
- how do you convince your parents?
- being a girl you might face difficulty to travel solo!!
And many more ..
But to every question my only answer is my dad's trust. But to gain this trust I've been struggling like hungry lion in Forest...
Like every typical Indian parents my parents too didn't allow me to travel solo initially...
The very first time when i asked for solo trip i was in 11th standard and the answer to my question was a "flying chappal" and i literally forgot about traveling at that moment. But still that curiosity and anxiety to travel was killing me inside so what i did was to kill this curiosity and anxiety :-
1- PREPARATION FOR MY EXAMS:-
Like every other kid this was my 1st step which i think was a stupid one because i had PCM and chemistry to me was that one sided lover who was continuously rejecting my proposals... Still I was studying so that i could atleast compete my past remarks which actually worked later on. But my parents sent me with my brother so that I can't irritate people...
2- EXPLAIN HOW IMPORTANT OS TRAVEL TO YOU
Their are some who just think their answer before even trying to ask their parents for solo trip. At a moment I was also the same kid who used to get scared of asking my father because of his strictness. But you'll actually loose this battle of solo trip of you don't Help yourself. Collect all your strength and sit in front of your parents.. Tell them about your plans and explain how you could get advantage by this travel. Every parent get worried about their children in sending alone but in todays generation you can easily detect where your kids are and with whom so use this technology to convince your parents.
3- TAKE YOUR FIRST TRAVEL TO THE PLACE WHICH IS KNOWN TO THEM:-
We know that our parents worry about us a lot so they'll never send you at a place which is quite far. So make your first travel to some nearer getaways so that they can send you.
For example:- I'm a local of Dehradun so mussoorie from my place is at a distance of 1hour so i asked them for mussoorie and explored the place for 3D2N.
4- BE RESPONSIBLE:-
Be capable enough to take your own responsibilities.
Like start helping them in household works, do such works from which you get a amount.. Like take tution classes or earn so you can't ask money from them to travel.Eventually it will help you out because some parents think that travelling is a kind of waste of money so if you wanna travel so you'll actually enjoy yoyr trip with your own earnings.
5-USE TECHNOLOGY:-
Tell them in detail about your travel place. Give the contact info at the place you staying.
And let them know how tgey can track you and you'll ve in contact with video calls and phone calls. Make sure that your GPS is on all the way to trip.
6- SHARE YOUR ADVENTURE WITH THEM:-
Atlast...
if you ever went out with your friends or colleagues share the experience, tell them that you can travel alone.. Share your pictures, thoughts and experience with them so they get an idea how you survive and have fun in travelling solo..
Hope you liked the views...
I've actually tried to answer all tge question here... If you are still not satisfied or still having problems to convince your parents so you can inbox me on instagram (@garima___23) or message me in inbox of tripoto.