As part of my winter ride last December, we rode past several places in Kerala. From our current location - Vagamon (which I wrote about here) - we had to ride downhill for a long time to head to our next destination: Athirapally.
Athirapally is a huge waterfall famous for the number of movies that have been shot here. From famous classy Indian songs to entire movies being shot around the falls, everyone knows this spot. During the rainy season, it roars with water on to the rocks below. No one is allowed to go to and stand near the falls itself due to the number of people who have committed suicide by jumping to their deaths. But, movie crew are allowed to shoot with special permission.
Our ride from Vagamon started early in the morning. We rode past several beautiful mountains, some of which are one of the best moments during this bike road. While going downhill, we rode slowly only to enjoy the towering mountains on both sides of the road. There aren't words that I can find to describe that moment: it was like finding one of the rarest spots to feel like you are on top of the world. I have a video in the making for this trip which I think should explain how I felt even if it doesn't do the moment enough justice.
As we rode downhill for several hours, one of the bikers behind me caught up with me and told me to stop because of smoke coming from the bike. We stopped a short distance later and realized that my rear wheel's brake shoe was smoking up. The Classic 350 is a heavy set bike and is known very well for wearing out its rear wheel brake shoe quickly. I didn't know how badly burnt my break shoe was and we stopped for 15 minutes along the way to cool my wheel off.
I assumed that we would fix it later in the next city but by the time we reached the highway off the hills, my wheel was just fine and was working properly. The distance from Vagamon to Athirapally is less than 120 km, but according to Google, it takes more 3 hours. It took us about 3 hours because of our policy to stop every hour or so to stretch our legs and have a chai.
It was a refreshing with all the mountains and trees along the way and it was definitely one of the best routes to have taken.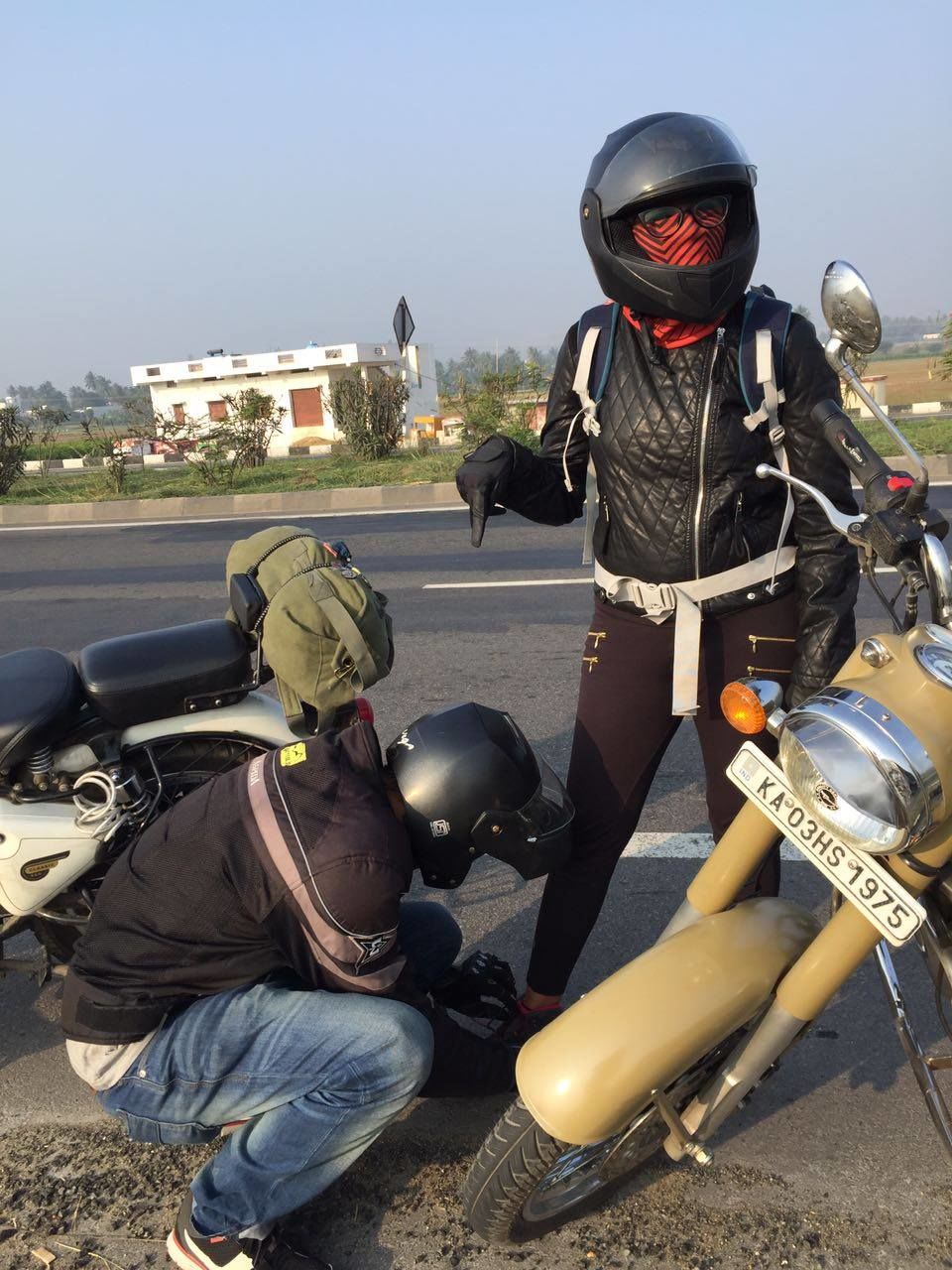 It wasn't the rainy season and so there wasn't much water. Much of the rocky river bed was visible but the waterfalls below looked beautiful. In fact, there are two views to this waterfall. One is from up above where you are at the top of the falls. As I mentioned earlier, you cannot go too close to the falls' edge; they have barricades blocking your path. Small streams of water get stranded when it doesn't rain and it's nice and cool to dip your feet into the clear water to chill for a while.
Athirapally is a waterfall and has no stay around the falls itself. But, a few kilometers before the falls, we had booked a stay similar to that of a bunk-bed dormitory. It was right on top a small hill and the night that we reached offered zero visibility. We had to ride past the outskirts of Kochi and 70-80 kilometers from Kochi is Athirapally. I have a very close friend who stays in Kochi and as we neared the place, I told him we were nearby. He had a Classic 350 as well and agreed to ride out and meet us the next day.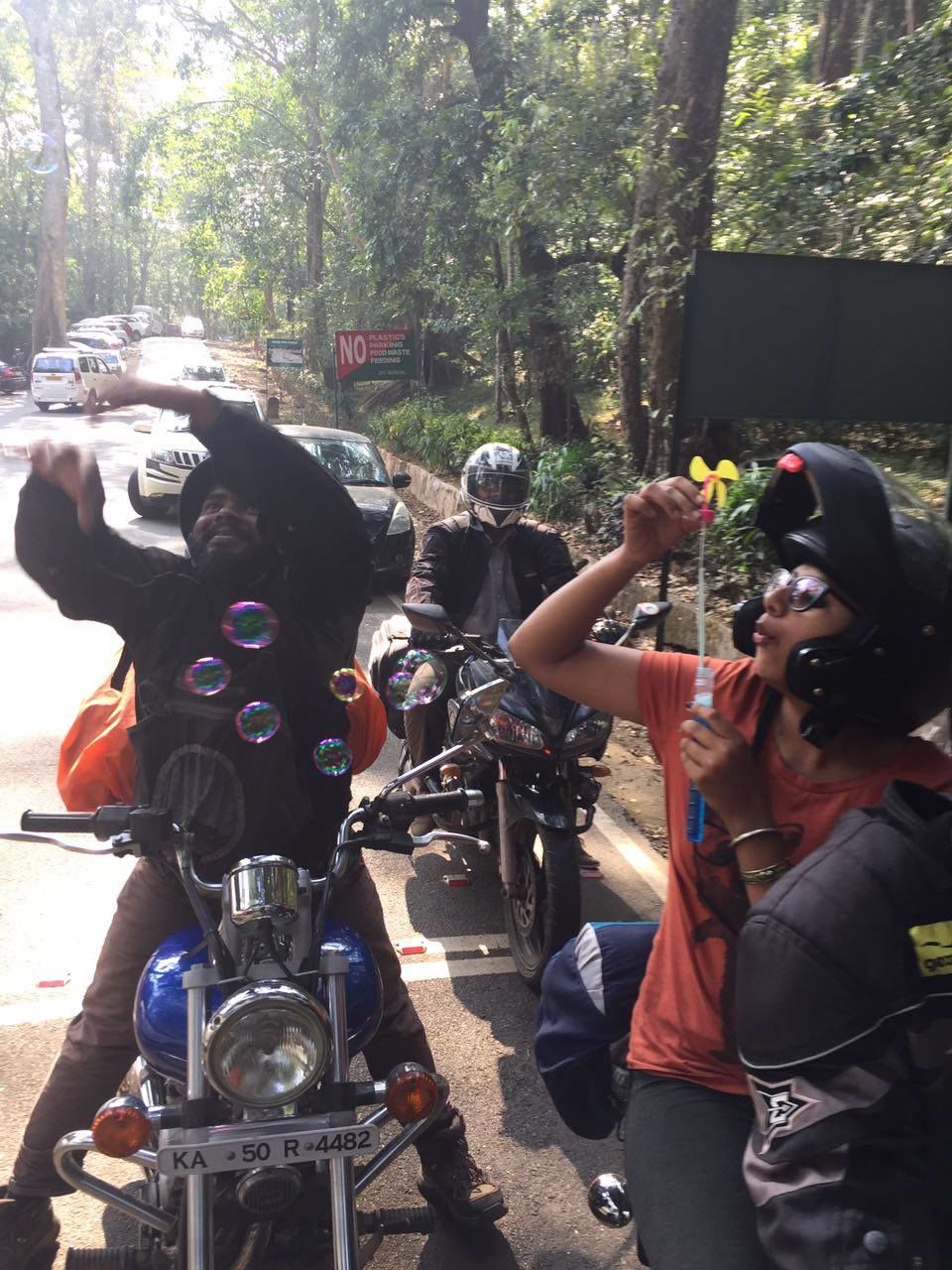 It was quite chilly the night we reached and we could hardly see what was around us. We parked our bikes, pulled our bags in, claimed our beds (mine was right on top), and I dozed off instantly. I was too tired; it's not easy manoeuvring a 200 kg bike for hours downhill.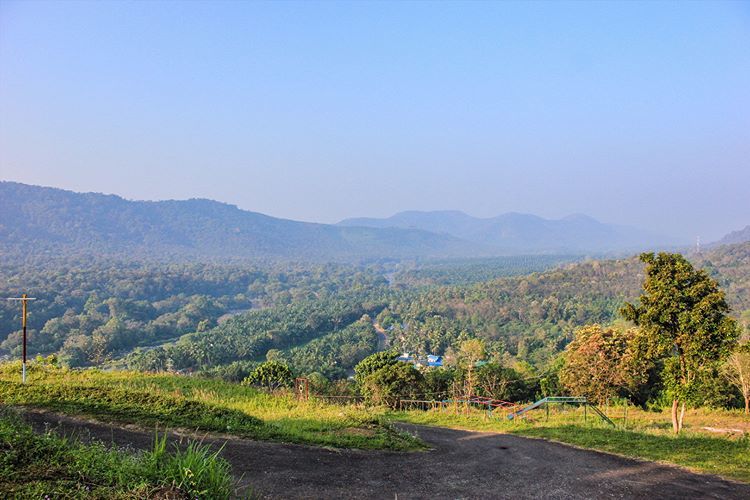 I woke up early the next day to see my Kochi friend waiting outside. He rode early in the morning to surprise us and I was overjoyed! We instantly jumped on our bikes, rode downhill to a store to get some chai. That's when I got to see exactly where we were. The stay was high up on a hill and the surroundings were empty. Grass lawns led uphill and downhill and if we had gone a little off-road, we would fallen off the hill. In fact, going down the road itself was risky because of how steep and muddy it was.
Three of us including my Kochi friend rode all the way to Athirapally even before the others woke up. You are expected to pay a small amount at the checkpoint on the way. There are several monkeys as you walk past the main gates, so I recommend keeping an eye on your belongings.
You can then climb downhill the easy way (by following a sloping path) or the hard way (by using your hands and legs) to go down to the base of the falls. At this point, you will have to jump from rock to rock to get as close as possible to the base of the falls. The famous scene from the Telugu movie, Baahubali, was shot here; one look at the place and if you've watched the movie, you know which scene.
Both the guys I'd travelled with here were photographers and so, we girls do what we girls do best at times like this: pose!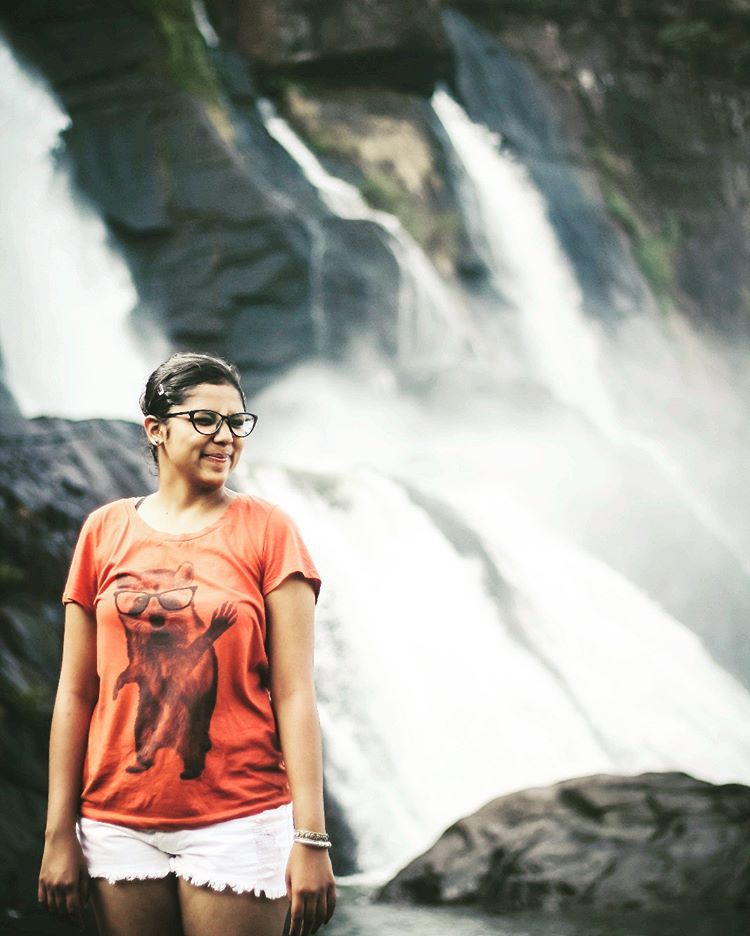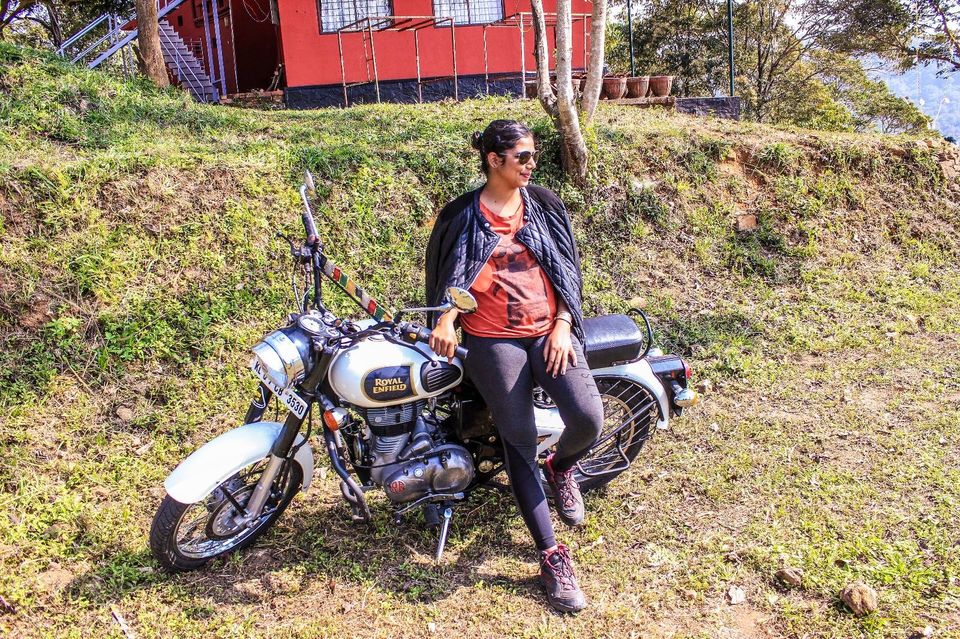 After enjoying the view and posing for a lot of photos, I began my climb up (the easy way) and we rode back to the stay. Everyone else had woken up and were ready to get to the falls. I told them I just came back from the falls and Rahul said, "We aren't going to the main falls, mole. We have our own secret spot."
Curious, we turned the bike around and followed them again. We rode past the main falls and stopped a few kilometers ahead to buy some cheap t-shirts ... apparently, we were going to get wet. We parked our bikes a kilometer later, and began walking. Soon, we were walking by the side of the river that led to Athirapally falls a few kilometers downhill. We walked for nearly 500 meters until it led to a small shady spot on which we dropped our bags and the water was shallow enough for us to sit and enjoy the morning sun. While the others walked to the middle of the shallow river to sit with bottles of alcohol and Naadan beef and chicken fry.
I don't drink or smoke, so I contended myself by sitting with two of my friends in the cool waters and by splashing water on everyone. After a an hour of refreshing dip in the river, my Kochi friend said he had to leave. I told everyone else that I would wait for them at our stay and three of us left from the spot.
We rode back to the stay, said bye to our Kochi friend, and sat on the lawn to chill. By the time he left, everyone else came back, and we decided to pack our bags and head to our next destination. It was a nice cool day and an amazing opportunity to ride back uphill to the next cold spot.
More on that later!