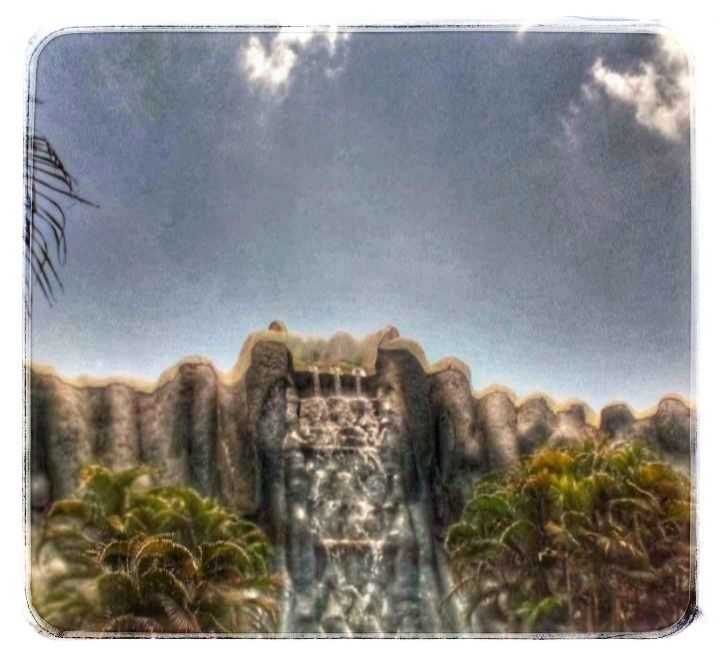 Pedestrian look into the Vandalur zoo:
Here awaits for me, a huge manmade cave entry,
Passed through handmade creations on the way,
Waterfalls and sides of the caves are well polished and coloured,
Wishing to get better look into the wildlife
Crossed the cave and entered the largest zoo in India - Vandalur Zoological National Park.
Interesting a man can change any setting in a way he wants,
Small building modified into a cave,
Moved slowly in the walking path
Found the map of the real journey
I am amazed, it's too large than expected
Lists of birds and animals in display
Let's go and have a look
What really this home of animals really holds?
Are you ready to come along with me?
Just short as possible, let's finish this walk soon.
Children's park on the right is quite abandoned
What is that next?
Hmm, there are cycle rides and also van rides available for extra money.
Then comes our resting places
Now we enter into the our animals house
First, comes niligiri langur next comes lion tailed macaque
Both are busy sitting in their favourite trees
While there is a moat which stopped them to reach out for us.
Then comes our chimpanzee, one sitting on the tree, other sleeping in the manmade cave
Fossiled tree trunk is also preserved over here
Then comes National bird of India, Indian peafowls
Beauty unexplainable
Almost 9 to 10 peacocks and peahens
peacocks are ready to competitate with each other here, showing their feathers.
At a time, three danced to get admiration of  a mate,
Natural mating ritual seen as full show.
Seems hard time for peahens
Where to go in that small space?
Let them dance, but we have lots to see ahead,
Next, white peafowls, everyone is busy in drinking water and resting
It's lovely to watch a pure white feather.
Then comes peach peafowl, starting to open their charm
Pied peafowl next, busy roaming all around, Black shoulder peafowl is also here.
Ring necked pheasant, lady Amherst's pheasant, silver pheasant,
Coming up next parakeets,
Rose ringed parakeets, Red jungle fowl, white creasted  cockatoo, Alexandrine parakeet, hmm. Sound moves along the wind, everyone is busy eating and singing ofcourse some are too busy admiring beauty of one another. Harlequin macaw, Scarlet macaw, Java sparrow, monk parakeet, Budgerigar, white dove, spotted dove, golden pheasant, sarcus crane, diamond dove, African grey parrot and so on. 
Here, I got exhausted a moment, seems like never ending journey under burning heat,
Felt relieved, I found a aavin booth to nourish myself for the walk ahead
Sat nearby sometime, here again, heard weird sounds, what exactly making this sound? I wondered,
There was a peacock standing all alone near water tank.
Then moved on my path, it's good to notice many drinking water booth on the way for the visitors.
Let's turn right on our way, so many barking deers in a large space, then blackbucks, spotted deer, and swamp deer too.
On the left side of the road , Greater Rhea comes first, cassowary and emu comes along the same way.
After walking some distance, Indian gaur is drinking water under the bridge, Two boys along by my side started to compare which one huge among them. As he compared, one among them, is too huge in size. None of them gave a look at us, they are happy and content in drinking water.
Next we went deeply into the zoo part, caution board came along the route showing they left some animals freely.
Then comes our bear family, one sloth bear sleeping in cave area, one Himalayan black bear sitting in the tree and also giving full pose to all of us.
Another one too busy bathing underwater.
Then we saw Bengal tiger inside cave eating fodder, here I observed little time, how exactly zoo authorities are feeding. There are two gates for caves. One from inside, another from out, from back, they keep food, looking at fodder, all animals go inside, that moment, they lock another door. So animals wil be inside cave in the mean time, they can clean the open area.
Then we saw a fox from a large distance, it's intelligence is quite high, knows well to hide from others. Then Leopard hero came along the way, fully hungry Leopard started to crash all wood over there. Too sad, that it didn't get fodder until the mid time of the day.
There are almost three aviary inside zoo. They made a setting for point calimere birds aviary, Vedanthangal birds aviary too. Around this area, tea corporation of India has opened a canteen for refreshments, there were some rooms available specially for feeding mothers.
Coming up next, tortoises, turtles, non venomous snake enclosure and then there is also snake house. They are feeding small chickens for snakes. I felt a moment of pity, they were so cute waiting for death next moment. That's how food web works, noone can either stop the cycle too.
Next various crocodiles, elephant, ostrich, giraffe and zebra too
There is also a good aquarium inside the zoo, and nocturnal animals house too. It's quite very tiring, to walk a long distance. Still worth a lot. This place is very recommendable for growing children to know real animals better, and also increases knowledge about its various different species. Let me give a suggestion, drink water along the route, wear caps, sunglasses, umbrella also if possible and enjoy the journey, As it's near urban area, the temperature wil be very high. It's a good place for one full day visit for anyone who wishes to live with wild and also for anyone who aspires to get better ideas.