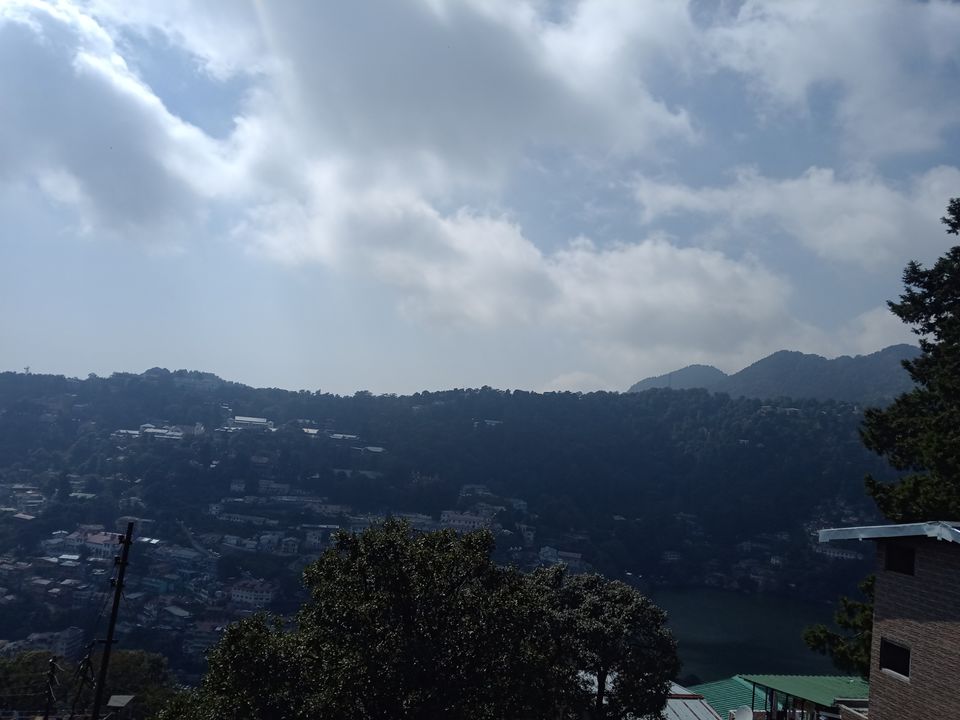 So, as we all know that due to Covid-19, Lives of all of us have got stuck somewhere.
People have got shut in their house. After long time of lockdown, people have started traveling . I can say this because on 10th October, I travelled to Nanital with my family.
It was a short trip. But as I went to Nanital, I just lost in the beauty of this place.
We started our journey at 5:00 A.M. from Chandausi, a district near Moradabad by car.
After four hours of travel, we reached Nanital at 9:00 A.M.
We took the following route -
Chandausi------------Moradabad----------Bajpur--------- Kaladhungi------- Nanital.
After reaching there, we took hotel named Sarovar. This hotel is situated near mall road.
The hotel was not very expensive. It was around Rs 2500 per night.
This hotel offers a double bed and a sofa cum bed. It was quite comfortable and very reasonable for a night stay.
After getting fresh, we off to mall road and moving to road side. It was quite pleasant weather. Breathing on the hills is just soul soothing.
First we went to the Naina devi temple.
This is very beautiful temple. It had a senitisation booth.
We senitized our hands and offer our prayers.
No any prasad is being offered to temples.
There is a small market and many cafeterias are placed around the temple.
We had our breakfast at Prem resturant.
We had chole bhature and Aloo ka paratha there.
From there we move to the zoo. We saw alot of various animals and birds like Leopard, Tiger, Lion, Deer, Bharal, Red Panda, Pheasants, Bear and many others.
It was such a nice experience to see Tiger drinking water, Bear to walk backwards, Leopards roaming in their cage. Red panda was sleeping on the tree.
If one is interested in wildlife, one must visit this zoo. I found this very interesting and unique experience.
But you have to walk alot in the zoo. So take the water bottle with you. You cannot take any edibles inside the zoo.
Don't tease the animals. It is ethically not correct. And if any guard see you teasing the animals, then you have to pay fine for that.
It took around 4-5 hours to explore all zoo.
The entry charges are Rs 30 per person.
It was very sunny day and we got tired. We came back to hotel for rest.
After an hour, we again moved to mall road.
The market is very rich. There are wooden showpieces, things for decoration.
We took tea from the roadside tea stall.
After this we had the Corn 🌽 (bhutte) there.
At dinner, we had noodles and thukpa. One should try thukpa once in life.
Tip: Don't skip corns there. Those are very tasty. Earlier I did not have corn, now I just have fallen in love with the bhuttas.
After exploring at the mall road , we again went back to hotel.
There we took coffee from the cafe.
After getting ready, we checked out from hotel and started our journey towards Kanchi Dham(Neem Karoli). This whole journey is filled with so much turns and twists. Which makes the journey excited.
After the journey of half an hour, we reached the Kanchi Dham which is 17 kms far from Nanital.
After pay our visit to Babaji, we had our breakfast there. Pakodi with sauce(chatni), along with tea.
After 2 hours, we moved back to Nanital.
We would be stopped in Nanital. But due to shortage of parking, we headed towards our home.
In our way, there are lot of points like suicide point, lovers point, cave gardens , etc.
We visited at cave gardens which is situated near the Kumaon University.
If one likes adventure, then one should go there. The fee is Rs 20 per person
There are 6 caves which are named as follows-
Panther cave, Flying fox cave, Tiger cave, Ape cave, Squirrel cave, Bat cave.
We went to all caves. It was such a thrilling experience.
As the pandemic is going on, always carry senitizer with you.
Tip: Do not go alone in caves. If you are having any problem related to breathing, then avoid to go or take inhaler with you.
After this, we got very tired after that. We had Nimbooz to energize ourselves.
We started again our journey, after few kilometres, there is another cave called the Hawa cave.
As the name suggests, one can experience the cold air from a hole in the hill.
After this , we moved back towards our home sweet home 🏡.
Tip: Carry some warm clothes with you. As none can predict the weather in Nanital.
One should shop wollens from there. I bought a cap from there. Keep sanitizers and extra mask with you. Sanitize your hands in every short intervals
The total expenditure on this trip per person is around 7-8k .
If one would take public transport it will take 6-7k.
But all this expenditure is worthful after visiting Nanital.