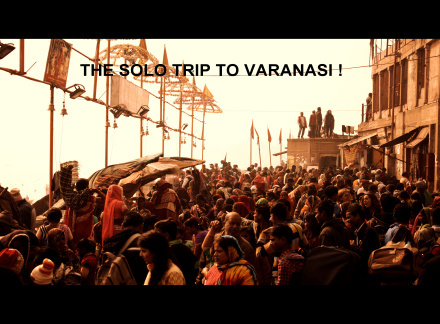 A trip becomes interesting when it is sudden and completely unplanned, in this manner whatever comes your way is either a surprise or a challenge. This was one such trip and the first of a kind for me, first of a kind as I was going to travel solo. I had a planned vacation coming on the next calendar month and as usual I was supposed to go home and do nothing. I used to visualize vacations as a means to take me out of the mundane routine but ultimately after reaching home I used to end up getting in the midst of another routine. This time the days and my mood had some other plans and I was still not aware about it.
After completing a week of holidays or holy-days as I call them, I found myself surrounded by boredom again and that gave birth to this extravagant idea of traveling along to Varanasi. I took my cycle and went to the agent I knew and he was the only one who was able to understand my level of excitement and finally the trip was on. I was going to board the train from my home town, Purulia. The month, I ought to mention that, it was January, when it is chilling cold in Uttar Pradesh but as it was my first trip I did not want anyone or anything to discourage me. In order to reduce the expenses I preferred sleeper class tickets. It cost me around 600 bucks which cut the travel expenses a lot, I saved around 1500 bucks there itself.
One thing kept clicking and it was the chilling winter that I would have to face and more than me, my parents kept reminding me about the same. So while I was packing my backpack the heaviest and the most important thing was the blanket, that saved my life too while I was on the train. Apart from that I took a camera, a diary, a spare pair of jeans, few t-shirts, a sweater and a thermal inner.
Since I was traveling in a sleeper coach, I made sure that I shut the windows properly and then somehow I managed to survive the night. As I woke up I was about to reach Varanasi and the train was then on the Varanasi bridge and all I could see was a thick layer of fog. The first things you will listen to when you come out of the railway station with a backpack and a camera bag is,"sir chaliye room dikha denge sasta aur ghuma v denge." I pretended to know every nook and corner of the city and ignored all of them with grace.
Instead I took a rickshaw and told him to take me to Dasashwamedh Ghat and as the ride began I could see the city rising, little bit of dust here and chirping of the birds and the smoke from the chullahs of the tea stalls, everything was so normal and certain, still it felt good. As a child I used to visit Varanasi with my grandfather and for lunch we used to go to a Bengali Dharamshala and that was the only vague memory in my vault. I recalled the place and revisited that for a place to stay. I was told to stay in the Dharamshala beside it as there were no rooms available. It cost me around 500 bucks for a day there.
This was the beginning of the musical journey which the title says. I grabbed my camera and rushed to the ghats. As soon I reached the ghat, I was amazed by the beauty of it, the more I try to explain it in words the more it will get complicated, so let's keep it simple. i could see people all around but I was not at all disturbed by the noise. Peace was evident and the only thing present in my mind. The most soothing part was that I was alone and I could choose to stay there all day and no one would even be bothered.
Instead of going to Harishchandra ghat I reached Manikarnika ghat and I was astonished to discover that you could find even more peace when you watch the cremation of a body. I sat there for hours watching bodies burn and I did not feel bad about it. The purpose of life, the reason and the end, all could be found out in Varanasi, and I felt that.
I had all day, so I decided to start walking, and something stopped me from going away from the ghats, so I kept on walking along the ghats. I reached Assi Ghat, the last ghat and it was surprisingly vacant compared to the other ghats. You get the taste of rush, claustrophobia and emptiness all at one place and that was all happening right in front of Ganga.
I was fascinated to see some of the foreigners who had been staying there for months and cultivating and getting adapted to our culture with such ease. They had such a vivid idea about our culture that they wanted to be a part of it. Next day I met the most musically sound person in my life, Alex, he is from France. Don't know how, but we became really good friends and it was then all about music and art and culture. He played his Sarod and it was then that I felt the real sense of calmness. Many people passed by, appreciated the music, some even joined us. It was as if we were on a tour of music.
Street food kept me going and it was really cheap and tasty. The thing that I would miss the most is the Chai. I took several holy dips in Ganga and it is believed that Ganga washes away your sins, I would really be grateful to her.
It was on the last day that I realized that I had formed a strong bond with the ghats and I did not want to leave but I had to, it is the rule of the nature, but I will surely go back and stay for a longer period of time.