Varanasi was one of my favourite places that I've visited on my travels in 2016 & Jan 2017. I was born at BHU Varanasi, it fascinates me since the childhood. Whenever I go to Varanasi, it always mesmerize me with its unique culture tradition and food. During my recent visit, I captured numerous pictures of the life along this river in Varanasi & i decided to write and share.
The first thing that comes in our mind about varanasi is Temples and Famous Ganga aarti & Beautiful Ghats.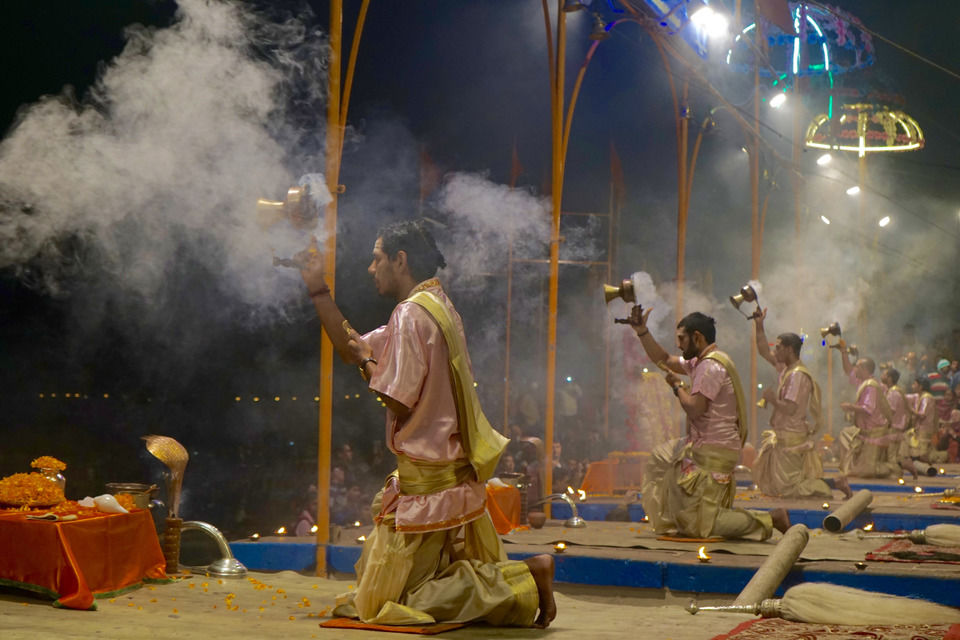 The Spiritual city, Varanasi lies in the northern belt of UttarPradesh India, which clearly tells us that the temperature goes to its extreme whether its summer or winter. The best time explore the city is between October and March
There is always confusion about Varanasi and Kashi. In reality, Kashi was the old name of the city which was renamed as Varanasi. 'Kashi' means 'the luminous one' or 'city of the light' which actually means 'brightness'. The name Varanasi is also a derivative. Since the city is located on the banks of tributaries of Ganges, Varuna and Asi, the name Varanasi was given to the city. Apart from being one of the most important places of pilgrimages, the city is also known for its heritage in music, art, culture, religion and literature.The legend says that Kashi was founded by Lord Shiva.& the earliest archeological evidence confirms that it is one of the world's oldest continually inhabited cities.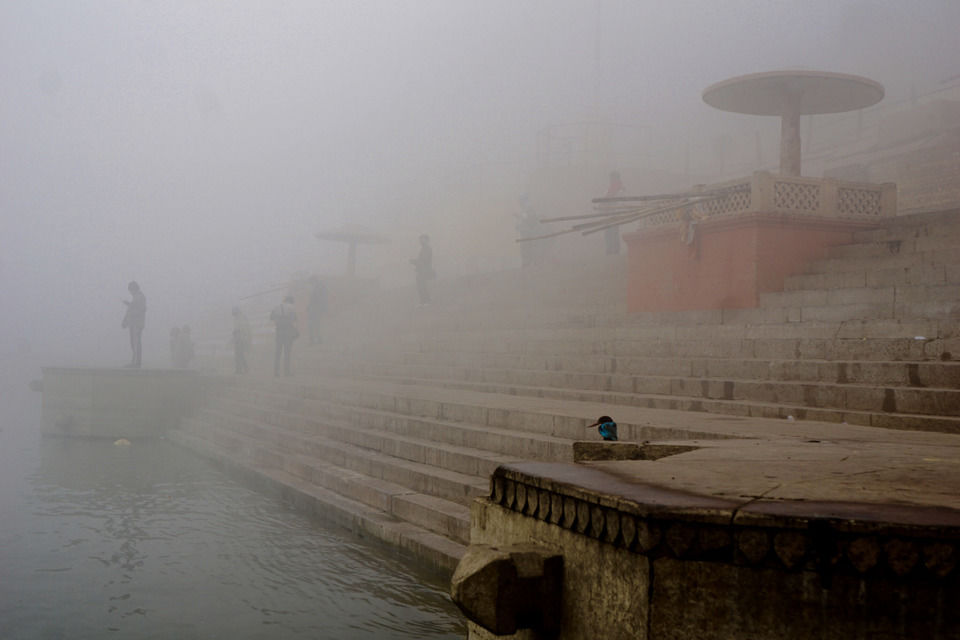 Varanasi has at least 84 ghats, the major ghats include – Dashashwamedh Ghat, Harishchandra ghat,Assi ghat, Ram ghat etc. Boat rides across the ghats is a popular visitor attraction. The boat man charge Rs 100/- per person to 500 Rs. max. Price depends upon boat, MOTOR BOAT WILL CHARGE MORE.
A group of priests "purohit" perform "Agni Pooja" (Worship to Fire) daily in the evening at this ghat as a dedication to Shiva, Ganga, Surya (Sun), Agni (Fire) and the whole universe. Special aartis are held on Tuesdays and on religious festivals.
The evening pooja is also know as Ganga Aarti & for photographer lots of opportunities are there to capture a memorable shot Make sure you have a good zoom lens. or 85mm lens for portrait will work cool. The aarti starts around 6 or 6:30 pm so try to reach before 6 pm to get perfect place to get memorable shoot. The Arti ended by 8 pm.
The life On the Ghats of varanasi is magical, You'd see a lot of SAINT'S (baba's) happy tourists talking and laughing out loud, people taking a dip in Holy Ganga, kids playing cricket, flying kites, couple,newly married couple's, college students taking a day out, families, groups of friends, solo travellers, foreigners, and yes cows & buffaloes & local seller.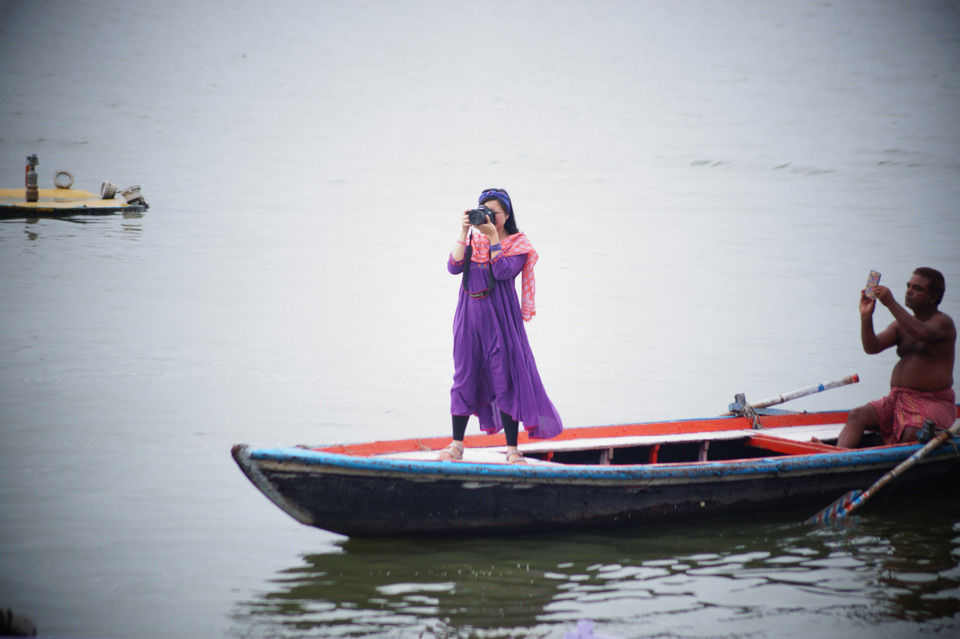 There are the usual Holy men, covered in ashes on their whole body. They strategically present themselves in front of foreign tourists, put up their exotic religious face and pose for the camera.
These ghats depicts a perfect picture of humanity. It's very common to see Indian Muslim's at ghats feeding the wheat flour to the fishes at the ghats. There is movement, motion, human life everywhere and it starts from the early morning and then stops only in the late night. Many times i stayed at ghats & was alone at around 10 :30 pm but felt safe. But it might be risky to be alone at ghat during late night.
You can always find artist from all over the world in the streets with their card-boards, papers and pencils, to figure out the colors of life.
At magical ghats of Varanasi it's very common to see Animals and birds equally enjoy the riverfront of the Ganga in Varanasi
For millions of Hindus, It is believed that a holy dip in the Ganga washed away all the sins of life. A lot of Hindus from the different parts of India (Mostly South India ) come here regularly on a pilgrimage throughout the year.
Walk along the river further and there is a lot of activities going on in the morning. It is amazing to see how this city wake up so early in the morning to perform these activities on the riverfront.
In Banaras everything can co-exist: life & death
Manikarnika & Harishchand ghat are the largest of the two popular burning sites, All faithful Hindus hope Varanasi is the end of their road. If one can make the journey before his heart stops beating, to die in Varanasi is to be set on the path to enlightenment, because to die in the holiest city in India means your body will be cremated with flames from the eternal fire, and tossed into the al mighty Ganges, left to float away from your struggles and sins in this life, and sink into the unknown of the next.
At sunset, every evening the ganga aarti, takes place along the Dasaswamedh Ghat with a beautiful, choreographed ritual of respect to the Gods. 'Ganga Aarti' is one of the most sacred rituals in 'Hinduism' and is practiced on the Ghats of Varanasi (Banaras). 'Dashashwamedh Ghat' is very famous for this Aarti ritual.
Aarti' is a religious ritual performed by followers of Hinduism during worship. In this ritual, a cotton wick dipped in ghee is lighted in a lamp to produce light and smoke. In some instances, camphor is also used in place of ghee. Offering 'Aarti' or 'lighting a lamp'
Walk a while at the Dashashwamedh Ghat and people start greeting you and approaching for desi body massage
It takes a while to find, but if you do, you might just fall in love with this spiritual city.
How to reach Varanasi
Varanasi welcomes you through all the well-connected routes by air, rail and road. It now has its own International Babatpur airport about 26 km from the main city, which can be reached by road.
All images and materials are copyright protected and are the property of ANURAG KUMAR
This post was originally published on Anurag's Blog.