Those who know us well know that we are foodies. For us, the culinary experiences form an essential part of our travel escapades. While traveling to places, we love to explore around and try the local cuisines as they are the cultural gateway, the dishes and drinks get us deeper into a culture, leading to interactions with local people and incredible travel experiences !!
Click here to view the original detailed blog post on our Travel blog. To keep reading scroll down

The Vietnamese cuisine is one of the most delicious and healthy cuisines in the world. Thanks to its tropical climate and diverse landscape, Vietnam is blessed with a variety of plants and herbs which make its way into the food bowl. When in Vietnam, we were pleasantly surprised by seeing the high healthy quotient in the food consumed.
Paul Prudhomme once said - 'You don't need a silver fork to eat good food". When it comes to Hanoi food culture, this is true to the core where you get a great variety of tastiest street food in the narrow bylanes of its Old Quarter. We spent hours strolling in the Hanoi Old Quarters exploring the local eateries, enjoying the sumptuous food and exchanging pleasantries with the locals. As the Old Quarters swarms with such eateries, it is important to know these hidden gems tucked away in some corner that serve the most popular (with locals) and authentic food which becomes overwhelming at times to find. To make it easier for you, after a lot of research, we bring you our Hanoi Street Food Guide which lists the dishes that we treated our taste buds with and would highly recommend you to to do as well. So let's get started.
1. Bun Cha:
Bun Cha is one of the most popular local dishes in Hanoi. Some say this dish originated in Hanoi & can only be found in Northern Vietnam. Bun Cha is barbequed pork two ways with flavourful broth served with rice vermicelli and generously sprinkled with greens, herbs & dipping sauce to the side. You will find many roadside eateries serving Bun Cha but instead, head to Bun Cha Dac Kim on Hang Manh Street which is quite popular amongst the locals and is known for serving the most authentic Bun Cha in town.
Click here for the location on Google Maps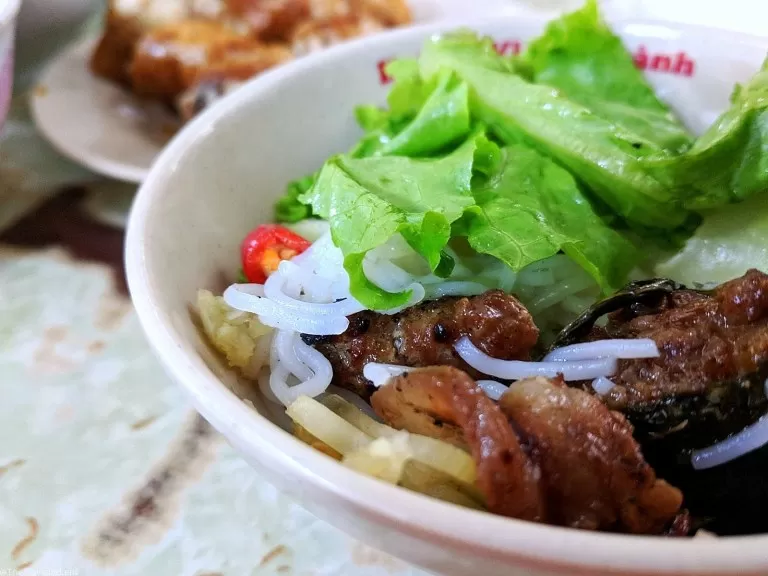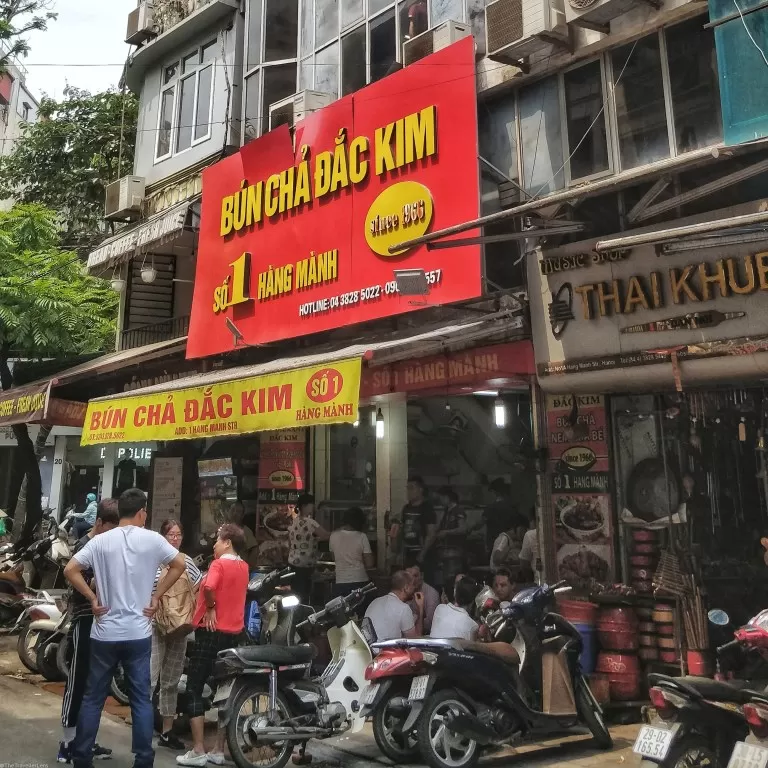 2. Egg Coffee:
Yes, you read it right. This mysterious beverage, favorite among locals (also known as Cà Phê Trứng), is made by beating an egg yolk with sweetened condensed milk until it makes an airy, creamy fluff. This eggy goodness is then slowly poured on top of the hot espresso or iced coffee. There are many cafes that serve Egg Coffee but it was Mr. Nguyen Giang who invented this coffee & opened Giang Cafe in 1946. Since then, this cafe has been a local favorite.
Click here for the location on Google Maps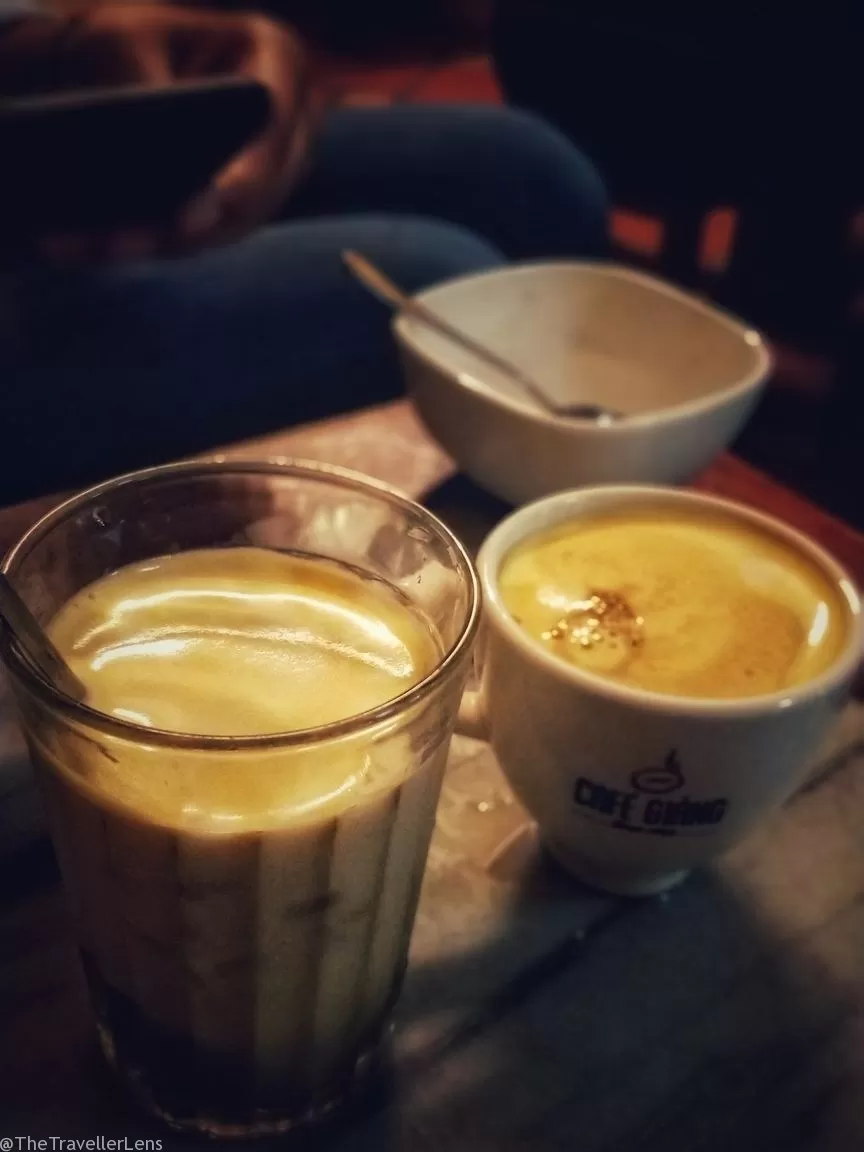 3. Pho:
Originally from northern Vietnam and had by rice field workers, Pho today is one of the most iconic and staple dishes of Vietnam, usually eaten for breakfast. Pho consists of a clear beef or chicken-based broth, rice noodles, greens and herbs, and thinly sliced meats. We tried Pho across various places in Vietnam but the best Pho bowl we had was in Hanoi at Pho Bat Dan. It is undoubtedly one of the most frequently visited places by locals & tourists alike.
Quick Tip: Do not get intimidated by the old character of the place and the meat pieces hanging at the shop food counter. Just order a Pho bowl and slurp on it.
Click here for the location on Google Maps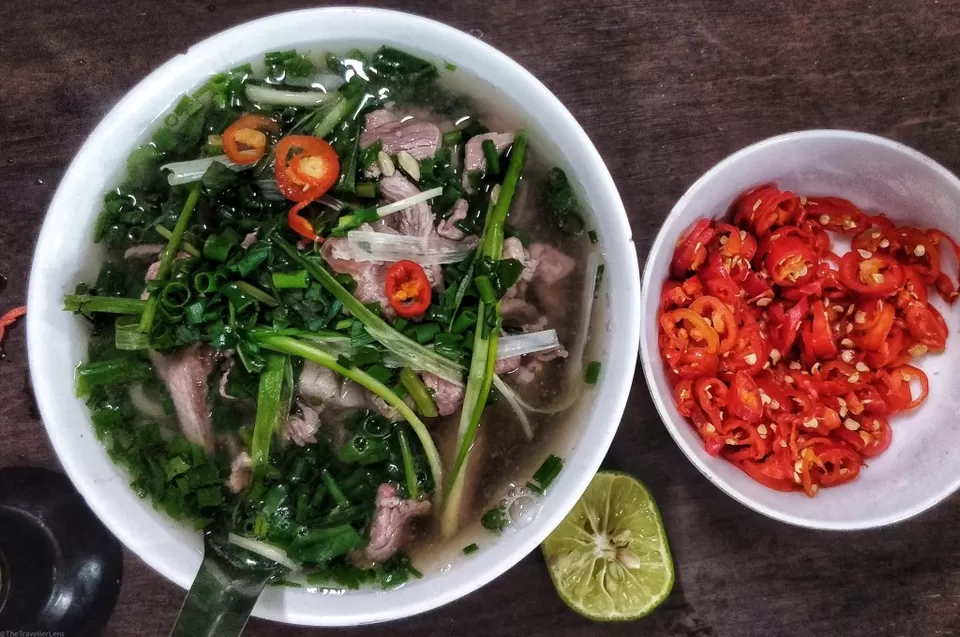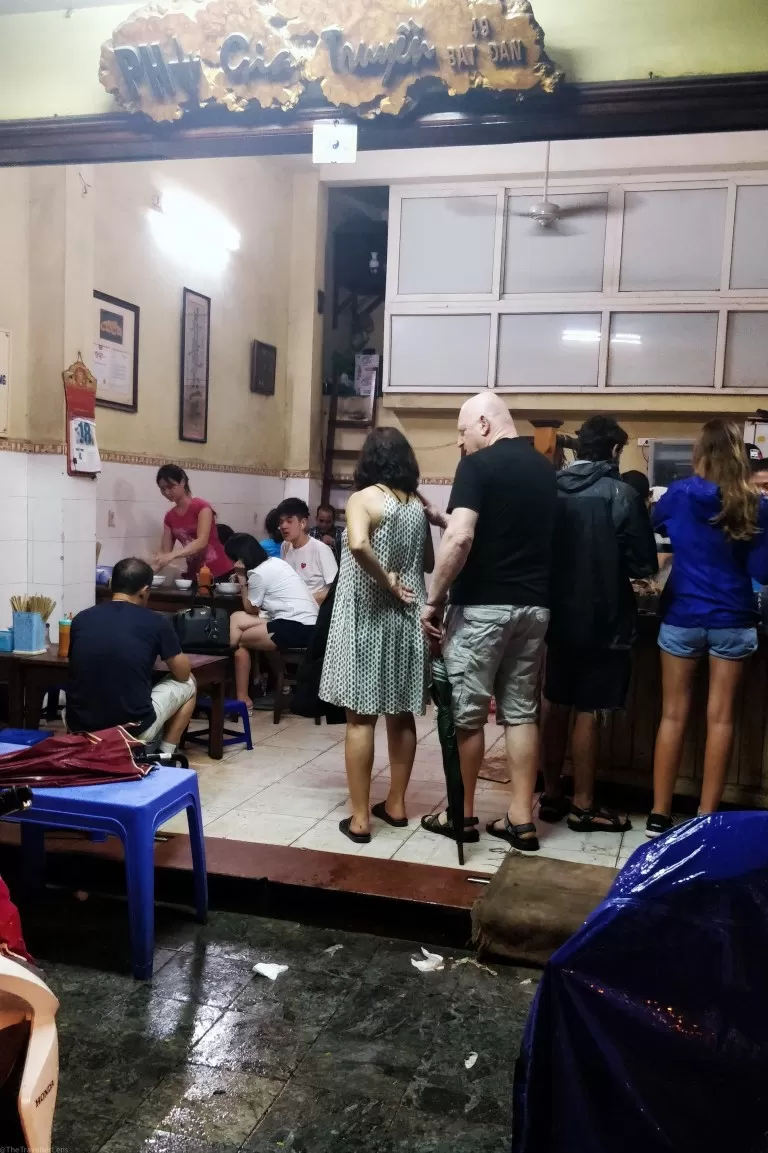 4. Hoa Qua Dam:
Simply put, Hoa Qua Dam resembles fruit custard and was the most refreshing dessert we had in Hanoi. It is a bowl loaded with seasonal fruits mixed & topped with coconut & condensed milk, yogurt, crushed ice & few drops of flavored jelly. We treated ourselves with Hoa Qua Dam while roaming around in the weekend market thus won't be able to share the exact location but you can easily spot local street vendors or shops selling this.
5. Beer Street:
Ta Hien, famously known as 'The Beer Street' is a small street lying in the famous Old Quarter of Hanoi, near Hoan Kiem Lake. During the Day, this street looks like one of the many streets of the Old Quarters in Hanoi. But during the night, especially on weekends, it transforms itself into one of the most crowded and happening streets in the Old Quarter bustling with people. Foreign travelers and locals gather in this small street and enjoy Bia Hoi, a local favorite draught beer. We earned a very different experience for ourselves - sat on small-sized plastic chairs on the street, sipped beer after a long day of exploring Hanoi and enjoyed looking at the cluttering charm of Vietnam.
6. Cong Caphe:
This place was not there on our list but as luck would have it, we were destined to visit this place. Fortunately, we discovered this cafe one fine evening while looking to save ourselves from a sudden rain shower. We were welcomed by a very cute and excited pug dog who was intent to lick everyone as a customary way of him greeting people. We instantly fell in love with the rustic charm of the cafe and a variety of beverages listed on the menu. Would strongly recommend trying their Coconut Coffee.