When I was planning for my first ever solo trip to Bhutan, I had no thoughts of covering other places. But after booking my flight tickets and getting my permit, I was left with two days in West Bengal before my Bhutan journey started. That's how I ended up in Darjeeling - A queen of hills.

A Head Start
I started my journey from Siliguri. The clear blue sky, mountains with cloud hats, aromatic tea gardens, cool breeze and the flashes of the toy-train railway track made the journey beautiful. And to add to this I was travelling in a shared cab with 10 other passengers who were all strangers, some were locals, some going for work, some tourists and myself, we all were there (forced to :P ) sticking to each other! About an hour or two into the journey, we reached the spectacular hill station. At first sight, I realized that it's not a sleepy hill town but more like a busy city (a small city) with narrow lanes full of people and taxis, with shops on both sides, and above all fashionable and pretty looking people! I got down near Chowrasta, where I booked the hotel. I dragged my poor trolley bag through the crowded uphill walkway, the uneven surface made it difficult for me to walk through the crowd. To make the situation worse my tummy was shouting at me to feed it! Somehow, I reached the hotel, checked in, freshened up and came out to have dinner. Due to fog and low visibility, most shops usually close around 7 PM, but few eateries were open. I was so tired that I went back to the hotel where I stayed and asked whether they can cook something for me so that I can fill my tummy. That night Maggie saved my life! The dining area in that hotel was small and cozy, they decorated the place with hats and guitars, had a small fire pit too with chairs and sofa arranged in a small circle. While eating I had a small conversation with fellow travelers, one from Israel and two from Germany. After my dinner I went straight to my bed and slept! So, my day ended........actually not, I had to get up to wear extra layers of clothes to protect myself from the chilling weather as it was my first time experiencing 2 °C.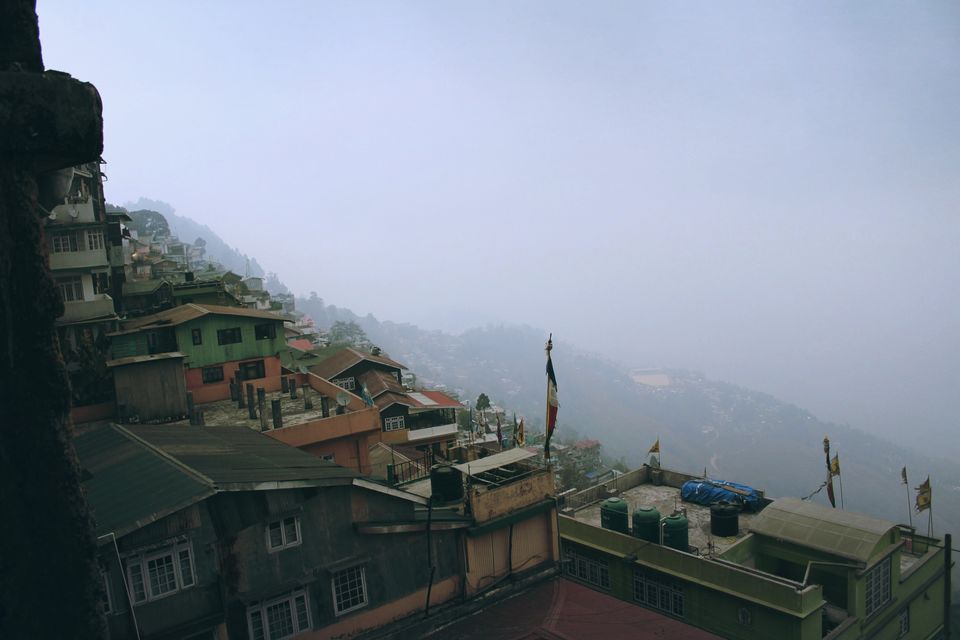 Day one:
Morning scenes
At around 4 AM I woke up to loud voices in the corridor, the other guests were leaving for Tiger Hill. Peace returned after 15 mins and I went back to sleep. I read in many blogs that, best place in Darjeeling to get Kanchenjunga view is Tiger hill during sunrise. On a clear day, the golden rays of sun brush the Kanchenjunga. Considering the foggy weather, I realized that the sky will not be clear to see the sunrise.
My alarm rang at 6 AM. I pulled the curtains and opened the windows. The distant hills were no longer visible in the thick fog. I wondered if the others were able to see the sunrise. Of course, I went back to sleep by resetting the alarm to 7. I just blinked, and alarm started ringing ☹. But my situation was like whether to continue my sleep or get ready to go out! All thanks to the chilling weather I went back to sleep. And again, alarm goes off at 8. This time I broke up with my bed :P
Local Way
So finally, I got ready to go out. I found one cafe near Chowrasta which was buzzing with customers, most of them were foreigners. I found the table near a long row of windows offering a view of the mountains far beyond. After a very nice breakfast, I started to explore the city in a local way i.e., by walking. That's the easiest way and sometimes the only way. I started wandering near Chowrasta and Chowk bazar a pedestrian-only zone. It's the central market of the entire Darjeeling area where one could enjoy the amazing street food and buy some nice winter dresses, or just walk around the street and enjoy the view. The tea estates are the main attractions of Darjeeling, which are found mostly on the way. Toy Train is another excitement. However, the toy trains are extremely slow. I didn't have the luxury of time, so I didn't try. But, I visited St. Joseph's school (Yaariyan) and clock tower (Burfi) which has appeared in Bollywood movies.
After lunch, I hired a cab and visited few more places. Himalayan mountaineering institute (HMI), India's first mountaineering institute with a cool museum, it has information about the Himalayan flora and fauna, the attempts to conquer Mt. Everest, and the accessories which Tenzing took while climbing Mt. Everest. Padmaja Naidu Himalayan Zoological Park - consists of all the wild animals found at the high altitude in the upper Himalayas. Some rare animals like red panda, snow leopard and Tibetan wolf can be witnessed. The surrounding is splendid as it is covered with mountains. Rangeet Valley Passenger Rope way - It gives a beautiful view of the valley below, the lush tea gardens, dense forests with the snow peak in the background. I even got down at the lower station and enjoyed the tea garden by walking through it. It is difficult to experience so many things together at the same place. Japanese Temple - is in the Jalapahar hill, which is a symbol of peace. It is constructed in typical Japanese style where everyone can join the prayers and hum the chants. Peace Pagoda - It is very near to the Japanese temple, where there are four avatars of Lord Buddha. The view from the top is mind-blowing and the snow peak range is also visible along with Kanchenjunga. Tenzing Rock and Happy valley tea estate- It offers a beautiful view of the town and is said to produce the largest amount of tea in the region. Honestly, Darjeeling is a place that can be explored in a day. I think I did not even care much about where I was going! Because the journey was way too enchanting & beautiful!
Day two:
The Day I flew
I woke up at 6 the next morning. I had planned to do an adventure activity, since I had half a day left before my next journey. I opened the window to check the outside conditions. Thankfully there were no clouds, I witnessed the rays of sun hit the mountain range. Just 30 minutes later, the mountain ranges were not at all visible due to fog, and this drama kept happening. If had I been a lyricist, I could have written an award-winning Bollywood song in one go. After some time, weather conditions were under control.
Paragliding was one of the items on my bucket list. So, I decided to experience it in Darjeeling as the view here was spectacular in my opinion. I had booked my tickets on the previous day to be sure. After I got ready I went to the Off Road Adventure office. We picked up one more passenger and headed up to the mountain. After 20 minutes of off road experience we finally reached the destination where we had to walk for 10 more minutes to reach the wide downward slope area. I was with a guide and he was working with the parachute and other equipment. While doing that, he asked me "Are you a good runner?". I simply looked at him. He didn't stop there, he said I am going to attach all these equipment on you, and when I say run, you must RUN!! Okay?" As a super excited kid, I said "Okayyyyy!!". Once we were done with the safety check, he shouted, "Okay, 3 2 1, RUNNNNNNNN!" I moved my legs as fast as I could, but after 2 steps I felt I was still at the same place as the drag from the parachute was so strong, literally I felt like running on the treadmill. It was hilarious. Couple more steps later, we were finally off the ground! The view as we were Paragliding across was amazing!! It was one of the best and my first bird's eye view ever. The entire flight probably took about 15 - 20 minutes. It was such a wonderful experience, it felt so much shorter! Though I am not that afraid of heights, I could hear my heart beating like crazy when my feet were in the air. Trust me I really can't explain how I felt while up in the air, it was incredible!
Meeting Good People in Life
After the paragliding activity, they dropped me near the hotel I stayed in. I checked out from the hotel, said TaTa - Bye Bye to Darjeeling. I had to go back to Siliguri, from there I had planned to take a bus and reach Bhutan by evening. But I reached the city late in the evening and could not start my journey on the same day. Unfortunately, I had to stay overnight in Siliguri to catch an early morning bus to Phuentsholing, Bhutan the next day. But the problem was that I ended up in a place where I never thought (not even in my dreams) I could stay there for a night. As the city was not in my plan, I had no clue where to stay and what to do. I don't know how I took the risk but I went searching for a decent hotel near the bus stand. The surroundings of the place made me think of so many negative things. The first hotel I saw was way too cheap, and the condition of the room was very bad. Next to it was another which looked decent, as the name of the hotel gave me some hope. The SHARMA HOTEL, yes, I don't know somehow, I was okay with this hotel as rooms were okay and the owner looked decent. I made up my mind as I had to stay here only to catch the early bus. Still I was so scared that I was continuously talking to my friend over the phone. My friend told me to talk to the hotel owner and leave the place immediately if I felt unsafe after the conversation. While having a chat with the owner, I asked information about the buses to reach Phuentsholing. I felt somewhat okay to stay there after the conversation. I came to my room, locked the door, put the suitcase and chair against the door and slept off.
Next day morning I got up early around 5 to start my journey. I was yet to figure out where to catch the bus. I opened the door, saw the watchman sitting nearby and he came running towards me. He gave a piece of paper to me and informed that the owner had told him to hand it over to me when I leave. He also told me that owner had asked him to keep an eye on me if I needed any help as he sensed that I was uncomfortable. When I opened the letter, he had written in detail about where to catch the bus and how to reach the bus station. He had also wished me happy journey. At that moment what I felt I can't explain. I was extremely happy to receive such a sweet note from the hotel owner. It was unexpected given the situation I was in. It made me realize my mistake and taught a lesson to not judge people too soon. It gave me high hopes that, not everyone we meet in life or every situation we end up in, will harm us. There are kind and helpful people around us as well. One should always trust their gut feeling (instinct), it always gives indications in some way. That sweet gesture from the hotel owner made my day and gave a positive beginning to my first ever solo trip.