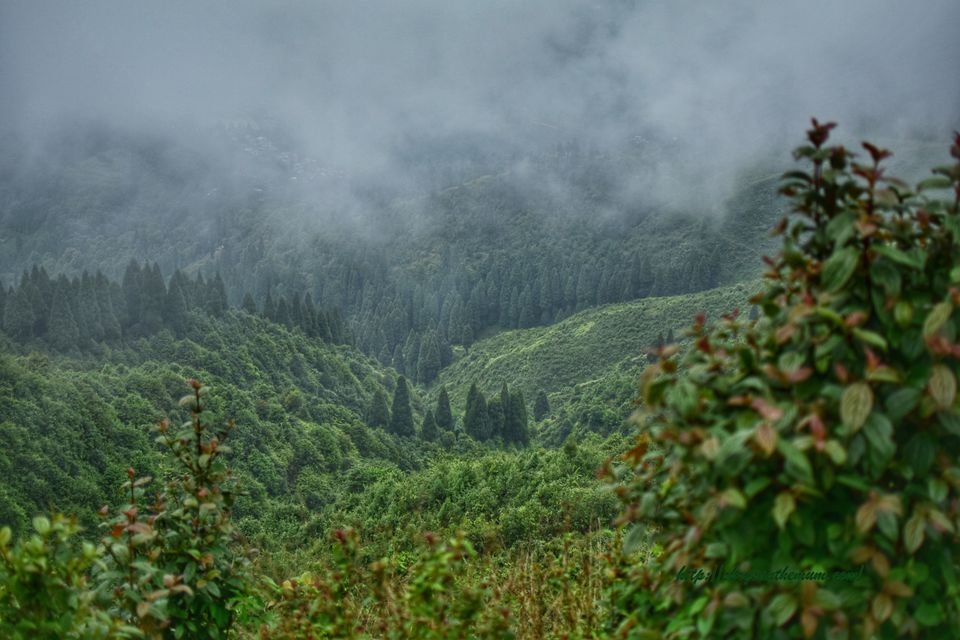 Darjeeling also known as the 'Queen of hills'...
It's a travellers blissful escape and honeymooners dream destination. This beautiful hill station is alluring it's visitors through the breathtaking panoramas that are captivating in every way. Darjeeling stands as the most visited hill stations of India all around the year. Surrounded by the snow capped Himalayas and lush green Tea gardens, it is definitely a paradise on earth.
It seemed like a perfect place to escape the heat and spend some days gazing at the beautiful mountains and clouds for me, and thus our trip to Darjeeling was planned. Normally, I plan my trips after a thorough research and at least two/three months prior to my visit. But in this case it was a sudden trip, as Kolkata was becoming unbearable with a temperature rising up to 38/40 degrees.
We were a group of six adults with a toddler, we booked our flights and packed our bags to explore the queen of hills, or should I say to escape the heat of kolkata. As we reached the airport I realised that the people of kolkata has a craze for Darjeeling, why not it is a place to die for with a maximum temperature of 25 degrees and a minimum of 18 to 12 degrees (At night).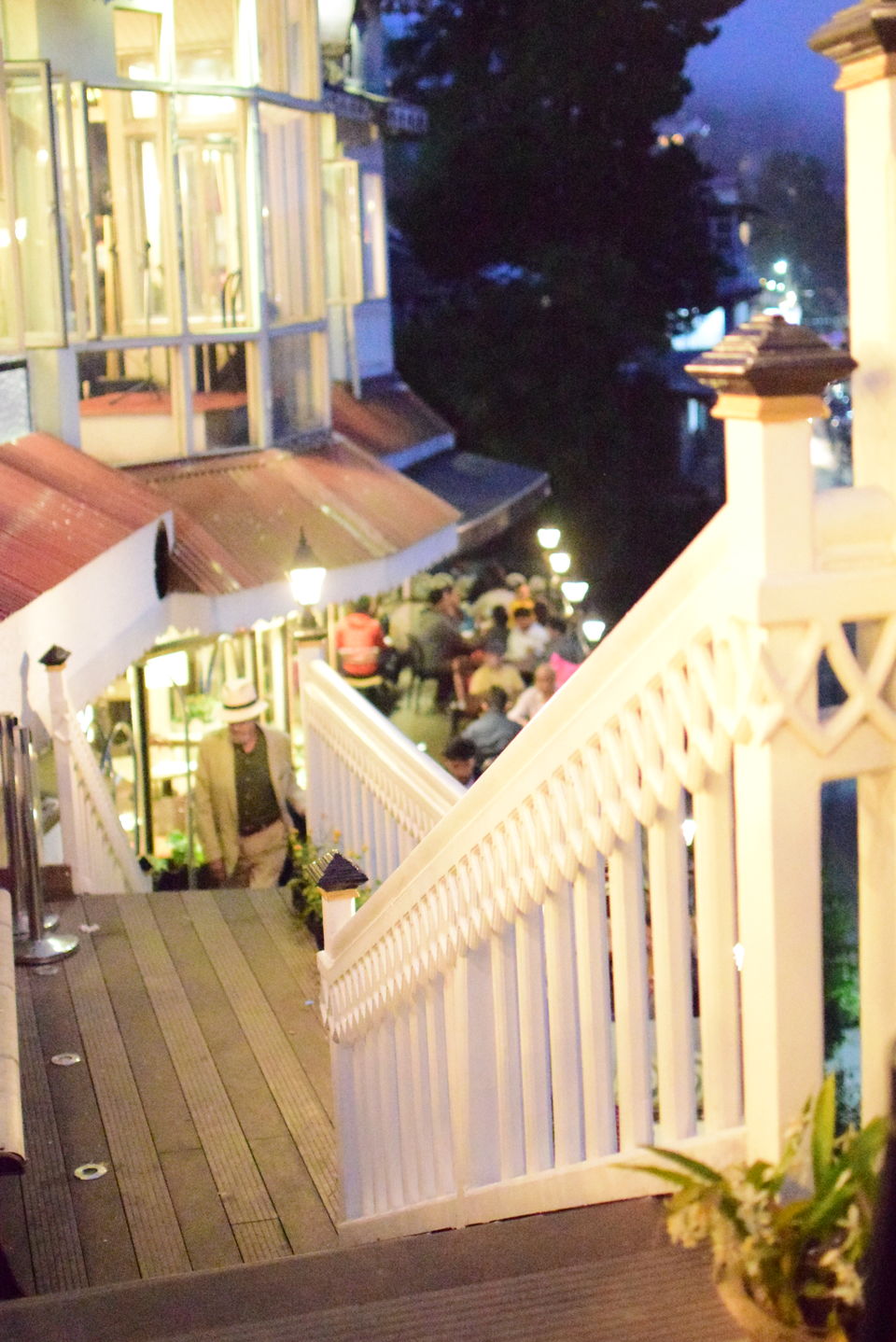 Right after the natural delight we went looking for some spirituality and ended up visiting one of the oldest monasteries in Darjeeling, The Ghoom Monastery. This Monastery houses a 15 feet high Buddha statue and some of the oldest Buddhist scriptures. Surrounded by lush greenery and prayer flags this is definitely a place to find peace in the hills.
The wild side of the hills: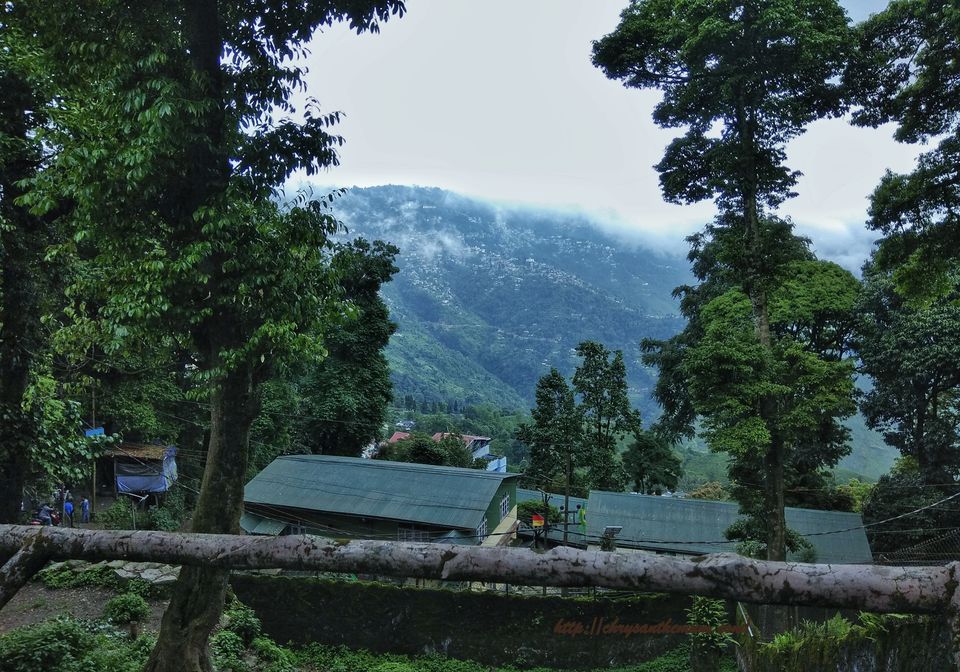 The Journey:
We started our journey to Darjeeling on June 11th 2018 from the Netaji Subhash Chandra Bose airport to Bagdogra. It took us a hour and a half to reach Bagdogra. From there we were picked by our Car (an Innova) which we pre-booked at the cost of Round 4000. One can also opt for a shared taxi from the airport to Darjeeling on a much cheaper rate. A small vehicle like sedan or hatchback may charge up to 3000 depending upon the season.
There are several roads to reach Darjeeling, the one we headed took us three and a half hours to reach the city. However, the journey gave us some stunning views of the roadside and the cloud caped mountains.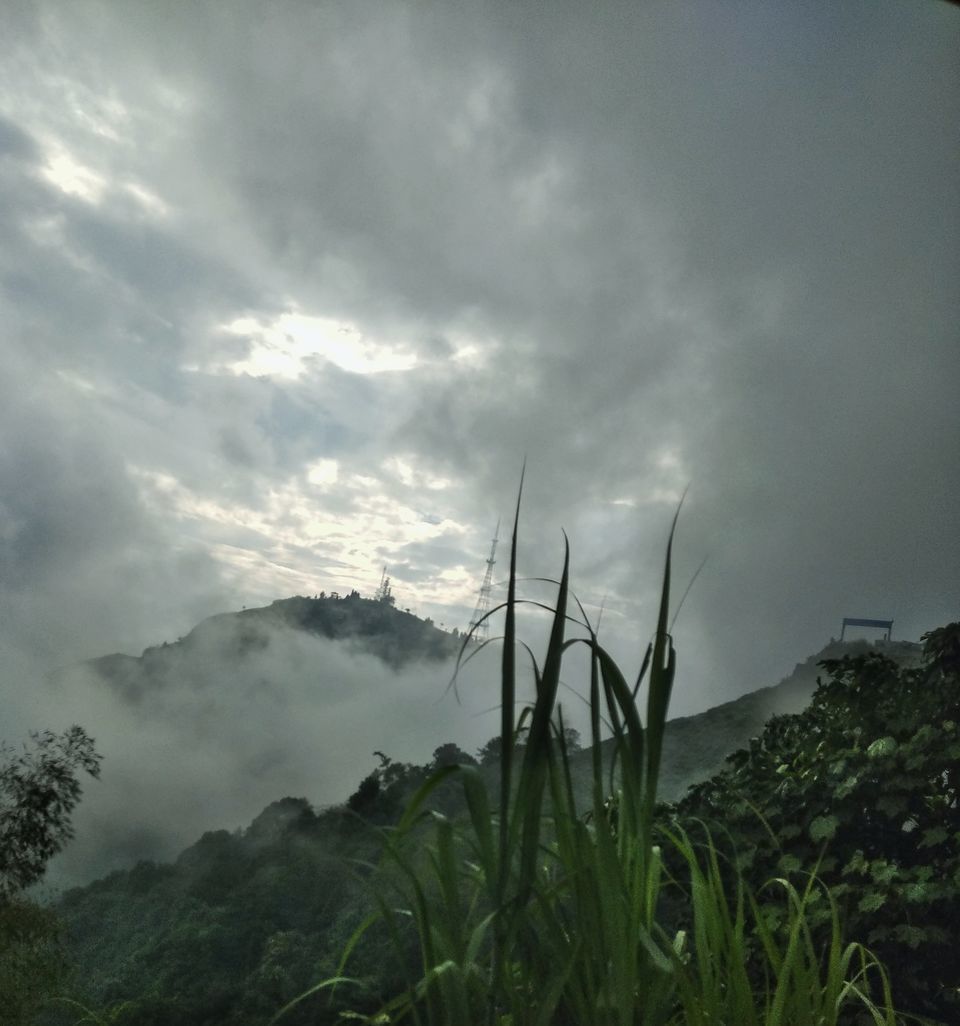 The second day was to explore the city in one of the most historic way. We were quite excited and thrilled to hop on our ride and take a stroll of this hill station in style. For the kind information of the readers, it is strictly advised to book your Toy Train rides beforehand. As it gets extremely crowded and you might not get tickets on spot. The ride is very popular among the tourists that makes it difficult to avail tickets at times. There are options for diesel and coal engine as well as pricey and cheaper rides. We did our bookings online through IRCTC beforehand to avoid any trouble. The ride operates at different time slots. The details are available on the website.
We wanted to enjoy the stay and not rush our trip. Therefore, we kept the days hustle free and opted for the ride at 12:20 pm. to 2:30 pm. It was a two hour ride from Darjeeling station to Ghoom and then Ghoom to Darjeeling station.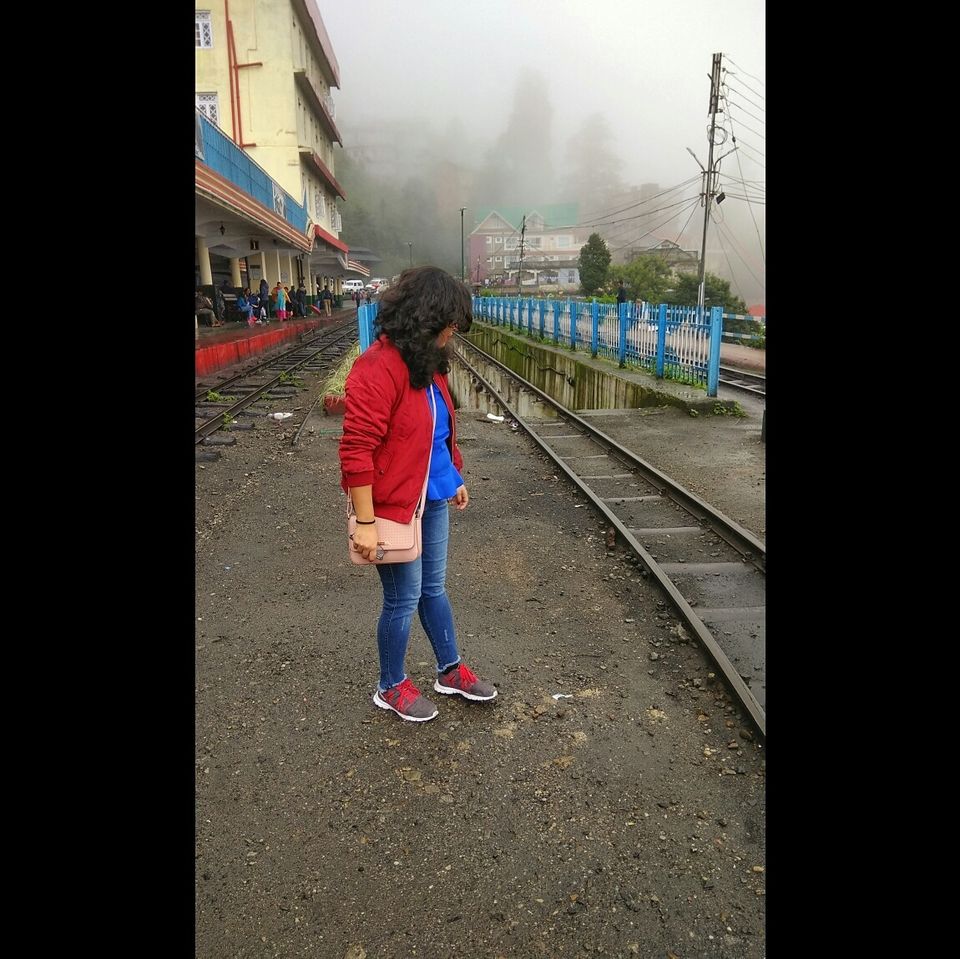 Note: We wanted to opt for a rope way ride over the Tea Estate but unfortunately the service was under maintenance. Therefore, it is advised to the travellers to gather information on the availability of the services beforehand.
It was a sight to behold...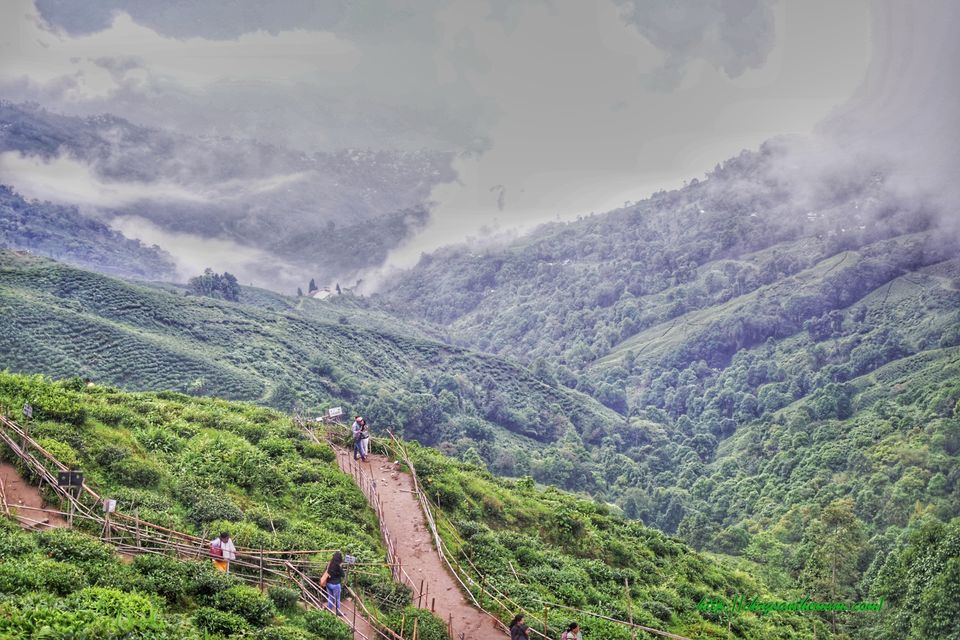 The Bordering areas of Nepal:
Reaching Pashupatinagar Market (which is a bordering area of India and Nepal) takes almost 2-3 hours from Darjeeling, the road is beautiful and mesmerising in its own way. To enter into the Pashupatinagar market one has to show its identity proof in the check post. For Indian Nationals it is very easy to get a permission on the basis of Adhaar or Pan card or Voter Id. This market is the gateway to Nepal and takes us straight to the heart of this beautiful country.
It is very easy for one to figure out how to enter and what to look or shop for once you enter the market place, hence I am not going into the details of these. What I want to talk about is my experience in a Nepali restaurant/lodge.
We were hungry, some of us also had natures call as we had a kid amongst us. We walked for few minutes and reached to this restaurant called Omega (as referred by a local lady in the market). There was absolutely no one except for the family members watching T.V. We reached and we wondered what can we order here, but to our much surprise the family mad us the most memorable meal of our whole journey.
We planned for a short trip with an itinerary for 3 nights and 4 days. Since June was one of the most popular months among the travellers our last minuet travel planning did not help us at all in terms of the hotel. We had to compromise on the price as well as the quality of the hotel and booked an average kind of hotel near mall road. Although, the staff of the hotel were very helpful and courteous to us. So, there are few lessons learnt and experiences gathered. But sometimes something planned may turn out to be boring and an unplanned journey can be fun. This is exactly what we experienced on our journey.
I always finalise a place on the basis of a rule that I follow, the place has to offer something unique. I need to develop a strong urge and interest to experience this uniqueness of the particular place. This excites me and makes me want to travel to the desired destination. In case of Darjeeling too I had a few of such things that made me curious to visit this Himalayan hill station. The Toy train Ride, The beautiful Tea Estates on the hill sides and the Iconic Glenary's to name as such.
Itinerary:
Day 1: 11th June/ reached Darjeeling at Night and had dinner in Glenary's.
Day2: 12th June/ went for Toy train ride and Shopping in the evening.
Day 3: 13th June/ Cover the major points such as Tiger hill, Zoo, Tea estate and Tenzing Rock.
Day 4: 14th/ we left Darjeeling and reached Pashupati Boarder (Indo-Nepal Border) explored the market and lunch at the authentic Nepali restaurant cum lodge cum homestay.
The very first thing we did while reaching Darjeeling was we eat Momo's. It was getting really late and we could not stop ourselves and craved for food. It was a strong craving, may be because we knew that we are in a paradise of Tibetan food cuisines. We stopped at a little shop by the roadside and ordered for Momo's. It was a little wooden hut converted into a shop and a restaurant that offered limited items. The momo's were of course amazing, but the interesting thing to notice was the kitchen and its view. The kitchen overlooked a massive waterfall flowing continuously.
Our tummy was full but the heart said more. Still we had to say stop and goodbye to the lovely girl who made us some really delicious food. By the time we reached our Hotel it was dark and the city was all busy and filled with visitors.
We reached our hotel that was located at a high hill side and it gave us a major fitness goal as we struggled to climb up the hill roads. However, as soon as we went to the terrace for a city's night view we felt no pain. It was our first day, the journey was exhausting, but we still had things planned, I never wanted to waste a second and rush to the place I was excited to see. We all decided over having our dinner outside and I suggested the place to be the iconic Glenary's. I came to know about this place through a vlog made by Scherezade Shroff on Darjeeling, from that moment it was all over my mind. We came down from our hotel and looked for our destination. It was a few minutes walk from our hotel and easy to locate in mall road.
This Iconic place is an institution in Darjeeling. A Restaurant, Bakery and Pub that is centuries old. The beautiful ambience and amazing live music makes this place unique in every sense. The interiors of the restaurant is so beautiful that it looks like a picture from the Victorian era. It has a legacy of centuries, but has a modern and chic look without loosing its heritage essence. This place is located in the very centre of mall road and is a landmark of Darjeeling existing from the British colonial days. Since 1935 this place is serving some of the most amazing food stuff starting from Bakery goods to awesome meals and exquisite drinks.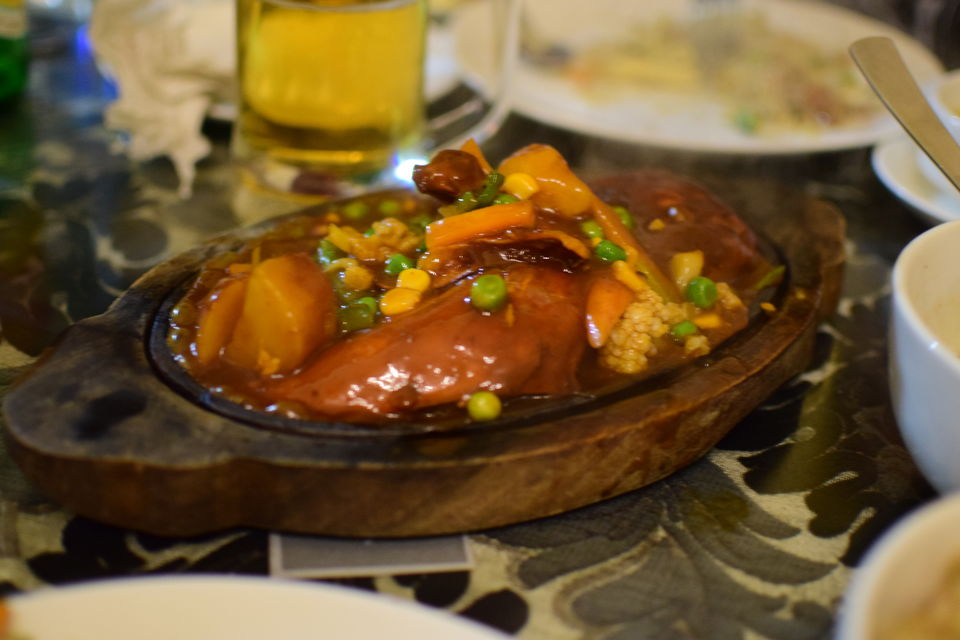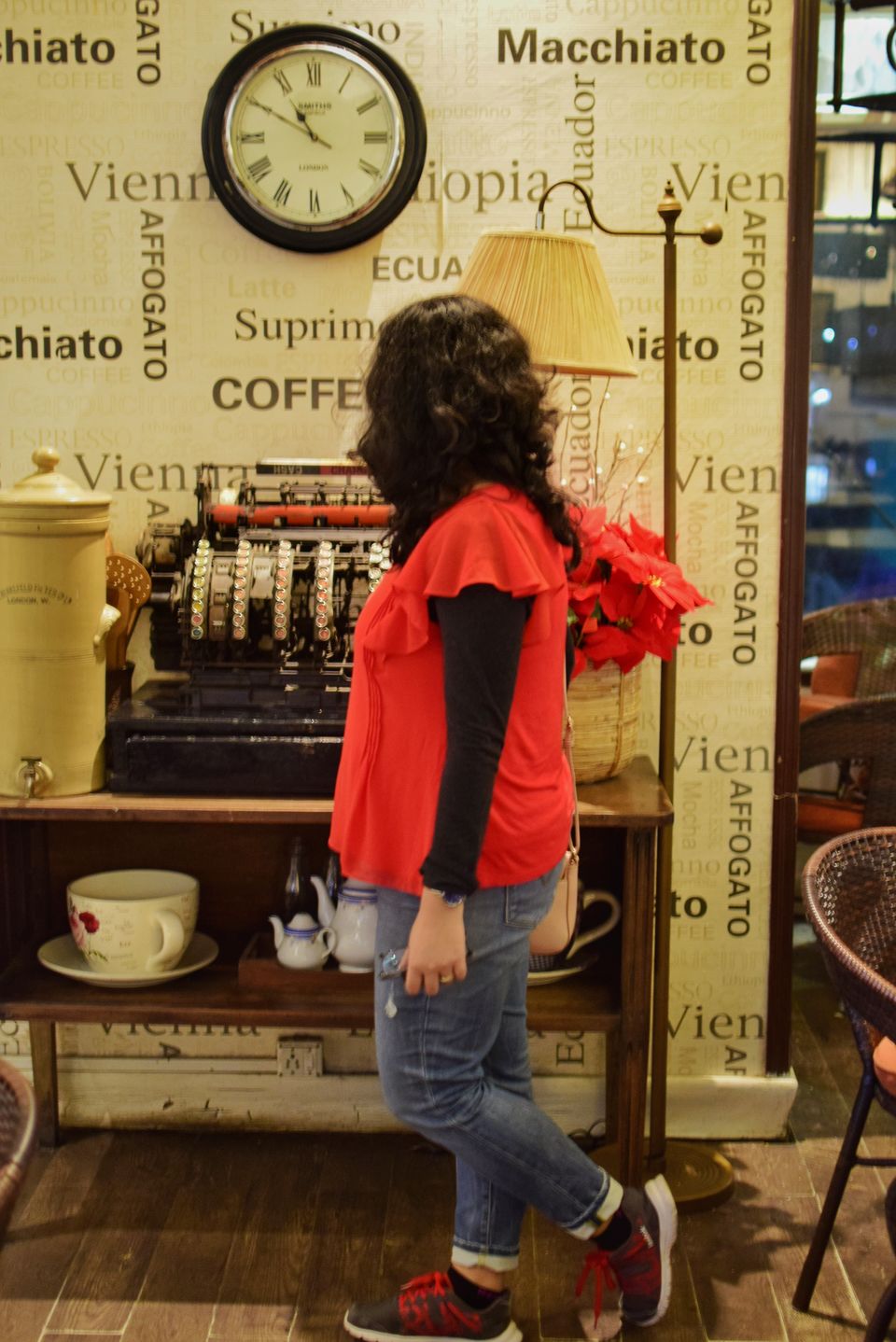 We ended our day one with some good food and a glass of wine. As we walked through the mall road and proceeded towards the hotel it was almost 11 pm. at night and the market was all rapped up for the day. Meanwhile, a cold breeze touched us, as if saying welcome to Darjeeling.
Most of us couldn't sleep well that night out of the excitement, as we were about to explore Darjeeling the next day. It rained the whole night and it was amazing listing to the sound of rain and feeling the cold breeze in our cozy wooden rooms. Although, we couldn't sleep at night we woke up early in the morning to such a view that made us awe.
The Mighty Toy Train ride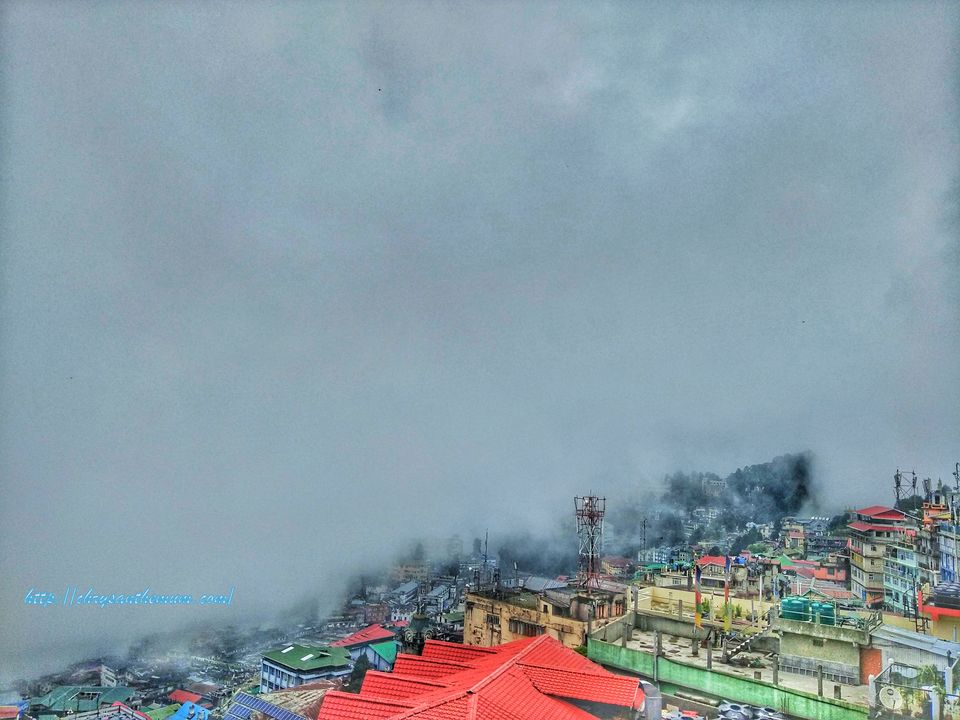 The Darjeeling Himalayan Railway also known as DHR or Toy Train is a narrow-gauge railway based on zigzag and loop-line technology. It is India's highest railway station (From Darjeeling to Ghoom) that runs for tourism purpose. In 1999 the UNESCO declared DHR as a World heritage site.
Our ride ended around at 2:30 pm and we went for a quick lunch at the Chowrasta. The beauty of Darjeeling is in it's weather, it changes every second and makes it more magical. The mall road was a place were everyone comes out and chill the cloudy evenings and little rain showers. To make it more interesting it has some of the famous stores and small market areas that is a shopping hub for everyone.
Straight after the late lunch we went for a therapy. Yes!! we went shopping in the streets of Mall road. With lots of goodies for everyone back at home this shopping paradise is surely a delightful experience. Finally, ended our day gazing at the beautiful city lights at our favourite eatery (Glenary's) sipping the world famous Darjeeling Tea.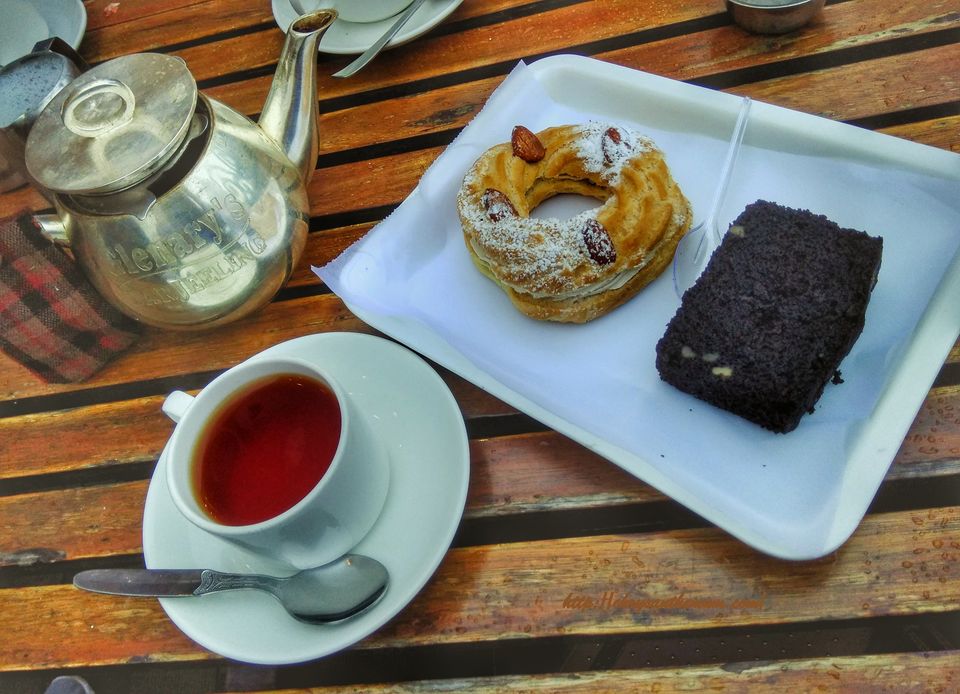 The no sunrise day
The day three was a long day and our tour guide/ driver had planned a lot to cover in a day. But we did made some alterations and did what we liked. As I already said we were on holiday not in marathon.
Although, it was not a time to visit Tiger hill we still went ahead to experience the nature. We loved the ride and the scenic beauty on the way to Tiger hill but the the point was a bit disappointment to us. It was cloudy and on the top of it was under construction. Anyway, we decided to stop by the dark wood while our way back from the Tiger Hills. Trust me the road itself is much prettier then the view point. I am sure on a clear day this point must be a sight to behold with Kanchenjunga at the background as claimed.
Note: October is one of the best seasons to witness the sunrise and the mighty Kanchenjunga.
This was a surprise for me as I have never been to zoo before. The Padmaja Naidu Himalayan Zoological park was indeed an amazing experience. The location and the views along with the variety of beautiful animals makes it more attractive. The Park was very clean and had some most amazing panoramic views of the hills.
As soon as we finished looking around the Zoo, we went for the next destination to explore. We cancelled few of our spot visits and decided to visit the beautiful tea gardens and proceeded to the Happy Valley Tea Estate.
We were spellbound by the beauty of this place. It looked like a painting to me as I went through the narrow muddy way down close to the bushes. Words fail to describe and my lenses does not do justice to this view. I murmured to my self this was the second best thing that inspired me to visit Darjeeling and I am happy I did.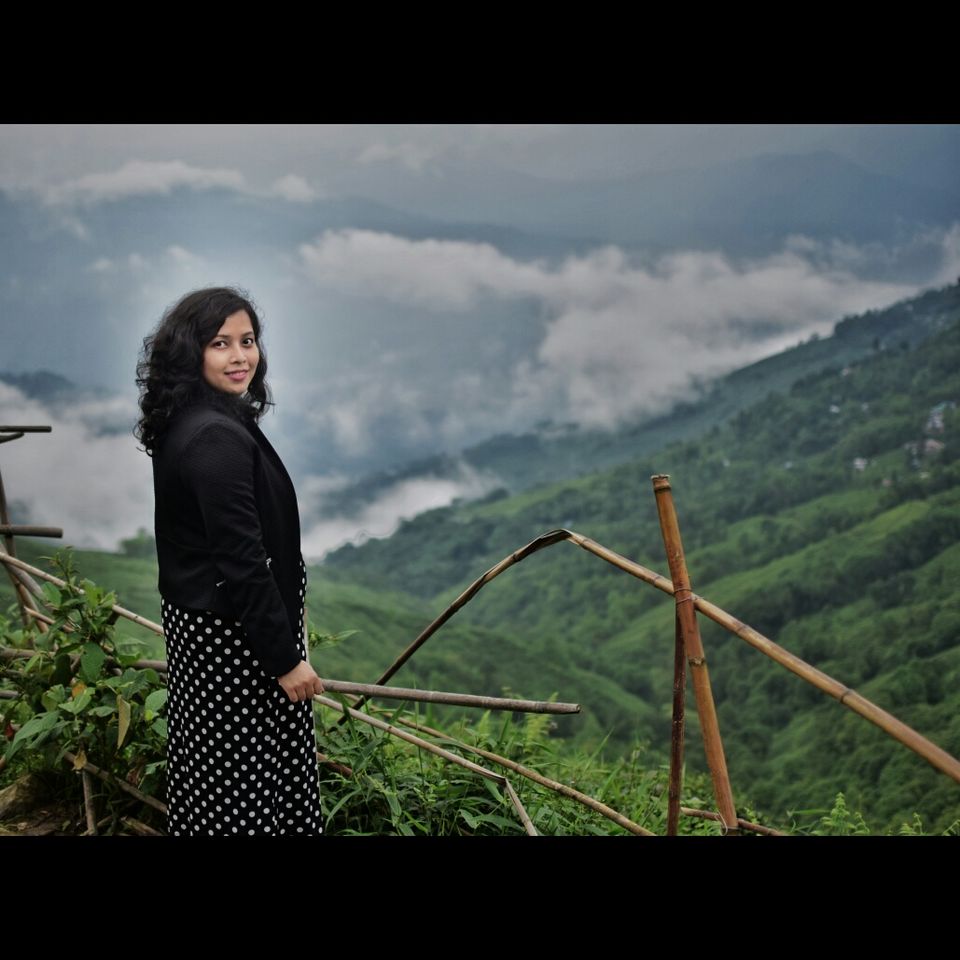 A cup of tea overlooking this breathtaking sight was absolutely must and that's what we did at the end of the day.
While we were on our way back we also stopped for a adventurous sport activity at the Tenzing Rock. The boys gave it a successful try and we girls preferred cheering them up. With this fun sport we ended our day trip and went back to our hotel rooms.
Since, it was our last night we all decided lets make it memorable and have our meal at our favourite Glenary's. This place Charmed us in such a way that we had to say goodbye to this place one last time. With that lovely Music and a Continental dinner we said adieu to Glenary's.
Goodbye Darjeeling:
It was the last day in Darjeeling. We created some wonderful memories during these days and witnessed some of the most beautiful creations of nature. It was time for us to say goodbye to the queen of hills and head towards the last spot of our Trip. It was a cloudy day and we had to pick between Mirik and Pashupati Boarder. Both are equally beautiful places but we were interested to see the bordering areas of Nepal. Therefore, we went with the second option and headed towards Pashupati. The road towards Pashupati had amazing views with lush green pine trees in line and zig zag roads.
While on our way we stopped at the beautiful place called Simana to get a glimpses of the Nepal Boarder. The deep green pine trees and cloud capped mountains created the most magical view to behold in this place.
Within minutes they made us a variety of food stuffs. Momo's and Thukpas along with a beautifully prepared home style thali was everything we could wished for. We could literally feel the taste of the fresh vegetables and authentic style cooking. Surrounded by beautiful pine and hilly roadways a tiny little place gave us the warmth and love that helped us in winding up our journey on a happy note.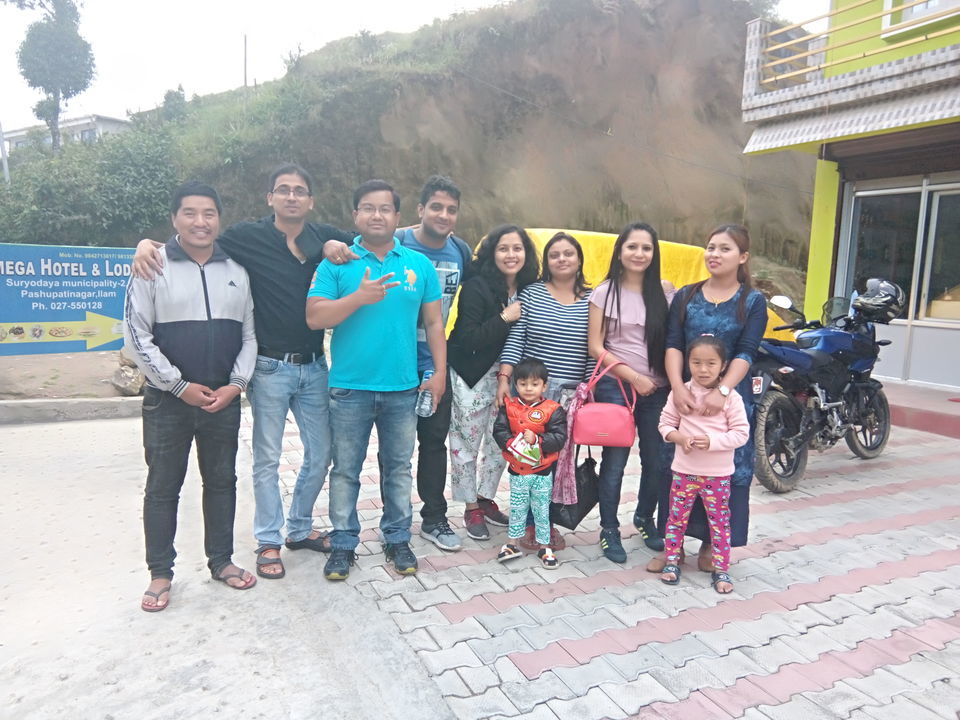 We left the place with a smile on our face and happiness in our heart and moved towards NJP station for our return.
It was overall a very lovely experience. Quite different from what we normally experience or thought of experiencing. We had some twist and took an unconventional way of exploring this place rather than following the same old itinerary. We did created many beautiful memories and spent some quality time in search of peace and happiness.
Some Tips:
When to visit
October to March is considered as the most preferred months to visit Darjeeling. As October brings in the cold winter and ends the monsoon. This time of the year makes Darjeeling ideal for visitors to get clear view of the Sunrise and experience the super cold winters with a temperature varying from 10 degrees to 0 degrees.
April to June is relatively warmer, however, these months also seems to crowded as the weather remains pleasant.
July to September is a monsoon season. The monsoon season must be avoided as the heavy rainfall can make the place difficult to reach.
How to reach
By Road: From Kolkata and Siliguri private bus services both luxury and standered can be easily available. One can also opt for private Taxis.
By Train: One of the cheapest and convenient mode of travelling to Darjeeling was New Jalpaiguri Station is the closest station to reach Darjeeling. There are several trains available now a days.
By Air: Bagdogra is the nearest airport. To reach Darjeeling one has to go by air to Bagdogra airport and from there it takes a Three to Three and a half our drive to reach Darjeeling.
Some Pros and Cons:
Cons
a) Too commercial and sometimes gets overcrowded.
b) The man-made sights are over hyped, such as, Batasiya Loop and Rock Garden and Japanese Temple.
c) This City has not a single clean toilet. Even the restaurants has the dirty toilets.
Pros
a) The weather is amazing, it changes every second. From clear sky to cloudy surroundings and drizzling rain. It is definitely one of the most romantic places.
b) The best place to enjoy Tibetan cuisines.
c) Has an abundance of beautiful flowers at every nook and corner.
Darjeeling is definitely a place worth visiting, with magnificent Tea gardens and amazing views of Himalayas, It takes only a glimpse to make someone fall in love with this beautiful hill station. Visit Darjeeling and find your inner peace and rejuvenate yourself. So what are you waiting for Pack your bags and visit Darjeeling. Hope you enjoyed going through my journey and thanks for reading.
Love
Jinty...
Frequent searches leading to this page:-
darjeeling 5 star hotels, darjeeling 5 star resorts, darjeeling 5 point tour, darjeeling 5 days package, darjeeling 5 days itinerary