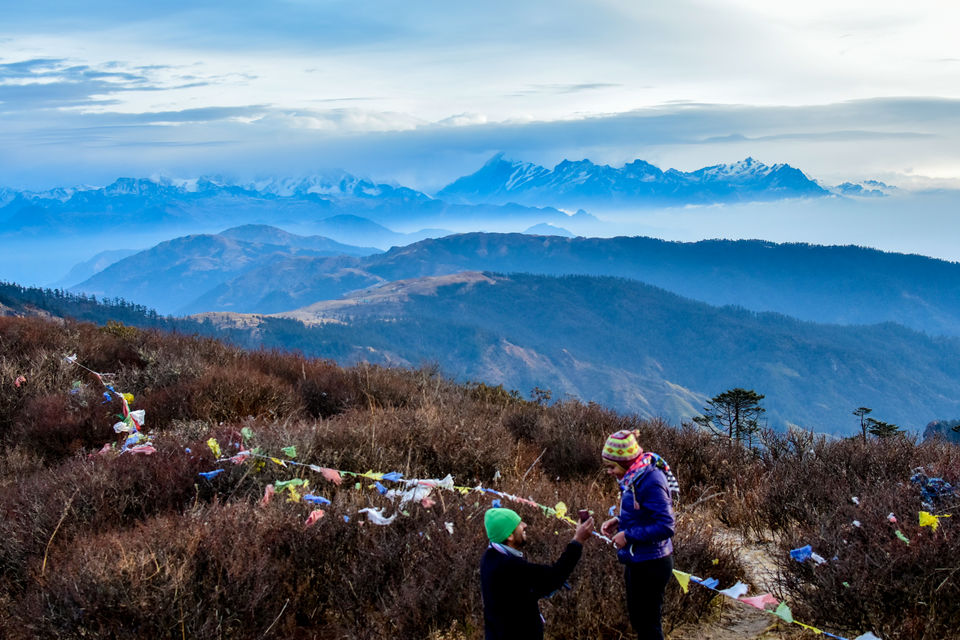 I knew this trip will be an epic one but didn't know it will become a trip of a lifetime and that I will be sharing this story to everyone.
My heart was pumping and I was jumping, wanted to tell the world about this but nobody was around.
Sandakphu Trek (Highest Altitude: 11,950 ft. ) was in my list from the time Hemant told me about his solo experience. Photos of "Sleeping Buddha" was calling me to feel the experience. The magical view of Everest clicked from Sandakphu made me curious that if it's really true. I still remember Hemant explaining how he felt when he saw Everest from the big range of mountains visible from the peak.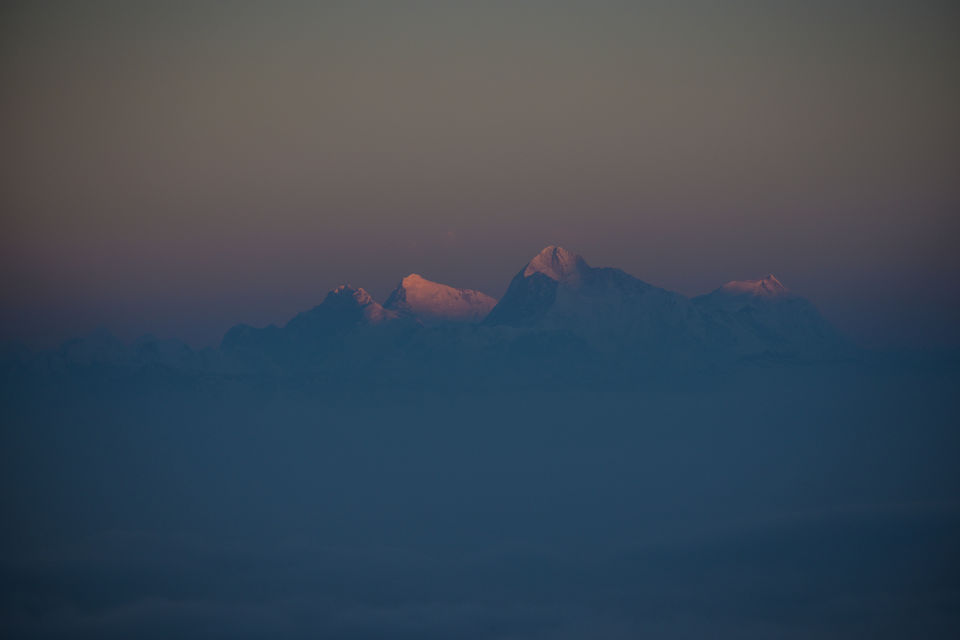 I was very excited for the trip but did not have much time to do any shopping or other preparations. But, as Hemant was travelling with me I was less worried. One fine day we booked all our fight and train tickets, yes "all" we were not only planning Sandkphu but another dream place "Sunderbans". Packing was half an hour job thanks to my blog: Things to Carry for Himalayan Trek :P
First part was to reach Manebhanjan - start point of the trek. Approx. 100 KMs and about 4 hours from both NJP and Bagdogra and 1hr 15 minutes from Darjeeling by jeep/taxi
Bangalore- (flight) - Kolkata-- Bus from Espland -- Siliguri- (Shared Jeep) -- Manebhanjan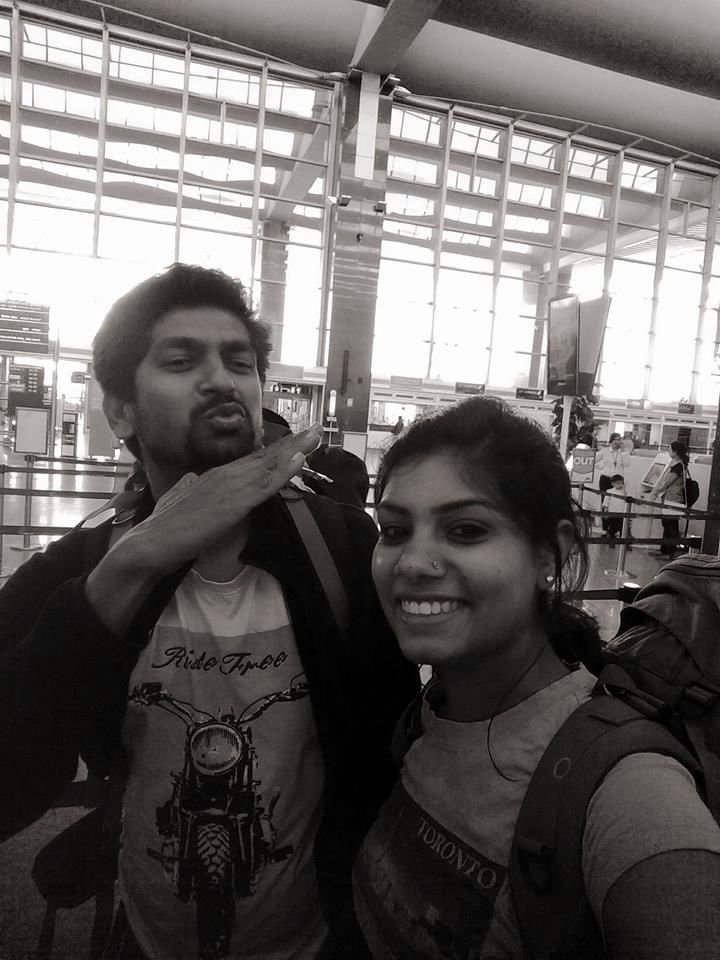 The journey to Manebhanjan from Bangalore was like eating a cheese cake. Smooth, filled with excitement and craving for more. I guess everyone around me was able to read my happiness. Kolkata is one of the special place for Hemant and I could totally feel the excitement and joy from his eyes. We got a warm welcome to Siliguri special thanks to Sumit and Monika. In so less time we shared college memories, roamed, tries delicious snacks and did a round of shopping at local market - the best host :)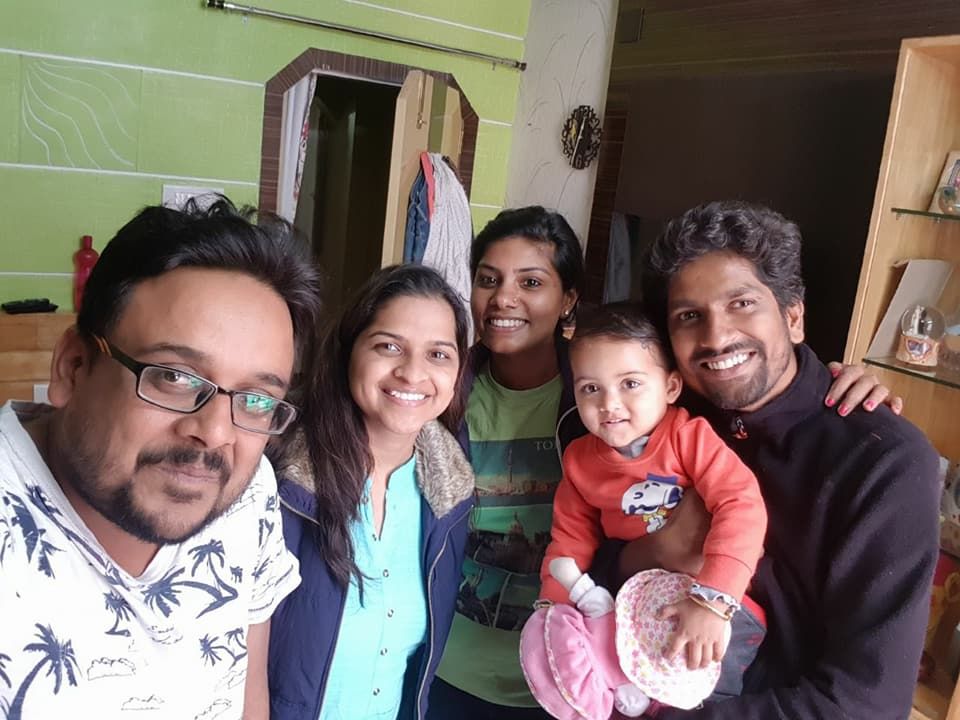 When the cold breeze touched my ears and roads started to get narrow my eyes were alert to see the place which I earlier saw from Hemant's eyes. We chose to stay to the same place he stayed before and why not the people and hospitality are the another reason to visit the same place again and again. We had a hot supper and he decided to show me few places around. The Shiva temple, Nepal border board :P , office of trekking department and the evergreen British made Land Rovers. These old beasts still travel these dangerous roads in grand style. The British tea planters originally brought them to travel through the rugged terrain to different tea estates.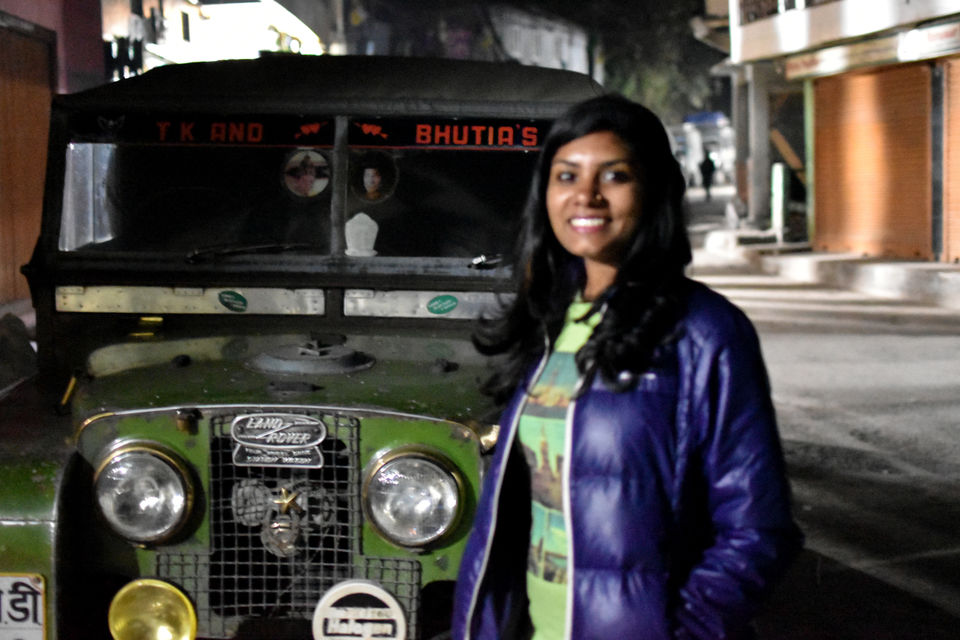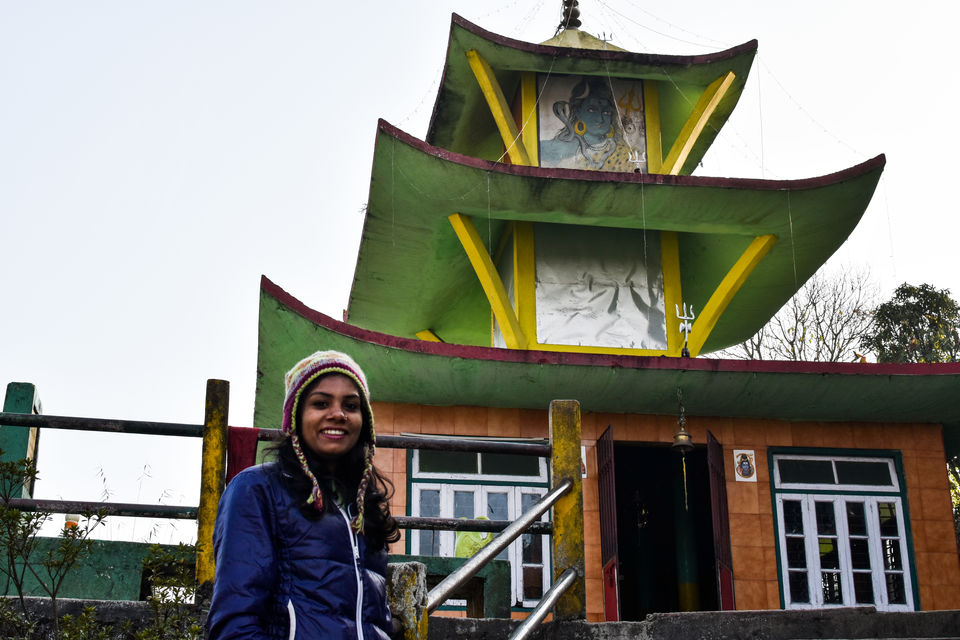 We were lucky to have Prakash bhai as our guide. A person who is humble, well aware of the places around and a person who genuinely loves mountains.
I was "All-Set", wore my comfortable trekking clothes, shoes, cap, hand covered by sleeves, reflectors and the 10 KG backpack. We hit the road and was ready to get the high.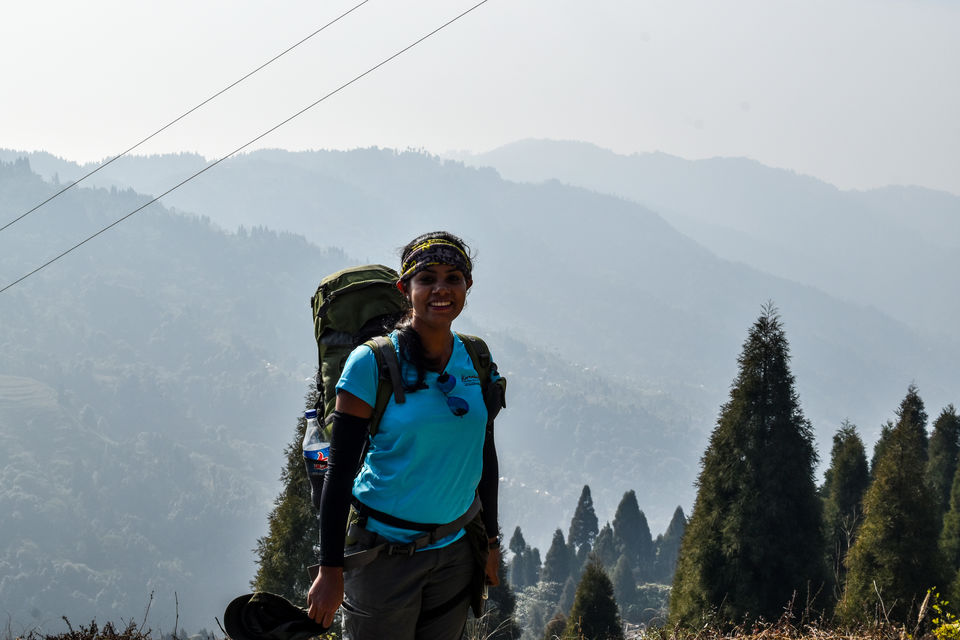 The climate, the view was beautiful and I knew more is yet to come. We took our first halt at Jaubhari which was after Tumling covering almost 17 KMs hike from Manebhanjang. Jaubhari greeted us by beautiful sunset and the view from the home-stay was awestruck. The place was like someone's dream. Wide open grassland, big mountain range and the view of Mt. Kumbhakaran. Ah! Blessed to see the view. Wanted to engulf the simplicity and incomparable natural beauty. Was once looking at my right and clicking the mountains, and then to the left to see the beautiful mountain range. Beautiful scene to see birds returning to their home after long day of hunt, sun bidding good-bye, the simple and beautiful houses, din't wanted to lose any sight, any view. The call for Tea broke the flow and started to feel the cold. I covered by ears and ran to my room to put on my thermals and one more layer of jacket.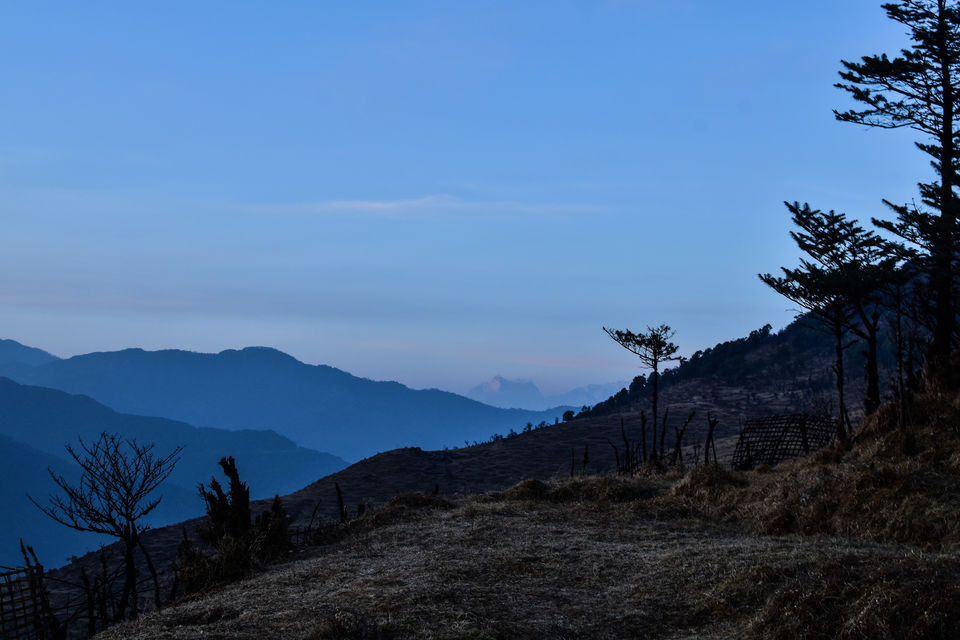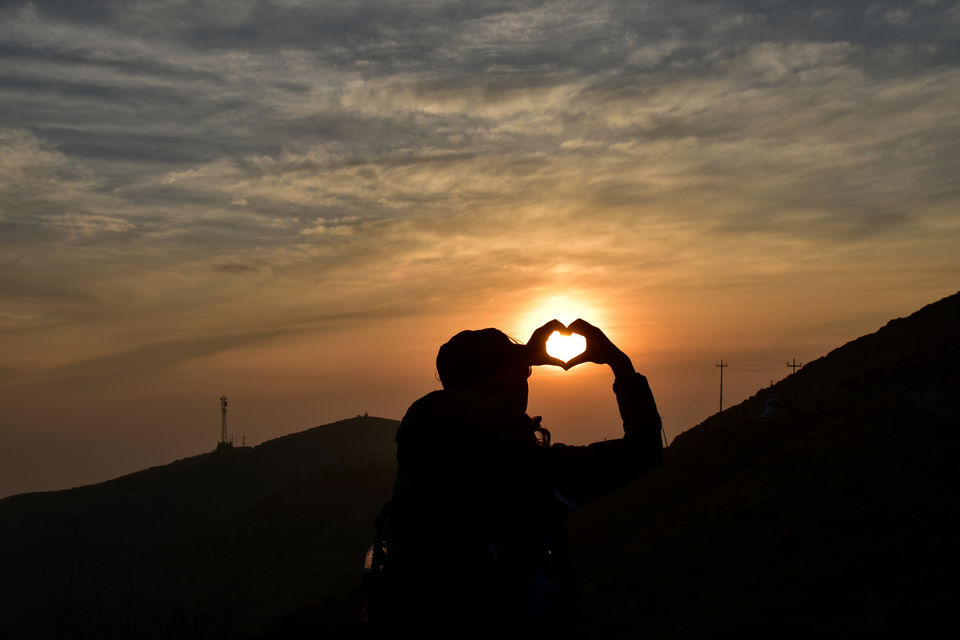 Though I am a lazy person but who wants to miss the sunrise from this beautiful place. After the wait of 15-20 mins it blessed us with the view we were craving for. I was again like a pendulum looking at my left to see the giant Kanchenjunga and to the right welcoming the Sun - enjoying the soft, warm Sun rays. It was a good start and in some corner of my heart I knew the journey forward is going more amazing.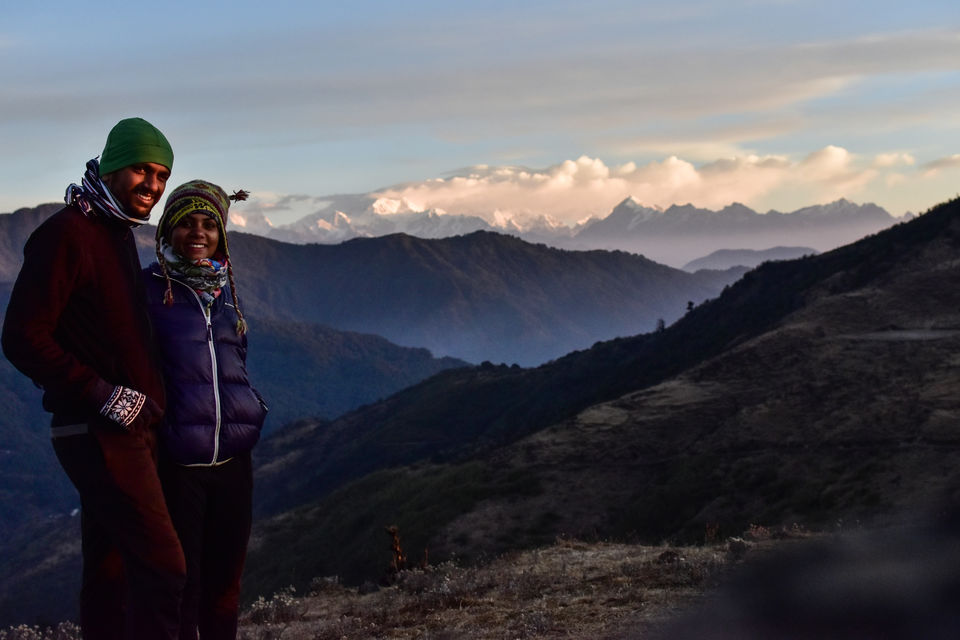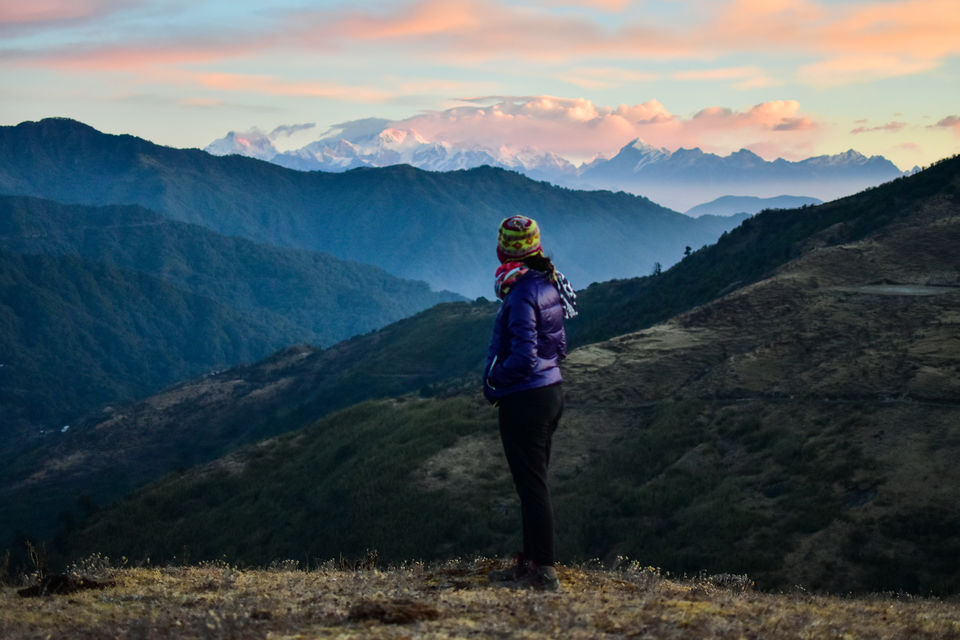 I know Hemant from 9+ years but it is still difficult to predict him. While we were waiting in Espland (Kolkata) to catch the bus to Siliguri I accidentally saw the cute little rectangular small box in his bag written "Tanishq". It was kept causally in the top cap-section of the big Rucksack. My heart rate suddenly took a spike. Many thoughts came into but all seemed impossible. He will never do such things and expecting him to do such thing ..no, no no ..it might be something else or maybe he is.. going to Propose!! Well, after a long deep self-discussion and controlling my emotions I just left the box as it is. This day when our next destination was the highest peak of West Bengal that thought came to me again. I was happy and excited. I was already thinking of all the possibilities that if he is going to propose than it will be where, when, how, what he will say, what I will say and what if he doesn't.. and everything..!!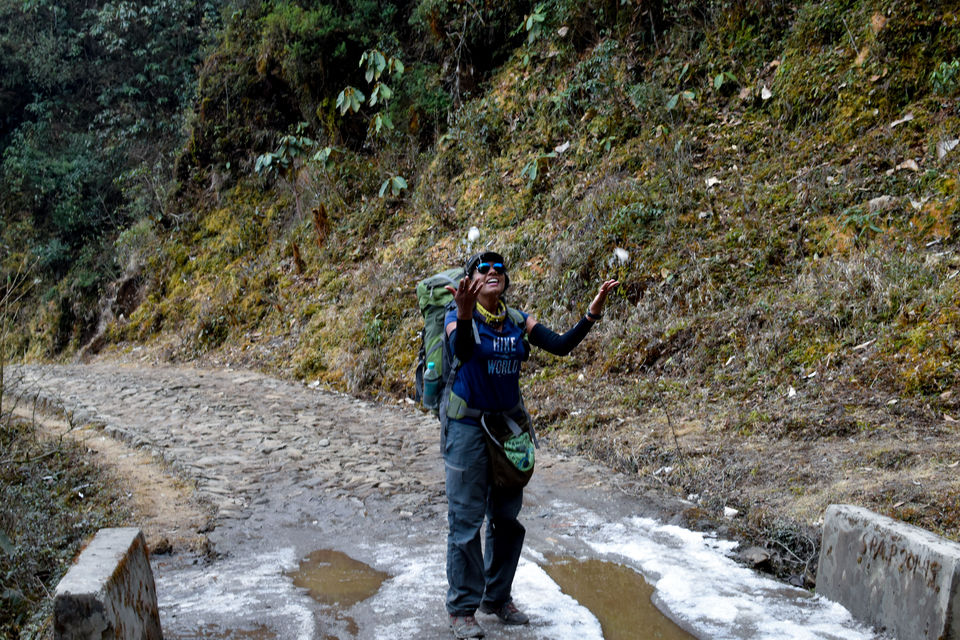 Yet again I was into my trekking uniform and was ready for the target of hiking 21 KMs to reach Sandakphu. I will again say pack you bag wisely guys because you are the one who is going to carry it. This stretch was bit difficult. Hemant was constantly motivating me and ensuring that I keep walking. At some point I felt I was walking but not moving any further, I was that slow. The zombie walk I call it :P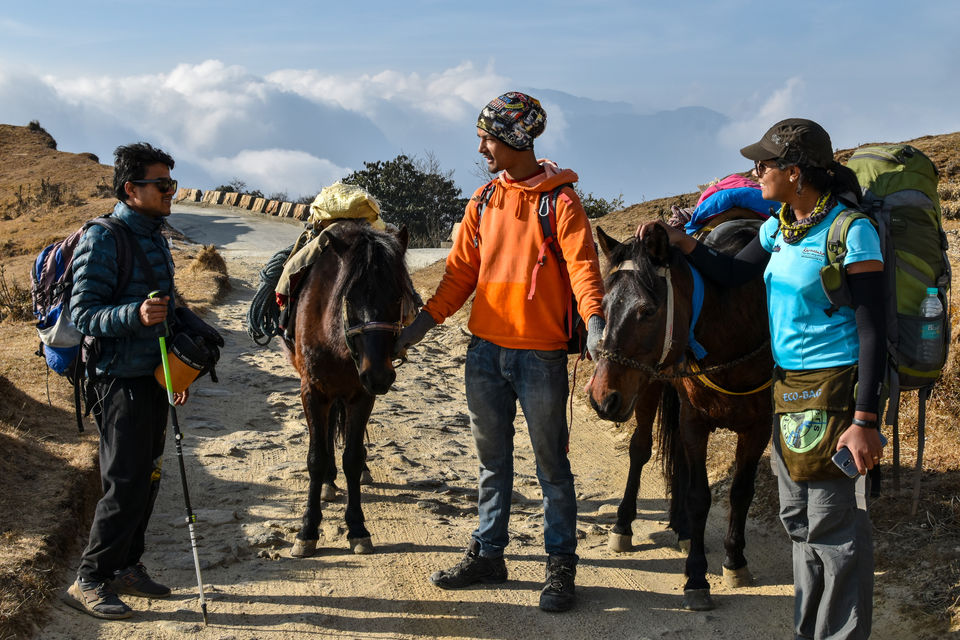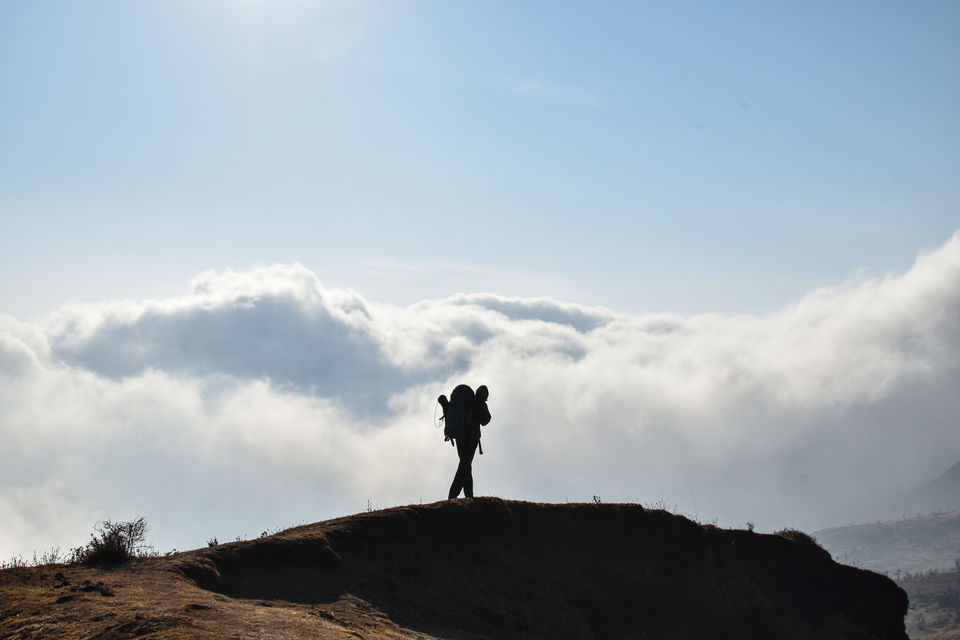 I saw the next halt-point form a far distance. I could see sky painted with dark orange-pink color as if the soft raw egg Sun has melted in the Blue sky. Clicking few pics gave my energy back (yes, posing for camera gives me energy :P) Dragging myself and my 10 KG bag which felt like bag full of rocks we finally reached Sandakphu. It was dark, really dark but we were not at our destination yet. Prakash Bhai guided us the way to the home-stay and suddenly we realized that it's snowing. Oh, the little girl inside me started jumping but the joy was for just for seconds and it disappeared.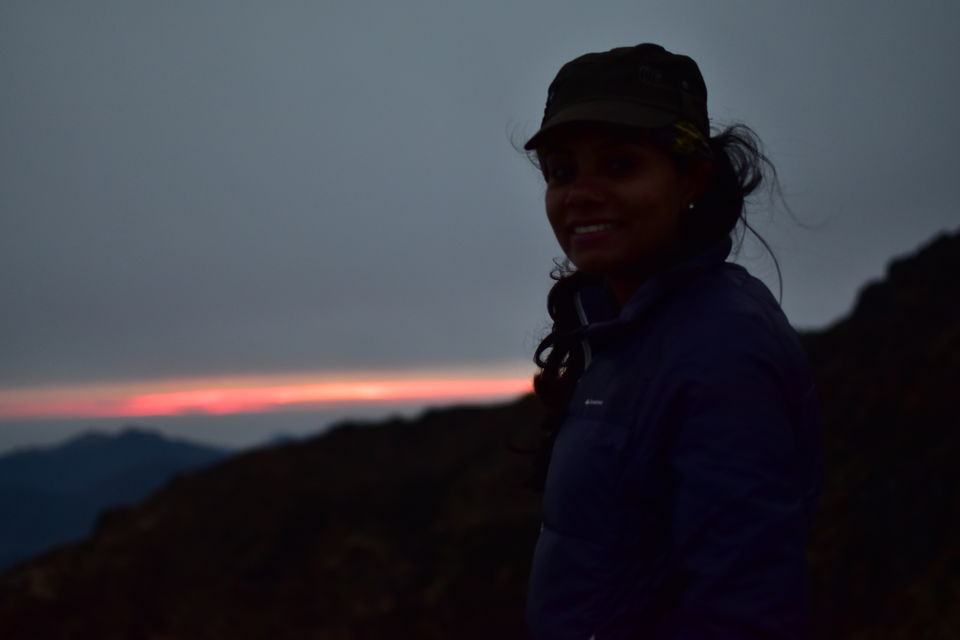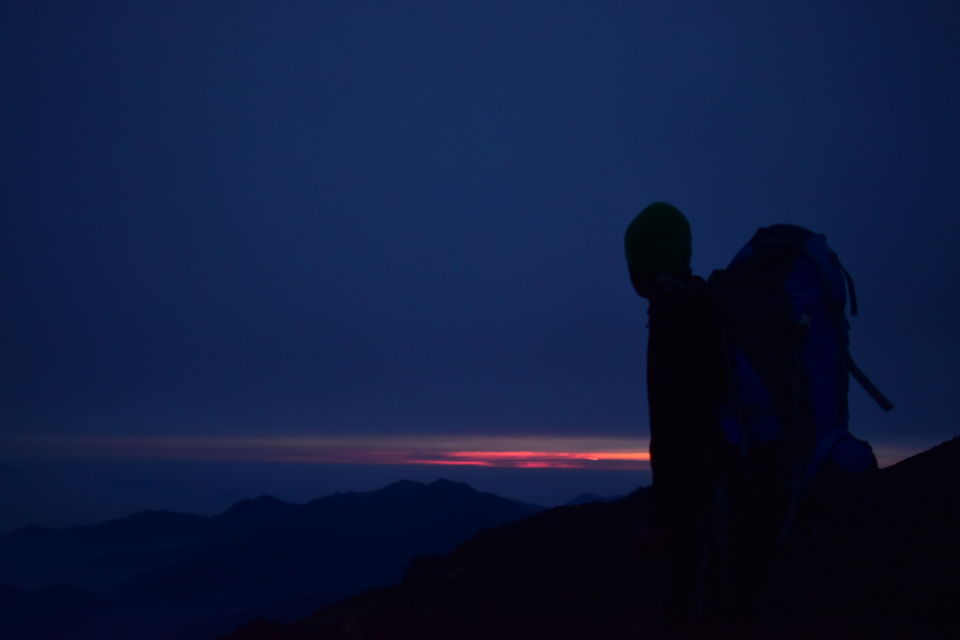 The Dawn of Sandakphu: Woke up with excitement to see 4 of the highest mountains of the world- Mt. Everest, Makalu, Kanchenjunga, and Lhotse. Guide told us the weather was not apt for the view but I dint wanted to just accept it and sleep. What if it was not true and what if weather gets better. Everyone else went back to their cozy beds but we hiked to the view-point. It was cold and we covered us totally from head to toe and we reached the view-point. Yes, sky was not that clear but it was worth coming. When the soft sun-rays fell on those dry-bushy Berry plant it felt like the plant got a new life and the berries where sparkling red with joy. It was the view-point of Sandakphu and I expected many people there but it might be because of the bad weather no one came. We waited for few more minutes with the hope of clear sky and view. Hemant had already set-up his tripod to capture the beautiful morning view. I was busy in taking warmth of sun, my eyes were on the view and was nibbling those red-dry Berries :P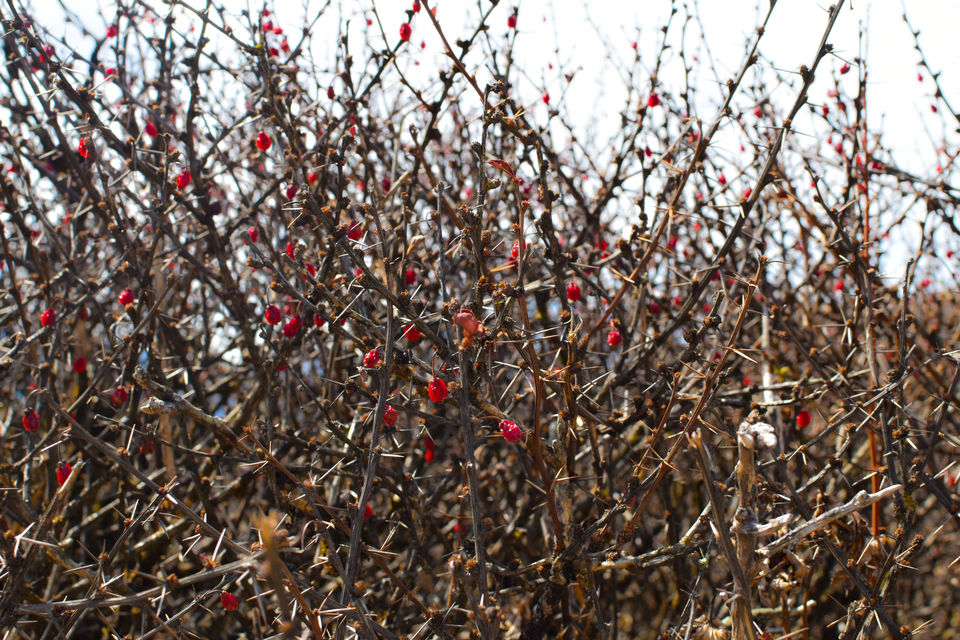 The moment came surrounded by mountains, me and him.. heartbeat was on its highest peak when he kneeled down and asked that question "Will you Marry me?" Oh! It was not less than a dream come true. No, not that it's him but it's him who has done all the preparation and planning!! Wow!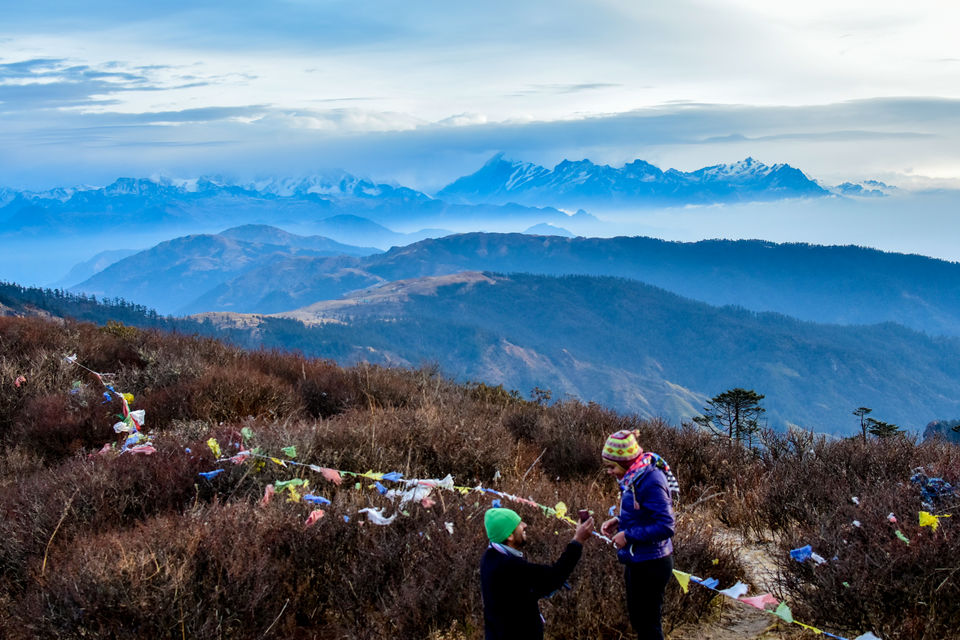 We love each other no doubt but him doing all these made my joy of tears rolled down my cheeks. Holding each other like we did for the first time and those mountains being the witness I said "yes". Whatever he said was not going in my ears, I was in love, I was happy and wanted to tell the world. It was special, everything - the view, the climate, the ring, the moment and of course him. 9 Years flashed before my eyes and I realised how beautiful the my days are with him. How I have grown with him, seen the world and I how I still want be with him and explore more. The cold was not bothering me anymore as I was happy, flaunting my ring and acknowledging that he is romantic and he can give such a big and beautiful surprises :P . I was smiling as if hanger stuck into my mouth. We came back to our home-stay and whoever I met I started showing my precious ring and the story of my proposal. Yes, I had really no clue even after seeing the ring-box which I saw in Espland (Kolkata), it was a surprise, a big surprise.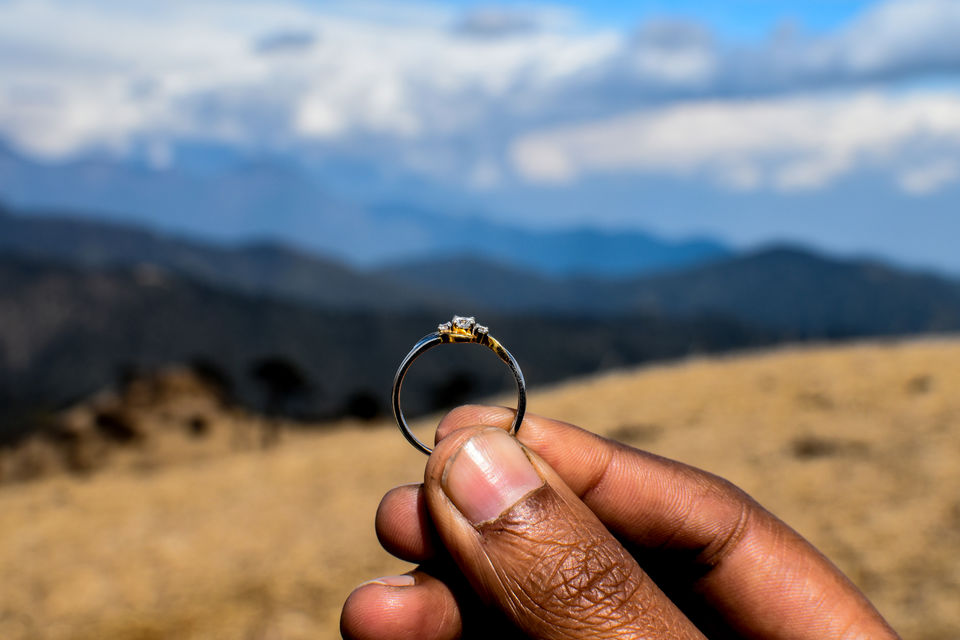 Sandakphu to Phalut was around 27 KMs covering Sabargram and Gorkhey. But did I really care!! I was very happy, take me anywhere and I will follow. More than looking towards the trail, beautiful view, my eyes stuck to my beautiful ring.
Phalut was the coldest place not because I felt it but because I saw it. When I went to freshen up I saw the bucket was full not with water but a thick layer of Ice.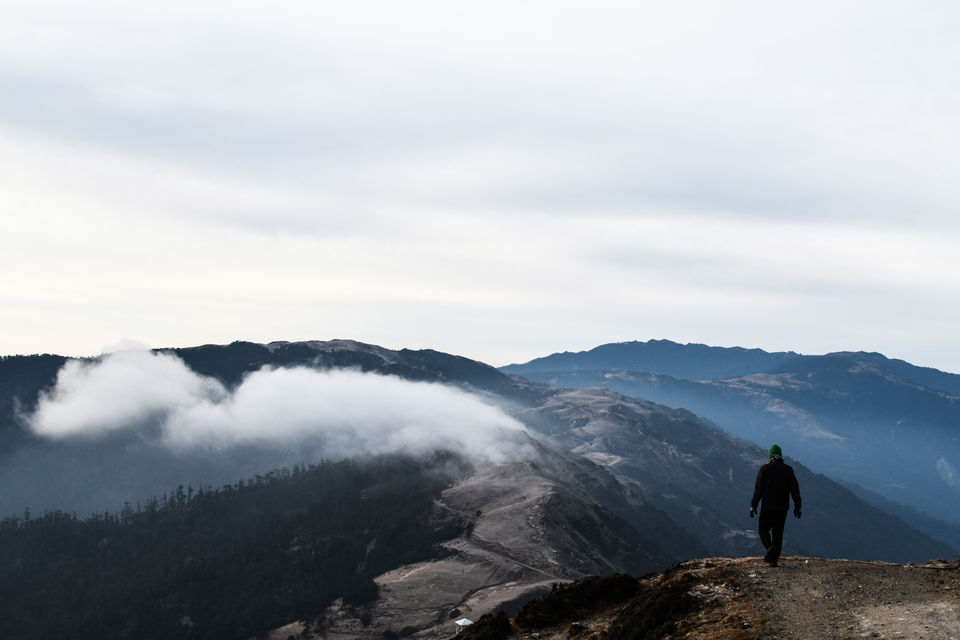 Next morning, we all hiked to the view-point to witness the magic but bad luck again it was cloudy. Waiting in the cold breeze was not that easy still we waited for 30 min. and started our journey back. But, just when we started to go down the clouds started to clear and the range was in front of us. I'm not that good with words but believe me it was a beautiful sight like, looking at mighty God himself. We took selfie, solo pics, group pics, jumping pics, videos.. I dint want to come back from there. I have not yet seen Everest and I guess everyone is not lucky to see it. We started descending again. But I was lucky, I just got proposed on the highest peak of West Bengal and Kunchenjunga being the witness I am sure I will be lucky. And I saw it, I went back again to the view-point and saw it. Wanted to stay there or bring that beauty back with me but it was not possible so I left a piece of my heart there and brought lots of memories with me.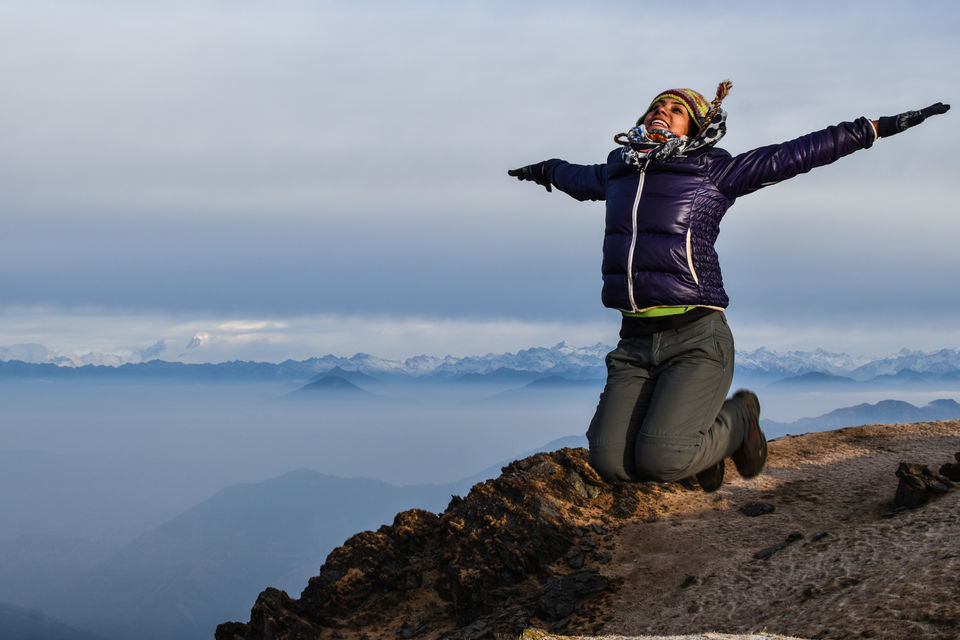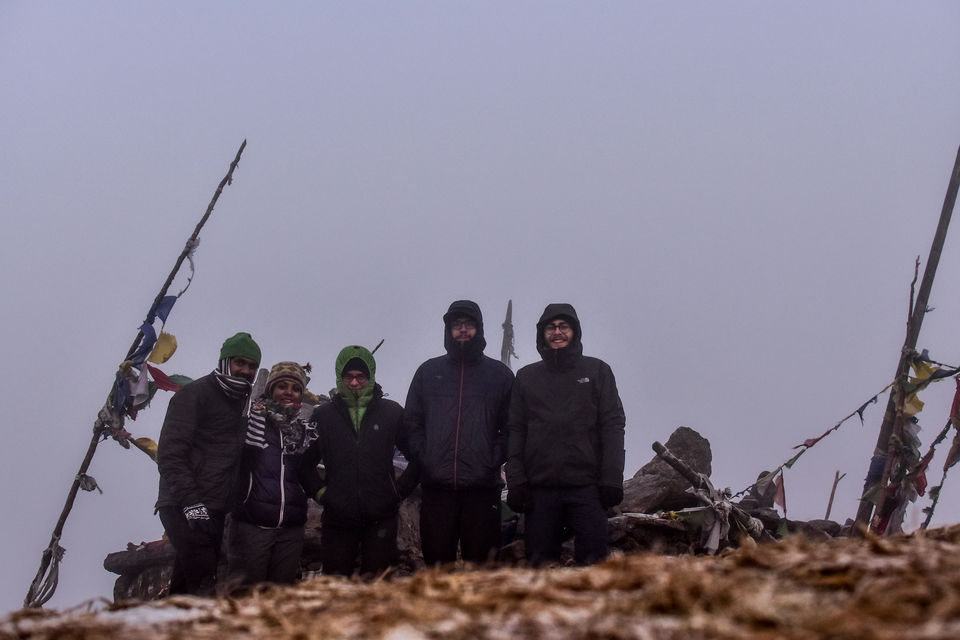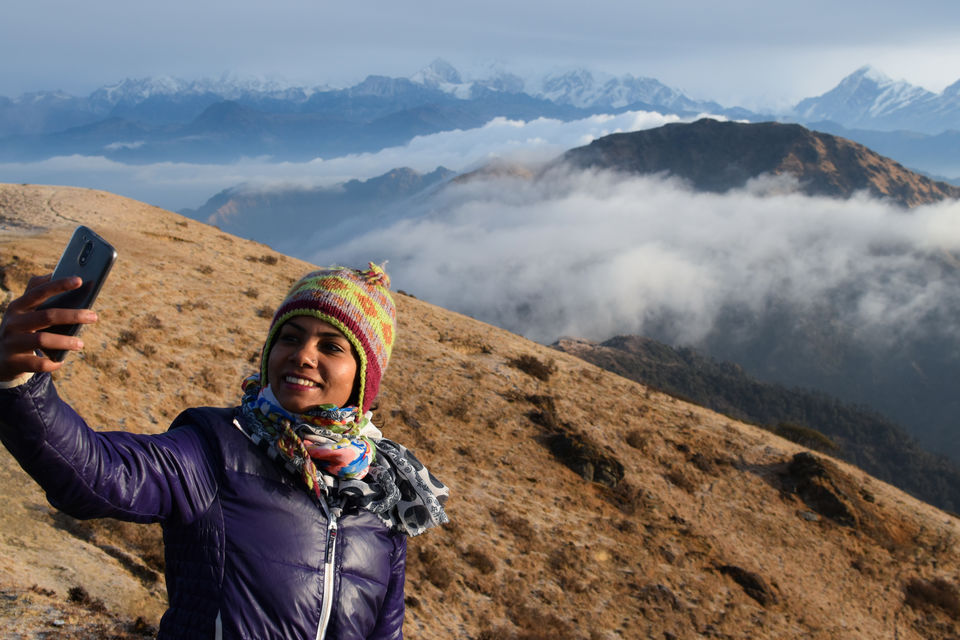 The descend was long from straight Phalut to Sirikhola the same day covering about 27 KMs. We were literally running the down slope. But again do I care!! ..No!!
I was happy and wanted to tell the world.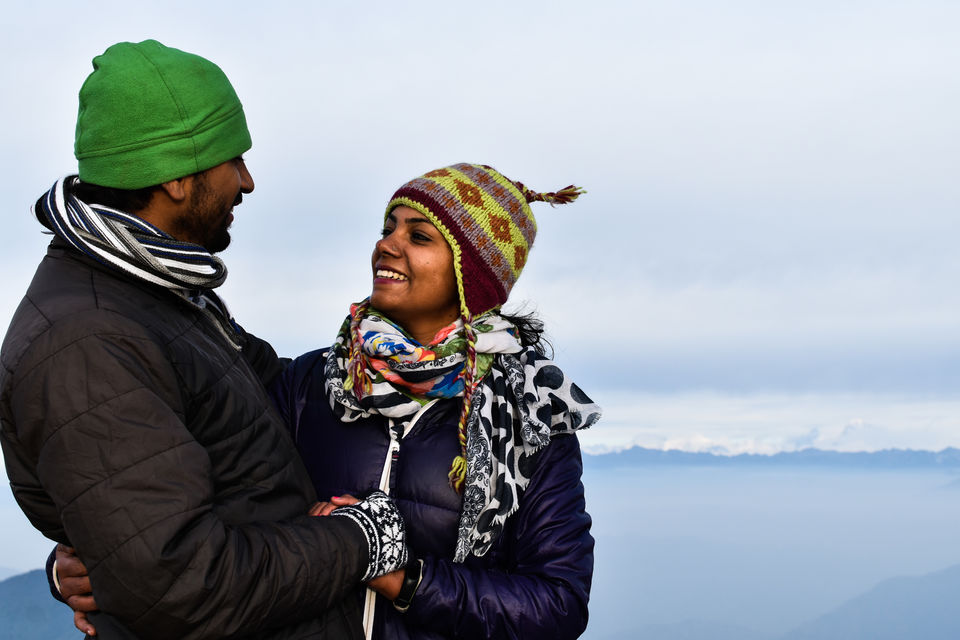 Wish us happiness.
Read Hemant's side of the Story:
This Is How I Planned My Question - A Tribute to Our Love and The View