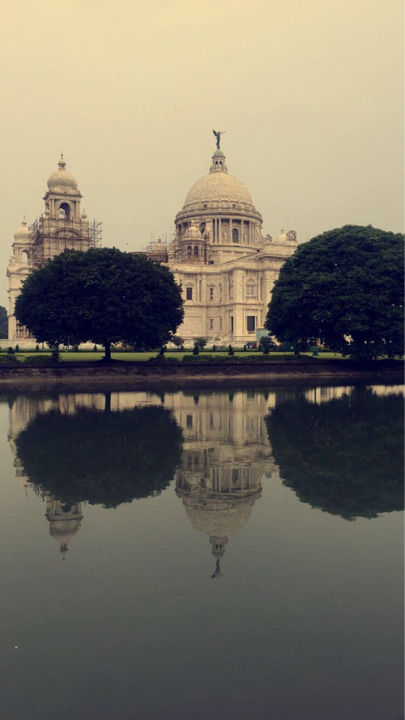 Never ever planned a trip to Kolkata? Or not really interested to revisit this city again ?
I was in the similar dilemma a couple of months ago, until I revisited Kolkata just to realise how amazing this city could get and how beautiful the smallest of thing are.
Flying away from a busy city like Bangalore, one would want peace, beaches, etc. but not another hustle bustle city for a holiday or a pleasure weekend. When I chose Kolkata, one of the main reasons beings my girlfriend who has moved in there. (Thumb rule of travelling - Good company or ready to travel alone).
The first thing one would notice is the olden architectural beauties which is still evidently present, which is such a treat to see in the modern times. Walking into a subway leading to one of India's oldest metro's makes you wonder how this entire system of metro was set up in a busy city of this sort.
Something I really admire is the trams on the main roads, which dates backs to the 90's but the beauty of which lies within, the old fashioned fans, windows, operating systems is admirable. You know you can travel in the cheapest way possible when you're in Kolkata because you have so many options from the rickshaw puller to metro.
'Food', Oh my god! This city has indeed a lot of your favourites to serve with the best of taste and in the most economical way. Just to name a few:- the renown Flurrys, biryani at Arslan, street food outside Vardhan market, the pancakes at Piccadilly square and the famous Sandesh and Mishti doi are surely must try if you've never had these delicacies and lastly to all the non-vegetarians, please don't forget to try the Bengal famous 'Maach' (Fish).
Coming to the tourist attractions, my personal favourite being the mighty Howrah Bridge the beauty of which never fades away just like the beautiful Victoria Memorial. A sight I missed previously was the Prinsep Ghat, which proved to be serene and one would fall in love with this place especially if visited in the early mornings.
Walking through the busy streets of Kolkata, has a completely different experience in the case of street shopping, one would be surely amazed with the kind of stuff available. I literally have no words, shopping here is surely a to-do list. Bars are another thing you wouldn't want to miss as you're taking a holiday not in a hill-station but a metro city, so make the best of the weekend nights, while you're in Kolkata. The city has fantastic pubs, which will you surely give you the vibes you need while partying.
The climate in Kolkata, never fails to amuse you whether in a good or bad way, totally unexpected like Bangalore. You never know when it starts to shower and when it does, these showers can become ever more interesting with an old fashioned matka chai and some street samosas which are absolutely delicious!
Apart from all of these beautiful things, not to miss out on the people of Bengal. They are - yes, unique in their own way, but sometimes it's beautiful to watch people of different lifestyles, who indeed are our brothers and sisters of this culturally diverse nation India.
Lastly, never to forget the famous Kalighat Kaali temple, which is a must visit (exceptions to be made for the crowd) no matter what, to complete your journey with the blessings of the goddess.
In my words- Amazing place, no matter what people have to say, with the end of this holiday, I can surely say Kolkata is one hell of a place!
P.S :- For all those folks who love watching F.R.I.E.N.D.S , Kolkata has a cafe just like Central Perk, a must visit for all of you.