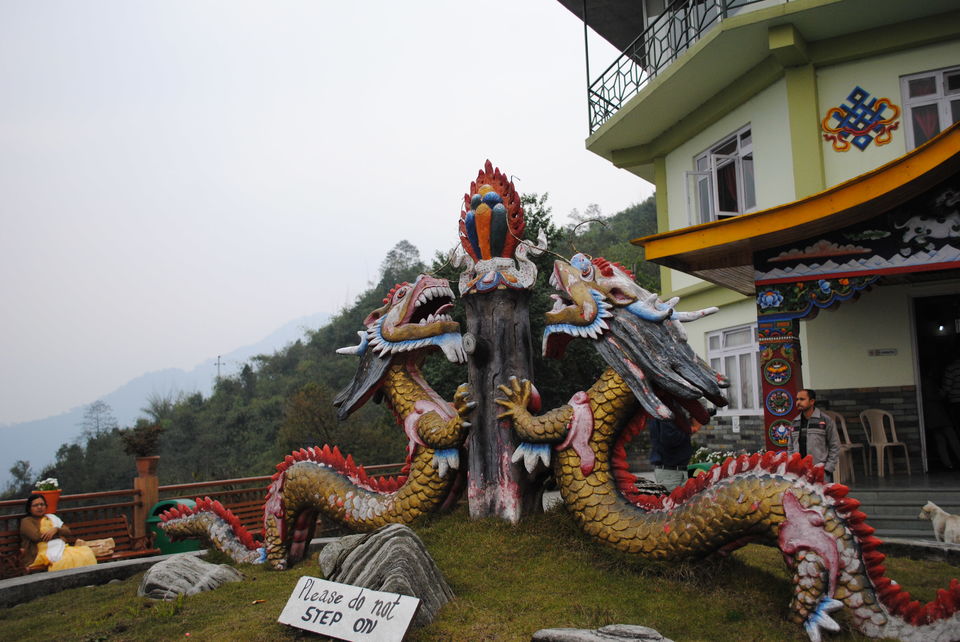 A few days ago, as I was reading 'National Geographic Traveller: India' to plan my next travelling destination, I came across a poem written by ancient Chinese poet Du Fu where he speaks-
I remember the temple, this route I'have travelled before,
I recall the bridge as I cross it again.
It seems the hills and rivers have been waiting,
The flowers and willows are selfless now.
The field is sleek, and vivid, thin mist shines,
On soft land, the sunlight's color shows it's late.
All the traveller's sorrow fades away,
What place is better than this to rest?
Every single line of this naturalistic poem reminded me of India's north-east where I travelled in the month of March. It was the time when the scorching heat of Vidarbha, my native place, made everything troublesome and to skip the vexation, I decided to travel to north-east of India. The journey that began with the goal of physical relaxation ended up in adventures and spiritual awakening. My stay in north-eastern India- Gangtok, Lachung and Darjeeling, with its colorful fabrics, Pagodas, Alpine forests, Rhododendron (Greek name for Rose-tree), clouds, curves of hilly roads, Buddhism and its teachings of peace and compassion became a cordial experience. It not only made me have a deeper insight into the flora, fauna and culture of the place but also helped me realize how tiny we are before the incredible wonders of mother Nature.
I reached Kolkata by taking an afternoon flight from Nagpur. If you ever baffled about India's ethnic diversity, the departure lounge at Kolkata's Subhash Chandra Bose International Airport is one of the best places to set aside the illusions of a monolithic nation. I could observe people of all colors, all religions and culture at the same place. I started off my journey by catching the next flight to Bagdogra and from Bagdogra I hired a taxi to reach Gangtok. The road to Gangtok was ornamented with the scenic beauty of lakes, breathtaking waterfalls, mysterious valleys and sacred monasteries. Accompanied by bright smiling sun and river Tista, I enjoyed the 6 hour-long drive to Gangtok. As I reached Gangtok, I realized why my friends often mention it as 'paradise'. That night I slept with the dreams of adventure in Gangtok after having delicious Momos and local wine made of rice and bamboo. The next day my tour to the capital city of Sikkim began with the famous Rumtek monastery. Rumtek, the oldest and largest monastery of Sikkim, is the epitome of peace, compassion and obedience. After speding some time in meditation and observing the lifestyle of monks, I made hasty visit to some more monasteries as I was running out of time. In each monastery, I learned the importance of discipline and simplicity.
The next morning I started off to Lachung. I could sense the upcoming thrill as I saw the peaks of Kanchendzonga covered with snow and shining brightly. Soon, the weather turned treacherous and it started to snowfall. The whole place was looking like an oil painting. I stopped my taxi to have some coffee and Maggie. Sitting in a small hut-like restaurant, I realized the hardships of the natives travelling everyday to the hills, without any mode of transport, to fill their shops with woolen clothes, shoes, snacks and crafts so that they can make a living. After this short break, I moved forward to Yumthang Valley, known as 'Valley of Flowers'. There was a carpet of tiny pink flowers all over the hills. The snowfall added another feather to its crown and made the surrounding extremely pleasant. I wanted to be there forever. But then I remembered the lines by Robert Frost from the poem 'Stopping by Woods on a Snowy Evening'-
The woods are lovely, dark and deep,
But I have promises to keep,
And miles to go before I sleep,
And miles to go before I sleep.
DSC_5071I, too, had some promises to keep, responsibilities to fulfill and goals to achieve. So, I headed back to my hotel to get some rest and be ready for my next destination.
The next destination, however, was completely different from the previous ones. Darjeeling, the 'British city of India' , makes one feel like the richest person of the world. I stayed in a British House called The Ivanhoe in the room that earlier belonged to Late Mr. Younghusband. I was welcomed by the famous Darjeeling tea. The aroma was not only tempting but it refreshed all my senses in a few minutes. I slept early as I booked a taxi to leave for Tiger Point at 4 a.m. next morning. But my excitement ended up in disappointment as I couldn't see the sunrise over Kanchendzonga because of clouds. The bad light made the scenery look extremely dull. But the very next site filled my mind with eternal happiness. It was the sight of tea gardens. The contrast of pale and dark green leaves over the curves of hills was the most beautiful scene I ever witnessed. The wind was blowing without any restriction, soothing my head with its magical touch. I did not click any photos but rested on the field to capture all the beauty in my eyes forever.
Although I managed to cover only three places from India's north-east, it provided me a clear picture about its culture and beliefs. If Gangtok taught me the philosophy of Buddha, Lachung presented the pleasures of simple-living. On the other hand, Darljeeling made me experience an ephemeral life of luxury. Everything I did, saw and felt in north-east is a treasure that I will always keep with me. I would like to visit the core areas of north-east in my next trip.