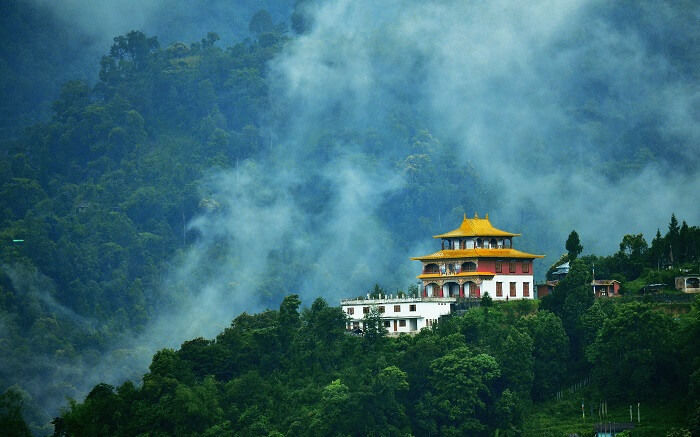 Nestled in the North Eastern part of India, Sikkim is every travellers' delight. It is slowly making its way as a popular destination on the travellers' map and it is easy to see why. Endless pastures, glistening waterfalls and quiet monasteries at every turn, make it is a state easy to fall in love with.
Sikkim, with its natural scenic views provides a natural setup to the most beautiful monasteries in the world. With over 200 monasteries dating back to 1647 A.D., it not only influences the cultural heritage of the state but is a part of their lifestyle as well. However, with such abundance in beauty and the limited time that most people have, it is difficult to choose the best from the lot. Here is a comprehensive list to some of the best that the state has to offer.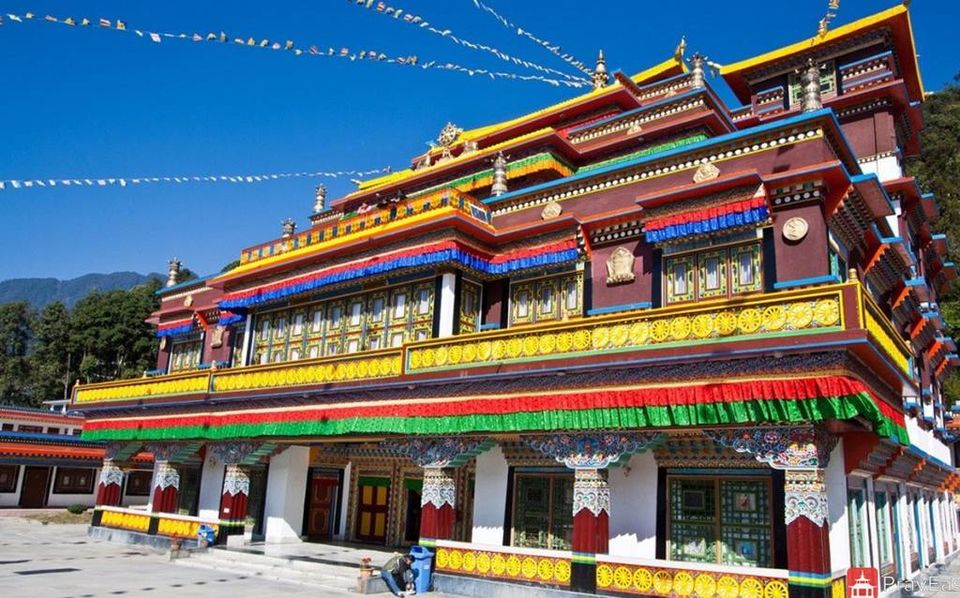 One of the most famous monasteries in Sikkim, it demonstrates the best of Tibetan Architecture and is almost a replica of the original monastery in Tsurpu, Tibet. After the 12th Karmapa fled from the Chinese attack and reached Sikkim, his holiness built this monastery and it has been known as the DharmaChakra Centre since then.
Location: 23 kms from Gangtok
Things to see: Known for its vantage points from where you can see mesmerising views of Gangtok, Botanical Gardens and fine Tibetan architecture.
Best time to visit:March-May and October-Mid December
How to reach: From Gangtok, it is easily reachable via buses, shared or private taxis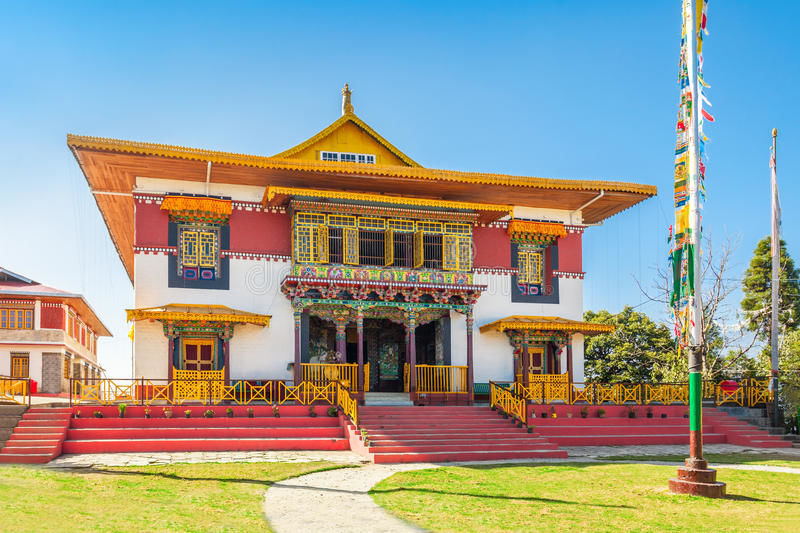 Located on a hilltop near Pelling, this monastery is situated in West Sikkim at Gyalshing. It belongs to the Nyingma order and all other Nyingma monasteries are subordinates to it. It roughly translates to "Perfect sublime lotus" and is thronged by tourists every year. This 300 year old monastery is the perfect place to indulge in soul searching in the midst of the impressive Tibetan motifs and designs on the walls.
Location: 140 kms from Gangtok
Things to see: Impressive views of Mount Khangchendzonga, ancient manuscripts inscribed on the pillars and woodwork.
Best time to visit: March to June
How to reach: Private taxes are available from Gangtok and Pelling which take you till about 2 kms away from the monastery.You need to trek the last 2 kms upto the monastery.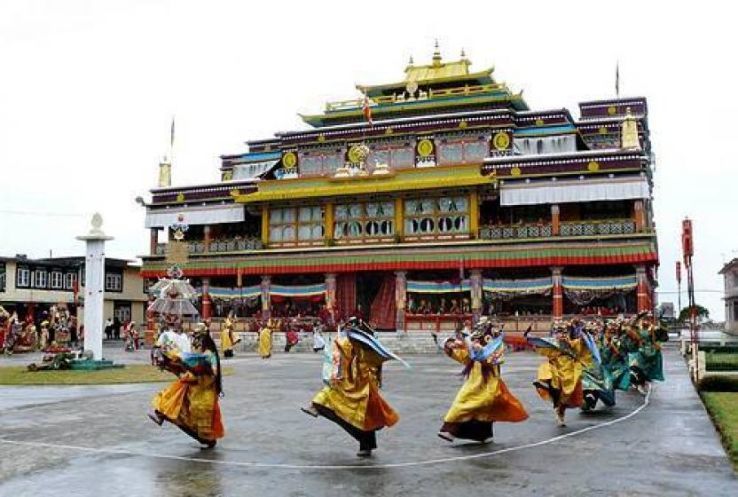 Acclaimed to be the biggest monastery in Sikkim, it is beautiful beyond comparison and a must visit if you are travelling to Ravangla. It has a wonderful mixture of colour, tradition and Tibetan Architecture. This monastery was built in 1995 with an intention of making it more accessible than the other monastery located 13 kms from Ravangla. During the annual festival of Pang Lhabsol, Mount Kanchenjunga is worshipped, and you can witness the Mahakala dance and Chaam masked dances.
Location: 13 kms from Ravangla
Best time to visit: August to visit their annual festival
Things to see: Borong or Ralang Cha-Chu/Hotspring, The Yangyang Monastery located 10 kms downhill from Ravangla, Extensive collection of paintings and thangkas at the monastery.
How to reach: Nearest airports are Bagdogra (112 kms) and New Jalpaiguri (107 kms) to reach Ravangla. You can take a private taxi to reach Ravangla and trek the last 6 kms to reach the monastery.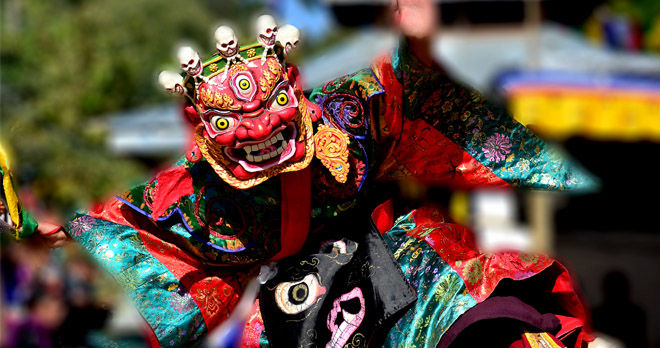 Known as one of the most respected monasteries of North East India, Tashiding Monastery is a must to on your trip to Sikkim. Located on top of a hill between two beautiful rivers, Rangit and Rathong, it offers spectacular views of the snow-clad mountains all around. Built in the 17th century, it is one of the oldest monasteries of Sikkim and offers an opportunity for visitors to seek much needed calm and enlightenment.
Location: Located in Western Sikkim.
Best Time to visit: March to June. To attend the Bumchu festival, it is best to visit during the first month of the Tibetan Calendar in February or March
Things to see: Explore some of the oldest shrines in Sikkim, the most holy Chhoedten(Stupa) and inscription flags outside the monastery.
How to reach: Easiest way to reach here is by hiring a private taxi from any of the major cities such as Gyashling (40 kms), Ravangla (30 kms) or Yuksom (19 kms).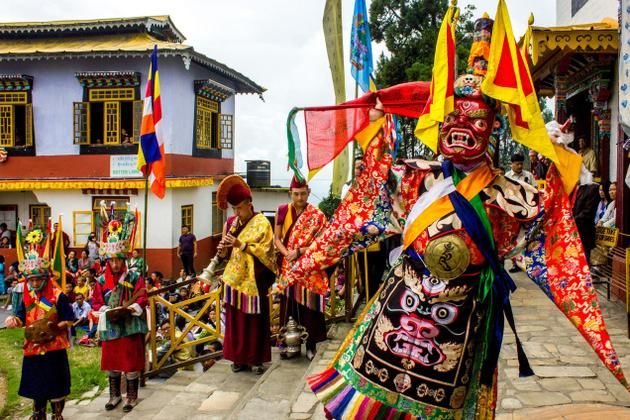 It is one of the closest monasteries to Gangtok. Enchey translates to solitary and is aptly named by its location. It is known to be one of the most powerful monasteries in Sikkim, with the belief that all the devotees are granted their wishes by the presiding deities. The Wheel of law on the porch rotates in perfect symphony to the monk chantings and the scenic views of the Kanchenjunga Hills give you a feeling of calm.
Location: 3 kms north east of Gangtok
Best Time to Visit: You can visit on the 18th or 19th day of the lunar month as per Tibetan Calendar(June) to witness the Pang Lhabsol Festival or in the month of September-October to visit the famous Cham Dance yearly festival called "Detor Cham"
Things to see: Large metal roofed prayer hall, Tantric murals, Cham Dances
How to reach: It is a 10-min. taxi ride from Gangtok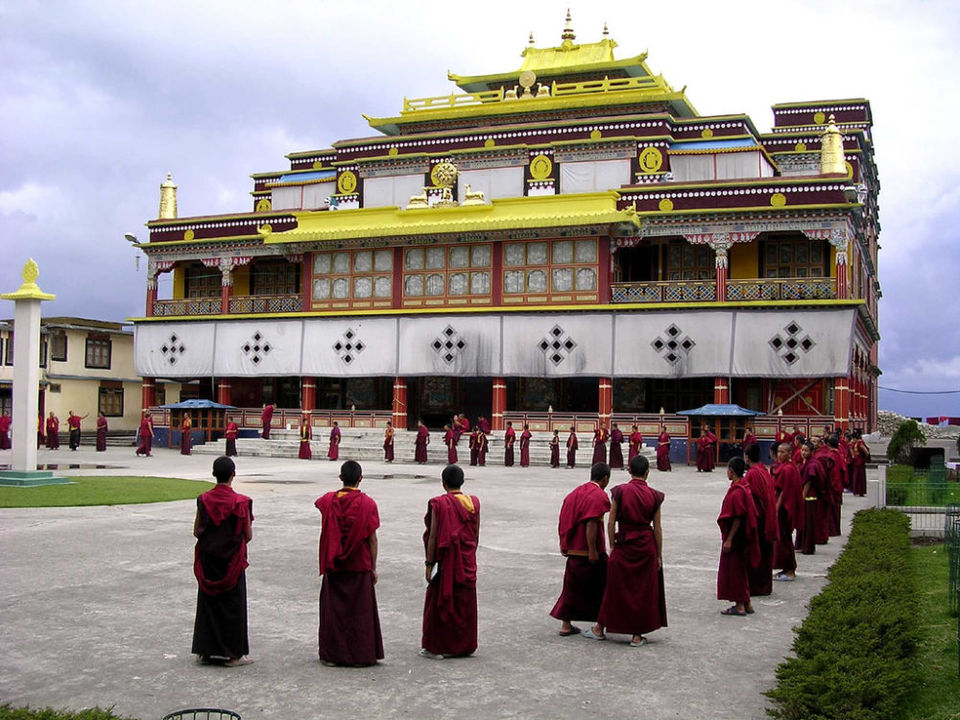 A part of the Kagyupa Sect, this monastery was completed in 1740 A.D. with the help of supporters after the demise of King Gyurmed Namgyalm. Situated at a sea-level of 4500 ft.it houses around 260 monks of the Kagyu lineage. It is one of the major tourist attractions of the state and is beautifully adorned by murals, paintings and frescos.
Location: 38 kms from Gangtok
Best Time to Visit: March-May and October-December
Things to see: Labrang Monastery, Tumlong and the ancient lineage of monks.
How to reach: You can reach by taking a private taxi from any of these locations- Gangtok (38 kms) Bagdogra (124 kms) , Siliguri(114 kms) and New Jalpaiguri(125 kms).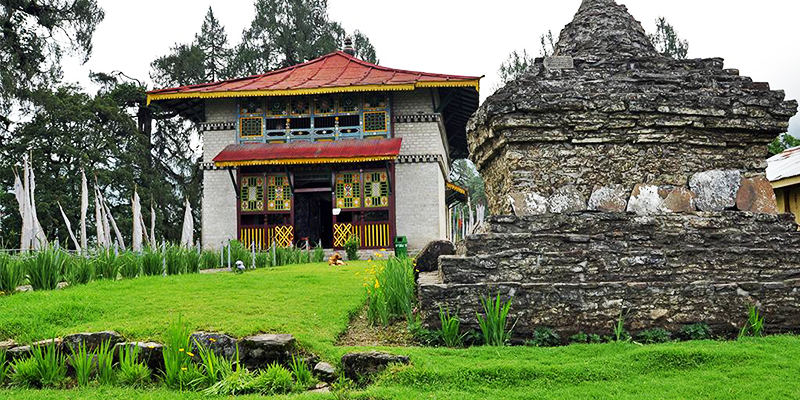 Alternatively known as Yuksom Monastery, it is one of the oldest monasteries in Sikkim established in the year 1701.Translated as "The retreat", it is justified by its mesmerizing hilltop location at an altitude of 2100m amidst the thick chestnut forest. This monastery is surrounded by tall trees, stoned paths and a view of snow clad mountains.
Location: Yuksom, Sikkim
Best Time to Visit: March-May
Things to see: Nearby monasteries of Kartok and Tashiding, Norbugang Chorten. A visit to the Tashi Tenka (Former grounds of Sikkim's royal palace complex) and Khangchendzonga National Park for the wildlife lovers for an exceptional display of flora and fauna.
How to reach: 3 kms from Yuksom. You can reach Yuksom by take shared taxis or buses from Geyzing(39 kms) or from Pelling(40 kms)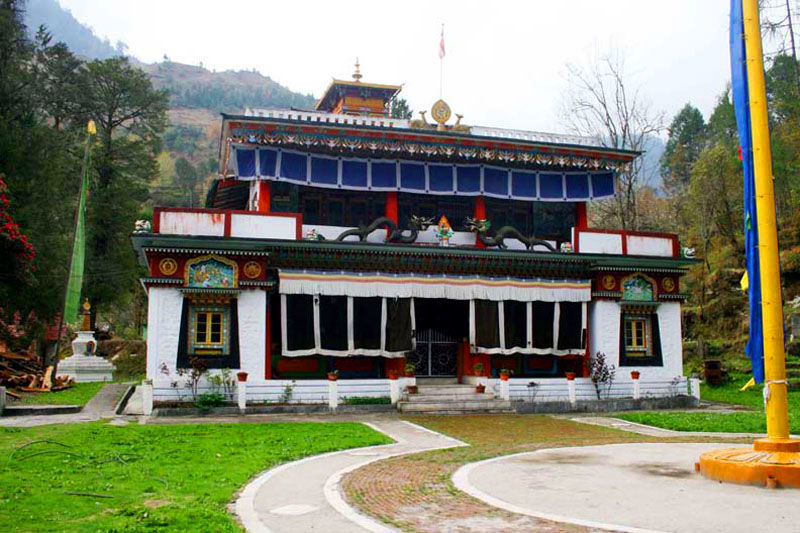 The name translates to a small mountain and is situated at an elevation of 3000m near the Lachung River, a tributary of the Teesta. It is the last monastery on the highway of the Indo-Chinese Border. It was a trading post between India and Tibet before China forcefully annexed Tibet in 1950.It is famous for hosting masked dances every year.
Location: North Sikkim
Best Time to Visit: January-February
Things to see: A visit to the nearby Yumthang Valley, Bhim Nala Falls and Yume Samdong Zero Point.
How to reach: Permits are required for visits to North Sikkim. It can be reached via private taxis from Gangtok (118 kms) or New Jalpaiguri (128 kms).
These monasteries are not just places of worship, but they exemplify the brilliance of Buddhist architecture as well. Have you experienced the magic of Sikkim yet? You can share your experiences here
You can also check Videos and more on Tripoto' s YouTube Page.
Frequent searches leading to this page:-
gangtok family tour package, gangtok trip itinerary, pelling gangtok tour, darjeeling gangtok nathula tour package, gangtok tourism packages prices, sikkim gangtok and darjeeling, gangtok and north sikkim tour package, sikkim darjeeling gangtok tour package from chennai, gangtok honeymoon trip, 3 night 4 days gangtok tour package, gangtok lachung lachen package tour cost, thomas cook gangtok