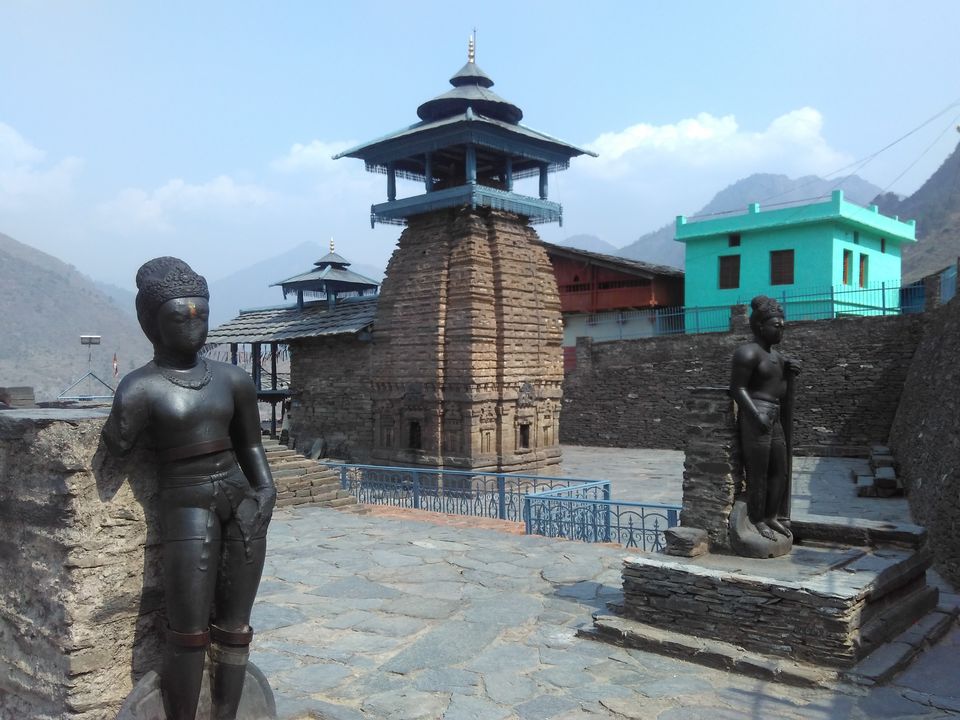 Lakhamandal is often associated with Mahabharata. At this place, Duryodhan tried to kill Pandavas by burning them in a palace made of Shellac (Lakshagrah).There is an ancient temple with beautiful architecture. Here you can observe the unique culture of Jaunsar region of Uttarakhand. You can easily visit Lakhamandal while going to Yamunotri. For biking enthusiast then this is a must visit road trip from Dehradun or Mussoorie.
Route: Lakhamandal is around 125 Km away from Dehradun on the Dehradun -Yamunotri highway. A metal bridge near Barnigad connects Lakhamandal to the highway.
The route to Lakhamandal passes through Kempty falls, Yamuna Bridge, Nainbagh-Barnigad. From Yamuna bridge onwards a swiftly flowing Yamuna accompanies you. Water is quite clean & clear and it is hard to imagine that it is the same Yamuna, which flows at Delhi. It is a pity, how a pristine and swiftly flowing the Yamuna turns in to a dead malignant Yamuna at Delhi.
At Nainbagh, you can stop for a quick break for tea and snacks. Market at Nainbagh is fairly big. From Nainbagh onwards, roads will be mostly empty and one can enjoy bike ride on an empty winding road. After driving a little more than an hour you will reach Barnigad. Lakhamandal is around 18 kilometres from here. Few kilometres after Barnigad a huge gate welcomes you to Lakhamandal. Here a bridge over the Yamuna river connects Lakhamandal to the main road.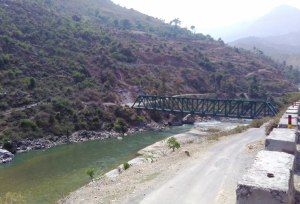 History of Lakhamandal: Lakhamandal is a site protected by an Archaeological Survey of India (ASI). According to ASI inscription at Lakahamandal, " The present temple of Lord Shiva was made between 12-13 century AD. The earliest structural evidence dates back to 5-6 century AD. A 6th century old stone inscription records the construction of a Shiva temple at Lakhamandal by princess Ishwara for the spiritual welfare of her late husband Chandragupta the son of king Jaladhra".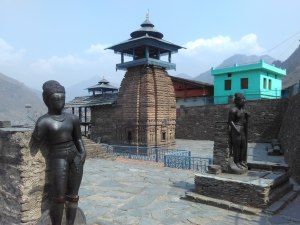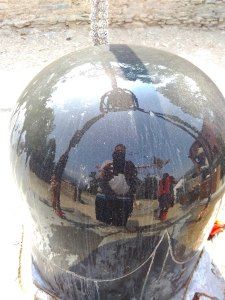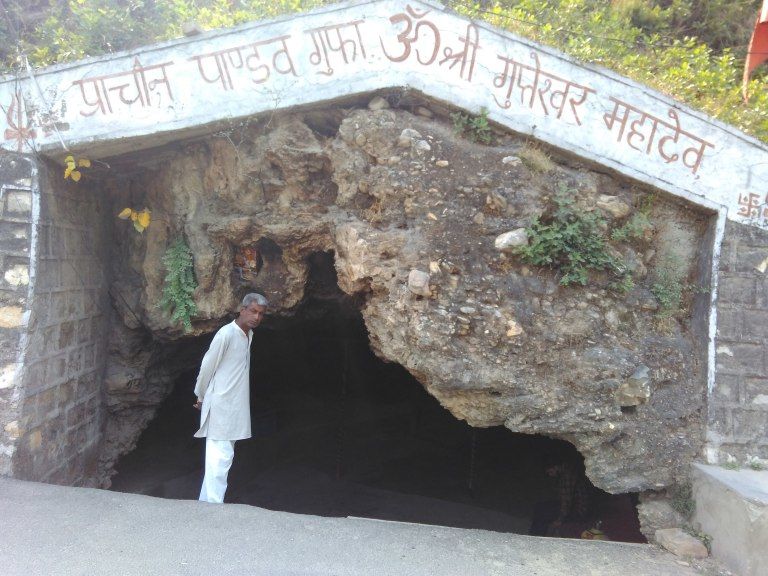 Lakhamandal is often associated with Mahabharata. At this place, Duryodhan tried to kill Pandavas by burning them in a palace made of Shellac (Lakshagrah). Pandavas, however, were able to survive by fleeing through a cave. There is an ancient temple of Lord Shiva at Lakhamandal. You can see many Shivlingas lying outside temple premises. Temple site is filled with remains of many ancient sculpture and idols. Standing outside the temple you can see the idols of two doormen standing in front of a big Shivlinga. It is believed that in ancient days any deceased person could be brought back to life for a few moments If his dead body was placed between these doormen. The dead person brought back to life takes the name of Ram and attains Nirvana.
At a few minutes walk from the temple you will find famous graphite Shivalinga. When water is poured on this Shivalinga, it shines like a mirror. You can see your reflection on this Shivalinga. The priests and people of this area make this place distinct from other religious places. People here live with a relaxed pace of life. They are always ready to offer their help. Boys from the local village will accompany you and will narrate many interesting stories about the place. The priest here do not force you for any charity or donation and will offer their service with full devotion. Sitting in the divine surroundings of this place I chatted for with the priest for several minutes. He told me about the history of this region and told me how polygamy and polyandry were practised in this region in ancient times. After spending nearly an hour at this holy site, I was ready to depart. While coming back I also visited ancient Pandavas cave. It is a popular belief believed that Pandavas used this cave to flee from Lakshagrah.
My Experience: It was an immersing experience to visit Lakhamandal. The site is full of history, legends and architecture. However, what impressed me most was the simplicity of people. Completely subdued by their simplicity and hospitality I was driving back to Dehradun with a promise to return back and visit the place with my family.
PS: You can cover Lakhamandal while your way to Yamunotri. It is hardly a 20 minute drive from main highway. After visiting this place and experiencing the culture of Jaunsar region of Dehradun you can easily make it to Jankichatti (Base for Yamunotri trek).
Keep travelling, Keep exploring.
Jaihind.