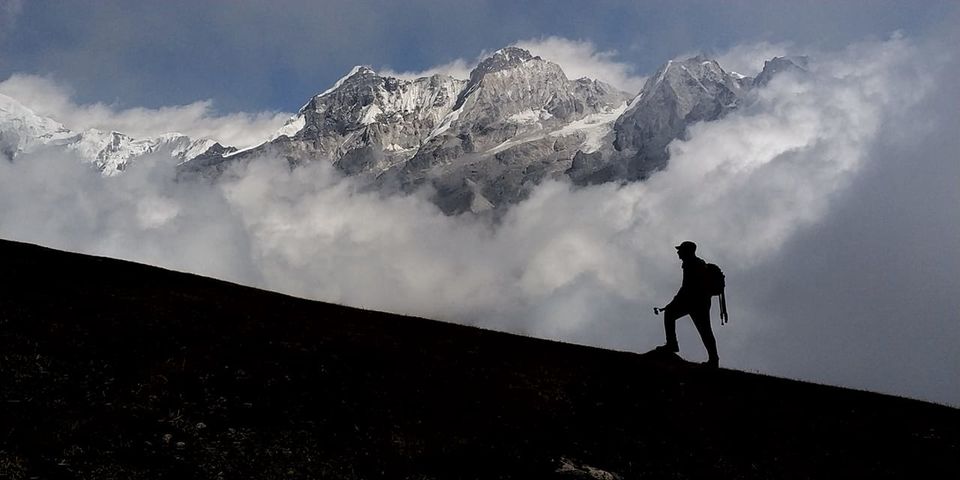 Last year Durga Puja was quite different for me. When the city was preparing for the festival, I was preparing for my dream trek, Goecha La. Goecha La is one of the most popular trekking destinations not only for Indians but also for many trekkers from outside India. This trek gives you chilling close video of Mount Kangchenjunga, Mount Karbu, Pandim and many more.
So, my journey was started for New Jalpaiguri from Kolkata on 14th October 2018. Me and my wife we both were going to join the other team members at NJP station next day. It was a good train journey from Howrah and we reached New Jalpaiguri station next morning at 9:00 AM. After taking our breakfast we have started for Yuksom. Yuksom is a very beautiful town in West Sikkim and the starting point of Goecha La trek. We reached Yuksom at 10:30 PM. After a long tiring day, we took our dinner and quickly went for sleep.
Day #1: Yuksom – Dubdi Monastery: Let's warm-up
Next day was allotted for a small hike to a famous monastery called Dubdi Monastery. It was total 2-3 hours hike up & down. Took some photos and video footage there and came back to our hotel after spending 1-2 hours at there.
Pro Tips: Don't miss Dubdi Monastery hike. So plan accordingly, keep an extra day before you start trek to Goecha La. It will also warm-up your muscles before the biggie.
Here are some photographs: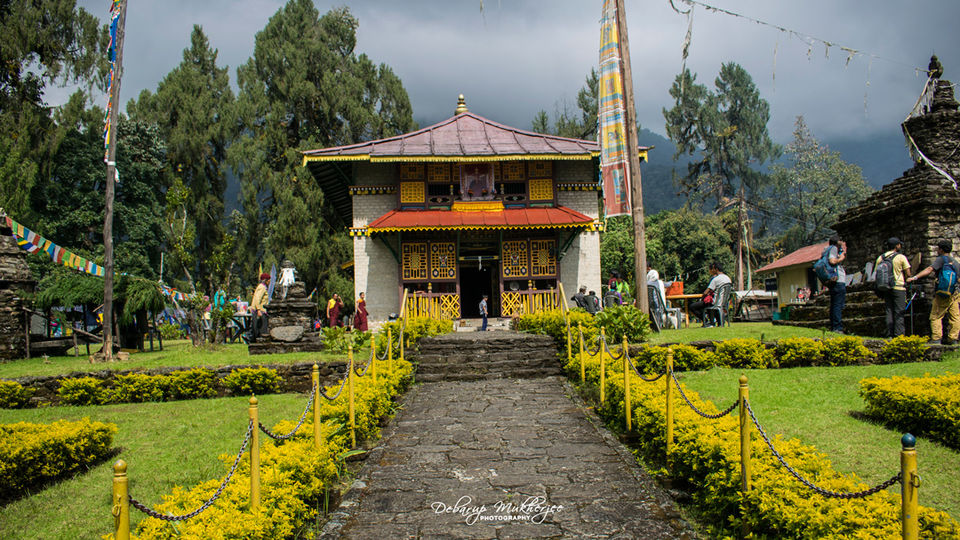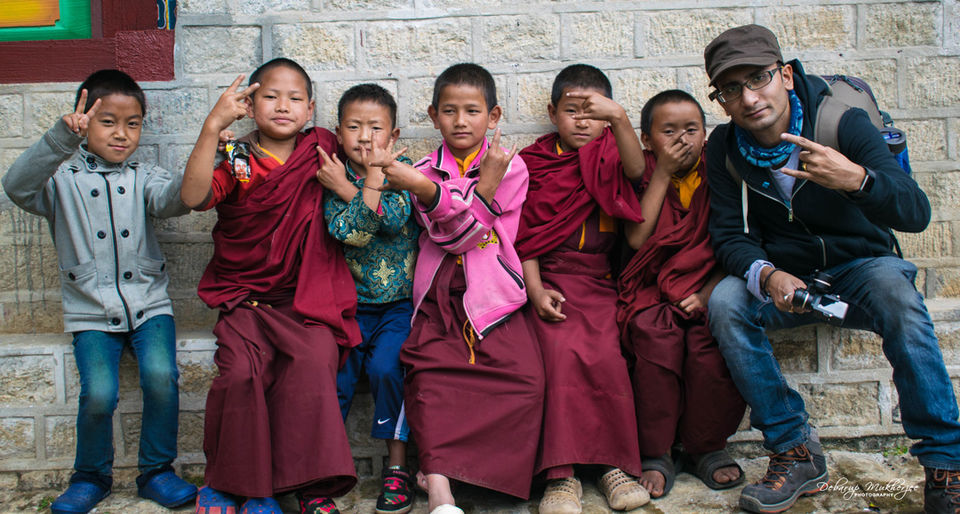 Day #2: Yuksom – Sachen: A long walk
Next day we have started walking for Sachen. The altitude of Sachen is 7,200 ft. In this 6 hours of hike we walked almost 8 km. We got cloudy weather most of the time. The trail was green & misty. We crossed 3 hanging suspension bridges. It was a good experience in Kangchenjunga National Park. Sachen is located into the forest so our night accommodation was in tent camp.
Pro Tips: You should try to reach Sachen as early as possible as it is in a dense forest and there are no light sources. Also have dinner as early as possible and sleep because the next day you need to walk for long.
Here are some photographs: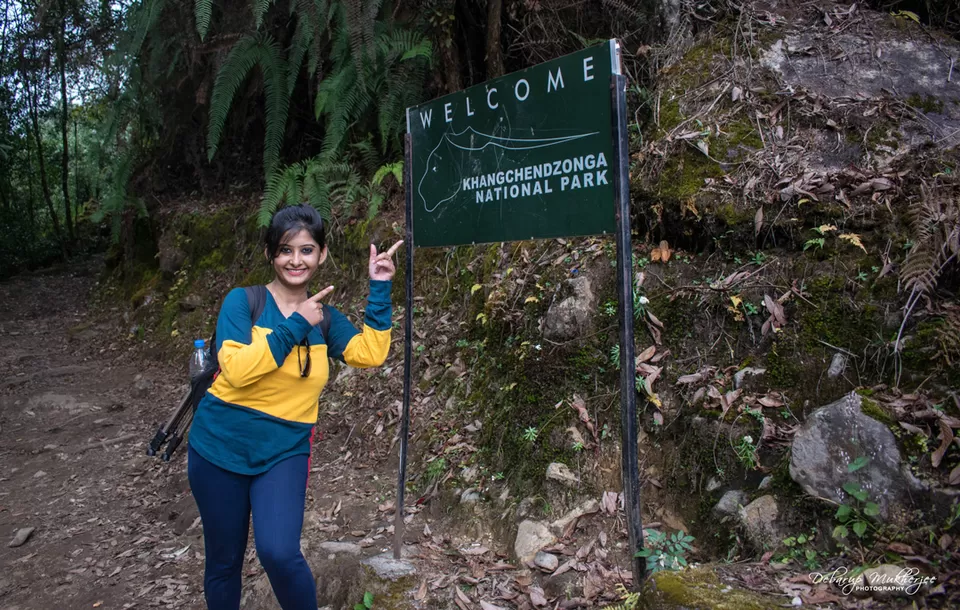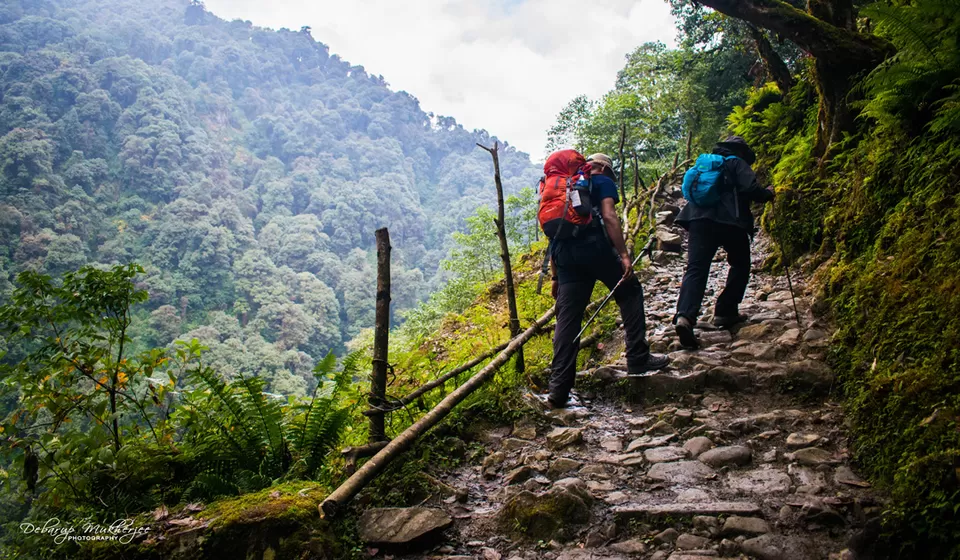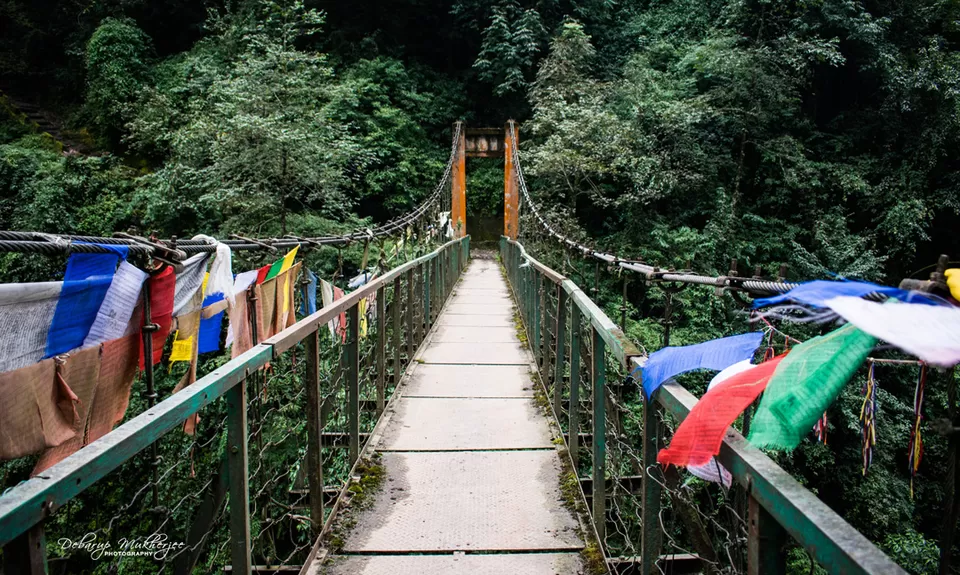 Day #3: Sachen – Bakhim – Tshoka: First view of the high mountains
Next day early in the morning we started the next stretch for Tshoka from Sachen. Tshoka is situated at the altitude of 9,700 ft. This trail was one the best treks through the jungle. The hike is almost about 5 hours and 7 km. It was steep ascent till Bakhim where we took lunch. From Bakhim you can see Mt. Pandim for the first time. After Bakhim it was 2 km of walk to Tshoka. This beautiful trail was with Rhododendron and Alpine berries. It was a walk to be remembered. We have reached our campsite around 4 PM. The weather was improving slowly and we luckily saw the view of Mt. Pandim, Tenzing Khang at the time of Sunset. It was a magical view.
Pro Tips: Don't urinate near stream water. Don't litter into the forest.
Here are some photographs: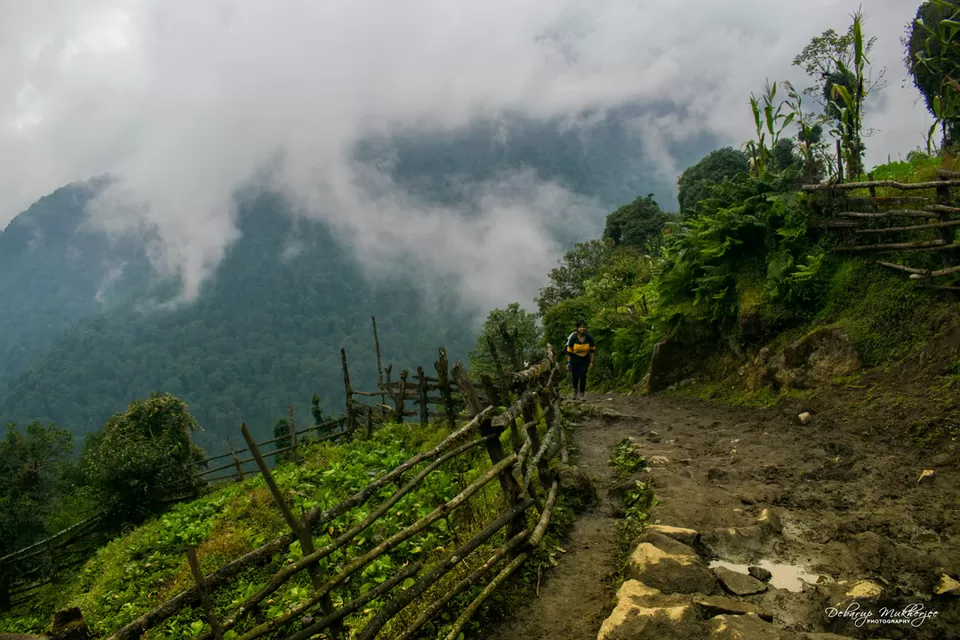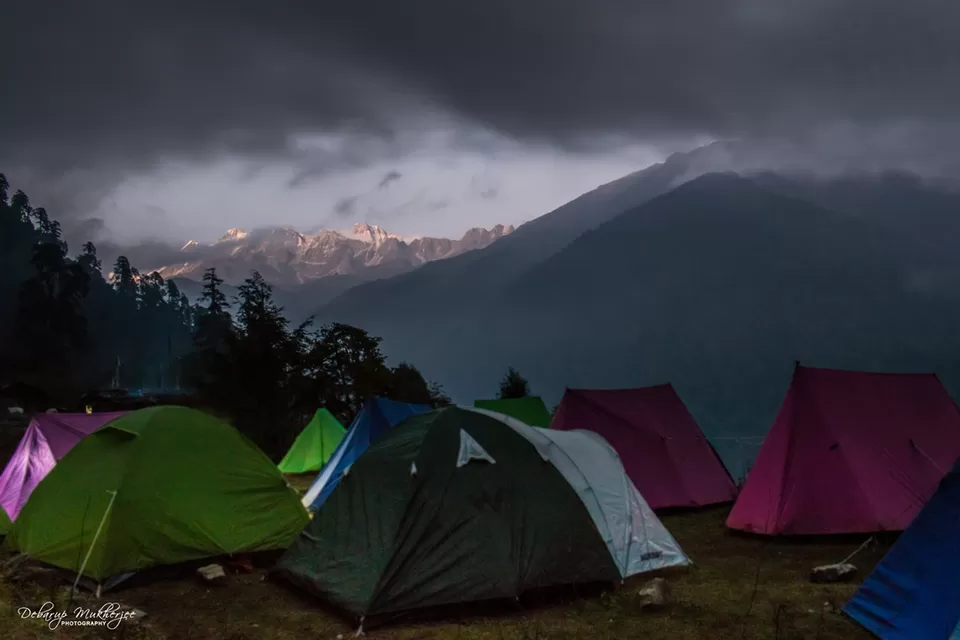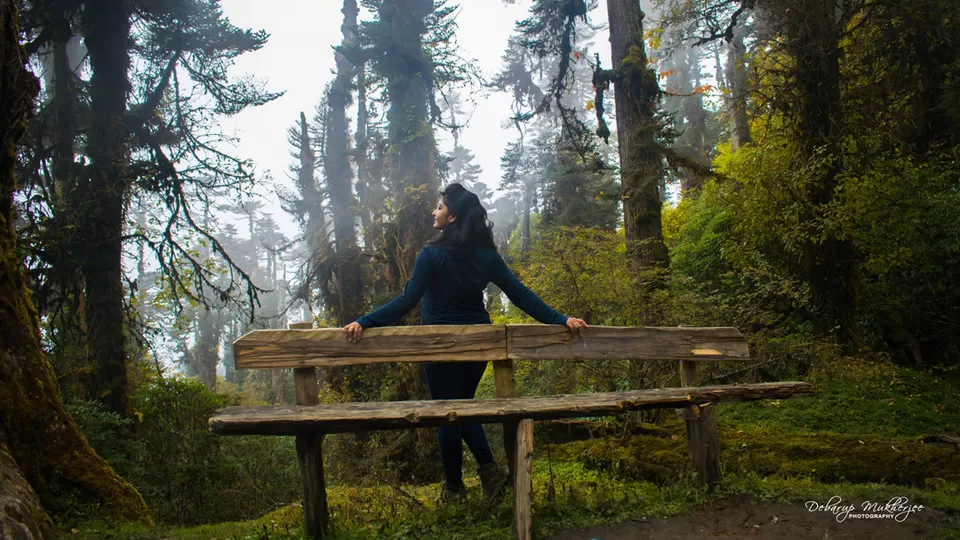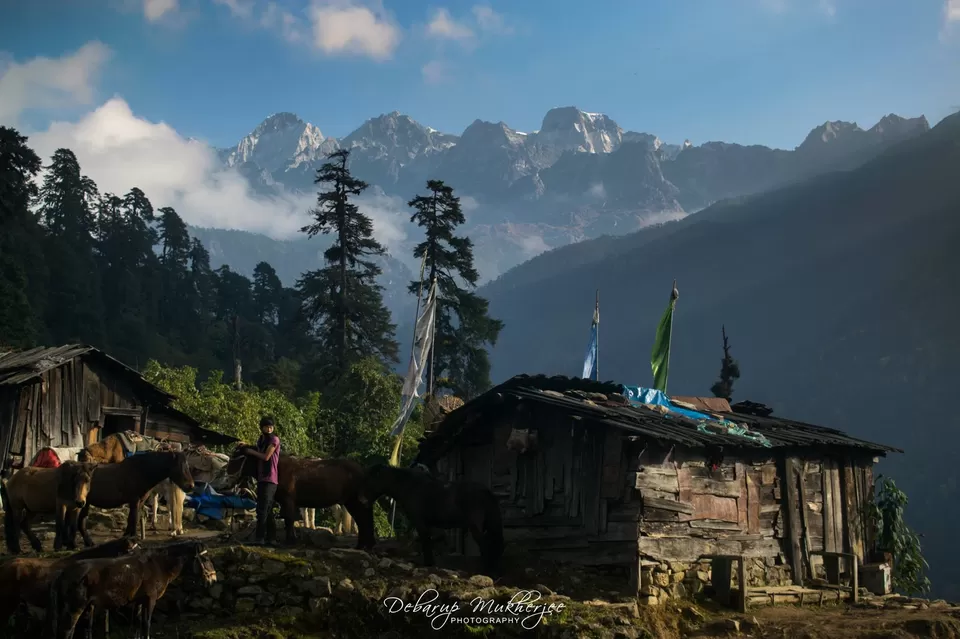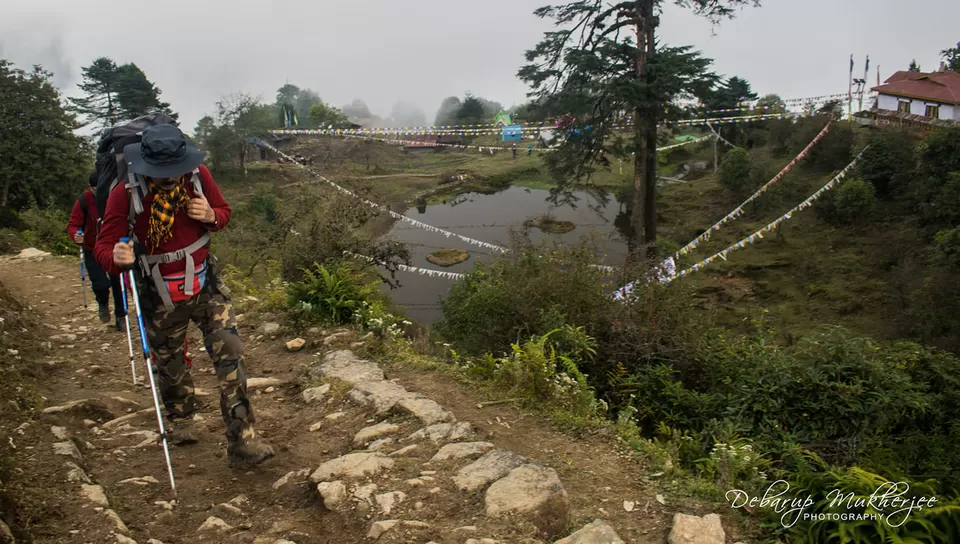 Day #4: Tshoka – Phedang – Deorali Top – Dzongri: The climb to the highest viewpoint till now
Next day morning to headed towards the famous Dzongri campsite which is at the altitude of 12,980 ft. We walked beside the small Tshoka lake with a gradual ascent. It was a long walk that day and we covered total 9 kms trek within 7 hours. At Phedang we took our lunch. Phedang is a place which was totally covered with thick fog at the time. After Phedang there was another very beautiful view point named Deorali Top and this was the highest point till now before Dzongri. The full mountain range can be seen from this place but we were not so lucky at that time. We reached at Dzongri camp around 4 PM.
Pro Tips: You should carry packed lunch and enough water as there are no sources of drinking water en route.
Here are some photographs: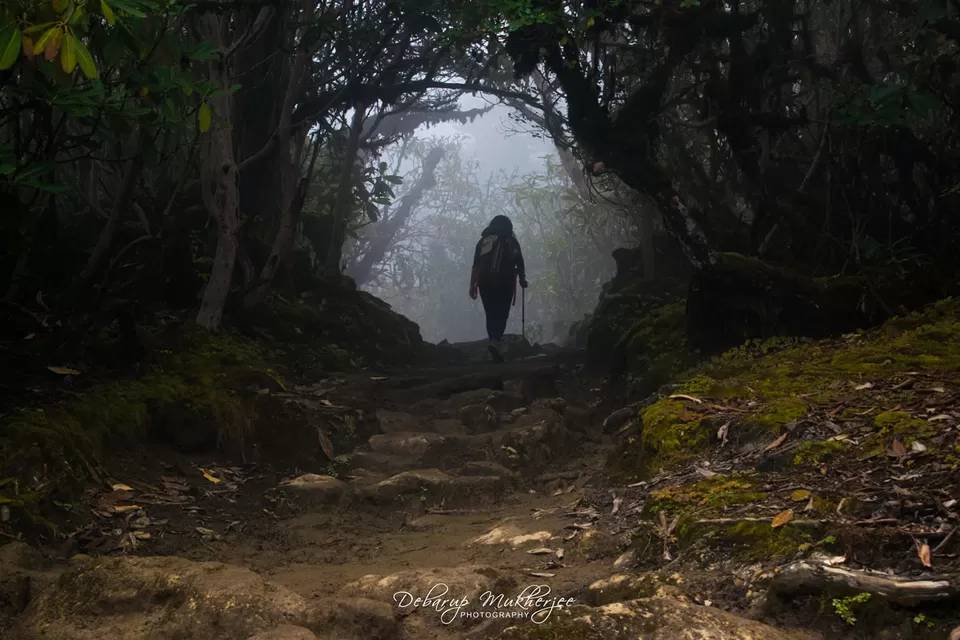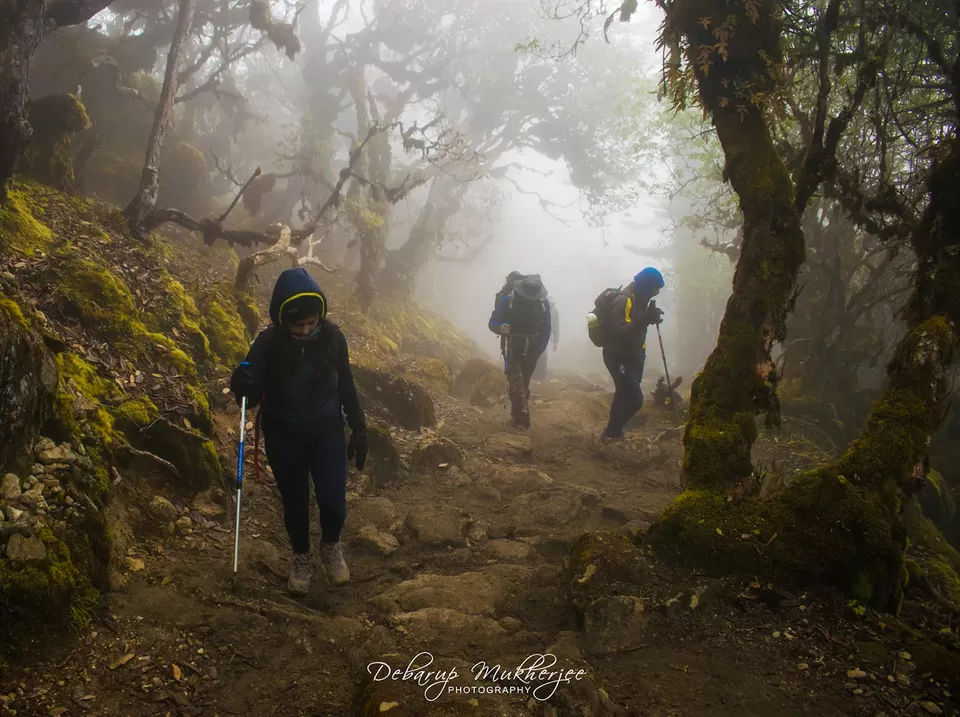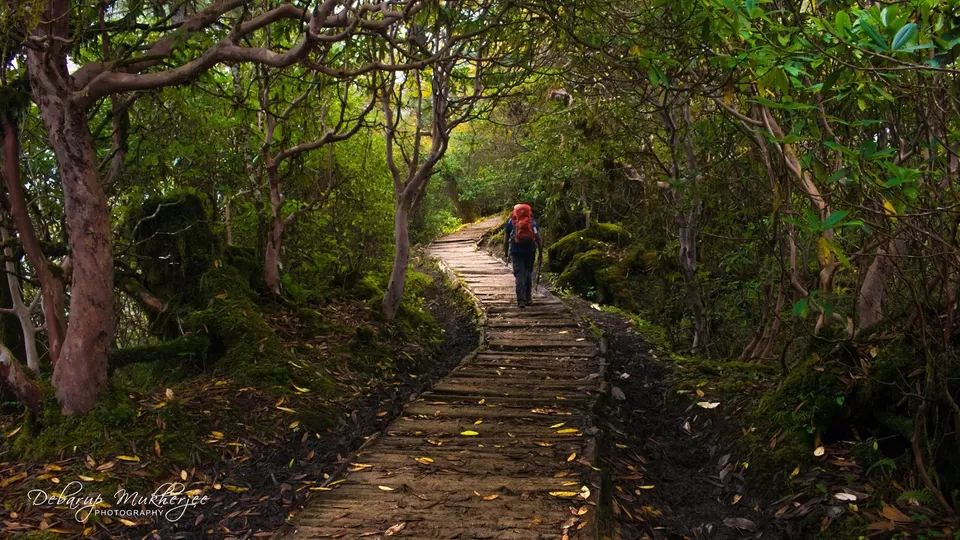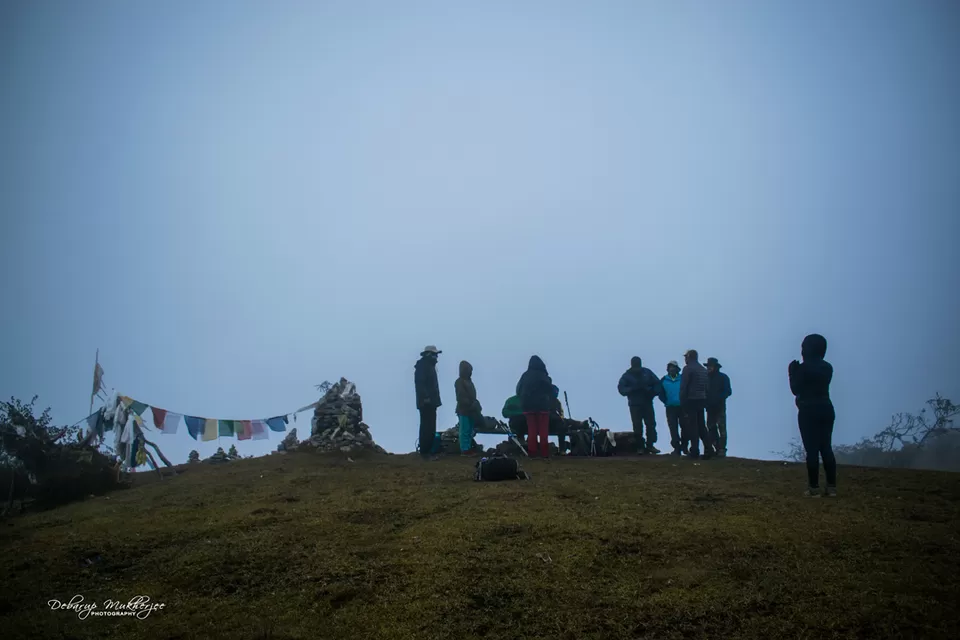 Day #5: Dzongri – Dzongri Top Summit: Too Near But too Far
This was a vital day for us. We have completed our summit push to Dzongri Top which is at the height of 13,675 ft. At 4 AM morning we started and reached at the top after 1 hour of hike. The experience was surreal. The view of Kabru, Black Kabru, Kangchenjunga peaks, Mount Pandim, Tenzing Khang and many other peaks will give you goosebumps. I was speechless there. The sunrise event from the back side of the mountains and sea of clouds and the first ray upon the snow mountains will definitely bring you at this place again and again.
After the summit at the top, we got back to our campsite, took rest, roamed around and slept tight early as we had to leave for Thansing the next day and it was the most treacherous walk till now in this trek.
Pro Tips: You may need 3 layers of warm cloths because it's very windy and cold up there at Dzongri Top.
Here are some photographs: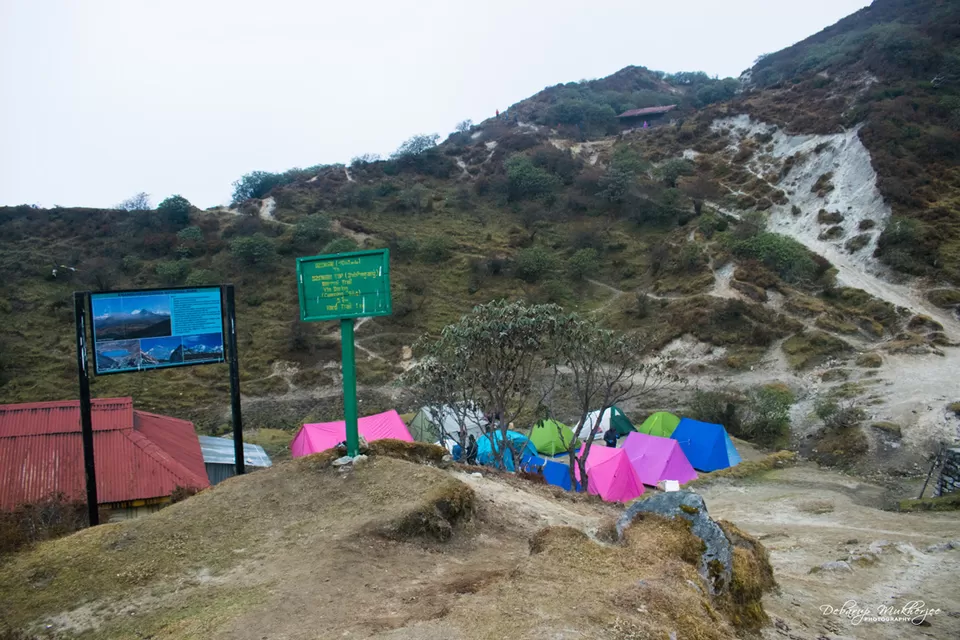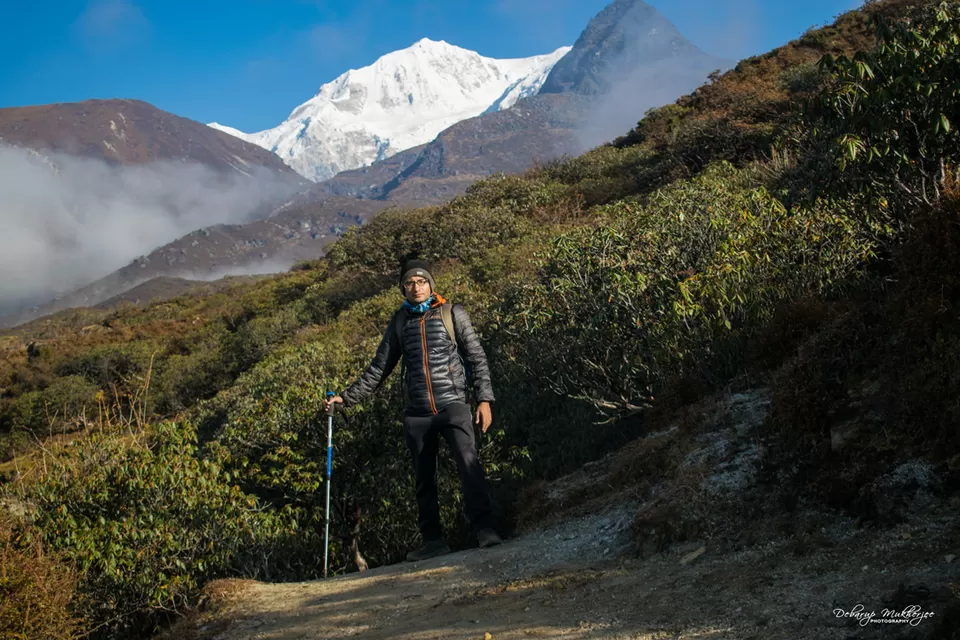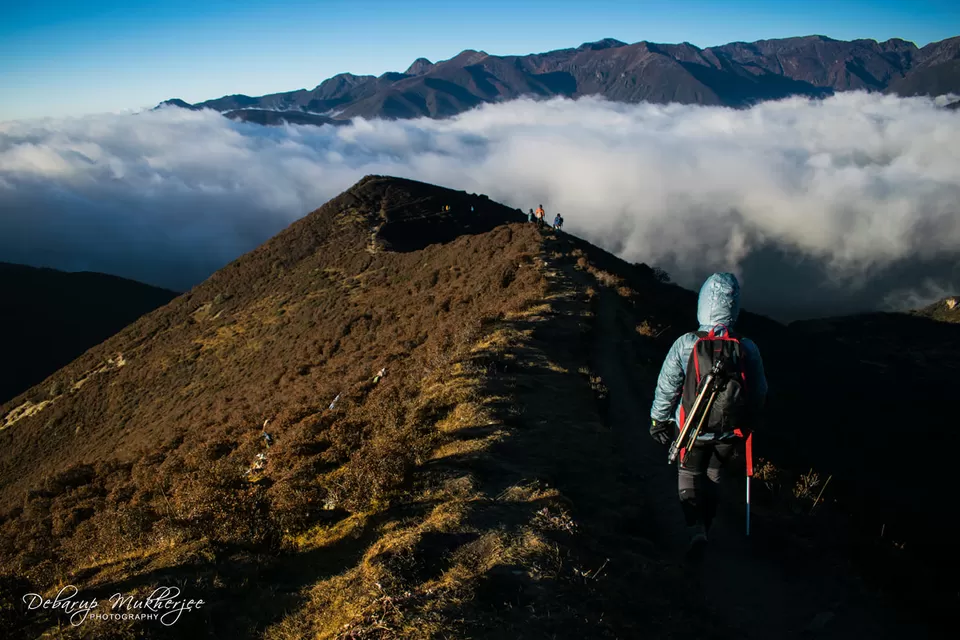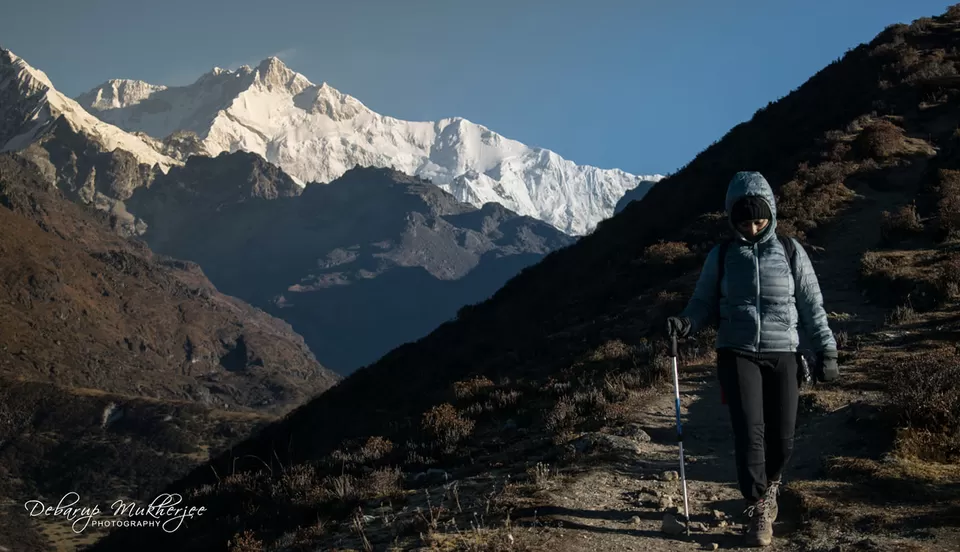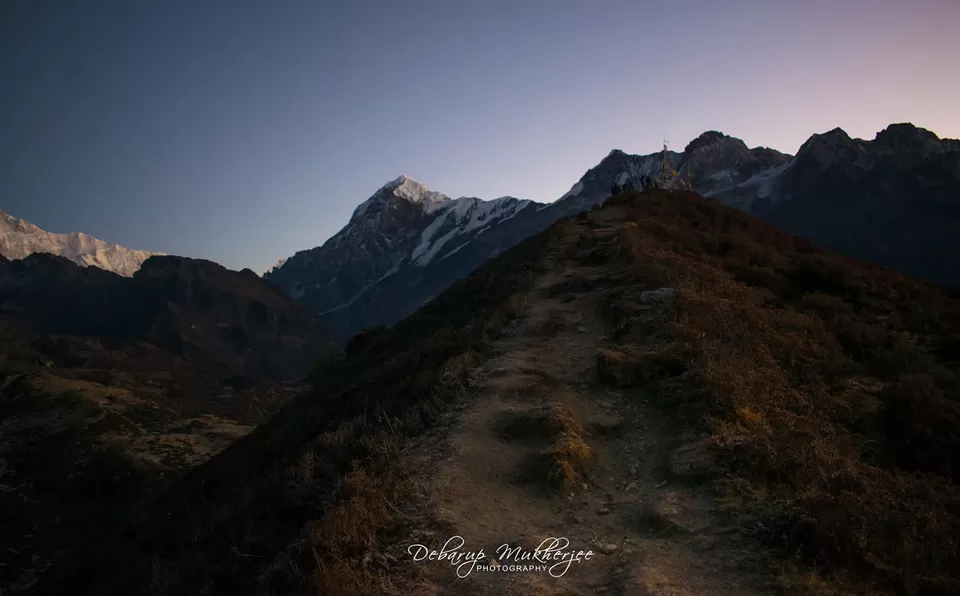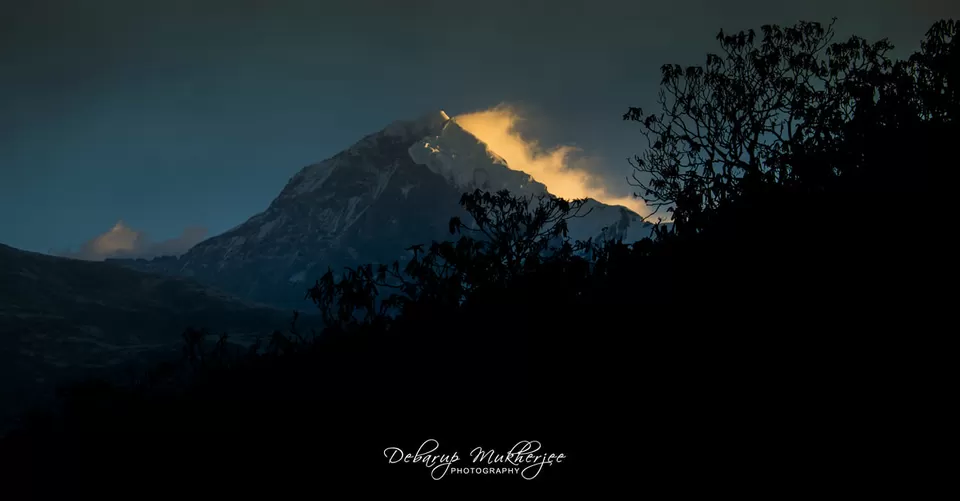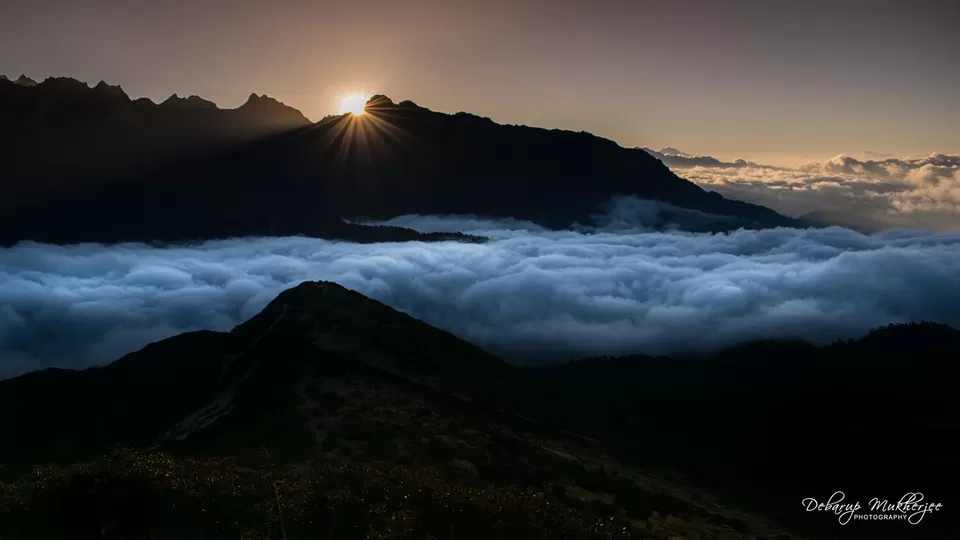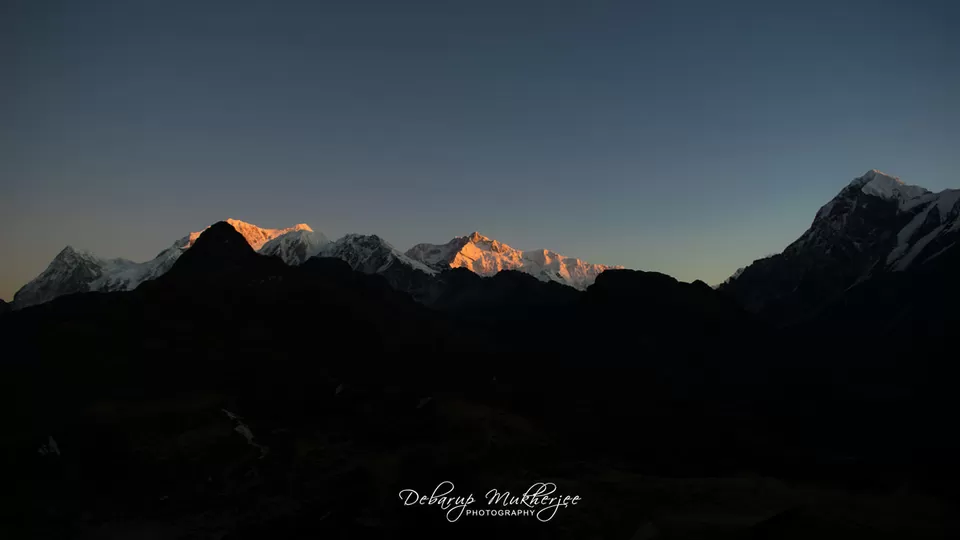 Day #6: Drongri – Kokchurang – Thansing: Treacherous walk till now
En Route Dzongri La we walked most long-distance this time. It was approximately 9 hours of hike and 9 hrs to reach Thansing campsite.
We finally reached Kokchurang hut around 1 PM and took our most awaited lunch at there as we were starving. After 2 hours there we started again and this walk, I will never forget in my life. It was just like a fairy tale. The path was going just beside the Prekchu river. The fog, light, the sound of river water, that misty ambient will definitely give you chill.
Finally, we have reached at Thansing camp around 5 PM. We have hiked from 12,000 ft (Kokchurang) to 12,900 ft (Thansing). From Thansing we luckily saw the Sunset color over the Pandim and it was unforgettable. I took a quick timelapse video of it.
Pro Tips: If you like to take long exposure pictures of Prekchu river's flowing water then don't forget to take an ND filters for your camera lens.
Here are some photographs: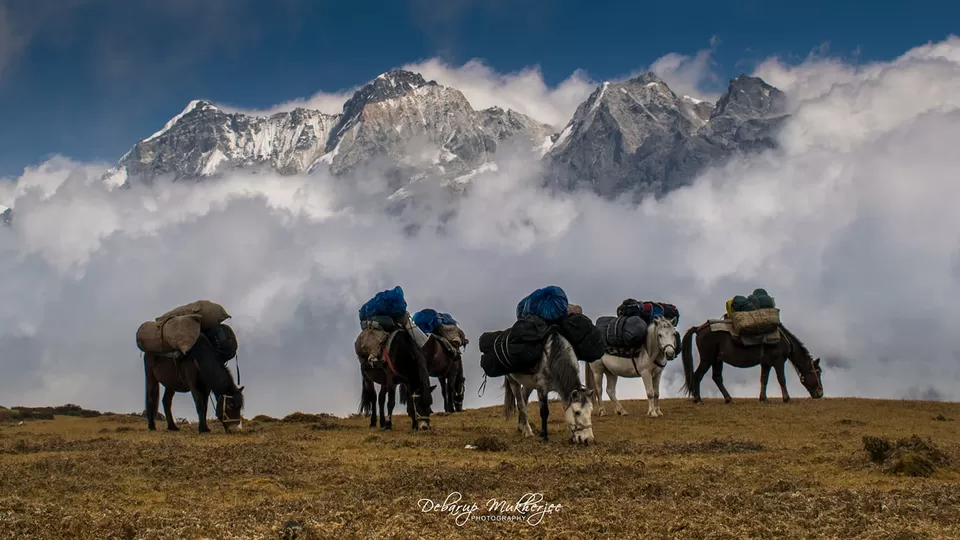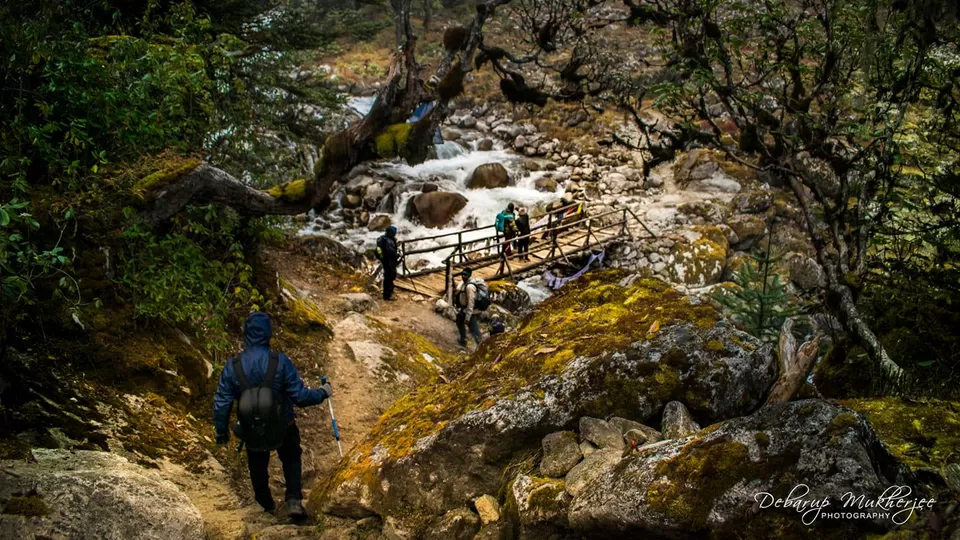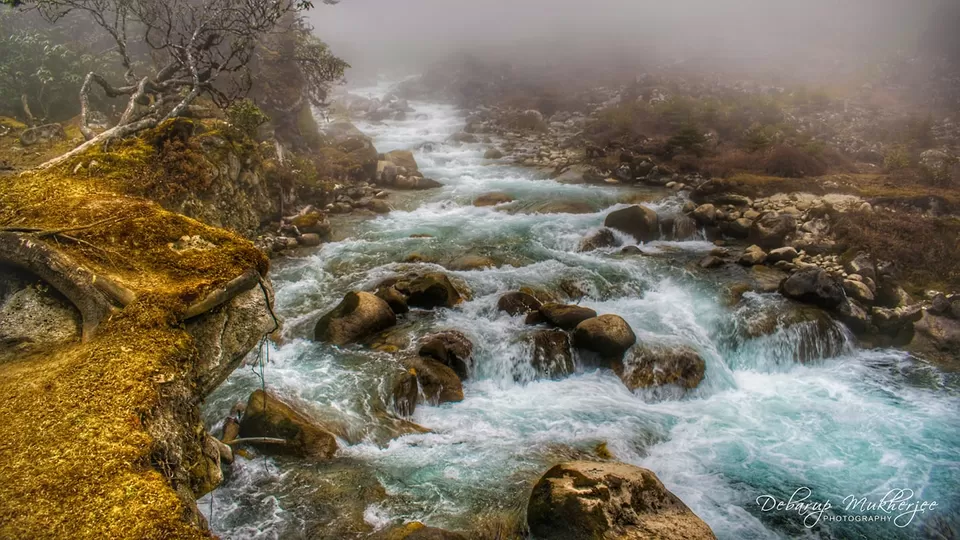 Day #7: Thansing – Lamuney: The Final Night
Thansing to Lamuney is the easiest that beautiful walk I ever had. The altitude of Lamuney is 13650 ft and it was 4 km trek for 2 hours approximately.
Here are some photographs: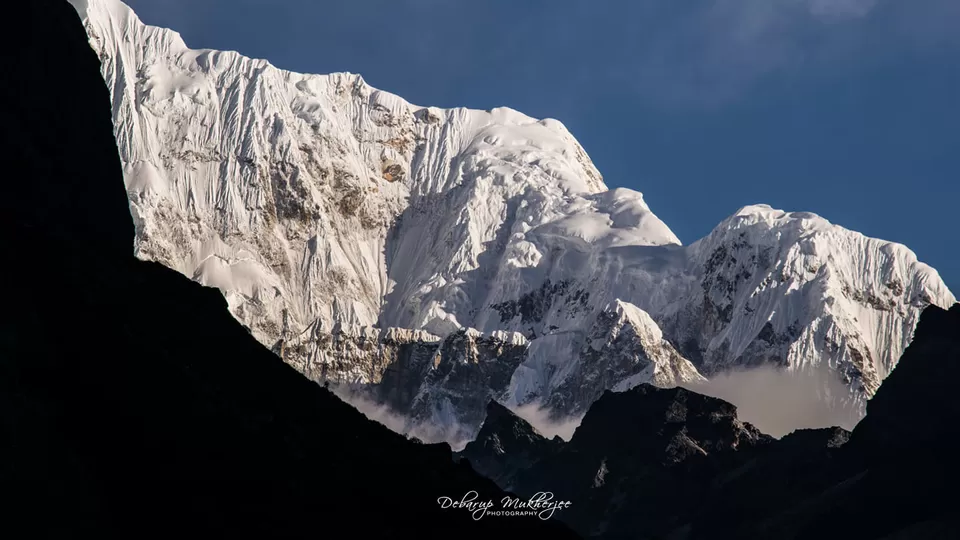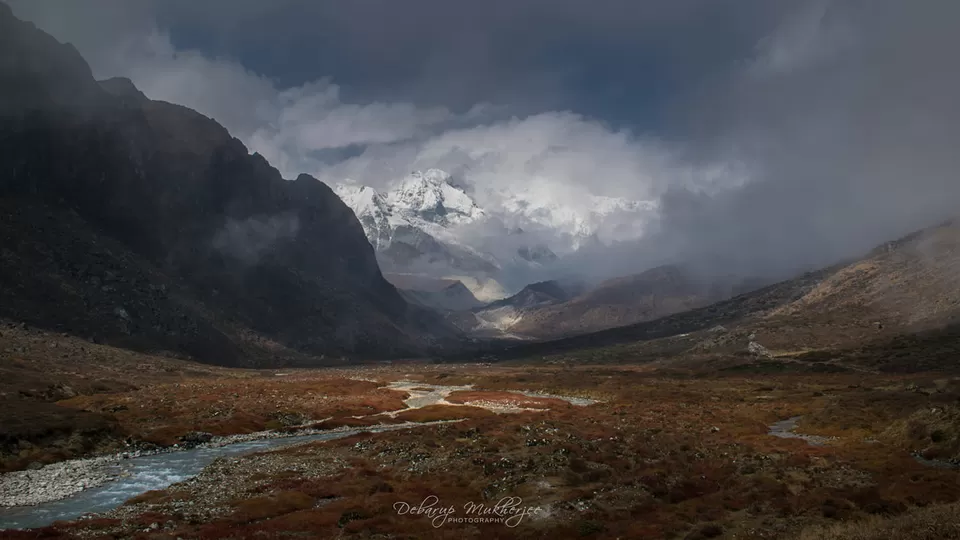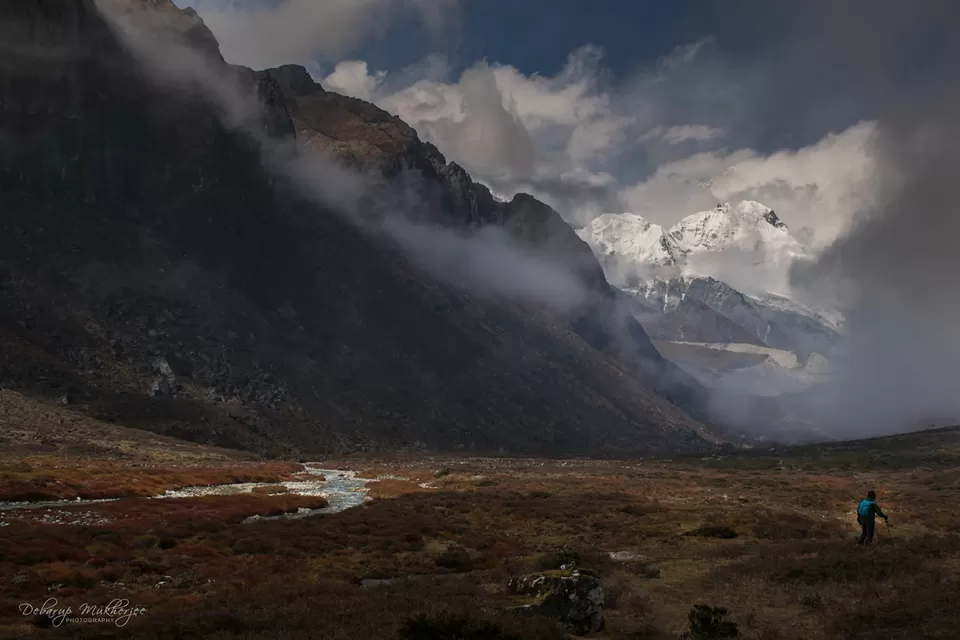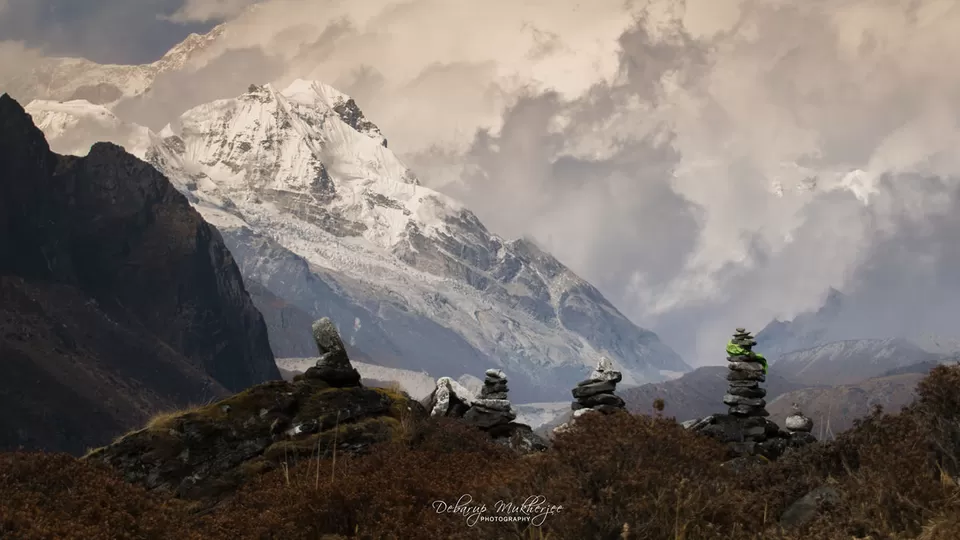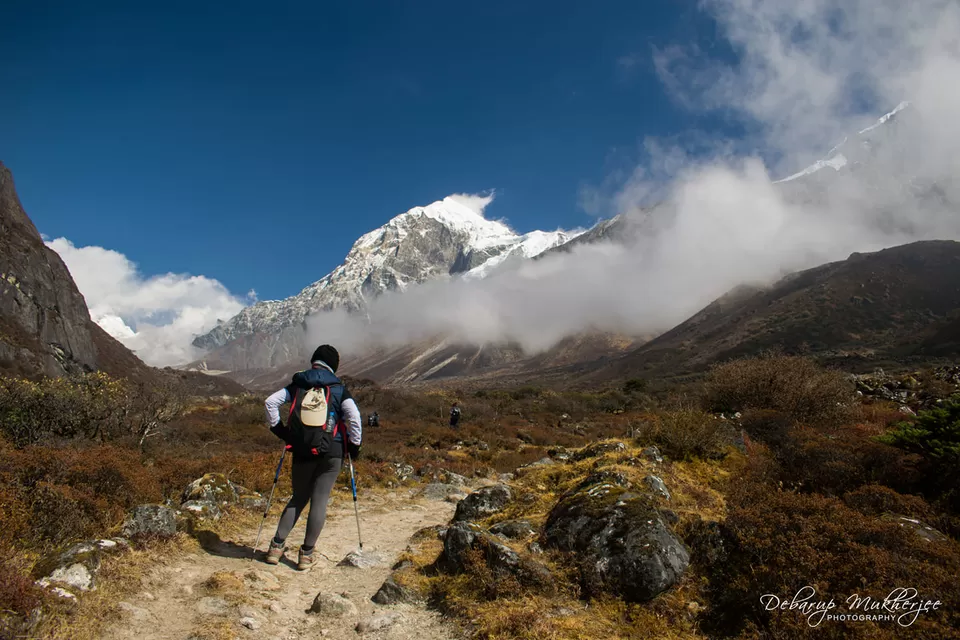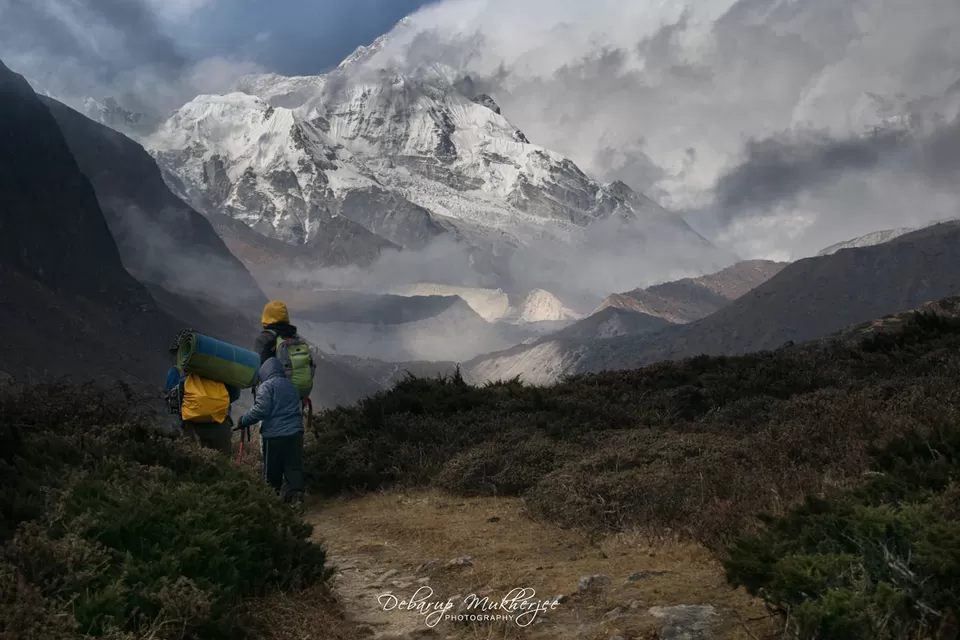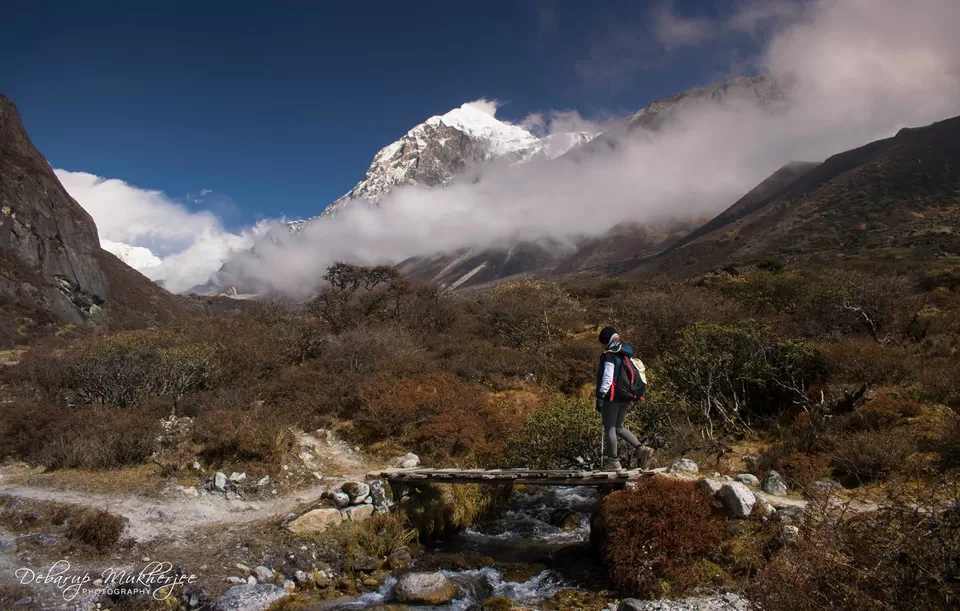 Day #8: Goecha La view point 1 Summit – Samiti Lake – Lamuney Camp – Kokchurang Hut: Our D-Day
The next day was the D-Day for us. We slept early at 7 PM because we have to wake up as early as possible. We got up at 2 AM and started for the final summit push at 2:45 AM.
It was killing cold outside that time. Under the full moon, Kanchenjunga looked like a queen in front of us. The temperature was around 2-3 degree at that time. But it was below 0 degree around 11 – 11:30 PM. We took some dry fruits, cake, hot tea, water with us because it was very tiring to reach the final point before sunrise. Though we managed to reach just before the sunrise and we witnessed one of the great shows on the planet earth. We totally mesmerized by the color of Kangchenjunga peak in front of us. I took lots of pictures, videos, timelapse there. It was an emotional moment when I lifted our national flag from Goecha La view point one. It was a great feeling.
To reach Goecha La view point 1 which is at the height of 15,100 ft, it took almost 3 hrs to cover that 5 km distance. The last 2 hours were steep ascent.
We spent almost 3 hours there and now it was the time to return back. On our way, we took 1 hour rest at Samiti Lake. This lake is one of the beautiful gifts God gives to the planet earth. You will surely amaze by its crystal clear blue, green water. Its just like heaven.
We came down to Lamuney camp from Samiti Lake and took hot breakfast and quickly started descending to Kokchurang. Rested there that night, have fun as we did it, we have done our summit at Goecha La view point 1.
Pro Tips: You need to take extra camera batteries, if you are photographer freak. Put those batteries inside your thermal and down jacket. This will save the charge. Do take dry fruits, water, hot tea with you during the final push to the summit.
Peaks you will spot from Goecha La View point 1: Kabru South, Kabru North, Kabru Dome, Kangchenjunga, Gocha Jupano, Mt. Pandim, Simvo, Tenzing Khang
Here are some photographs: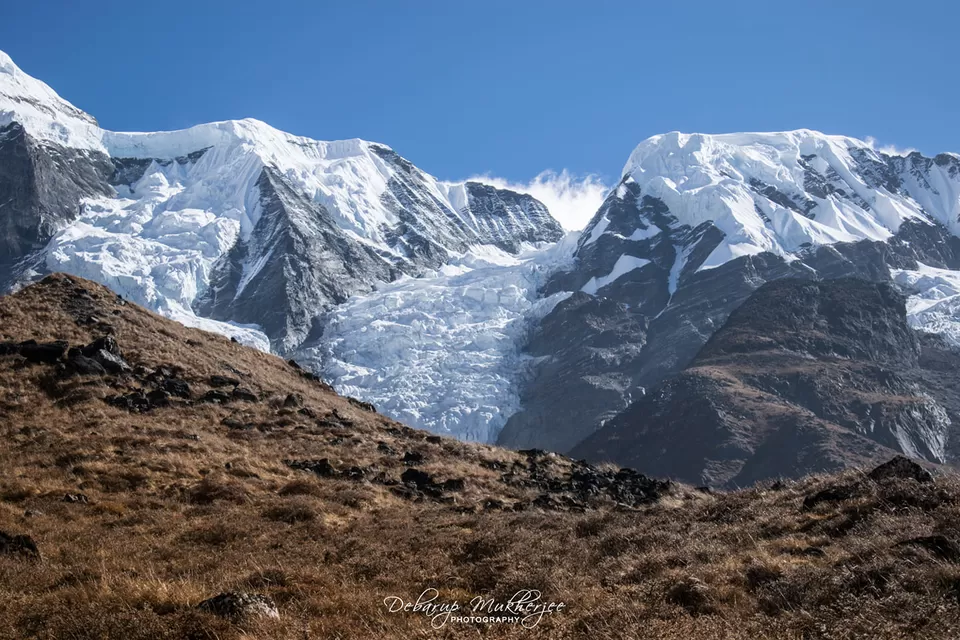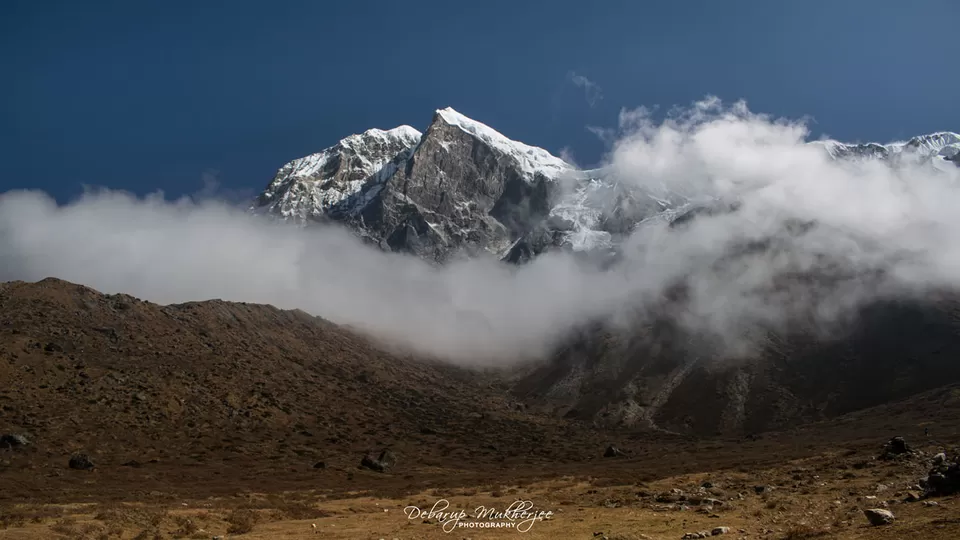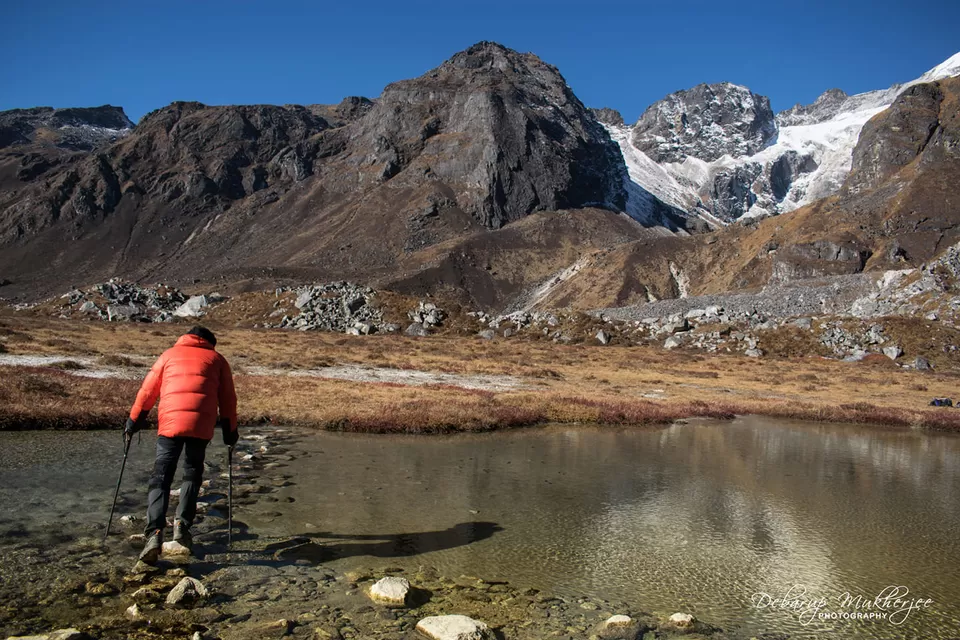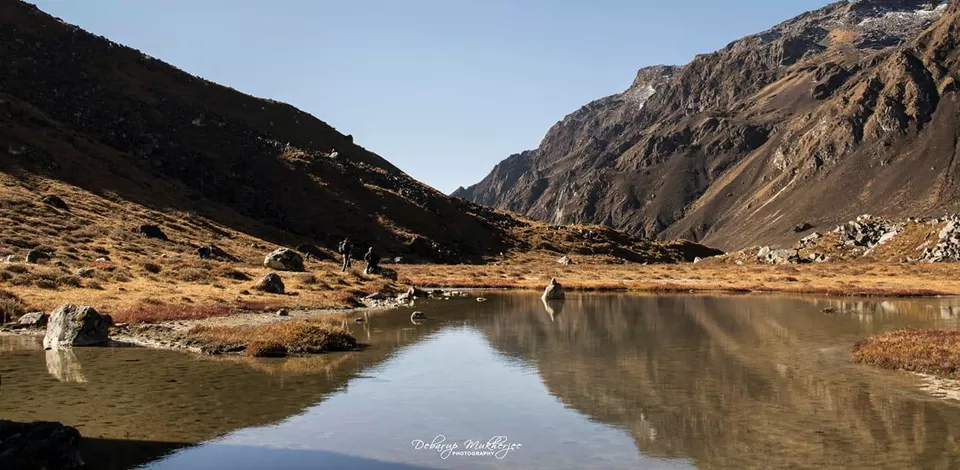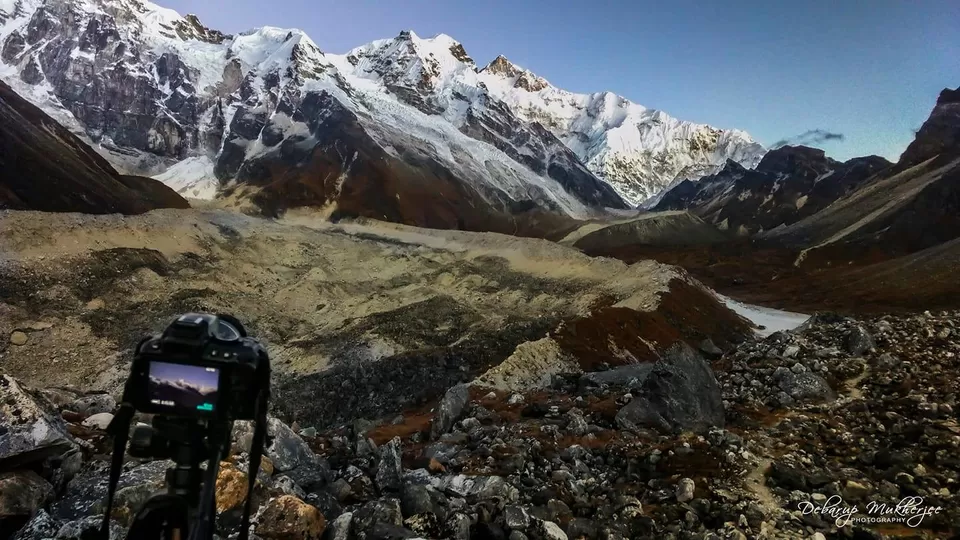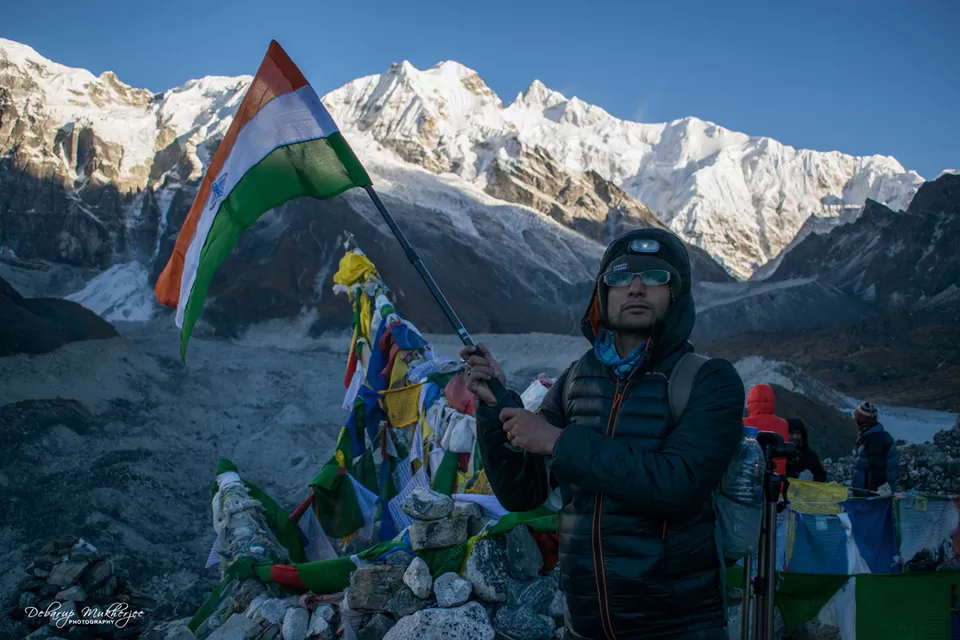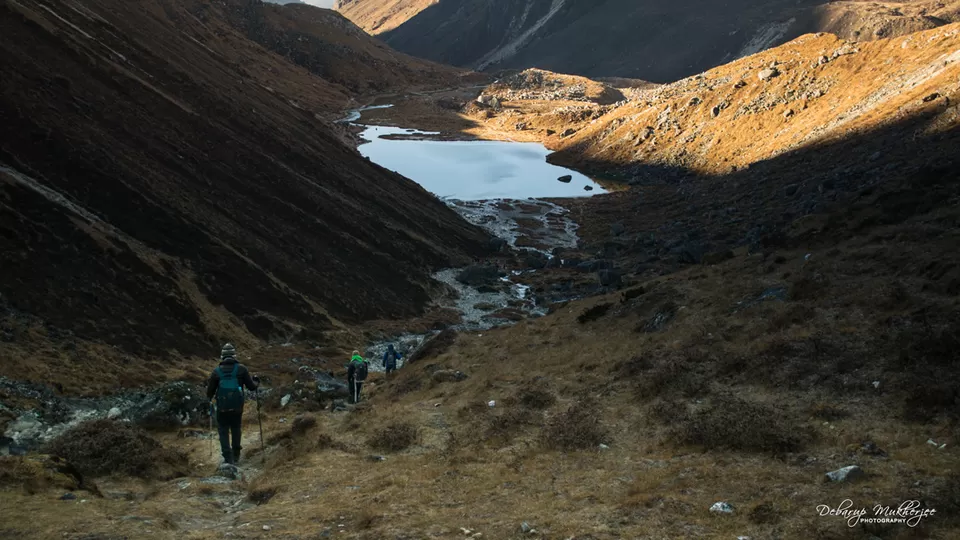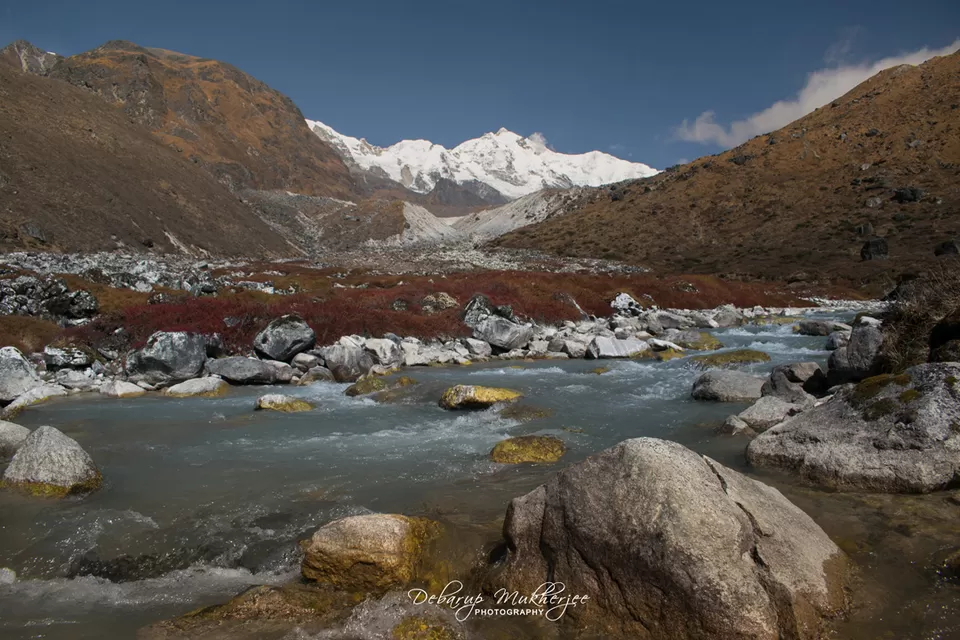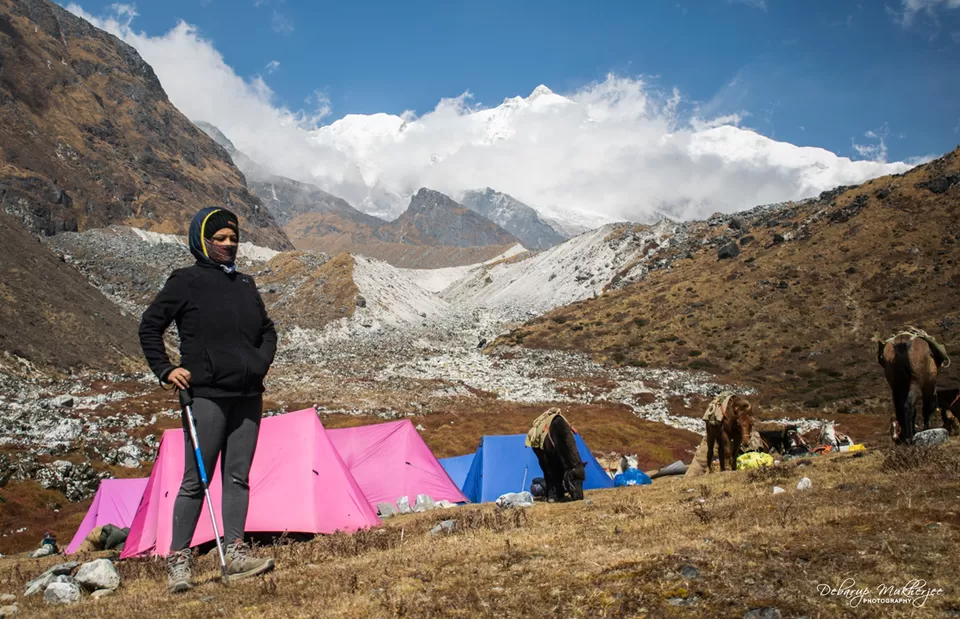 Day #9: Kokchurang – Tshoka Camp
Next day we descended more and rested that night at Tshoka Campsite. This time we got good view of the mountain range from Tshoka as the weather was clear through out the day.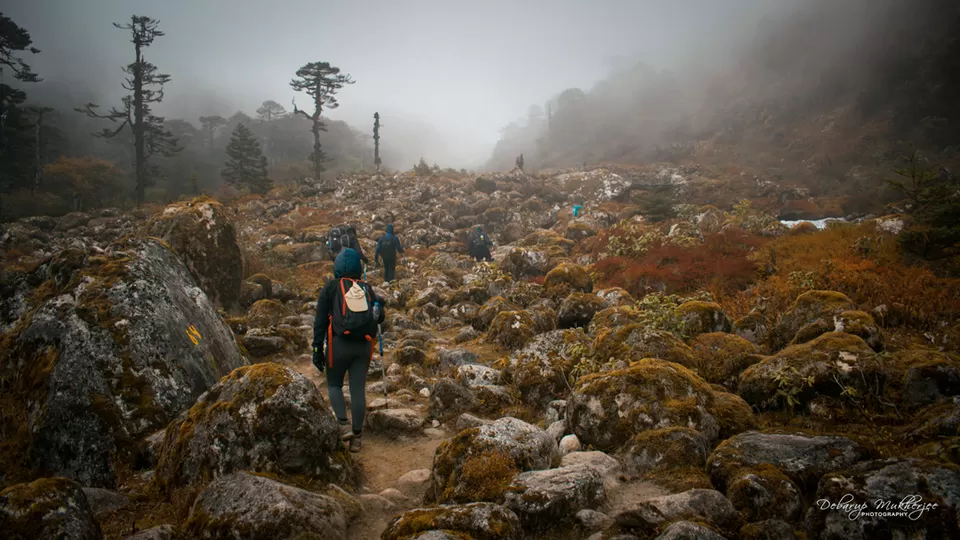 Day #10: Tshoka – Yuksom
So, this was the last day of our trek. We came down to Yuksom gradually and reached our Hotel around 5 PM. We freshened up and came down to Gupta's Restaurant which is one of the well known and famous restaurants at Yuksom. We celebrated that night for our successful Goecha La Trek.
Next morning we started for New Jalpaiguri station and reached by 6 PM. Our train was at 8 PM and it was on time. We reached our home safely, happily with lots of good memories and desire to come back again and experience these beautiful heavenly mountains of Sikkim.