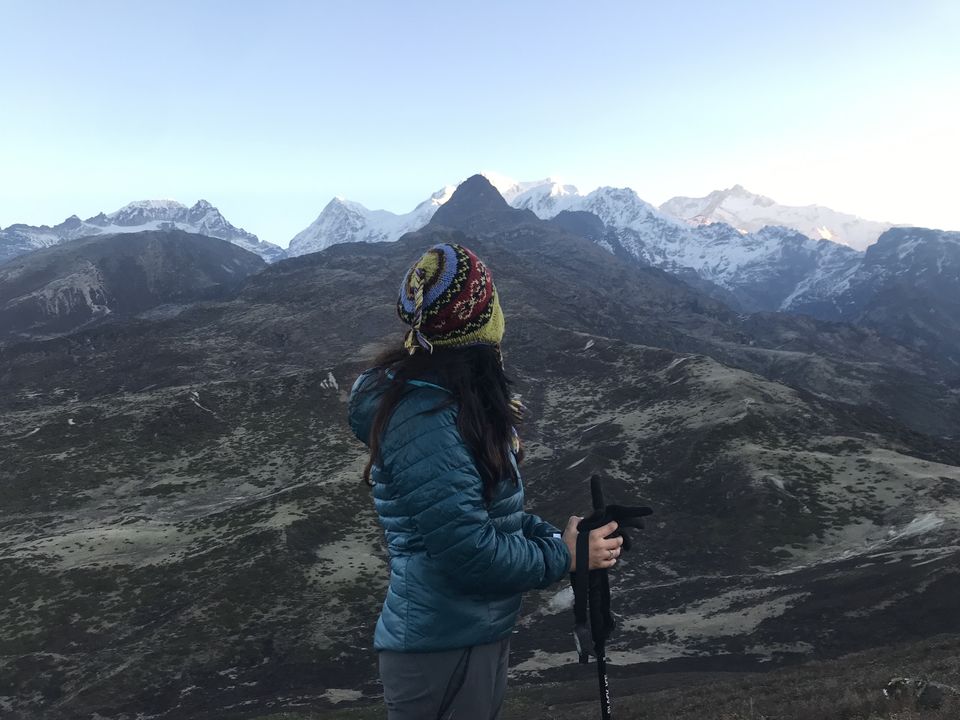 " The only truth about mankind is that it can never be greater than nature"
When the summer sun kicks you out, you are left with few options. One of them is to compensate the hot afternoons with chilled beer, but I do love my body, and so I availed the second option - pack your bags and leave for the mountains. I finalised Goecha La Trek as my destination. It is a beautiful trek in West Sikkim. It is a challenging trek depending on one's fitness level and generally takes 8-9 days to complete the trek. Goecha La Trek was always in my list but it is a serious trek and with the kind of two day trek experience I could boast about, it needed preparation - Well that is what the internet said. So I discussed with my husband about the idea and he agreed. But with the catch, we had only 6 days to complete the trek!
PLANNING
I had one day to book my tickets, accommodation, tour guide, taxi - everything. So I did what I am good at - Planning. First things first, whenever you have less time to research for your next destination, leave a post seeking recommendations for the trip on social media. I left a post at two such Facebook groups and within minutes I had contacts of taxi drivers and tour operators. I saved the contact and moved on to the next major step - Flight Tickets. Delhi to Bagdogra flights were considerably cheap. In case you want to avail train, you need to book tickets for New Jalpaiguri station in West Bengal. Once my tickets were done, I got on to the contacts I had received. The trick to book taxis in North East India is simple. Try to book it from the place which is your destination. My base camp for Goecha La Trek was Yuksom Village in West Sikkim. So I spoke to a guy from Yuksom who charged me considerably less than other taxi drivers. Next step was finalising the tour guide. My husband was against the idea of having a guide disturb our peace on our way to tranquillity - but when I researched it was informed that the trail is confusing and difficult and a guide is highly recommended. You need to decide your entourage depending on your convenience. You can either join a group or just be alone, with your partner. The latter would be costly. Second choice is if you wish to hire a porter for your luggage, or to carry it yourself. And a cook - unless you plan on carrying your ration, fuel, stove all of it with you, into the wild. We needed a guide and a cook and a yak/horse for all the tentage, ration etc. For this arrangement you could be charged anywhere between 18k to 25 k per person. We spoke to the guide and told him we have to do it in 6 days and without the porter. After much ado, we managed a deal of INR 1700 per day per person. Also he assigned a local youngster from Yuksom village as our guide (his own cost cutting measure). We couldn't be happier. And so on this note, started our journey.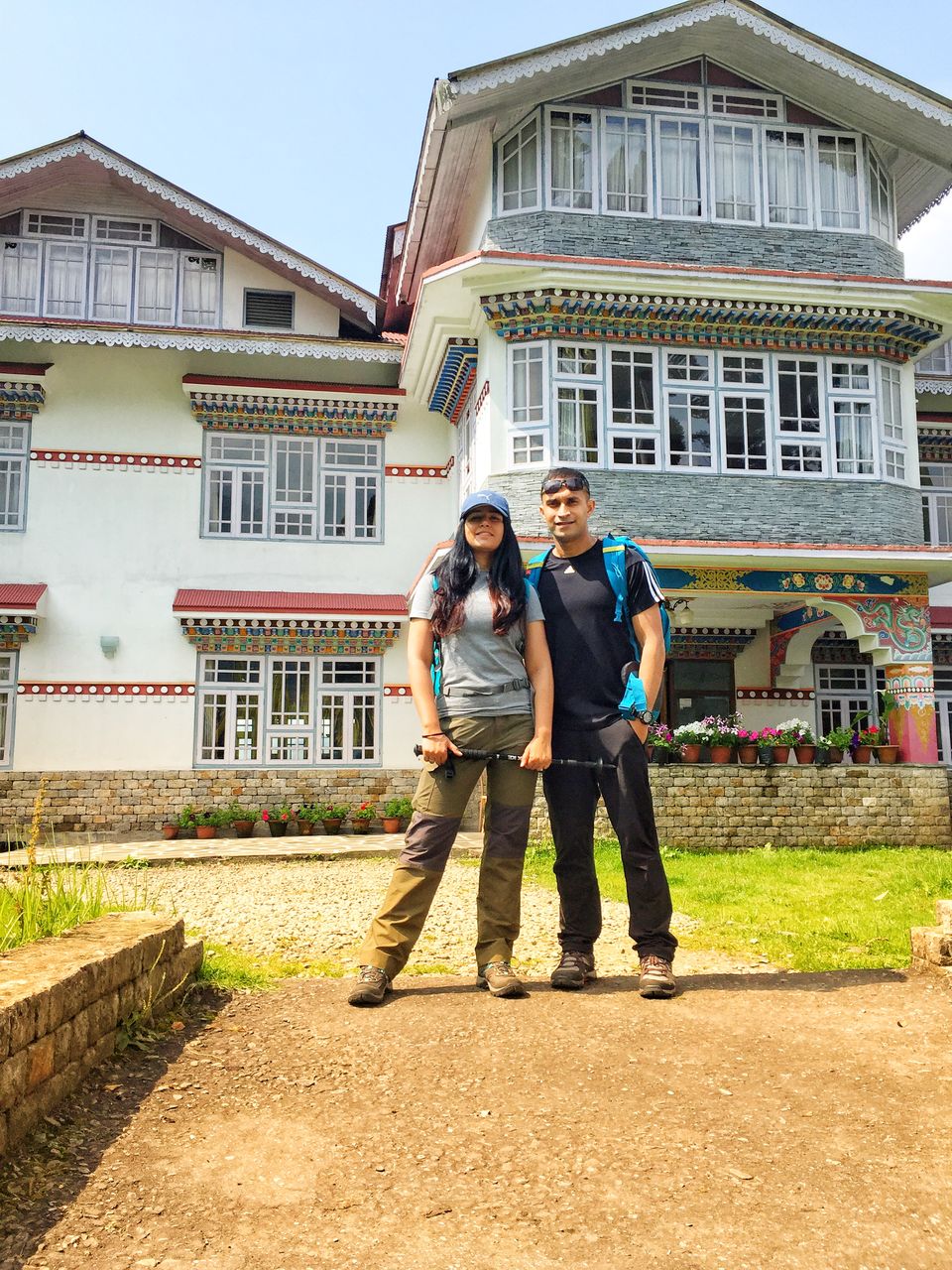 DAY 0
So, we landed at Bagdogra Airport at around 1330 hrs and started our trip to Yuksom at 1500 hrs. The road till Kalimpong was good but full of traffic. However on entering Sikkim, the roads got really bad and we could make it to our Hotel in Yuksom only by 2230 hrs. We were welcomed by a warm staff and power cut. The staff was generous enough to take our battery banks and charge them at their home so that we had back up on the trek.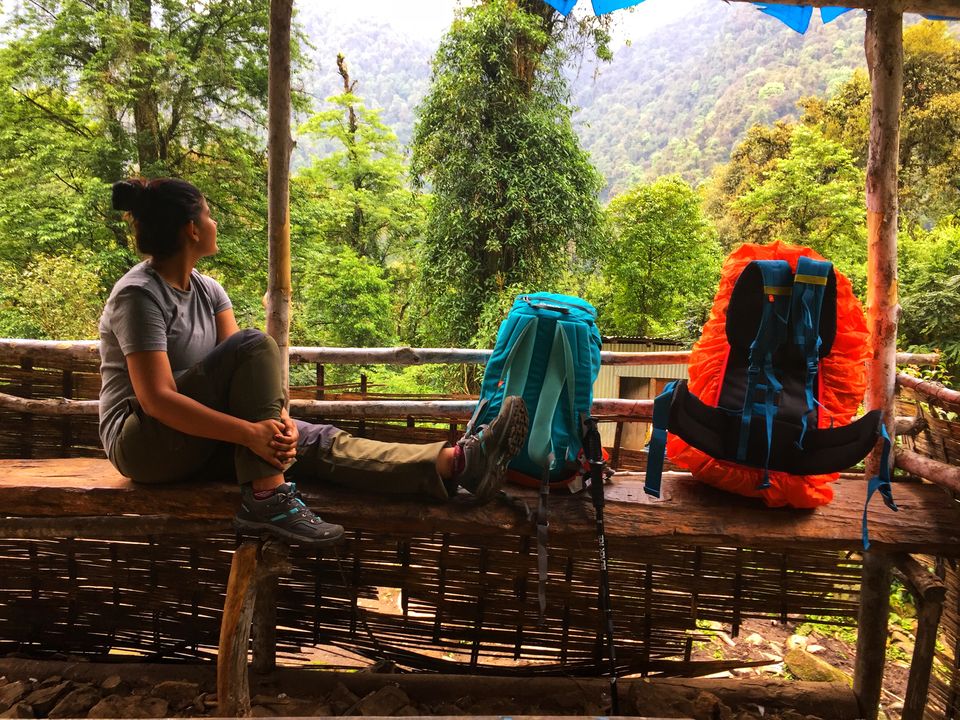 DAY 1
We met our guy Basant at the hotel next morning and he took our IDs for Kanchenjunga National Park Permit. After a quick breakfast, he introduced us to our guide - a 20 year old boy. He had summitted Goechala multiple number of times and was well versed with the route. When we told him we need to do it in 6 days, he didn't trust us completely. But we ignored the concern and started the trail to beauty and magnificence. The trek starts from Yuksom village itself and first campsite is Sachen amidst the woods. The trail is not challenging and we finished the 8 km trek in 3 hours. We were welcomed by our guide who had reached way back and showed us our tents. We had our lunch and retired for the day. There is a cottage here run by a localite where you can get batteries, snacks, maggie etc.
Altitude : 7200 ft
Distance : 8 km from Yuksom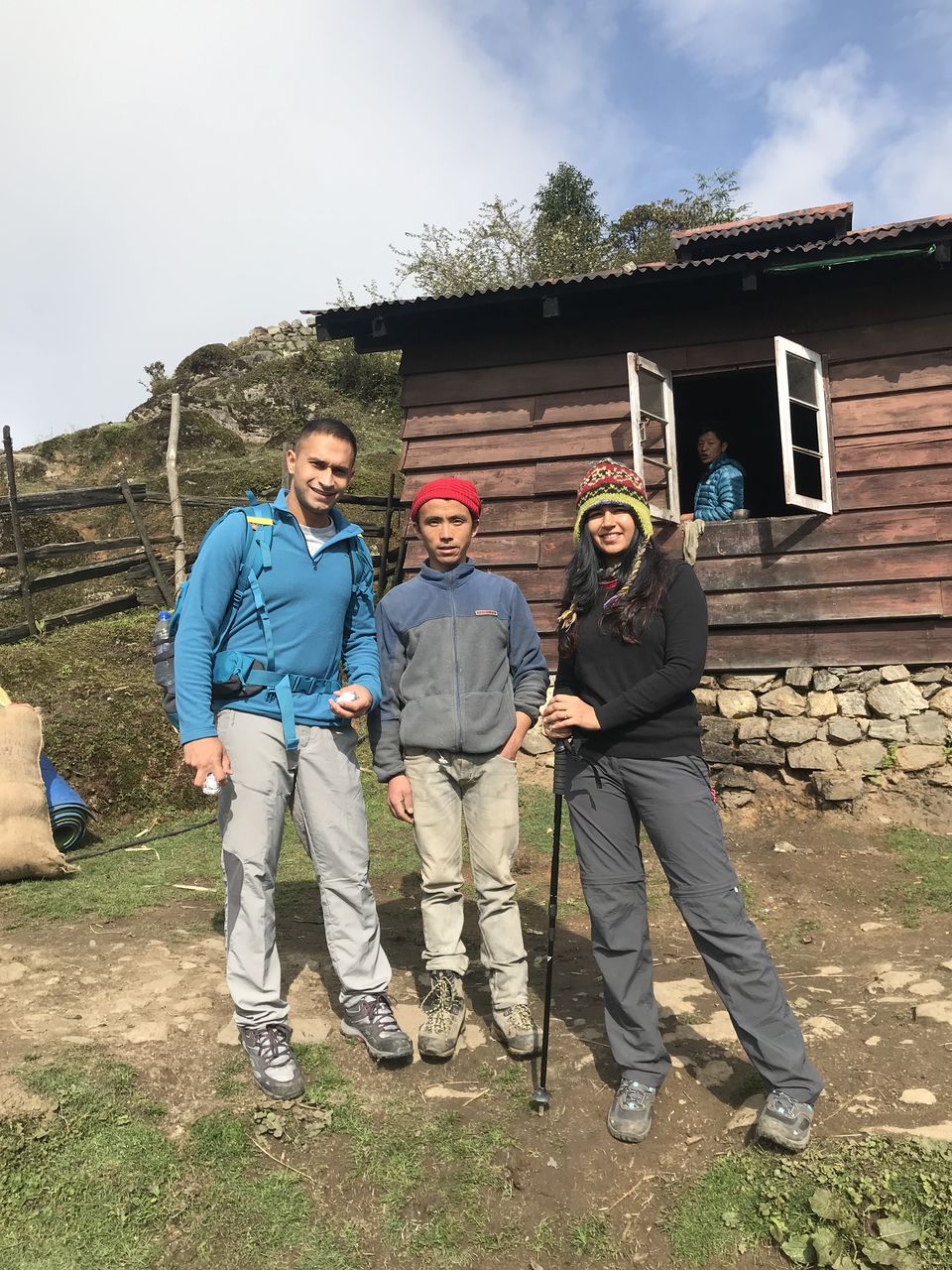 Day 2
Next morning our destination was Tshoka. The distance of 7 km was covered in a time span of 5 hours. The trail is simple for the initial part however after crossing a bridge over a huge waterfall, it is an ascent till Bhakim (midpoint camp to relax, take pictures, have tea, eat wild strawberries ) and then another 2 hours till Tshoka. Don't miss the haunted abandoned building at Bhakim. Villagers believe there is a child visible to many during evening time. We were welcomed in Tshoka by dipping temperature and cloud cover. We could also manage airtel signal at a certain hillock. The campsite is bigger than Sachen with a stable and a monastry. Also one can manage basic cottages to stay for the night.
Altitude : 9700 ft
Distance : 7 km from Sachen via Bhakim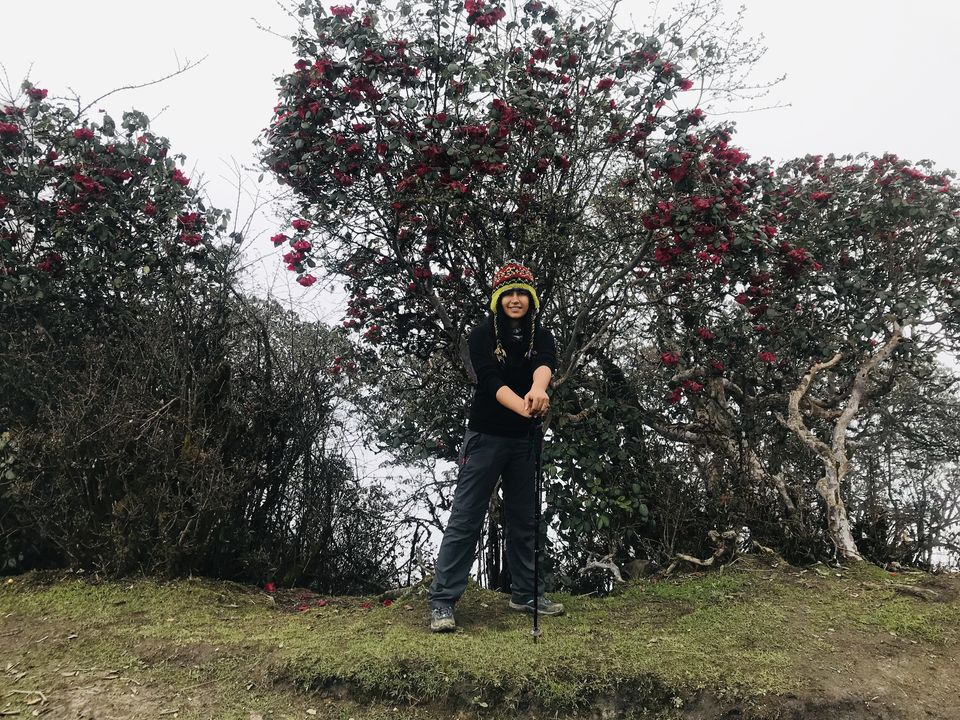 Day 3
Next morning our guide told us to gear up for a difficult trail to Dzongri. We started our journey and were mystified by the welcome we received as we entered a trail where little sunlight could enter and rhododendrons lead the way. The sight is a treat compensating for the otherwise challenging trail. Midway at Phedang, we rested for a while before we continued till Dzongri. The air became thinner and we could immediately feel it in our bodies. Dzongri is generally a day off for trekkers where most of them stay on Day 4 to acclimatise themselves. But we skipped on this part as we took small acclimatisation walks after lunch and felt fit to take on the journey to Thansing the next day. In case you experience nausea or mild headache, it is recommended to stay back at Dzongri and lose oneself to nature.
Altitude : 12980 ft
Distance : 9 km from Tshoka via Phedang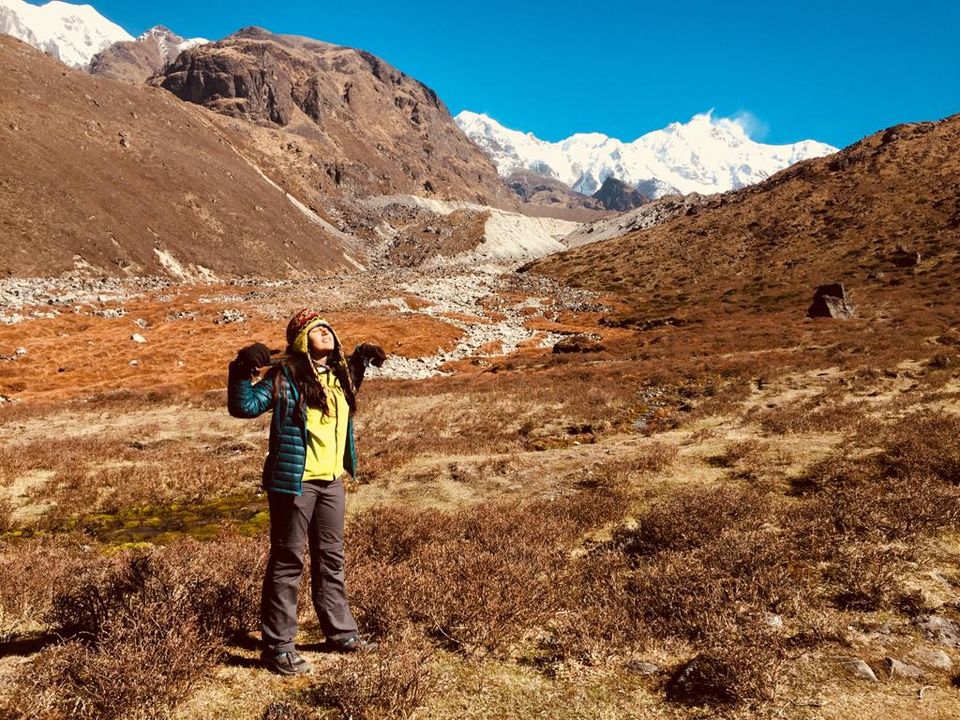 Day 4
The day started early as we had to witness the sunrise at Dzongri top, another 40 minutes trek from base camp. We started at 0400 hrs to reach the top by 0500 to witness the sunrise. We had the first Rendevouz with Mt Kanchenjunga and this little teaser before the final meet at Goecha la was nothing but motivating. The temperature at Dzongri top was sub zero and it was hard to take off the gloves to click photographs. After spending sometime we came back to base camp to have breakfast and continue our way to Thansing. The route to Thansing was a mix of everything. Initial first third of the route is almost a flat terrain followed by gradual descent to the river and then ascent to Thansing. The route is scenic with rhododendrons and river making way for you. We reached Thansingat 1400 hrs. Mt Pandim is right in front of you and the temperature dips further at Thansing. Some trekkers prefer bypassing Thansing and going further to stay at Lamuney which is 2 hours away. Pros - Next morning you can start a little late than the trekkers at Thansing. Cons - Prone to wild winds and chilling temperature. We stayed at Thansing and slept early as next day was our final day to summit Goechala viewpoint.
Altitude : 12900 ft
Distance : 10 km via Kokchurang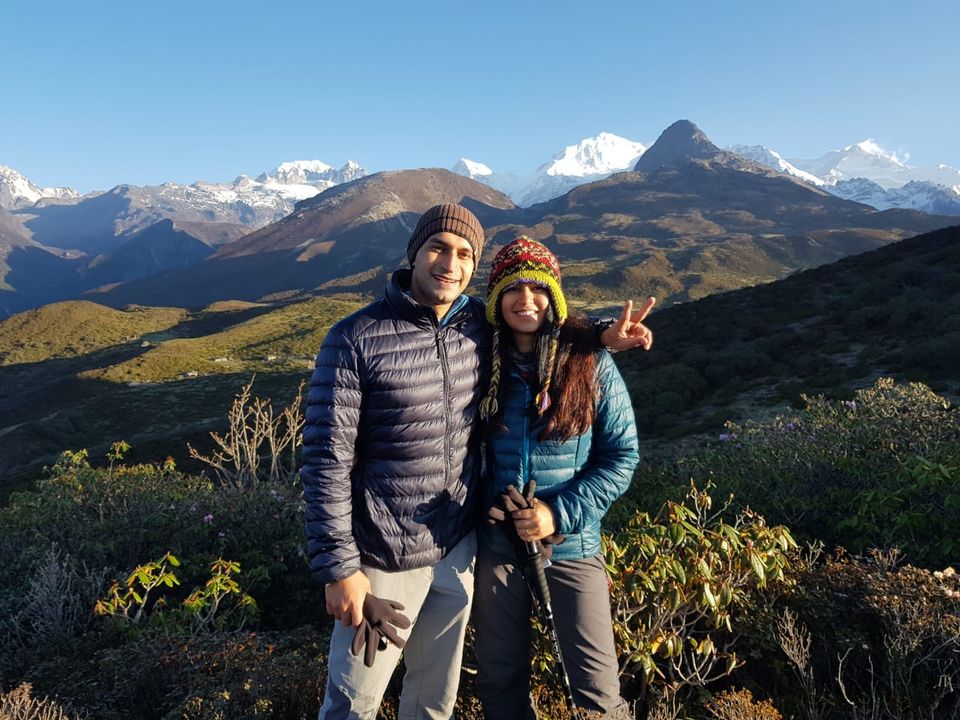 Day 5
We woke up at 0100 hrs and started our trek at 0145 hrs. Trekking in night was a challenge as the darkness slowed us down and the air was thin. Also it is a race against time. To witness the supreme sunrise, one has to make it to the view point in time. The trail is undulating till Lake Samiti which one cannot appreciate in darkness and is an ascent there after. After frequent rests and many self doubts 'Will I make it in time?' , we reached the view point one and the view in front of me was nothing but beautiful. The mighty Kanchenjunga shining like a jewel in the sun's rays. The winds and the chill were both challenging. After some time we decided to bid farewell to the mountains and continue the journey. We descended to Lake Samiti and managed some pretty clicks with the blue waters. We also witnessed Snow Leopard's paw marks on the way down. We came back to Thansing by 1000 hrs and started again for Tshoka after brunch. The trail from Thansing to Kokchurang is the same followed while ascending however there is a bypass to Phedang from here. The route was a long one and we could manage reaching Tshoka by 1700 hrs. We had been walking for more than 16 hours and our feet badly needed rest. We crashed in our beds on reaching Tshoka.
Altitude : 15100 ft
Distance : 2 km Thansing to Lamuney
5 km Lamuney to Goechala View Point
16 km Thansing to Tshoka via Kokchurang & Phedang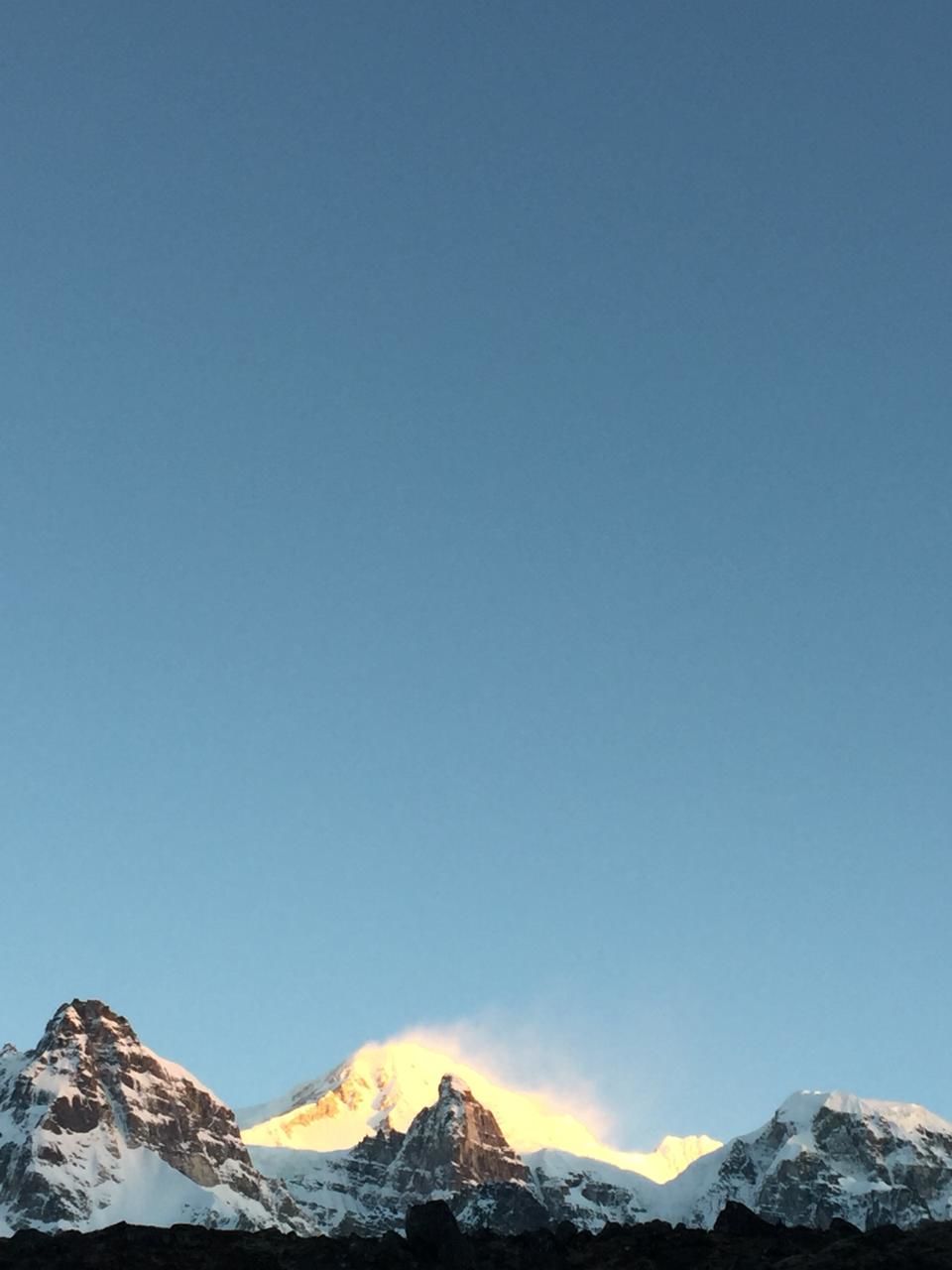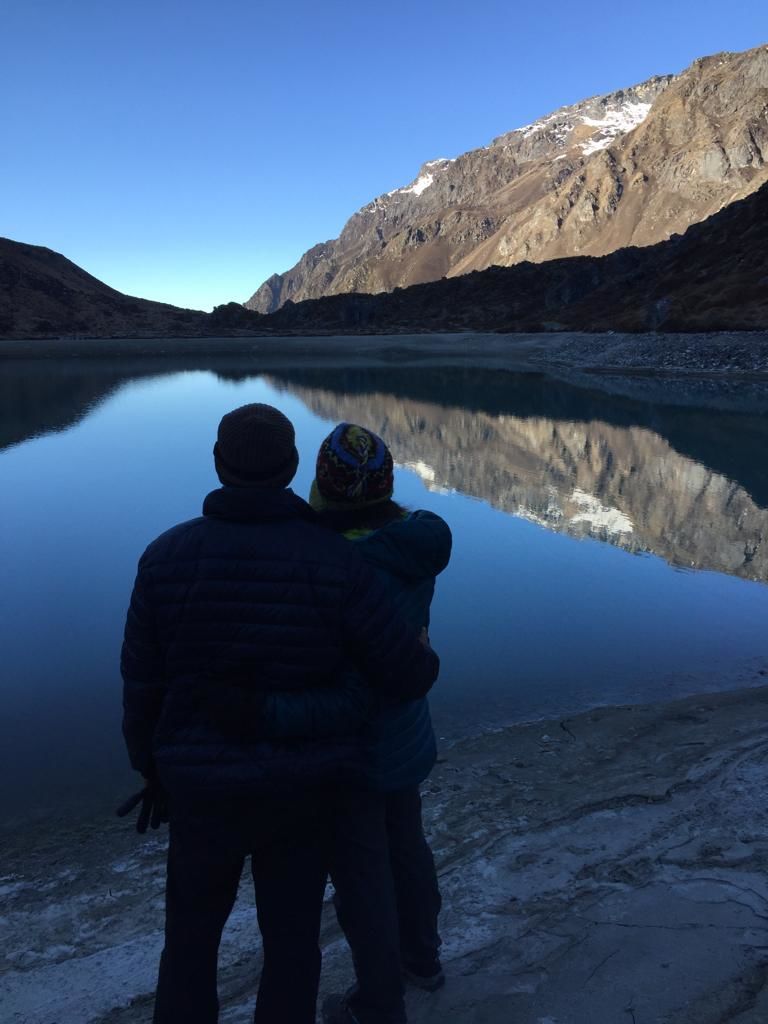 Day 6
Last day of the trek. We had not taken bath for the past 6 days and were craving Pizza. We started our trek and managed to reach Yuksom via Sachen by 1500 hrs. The trail was known but our bodies were tired. Finally on reaching we had lunch at Gupta Restaurant and crashed into a luxury room in Hotel Red Palace.
Things to Note
1. The trek can be managed in six days but is subject to one's fitness level.
2. There are no ATM in Yuksom. Withdraw money at Jorethang on your way to Yuksom.
3. Carry a battery bank for your phones. Batteries drain very fast in sub zero temperature. Keep the phones wrapped in your woollens.
4. The distances between camp sites are more and thus it is advisable to carry dry fruits/ energy bars on the way.
5. Look out for amazing flora and fauna on the way.
What to Pack
1. Trekking Pole
2. Three layers of warm clothing
3. Gloves for sub zero temperature
4. Woollen socks
5. Battery Bank/ Spare batteries
6. Head Torches
7. Medicine Kit
8. Cap, neck warmer
9. Polarised Sunglasses
10. Rain Coat
Conclusion
Goecha La trek is a hard trek and will test your willpower. Go with a partner who will push your limits and believe me, you will come back a changed person.