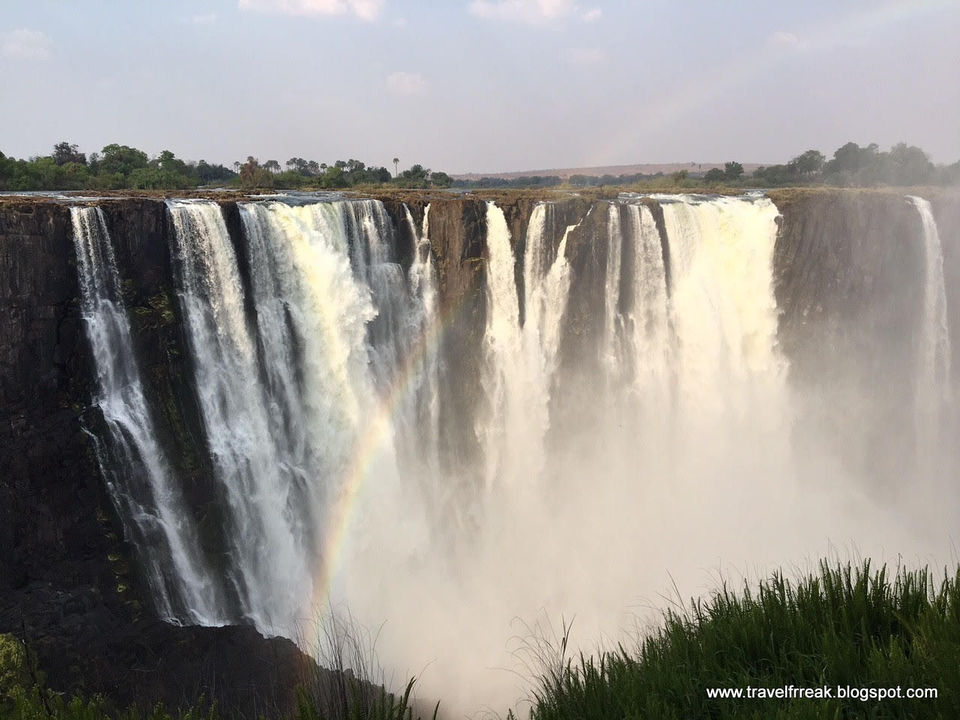 Detailed article along with photos, on http://travelfrreak.blogspot.com/2016/11/a-surreal-weekend-in-victoria-falls.html
Victoria Falls has always been famous for its huge waterfall on the Zambezi river but now a string of many other activities have come up around the Falls which can keep you occupied for a lot longer. During my stay in South Africa, I visited the Victoria Falls area on a weekend from Johannesburg. The first evening, I explored the Zambezi river on a boat safari. And the next morning, I made a trip to the Devils Pool and walked around the Falls area. Other than that, I just walked around a bit taking in the feel of being in Zambia. After the trip, I realised though that you definitely need a couple of days to explore Victoria Falls fully; though even in my day there, I totally loved the place.
My trip to Victoria Falls was over a weekend, but the flights were such that it turned to be just about 24 hours. And even though it was short, I don't know why, I felt it was one of my most wholesome and surreal travels ever. I wanted to write about my experience immediately, to be able to put to paper my feelings most accurately. I clearly didn't do that, but will try to remember as much as I can to be able to explain why I felt so.
The first reason of course was that this was the easiest and quickest planning I have done for a trip to another country! I booked a reasonably priced and well rated B&B on booking.com, a quick flight ticket on British Airways (apparently BA flies locally within South Africa too, so Avios points helped), applied for the Zambia visa online and that was it, I was done.
Victoria Falls are located right on the border of Zambia and Zimbabwe. The border runs midway through the Falls and because of that provides a great source of employment and income to the people on both sides. It is well suited for tourism from either side too. There is a town on both sides of the border, run purely for the Falls tourists - Livingstone in Zambia and Victoria Falls in Zimbabwe - and you can fly to and stay in either of these places. Also, the way the Falls are split between the two countries, you can do some activities only from the Zambia side (e.g., Devils Pool), but see the whole Falls only from the Zimbabwe side. So most people visiting the Falls apply for both Zim and Zam visas. I applied only for one though, the Zim side, and stayed the whole time in Livingstone.
FYI - the two sides of the river are called Zim and Zam:). And if you go back a bit further, you will also run into the Namibia and Botswana sides of the river..
Applying for the Zambia visa online was one of the simplest visas I have ever got. All you need to do it upload a couple of basic documents online, and voila! You get the visa emailed back to you within a day! Though I had to face a different issue at the airport later.
Because of tourists coming to both the Zim and Zam side, the visa structure there is unusual. There are 3 types of visa options available: $20 - Day tripper $50 - Single entry $80 - Multiple entry
I thought this was quite convenient for tourists but this structure makes it more profitable for the Zam government. I had applied for the day tripper visa for $20 (as it said its valid for up to 24 hours), but turns out its valid for up to 24 hours in one single day! So if you enter Zam one day and go back the next, you need to buy the higher Single or Multiple entry visa. So at immigration, I had to pay $50 instead of $20. Thankfully they still let me in, and did not ask me to fly back to Joburg!
While landing, the whole area appeared dry and yellow, with dried out shrubs everywhere. It actually felt parched and dry from the top. We even saw the Zambezi river from the flight, it didn't look as huge as it actually is. Looks like it spreads out a lot more just before the Falls. The airport as expected was small but surprisingly posh and well maintained for such a small airport.There are only about 4-5 flights which fly to this airport, all of which come between 12-1 pm and then leave between 1-2 pm. The airport was pretty fancy for one which opens for only a few hours and is shut down for the rest of the day????. Of course, during this time, it was crazy busy. There were very long queues at immigration, and that is a typical woe at this airport. Also I noticed, there were only whites in the flight and the immigration line, which I found very surprising, or maybe more upsetting than surprising.
Once crossing the immigration line, as I said before, the whole weekend was surreal. It just flew by like an idyllic river. The weather was very warm, actually it was really hot. And right from outside the airport, the air started feeling lazy and idyllic.
I took out some local currency from the ATM at the airport. Its called Zambian Kwacha and 1 USD is about 10 Kwachas. Everyone accepts USD here, so might be a good idea to carry some dollars with you. In fact, all prices are quoted in round USD figures. Once out, I took one of the local taxis (the blue coloured ones are the official and safes ones) to my B&B in Livingstone. There is almost a standard rate for all taxis in Victoria Falls - USD 10 or 100 Kwachas - to get anywhere. From airport to Livingstone, airport to Falls, Falls to Livingstone etc..
I was staying at Gloria's B&B in Livingstone and the cab ride was less than 10 mins. Driving through Livingstone, it did not feel like a town at all. It looked like just a random distribution of a couple of one storey houses with huge empty spaces in between. Its difficult to imagine it was the British capital of the country once!
The B&B owner, Gloria booked the evening safari for me with Livingstones Adventures. The way she was talking to them, it looked like everyone around knew everyone. The safari organisers picked us from the B&B and went to their centre. Everywhere, all you have to say is that you are from Gloria's B&B and they know you????.
There were two options here - to go for the sunset cruise which is in a huge multi-level boat and then a 2 hour river safari, which is in a smaller group of about 10 or so people. I had signed up for the Zambezi river safari (USD 95) and so we left in this small little boat to explore the river. There were two guides with us on the boat, one was motoring the boat and the second was telling us about the river and the animals around. They also had snacks and drinks on the boat - the cold water was definitely very welcome then????.
The earlier part of the safari was a bit hot and sunny. So had to avoid looking too much in the direction of the sun. The guides first took us upstream around some of the islands in the middle of the river, to spot some animals. It wasn't much of a wildlife safari honestly, more for enjoying the river and its mood, though we did spot a few animals too.
We saw many groups of hippos lazily floating around in the water. Their heads were bobbing up and down all the time. They are supposedly the most dangerous animals around - who would have thought, given how cute and chubby they look????. And then we saw a crocodile nesting its young on the side of the river.
We spotted a couple of colourful birds on the sides as well as a warthog on the river bank. Both sides of the river are national parks (Mosi-o-Tunya and Zambezi park) and we could see people doing wildlife safaris on both sides.
After an hour on the boat, we stopped at one of the many islands (apparently lazily floating around) on the river. I asked for its name but no one cared????. We ate some snacks (chicken wings, sliced vegetables and samosas), enjoyed the sunset and then were driven back to the adventure center.
Going back was interesting as it had got a bit cooler by then, and I sat on top of the boat. Also going back we were going upstream and there were loads of small rapids on the way. It was quite exhilarating and scary at the same time to go back this way. The views of the sunset on the river were magnificent. Its funny, that sometimes such a simple thing as a boat ride can be so memorable and relaxing because of the picturesque vistas.
Back at my B&B, I crashed soon after as I was feeling unwell too. Somehow the warm sun had improved my cold during the day, but it had come back by the end of day and I was exhausted. There was a power cut at night which happens every night - it felt different as I haven't been in one for ages!! There was still power in my room as they use solar power to run everything when the power cut is on. Though that meant that the AC could not work, still it wasn't uncomfortable at all. It was then that I suddenly felt that you don't need much to live a happy and peaceful life. People around here are living a lazy paced life. And their life is beautiful. Why do we stay in such complicated places and lives then?
Anyways, with these thoughts I woke up early in the morning, when I had go and find a place for myself on the Devils Pool tour. The Devils Pool is a small pool, right on the edge of Victoria Falls just when it falls hundreds of metres below. It is also know as the ultimate infinity pool. Because of the natural river erosion, this pool was formed naturally, providing a safe place to swim right on the edge. Its still dangerous to go there during the high water season, but it is relatively safe in the dry season. It is still a bit scary though, as if you look down, you don't see much but water falling all the way down.
The Devil's Pool was my main reason to come to Victoria Falls! I had heard about it years ago and wanted to experience it myself. Till a couple of years ago, anyone could just walk to the Pool with a guide. But nowadays only one particular adventure company is allowed to take a limited number of people to the Livingstone island and the Devil's Pool. There are only a few tours in the day and as would be expected, they are booked early on. So when I tried finding a place, I was told that there wasn't any.
But I did not want to give up still. So I decided to turn up at the Royal Livingstone Hotel in the morning at 530 am where the tour leaves from. Earlier they were a bit unsure whether I would get a place or not. But thankfully someone had cancelled at the last minute, so I (and another stowaway like me) got a space in the group. We were a small group, of about 10 or so tourists. And surprisingly, most from the US. Looks like Victoria Falls is quite famous on the other side of the pond????.
The guides first take you to the Livingstone island in a boat, then you walk across a bit on the top of the Falls, then you swim across a part of the river, carefully avoiding the current, and then you walk a bit to get to the Devil's Pool. The Livingstone island is located right at the edge of the Falls and was the first place from where Captain Livingstone had viewed the Falls. To be honest, you don't even realise how dangerous all this is till you look over the edge and realise, that a few cms away, is a sheer fall.
We then jumped into the Devil's Pool, holding onto the rocks for dear life and got onto the edge to peer down. It felt like any other pool when you are just swimming around. It is only when you peer down do you realise what a stupid and risky thing you are doing!!
It was quite scary, though I think the way it is run by the adventure company now, the whole experience has been devoid of some of its excitement. It is definitely a lot safer this way, as it almost feels like an assembly line. But the fear and excitement I would have expected is no more there. You go there in a 10 mins boat ride, swim a bit, the guide takes a couple of typical photos on the edge and you are done. While sitting on the edge, I tried to at least get a photo of me without the lifeguard but it turned out you can't anymore. The lifeguard who accompanies the group needs to be in each and every photo taken there to prove that they are following all safeguards????. Hilarious! But it also means I don't have any great pics from the Pool without the lifeguard in it ????.
On the other side of the ravine, we could see tourists walking on the Zam edge to get a view of the Falls. From the Pool though, you could only see the water going down. Nothing about what happened when it reached down. (By the way, I recently saw the same location shown in Human Planet - the Rivers episode. Apparently, locals come and fish here on the edge of the Falls regularly)
After the dip and swim, we had a bit to eat on the island - some local delicacies made by the organisers, and then we were done. Once back on shore, I spent some time at The Royal Livingstone hotel. I would rate this as the best place to stay around here if you don't mind splurging a bit. It is located right next to the Falls and has a nice sun deck on the river to just laze around and look at the lazy hippos floating by in the Zambezi.
And this whole area is very green too, unlike the rest of the places around which were yellow and dry everywhere. The Hotel has a big compound and they have zebras, giraffes and impalas walking around. I had even spotted a giraffe and zebra grazing away on the grounds.
Most of the activities take only cash payments, and I had finished my cash with the Devils Pool tour (USD 98). So I thought I would walk across to the neighbouring Avani hotel, a less luxurious cousin to the Royal Livingstone. The walk was through their grounds where alas I did not see any more wildlife. There was a Barclays ATM in Avani where there was a long queue of about 10 people and the bank employees were trying their best to make it work. It didn't and so after 30 mins I decided to just go back to my B&B. Its been quite some time since I have felt so frustrated not being able to get cash. Am guessing in India, that's the feeling that must be going through everyone's mind? (Random fact: I also noticed they have Airtel services in Zambia, Go Bharti?)
I called for a taxi (again 10 USD) to go back to the B&B and a woman in very stylish clothes came to pick me up. I was almost sure she wasn't for me or would charge a heavy price for dropping me - her car was so good and she seemed well educated too. Wonder if there are not many employment opportunities in this part of the world or if taxi driving is a lucrative business????. Once back at the B&B, I relaxed a bit in the pool and then was ready to go to the airport. Alan dropped me back to the airport after a stop in the city where we finally found a working ATM. I also saw lot of run down English buildings in the city, remnants of a different era gone by?
Even though there are only 4-5 flights coming in to Livingstone daily, everyone is suggested to be in the airport at least 2 hours before. I wasn't sure if that was being overcautious, but looks like not. The airport by this time was going crazy and the queue was 1 hour long. I did figure out though, that since mine was the last one of those flights, I should have come just 1 hour before and it would have been fine. Since I came 2 hours earlier than my flight, I had got in with the whole crowd and so it took 1 hour for me to get through the queues.
Since I had a lot of time, I looked around the small airport to buy something local. There were 5-6 shops selling handicrafts, and I found an African print shirt which I liked. However, it turned out to be Made in China. That put me off so much that I decided not to buy anything! The flight back was uneventful, and within two hours I was back to the hustle bustle of the multi-million people city of Johannesburg. And this is how this weekend faded away...
The whole trip felt so short and wholesome; convenient and lazy. Its difficult to explain the feeling. One thing I should mention though is there are loads of activities to do there which I didn't.
Here is a list which I found at one of the travel agents - kayaking, game drives, helicopter and microlite rides, elephant and horse ride, bungee jumping, fishing and so on! And then you can walk along the edge of the waterfall if you enter through the Victoria Falls park on the Zam side (you have to stop much before the Devil's Pool though!) or just cross over to Zim side to get a good view of the whole Falls. Apparently, you cannot see the bottom of the falls during the high water season, but at this time, you could. Anyways so many more things to do, I wish I come back here again, with more time to be more lazy????.
Accommodation
The Avani and Royal Livingstone would definitely be the best (and most luxurious) places to stay among the options here.
My stay in Gloria's B&B, though not comparable, was good too. Gloria's is a single floor small convenient house, with its own pool and a couple of rooms at the back for guests, with gardens all around. It felt almost like staying with a family. Gloria ran the B&B, while Alan did the running around. And they had a couple of more people helping them run the place. They offer a complimentary pick up and drop off from airport also.
Gloria and Alan were very friendly and welcoming, and helped with all the bookings and answering all my questions. It was very interesting to talk to them too, as Alan was from UK and had now settled in Livingstone.
The room I stayed in was very clean and convenient. It had everything you need, plus an AC which you really need! At night though the power goes off, and they use solar power for a couple of hours. Though the AC does not work on solar power and it gets a bit warm inside. The pool outside was quite average though, it was just a place you could sit in the water, not really a pool for swimming. The rooms were so laid-back and simple, I could not help feeling why do we ever need all the flashy decor of regular hotels?
- If you have time, plan to visit the Falls for at least 4-5 days. There are loads of varied activities to do in such a convenient way - Stay at Royal Livingston or Avani if you have money to splurge - Book Devils Pool tour in advance as it always sells out - If you have, carry USD with you, as its convenient and everyone takes cash. Also, all these activities are quite expensive so carry enough cash - The whole area felt very safe and relaxed, so don't worry about safety much. Its all cool:)