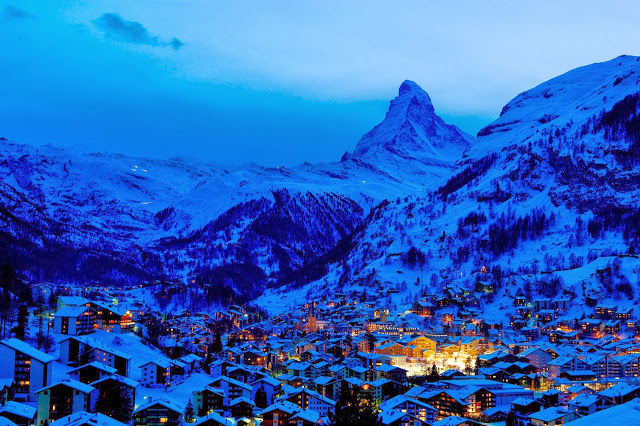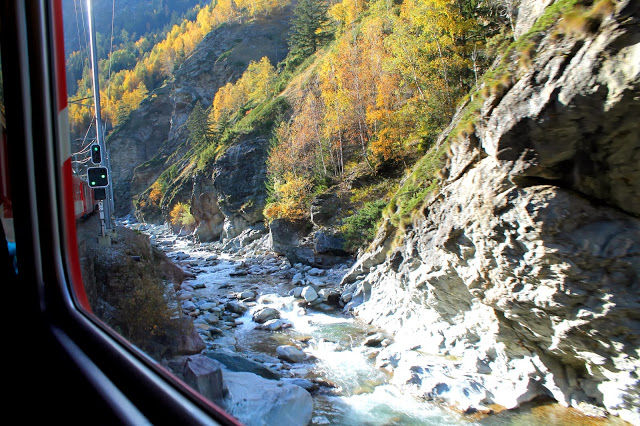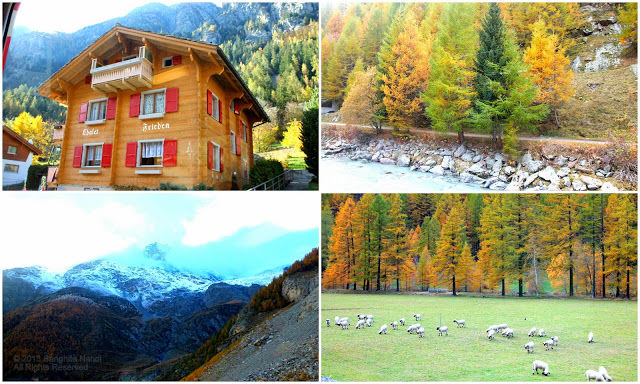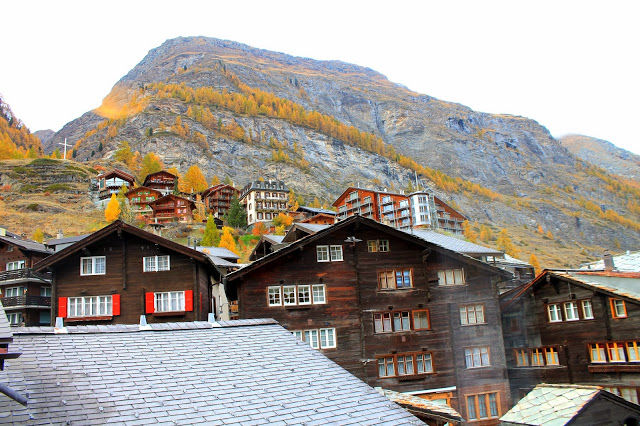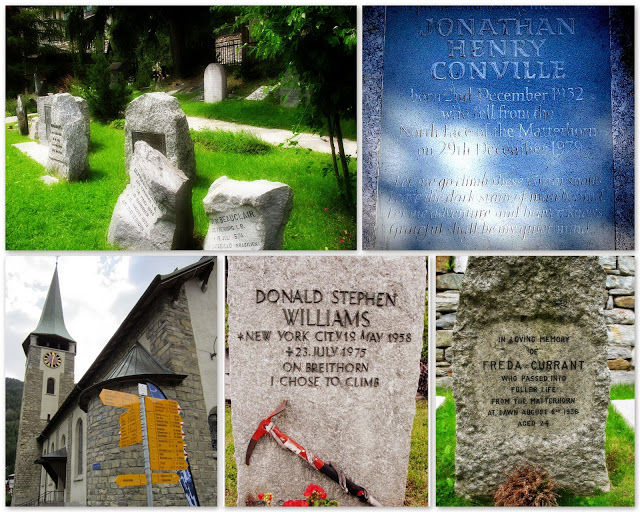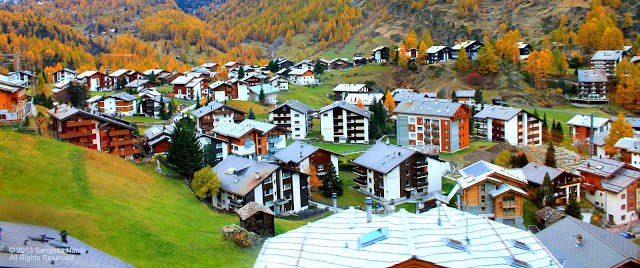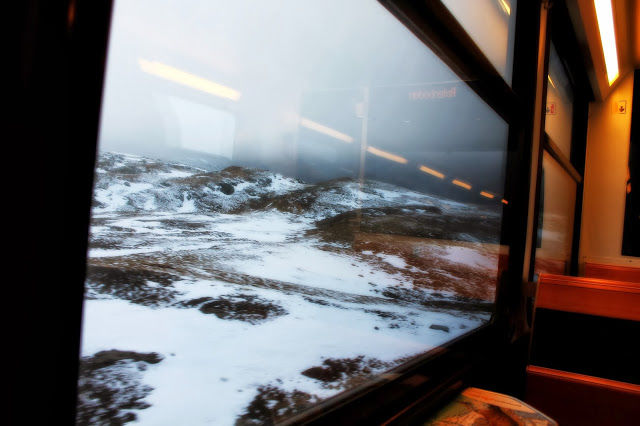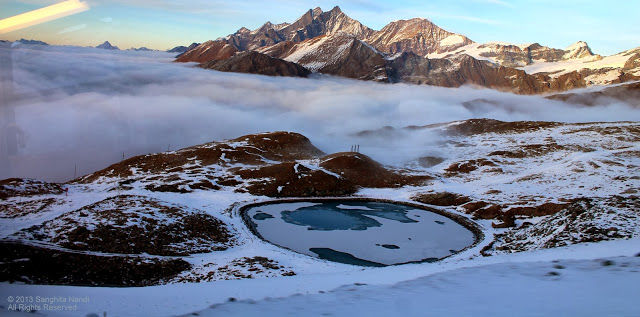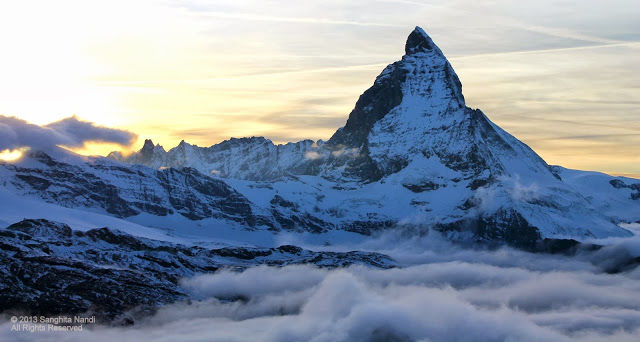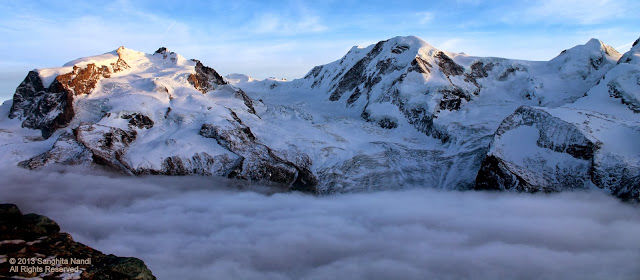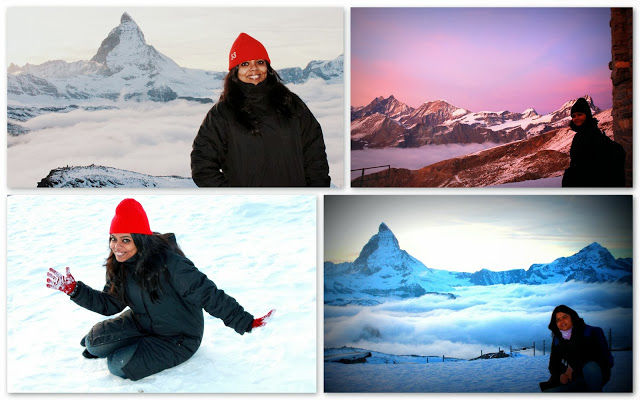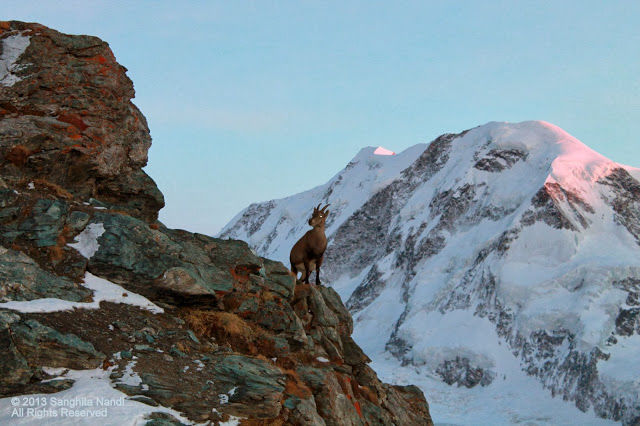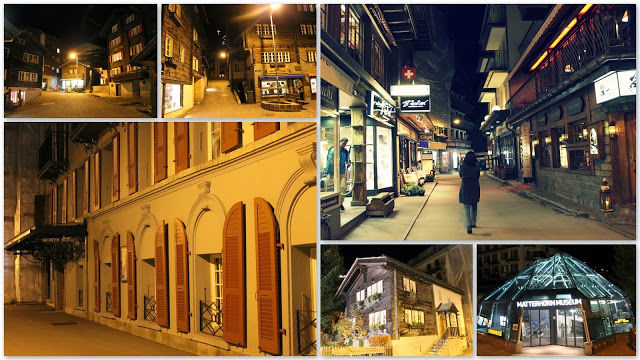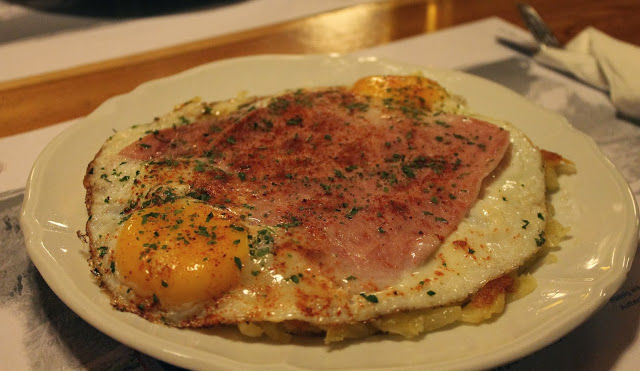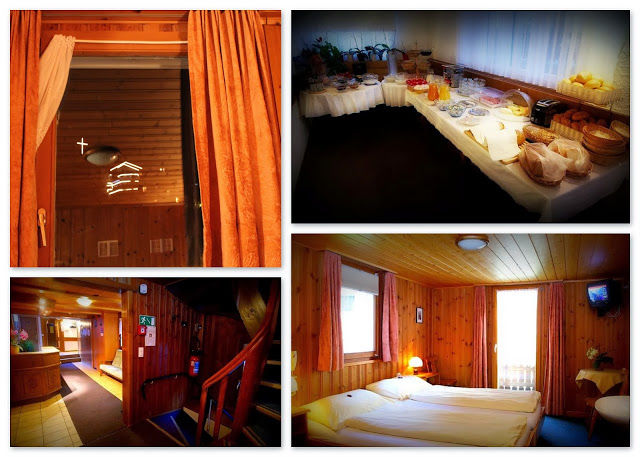 "God paints in many colours;
But He never paints so gorgeously…
As when He paints in white"
- G.K. Chesterton
One day while I was researching about my Switzerland trip, I saw this picture of Zermatt and I knew, love at first sight happens. From that moment onward, Zermatt was on my travel menu... And I knew it wouldn't be a mere appetizer... It was about to be the main course of this trip!
Day 4, October 30th 2013, Wednesday: With so much of love in my heart, I gave my friend Pritha a head start of 3 hours. I started from Mientalstrasse in the morning while she decided to work half day and then start at 1 p.m.. I was using the 3rd day on my Swiss Flexi Pass. I shivered as I waited at Zurich HB for my train to Visp. The temperature had suddenly dropped to 3 degree Celsius since morning. I breathed a sigh of relief as I boarded the Intercity train, thanks to their central heating system.
The journey from Zurich to Visp takes 2 hours. During the last leg of the journey, the train passes through the Lotschberg Base Tunnel - World's longest land tunnel. The train ran the entire length of 34.57 km in just 15 minutes! I reached Visp exactly at 12:02 p.m. as per the scheduled arrival time - another thing I loved about Switzerland. The Swiss travel systems run as perfectly as the clocks they make. In fact, there is a popular saying that the Swiss don't run their trains by the clock. Rather, they set the clock according to the train departure and arrival times. Bingo!
I boarded the Brig-Visp-Zermatt-Bahn (BVZ) after few minutes - a metre gauge train that connects Visp and Zermatt. Soon after leaving Visp, the train entered the Mattertal - a very steep valley evidently affected by frequent landslides. And for the first time since I landed in Switzerland, I saw snow covered peaks. The train passed through many small towns like St. Niklaus, Tasch and Randa. Zermatt is a car free town, so many people who travel to Zermatt in private cars prefer to stay in Tasch or Randa, since they can drive till there.
When I came out of the Zermatt station, it was freezing cold and I hardly had much layers on. My phone battery was close to being dead. So with no scope of using the navigator, I took a right from the station and started walking down the road, hoping that right was right. But after sometime, I decided to ask around and entered a shop. The shop owner almost jumped when I said 'Excuse Me' making me wonder if he wasn't used to people walking in. When I told him that I was lost and looking for Hotel Weisshorn, he - very patiently - explained me the route, which was exactly the opposite direction of 'right'. I said danke to him and walked as he had instructed and soon enough I was standing in front of my hotel. The hotels and houses here are more of mountain chalets made of dark chocolate colored wood.
Ingrid, the receptionist at Hotel Weisshorn jumped when I said 'Excuse Me' making me wonder what's wrong with 'Excuse Me'. I showed her my passport and paid for the room. When she heard that we were leaving next morning before 6 a.m., she gave me the key to the breakfast room, showing me where the room is. I was touched by her hospitality. How did it matter to her if we, strangers from a far off land, left without having breakfast early next morning? But it did somehow and that kind gesture would remind me of Ingrid in years to come.
Our chalet room was very cozy and wood paneled with a window that overlooked a nearby mountain and a far off chapel. There was a wooden balcony from where we could enjoy a great view of the main street and the church. I quickly put on 4 layers of woolens - onion style. We were to start for Gornergrat as soon as my friend arrived and the temperature prediction was -7 degree Celsius. From Gornergrat we hoped to see the Matterhorn, provided the weather conditions remained favorable.
I roamed the streets of this quaint little town admiring the combination of the chalets and the glorious mountains. Most of the cars that I spotted here were battery driven and hardly made any sound. Our hotel was very close to the Church of St. Mauritius. Just beside the church is the Matterhorn Museum which looks like a small glass dome from outside. But if you step in, you'll realize that the exhibits that tell the story of this mountain village are actually kept underground.
If you venture behind the church, you will see the Zermatt Mountaineer's Cemetery. Many mountaineers who had lost their lives while trying to conquer the Matterhorn or the surrounding mountains are buried here. Most of these climbers lost their lives on the descent. "I chose to climb" said the headstone for Donald Stephan Williams who died aged 17 on 23rd July 1975, exactly 10 years before the day I was born. I grieved standing there thinking about the kind of madness and passion that drove these brave young men and women, most of whom were in their 20's when they perished. The inscription on the grave of Jonathan Henry Conville said -
Let me go climb these virgin snows
Leave the dark stain of man behind.
Let me adventure and heaven knows
Grateful shall be my quiet mind.
I met Pritha at the Zermatt GGB station minutes before the scheduled departure of the Gornergrat Bahn. The Gornergrat Bahn is the highest open air railway of Europe. Due to my Swiss Flexi pass and Pritha's Half Fare card, we got 50% discount on our tickets, which is otherwise very expensive. From Zermatt GGB it climbs almost 10 kilometers ascending upto the Gornergrat railway station which is at a height of 3090 meters above sea level. On the way we passed many forests, tunnels and gorges, and some points that gave an amazing view of Zermatt.
We soon passed from green meadows to rocky ridges. The track was extremely steep. I was finding it more and more difficult to maintain my balance every time I left my seat for some landscape photography through the windows. Soon we were engulfed in cloud and it made us sad, thinking we might not be able to spot the Matterhorn if the weather remained like this. Still a smile lit our faces and that of the Korean group (the only other occupants of the train) when we first entered the realms of snow.
And then as if like miracle, we stirred clear of the clouds. We have risen above them. The view was crystal clear now. We even passed through few mountain lakes. Half frozen they were and just the thought of swimming in them gave me the chills. And then on the right side, we saw it. "Matterhorn" - we shouted together. There was no mistaking that this was the famous mountain - the largest of all Swiss icons. Though its summit is at a height of 4478 meters - lower than that of the highest alpine peak, it stands tall and proud. Difficulty to conquer - comparable to only few. We soon reached the last stop of the Gornergratbahn and stepped onto the snow.
From Gornergrat we saw a range of majestic mountains. But the two most worth mentioning are the Monte Rosa - the highest mountain in Switzerland and the very famous Matterhorn - one of the last alpine mountains to be conquered. Monte Rosa, whose main summit Dufourspitze is at a height of 4634 meters, is also the second highest mountain in both the Alps and western Europe. But no matter what, it was Matterhorn that intrigued us more. We were awestruck by "Her Highness" Matterhorn. Of the one hour that we were at Gornergrat, we spent most of the time doing Matterhorn photography, sometimes squeezing ourselves in the frame. As per a local saying, those who see the Matterhorn will become successful and wealthy. We did feel wealthy in experience. Rest, only time will tell.
We decided to have coffee at the restaurant of Gornergrat Klum hotel - the highest hotel of Switzerland, stationed at Gornergrat. The hotel has an observatory, two restaurants, a chapel and a small shopping mall. But for some reason, both the restaurants were closed on that day. While wandering around, we spotted 4 mountain goats standing on the rocky ridges. One decided to pay us a visit and came close enough to pose for a picture.
The sun had started to set and its light on the snowy peaks gave them an orange glow. Our train back to Zermatt was at 5:55 p.m., which is the last train of a day that can take you back towards civilization. It had started to grow dark at a very rapid pace. We rushed back towards the Matterhorn to see the sun set over it. We were obsessed with it. And why not? It has that effect on you. Standing there, I thought of those mountaineer's graves that I had seen in Zermatt. I could connect with a small percentage of madness that had consumed them.
When we reached back Zermatt, it was just 6:37 p.m., but all the shops were shut down with the exception of Coop supermarket and the restaurants. We picked up a bottle of Baileys Irish cream from Coop and walked to our hotel. Pritha had been carrying her backpack all the while, so we decided to dump that first before further exploration. We were starving so we started searching for Sparky's, the Rank #1 restaurant of Zermatt as per Tripadvisor. After many wrong turns, we did find the restaurant beside the river Vispa. But we couldn't spot a single soul inside it. So we immediately decided to hunt for another place to eat.
Our hunt for a good food joint helped us in night time exploration of Zermatt, though we did look like a pair of nocturnal creatures who roamed the otherwise empty streets. In the end we zeroed in on Restaurant Casa Du Pont which was very next to our hotel. It was a relief to step back indoors from -2 degree Celsius. We ordered for Rosti - a typical Swiss dish made with fried potatoes and topped with ham and egg. This dish that once was a farmer's breakfast, is now considered as Switzerland's national dish. Yummy would be an understatement for the Rosti that I had at Du Pont. We had Apfelstrudel for dessert, topped with vanilla sauce and cream .
After dinner, we entered the cemetery. It looked different as night. There were candles placed near the headstones in small red glasses giving the place an eerie red glow. We stood there for sometime in silence to pay respect to those who lost their lives while climbing the Matterhorn. It was close to midnight and it suddenly hit me that we were actually standing inside a cemetery at that time. Somehow I felt no fear.
We were soon back inside our cozy room, tucked inside the fluffy blankets. The thought of waking up at 5 a.m. the next day wasn't really exciting. I would have loved to stay at Zermatt but we had got to know from a last moment research that the Vatican Museum remains closed on All Saint's day. And that meant we were to leave for Rome as early as possible on the day of Halloween.
Day 5, October 31st 2013, Thursday: When we entered the breakfast room at 5:30 a.m., our table was spread out with bread, butter, jam, boiled eggs, cereals, yogurt, milk, coffee, juice and what not. Had Ingrid not been that helpful, we would have rushed to the station without having breakfast. While leaving I left the key to the breakfast room on the reception desk. I later regretted not leaving a thank you note for her. I compensated by rating them 9.6 on Booking.com. When our train left at 6:13 a.m. for Brig, nothing seemed to matter - neither Rome nor Venice; nothing except Zermatt. I hated leaving this magical town.
Each passing moment, I yearn to go back. The Matterhorn Madness has set in...
Sites that helped - www.booking.com, www.sbb.ch (Swiss Federal Railways)
Recommended Stay - Hotel Weisshorn, Zermatt, Southern Switzerland
Recommended Food - Rosti, Apfelstrudel
This trip was originally published on A Traveller's Diary.