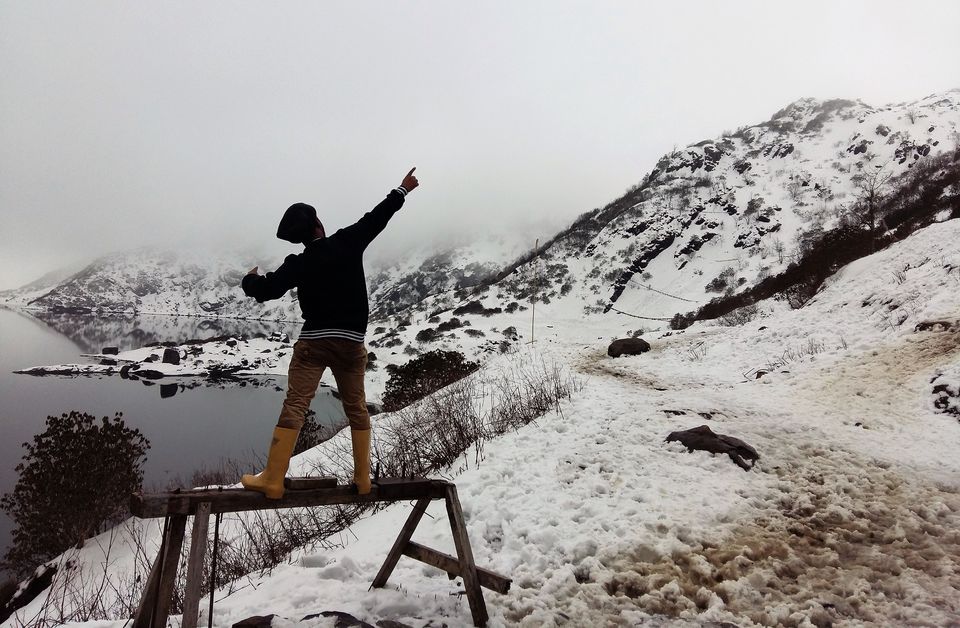 We were on a trip popularly known as the Silk Route trip which covers some very remote and cold places in the Eastern Parts of Sikkim.According to a very standard itinerary we were supposed to travel to Zuluk from the main city - Gangtok.A lot of prior arrangements had to be done for this journey because we were to cross Nathula Pass on our way.Special permits are required for this place, which can only be obtained a day before from Gangtok ,that too after standing for hours in a queue.This route gets blocked if it snows, so we planned it at the end of April.
At this time, temperatures although remain low, it generally doesn't snow.Having said that, we were not oblivious to the fact that weather in the hills are unpredictable, but we were hopeful that the natural forces would be on our side.
On 25th April morning 8 am we were ready to kick-start our journey when our driver Ratan came running and broke the news to us. "It snowed entire night Mam, Nathula Pass is closed.This is very unexpected.Just yesterday we took so many tourists."
Our hearts broke and our dreams got shattered. Ratan tried to keep our hopes high by putting forward alternate longer routes and Gangtok One-day Sightseeing options.We continued to be depressed without giving much attention to his Plan-Bs.It was then that our hotel manager suggested Tsongmo Lake to us.
"Tourists come in the winter months to experience snow and most often they don't get it.Now that this snowfall was heavy enough to block Nathula Pass, it will be in perfect thickness for Tsongmo Lake.I think it's a great oppurtunity - fresh snow,nice weather,less crowd! If you start right away you will have enough time to play in the snow because by 2 p.m. you will have to start returning."
We did pay attention to this plan and looked at each other for consents.
We reluctantly started for Tsongmo Lake, some still disappointed with the turnout of events and some hopeful that this lake might be a cool experience.
We traveled for an hour in dimmed spirits .Then there was a point when we all started noticing small grey patches on the road.
"Look! Snow!"
Suddenly, we were elated! None of us had ever felt fresh snow or even thought that we could brave the winters just to witness this natural phenomenon.
We continued to stare outside the windows till we reached the lake.Small patches gave way to bigger chunks of ice and the greenery of the hills gradually got sheathed in white.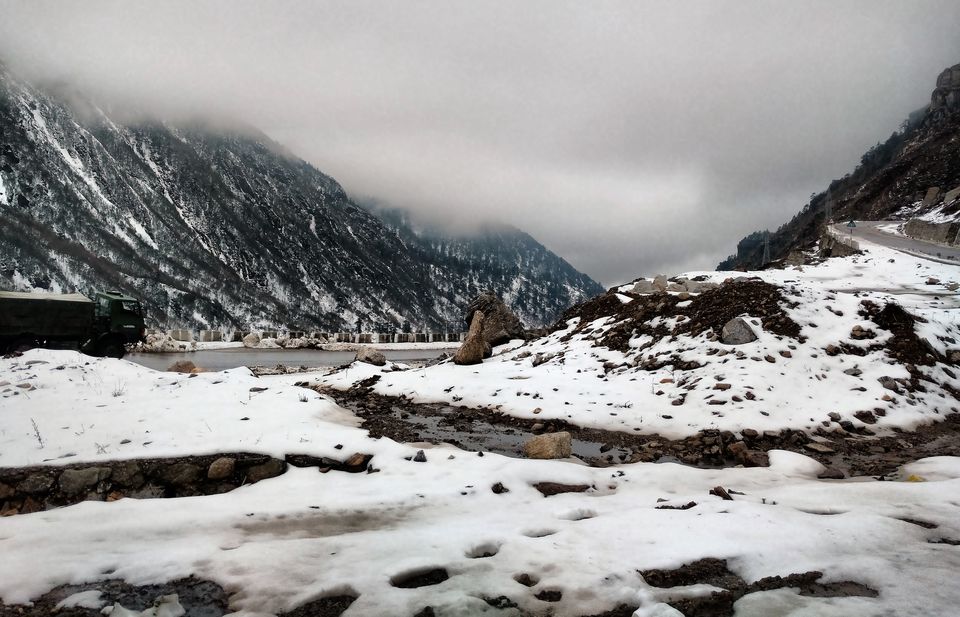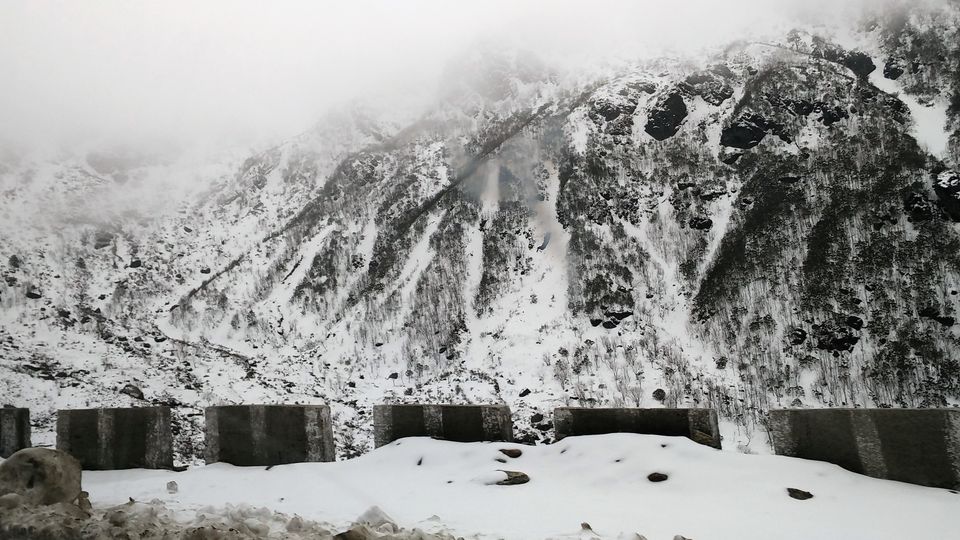 When we finally reached the lake it looked something like this!!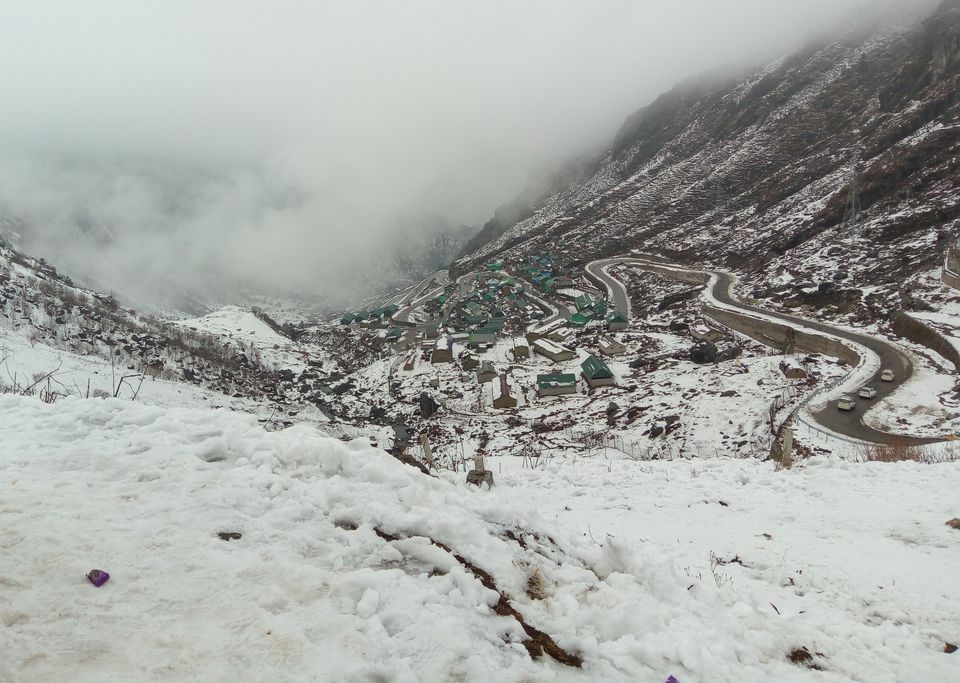 Those small green colored houses that you see are the army camp.
And this is how gorgeous the lake looked!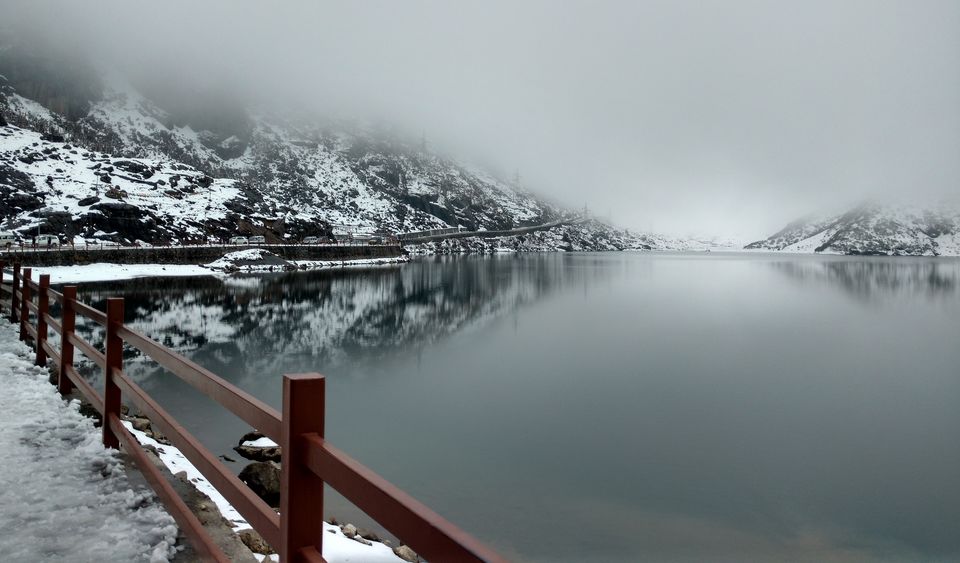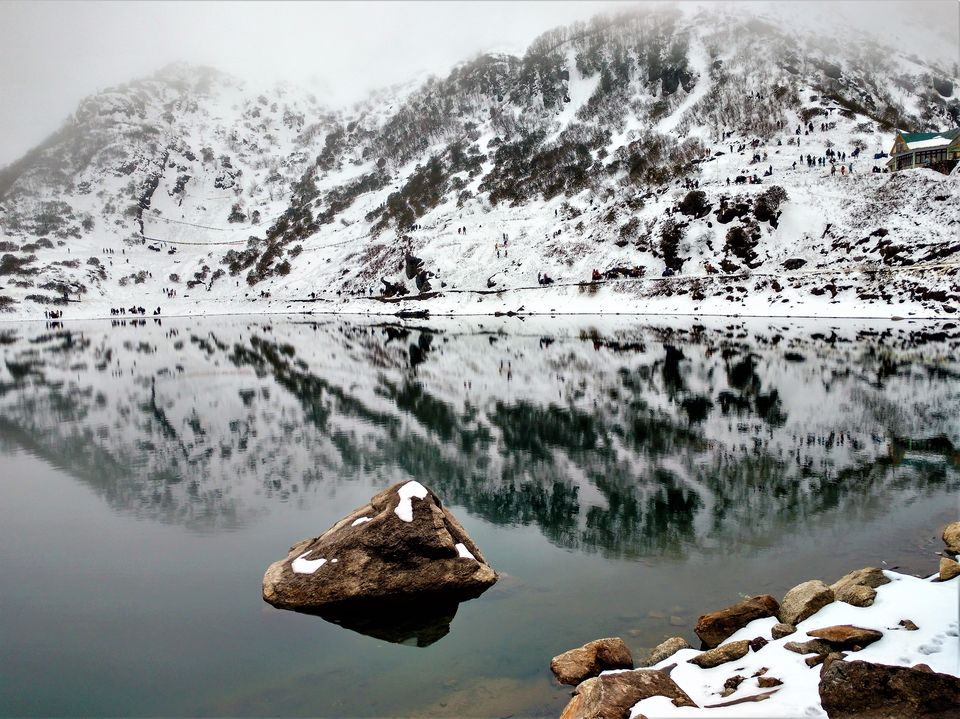 We were awestruck at this unseen raw beauty of nature.I had never thought i could admire something so pale and colorless.
We couldn't wait to feel the flakes it in our hands so we quickly got ourselves boots and gloves from the stalls nearby.What continued then was 2 hours of joyful frenzy in the snow, hurling lumps of ice at each other, slipping those inside the jackets, climbing up like walking potatoes and sliding down till our pants got wet and making a crippled snowman.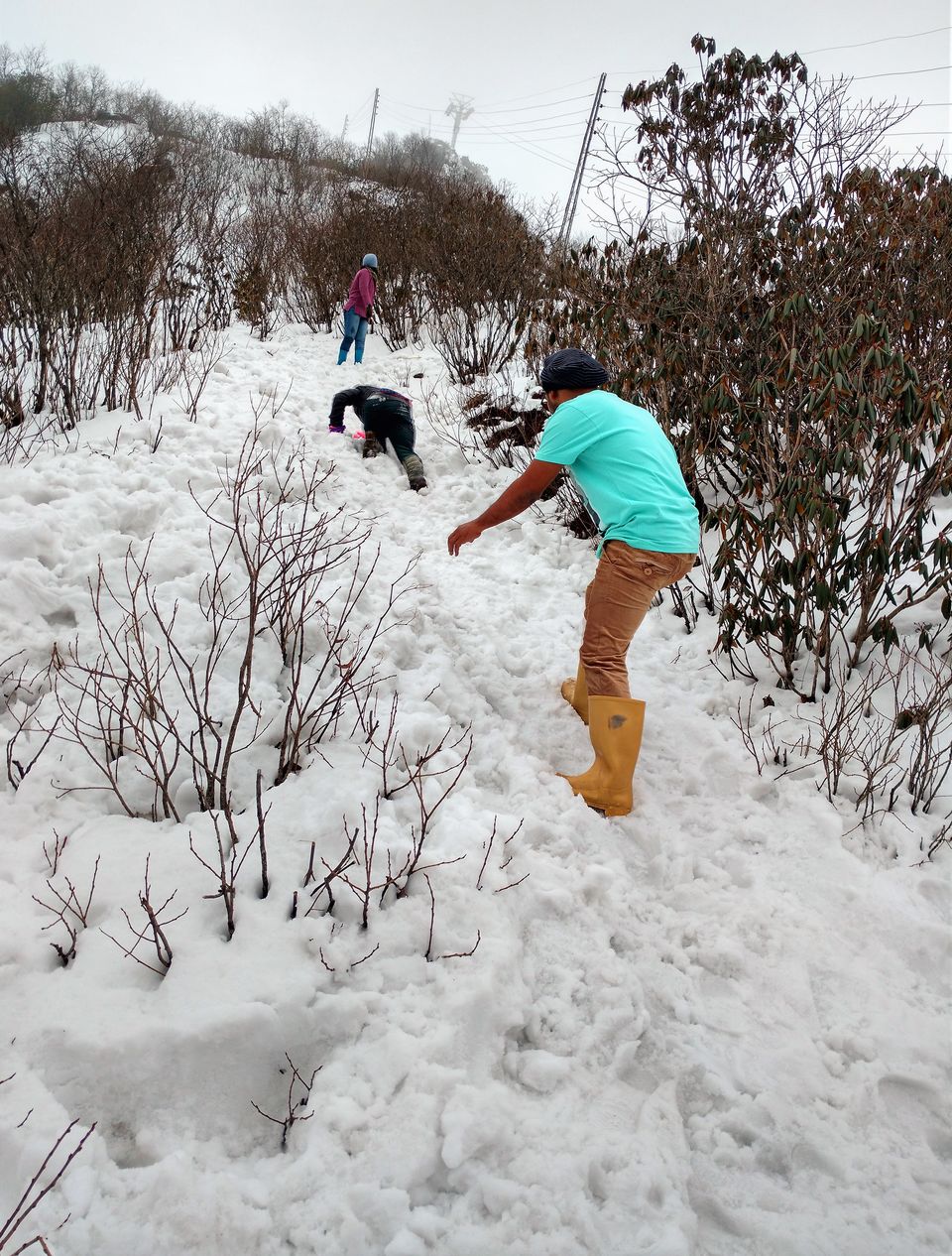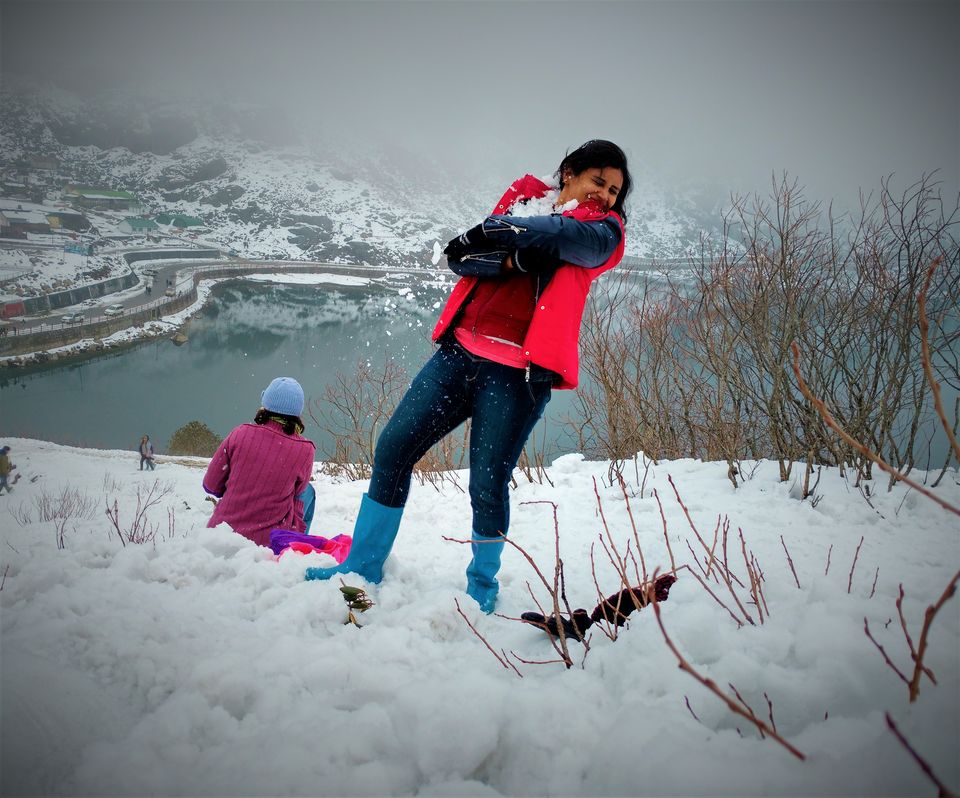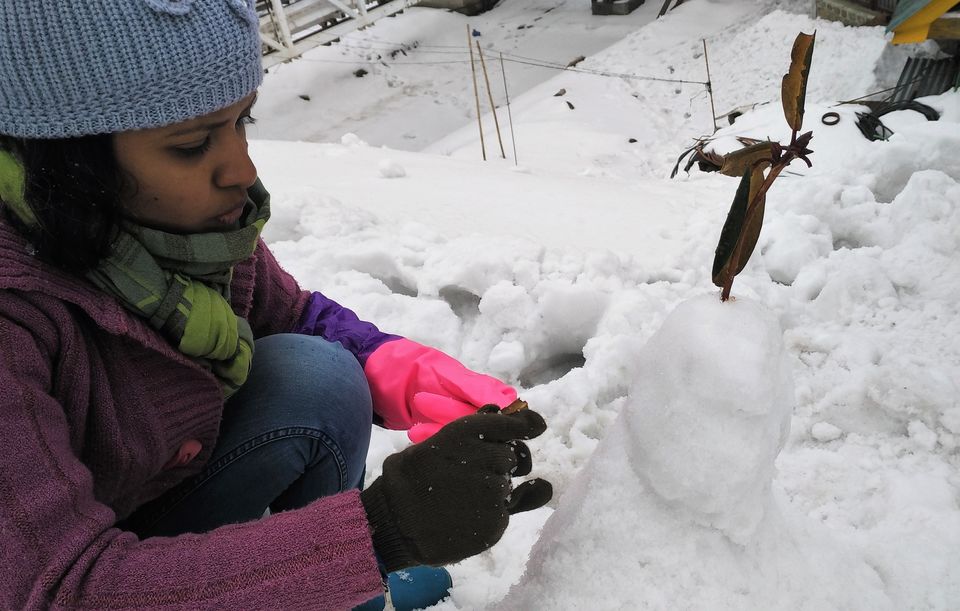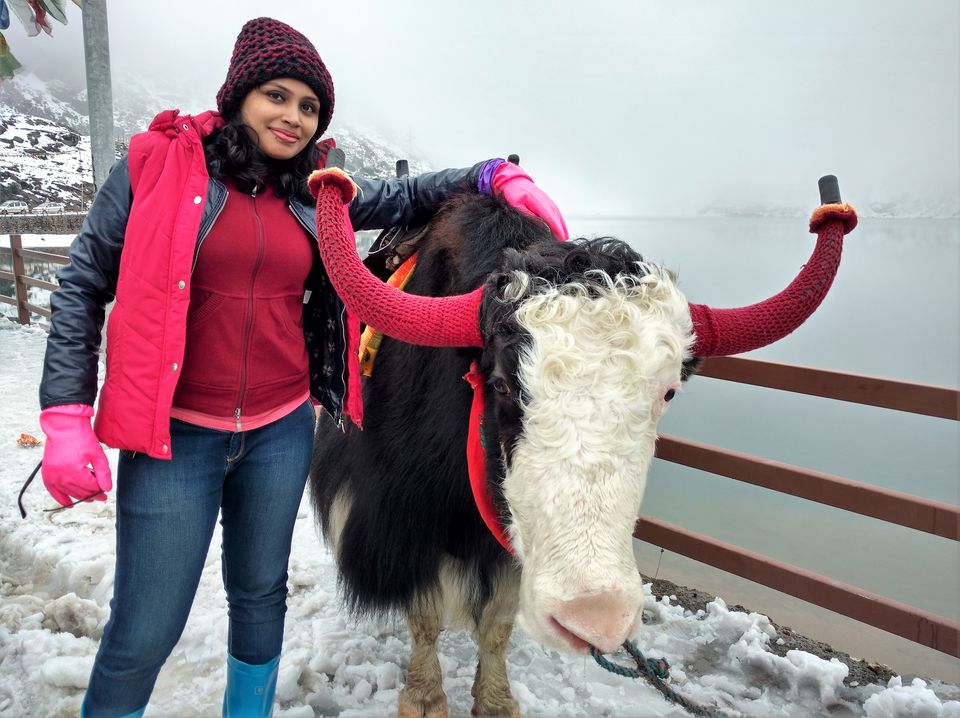 They charge 50 bucks to sit on the yaks and click pictures.But we didn't feel the yaks were enjoying it, so we just posed along with them :)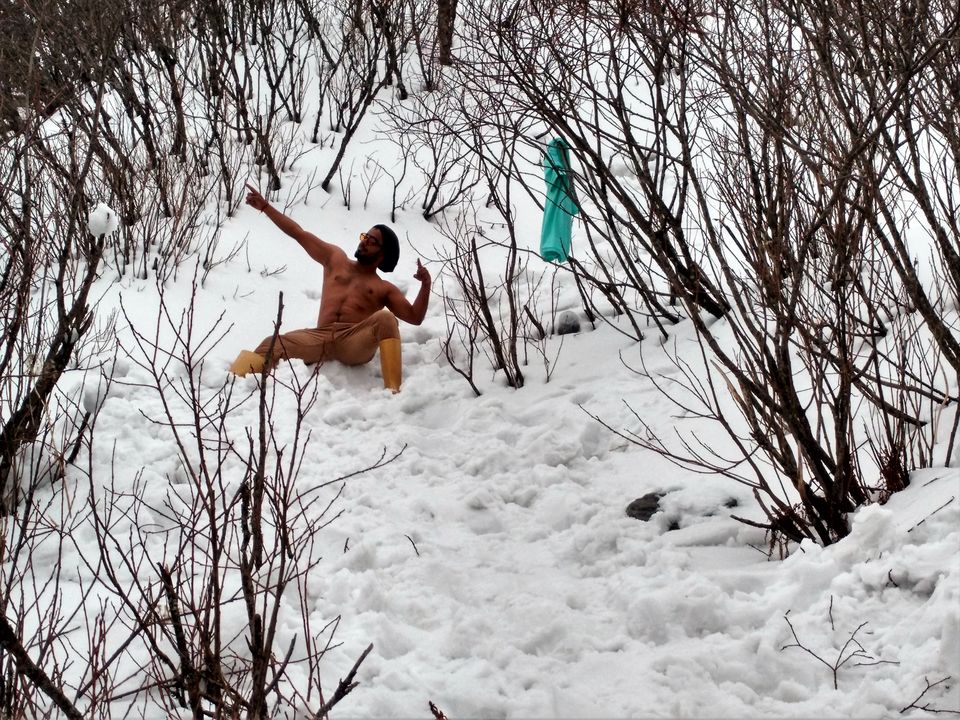 We clicked many such pictures and videos till we got tired.Then we just sat and gaped at the surroundings not willing to leave the beauty or the serenity.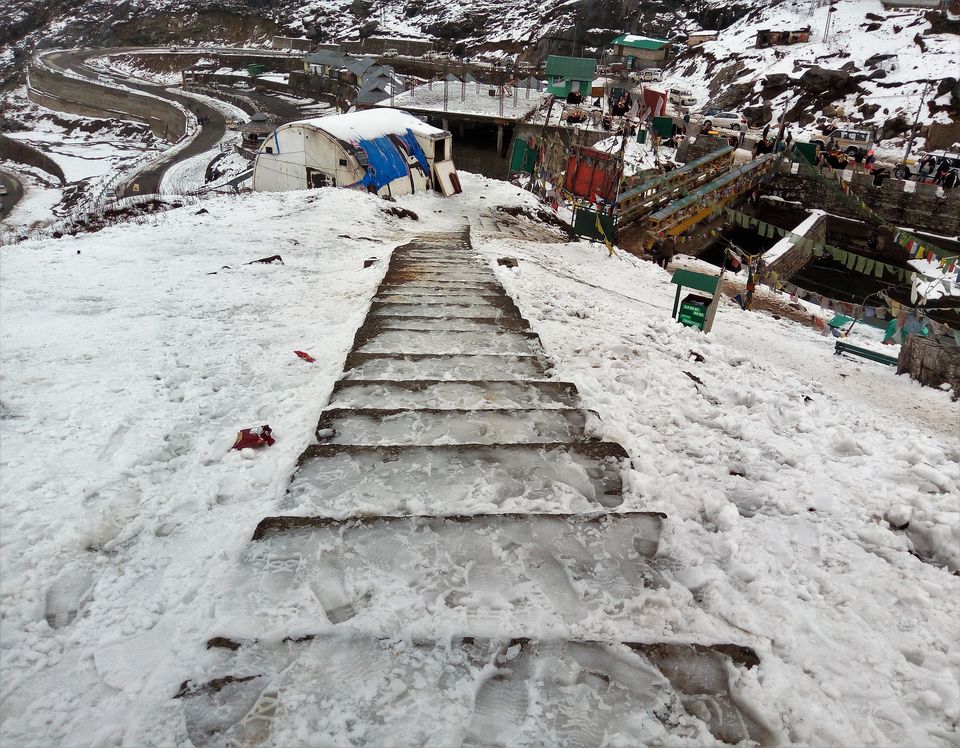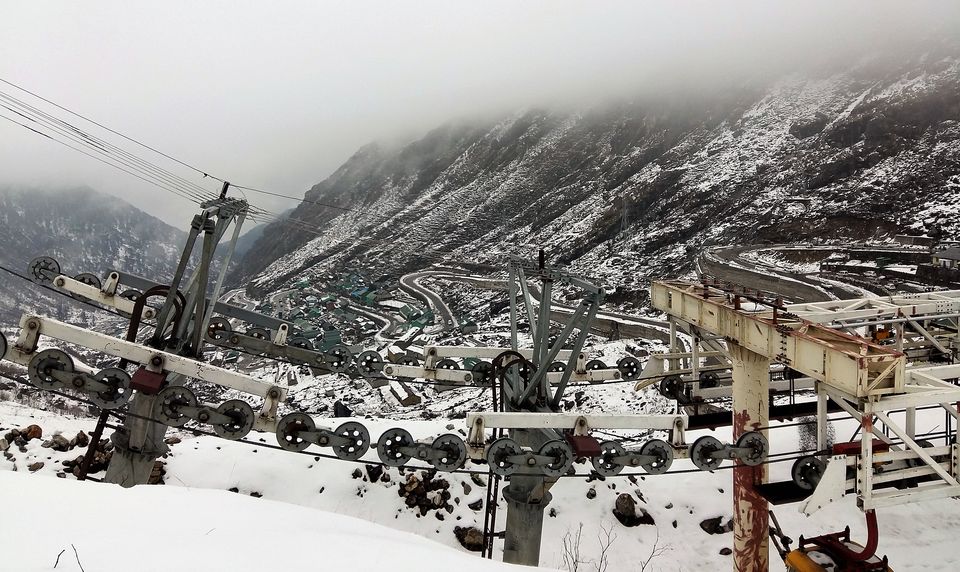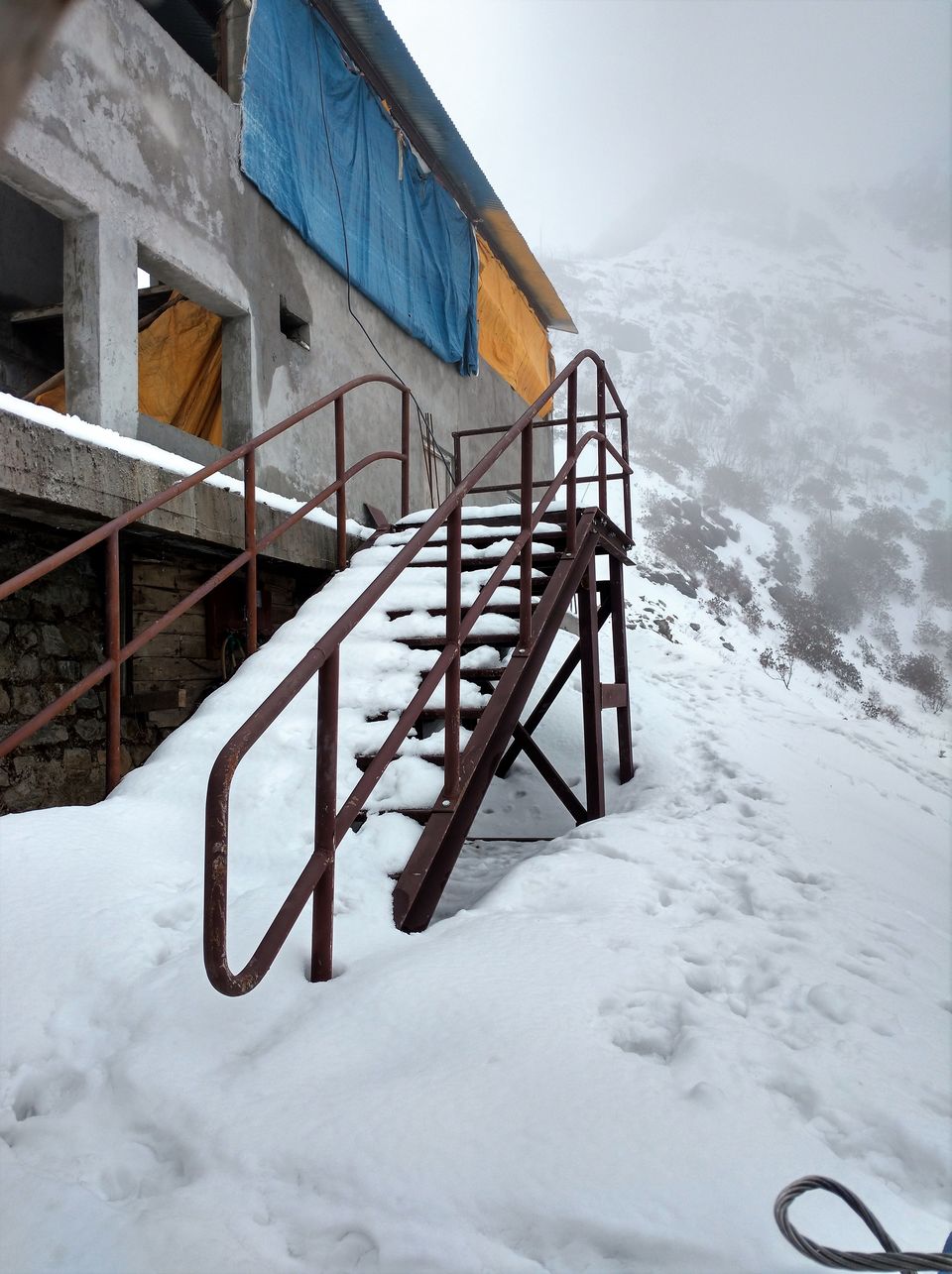 At around 2 p.m most tourists started leaving and for sometime we had the entire scenery to ourselves.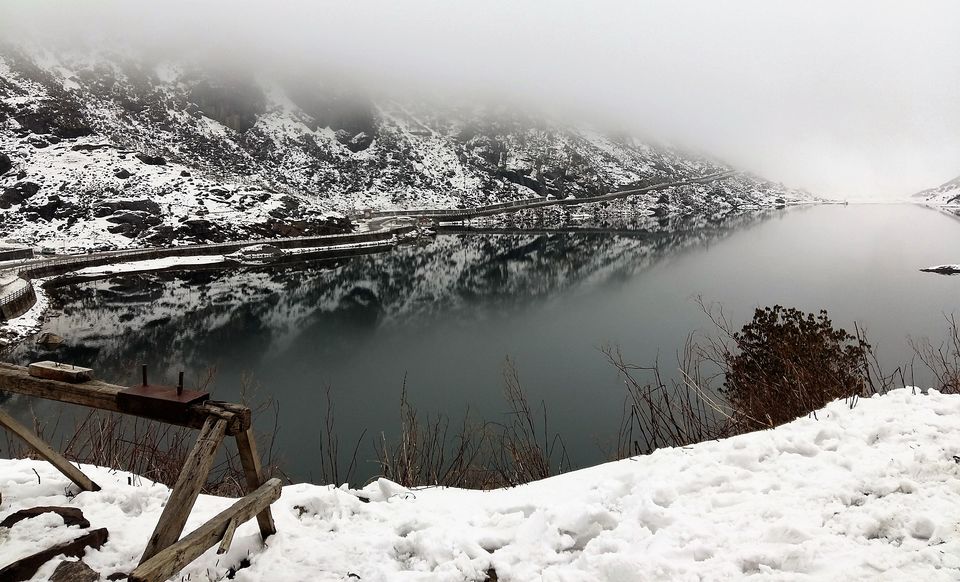 It started getting hazy and Ratan was already waving at us to return.Our boots were filled with ice, so our feet were totally numb.We had coffee and maggi at a stall before we started for Gangtok. We couldn't stop talking and giggling about our experience once we got into the car. There were tiny pieces of ice still intact in the pockets and folds of our sweaters. Our wet pants under our butts felt really uneasy in the coldness but we were all so busy picturing all the moments in our minds that it hardly mattered.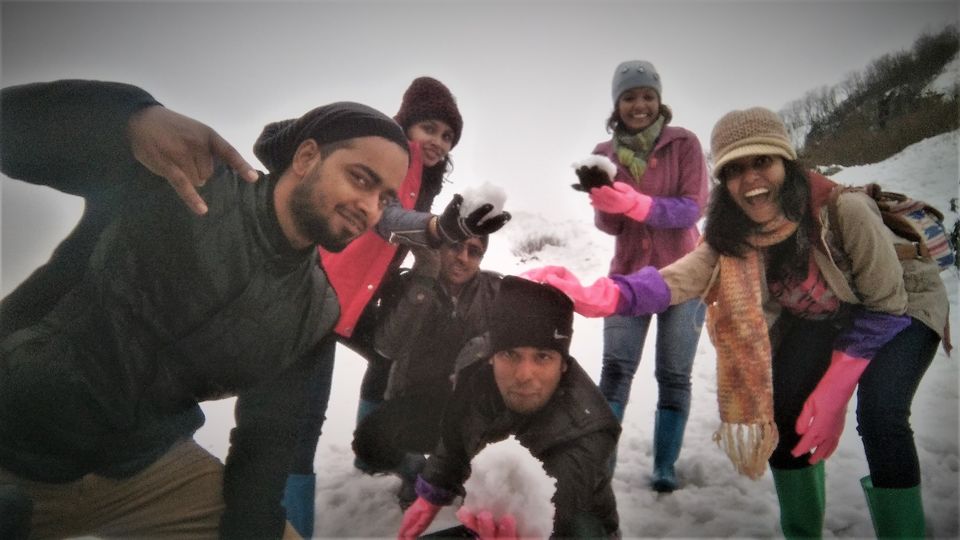 I guess Mother Nature never really fails us :)