After a long long wait (ever since my childhood I should say) I finally got an opportunity to visit Darjeeling and Sikkim.
Day 1
I had taken a flight from Mumbai to Delhi as my friends were joining me from Delhi. From Delhi we had taken a flight to Bagdogra which is the nearest airport.
Bagdogra welcomed us with clear skies and a pretty warm climate.
We had booked a cab for our entire journey around Darjeeling and Sikkim.
Our first stop on our way to Darjeeling was at Mirik. It is approx. 1.45 hrs drive from Bagdogra airport. There's nothing much to see at Mirik except for the lake.
We then started for Darjeeling which is at around 2 hrs away from Mirik. On our way to Darjeeling, we stopped at a place for tea. I would have to say that it was one of the best places that one could have tea at. You may check out the below video in order to believe it.
The entire road to Darjeeling was lined by a boulevard of pine and bamboo trees. We reached Darjeeling at around 6 in the evening. After having checked in at the Central Resort and Spa, we went out for a stroll in the nearby Mall road. We must have walked around for around half an hour when we came across this beautiful, cozy cafe called Glenary's. The view that Glenary's had to offer was a spectacular one. It had become our go-to place anytime of the day. In the evening, it was beautiful lit up with fairy lights and during the day, one could spot the beautiful mountain ranges that Darjeeling is famous for.
Day 2
It had started to get a bit chilly by night. We had plans of going to Tiger Hills early next morning which meant that we had to hit the sack as early as possible. Everyone had warned us it would be extremely cold but the sight would be totally worth it. So we left for Tiger Hills at 5. Thankfully, the sun had not risen by the time we had reached there. The view from there was breathtaking: the clouds beneath us enveloping the whole city, the sun at a distance, rising slowly whilst turning the sky into ombré shades of red and orange.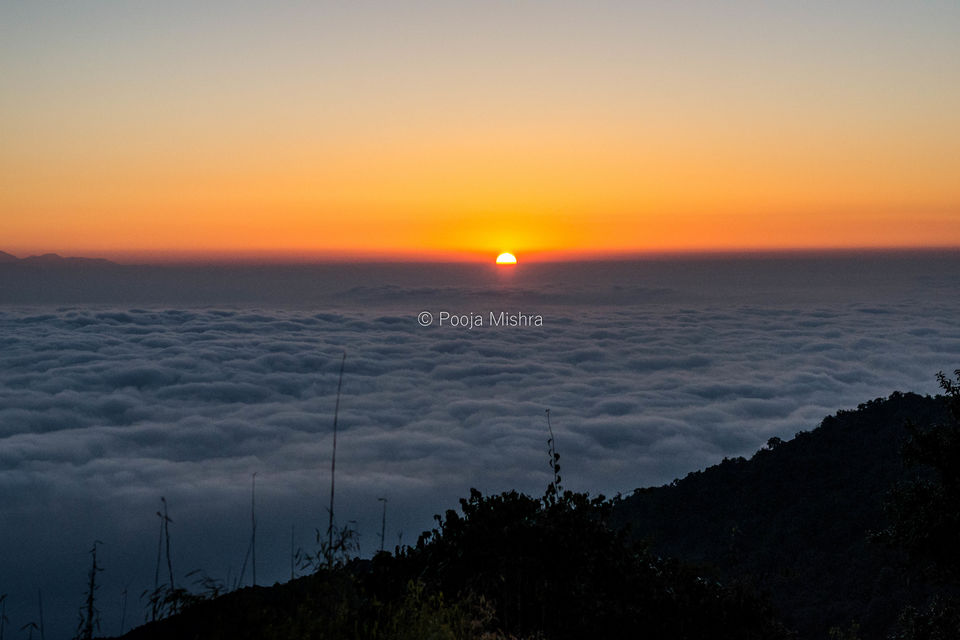 Despite the fact that there were a lot of people around, one cannot stop marveling at the beauty of nature. The picturesque scene with the mighty Kanchenjunga in sight and some Tibetan prayer flags fluttering away in the wind was a sight to behold.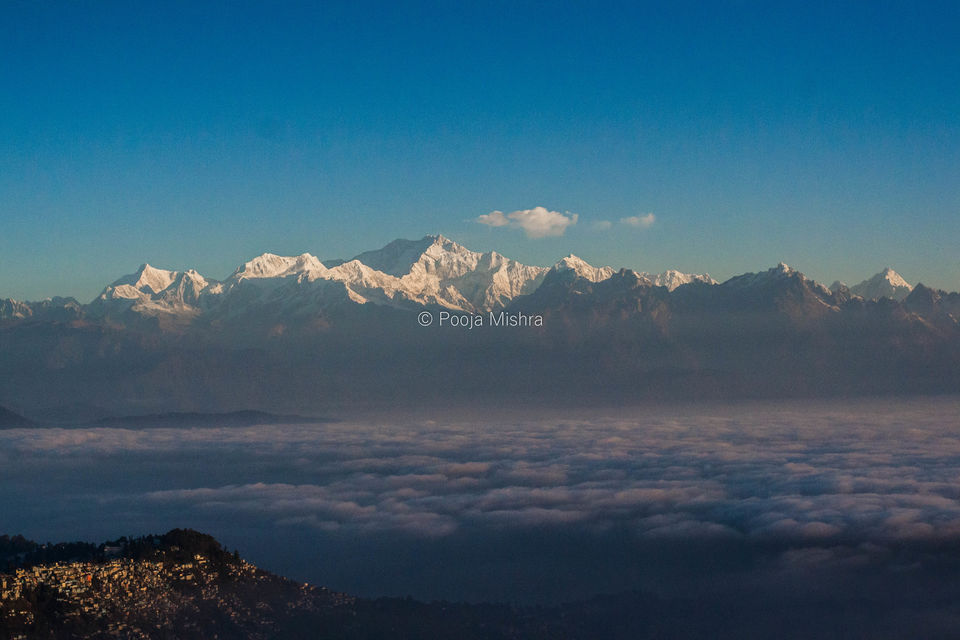 Our next stop was the Batasya loop and then the Ghoom Monastery. After freshening up, we visited the Japanese temple. We then toured the tea gardens which are a trademark of Darjeeling. We took a tour of the toy train too. To be honest, the toy train was a bit overrated.
Day 3
We left for Lachung the next day which is a 6 hour drive from Darjeeling. The best part of our entire trip was the journey. As T. S. Eliot has rightly said, "The journey, not the destination matters". We drove to Lachung with the Teesta River flowing right next to us. Its origin is at the Zero point glacier in Sikkim and it ultimately meets the Ganga.
In order to reach Lachung one has to enter Lachen valley. Now the most interesting thing about Lachen valley is that plastic is banned there. So any kind of plastic bottles or plastic items are supposed to be disposed off before entering the Lachen valley. Honestly speaking, I found it a great initiative in order to preserve the environment. I wish everyone would do their bit in contributing to protecting nature.
We reached Lachung at 6:10 in the evening when the temperature was already 2°C. We checked into the Delite Lachung. The room was very spacious and the food was yummy. It was already -2°C by the time it was 8. The weather forecast showed heavy snowfall at night.
Day 4
The next morning we left for Zero Point after a heavy breakfast at the hotel. After barely driving around for half an hour, we got to know that the roads were shut for Zero point and Yumthang valley because of heavy snowfall the previous night. So we got down from the car and played with snow to our hearts content. And the Shingba Rhododendron sanctuary was just a 10 min walking distance.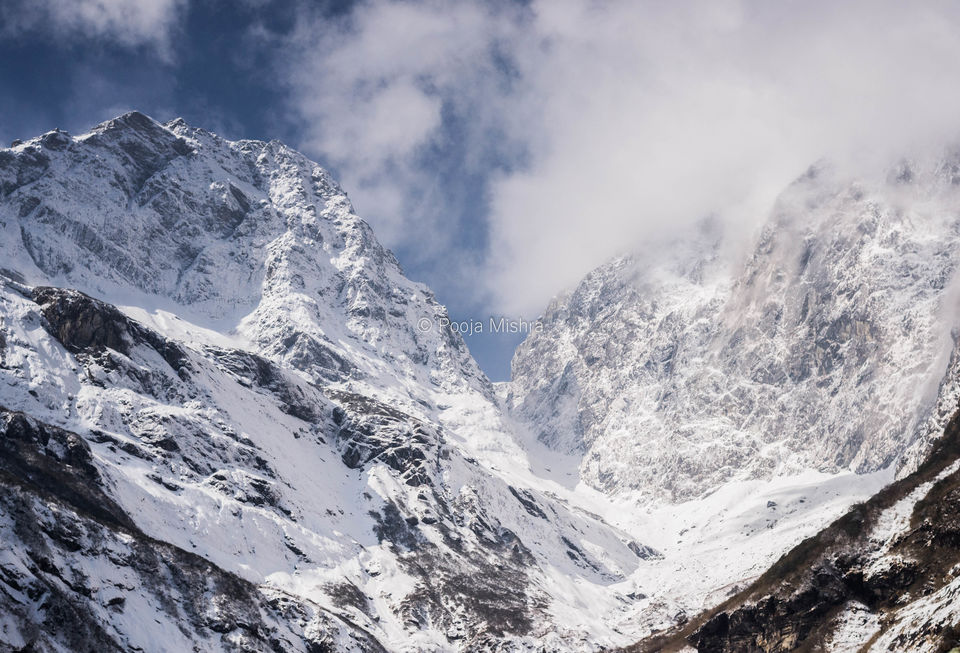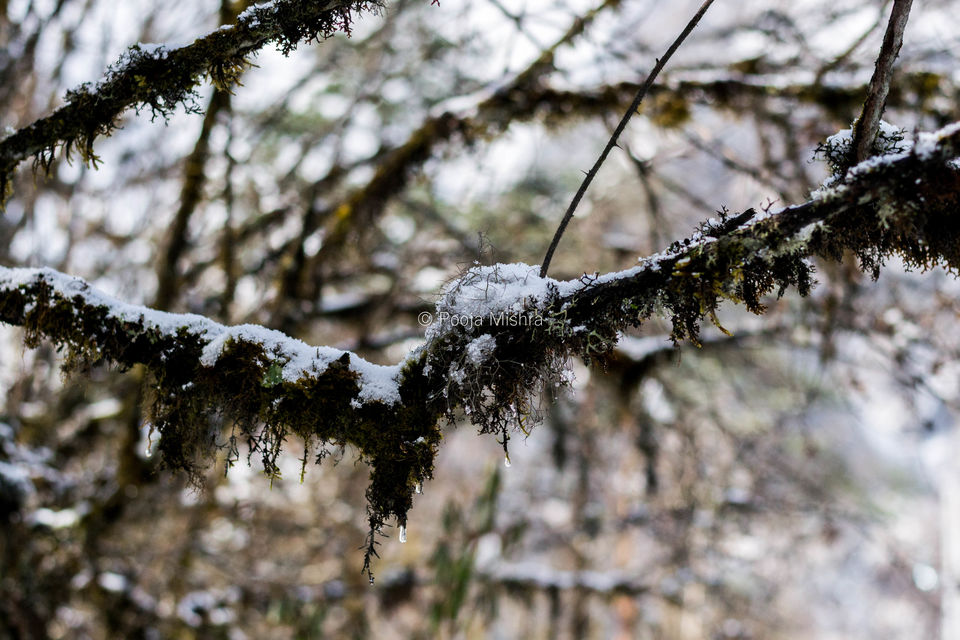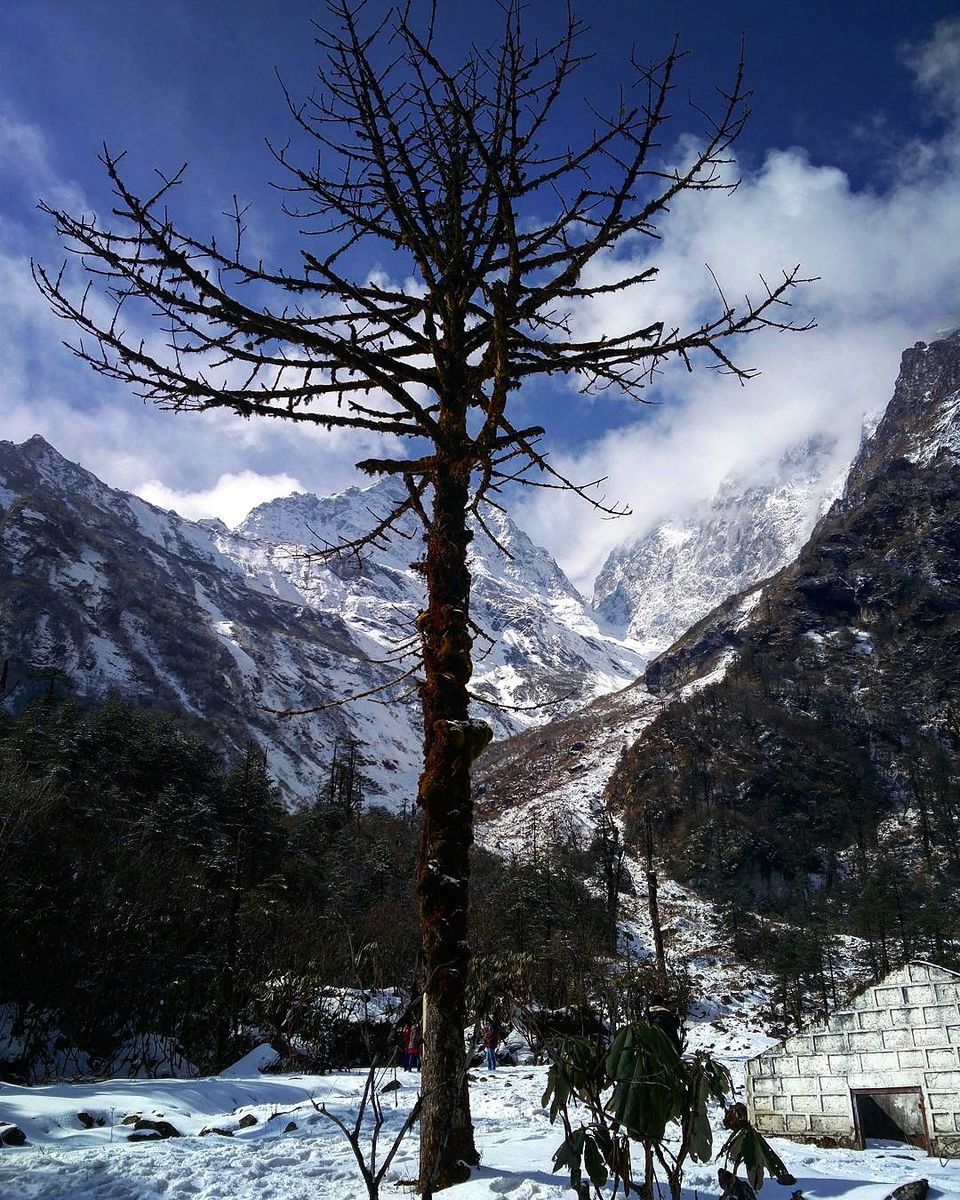 As there was nothing much left for us to do, we left for Gangtok. Gangtok is around 4 hrs from Lachung. The hotel that we had booked there was the Central Hotel. We collected our permits for Nathula Pass from the Black Cat HQ and then we set out to explore Gangtok on foot. The famous Lall Bazaar and MG Road were near to our hotel. The MG Road at Gangtok, I must say, is much cleaner that almost all the MG roads that I have visited so far and also much less crowded. We decided to call it a day at around 10 as we were pretty tired with all the roaming around.
Day 5
Tsongmo Lake and Nathula Pass were on our agenda for the next day. But again, to our bad luck we could not make it beyond Tsongmo Lake as the weather conditions had deteriorated ahead and apparently there was a snow storm the night before. The temperature at Tsongmo Lake was -15°C. I had never experienced such low temperature and of course, snowfall, or had ever seen even snow for that matter. So, needless to say, even though I was freezing, quite literally, (even after wearing 5 layers of clothes), I was damn right excited!! The view has been etched in memory forever!! When we started feeling our feet and toes go numb, we decided that we should head back.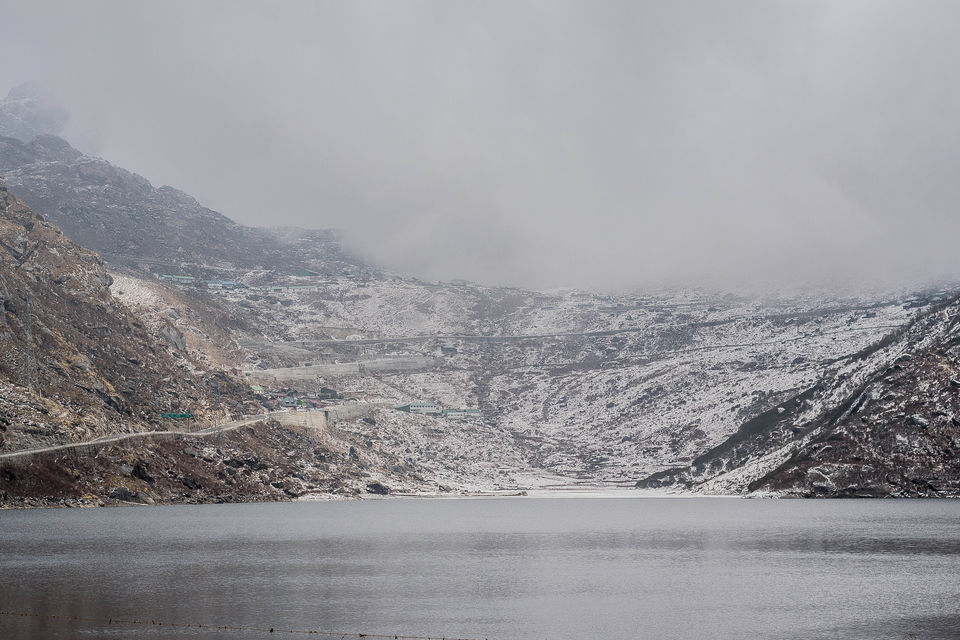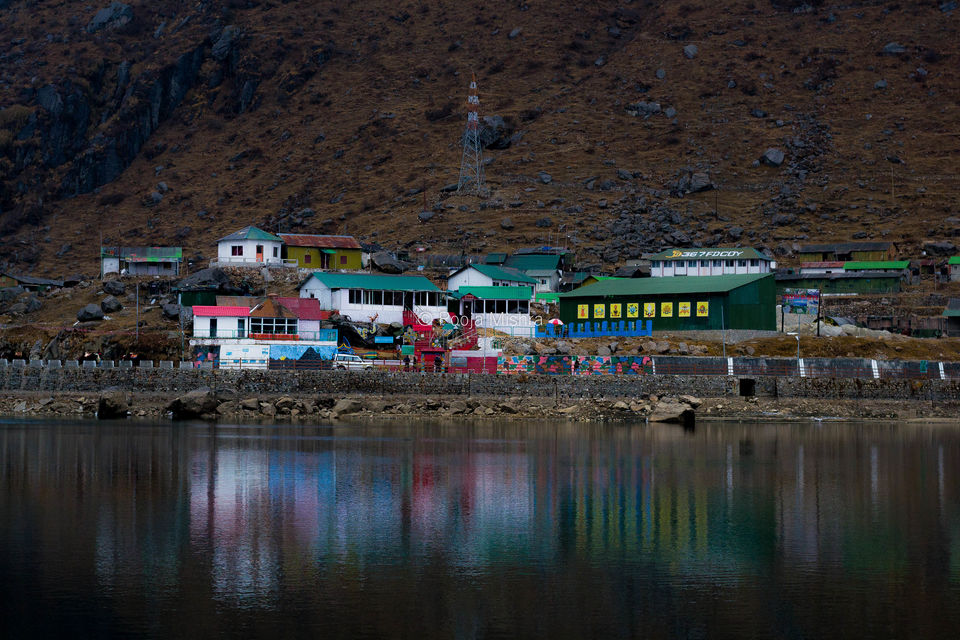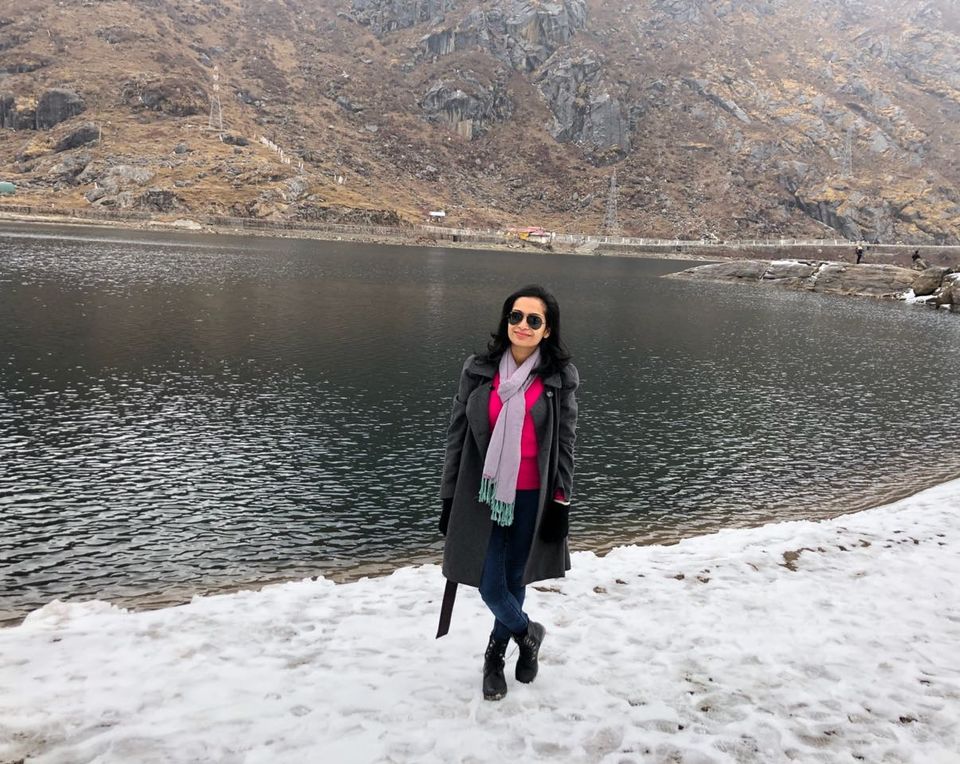 We saw the Hanuman Tok, which, as per Hindu mythology, was the resting spot for Lord Hanuman when he was flying back with the Sanjeevani Booti in an attempt to revive Lakshman. It is maintained by the Indian Army and even now one can see the medicinal herbs planted in the vicinity of the temple. Our next stop was Ganesh Tok.
Just like Glenary's in Darjeeling, we had found our food for the soul at The Coffee Shop in Gangtok. After a sumptuous meal there and after having spent at least 3 hours, we finally retired to our hotel where we again hogged and hogged.
Day 6
The last day was scheduled for the famous Rumtek monastery which is the largest and most controversial monastery in Sikkim.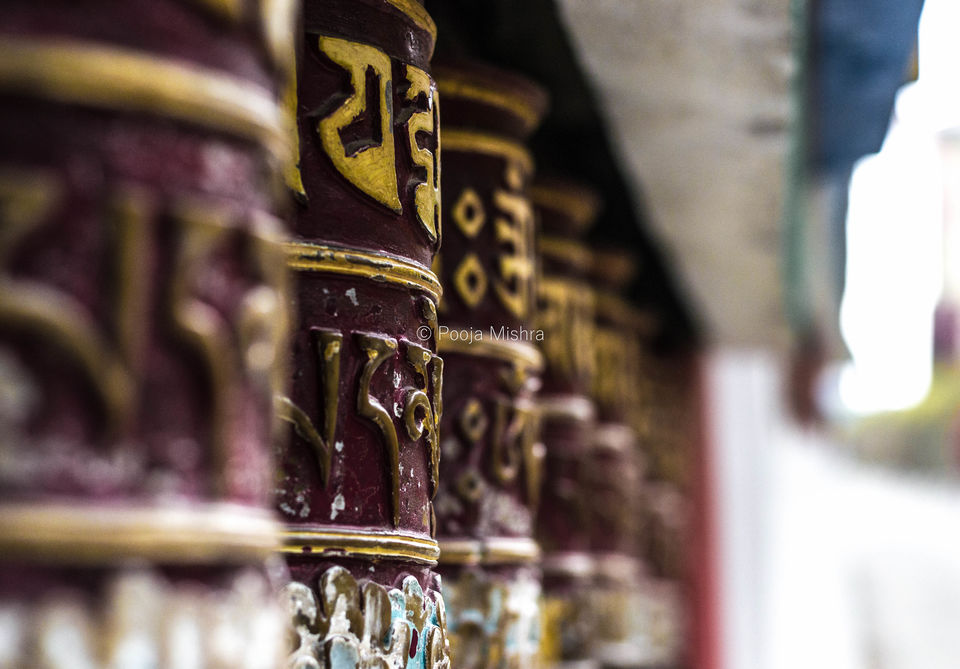 After visiting the Rumtek monastery, we headed back to Bagdogra where we were supposed to fly back Delhi.
We got back with such beautiful memories that I still imagine myself amidst those snow capped mountains with beautiful people around me who have touched me with their simplicity and helpfulness.