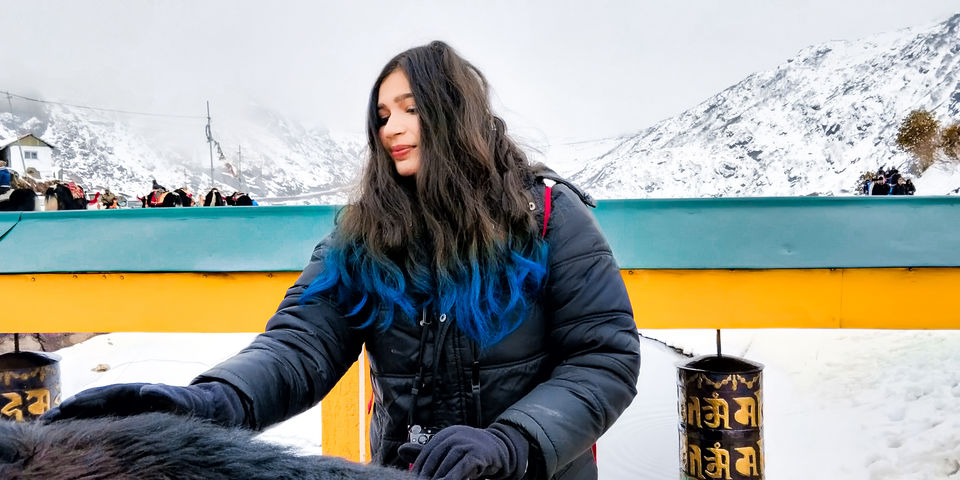 Glacial Lake for two?
Yes, please!
That morning, we woke up fresher than ever. With the sights of Lachung and Lachen still burning in our memory, Gangtok seemed like just another beautiful town.
The clouds came to greet us, casting a white filter over the whole city, swallowing the hills and all that lay beyond.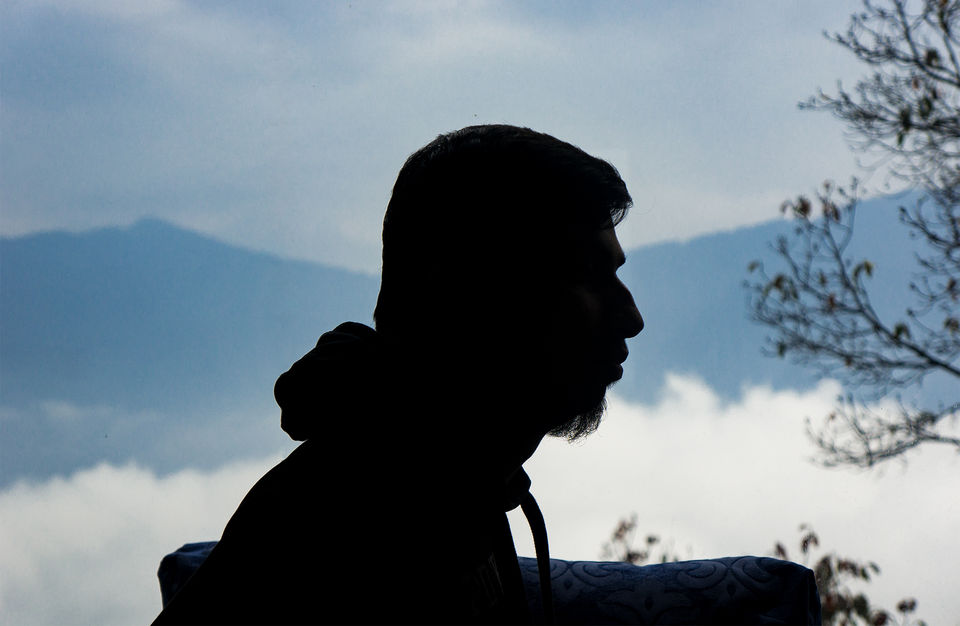 A quick shower and 'set' breakfast later, we found ourselves in D'punk's moreish metal wagon jetting off to Changu Lake.
Changu/Tsomgo Lake is a glacial lake in East Sikkim. Located at an elevation of 3,753 m, around 40 kms from Gangtok, the lake remains frozen all throughout winter! That meant, our little March visit enabled us to see it as a Winter Wonderland of sorts.
As we raced through the Nathula Highway with The Cosmic Truth's Stroboscopic Illusion blaring on the system, the visibility dropped and the car had to be slowed down. Catching altitude has a little bit of a catch in itself, you're at eye level with the clouds. And today was a nebulous day, anyway.
D'punk made a stop a half hour before reaching to get us the right gear for the lake. It included gumboots, thick jackets and water-resistant gloves. The shop also sold chai and maggi so, win-win!
After our second breakfast, we took our rental equipment and headed back to the car.
Jackets: INR 100.
Boots: INR 50.
Gloves: INR 100.
We marvelled at the sights around us. The drive to the lake is said to be one of the most scenic drives immediately around Gangtok, no argument there. Snow-laden mountains surrounded us and there was an immediate dip in the temperature.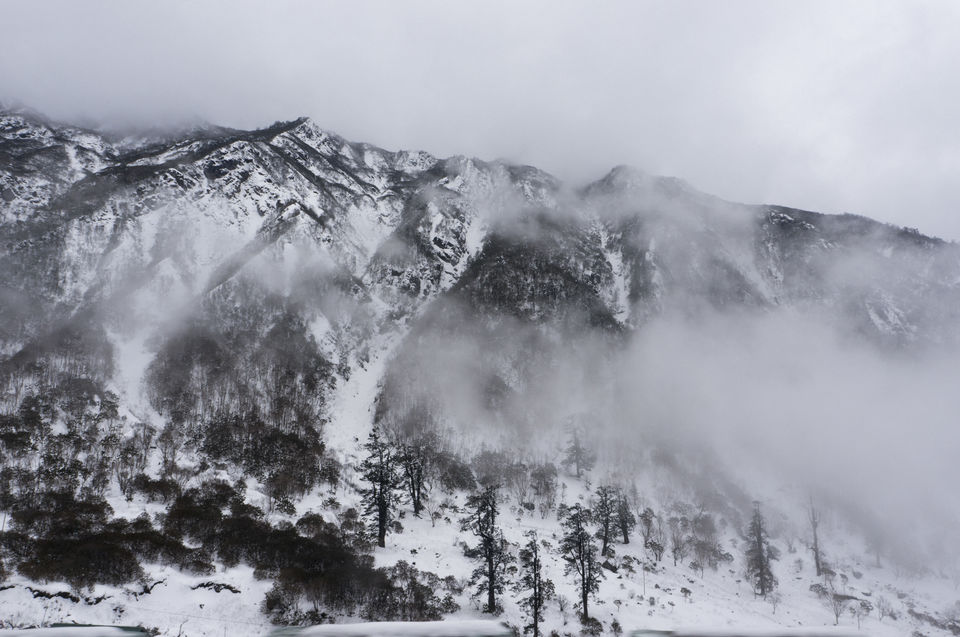 While we saw all of Gangtok city wearing light jackets, the bulky and fur-lined coats were a welcome and necessary change.
The sound of car horns, music and people hit us well before the sights of the lake. The place was absolutely packed with drivers constantly honking to get yaks and blissfully ignorant families out of the way.
D'punk dropped us at the mouth of the gate, promising to find us as soon as he found a parking space. Well, good luck.
As soon as our feet hit the ground, we were surrounded by hawkers yelling various prices for yak rides around the lake. I'm not going to lie, they were almost yanking us to the poor creature. It is on several lists of things to experience in Sikkim but we refused to be a part of it.
Two Metal Tourists do not condone or support yak rides. I find it heartbreaking. The yak, if not sacred, is one of the most important creatures to Tibetans. And here, they are sold for 20-minute rides for the amusement of tourists. Carrying people and their children around, getting dragged by their nose halters and kicked and whipped into compliance. If the Sikkimese are okay with doing this to the yaks, all we can say is we do not agree to this torture.
We walked through the entryway into an over-crowded paradise of sorts. The lake was indeed frozen! The thick layer of ice made it look like nature's own skating rink, daring people to give it a go. Soft white snow surrounded the lake, a stark contrast to the deep grey hues of the now frozen waters.
A dim fog enveloped everything as far as the eye could see, like a dome protecting a wintry kingdom.
There was only one proper route along the lake unless you wanted to trudge through calf high snow and make your own.
Although the narrow path was slick with ice and stained with yak poo, watching people faltering and more often falling flat on their butts made it a super enjoyable walk. Every couple of minutes we had to sidestep for the yaks to pass both ways; it added another element of danger to the overall experience.
You don't want to get the horns or the hooves now, do you?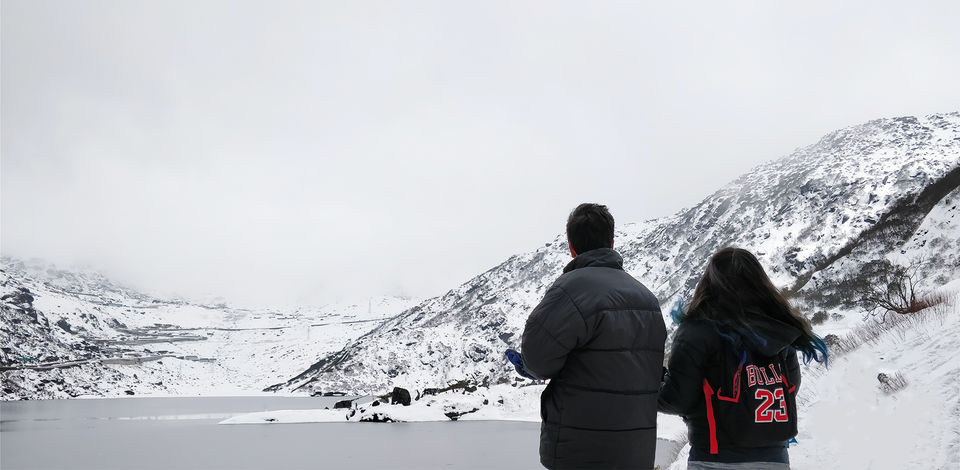 We stepped off the path to find a quiet spot away from most people and soon found one right by the shore. At last, we could finally soak in the environment around us and have a few moments to ourselves.
We could not have found a better time to visit the lake. Any place that's a major attraction, as per the internet, will never be as secluded and peaceful as the pictures suggest. And Changu Lake is #2 attraction in Gangtok on TripAdvisor.
After spending a few minutes at the shore, we decided to head back. The snow was knee deep where we stood and our jeans and socks were getting slowly yet positively soaked. Snowball fights had broken around us, more people fell down and the rowdiest of crowds were beginning to fill the space.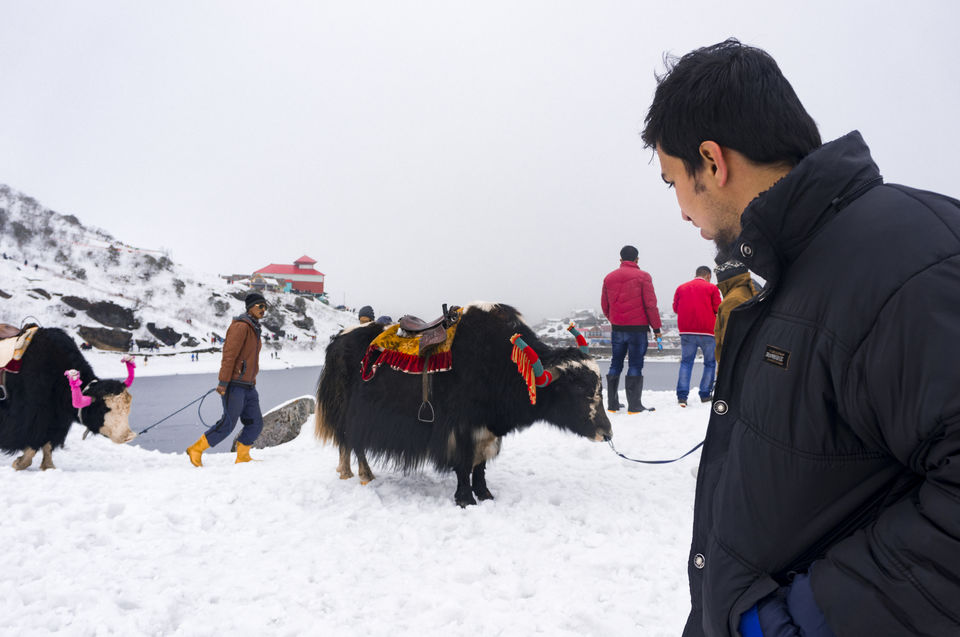 We bid farewell to the lake, promising to be back again and goofed around on the way back to the car.
------------------------------------------------------------------------------------------
Travel Tips:
- Befriend your local taxi driver and ask him to take you or to find another driver to take you to the lake. Chances are he'll take you and not charge you as much as a new driver would.
- Plan your trip to the lake a couple of days in advance and ask your driver to get the permit at least a day before. You could it yourself but make sure to carry all the required documents. The drivers know what you need so it's just easier if you book a taxi ahead of time. Permits are a hassle as sometimes the roads to Nathula, in fact, many other places, are closed. Since there is a limit on the number of permits available, you might not get one on the day you desire.
- If you're going during winters, carry your earmuffs, beanies and mufflers. Believe us. You could rent out jackets and boots so you needn't worry about those.
- There is a time limit on the permits so it's advisable to go early and come back to the city before 4 pm. This is for your own safety and if you're late, you might just find yourself paying a fine to the government official in charge.
- Make sure to have a hearty breakfast or something on the way as there's a high chance the cafe at the lake is going to be overcrowded.
Happy travels! Until next time!
Frequent Searches Leading To This Page:-
lakes in sikkim, customised sikkim holiday package, enchanting lakes in sikkim, changu lake ropeway, tsomgo lake temperature, tsomgo lake ropeway charges