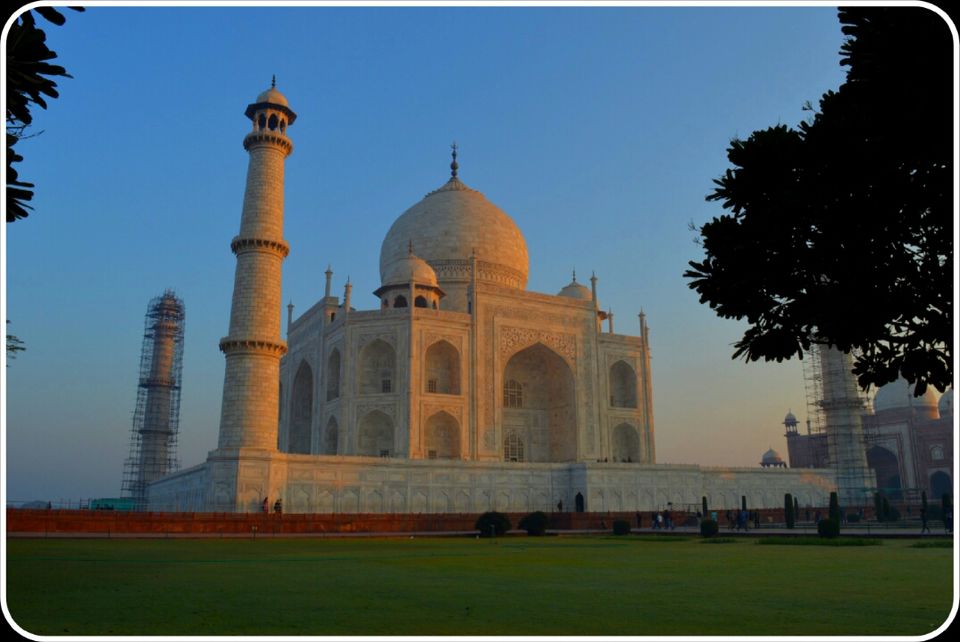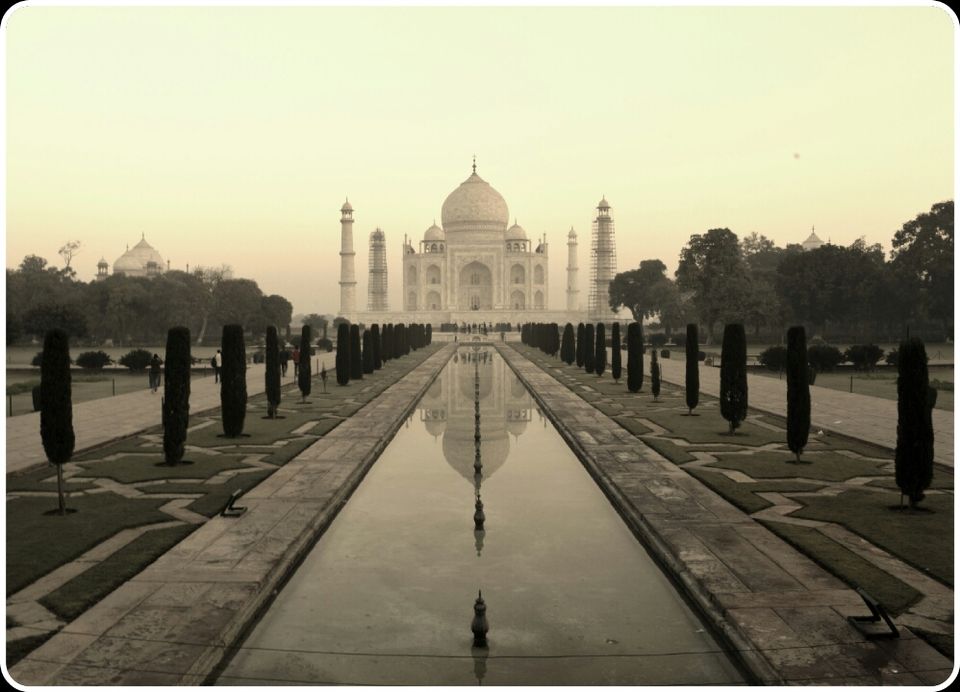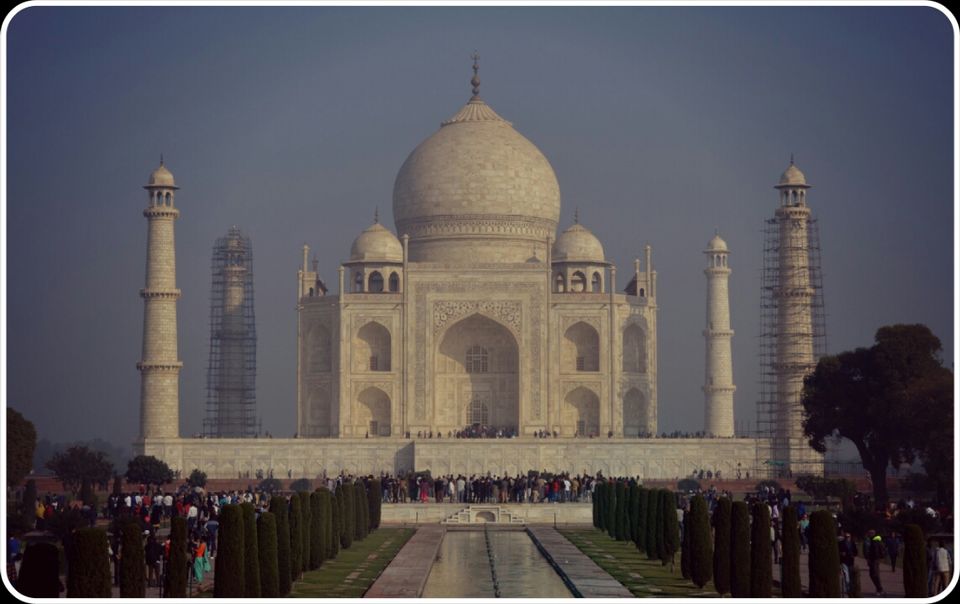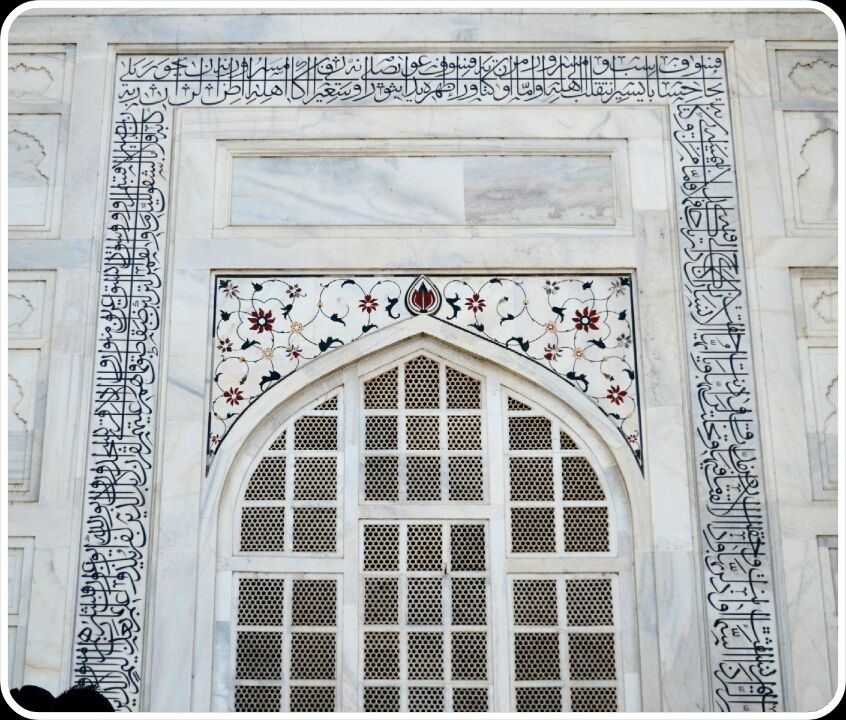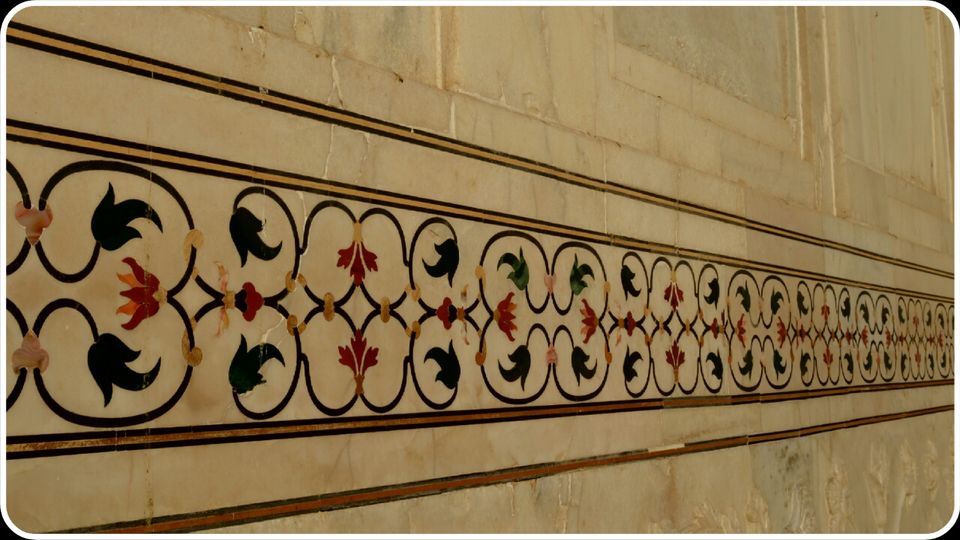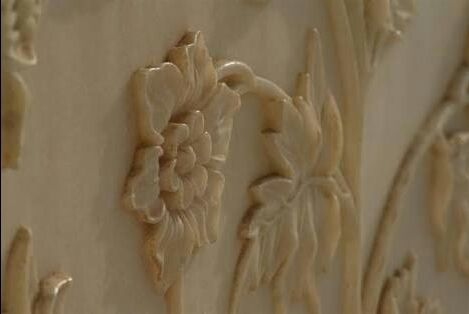 I was sad, literally sad when I stand in front of the "Timeless Beauty". It took me 30 long years to finally touch my foot on the bank of river Yamuna where the mausoleum of "Immeasurable beauty" stands with its dome shining in bright golden colour. The picturesque sight was indeed very beautiful and the chilly winter breeze created a perfect ambience where I stand forgetting my surroundings keeping my eyes and lenses focused on her beauty. The Story of Taj Mahal as narrated to me by my guide
Mugal Emperor Shah Jahan was at the age of 14 when he first met a beautiful lady named Arjumand Banu Begum and soon fell in love with her. After five years in 1612 he married her and gave her a beautiful name Mumtaz Mahal which means "Jewel of the Palace". But fate seperated them in the year 1631 where Mumtaz died while giving birth to their 14th child. In the memory of his beloved wife Shah Jahan decided to built a beautiful mausoleum and named it as "Taj Mahal". The name is extracted from Mumtaz Mahal's name.The construction of Taj Mahal was started I'm the year 1631and took almost 22 years to have a final shape. Different types of Marble stones were brought from various regions and different country's. More than 25 different varieties of precious and semi precious stones were used for the ornamentation. More than 1000 elephants were used to carry materials and about 22000 artisans were employed. Passages and versus from the holy book Quran used in calligraphy form to decorate the mausoleum along with beautiful marble and stone carvings of flowers and abstracts. How to reach The UNESCO world heritage site and one of the seven wonders of the world which is often regarded as a symbol of love is located on the banks of River Yamuna in the city of Agra which is in Uttar Pradesh state of India.Taj Mahal is very near from the city center or Idgah bus stand of Agra. Air: Agra is having its own Airport which is 6 Km away from the city center. Very few airlines fly to this Airport and hence traffic would be less. The Major and other nearest Airport is New Delhi Airport which is located around 200 Km from Agra. Rail: Agra Cantonment is the main railway station in Agra which is well connected with trains from New Delhi and other parts of the country. The railway station is also close to Taj Mahal. The other two small stations near to Taj Mahal are Raja-Ki-Mandi and Agra Fort. But not all trains have stop here. Road: Agra is located at a distance of 210 Km from New Delhi, 239 Km from Jaipur and 58 Km from Mathura. Plenty of buses available from all these places to Agra and the main bus stand of Agra is Idgah Bus stand. Local Transport Once u reach Agra u will find plenty of local transport options to reach Taj Mahal. U can choose from Taxis, Cabs, Auto Rickshaws, Cycle Rickshaws and Battery Operated Rickshaws. All these all easily available at any point of time but always keep in mind "Bargain Hard" .They usually charge thrice the amount of what's actually cost and hence polish your bargaining skills and negotiate for a better rate. Taj Mahal can be visited any time of the year but considering the climate advantage October to March would be the best time.One can enter Taj Mahal through its three gates situated in West, East and South sides and entry is from Sunrise to Sunset thats generally between 6:30am to 6:30pm. The mausoleum is closed on all Fridays. What time of the day is best to Visit
At the time of SunriseWatching sunrise from the garden infront of Taj Mahal is the best way to start your day. The first rays of the sun touching the top of the dome and slowly coming down through its four side marble carved walls is truly a visual treat to the eyes. One can also go to Mehtab Bagh which is a garden located on the other side of the river Yamuna to view the sunrise. It gives spectacular view of Taj Mahal glowing in a light golden colour but from a distance. At the time of sunset Watching sunset is a best thing u can do to end your sight seeing day at Agra. Its simply spectacular. If you see Taj Mahal during sunrise in the morning you will clearly understand about the beauty of change of colours at different interval during the day. The shades of yellow during the day light will be transformed into light orange shade and then again into pearl white when the evening gets more darker. During full moon lightTaj Mahal was not allowed for visitors to access during night till 2014 but later government lifted the ban and allowed for 5 days in a month. That is on the full moon day and two days before and after the full moon day. The entry is from 8:30pm to 12:30am and its restricted for 400 people. One batch of 50 members is allowed for half an hour and till 8 batches. The tickets can be purchased one day in advance. Perhaps this will be the best time of the day to visit Taj Mahal. The pearl silver shade will be clearly visible and there will be a spectacular glow around Taj Mahal during full moon night. You will be wondering seeing the change of colours from sunrise to day time and from sun set to moon light.
Major things to see in and around Taj MahalThe calligraphy done on the surface of Taj Mahal is the most beautiful decoration you will ever witness. Its made of inserting carved stones into white marble panels and consists mainly of passages and versus from the holy book of Quran. Flower and other art work beautifully carved out of marble will surely make u jaw drop. Its so perfect and beautiful that we will doubt the capabilities of Modern art work and designs. When the sun light passes through these marble carved walls she shadow makes beautiful patterns. The other wonder thing is the walls. The speciality of which is the walls are designed in such a way that when u loo from inside u will clearly see everything outside where as when u look from outside nothing can be seen inside. Which is a technique done to protect the privacy and the same work one can also witness in Agra fort. The four Minars on four side is equal in measurements and presently its closed for entry inside. Otherwise we can go till top to have a look around river Yamuna. Four sides are also perfectly the same when u look from different angles. The center chamber is the place where the graves of Mumtaz and Shah Jahan kept but the real graves are beneath the central chamber and the actual grave is also having a speciality that its engraved with passages from holy Quran and also ninety nine beautiful names of Allah is inserted on the sides of the actual grave in calligraphy form. Once the visit inside is over then come out and there is also two other structures inside the compound which provide perfect symmetrical balance to the architecture of Taj Mahal. The mosque is made of red sandstone and a mirror image of the mosque, a guest house can be located on the opposite side. The mosque also having calligraphy inscriptions taken from Quran. You can spend as many time you wish in the compound seeing and analysing the beauty of Mughal Architecture. It will take minimum of four hours to completely witness the carvings and calligraphy inscriptions and the time you spend there will be cherished for long. Unfortunately there was no full moon on the day I went and hence couldn't experience the beauty of Taj Mahal in moon light. I am planning to make another visit in March during full moon time and complete the proper visit of the Taj Mahal. We Indians should feel proud of this beautiful structure and above all should feel more proud about the skill set of our ancient people who devoted their 22 years to built such a beautiful structure that too in beautifully carved Marble.Let the shine of Taj Mahal remains forever like the love which Mumtaz and Shah Jahan shared and because of which we were fortunate to have such a beautiful architectural marvel in our soil.