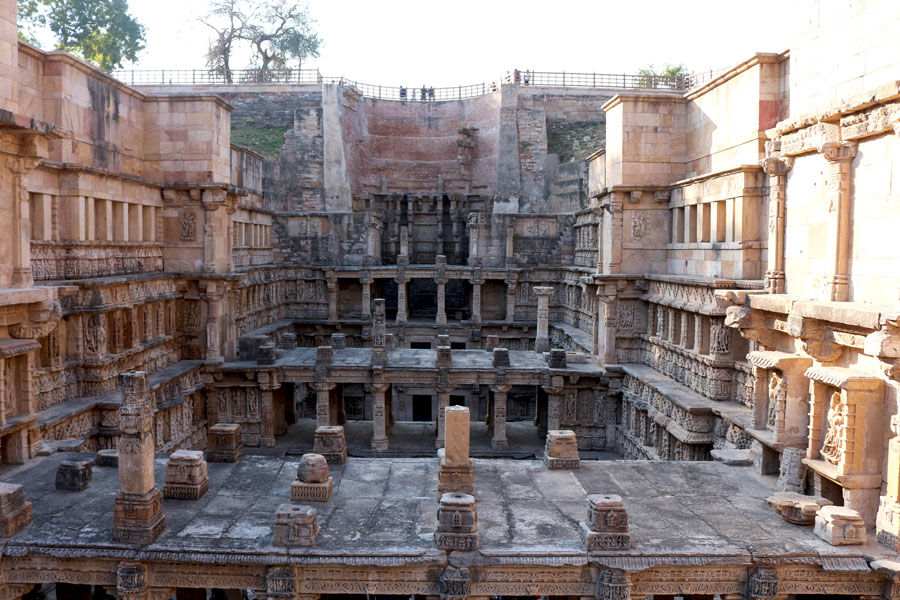 Rani ki Vav or The Queen's Stepwell in Patan is the biggest and the most beautiful stepwell in India and is also the only step well in India to be declared a UNESCO World Heritage Site. Water is sacred in Hinduism and its part of every worship rituals which was scarce in this part of India. Stepwells are an age-old model of how ground water was preserved and utilized in those days. This stepwell is the finest example of architectural brilliance, unique craftsmanship and technological excellence in ground water management in the 11th century. This Stepwell is also a masterpiece of Indian subterranean architecture with ornamental sculptures. You can consider Rani Ki Vaav as Queen of all step wells in India. A century ago, the existence of this place was only available in historical records, is now a place with the most ornate and highly sculptured vav and is also featured on the new ₹ 100 currency note of India.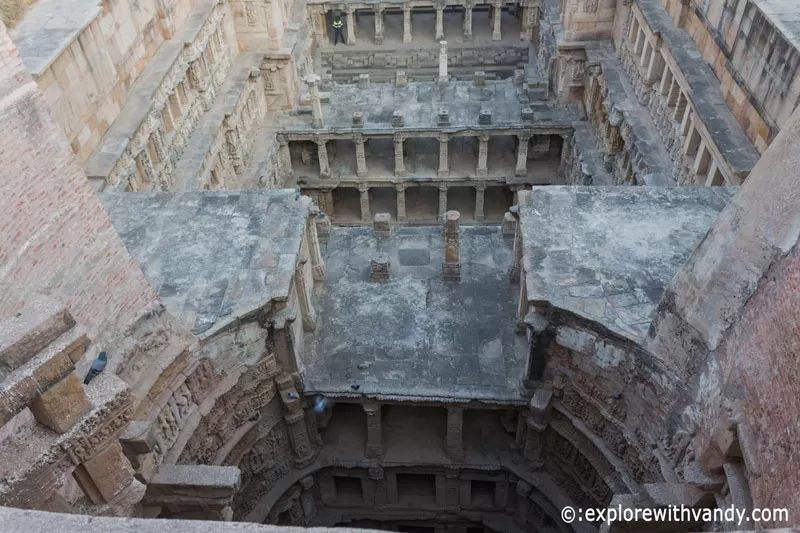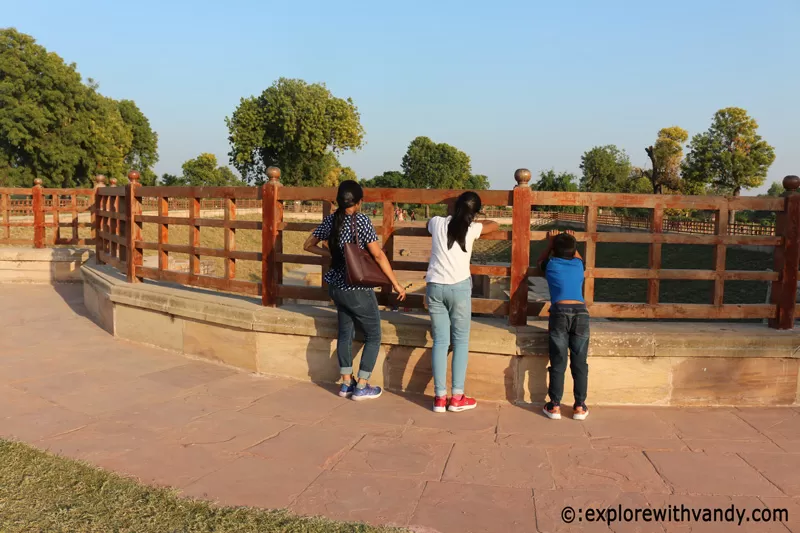 The stepwell was built in 1063 by Rani Udayamati of the Chaulukya Dynasty to commemorate her husband, Bhimdev I. As per historical records, it takes 20 years to build this stepwell and the stepwell was commissioned in 1063. Sometime in the past the stepwell was flooded by the Saraswati River and filled with silt. Slowly people forget its existence and it was used by the locals as a regular pond with only two ends visible at the ground level. In 1958, the Archeological Survey of India discovered the place and started excavations. After years of careful excavation, an exceptional water management system of 7 levels with beautiful and intricate carvings in pristine condition was discovered. After a lot of time and efforts the place is now restored to its original state by the Archeological Survey of India and opened for public.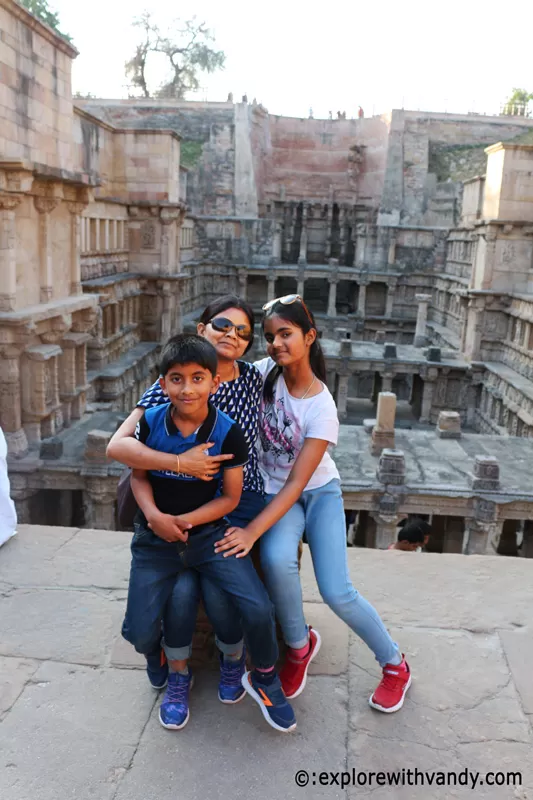 The first half of the day we spent in Modhera sun temple. The sun temple was enchanting and mind blowing. After spending 2 hours at the temple, we left for Patan to see this equally beautiful and mind-blowing structure. Its again time for a time travel to the golden era of India when these kind of huge structures and sculptures were built with such a precision and dedication. My kids were not showing any sign of tiredness and looking forward for their next destination. Soon we reached to the Rani Ki Vav in Patan. There was plenty of parking space outside the premises next to the ticket office and the place was not too crowded though it was holiday season.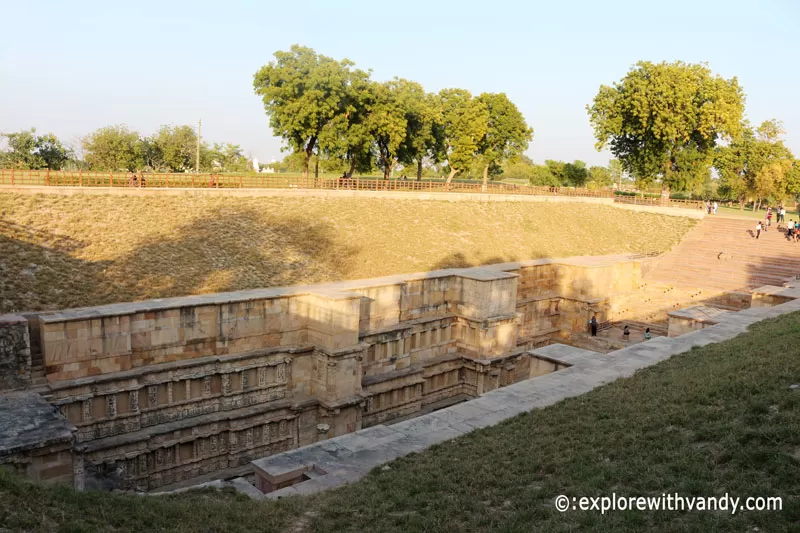 After the ticket office you enter an area of beautiful manicured green lawn which was well maintained with pathways. At first glimpse vav is not visible, only lush green garden is in front of you where you can spend your time peacefully. I remember my first visit when I was looking for the stepwell which was not visible after entering the premises. There was no sign of the step-well and I was wondering where is the vav? After some time, I realized that a small, barricaded area is what I was looking for. So, this time there was no confusion. After relaxing for some time in the garden, we moved towards the entrance of the vav which looks deep with many stairs. Once you start moving down the stairs of Rani ki Vav, then only you will realize its sheer size and the depth.
Inside the Rani Ki Vav
The stepwell is a seven-storied structure constructed below the ground level out of which only five are accessible for visitors. The last two levels are not accessible to the visitors to preserve the integrity of the structure and for the visitor's safety. The stepwell is about 64 meters in length, 20 meters in width and 27 meters in depth. You can see terraces at each level supported by pillars. There are approximately some 220 pillars supporting the terrace. You can think of the stepwell design as an inverted temple with entrance as sabha mandap and lower level as the shikhar of the temple. Temple tanks are an essential part of every large Hindu temple but here the temple itself is constructed inside the tank.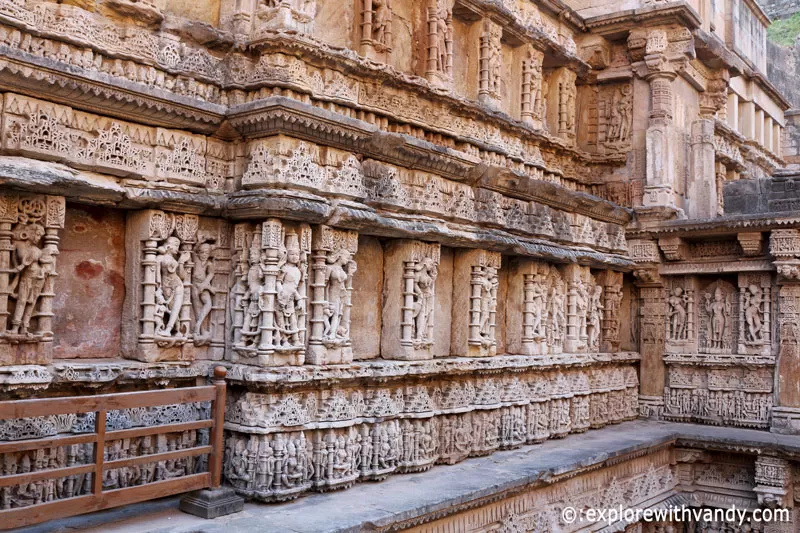 The major attraction of the Rani Ki Vav is its sculptural beauty on the inner walls and pillars. There are panels on both side of the stepwell which has innumerable idols carved on them, each one looking more beautiful than the other.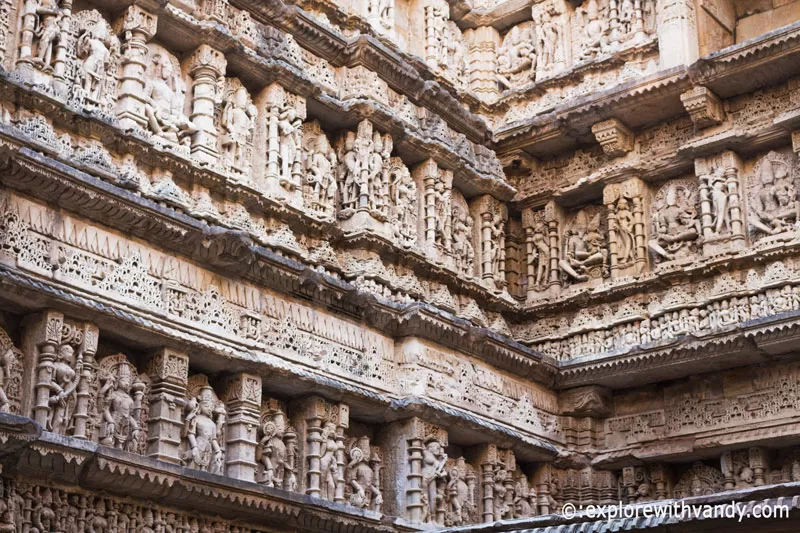 As you climb down the stairs, at each level you will find abundance of mind-blowing sculptures everywhere in the stepwell from the walls to the pillars. The sculptures represent various religious themes but the central theme here is the "Dasavatar's" or the ten incarnations of Lord Vishnu. On the rear wall of the vav, which is not accessible but can be seen between the pillars, you can see an ananta sayanam Vishnu ji sculpture. If rear panels are not clearly visible the use the zoom of your camera.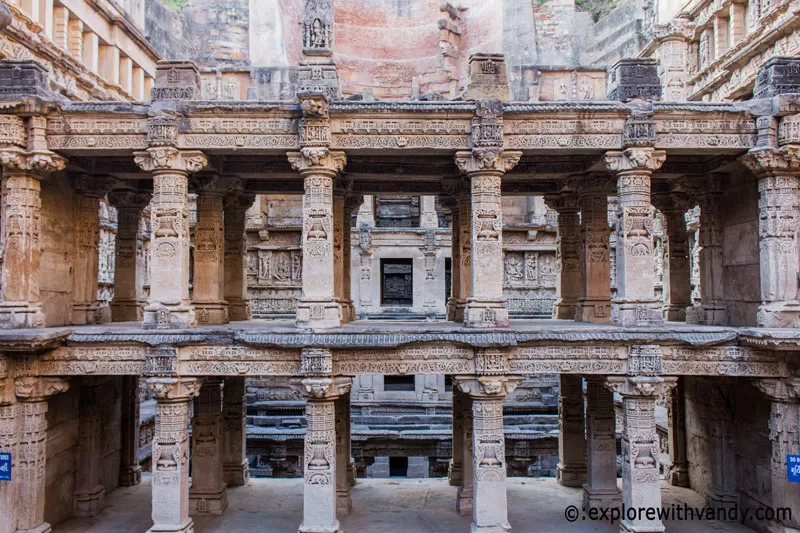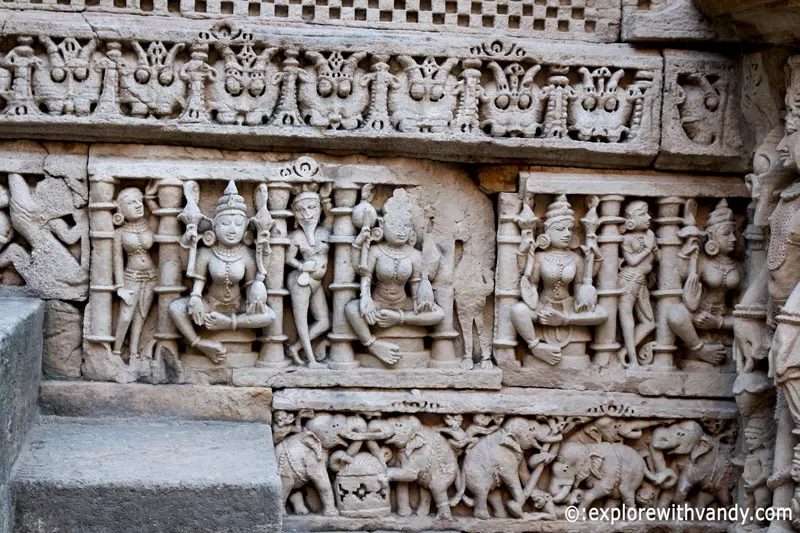 Other than the Dasavtar's of Lord Vishnu, there are many other sculptures of Brahma, Vishnu, Shiva, Mahisasur mardini and many others sculptures of dancing women including Apsara and Nagkanya. The most stunning one was the female doing Solah Shringar (16 ways to adorn the body). Here every face has its own emotions and feels like sculptures speaking to you from every panel and wall. There are around 1500 small and big sculptures whose craftsmanship and detailing are next to none. Rani ki Vav was not only serving as a utilitarian space but also as a spiritual refuge.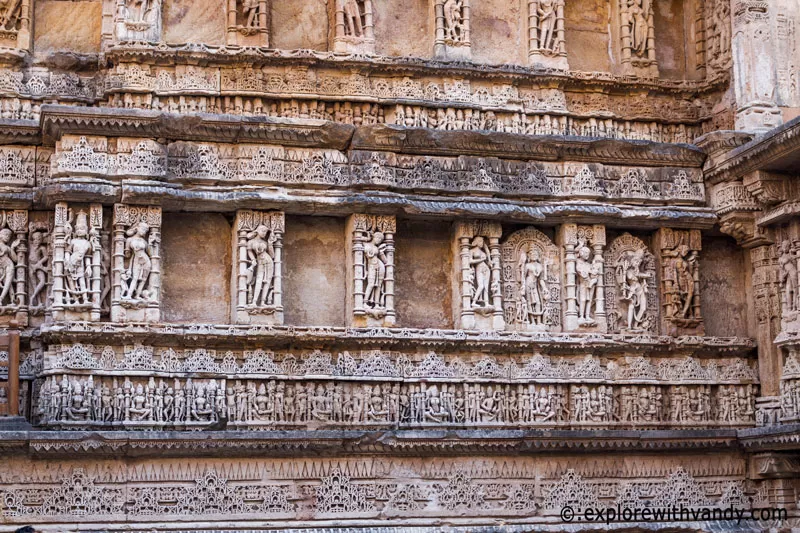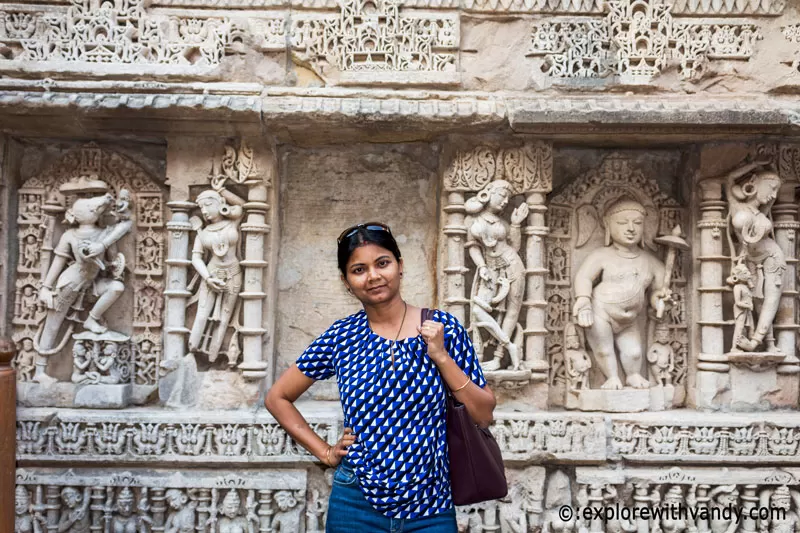 Unlike Modhera sun temple, all the sculptures of the Vav are intact. It survived the wrath of the invaders due to its subterranean construction and due to most of the time submerged under water. The idols are still standing strong in pristine condition despite being submerged most of the time and worth visiting. If you are visiting Gujarat, you must include Rani Ki Vav in your itinerary.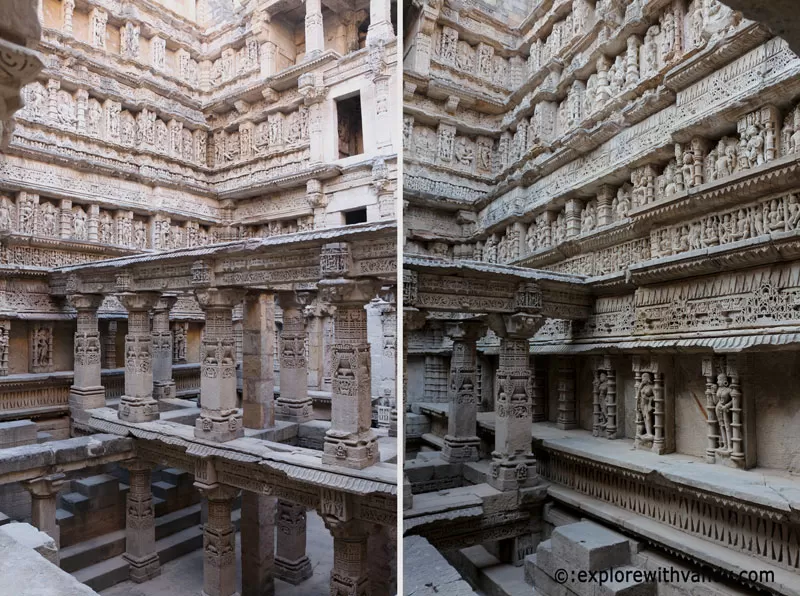 Best Time to Visit
Summers are hot and humid in Western India. Therefore, it is always advisable to plan your travel in these regions around winter months, between October to March. During this time, the weather is pleasant and more enjoyable. Though there is a lush green garden inside the compound still it's better to avoid the summer months. Even during the winter months try to plan your visit either in the early morning hours or late afternoon. Vav is a kind of open pit without any shelter and during midday it may not be enjoyable even in winter.
If you are interested there is a museum and Sahastralinga Talav near the Rani ki Vav. Sahastralinga Talav is older than Rani Ki Vav and it was also a water management system which is in ruins now. We have seen this before, so we skipped it. There is also a huge amphitheater-like structure which was part of this water management system and mostly intact. If you have time or staying in Patan, explore the local market for the famous Patola saree of Patan.
How to get to Rani ki Vav in Patan
Rani ki Vav is located in Patan at a distance of 125 km from Ahmedabad. The most preferred travel option is by road. You can hire a private taxi from Ahmedabad. We booked a private taxi for full day and visited Sun Temple at Modhera and Rani ki Vav at Patan on the same day. The journey takes about 3 hours one-way. if you are travelling by your own car, there is plenty of parking space next to the ticket office outside the Rani Ki Vav premises.
State transport buses run frequently between Ahmedabad and Patan and are less expensive than taxis. From bus station it's another 10-minute drive by auto rickshaw to reach the Rani ki Vav. Check GSRTC website to book your bus tickets.
The nearest airport is Ahmedabad. So, you will have to fly into Ahmedabad first and then take a bus/train/taxi from there.
You can also take a train to Patan, which is well connected with Ahmedabad with many intercity trains operating between the cities daily. From the railway station take an auto rickshaw to reach the Rani ki Vav which is few kilometers away.
Rani ki Vav entrance fee and timings
Rani Ki Vav entrance ticket costs ₹ 35 for Indian citizens and ₹ 550 for foreigner. Children up to 15 years old are free to enter. You can also purchase online ticket at https://asi.payumoney.com (select Vadodara city for Rani Ki Vav). There is no additional fee for Photography. The site is open every day between 7 AM to 6 PM. Washrooms are located next to the ticket office.