While researching for Kutch, I came across "Rani ki Vav", I was mesmerised with the pictures I saw, slowly one led to another and a plan was drafted with Ahmedabad as base and explore the three places i.e. Modhera Sun Temple, Rani Ki Vav & Lothal.
Above three places was supposed to be covered in 1.5 days, remaining spare time, I decided to go for Ahmedabad sightseeing. While going through various sites, I found out that Ahmedabad had more of heritage structures rather than assumed to be just a plain city. Plan was for two days. Being a long weekend, which included Friday, Saturday & Sunday, we decided to go for Friday & Saturday and full day rest on Sunday.
Trains were full, since this plan was conceptualized and people joining the trip was finalized one month in advance. As usual, all female crew, booked 2 rooms through OYO in Hotel The Grand Marshall. Train tickets to & fro in Ahmedabad -BCT Duronto was booked. One day prior to journey, I booked the A/C cab from Tea2Taxi online for 2 days. (Rs. 9/- per kms, min km to cover was 250)
We left on 24th Night, reached 25th Morning at 6.00 am. took an auto till hotel which was on other side of River Sabarmati. Got an early check in at 7.00 am for Rs. 800. Booked car had arrived by then, we left by 9.00 am. First visit was Adalaj Vav (Built in 1499 by Queen Rudabai, wife of the Vaghela chief, Veersinh, this five-storey stepwell was not just a cultural and utilitarian space, but also a spiritual refuge. It is believed that villagers would come everyday in the morning to fill water, offer prayers to the deities carved into the walls and interact with each other in the cool shade of the vav.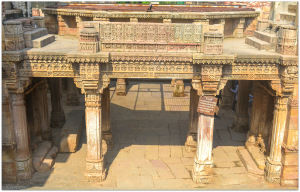 There is an opening in the ceilings above the landing which allows the light and air to enter the octagonal well. However, direct sunlight does not touch the flight of steps or landings except for a brief period at noon. Hence some researchers say that the atmosphere inside the well is six degrees cooler than the outside.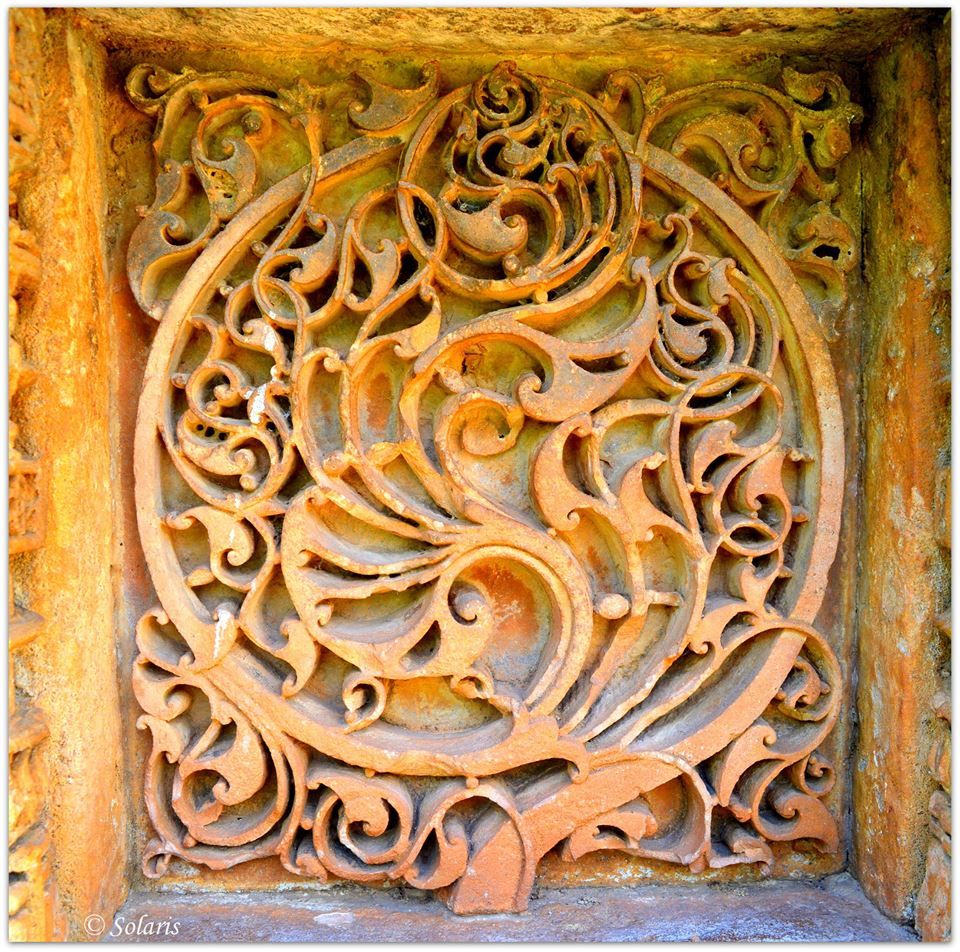 Another remarkable feature of this stepwell is that out of the many stepwells in Gujarat, it is the only one with three entrance stairs. All three stairs meet at the first storey, underground in a huge square platform, which has an octagonal opening on top. The vav is a spectacular example of Indo-Islamic architecture and design.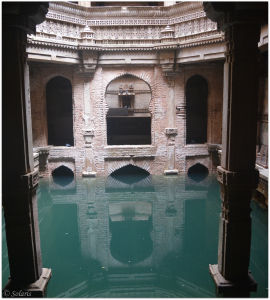 The harmonious play of intricate Islamic floral patterns seamlessly fusing into Hindu and Jain symbolism embody the culture and ethos of those times. All the walls carved by ornamentation, mythological scenes along with everyday scenes of women churning buttermilk, dancers accompanied by musicians, women adorning themselves and a king sitting on a stool. Fascinating to many visitors is the Ami Khumbor (a pot that contains the water of life) and the Kalp Vriksha (a tree of life) carved out of a single slab of stone.
There is a belief that the small frieze of navagraha (nine-planets) towards the edge of the well protects the monument from evil spirits - Sourced from net), I had included it on first day, because it was on the way to Modhera around 10 kms from Ahmedabad.
Architecturally beautiful, Vav was actually "wow". We clicked some pictures, descended till base and climbed back, sun was shinning brightly by then, no traces of rain or pleasant weather. By 11.00 am, we headed back to the coolness of the cab. On the way to Modhera, we saw many Pani Puri stalls, decided to halt and taste it. Unfortunately, it was not upto the mark.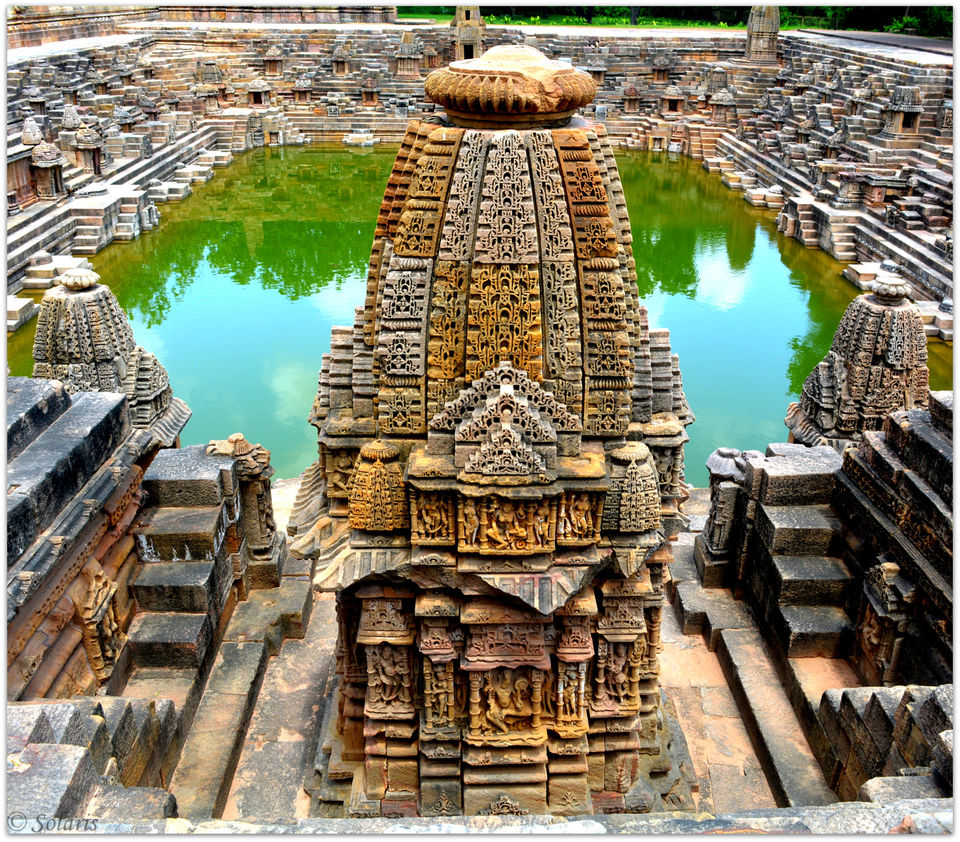 We reached Sun temple in the noon. This temple is dedicated to Sun God, located on the bank of Pushpavati River. ( In 1026, the temple was built by King Bhimdev of the Solanki dynasty believed to be the descendants of the lineage of Sun God).The temple encompasses three different yet axially-aligned and integrated constituents. As per the Konark Temple, this shrine is designed in a manner, so that the first rays of the Sun cast on the image of the Lord Surya. Erected on a high platform, the Temple appears majestic with its grand structure.
However, the spires are out of the scene, but the 'Toranas' (Archways) that lead to the main halls overshadow the absence of spires or shikhars. The exterior walls are engraved with intricate carvings, boasting about the mastery of art in those times. Every single inch of the structure is covered with the sculptural patterns of Gods, Goddesses, birds, beasts and flowers.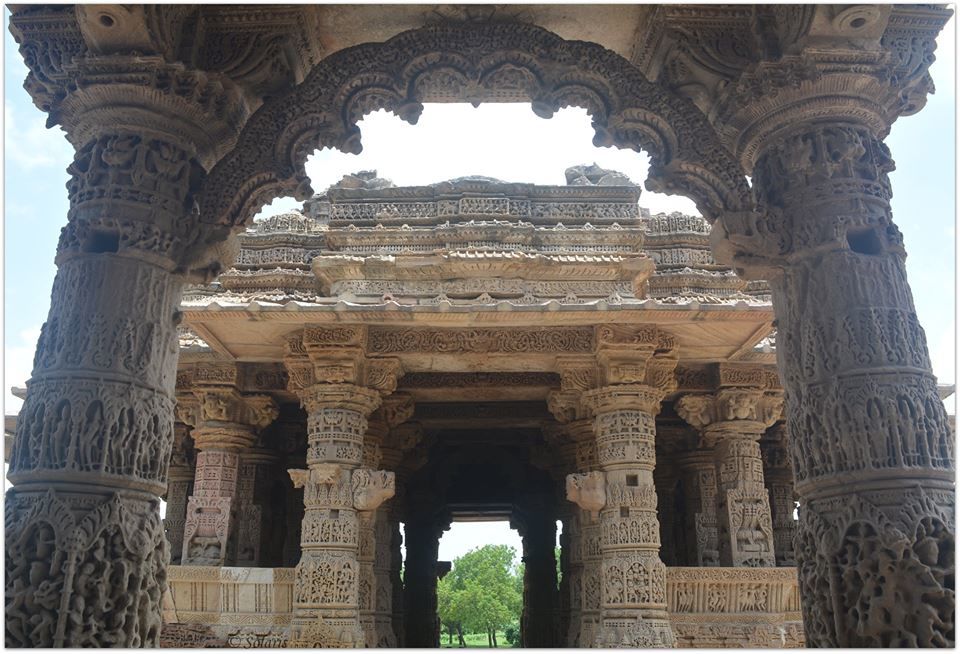 Actually, the Sun Temple is divided into three parts namely Surya Kund, Sabha Mandap and Guda Mandap. - Sourced from net).
We left Sun temple by 1.00 pm. At the junction, turning towards Modhera, there was a nice restaurant called Amber Hotel, suggested by driver, we had our lunch there at 1.15 pm.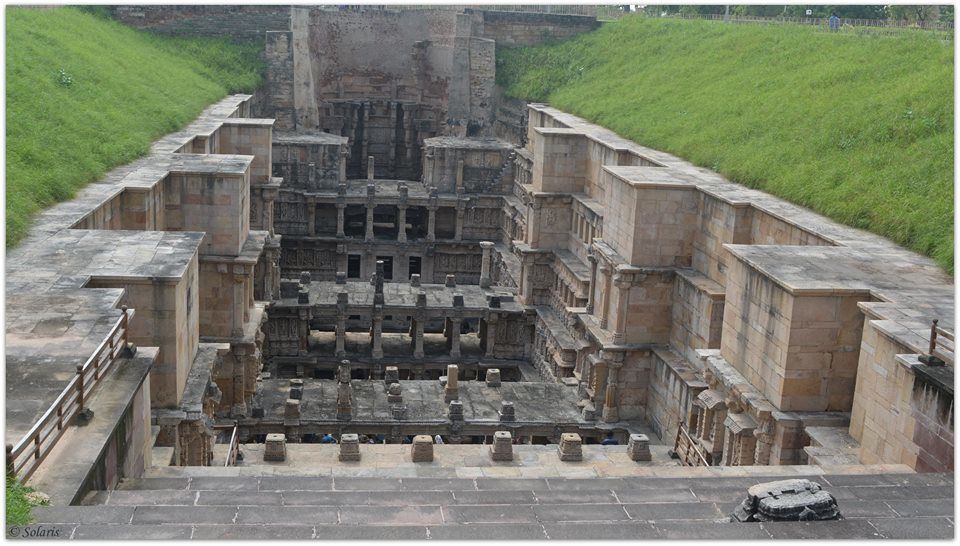 We left for Patan at 2.30 pm. Reached Rani Ki Vav at 3.30 pm. There was a huge garden surrounding the Vav. It is a Heritage site and maintained by ASI. (Exceptional example of a distinctive form of subterranean water architecture of the Indian subcontinent, the stepwell, which is located on the banks of the Saraswati River in Patan.
Initially built as a memorial in the 11th century CE, the stepwell was constructed as a religious as well as functional structure and designed as an inverted temple highlighting the sanctity of water. Rani-ki-Vav is a single-component, water management system divided into seven levels of stairs and sculptural panels of high artistic and aesthetic quality.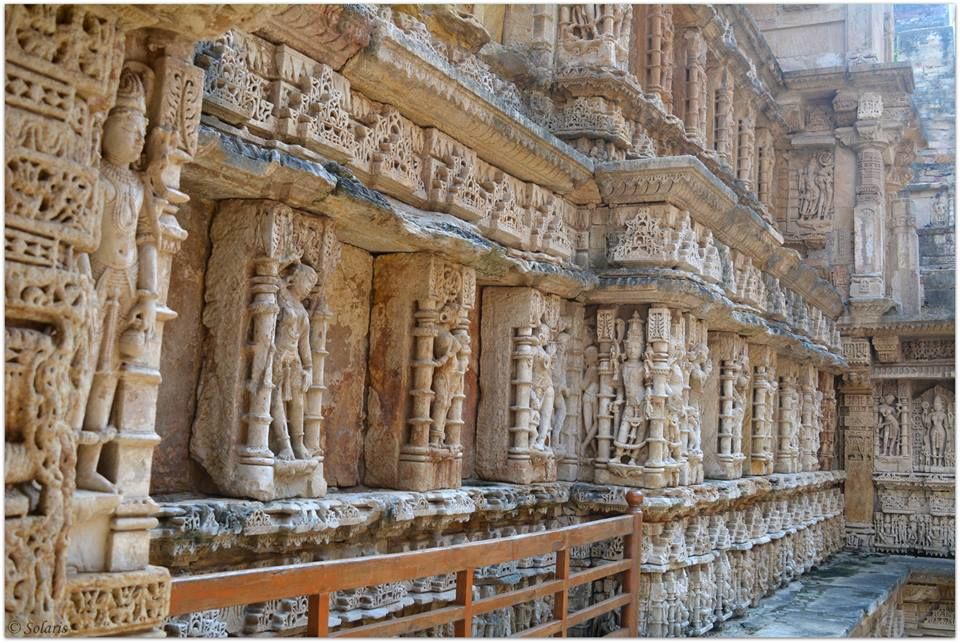 It is oriented in an east-west direction and combines all of the principle components of a stepwell, including a stepped corridor beginning at ground level, a series of four pavilions with an increasing amount of storeys towards the west, the tank, and the well in tunnel shaft form. More than five hundred principle sculptures and over a thousand minor ones combine religious, mythological and secular imagery, often referencing literary works. Rani-ki-Vav impresses not only with its architectural structure and technological achievements in water sourcing and structural stability, but also in particular with its sculptural decoration, of true artistic mastery.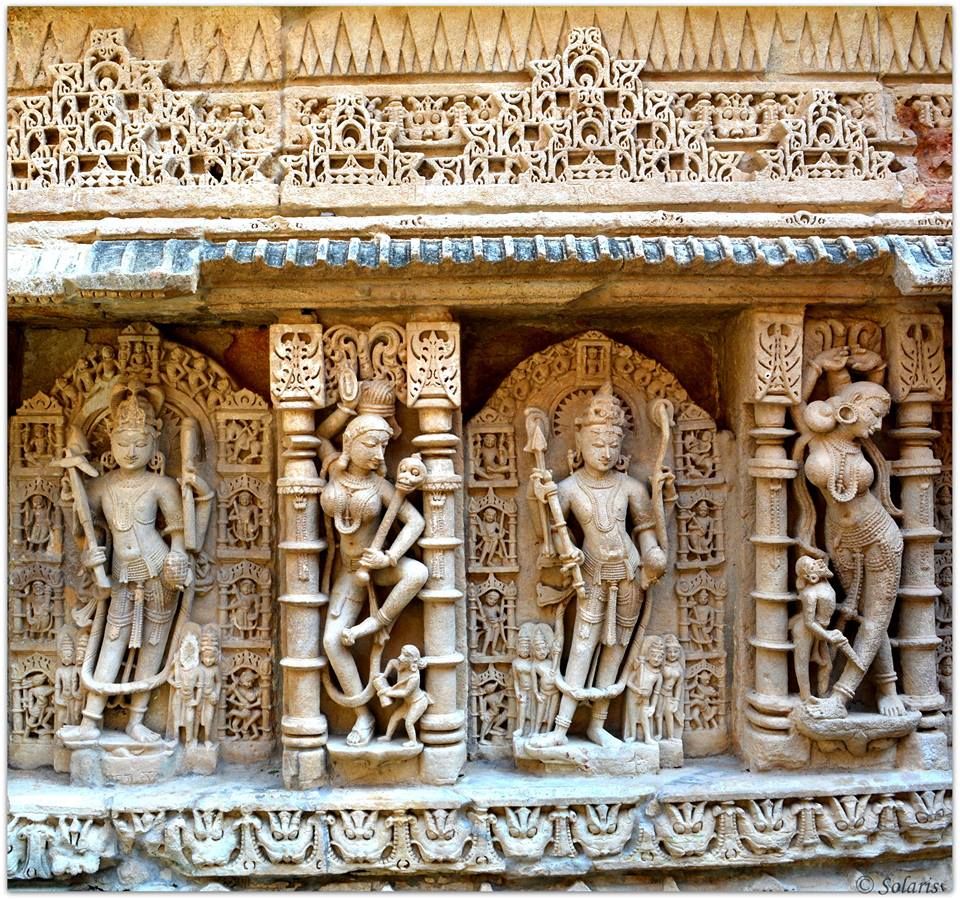 The figurative motifs and sculptures, and the proportion of filled and empty spaces, provide the stepwell's interior with its unique aesthetic character. The setting enhances these attributes in the way in which the well descends suddenly from a plain plateau, which strengthens the perception of this space. - Sourced from -http://whc.unesco.org/en/list/922)
We hired a guide (Rs. 200/-) to understand the intricacies of the structure. The different layers, purpose and history behind the grand Stepwell. The pillars and walls are beautifully and minutely carved. Some of these were inspirations for Patola saree designs. We spent some time at the bottom of well to get relief from the glaring sun. I wanted to go further to visit Sahastralinga Talav, which was 1 km ahead from this Vav.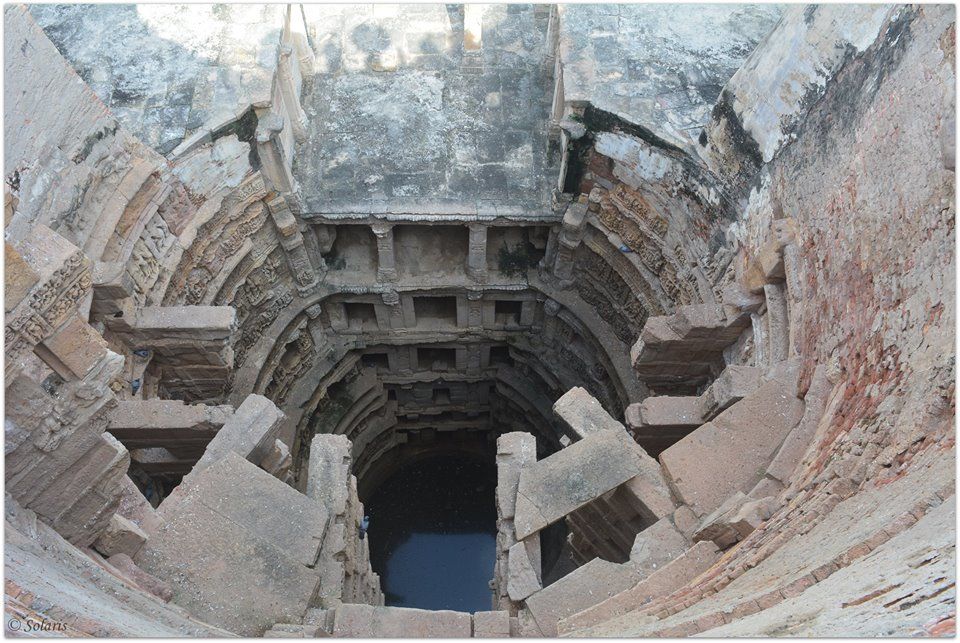 But girls were too exhausted to move further, dropped the idea and reversed back to Patola House. Here, we saw the history of Patola, old fabrics, manufacturing unit of sarees on ground floor. On first floor, we met an artisan, who showed us delicate beautiful paper carvings. Some were carved by his ancestors and some by him. We left Patola House by 5.30 am.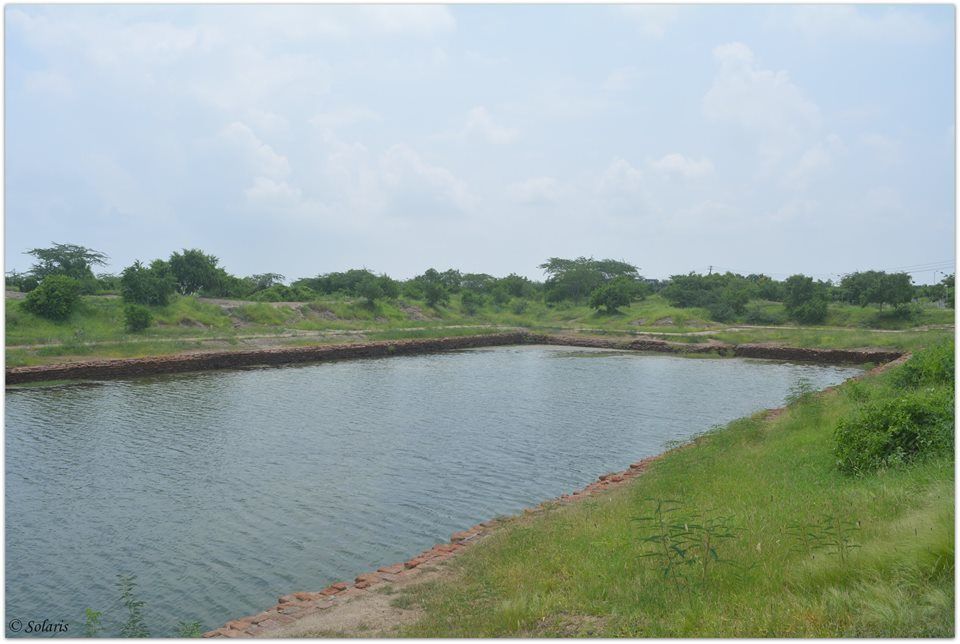 Reached Ahmedabad late in night by 9.30 am. One of the girl fell ill, hence dropped the idea of going out for dinner. We called dinner in the hotel room, fell asleep.
Woke up by 7.00 am, by 9.00 am we were on road to Lothal, excavated site of Harappan Culture. (An ancient Indus site in Gujarat on the Gulf of Combay where trade once flourished with other ancient civilizations including the ancient Indus Valley people)
It was 1.5 hrs drive from Ahmedabad. We reached Lothal by 10.30 am. I did not want to miss Museum like we did in Dholavira, because Archeological Museums are closed on Fridays. Hence, shifted the Lothal plan to Saturday and covered the other parts on Friday itself. Museum actually gave insights to 4500 years old era, photography was not allowed. Earthen pots, knives, utensils, ornaments that were found during excavations are kept in this Museum.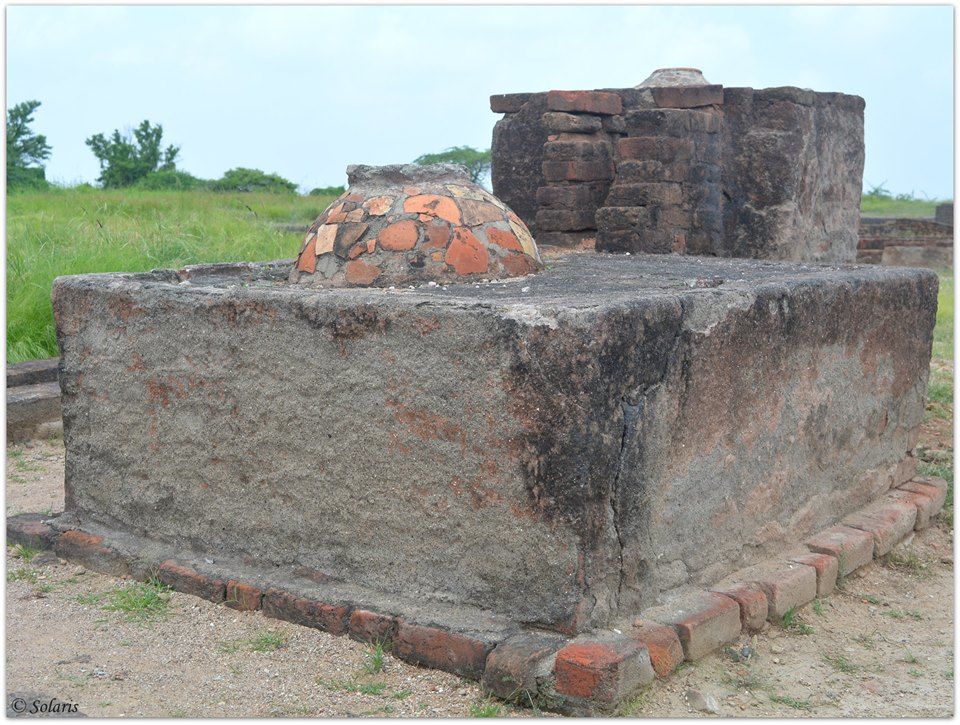 After observing those, we went around to explore the remnants. For laymen, it would be just bricks and walls.
There are signage to understand, what might have existed under those mounds. Due to Rain, the dockyard was filled with water, looked like pool. There was earthen pot furnace, Acropolis, Cooking blocks, Drainage system, Well, Lower Town and Cemetery.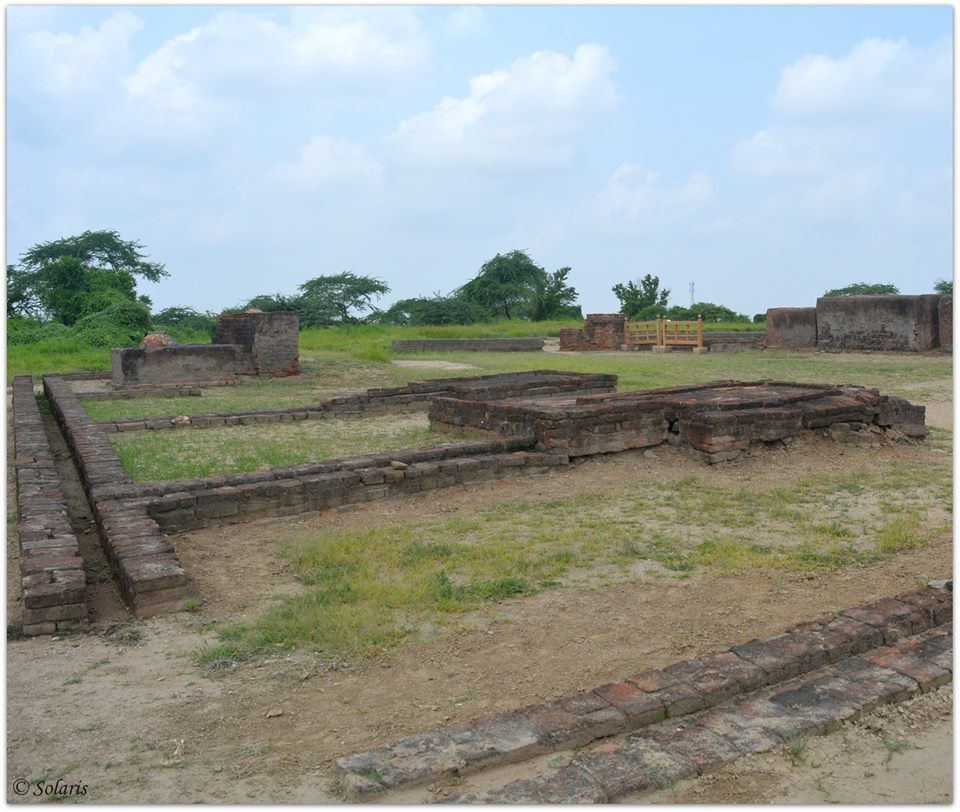 We left Lothal by mid-noon, reached Ahmedabad by 2.00 pm. Decided to have a Thali lunch at Agashiye, restaurant by House of MG. It was bit heavy on pockets (Rs. 1300 for regular Thali after adding GST offcourse) but, curiosity of looking around Heritage structure of House of MG, we gave in.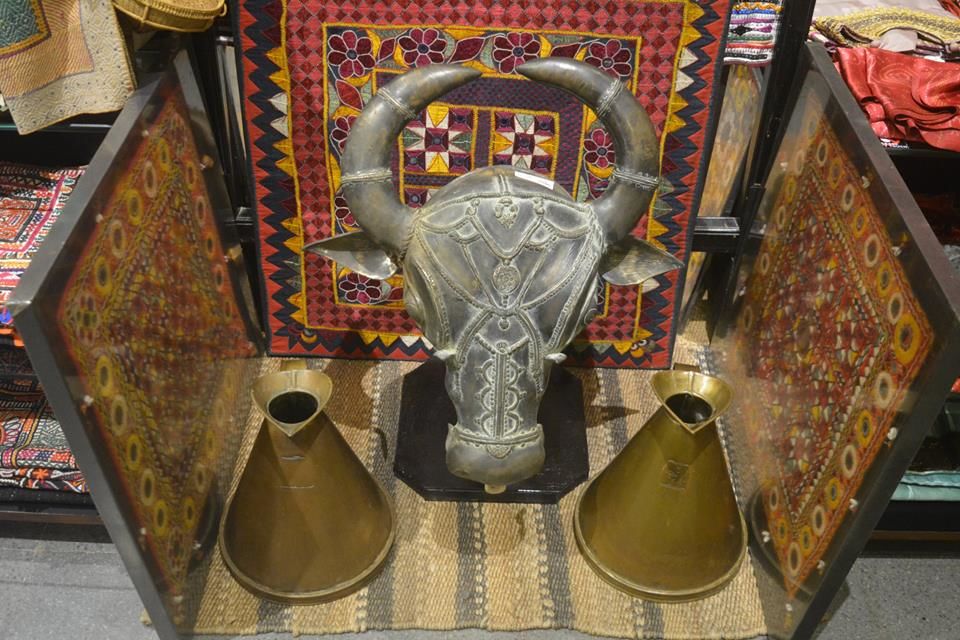 The meal was standard, not a place for foodie though. But the ambiance and the artifacts displayed gave some satisfaction for shelling out so much. The Siddi Sayed Jali Mosque was opposite to this restaurant. Clicked a quick pic of famous Jalis. We skipped the rest of the Ahmedabad tour and concentrated on shopping at Law Garden.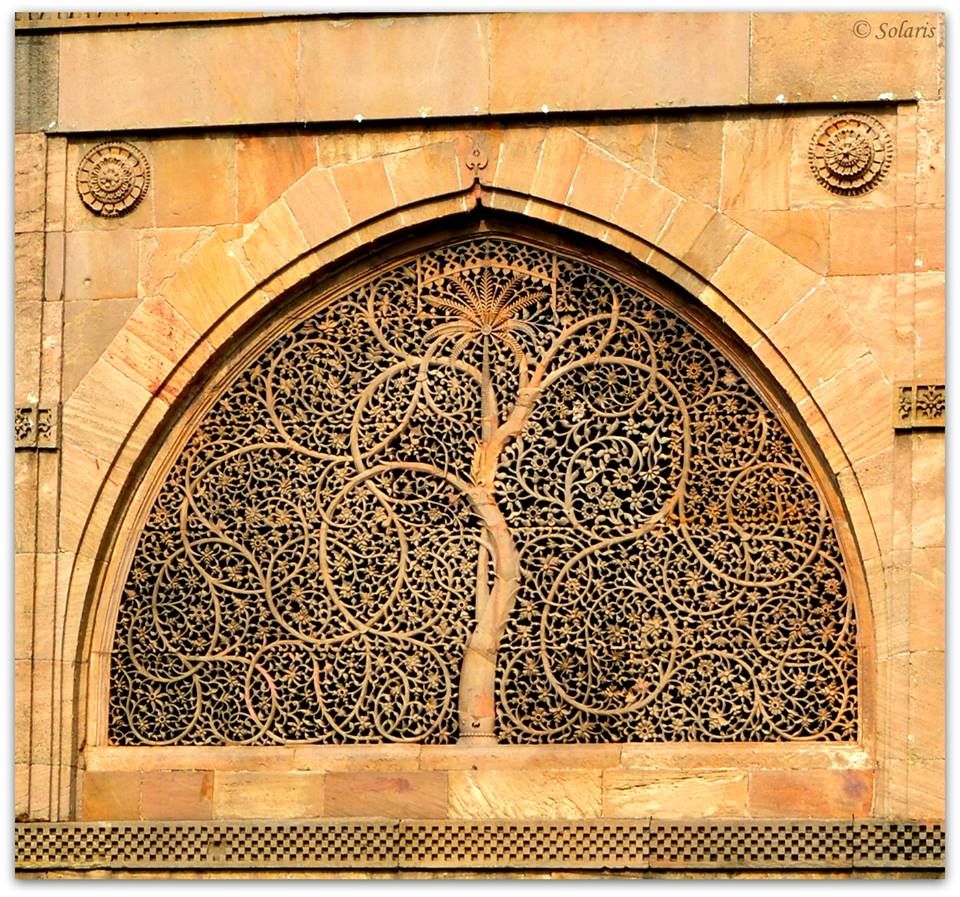 Came back to hotel, requested for 2 hours respite, since we had checked out in the morning. The staff was very cordial and allowed us to stay for 3 hours till 10.00 pm (Rs. 600).
Our train was at 11.25 pm. We boarded the Duronto and were back to Mumbai by 6.00 am in the morning.
P.S. There are tickets in all these place ranging from Rs. 5 to 20/-.