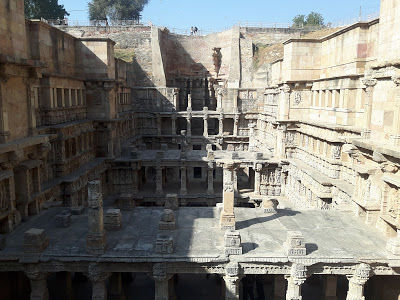 'Now what will Gujarat have to offer except vegetarian food and temples ??!??!' I asked my wife.
'Stop behaving like a weirdo and get your facts right.The history of Gujarat began with Stone Age settlements followed settlements like Indus Valley Civilisation. Nanda, Maurya, Satavahana, Gupta, Allauddin Khilji, Akbar, Maratha and Chalukya empires have all ruled over this great land. ' snapped back my wife.
I was taken aback for a minute but still decided to come back with something which will ensure I have the last laugh. 'Oh yeah !! Well... I am sure a road trip will be impossible given the conditions of roads in other states ' Success; I thought.
'Actually, Gujarat has one of the best infrastructures in India ' she grinned.
'Damn!'
So began my quest to create a 4 Day road trip across Gujarat. I did some research and came across 3 important location which I wanted to visit -
Rani ki Vav at Patan Sun Temple at Modhera The ruins of Champaner
After a bit planning and ensuring our Hyundai Accent 2003 was in travel condition for this 1000 Km journey, we left for Gujarat early morning.
Day 1 was all about travelling.
Left from Pune early morning, traveled through Mumbai and en route through Surat, Vadodara and reached Ahmedabad late night.
The roads from Borivali Mumbai to Gujarat are as plain as butter. My vehicle manage to keep an average speed of 60+ Kms ... and believe me with Accent 2003 its very good. Also worth mentioning is that there are good options to stop and rest through the entire route.
We managed to get correct directions from time to time from a sweet lady who was kind enough to tell us if we should go straight, or take third exit or if we were on fastest route. Sometimes I do feel i have secret crush on her.... oh Google Maps. Hate her family member though who keeps suggesting me what I want to search or auto completing me...
Tried giving KFC (Khakra Fafra Chai) a try but this is not for me. Locals however love the dish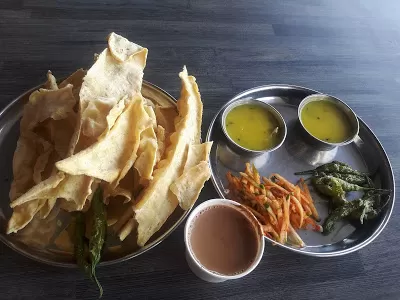 Now it may seem me and my wife lead a high flying life, but the fact is we are always living on the brink. So imagine our surprise when we managed to get good hotels at excellent price on Treebo hotels website. I would personally suggest you to give it a try once.
We reached late evening, had our dinner and dozed off to sleep.
Day 2 early morning we left for the UNESCO world heritage site - Rani ki Vav
The journey from Ahmedabad to Patan takes approximately 3 hours by road hence it is advisable to leave early morning.
Rani ki vav is an intricately constructed stepwell situated in the town of Patan in Gujarat. It is located on the banks of Saraswati River.
Stepwells are a distinctive form of subterranean water resource and storage systems on the Indian subcontinent, and have been constructed since the third millennium BC. Rani ki vav was built in the complex Maru-Gurjara architectural style with an inverted temple and seven levels of stairs and holds more than 500 principal sculptures . Rani ki vav was built as a memorial to an 11th century AD king
Bhimdev I by his widowed queen Udayamati and probably completed by Udayamati and Karna after his death.
The stepwell was later flooded by the nearby Saraswati River and silted over until the late 1980s. When it was excavated by the Archaeological Survey of India, the carvings were found in pristine condition.
It was added to the list of UNESCO's World Heritage Sites on 22 June 2014
6 floored structure with amazing carvings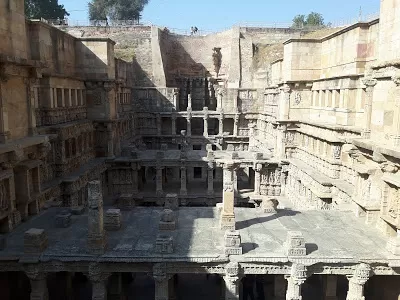 Exquisite carvings on the walls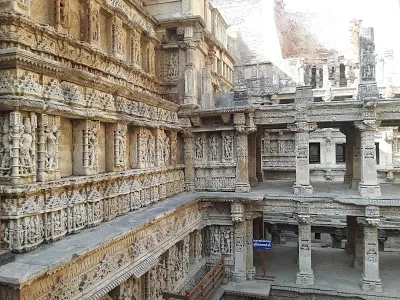 Often called the Khajurao of Gujarat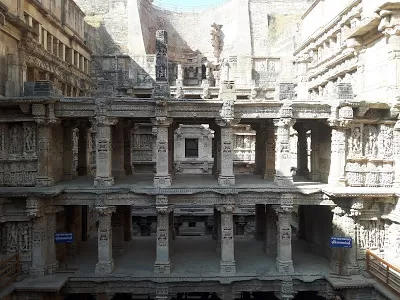 Posers !!! Me and wife Suchita getting clicked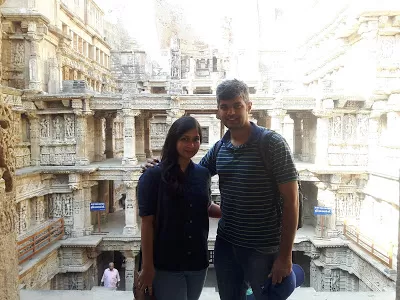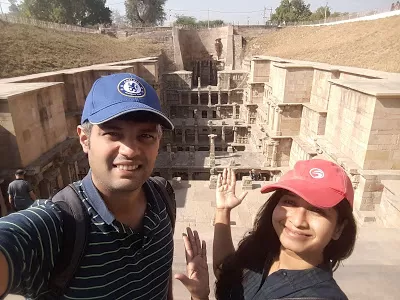 The complete view of the Rani ki Vav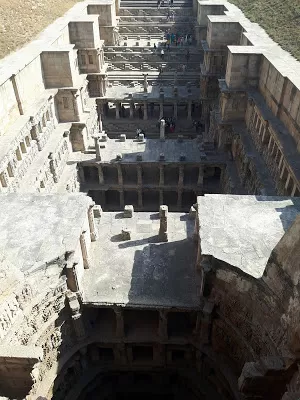 Admiring all the intricate carving and the detailed stories engraved in them easily takes up 3 hours.As usual the local guides or guards can help you with some of the best info at the site.
Do ensure to visit the Patola weaving center nearby. Though we could in no way afford it, the owner of the weaving enter is courteous enough to explain the entire process to all the guests.
From Patan its an hours journey South towards Modhera Sun Temple
The Sun Temple is a Hindu temple dedicated to the solar deity Surya located at Modhera village of Mehsana district of Gujarat. It was built in 1026-27 AD during the reign of Bhima I of the Chaulukya dynasty. It is built on 23.6° latitude (approximately near Tropic of Cancer)
No worship is offered now and is protected monument maintained by Archaeological Survey of India.
The entire temple is over whelming in terms of architecture, mathematical alignments, design and the science behind it.
It is absolute essential to hire a guide available at the entry point to enjoy the temple.
Had availed services of guide named Mr. Vipul Rawal, Ph. : 9924888505 who was extremely knowledgeable.
We found many interesting sculptures here. One interesting statue was that of Sun God- who looks like an Egyptian Pharaoh. Wonder if there was actually a much free and open society and flow of knowledge from India to countries and Egypt and vice versa.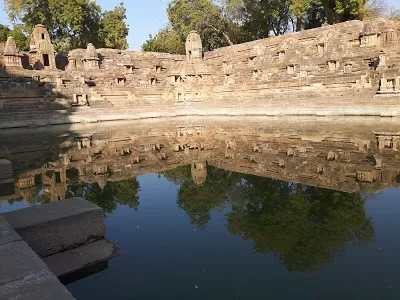 Exploring Sun temple properly easily takes up 3 hours of your time.
Dead tired and hungry, we decided to head back to Ahmedabad for much needed rest.
Day 3 again began early with a visit to Adalaj ki vav at Gujarat.
The history of the Adalaj step-well built in 1498 is established by an inscription in Sanskrit found on a marble slab positioned in a recess on the first floor, from the eastern entry to the well.
Its construction was started by Rana Veer Singh of the Vaghela dynasty of Dandai Desh. But he was killed in a war, wherefater a Muslim king Mahmud Begada of a neighbouring state built it in Indo-Islamic architectural style, in 1499.
The Adalaj step-well is a popular tourist attraction of the Ahmedabad city and is situated 18 kilometres north of the city.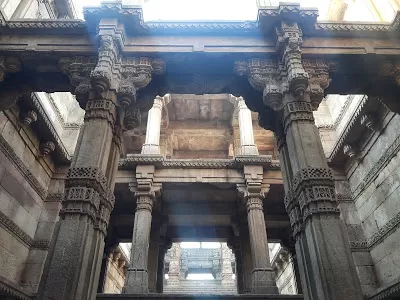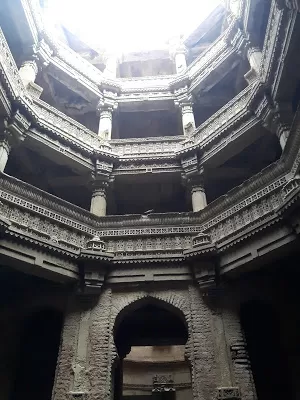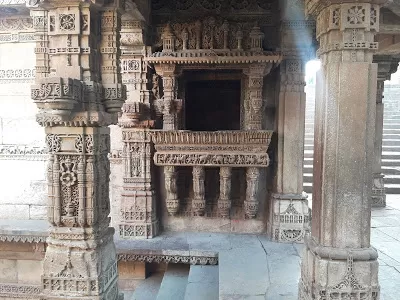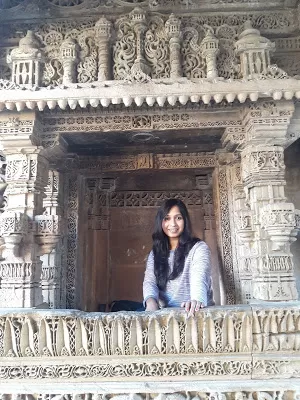 Guards work as guides here but give useful info on the history of the place. We were also told of a spookly tale where Rani Roopba spirit is sometimes seen moving across the now closed balconies of the step well.
After spending an hour and clicking photos (hoping not to click any lady in royal ornaments or who looked like a queen) we headed towards Champaner.
The drive from Adalaj ki Vav to Champaner through Vadodara takes approximately 3 hours. We got to enjoy sweet corn along the way and chomped our way to the last planned location along our itinerary.
Champaner was introduced to most of India through this movie-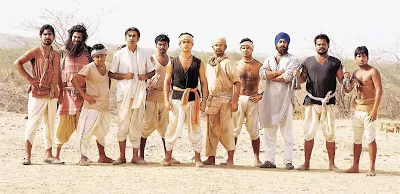 Even though the movie was fascinating and spoke of collective might of villagers of Champaner, the movie did not do any justice to the architectural beauty hidden in the region.
Champaner was founded by Vanraj Chavda, the most prominent king of the Chavda Dynasty, in the 8th century.
By the later 15th century, the Khichi Chauhan Rajputs held Pavagadh fort above the town of Champaner.
The young Sultan of Gujarat, Mahmud Begada, deciding to attack Champaner, started towards it with his army on 4 December 1482. After defeating the Champaner army, Mahmud captured the town and besieged Pavagadh, the well-known hill-fortress, above Champaner, where king Jayasimha had taken refuge. He captured the Pavagadh fort on 21 November 1484, after a siege of 20 months.
He then spent 23 years rebuilding and embellishing Champaner, which he renamed Muhammadabad, after which he moved the capital there from Ahmedabad. In 1535, after chasing away Bahadur Shah,
Humayun personally led some 300 Mughals to scale the fort on spikes driven into rock and stonework in a remote and unguarded part of the citadel built over a precipitous hillside on Pavagadh Hill.
Champaner is today the site of the Champaner-Pavagadh Archaeological Park, which UNESCO designated a World Heritage Site in 2004.
Sultan Begada also built a magnificent Jama Masjid in Champaner, which ranks amongst the finest architectural edifices in Gujarat. It is an imposing structure on a high plinth, with a central dome, two minarets 30 meters in height, 172 pillars, seven mihrabs, and carved entrance gates with fine latticed windows called "jalis"
Entrance to the main corridor at Jama Masjid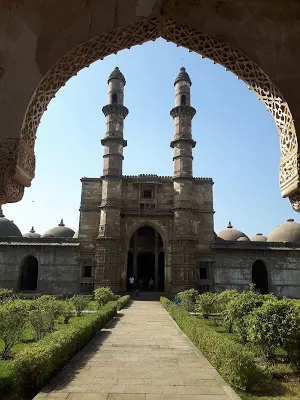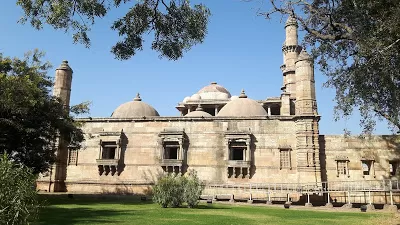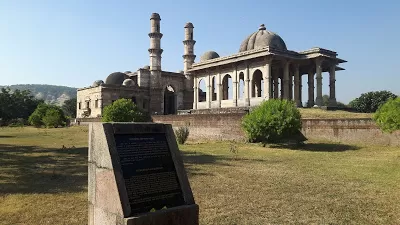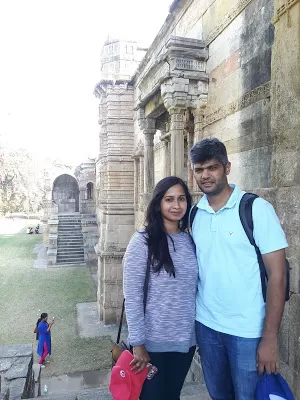 It was late in evening when we realized it was an hour journey back to Vadodara and we decided to head back.
Day 4 was all about our return journey back to Pune. We managed to have a quick lunch along the way at Bhajandas dairy farms, Virar Mumbai.
While on return journey, do visit the Schmitten factory outlet on Surat highway
Delight for chocolate lovers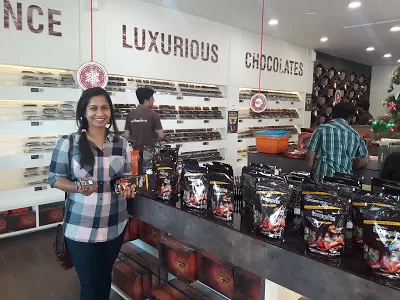 Gujarat for us is unfinished travel love story and we will be back again to explore this amazing part of our India.
We tried to make a travel video of this 3 day trip - Gujarat Road Trip
Copy paste link : https://www.youtube.com/watch?v=PnSaA9cUfsA&t=16s
Thanks for reading and happy travelling :) * Do visit our travel blog www.alifeinslowmotion.com for other travel stories