Day 6: On our second last day in Mizoram, I stared down at the itinerary, faced with a conundrum. It was a choice between visiting the man with the largest family in the world or checking out Mizoram's handloom centre in Thenzawl and the mystical Hmuifang Mountain.
The former was intriguing to say the least. I had read about Ziona Chana who had first married at age 17, and currently has thirty-nine wives, ninety-four children, fourteen daughters-in-law, and thirty-three grandchildren. His oldest wife is 70, and the youngest is 31. He is touted to have probably the largest family in the world and lives in a hundred-room four storey mansion. Only problem was we would have to travel to Baktawng, which was 57 km from Aizawl, therefore leaving us time to do little else.
We were two women in the group of five, and up till now we had not been able to do any shopping. Bringing the stereotype to life, both of use handloom-crazy friends were feeling restless. Plus, the true artistic spirit and creativity of a state truly shows through in its textiles, and textiles from the North-East are too badly neglected in the great emporiums of Delhi. So we decided that Ziona Chana would have to wait. We set out for Thenzawl. In Mizoram – restroom facilities are widely available and reliable, something which is missing from most places in India. Near Buangpui village we came across a sign which indicated a two-minute walk along a narrow trail, which led us to the Tuirihiau waterfall. The water gushed down the rocky slopes from above, and it created a double-layered waterfall The most stunning and hypnotising part was that the water fell like a curtain and behind this was a cave, which one could actually visit! It is such a rare treat to stand behind a waterfall and see its raw power inches from your face. I had only seen this phenomena in some movies and read about it in Enid Blyton's Adventurous Four series. There were trees on the banks whose roots hung down to the plunge pool creating curtains of green to match the sheer fall of water. With the sunlight playing hide and seek in the canopy of trees surrounding the waterfall the scene was delightful and magical. Reluctantly, we had to leave it behind and start off on the road again.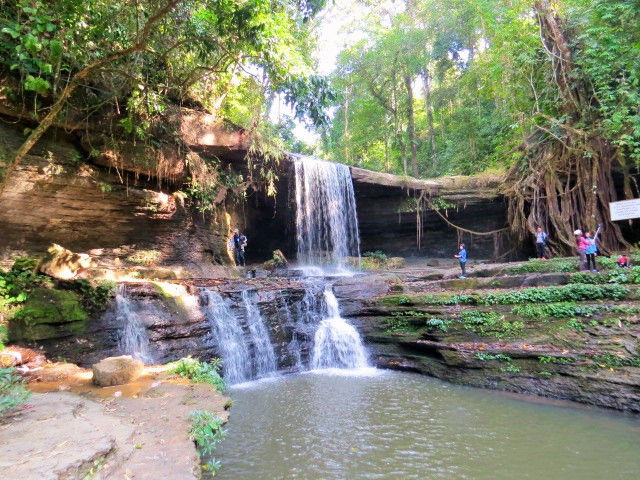 Tui-Ri Hiau waterfall in Buangpui village.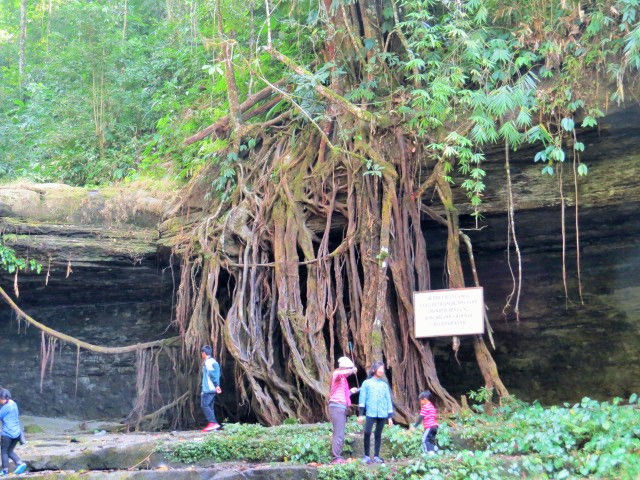 Tree roots form a curtain at Tui Ri Hiau waterfall.
By afternoon we reached the sleepy little town of Thenzawl, where the peaceful roads were empty and only some shops were open for the day. Thenzawl is an important center of the traditional Mizo handloom industry. On display in the shops there were myriadly coloured and very intricately woven 'Puans'. They were gorgeous but expensive and prices of the intricately woven ones went upto Rs 8000/ and above. On our request, the girl in the shop we visited led us to the rear of a house. There, we peeped in and saw the cloth stretched across the looms. It was all lovely, but sadly beyond my budget, mostly which I spent on travelling itself!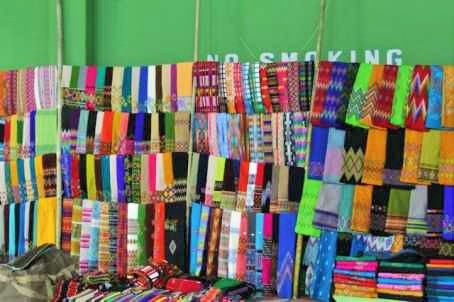 Colourful Puans hanging in the shop.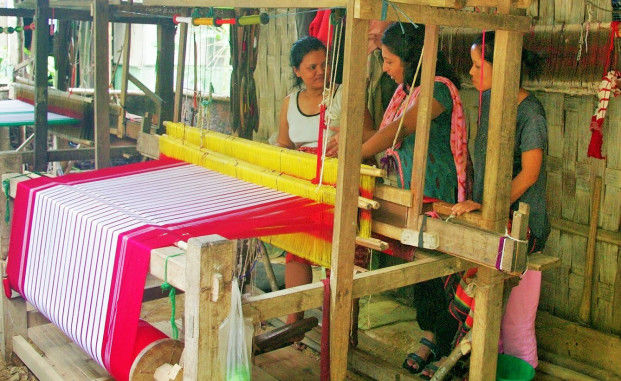 Looms at the rear of the houses
I wandered across the road to one of the ubiquitous shops selling lime juice, fermented bamboo, fruits and small packets containing freshly made tamarind and aamla chutneys that I kept seeing everywhere, and which I mentioned in the post on Reiek Mountain.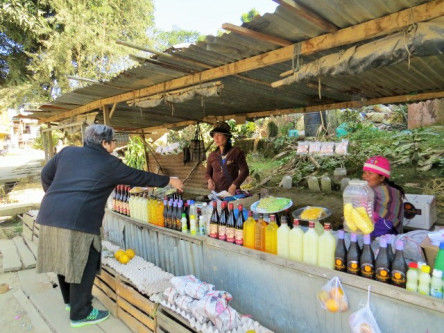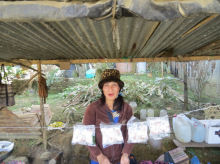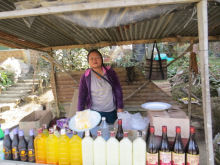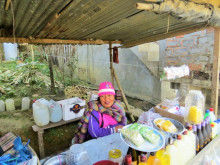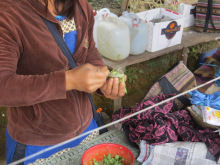 It was soon time for lunch. Spotting what seemed to be a small hotel, we entered and asked for lunch. The prices were very reasonable, as they are all over Mizoram. It is a great state for a foodie. For Rs 130/ a plate one could eat an unlimited quantity of rice, bai, some boiled greens and pork. This was a traditional Mizo meal and as usual had no condiments apart from salt. Those who would like it more spicy can always add the chutney made from chillies that accompanies these dishes.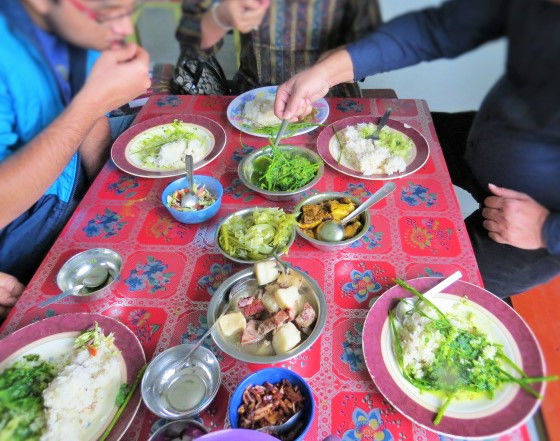 A simple thali lunch.
After a satisfying lunch we proceeded to our last destination, Hmuifang. Our journey now was uphill and after an hour and half of driving we covered approximately 50 kms and reached the very windy Hmuifang Mountain.
Hmuifang Mountain sits at a height of 1619 metres and is covered with thick forests untouched since the days of the Mizo chiefs. The peak opens up on a view of ranged mountain cliffs and nearby Mizo villages situated on the hillsides – Hmuifang village, Sumsuih village, Lamchhip village and Chamring village – could easily be visited if we wanted to see the typical rural life of the Mizos. We also learnt that this is also the venue of the annual Anthurium Festival and Thalfavang Kut hosted by the government. Right on the tip of the mountain is perched the government-run Hmuifang Tourist Resort.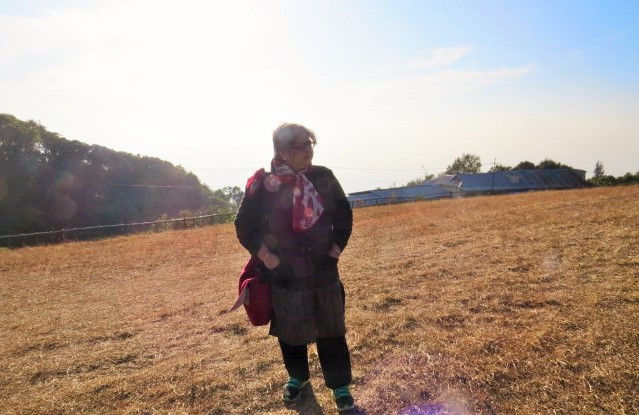 Atop Hmuifang Mountain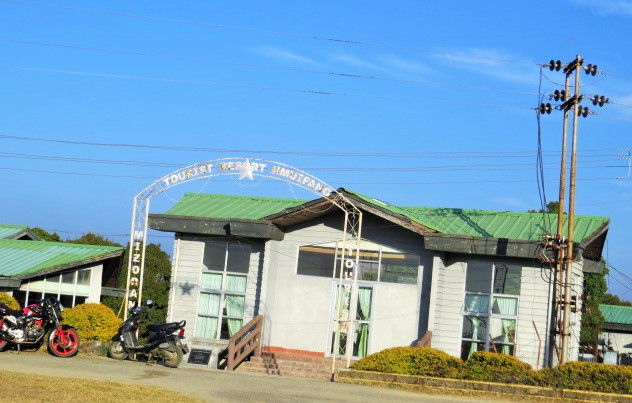 Hmuifang tourist resort.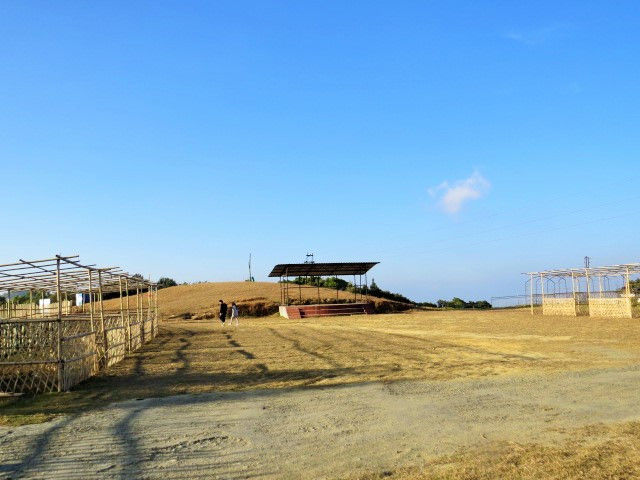 Anthurium festival held in these grounds on top of Hmuifang Mountain.
After winding our way back to Aizwal from Hmuifang, we were sad to realise that our journey had come to an end and that tomorrow we would fly back to Delhi. Determined to see all the sights that we could, we made two stops in Aizwal city as we were re-entering it. Climbing up to the Durtland hills, we drove through the spectacular Durtland Tunnel which was beautifully lit up with Christmas decorations. Following that, we went to the viewing tower in Aizawl Theological College for the most spectacular views of the city. Looking out over its neat, ordered streets ringing with church bells, I realised I had become attached to Aizawl in the time I had spent there.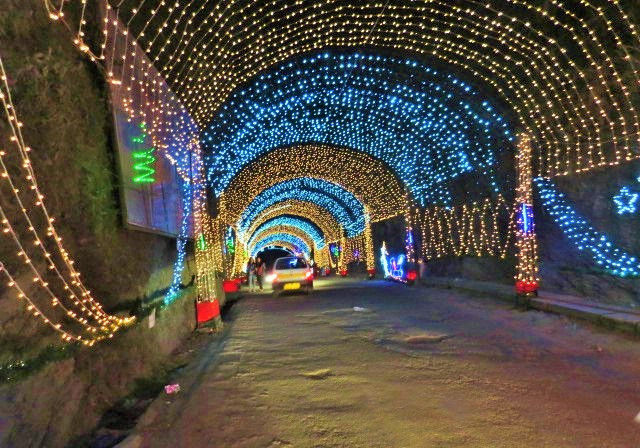 Chitmas decorations light up the Durtlang Tunnel.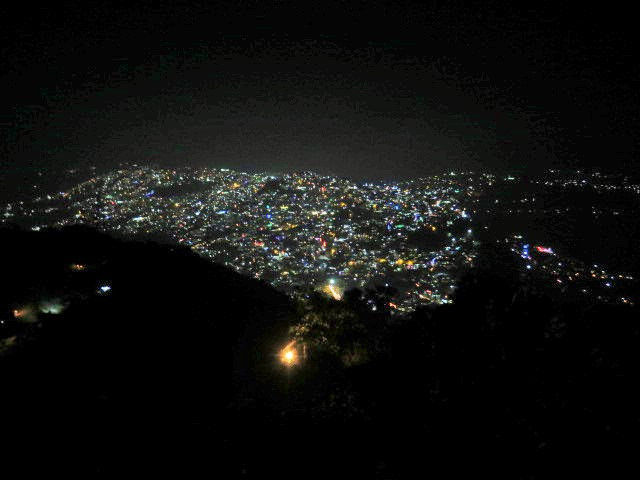 View of Aizawl from viewing tower at Theological College
Back at the Chaltlang Tourist Lodge, we were most pleasantly surprised to find that we had been upgraded to the suites. they were huge and most comfortable. In a manner very typical to Mizo people, we were being treated with not only kindness, but generosity.
I have come to realise that the people are extremely honest, trusting, very friendly and generous. This is true, I think, of all the people of the North Eastern states. The roads are clean and public toilets are aplenty along with dustbins, which goes to show how much of a conscious effort is made to maintain civic cleanliness.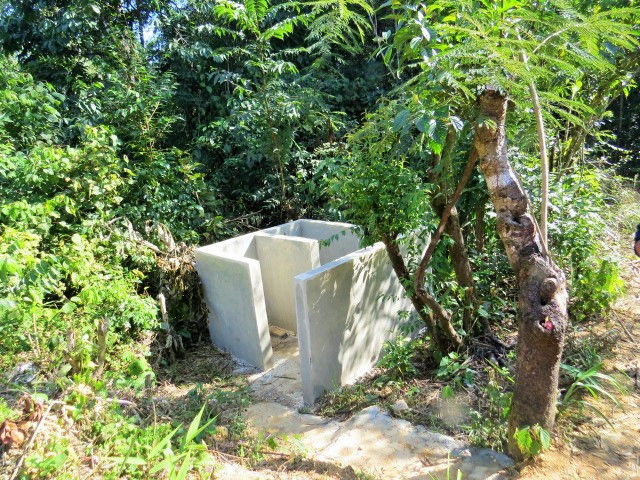 Public toilets are everywhere.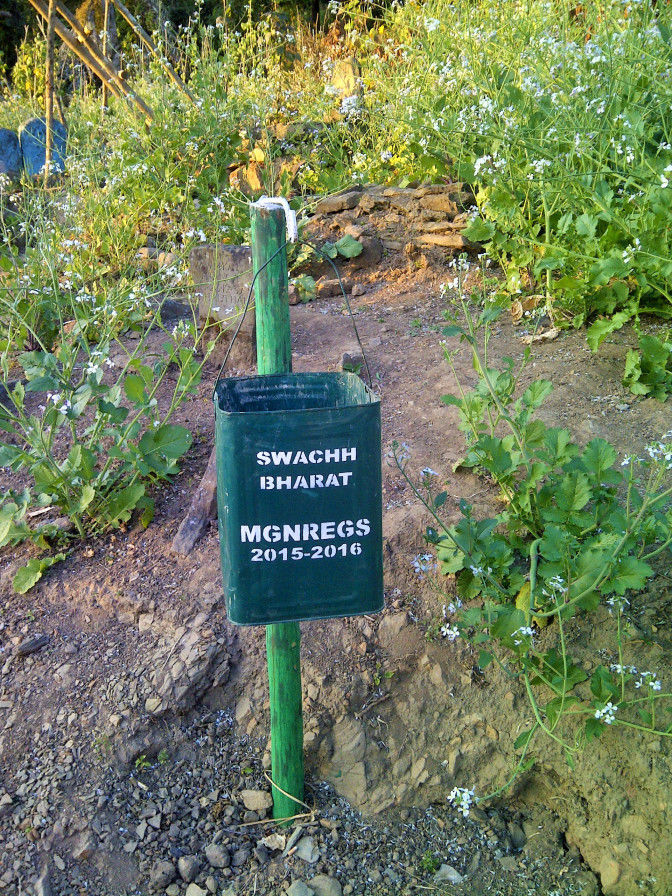 Dustbins abound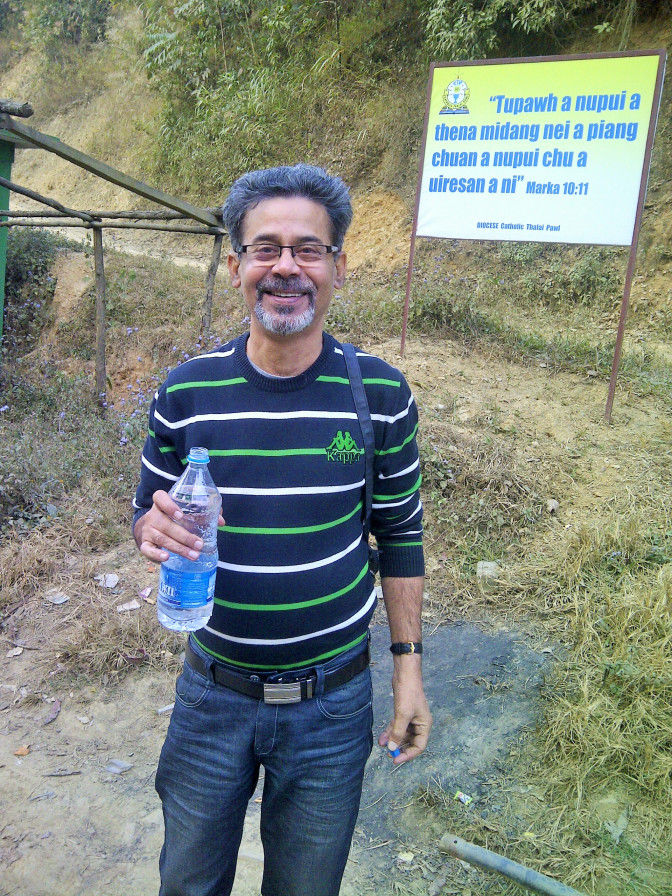 Road signs need to be in English as well as Mizo.
The only trouble with a travelling on the road is that all the signage on the streets is very inadequate and written in Mizo, which makes it difficult for non-natives to comprehend. Charmingly, each house has a lot of washing always strung up outisde to dry, swaying in the cool breeze. This is another visual that will stay with me.
Another thing that struck me was the Mizos' fascination with bikes. During my entire stay in the state, I did not see a bike which was not well maintained. They gleamed in the parking lots as well as on the streets.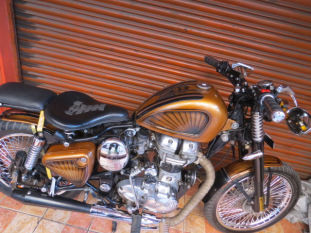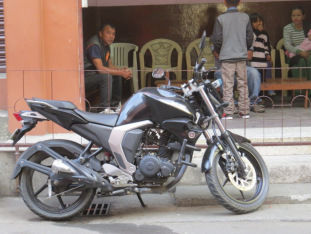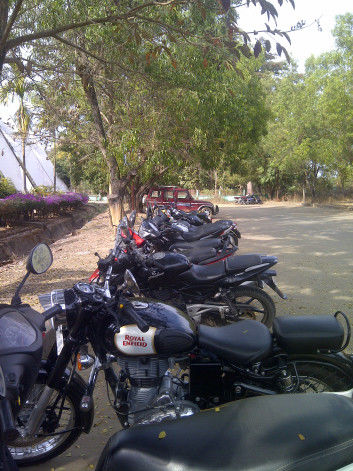 Again, I have yet to see such a fashionable set of people in any other state. Teetering on heels both on the streets of Aizawl and on the village roads, the women outdo Delhiites. Lastly, Mizo food is bland as they use no spices, but is definitely good for the health. Their eating habits are perfect if one wants to lose weight. A very heavy breakfast comprising of rice, meat and some veggies is had by eight. Lunch is tea and some biscuits or snacks. Dinner is had early by seven and again it is similar to breakfast.
The culinary culture of the North-East, Mizoram included, is always misunderstood as being only "exotic" and "non-vegetarian". This really bothers me! In fact, Mizos eat very simple and healthy food. The sheer variety of green, leafy vegetables that grow in this fertile place astounds the mind, and I found myself stopping to touch and take pictures of greens I had never tasted before.
After this trip, I still feel as though there wasn't enough time to see all that I wanted to see and do the things I wished I could. The Anthurium Festival is a must-see, and I would really love to visit during that time. So my readers, I carefully pressed the memories of Mizoram into pictures, scents and pages of writing.
Someday I will return.
This blog was originally published on 'Here & Thereness'